Boston High School:

Peter Fodera
November, 28, 2012
11/28/12
2:02
AM ET
By
Corey J. Allen
| ESPNBoston.com


READING, Mass. -- Reading won, 42-6. Tewksbury did score to avoid the shutout, but with no time left on the clock.

The referees waved their arms like air traffic controllers to signal the end of the game, denying the Redmen the opportunity to go for the extra point, because it would not matter that they lost by only 34 points as opposed to 36. In the end, the fact remained that Reading will now have a chance to repay Mansfield for their 2010 Super Bowl loss on Saturday.

"It was a great team win, we were clicking on all cyclinders from the beginning of the game," Reading quarterback Drew Belcher said.

Belcher ended the game with four rushing touchdowns as well as a passing touchdown. "From the O-line, to the backs, the receivers, everybody was clicking."

He was right. The Rockets' defense held Tewksbury to a three-and-out to start. Reading's opening drive, starting from their own 39, took 2:57 to complete for a touchdown. The drive was capped off by an 11-yard run by Belcher.

After another three-and-out by Tewksbury, it took Reading 1:34 seconds to find their way back to the scoreboard. The second touchdown came at the hands of the young man who collared a 31-yard pass on the first drive to bring Reading into the red zone and who also scored the extra point rush on said touchdown; Ryan Maney, senior wide receiver, took the end around all the way to the house, all 61 yards to bring the score to 15-0.

"It's one of the things our coaches have tried," said Maney, attributing his speed to the coaches giving him the opportunity to execute a long-way-around misdirection play with maximum efficiency. "I'm just trying to get to the edge and run as fast as I can."

And he did. He outran everyone on his touchdown, including the Tewksbury secondary.

Last year, Tewksbury beat up on Reading, at home, in front of their fans, their band and their families. The players decided after the game that they would be able to seek redemption for their poor performance on playoff Tuesday of last year.

"They've been working hard for 364 days," said Reading head coach John Fiore. "Last year, we got dominated a lot by Tewksbury and, this year, we made a commitment, for the long term."

"Everyone knew what we had to do, so we stuck to our assignments," said senior captain and two-way lineman Peter Fodera. We did what we had to do, play fast and physical and just take it to them every play."

Tewksbury 0 0 0 6 – 6
Reading 15 14 13 0 – 42

FIRST QUARTER
R – Drew Belcher 1 run (Nicholas Stevens rush)
R – Stevens 61 run (Ritchey Karaba kick)

SECOND QUARTER
R – Belcher 1 run (Kick Failed)
R –Belcher 2 run (Liam Kenneally rush)

THIRD QUARTER
R – Kennelly 78 pass from Belcher (kick failed)
R – Belcher 1 run (Zachary Face kick)
August, 22, 2012
8/22/12
5:06
PM ET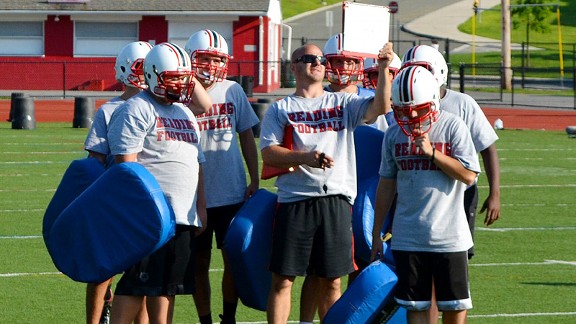 Scott Barboza/ESPN.comNo. 21 Reading is looking to shed the memory of last year's playoff loss to Tewksbury by qualifying for the postseason for the fifth straight year in 2012.
READING, Mass. -- Who ever said offensive linemen aren't athletes?
Reading tackle Matt Comerford isn't your typical 6-foot-4, 280-pound lineman. A multi-disciplined athlete, who played baseball, lacrosse and hockey, his body simply grew into the position.
The senior's athleticism is on display every spring, when he's between the pipes for the Rockets lacrosse team. An imposing figure who takes up plenty of the cage, Comerford isn't
that
type of goaltender though -- one who would be lampooned in a Disney movie and simply relies on his size to make stops. Quick reflexes and nifty footwork are strengths. He even has some skill with the stick.
But football came late to the potential Division 1 college recruit. He didn't play until freshman year.
That too, was a function of his size.
"I couldn't play Pop Warner," Comerford said after a recent practice, "I was always too big."
Comerford has heard from a smattering of FBS and FCS schools, but is putting off his college intentions until the football season is through.
This season, Comerford will anchor a line that features varying degrees of game experience. He along with Peter Fodera are the elder statesmen with Andrew Bourque (6-2, 330), Brian Callahan (6-2, 250) and John Donnellan (6-1, 210) expected to fill greater roles.
"We want to develop strength between the tackles on both side of the ball," Rockets head coach John Fiore said. "I'm pleased with the way the entire team has worked in the offseason. They've really worked hard. But, like the rest of our team, our goal is to improve every day."
Comerford said the lingering memory of last year's playoff defeat to Tewksbury has set the tone for the team's offseason preparations. And there are lofty goals surrounding the Rockets, who look to represent the Middlesex League in a playoff game for the fifth straight year.
But there's yet another objective put ahead of Comerford this season.
There's the potential he see snaps on the defensive side of the ball as well.
"I think he could relish that," Fiore said. "He's a physical kid."
But as someone who's contributed in so many ways in so many different sports, Comerford was very vanilla about it all.
"I go out there and do what I'm told," he said. "That's the expectation here."
READING AT A GLANCE
2011:
8-4 (Lost to Tewksbury in Div. 2 playoff game)
Coach:
John Fiore (8th season, 63-28)
Key Returnees:
Greg Connery, Sr. RB/FS, 6-1, 175 lbs.; Matt Comerford, Sr. OT/DT, 6-4, 270 lbs.; Alex Valente, Sr. WR/CB, 5-6, 170; Ryan Maney, Sr., E/DB, 6-2, 210; Drew Belcher, Jr. QB, 6-3, 215 lbs.; Peter Fodera, Sr., OL/DL, 5-10, 230; Jared Barros, Sr. E/DB, 5-9, 190; Andrew Bourque, Jr. OL/DL, 6-2, 330.
Strengths:
Quarterback play and receiving corps; play along the lines.
Weaknesses:
Inexperience in the running game.
Outlook:
For a program that's set bar so high for itself in recent memory, Fiore took the ending to last season in stride, saying "I'm sure there are a couple hundred teams out there that would've loved to switch places with us, being able to play past Thanksgiving Day." The talent is there for the Rockets once again to play into December, and much of that is tied to Belcher's development as a quarterback, entering his second season as starter. If last year's stretch run proved anything it's that the junior signal-caller has a top-flight target in senior wide out Ryan Maney, making a host of high-difficulty-grade catches in the final weeks of the season. If Belcher maintains consistency, the Rockets' aerial attack has the chance to be among the most prolific in Massachusetts. "I think he's worked very hard," Fiore said of Belcher. "Time will tell when the games are for real and he's getting hit, but I'm pleased with how the whole team is working, and he's a big part of that."
October, 29, 2011
10/29/11
12:34
AM ET
By
Ryan Kilian
| ESPNBoston.com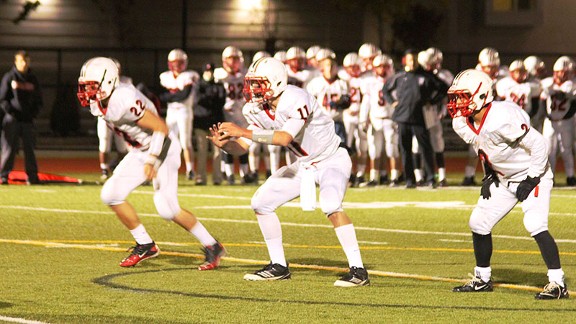 Ryan KilianSophomore Drew Belcher (11 for 16, 218 yards, 2 TD, 1 INT) showed signs of improvement Friday in the win for Reading.
WOBURN, Mass. --- Reading dominated field possession all night, and held Woburn to zero points offensively as they improved to 5-3 on the season defeating the Tanners 16-7 on Friday night.
Reading scored on their first possession of the game, as sophomore quarterback Drew Belcher threw a ball fake and then a perfect strike to senior tight end Mark Sheehan for a 50-yard touchdown. The extra point attempt failed, giving the Rockets a 6-0 lead.
After a Reading defensive stand, Belcher struck again as he found junior Jared Barros, who slipped behind the secondary, for a 65-yard throw and catch for a touchdown. Belcher's two-point conversion attempt was no good, giving the Rockets a 12-0 lead.
On the ensuing kickoff Reading made a mistake by kicking to Woburn's Chucky Ortiz, who took it 80 yards up the left sideline for the touchdown. Ortiz would add the extra point to cut the lead to 12-7.
The score would remain 12-7 in to the third quarter when Woburn, backed up to their goal line, was flagged resulting in a Safety as quarterback Hunter Romano was called for grounding in the end zone. Romano appeared to throw the ball in the direction of running back Jared O'Brien but the referee's conferred and saw differently, despite the displeasure of the Woburn coaching staff.
Leading 14-7, Reading backed Woburn up again to own their goal line and benefited from an errant snap over the head of the Woburn punter for another safety and the game's final score.
Defense ruled the remainder of the contest as both teams held strong on a number of third and fourth down opportunities.
The Dynamic Ortiz:
There is no question Woburn's Ortiz is one of the most dynamic players in the state as the athlete is a threat to take the ball to the house each time he touches it.
"Ortiz is tremendous," said Reading Head Coach John Fiore.
The senior athlete lined up at halfback, quarterback, wide receiver, returned both kicks and punts and also kicked and punted on the night.
Ortiz stopped two Reading red-zone opportunities with a fourth down pass breakup in the second quarter and an interception at the one yard line in the third quarter. The senior also added 94 yards from scrimmage to give him 175 total yards on the night.
Ortiz was only kicked to twice and he returned one 80 yards for a touchdown and almost broke the second.
Stout Defensive Line:
While they may not be the biggest defensive front in the area Reading's defensive line, led by 5-foot-9, 210 pound senior co-captain Tim Beucler, was up to the task of stopping Ortiz and the Woburn offense.
"Those guys work great together," said Fiore. "They are not the biggest guys and they are not the fastest but they play hard and with great technique."
Beucler, junior Peter Fodera, and seniors Vaughn Wilder and Mark Sheehan held a strong front all night for the Rockets.
"I can't say enough about Mark Sheehan, our outside linebacker, coming up with that big interception late," said Fiore.
Sheehan's late fourth quarter interception iced the game for Reading and allowed the offense to run the game out.
On a Roll:
The Reading Rockets have now won four games in a row after starting the season 1-3. Fiore credits the renewed focus of the senior class after his team lost 12 players to various disciplinary reasons during the season.
"I am real happy for our seniors," said Fiore. "A lot of people said this was a weak class. We are down to about 48 kids. The seniors are the ones. They are a tight class."
Reading is now 4-0 in the Middlesex League and host their next three Middlesex League opponents in Reading beginning with Wakefield next Friday and concluding with Winchester and Stoneham.
The Future is the Present:
Only a sophomore, Belcher has improved each week and has now found his groove leading the fast paced no-huddle Reading offensive attack. He completed 11 of 16 passes for 218 yards on the night, with two touchdowns and one interception.
"The line has been great and our skill position guys have been making plays so it is easy when we have that," said Belcher.
Belcher set the tone to start the game with his two touchdown strikes and then drained the clock and moved the chains as he called his own number four times for 15 big yards during the final fourth quarter drive to seal the win for Reading.
"Our defense was just awesome tonight," said Belcher. "We had good schemes in the first half and did what we had to do to win."
READING 16, WOBURN 7
REA (5-3) 12 0 4 0 --- 16
WOB (4-4) 7 0 0 0 --- 7
First quarter
R - Mark Sheehan 50 pass from Drew Belcher (kick failed)
R- Jared Barros 65 pass from Belcher (pass failed)
W- Chucky Ortiz 80 kickoff return (Chucky Ortiz kick)
Third Quarter
R- Safety
R- Safety
October, 7, 2011
10/07/11
1:09
AM ET
By
Brendan Hall
| ESPNBoston.com



BURLINGTON, Mass. -- Reading's first month of the 2011 season was a forgettable one to say the least. After starting the year off in the top 20 of ESPNBoston's statewide MIAA poll, the Rockets stumbled to a 1-3 record out of the gates.

Headed into training camp, this was a squad viewed as green, with minute varsity experience, but talented no less. Tonight at Burlington High, the fruits of the latter trait were on display, as promising sophomore quarterback Drew Belcher completed 14 of 18 passes for 199 yards and three touchdowns, and added a fourth rushing score, as Reading (2-3) staved off a dangerous Burlington Red Devils squad, 32-27.

"I can't say enough about how our kids played tonight," Reading head coach John Fiore said. "They played to win, they played loose, they played together, they played as a team. They just played so hard on defense. I mean, in a short week, we came off a short week with a real physical game against Melrose (a 14-12 loss), and to get your body ready, they worked very hard this week with great enthusiasm. Just can't say enough about the maturity they exhibited tonight."

Down 32-14 with two minutes left in the third, the Red Devils (3-2) rallied with two quick scores to cut the lead to five with 5:56 remaining. First, quarterback Shane Farley (16 of 23, 187 yards, 2 TD) hit Nick Ciardi with a 48-yard fade just before time ran out in the third. Six minutes later, Ciardi came up big again, hauling in a 61-yard halfback pass from Anthony Cruz.

Burlington forced a three-and-out and took over at the Rockets' 41 with 4:38 to go. But on fourth and 11 from the 20, Stephen Mattos hauled in a Farley pass over the middle and was dragged down by Bill Carnes a yard short of the first down marker.

Reading then sealed the win by converting a fake punt on fourth and one with 40 seconds left.

And while Fiore spoke high praises for the mettle his players showed tonight, Burlington head coach Shawn Maguire was left frustrated with what he thought could have been. Reminded of Ciardi's resolve in the second half, Maguire fired back, "Yep, but again, when it came crunch time, we couldn't make plays."

"We just didn't step up and make plays when we were supposed to," he said of his team, which surrendered 12 points off turnovers. "You can't give up 32 points and win. We're not tackling good enough, we're not covering well enough, we just didn't play good enough to win. That simple. We got outmanned out front, blocking and tackling. We lost the line of scrimmage tonight."

Fourth and Guts: The Rockets are never a team afraid of rolling the dice (see: last year's Division 2 playoff and Super Bowl contests), and that playcalling pluck reared its head again tonight on fourth and one with 40 ticks left in the ballgame.

A turnover on downs would have given the Red Devils first down at the Rockets' 34 -- with, as we saw in spurts tonight, ample time to put together a game-winning drive. Convention says in this instance to run a sneak up the middle, given Belcher's size (6-foot-3, 200 pounds) and the way the line of Matt Commeford, Peter Fodera, Andrew Ferrano, Tom Beucler and Vaughn Wilder were getting push most of the night.

Instead, Fiore called for a direct snap to Anthony DeSimone out of a punt formation, and the senior tailback took off down the right sideline for 18 yards. Keying the run was Liam Kenneally, who sustained his block 10 yards downfield on a Burlington defensive back, long enough to open up a wide seam outside of the hash marks.

Asked about his inclination against just running it up the middle, Fiore channeled his inner Les Miles.

"I think we just decided we didn't want to be crazy, but we wanted to be a little crazy," Fiore laughed. "We wanted to play to win, and you know what, he has the option to punt it if it's there. But you know what, that's Anthony DeSimone making a great athletic, hardcore play. He made the right read and took off, and that's what we needed."

Obstructing Odiah: Junior Marcus Odiah is considered arguably the Red Devils' most dangerous big-play threat, if not the highest ceiling for college recruiters. And while he finished the night with 109 yards and score on 19 carries, he was unable to sustain that pressure against the Rockets' defense throughout the game.

It's not often you see a no-huddle team that operates from under center, but it's a style that plays to the Devils' strengths -- that is, the running game, and the short passes to the flats -- and we saw flashes of brilliance tonight.

The 6-foot-1, 185-pound Odiah runs in an upright style and demonstrates great body control; the Devils called many zone and stretch plays to left side of the field, whereupon Odiah would strafe Northwest before cutting 45 degrees and accelerating very quickly upfield.

All that said, he had just three runs of 10 yards or more, one of which was a 38-yard scamper down the left sideline, showcasing that 4.5 speed. His lone score of the night, a six-yard plunge, ironically came after he fumbled in the backfield.

Credit the outside rush -- led by ends Fodera and Joe Staffier, and outside linebackers Kyle McCarthy and Mark Sheehan -- as well as improved run support from safeties DeSimone and Greg Connery.

"Look, they're not chop liver over there as far as their offensive line and tight ends," Fiore said of Burlington's run game. "We have to fit everything perfectly against them, especially a tailback like Marcus who can stop and go, zero to 100. You have to fit your blocks the right way, get off them, and we have to have some run support there, get that edge set firm where it needs to be, and have our pursuit get there.

"We mixed up some fronts, mixed up some coverages, and I thought we played hard to the run. I thought our safeties did a much better job playing to the run tonight."

Ciardi turned it up: For all the talk of Belcher's improving arm, and the tricky two-back read option scheme the Rockets deployed adequately tonight with tailbacks Alex Valente and DeSimone, it was Burlington's Ciardi that may have ended up stealing the show in the end.

Simply put, the 6-foot-1 senior brought the burners out of the locker room to put in a monster second half, hauling in three catches for 118 yards and two scores on the Red Devils' final two scoring drives. On the first score, Maguire called up a 48-yard fade to Ciardi, who was left in single coverage and had his man beat by about three yards when Farley's pass came into his hands. The second score was more of the same, leaving his defender in the dust.

Overall, Ciardi caught six passes for 156 yards.

Making the grade: Belcher first impressed last season when he relieved the injured Brian Bourque in the second quarter of a one-score game and stormed the Rockets to a victory over Lexington; this summer, watching him in 7-on-7's, he showed considerable poise for a kid just 15 years old.

There's still a ways to go, but Belcher's getting passing grades from Fiore for his progression in the mental aspect of the position.

"It's not a 7-on-7, it's not practice, it's competition," Fiore said. "It's game-planning, scheming up against teams, and he's doing a better job of reading the defense. I'd say that's where he's improved a lot. It's good, it's great."

READING 32, BURLINGTON 27

REA (2-3) 14 6 12 0 --- 32
BUR (3-2) 7 7 7 6 --- 27

First Quarter
R - Drew Belcher 1 run (kick blocked) 8:45
B - Anthony Cruz 10 pass from Shane Farley (Chris Arria kick) 4:51
R - Ryan Maney 31 pass from Belcher (Anthony DeSimone run) 3:39

Second Quarter
R - Maney 17 pass from Belcher (kick failed) 4:44
B - Marcus Odiah 6 run (Arria kick) 1:03

Third Quarter
R - Liam Kenneally 30 run (rush failed) 9:29
R - Jared Barros 24 pass from Belcher (pass failed) 2:02
B - Nick Ciardi 48 pass from Farley (Arria kick) 0:43.8

Fourth Quarter
B - Ciardi 61 pass from Cruz (pass failed) 5:56