Boston High School:

Peter French
August, 16, 2011
8/16/11
10:55
PM ET
Press release from Massachusetts Golf Association communications director Becky Blaeser:
Brattleboro, Vt. -- Inclement weather reduced the event to 18 holes, but that did not keep Team Massachusetts from capturing the 2011 New England Junior Championship title at Brattleboro Country Club.

The seven-player team from the Bay State posted a team score of 367 to defeat defending champion Team Connecticut and Team New Hampshire by 13 points. Finishing third with 386 points was Rhode Island, while Maine (391) and Vermont (400) came in fifth and sixth, respectively.

Winning the individual scoring title with a sizzling score of 4-under par 67 was Peter French (Maplegate CC - MA). The 17-year-old from Bellingham carded five birdies and just one bogey and was the only player in the field to shoot under par. Seamus Fennelly (Foster CC -RI) and Jason Steele (Ferncroft CC - MA) finished T2 with scores of 1-over par 72.

After a day of downpours on Monday that forced the cancellation of the first two rounds of play, the entire field took to a soggy Brattleboro Country Club layout on Tuesday to compete in an 18-hole round that would determine the 2011 champion.

In the end, it took a team effort by a talent Bay State team. In addition to French and Steele - the team's top two scorers - strong performances were also delivered by John Beadle (Foxborough CC - MA) with a score of 3-over par 74 and Connor Murphy (Hyannis GC - MA) who turned in a score of 5-over par 76.
October, 27, 2010
10/27/10
8:29
AM ET
By
Brian Fabry
| ESPNBoston.com
BOURNE, Mass. -– Peter French had some bittersweet moments as he received his first ever Division 2 State Tournament trophy. While the junior fired a 74 to win the individual state title, his team came up just short of sweeping the entire event.
Franklin was out done by defending champion Duxbury, 317-to-324, for the Green Dragons second consecutive Division II state title. But French was able to wrestle away the individual title from returning champion Jonathan Stoddard as Franklin fell short at Pocasset Golf Course.
"I would have liked to win it for the seniors", said French, who was paired with five seniors coming into the event. "I was hoping to win and I've been looking forward to this and was hoping to come away with a win, and I did".
Amidst dense fog and cool temperatures on Cape Cod, French was able to secure the title as Matt Montt (75) of Hanover was only one stoke off the lead for second place and defending champion, Stoddard placed third with a 76.
"I wish we won as a team as well as we were hoping to pull out with a victory but I guess it just wasn't in the cards:", said French.
Duxbury head coach, Jack Stoddard knew that winning back to back championships was the ultimate goal all along.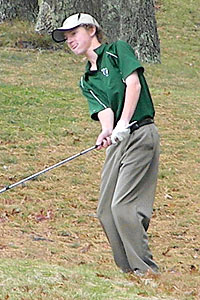 Brian Fabry/Special to ESPNBoston.comNick Drago chips from the rough at Tuesday's MIAA Division II state golf championship at Pocasset Golf Course. Drago shot a 78 to help Duxbury to its second straight team title.
"We were working all year towards this to get back-to-back", said Stoddard, who marked his fifth state title in his 20 years at the helm. "The toughest decision for me was which six kids to bring to this event as we had eight kids contribute all season long".
While Stoddard was the No. 1 out in front for Duxbury, it was Nick Drago who fired a 78 from the sixth anchor slot for Duxbury that sealed the deal for the second consecutive championship.
James Magner (79) and Cam Daley (84) rounding out the top four scorers for the back-to-back champions.
Rounding out the top five for team scores were Wellesley (330) led by No. 1 golfer Ian Ballantyne with a 79, Beverly (331) with Nick Pinciaro also posting a 79, and Hanover with a 337 buoyed by Montt's second place individual finish.
Some notable facts from the event, which lasted over six hours with fast greens and tough winds:
Reading's Scott Tully (83) was the Middlesex League MVP and pushed Reading to their first league title since 1975, but didn't place in the top five for states' after coming down as an individual

A player fainted on a hole and had to be removed from the course.

One player was disqualified for throwing clubs while another perplexed the tournament officials as he tossed his club in the air, hitting his hat off his head, and having the hat move his ball without taking a stroke.
Individual Finishers:
1. Peter French (Franklin), 74, 2. Matt Montt (Hanover) 75, 3. Jonathan Stoddard (Duxbury), 76; 4. (tie) Thomas Viletto (Lenox), Austin Ball (Clinton), Alex Kane (Masconomet), 77. 7. Max Bock (Belchertown), Tim Gillis (Franklin), Adam Capodiluipo (Beverly), Nick Drago (Duxbury), 78. 11. Shawn LeBeau (Belchertown), Nick Pinciaro (Beverly), James Magner (Duxbury), Ian Ballantyne, 79.
Team Scores:
1. Duxbury 317, 2. Franklin 324, 3. Wellesley 330, 4. Beverly 331, 5. Hanover 337; 6.North Andover 339; 7. David Prouty 340; 8. Dennis-Yarmouth, 341; 9. Belchertown 343; 10. Springfield Cathedral 344; 11. Groton-Dunstable 347; 12. Hudson 348; 13.Lenox 352; 14. Lincoln-Sudbury 357