Boston High School:

Peter Kazickas
March, 7, 2011
3/07/11
12:48
AM ET
By
Brendan Hall
| ESPNBoston.com
BEVERLY, Mass. -- From Alex Oriakhi to Jamaal Coombs-McDaniel, Gerard Coleman and everyone in between, it's been a domineering three-peat in the NEPSAC for Tilton's renowned prep school basketball program.
So what to say of a four-peat?
"Feels like I'm on top of the world right now actually," beamed junior forward Georges Niang, moments after the Rams took care of St. Mark's in impressive fashion, 72-56, for a fourth straight NEPSAC boys' basketball title, at Endicott College's Post Center. The Rams won three straight Class B titles from 2008 to 2010, before moving to Class AA in this season's realignment.
Niang, who was named the Class AA tournament's Most Valuable Player after going off for 25 points, nine rebounds and five assists on the Lions (28-3) in this championship game, called the whole thing "nuts".
"From Alex to Jamaal and Gerard, and then this team right here, we've had a hell of a team so far," the 6-foot-7 Niang said. "I can't complain. All the fellas work hard, and we all play as a team, so that's why we're winning championships. Can't say nothing about [head coach Marcus] O'Neil, he gets it done. He lets us know what we have to do, and how to get it done."
[+] Enlarge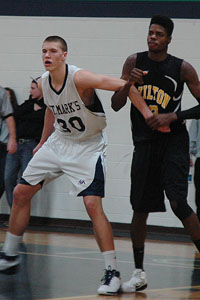 Brendan Hall/ESPNBoston.comHighly-touted big men Kaleb Tarczewski (left) and Nerlens Noel tangle in the NEPSAC Class AA title game.
To get it done this afternoon, the Rams (26-4) came full-circle on an axiom that had dogged them early-on in the season -- namely, selflessness. At points in the season, some felt Tilton preferred isolation plays over the extra pass; but Niang said the turning point came in a loss to Maine Central this season, a buzzer-beater after which O'Neil told them they won't win any more games unless they start passing the ball.
"That was the thing. We really didn't want to run the offense, we'd get into personal battles and try to go one-on-one," Niang said. "And then the Class [AAA] teams like Brewster, they'd eat us up. Now we're running offense, I feel like we're exposing them because we have guys that can step out and shoot, and we have Wayne [Selden], who can get to the hole on anybody. We have point guards that can get them the ball. Just a variety of things."
Indeed, ball movement was the key ingredient in getting the Rams' high-flyers like Niang and freshman Wayne Selden (22 points) active above the rim. Whether it was a dish the open weak-side post in the half-court, or a long outlet in transition, the Rams kept the ball off the floor, and that left St. Mark's frozen at times.
"We talked a lot about speeding them up," Lions head coach David Lubick said. "We sped them up effectively at times, and there were times we didn't. We've talked all year about weakside rotations -- you can't speed up one guy, you've got to speed up the whole team. We did it, and we did it well, but not for the whole game. And then at the other end, you've got to make easier plays. We didn't need to speed ourselves up on offense."
Tilton closed out the first half on a 12-5 run to take a 36-24 lead into the break. The Lions made their push late in the second half, with back-to-back three's from Eli Lubick and Kevin Zabo cutting Tilton's lead to 56-49. Peter Kazickas cut it to an even slimmer margin, 59-53, with a layup in transition with 4:23 to go. But the Lions were held to just one field goal the rest of the way, while the Rams opened up the floor again -- punctuated with the wildest of several crowd-wowing alley-oops on the afternoon, a powerful one-handed Selden slam off a long Niang toss.
"Everything started with the defense today," Selden said. "We knew if that if we came out and took care of things on defense, everything else would come out."
Nik Stauskas led the Lions in the loss with 17 points, while 7-foot junior center Kaleb Tarczewski pitched in with 12 points and nine rebounds.
BIG MEETS BIG
One of the most intriguing sub-plots of the game had to have been the much-anticipated matchup between Tarczewski and the 6-foot-11 Tilton sophomore Nerlens Noel, considered two of the nation's premier high school big men.
Tarzcewski finished with respectable numbers around the basket, and managed to sneak in a left-handed baby hook on the Everett native. Meanwhile Noel, the nation's No. 2 overall sophomore, asserted himself on the defensive end in the first half, with a throwback up-down style around the rim. He had six rebounds and three blocks in the first 16 minutes.
Consider the matchup a draw. But Lubick noted the Noel effect in the middle was sizeable.
"You can challenge him sometimes, when you get your body into him and you're isolated," Lubick said. "But not when there's another guy there with him, that's the point you've got to kick the ball out. We knew what he is at the rim, and we challenged him too much."
VISITS FOR NIANG
Much has been made of the suitors lining up for Noel's services, but Niang will most certainly see his stock rise over the next six months -- if not for this strong junior season, than with all the exposure he figures to get running with Leo Papile's Boston Amateur Basketball Club on the AAU circuit.
Niang, a Methuen native, says he has unofficial visits planned later this month for Iowa and Iowa State. Texas A&M, Colorado, Northeastern, Siena, Hofstra, George Mason, Florida Atlantic, Miami (Ohio) have shown interest, but Niang noted "my recruitment is open for everybody."
Brendan Hall is a high school editor at ESPNBoston.com. Follow him on Twitter.
February, 25, 2011
2/25/11
11:17
PM ET
By
Andy Smith
| ESPNBoston.com
SOUTHBOROUGH, Mass. -- Alex Murphy was still trying to wrap his head around what happened moments earlier.

"Right now I'm trying to go through everything in my head and the events that lead up to that outcome, but I really can't right now," said the Duke commit and the No. 15. recruit in the Class of 2012, according to ESPN. "I just want to think about the win and how great of an environment it was. It was just a great win against a great team."

The outcome? A double overtime, 82-74 St. Mark's victory over Northfield-Mount Hermon. The events leading up to it? You had to see them to believe them.

With 22 seconds left in overtime Friday, NMH's Armani Cotton drained two free throws to extend the Hoggers' lead over St. Mark's to 64-58. Maybe it just wasn't the Independent School League champion's night. Murphy wouldn't allow that.

He took the ensuing inbounds pass and charged up the floor, stopping at the three-point line. He let a shot go as the rest of the gym held its collective breath. And when they exhaled, it was a three-point game with 19.2 left.

All NMH (20-6) had to do was have a successful inbounds pass to send the Lions (25-2) into desperation foul mode. Joe Sharkey looked left, but everyone was covered. He looked back to the right, same thing: everyone was covered. Then he saw a teammate heading towards his offensive zone and launched a pass like a quarterback trying to convert a Hail Mary, but it was intercepted by St. Mark's guard Jaymie Spears.

He passed the ball back into his offensive zone and Peter Kazickas was waiting in the corner for a spot-up three pointer. He missed, but Eric Green (14 points, five rebounds) elevated over opponents four inches taller than him to bat the ball out of the paint, to make sure his teammates had another shot to tie it.

There was Kevin Zabo, a freshman, taking a crucial shot in a game that may have been too big for some other freshmen. Zabo drained the three, tying the game at 64, sending it into another overtime.

"That was only the best basketball game that's ever been played in this gym," St. Mark's head coach David Lubick said. "We were able to win because we were mentally tough, and that's something that we talk about all the time."

"There was a lot of good players on that floor today," he added. "When it came time, we were tough. We talk every day about it's one thing to be tough when you're ahead, it's another thing to be tough when you're not ahead and your back is against the wall. We had guys make plays with extra effort and focus at a time when we were beaten. We were beaten, and our guys didn't quit."

For the first three minutes and 20 seconds of the first overtime, the Lions did not score a basket, only making one free throw. When it needed it the most, the team's big time players made big time plays.

In the second overtime period, NMH was the team that had a hard time hitting shots. Halfway through the extra frame, it was down 71-66, but the St. Mark's lead continued to grow to as much as nine before it finally ended 82-74.

Murphy had a quiet first half for the Lions, putting up only four points and five rebounds. He exploded in the second half, however, ending with 27 points and 10 rebounds.

In one sequence in the middle of the second half, the two teams were trading baskets and took turns taking over the lead until Alex scored three consecutive baskets and had a block and a steal, giving his team a six-point lead. He appeared to be in a totally different gear than he was in in the first half.

"I don't think I was being assertive enough in the first half," he said. "I was trying to get my teammates involved, which isn't a bad thing. They made a push at the end of the first half and I knew for my team to be able to stay in the game and for us to win the game I was going to have to assert myself and do whatever I had to do to help my team win."

Aaron Crosby, NMH's Seton Hall-bound senior, came into the game averaging 22.1 points per game, but was noticeably absent for most, if not all of the second half. It is unknown if he injured himself in the game or if his ineffectiveness earned him a spot on the bench. He reentered the game towards the end of the second overtime, but could not help lead his team to victory. He ended with two points and one rebound.

One eye-popping statistic was the number of free throws each team had. As a team, St. Mark's had 24 to NMH's three in the first half alone. In the entire game, St. Mark's went to the line 56 times while NMH only went to the line 21 times. While those numbers are staggering, it should be noted that the Lions converted 39, or almost 70 percent. NMH converted 18 of their attempts.

"They're a very aggressive team," said Lubick when asked about the difference. "I'm sure their coach is thinking they got home-jobbed, but our guys were tough."

Kaleb Tarczewski, St. Mark's 7-footer and No. 8 recruit in the Class of 2012, had nine points and nine rebounds, and fouled out with over a minute left in the first overtime.