Boston High School:

Peter Ngobidi
February, 6, 2013
2/06/13
11:46
AM ET
Catholic Memorial defensive end Peter Ngobidi signed his National Letter of Intent for UMass on Wednesday morning in a ceremony at the Baker Street campus.
[+] Enlarge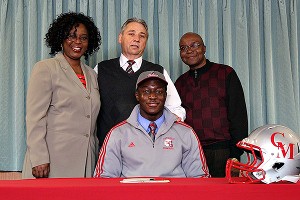 Courtesy of Catholic Memorial High
Here's more from the release by CM communications director Joe McGonegal:
Catholic Memorial School's senior football captain Peter Ngobidi inked his commitment to play for the University of Massachusetts on Wednesday morning. As part of the national "Signing Day" ceremonies across the nation, Ngobidi joined a long line of Division-1 bound CM seniors who have gone on to compete at the next level.

The co-captain of this year's Knights squad, Ngobidi went to middle school in Roxbury and played Pop Warner football in Hyde Park before coming to CM. There, he immediately found role models, both on the field and off, and a mentor in Catholic Memorial coach Alex Campea.

"Peter has been a tough-nosed kid who's gotten better every year," said Coach Campea. "As a captain, he can be emotional and get his message across when the time comes, but his actions on the field are the way he leads."

Ngobidi will join the UMass roster as a defensive end, playing on the same squad as his former teammate A.J. Doyle, who played quarterback for the Minutemen this year.

For Ngobidi (DE, 6'3", 220-lbs.), the decision was also an academic one. "It was a better fit for me," he said. "I hope to major in business, engineering or physical therapy, but if I didn't know right away what I wanted to do, I wanted to have the opportunity to figure it out."

Injuries plagued the team this season, but Ngobidi remained a healthy presence and force on both lines.

This winter and spring, Ngobidi will ready himself for UMass, both by staying in shape on the track team and by studying his two favorite subjects, math and science. "They've always been my favorite," he said, "but this year, I'm leaning a little more towards math."
December, 4, 2012
12/04/12
7:07
PM ET
By
Brendan Hall
| ESPNBoston.com
OFFENSE
QB -- Nick Peabody, Sr., Barnstable
The 6-foot-4, 225-pound signal-caller led the Red Raiders to their most successful season in over a decade, claiming the Old Colony League title outright, holding the No. 1 spot in ESPNBoston.com's statewide poll for seven weeks, and falling to Everett, 20-19, in a thrilling Division 1A Super Bowl at Gillette Stadium. For the season, he threw for 2,627 yards and 34 touchdowns while also carrying the ball 73 times for 366 yards and seven more scores. He is considering several Division 1 FCS schools for college.
QB -- Drew Belcher, Jr., Reading
In two years as the Rockets' starter under center, the 6-foot-4, 210-pound dual-threat quarterback has gone 21-4, including two Middlesex League titles and a Division 2 Super Bowl championship this season. Through the air, he was very efficient, completing 107 of 169 passes for 1,710 yards, 21 touchdowns and just two interceptions. On the ground he was just as dangerous, carrying 138 times for 804 yards and 15 scores.
QB -- Troy Flutie, Jr., Natick
The son of Boston College legend Darren Flutie, the younger Flutie endured a record-setting 2012 campaign in leading the Redhawks to the Division 2A Super Bowl title game. He completed 68 percent of his passes for 3,153 yards and 35 touchdowns to just eight interceptions, and on the ground he carried 167 times for 1,075 yards and 14 more scores.
QB -- Andrew Smiley, Jr., St. John's (Shrewsbury)
Smiley took the starting job during the preseason following injuries, and in his first year running the Pioneers' "Blur" offense, he set the Central Mass. single-season record for passing yardage. The 6-foot-3, 200-pounder completed nearly 62 percent of his passes for 3,123 yards and 25 touchdowns; on the ground, he carried 141 times for 1,023 yards and 10 touchdowns. The Pioneers also led the state in yards from scrimmage, averaging 442.2 yards per game.
RB -- Jonathan Thomas, Jr., St. John's Prep
The Catholic Conference's Offensive MVP established himself as one of the state's most dangerous in leading the Eagles to their first Division 1 Super Bowl title in 15 seasons. The 6-foot, 195-pound Salem resident carried 220 times for 1,794 yards and 15 touchdowns. He also added nine catches for 153 yards and three touchdowns, and defensively added 20.5 tackles and two interceptions. Thomas currently holds a scholarship offer from UMass, but more are sure to follow.
RB -- Quron Wright, Sr., Holy Name
The 5-foot-6, 165-pounder finished his career as the all-time leading rusher at both his school and in Central Mass. This fall, he totaled 3,199 yards from scrimmage and 38 touchdowns for the Naps, who made the postseason for an eighth straight year. That includes 35 rushing touchdowns and a state-best 2,254 rushing yards, as well as 806 return yards and two return touchdowns. For his career, Wright has 5,891 rushing yards and 2,659 return yards, to go along with 95 touchdowns (84 rushing, seven kickoff return, two receiving, two interception return).
RB -- Brendan Flaherty, Sr., Beverly
Considered the most dynamic back of the Panthers' vaunted three-pronged rushing attack, the 6-foot-1, 185-pound Flaherty led the Panthers to the Division 2A Super Bowl title and their first undefeated season in 100 years. On the season, he carried 160 times for 1,496 yards and 18 touchdowns, and added 10 catches for 236 yards and four more scores.
RB -- Dylan Oxsen, Jr., Plymouth South
By far the state's most surprising breakthrough this fall, Oxsen took Eastern Mass. by storm as the Panthers qualified for postseason for the first time in the school's 30-year history. After recording just three touchdowns last fall, the 5-foot-8, 205-pounder exploded for a state-best 40 rushing touchdowns in 2012, to go along with over 2,100 yards on the ground.
WR -- Brian Dunlap, Soph., Natick
Already off to a remarkable start to his young varsity career, the 6-foot Dunlap led the state in receiving, with 86 catches for 1,570 yards and 21 touchdowns. He also had 34 carries for 301 yards and another score. In just two years of varsity, Dunlap already has record-pace receiving totals: 155 catches, 2,742 yards, 35 touchdowns.
WR -- Jakarrie Washington, Sr., Everett
The 5-foot-10, 170-pounder was as dangerous on the ground as he was through the air, as the Crimson Tide captured their third straight Super Bowl championship. He caught 33 passes for 439 yards and nine touchdowns, and on the ground had 75 carries for 697 yards and 15 more scores. Defensively, he also recorded two picks and two fumble recoveries, one of which was returned for a touchdown.
WR -- Elijah Scott, Sr., Cambridge
Scott exploded into the spotlight following the Falcons' shootout loss to Everett, and stayed there for good. On the season, he recorded 73 catches for 1,047 yards and 11 touchdowns, the latter tying a school record, as the Falcons went 7-4 for their first winning season since 2007.
WR -- Dylan Morris, Sr., Barnstable
The 6-foot, 180-pounder established himself as one of the region's best deep-ball threats, as the Red Raiders reached their first Super Bowl since 1999. On the season, he recorded 33 catches for 716 yards and 13 touchdowns. Morris signed a National Letter of Intent with UMass last month, for baseball.
WR -- Will Heikkinen, Sr., Andover
Part of one of the most dynamic receiving corps in Eastern Mass., the 6-foot-1, 190-pounder led the Golden Warriors in receptions (67) and receiving yards (1,126), to go along with nine touchdowns as the Warriors reached the Division 1 playoffs for the second time in three seasons.
TE -- Terrel Correia, Sr., Nantucket
Another one of the state's surprise breakthroughs, the 6-foot-7, 270-pounder was a matchup nightmare for the Mayflower League. On the season, he led the 4-7 Whalers with 26 catches and 372 yards for five touchdowns. Correia is verbally committed to UMass, where he plans on converting to the offensive line.
OL -- John Montelus, Sr., Everett
The Notre Dame-bound left tackle concluded his Crimson Tide career as a three-time Super Bowl champion. The 6-foot-5, 320-pounder started on each of those Everett championship teams and was a finalist, the first-ever lineman, for our Mr. Football Award. Montelus, who didn't allow a sack in his high school career, will play in the U.S. Army All-American Bowl in January.
OL -- Rob Kosharek, Sr., Duxbury
The 6-foot-6, 270-pound road-grading tackle was a key part of a Dragons' offensive line that fueled the team to a then state-best 37-game winning streak, that only ended in a Division 2 playoff game against Mansfield. Kosharek led the team in pancake blocks with 28, nearly doubling the amount of Duxbury's second leading blocker.
OL -- Aaron Dyke, Sr., Auburn
The 6-foot-4, 295-pounder was among the state's most punishing road graders, as the Rockets won their fifth straight Central Mass. Super Bowl title. With Dyke leading the way, Auburn once again went over 3,000 mark in rushing (3,155 yards, 10.1 yards per carry, 53 TD) and accumulated 66 total scores and nearly 4,000 yards of offense. They also outscored the opposition 468-84, with four shutouts, to go 13-0 and captured the Division 3 Super Bowl title.
OL -- Matt Comerford, Sr., Reading
Reading was one of the state's most dominant offenses in capturing its second Division 2 Super Bowl title in four years, and the 6-foot-4, 270-pounder made sure the Rockets won the line of scrimmage. The Rockets were one of the best rushing attacks (2,544 yards, six yards per carry, 34 TD) and totaled 4,272 yards from scrimmge with 56 touchdowns. Comerford is also a standout goaltender on the Rockets' lacrosse team.
OL -- Joe Previte, Sr., Brockton
The 6-foot-2, 260-pounder played the interior and was a force for the Boxers, allowing them to total over 3,000 yards rushing in their newly-installed flexbone attack. Behind Previte, the Boxers averaged 255.5 rushing yards per game, among the state's best, and returned to the Division 1 Super Bowl for the first time since 2009. Previte also recorded 35 tackles and a sack as a defensive tackle.
ATH -- Tedaro France, Sr., Barnstable
A true three-phase contributor, the Red Raiders receiver and defensive back was considered by his peers the MVP of Barnstable's run at a Div. 1A Super Bowl. France tallied 41 receptions for 884 yards and 13 receiving touchdowns. He also had 682 combined return yards for 1,600 yards all-purpose yards and 19 total touchdowns.
ATH -- David Harrison, Jr., Weymouth
Quarterback, running back, wide receiver, it didn't matter which role Kevin Mackin asked the versatile Harrison to play this season. Harrison finished second in Division 1 with 21 touchdowns scored while hauling in 12 touchdown passes and throwing for eight more scores.
K -- Jackson Bockhorst, Sr., BC High
A feared weapon, not only in the kicking game but with his kickoffs, Bockhurst has earned the reputation as one of the most consistent kickers in the state during the last several seasons. In 2012, Bockhurst connected on three field goals and 17 point-after tries for 26 points.
***
DEFENSE
DL -- Maurice Hurst, Sr., Xaverian
As the Catholic Conference's Lineman of the Year, Hurst was a dominant force in the middle, recording 51 tackles (23 for loss), 11 sacks, four forced fumbles and an interception. Offensively, he also ran for 63 yards and five touchdowns as the Hawks' goal line running back. The 6-foot-3, 295-pound Hurst is the state's No. 2 overall prospect, and will be heading to Michigan next year.
DL -- Jon Baker, Jr., Millis/Hopedale
Considered one of New England's top Class of 2014 prospects, Baker dominated the Tri-Valley League once again as the Mohawks made a second straight Division 4 playoff appearance. As a defensive tackle, he registered 78 tackles with four sacks, and was named the league's Lineman of the Year for the second straight season. The 6-foot-3, 305-pound Baker currently holds offers from UMass, UConn and Boston College.
DL -- Peter Ngobidi, Sr., Catholic Memorial
The 6-foot-2, 215-pound Hyde Park resident established himself as one of the state's premier edge-setting defensive athletes, despite the Knights' struggles to a 2-8 campaign. Off the edge, he led the Knights in sacks (12), ranked second in tackles (68) and recorded three forced fumbles. Ngobidi will continue his career next fall at UMass.
DL -- Jeff Soulouque, Sr., Everett
Soulouque was a feared pass-rusher coming of the edge of the Crimson Tide defense which allowed just 12.6 points per game for the three-time defending Super Bowl champions.
LB -- Marshall McCarthy, Sr., Duxbury
Perhaps the most surefire tacklers in the state, McCarthy was the fulcrum of the Dragons' defense at his inside linebacker position. The 6-foot, 195-pounder led the team in tackles with 116 (79 solo), averaging nearly 10 tackles per game, and sacks with 12.5. He also had two forced fumbles and an interception.
LB -- Sha'ki Holines, Sr., Springfield Commerce
The 6-foot-3, 215-pounder is bound for UConn next season and was capable in the pass rush and he is adept at stuffing the run. Holines also finished the season with two touchdowns on offense.
LB -- Zack Hume, Sr., Nashoba
The 6-foot-2, 230-pounder was one of the most feared linebackers across the state, as the Chieftains captured their second straight Central Mass. Division 2 Super Bowl title to extend their win streak to a state-best 26 games. Hume totaled 113.5 tackles on the season, giving him over 100 for the third straight year, with 10.5 tackles for loss, three forced fumbles, a sack and an interception. Hume is also the two-time Defensive MVP of Mid-Wach B.
LB -- Andrew Ellis, Sr., Barnstable
Leading one of the state's most aggressive, athletic front sevens, the 5-foot-11, 230-pounder recorded over 100 tackles as the Red Raiders spent seven weeks at No. 1 in our statewide poll and reached their first Super Bowl since 1999. He had 105 tackles on the season, to go along with four interceptions and two forced fumbles.
LB -- Brad Schiff, Sr., Sharon
At just 5-foot-7 and 155 pounds, Schiff came away with the Defensive MVP award in the competitive Hockomock League. He recorded 174 tackles (17 for loss), four forced fumbles, a sack and an interception as the Eagles unexpectedly captured the Eastern Mass. Division 3 Super Bowl title in their first-ever postseason appearance. For his career, Schiff had 320 tackles (36 for loss), seven forced fumbles, three sacks and an interception.
LB -- Sean Smerczynski, Jr., St. John's Prep
The 5-foot-10, 216-pounder was an integral force for the Eagles as they captured their first Division 1 Super Bowl title in 15 seasons. On the year, he recorded 76 tackles, six tackles for loss, a sack and two fumble recoveries and was named a Catholic Conference All-Star.
DB -- Alex Moore, Sr., St. John's Prep
Earlier this week, Moore was named ESPN Boston's Mr. Football for the 2012 for his impact in all three phases of the game. On offense, he carried the ball 112 times for 857 yards and 14 touchdowns, and added a team-high 20 receptions for 455 yards and five more scores. Defensively, he recorded 67 tackles from the strong safety position, to go along with four forced fumbles, four interceptions (including a return for a TD) and five tackles for loss.
DB -- Micah Morel, Sr., Brockton
One of the top safeties in the state, Morel was also asked to play quarterback for several weeks when Austin Roberts was lost to injury for the Division 1 EMass Super Bowl finalists.
DB -- Jalen Felix, Sr., Everett
Playing lock-down corner, Felix tallied two interceptions for the three-time reigning Super Bowl champions. Felix also made his presence felt on the offensive side of the ball, leading the Crimson Tide in rushing with 684 yards for nine touchdowns. He also tallied three receiving touchdowns in addition to a kick return for a score.
DB -- Lucas Bavaro, Sr., St. John's Prep
The Dartmouth commit was one of the most hard-hitting forces in the state, playing a hybrid role of linebacker and free safety for the EMass Division 1 champion Eagles. Bavaro finished third on the Eagles with 46.5 tackles (41 solo), including five tackles for loss. He also tallied two interceptions, two forces fumbles, a fumble recovery and two punt blocks.
RET -- Cam Farnham, Sr., Andover
Always a big-play threat in the return game, Farnham was also a integral part of Andover's vaunted passing attack. The shifty speedster hauled in 11 touchdown receptions with two returns for a score.
November, 23, 2012
11/23/12
6:12
PM ET
By
Brendan Hall
| ESPNBoston.com
1.
The biggest thing that stood out to me from yesterday's Natick-Framingham game was how efficient the Redhawks' passing game remained despite limited touches by Brian Dunlap. The sophomore has an unheard-of 30 receiving touchdowns since his first varsity start last season, but for the first time in his career did not register a touchdown catch.
I posed this question to the Framingham defense in my pick Wednesday, and I'll pose it again to Plymouth South -– how do you cover Brian Dunlap? But now, I'm wondering if bracketing or shading a safety to his side is even the best gameplan. The Natick coaching staff was pretty high on Alex Hilger before he missed most of the season with a broken collarbone, and yesterday we saw why. Athletically, he's a terrific target who can stretch the field. Between Dunlap, Hilger and the recently-blooming Justin Robinson, it might be a case of "pick your poison".
Still, I think the key on Tuesday will be running back Nick Lee, who injured his ankle last month but looked solid yesterday. He told me yesterday his right ankle was "100 percent", and anyone who watch Natick's No. 9 win over Walpole knows that wasn't the case.
***
2.
You could make a pretty solid list of elite players sitting at home after Thanksgiving -– Xaverian's Maurice Hurst Jr., Catholic Memorial's Peter Ngobidi, Needham's Mike Panepinto and Nantucket's Terrel Correia come to mind. But the one I was really looking forward seeing was Amherst running back Kieran Presley, who ended his career yesterday with 175 rushing yards and two scores on just 10 carries in a 35-15 win over Northampton.
We profiled Presley
after his ridiculous 359-yard performance in a Nov. 2 win over Chicopee
, and you can argue he is playing his best ball right now. He finished with 1,009 yards on the season, but 684 of those yards have come in the last three weeks – including four scores of 56 yards or longer. Head coach David Thompson also says there is varying degrees of interest from a scattering of Division 1 FBS and FCS programs, including UConn, Albany, Rhode Island, New Hampshire and James Madison.
It looks like the Hurricanes finally got their zone-blocking scheme down midway through the season, but unfortunately they'll be on the outside looking in. Just a hunch, Thompson has a good thing going forward with this program.
***
3.
I said this on FOX 25 last night, and it bears mentioning again. For the most part, there isn't an overwhelming favorite among any of the divisions in Eastern Mass. Out in Central Mass., Division 1 is wide open, and on paper Nashoba feels like the overwhelming favorite but this is a team that Doherty nearly upset earlier this season.
However, in Division 3 Central, it's Auburn, Auburn, or Auburn. The Rockets are No. 9 in our statewide poll, and No. 1 in the Telegram & Gazette's poll, for good reason. As a team, they've run for 2,863 yards and 44 touchdowns, with an average of 10 yards per carry, led by senior Tyler Desjardins (120 carries, 1,560 yards, 23 TD).
Much like USC's student body right or Nebraska's I-bone formation, there's not a lot of trickeration to the domination – everybody knows what's coming. The Rockets run primarily power sets with jumbo personnel, and have been blowing people off the ball all season. I've previously mused that in the past the Rockets have gotten by just on outweighing people at the point of attack (they average about 280 pounds across, after all), but this is a unit that seems to get more mobile every time out. All-State candidate Aaron Dyke is at the forefront of this, able to pull down and lead block on sweeps fluidly.
The rest of the field in Division 3 consists of Hudson, Tantasqua and Groton-Dunstable. To those three teams, I say good luck.
***
4.
Sharon's Dave Morse, Stoughton's Greg Burke and Plymouth South's Scott Fry are on many short lists for Coach of the Year, and deservedly so. But I think we should also consider Upper Cape's Mike Hernon for any such nod. In just his second year at the helm, he has the Rams in the playoffs as Mayflower Small champs, with a 10-1 record. The Rams are one of the highest-scoring teams in Division 4A (28.1 points per game), and they have junior running back Jon Dumont to thank for that. He had an impressive start to the season (89 carries, 889 yards, 11 TD in his first five games), and is a hard north-south runner with 40 speed allegedly in the 4.5 range.
***
5.
If Barnstable and Everett win out on Tuesday, then the Division 1A Super Bowl is by far the marquee game of the Gillette Stadium slate. Some of us -– myself included -– are probably wondering why that got the 3:30 p.m. slot instead of 6 p.m., which has been designated for Western Mass. Division 2. Especially considering the crowd for last year's Western Mass. Super Bowl, an early-afternoon contest between Springfield Central and Longmeadow, was thoroughly a ghost town.
All of that considered, I might end up eating my words if Wahconah makes it. I had a conversation with noted
Berkshire Eagle
columnist Howard Herman the other day, and he assured me that if the Warriors make it to the Super Bowl, the town of Dalton "will shut down". Hope he's right.
September, 21, 2012
9/21/12
3:25
AM ET
NO. 3 XAVERIAN (1-1) AT NO. 15 BROCKTON (1-1)
The Skinny: Both teams are going to be seeing red after their respective performances last week with the Hawks taking an ole fashioned whooping at St. Joseph's Regional in New Jersey and the Boxers being shut out by the likes of Reading. This matchup will see some of the state's premiere lineman matching up with Michigan-bound Mo Hurst lining up across from preseason All-State Watch Lister Joe Previte of Brockton.

Barboza: The question might be is if the Boxers get back on the board again this week. I think they do, but it's still no enough. Xaverian, 27-14.

Hall: I want to know what St. Joseph's Regional alum Devin McCourty thinks of the New Jersey school's 62-0 beatdown of Xaverian last weekend. Xaverian, 24-17.

NO. 22 BC HIGH (0-2) AT DARTMOUTH (1-1)
The Skinny: The beleaguered Eagles might enjoy of bit of a reprieve if rumors are true that quarterback Brendan Craven will return for the tilt against the Indians. These will be two hungry squads as BC High looks for its first win on the season and Dartmouth hopes to bounce back from a disappointing loss to Attleboro last week. This could be a coming-out party for Dartmouth RB/LB Mitch Loranger, one of the more underrated talents in the state, while Tim Smith provides a nice change of pace running.

Barboza: Coach Rick White puts these games on the schedule when he feels like he has something in the bag, so you can't look past that. I think the Eagles escape the South Coast with their first win of the season, however. BC High, 16-14.

Hall: I'm in need of a bailout from North Attleborough Credit Union after picking the Eagles last week. Sorry, in this dire times of financial brevity, I can't take on too much more water. Dartmouth, 17-10.

WHITMAN-HANSON (2-0) AT FOXBOROUGH (2-0)
The Skinny: These are two traditional powers who have had some leaner years in recent memory, but seem again to be headed back in the right direction. The Panthers opened up their season with wins over ACL powers Plymouth North and Marshfield, with QB Tom Sapienza tallying over 400 yards on the air and ground in the victory over the Rams. The Warriors steamrolled their first two opponents (East Longmeadow and East Providnce, R.I.) by a combined 74-16 with running back Kiivone Howard putting his name into early Hockomock Player of the Year talk.

Barboza: The offensive weapons are there, but I wouldn't be surprised with a defensive struggle here. Foxborough makes the stops when it needs to behind linebacker Luc Valenza. Foxborough, 21-14.

Hall: Kiivone Howard has been one of the nicest surprises of the early season. Of course, folks in Foxborough will tell you that's no surprise. Foxborough, 30-25.

NO. 5 DUXBURY (2-0) AT NEW BEDFORD (2-0)
The Skinny: The Dragons put their state-best winning streak on the line against the Whalers after rolling through Plymouth North last week. Marshall McCarthy has been as good as he's ever been for Duxbury's defense, registering 26 tackles through two games. New Bedford will look for a big game from quarterback Mike Rapoza, who's a multi-dimensional threat having played running back and wide receiver as well.

Barboza: Jon Hurvitz and the Duxbury line could be primed for a big day. Duxbury, 28-10.

Hall: I fully expect the Dragons to head into October 5's showdown with Xaverian on a 30-game win streak. Duxbury, 21-0.

NO. 2 ST. JOHN'S PREP (2-0) AT NO. 1 EVERETT (2-0)
The Skinny: For the first time since 2010, we have the top two teams in ESPNBoston.com's statewide poll squaring off. Everett is 7-0 against the Catholic Conference since the 2009 MIAA Division 1 Super Bowl loss to Xaverian; that streak features three wins over the visiting Eagles, including the 2010 D1 Super Bowl. To snap the streak, Prep will have to play lockdown defense and get big production from its star running back Jonathan Thomas. For Everett, it's anyone's guess who will be lining up at quarterback this week, but Gilly De Souza has been very serviceable.

Barboza: I think both offenses are going to get theirs, but it's going to be decided by the defenses and who's able to force a fumble, come up with a pick, something to steal the game. Everett, 30-23.

Hall: No truth to the rumor Everett Superintendent of Schools Fred Foresteire was taking snaps under center this week. Everett, 23-21.

NO. 9 ST. JOHN'S OF SHREWSBURY (2-0) AT CATHOLIC MEMORIAL (1-1)
The Skinny: St. John's can lay claim to one of the state's most prolific offenses after an impressive showing the first two weeks, outlasting No. 24 Holy Name (47-40) and cruising past No. 16 Longmeadow (35-14). However, neither team has an individual as talented on the defensive side of the ball as CM's UMass-bound linebacker/defensive end Peter Ngobidi, one of the state's best off the edge. Conversely, the Knights struggled against Westford last weekend, and may have their hands full against a Pioneers squad with similar spread principles but at a breakneck tempo.

Barboza: I like the Knights' defense with Ngobidi and Kevin Bletzer, but too many options for them to stop. St. John's, 31-17.

Hall: Going forward, I'm suddenly very intrigued at how St. John's will be calling in its plays. St. John's, 30-14.

BB&N AT BELMONT HILL
The Skinny: Belmont Hill is entering its first season in decades without Kevin Fleming on the sidelines, and it comes out of the gate going right into the fire. BB&N took a 17-14 humbling at the Hillers' hands in the opening week of ISL play last year, and they have one of the best individual athletes this season in Wake Forest-bound tight end Brendan O'Neil.

Barboza: I'm still syphoning water from my boots after last year's "Car Wash" game. The memory will be fresh in the minds of the Knights as well. BB&N, 20-14.

Hall: Plain and simple, John Papas gets his revenge here. BB&N, 21-7.

THAYER ACADEMY AT GOVERNOR'S ACADEMY
The Skinny: ISL season opens up with plenty of hype behind Thayer and its numerous athletes, including Bryan Vieira, Aaron Gilmer and Ikenna Nwokeji. The Governors had runaway success last season under first-year head coach Jim O'Leary, and return arguably the most valuable player in the league in quarterback Tate Jozokos, a UNC lacrosse commit who was a dual-threat nightmare for many opponents.

Barboza: Simply stated, Gov's are running the table again this year. Governor's, 23-17.

Hall: Tate Jozokos can play on my Tuesday night Charlestown flag football team any day. Governor's, 28-13.
September, 6, 2012
9/06/12
11:06
PM ET
FRIDAY
NO. 1 EVERETT AT NO. 7 LEOMINSTER
The Skinny: Leominster has never beaten the Crimson Tide since this series began in 2002, but the Blue Devils have usually been a tough out. In 2009, the teams played to a 14-6 Tide win. The last two meetings, the Blue Devils got under the Tide's skin early before Everett's talent took over. But Leominster is brimming with excitement, its proud football culture awakened again following their first Super Bowl championship in a decade last fall. Everett, meanwhile, seems to be settled at every position but quarterback – and with a line averaging over 315 pounds, that will suffice. If Leominster is to pull off the upset, they'll have to a find a way to contain electric wideouts Jakarrie Washington and Jalen Felix.

Scott Barboza: Leominster turns it into a game, but still too many horses in the stable for Everett despite the questions. Everett, 27-20.

Brendan Hall: It's going to be a majestic crowd at Doyle, and some readers will undoubtedly conclude I'm biased towards Leominster because their defensive coordinator coached me 10 years ago at Oakmont. But I'm not. Even I'm not foolish enough to pick against the Tide in this one. Everett, 24-13.

NO. 2 BC HIGH AT NO. 22 BROCKTON
The Skinny: Injuries were an overarching theme of the preseason and both of these teams were affected. Bad news for BC High is Luke Catarius is out with a hairline ankle fracture, but Brockton should have Micah Morel in the lineup for their Week 1 challenge. We'll get a look at the reigning Div. 1 Super Bowl champions new-look offense with Brendan Craven under center and Brandon Owens in the backfield while the Boxers will be sporting a Georgia Tech-inspired scheme with Auggie Roberts back at quarterback.

Barboza: A Jackson Bockhurst field goal will be the difference. BC High, 17-14.

Hall: Things unraveled for Brockton pretty quickly in last year's meeting in Dorchester. The Boxers are fighting an uphill battle again this year, but at least it will be respectable. BC High, 28-14.

NO. 23 SPRINGFIELD PUTNAM AT NO. 14 SPRINGFIELD CENTRAL
The Skinny: With the schools sitting less than a mile from each other along Roosevelt Ave., the season-opening battle between these rival schools has become must-see as of late. Putnam won this contest last season, kick-starting an historic 2011 season that ended with their fifth Super Bowl title in eight seasons. Central will be looking for revenge, but it's not easy replacing 2,000-yard rusher in Sacoy Malone. Putnam, meanwhile, turns to a plethora of new faces to replace record-setting running back Melquawn Pinkney, including quarterback Kayjuan Bynum and running back Wayne Lowery.

Barboza: I came away very impressed from talking to Central QB Cody Williams last year at Gillette. He blossoms into the real deal this year. Central, 21-16.

Hall: I like the direction Central is headed in over the long run, but Putnam is still Roosevelt Ave (See what I did there?). Putnam, 7-6.

LA SALLE ACADEMY (R.I.) AT NO. 16 NORTH ATTLEBOROUGH
The Skinny: Big Red will have its hands full opening night with their challenger from just across the state line. The Rams feature a high-octane attack led by reigning Gatorade Player of the Year running back Josh Morris and senior quarterback Anthony Francis. The key to this one will be in the trenches where North's offensive line led by Eric Beckwith and Sean Peters could have the advantage.

Barboza: This Rams team is very talented, but North holds on – just barely. North, 28-26.

Hall: Josh Morris and Co. have been dying for that elusive win over a Massachusetts squad, and I think they finally get it here. La Salle, 17-13.

NO. 12 KING PHILIP AT DOVER (N.H.)
The Skinny: Self-admittedly, we don't know as much about Dover as we do KP, but we can be some what certain what the Warriors will be showing them on defense. And, of course, that's a variety of different looks and blitz and coverage schemes. Dover, which sits just outside of ESPN Boston correspondent Marc Thaler's Granite State Top 10 poll, will also have to contend with KP quarterback John Dillon, who will enjoy a greater role directing the offense in his second year as starter.

Barboza: KP's "Psycho" package gives Hockomock League teams fits, nevermind an offense that hasn't seen it. KP, 28-8.

Hall: Knowing little about Dover outside of what our loyal New Hampshire correspondents tell us, I'm going to trust their convictions on this one and say it will be close. But I'm still going with the team closer to Boston. KP, 20-10.

NO. 4 ST. JOHN'S PREP AT DRACUT
The Skinny: The Middies have been a bit of a bugaboo for St. John's Prep in recent years and some around Danvers feel Dracut has simply posed a matchup problem for the Eagles with its spread attack. Good news for Prep is that their secondary, with Lucas Bavaro, Gerry Kahari, Alex Moore and Johnny Thomas, has matured into a strength of the team. Dracut senior linebacker Zach Bassett could be the key to the game, trying to slow down Prep's running attack.

Barboza: Looking for a defensive struggle here. Prep, 14-7.

Hall: Classic trap game for The Prep, against a classic trap opponent that's had their number in recent years. Dracut, 10-6.

NORTH ANDOVER AT ANDOVER
The Skinny: North Andover's season starts with a Walsh at quarterback, but of another name. Brendan Walsh's younger brother Casey takes the helm of the Scarlet Knights' offense. It also marks North Andover's first Merrimack Valley Conference game. The Golden Warriors will counter with a high-flying attack that impressed during this summer's Northeast 7v7 passing tournament. Quarterback C.J. Scarpa has plenty of targets including Cam Farnham and Will Heikkinen.

Hall: I know it's a familiar rival that's been on the schedule for years, but North Andover is still in for a whole new ball game. And since it's now officially an MVC game, there will be no less than 172 points scored and 1,000 yards of offense. Andover, 35-30.

Barboza: Ditto. Andover, 31-20.

MARSHFIELD AT CATHOLIC MEMORIAL
The Skinny: Last year at this time, Catholic Memorial entered Marshfield's stadium with plenty of hype, behind three Division 1 FBS commits and a No. 4 preseason ranking in ESPNBoston.com's poll. They promptly got shut out by the Rams, 24-0, fueling their ensuing seven-game win streak. The Knights will no doubt be looking to exact revenge, and they'll look to Preseason All-State defensive end Peter Ngobidi to stifle the Rams' vaunted run game.

Barboza: Ngobidi is a dominant force and asserts his will here. CM, 7-0.

Hall: The Knights got embarrassed last year in Marsh Vegas, and I expect them to exact revenge here. CM, 16-13.

SATURDAY
NO. 24 HOLY NAME AT NO. 17 ST. JOHN'S (SHREWSBURY)
The Skinny: For all of Holy Name's success under Mike Pucko, the Naps have never beaten St. John's during his tenure. Could that change on Saturday? Holy Name turns to one of the state's most elusive scatbacks in Quron Wright, and will hope for a big day. St. John's has already hit the injury bug, with incumbent QB Connor Kurtz (knee) out for the season, but RB Shadrach Abrokwah is a nice fit for their hurry-up scheme, and is poised for a breakout senior season.

Hall: If the Naps are ever to beat St. John's, this has to be the year. Holy Name, 9-8.

Barboza: Hate to do this to the Naps, sorry. St. John's, 22-21.

NO. 9 DUXBURY AT NO. 8 BRIDGEWATER-RAYNHAM
The Skinny: B-R is itching to get over the hump after dropping its season-opener to the Dragons the past two seasons. The Trojans have some terrific talent between the tackles, led by Joey MacInnis, to pave for a big afternoon for junior tailback Arcel Armstead. Duxbury graduated one of its most talented classes ever from the 2011 Super Bowl champion squad, but still has plenty of talent left over to keep the state's longest active win streak (26) going. Look for guard Rob Kosharek, linebacker Marshall McCarthy and running back Jon Hurvitz to have big days.

Barboza: Now that Dan Buron's nephew Andrew (former Duxbury standout) has graduated, expect the Trojans to get back to their winning ways. B-R, 14-10.

Hall: After graduating one of the program's most talented classes ever, Marshall the Missile gets the full spotlight. And he usually gives the fans their money's worth. Duxbury, 14-10.

CONCORD-CARLISLE AT BEVERLY
The Skinny: C-C heads into its non-league tilt with the heavy NEC/CAL Tier 2 favorite already limping, losing its star running back Tim Badgley (ACL tear) for the season. If the Patriots are to repeat last year's Super Bowl championship success, sophomore quarterback Will Blumenberg will have to grow up quickly. Meanwhile, Beverly features one of the North Shore's most feared rushing attacks with the three-pronged approach of Kenny Pierce, Brendan Flaherty and Dom Abate.

Barboza: ETA on when the Kenny Pierce hashtag gets rolling again? We're looking at you James Coffey. Beverly, 27-14.

Hall: I'm excited to see what Will Blumenberg can do for the Patriots, but the Panthers just have too much in the tank to be stopped in this one. Beverly, 28-7.
September, 4, 2012
9/04/12
10:48
AM ET
By
Brendan Hall
| ESPNBoston.com
This morning, we unveil our initial "Watch List" for our third annual ESPN Boston Mr. Football Award, presented annually to the state's top overall player.
Last year, Everett quarterback Jonathan DiBiaso
took the award unanimously
, beating out Catholic Memorial's Armani Reeves, Duxbury's Matt O'Keefe, Chelmsford's Tim Joy and Springfield Putnam's Melquawn Pinkney. In 2010, Everett wideout Matt Costello
won the inaugural award
after catching for 1,301 yards and 23 touchdowns.
Check back with us each Monday during the season, as we put out our weekly "Mr. Football Watch" tracking the contenders and highlight others potentiall on the rise.
The five finalists for the Mr. Football Award will be announced after Week 10 of the high school season. The winner will be announced on the Monday following the MIAA Super Bowls, and will be honored at Gillette Stadium before the Patriots' December 10 home game.
Here is the first ESPN Boston Mr. Football Watch List of the 2012 season:
Jon Baker, Jr. OL/DL, Millis/Hopedale
Dominant two-way lineman already claims offers from UMass, Boston College and UConn, and has interest from Michigan and Virginia.
Drew Belcher, Jr. QB, Reading
6-foot-4, 200-pounder one of the state's most punishing dual-threat signal-callers.
Vincent Burton, Sr. RB, Blue Hills
Randolph native has 54 rushing touchdowns since the start of 2010, more than any other active player in the state over that time.
Kenny Calaj, Sr. RB/LB, Everett
Transitioning to the Crimson Tide's feature back role, he's got plenty of sizzle, and will have the benefit of a hefty line.
Ozzy Colarusso, Sr. ATH, Weymouth
Versatile scatback plays every skill position for the Wildcats, and accumulated 17 touchdowns last season.
Sha'ki Holines, Sr. LB, Springfield Commerce
UConn-bound linebacker registered 132 tackles and six sacks last season.
Zach Hume, Sr. LB, Nashoba
Registered 122 tackles last season for the 13-0 Division 2 Super Bowl champs, and has varied Division 1 interest.
Maurice Hurst, Sr. DT, Xaverian
290-pound, Michigan-bound Canton resident is widely considered the state's best three-technique. He'll even carry the ball more, after last year's experiment with St. John's (Shrewsbury) led to 220 yards rushing.
John Montelus, Sr. OT, Everett
Notre Dame-bound road grader is considered one of the best left tackles in the Northeast, and will lead a line that among the nation's heaviest at nearly 318 pounds across.
Peter Ngobidi, Sr. DL/LB, Catholic Memorial
One of the better edge-setters around, UMass-bound defensive athlete is at least one ESPN Boston correspondent's pick as the state's best defensive lineman.
Marcus Odiah, Sr. RB, Burlington
His combination of speed and acceleration is matched by few backs in Eastern Mass.
Nick Peabody, Sr. QB, Barnstable
Led the Red Raiders to their first playoff appearance in a decade last season, in part-time duty.
Jared Taylor, Sr. RB/NG, Mashpee
Shot to the top of everyone's list after gassing Cardinal Spellman for a Gillette Stadium record 308 yards in the Division 4 Super Bowl.
Hunter Taute, Sr. RB/LB, Xaverian
Intimidating leader of the Hawks' defense, and will be a force at running back at 240 pounds.
Jonathan Thomas, Jr. RB, St. John's Prep
Already picking up Division 1 interest, poised for a breakout season in Jim O'Leary's rushing attack.
Quron Wright, Sr. RB, Holy Name
Lilliputian scatback needs 1,300 yards to surpass Emil Igwenagu's all-time rushing yards mark at the school.
August, 20, 2012
8/20/12
8:14
AM ET
By
Brendan Hall
| ESPNBoston.com
In our first "Roundtable" of the 2012 football season, our high school staff and correspondents submitted their best position players in the state, and predicted champions for the state's most anticipated league races.

Brendan Hall
ESPN Boston High Schools Editor

Best QB: Nick Peabody, Barnstable
Best RB: Jared Taylor, Mashpee
Best WR: Jalen Felix, Everett
Best TE: Chris Collins, Walpole
Best OL: John Montelus, Everett
Best DL: Maurice Hurst Jr., Xaverian
Best LB: Luke Catarius, BC High
Best DB: Micah Morel, Brockton
Best K: Gilly De Souza, Everett
Best RET: Cam Farnham, Andover

Catholic Conference: Xaverian
MVC Large: Andover
MVC Small: Dracut
Bay State Carey: Needham
Bay State Herget: Natick
Old Colony: Barnstable
Atlantic Coast: Nauset
South Coast: Dighton-Rehoboth
Dual County Large: Lincoln-Sudbury
Dual County Small: Wayland
Patriot Keenan: Duxbury
Patriot Fisher: Pembroke
Hockomock Kelly-Rex: North Attleborough
Hockomock Davenport: Stoughton
NEC/CAL Tier 1: Masconomet
NEC/CAL Tier 2: Beverly
Middlesex Large: Reading
Middlesex Small: Wakefield
South Shore: Mashpee

Scott Barboza
ESPN Boston High Schools Editor

Best QB: Drew Belcher, Reading
Best RB: Jonathan Thomas, St. John's Prep
Best WR: Jalen Felix, Everett
Best TE: Chris Collins, Walpole
Best OL: John Montelus, Everett
Best DL: Maurice Hurst Jr., Xaverian
Best LB: Luke Catarius, BC High
Best DB: Alex Moore, St. John's Prep
Best K: Gilly De Souza, Everett
Best RET: Cam Farnham, Andover

Catholic Conference: BC High
MVC Large: Andover
MVC Small: Dracut
Bay State Carey: Weymouth
Bay State Herget: Natick
Old Colony: Barnstable
Atlantic Coast: Marshfield
South Coast: Dighton-Rehoboth
Dual County Large: Lincoln-Sudbury
Dual County Small: Concord-Carlisle
Patriot Keenan: Duxbury
Patriot Fisher: Pembroke
Hockomock Kelly-Rex: King Philip
Hockomock Davenport: Stoughton
NEC/CAL Tier 1: Lynn English
NEC/CAL Tier 2: Beverly
Middlesex Large: Reading
Middlesex Small: Wakefield
South Shore: Mashpee

Adam Kurkjian
ESPN Boston correspondent

Best QB: Drew Belcher, Reading
Best RB: Jonathan Thomas, St. John's Prep
Best WR: Jakarrie Washington, Everett
Best TE: Chris Collins, Walpole
Best OL: John Montelus, Everett
Best DL: Maurice Hurst Jr., Xaverian
Best LB: Luke Catarius, BC High
Best DB: Jalen Felix, Everett
Best K: Jackson Bockhurst, BC High
Best RET: Ozzy Colarusso, Weymouth

Catholic Conference: BC High
MVC Large: Central Catholic
MVC Small: Haverhill
Bay State Carey: Weymouth
Bay State Herget: Walpole
Old Colony: Bridgewater-Raynham
Atlantic Coast: Dennis-Yarmouth
South Coast: Wareham
Dual County Large: Lincoln-Sudbury
Dual County Small: Concord-Carlisle
Patriot Keenan: Duxbury
Patriot Fisher: Pembroke
Hockomock Kelly-Rex: King Philip
Hockomock Davenport: Stoughton
NEC/CAL Tier 1: Lynn English
NEC/CAL Tier 2: Beverly
Middlesex Large: Reading
Middlesex Small: Wakefield
South Shore: Mashpee

Ryan Kilian
Founder, New England Prep Stars

Best QB: Drew Belcher, Reading
Best RB: Jonathan Thomas, St. John's Prep
Best WR: Jalen Felix, Everett
Best TE: Chris Collins, Walpole
Best OL: John Montelus, Everett
Best DL: Maurice Hurst Jr., Xaverian
Best LB: Luke Catarius, BC High
Best DB: Alex Moore, St. John's Prep
Best K: Gilly De Souza, Everett
Best RET: Cam Farnham, Andover

Catholic Conference: BC High
MVC Large: Central Catholic
MVC Small: Haverhill
Bay State Carey: Weymouth
Bay State Herget: Natick
Old Colony: Barnstable
Atlantic Coast: Dennis-Yarmouth
South Coast: Dighton-Rehoboth
Dual County Large: Lincoln-Sudbury
Dual County Small: Concord-Carlisle
Patriot Keenan: Duxbury
Patriot Fisher: Pembroke
Hockomock Kelly-Rex: Mansfield
Hockomock Davenport: Stoughton
NEC/CAL Tier 1: Masconomet
NEC/CAL Tier 2: Beverly
Middlesex Large: Reading
Middlesex Small: Wakefield
South Shore: Mashpee

Corey Allen
ESPN Boston Correspondent

Best QB: Nick Peabody, Barnstable
Best RB: Brendan Flaherty, Beverly
Best WR: Jakarrie Washington, Everett
Best TE: Chris Collins, Walpole
Best OL: John Montelus, Everett
Best DL: Peter Ngobidi, Catholic Memorial
Best LB: Luke Catarius, BC High
Best DB: Jalen Felix, Everett
Best K: Gilly De Souza, Everett
Best RET: Cam Farnham, Andover

Catholic Conference: BC High
MVC Large: Central Catholic
MVC Small: Dracut
Bay State Carey: Needham
Bay State Herget: Walpole
Old Colony: Bridgewater-Raynham
Atlantic Coast: Nauset
South Coast: Wareham
Dual County Large: Lincoln-Sudbury
Dual County Small: Boston Latin
Patriot Keenan: Duxbury
Patriot Fisher: Pembroke
Hockomock Kelly-Rex: North Attleborough
Hockomock Davenport: Stoughton
NEC/CAL Tier 1: Masconomet
NEC/CAL Tier 2: Beverly
Middlesex Large: Reading
Middlesex Small: Wakefield
South Shore: Mashpee
July, 15, 2012
7/15/12
11:19
PM ET
By
Brendan Hall
| ESPNBoston.com
Catholic Memorial defensive athlete Peter Ngobidi
gave his pledge to UMass yesterday morning
, making him the third in-state verbal commitment for the Minutemen's Class of 2013. In what has become a recurring theme here with UMass' 2013 in-state commitments, Ngobidi had no other Division 1 FBS offers (UMass offered in March); from the FCS level, only Bryant and Fordham offered at the time of his verbal.
And like the other two locals who pledged -- Springfield Commerce linebacker Sha'ki Holines and Nantucket tight end Terrel Correia -- Ngobidi is not a high-profile recruit, but an underrated one that is viewed by college scouts as having plenty of upside. Ngobidi is a hybrid edge defender who lines up at both defensive end and linebacker. With a long wingspan for his compact 6-foot-2 frame, a d34-inch vertical, and a 40-yard dash timed as low as 4.61 seconds, it will be interesting to see his development over the next few years.
Ngobidi, a Hyde Park resident, spoke to ESPNBoston.com earlier tonight for a few more comments on his commitment.
Deciding factors:
"Pretty much I talked to my dad, my sisters, my coaches, a few friends, I talked to Deijon [Evans, teammate and close friend], they seemed to all like it. One of my sisters goes there, so I talked to her to see what she liked about it. I went around and looked at it myself -- obviously, I've been around the school, from when I would visit her. And then A.J. Doyle [CM teammate and incoming UMass QB] has been persuading me of course, telling me everything that's been going on there up to this point."
His role:
"They kinda have me at both [end and linebacker], wherever they need me at any time. I'm like a stand-up defensive end, if they need me in the rush I can support that, and if they need me to drop back in coverage I can do that as well."
On joining A.J. Doyle next year:
"That would be pretty good. Me and A.J. are pretty good friends, I'd be happy to be with him again."
What he's been working on, and needs to improve:
"I've noticed what I made a lot of mistakes on last season -- finishing through tackles. I'm good in space, but I need to make sure to run through people. I could have had more tackles last season if I ran through people instead of reaching."
July, 14, 2012
7/14/12
1:16
PM ET
By
Brendan Hall
| ESPNBoston.com
Per a source, Catholic Memorial senior defensive end/linebacker Peter Ngobidi gave a verbal commitment to the University of Massachusetts this morning for the 2013 season.

The 6-foot-2, 215-pound Hyde Park resident was an integral force off the edge last season for the 7-2 Knights, making plays at both defensive end and outside linebacker. He led the team in sacks (9), recorded nearly 20 tackles for loss, and ranked fourth on the team in tackles (60).

He is the fifth member of CM's 2011 team to pursue Division 1 college athletics, and will re-connect with a former teammate of his -- quarterback A.J. Doyle -- upon his arrival.

Ngobidi is the third in-state pledge for the Minutemen in the last month, joining Springfield Commerce linebacker Sha'ki Holines and Nantucket tight end Terrel Correia in the 2013 recruiting class.

The source said the plan is currently for Ngobidi to play the edge as either a defensive end or outside linebacker.
March, 16, 2012
3/16/12
2:57
PM ET
By
Roger Brown
| ESPNBoston.com
Shortly after University of Massachusetts football coach Charley Molnar secured his first recruiting class in February, he talked about how he wanted New England players to form the foundation of his program. Apparently that was more than just talk.

UMass has clearly made New England –- and Massachusetts in particular –- the focus of much of its recruiting efforts.

BC High offensive lineman Jack McDonald, Everett offensive lineman John Montelus, Xaverian defensive lineman Maurice Hurst Jr., Tabor Academy defensive lineman Tevin Montgomery, BB&N tight end Brendan O'Neil and Catholic Memorial defensive end Peter Ngobidi have each received a scholarship offer from UMass, which held two junior days last month.

In addition, Todd Stafford, a 6-foot-5, 240-pound quarterback from the Brunswick School in Greenwich, Conn., committed to UMass on Thursday. He became UMass' first commitment from the class of 2013.

"I went to the first junior day and [Molnar] said with the move to the MAC they want to start with the local kids," McDonald said. "He talked about how good the talent is around here, and they want to bring in as many local kids as they can."

UMass has been competing at the FCS level in the Colonial Athletic Association, but will move up to the FBS level when it begins play in the MAC next season. The Minutemen won't play on campus, but will use Gillette Stadium as their home field.

"It's a little bit of a drive from the campus, but I got to play at Gillette in last year's Super Bowl and it's a once-in-a-lifetime experience," McDonald said. "They'll have their own locker room there. I think the positives will outweigh the negatives."

McDonald also has offers from Boston College and Maryland, and has received significant interest from Duke and Temple.

"Right now I'm considering everything," he said.

Montelus and Hurst each have at least 10 Division 1 scholarship offers. Hurst received his offer from UMass while at one of the junior days last month.

"I'll definitely consider UMass," Hurst said. "I really like the coaching staff and a lot of Mass. kids seem to be going there."

There were six players from New England in Molnar's first recruiting class: wide receiver Khary Bailey Smith (Weymouth), tight end Nevin Cyr (Pelham, N.H.), quarterback A.J. Doyle (Lakeville), linebacker Vondell Langston (Everett), linebacker John Robinson (Springfield) and linebacker Jovan Santos-Knox (Middletown, Conn.).

Wide receiver Derek Beck, a New Jersey native who played at Bridgton Academy in North Bridgton, Maine, signed with UMass as well.

Jake Kennedy, who is perhaps the best offensive lineman from New Hampshire in the Class of 2013, also has a UMass offer. Kennedy plays for Souhegan High School in Amherst.

Kennedy received his offer from UMass defensive line coach Dave Sollazzo earlier this week. He's also receiving interest from Boston College, Connecticut, New Hampshire, Brown and Harvard.

Kennedy said UMass is a school he'll strongly consider.

"Most definitely," he said. "I could see myself there."
October, 29, 2011
10/29/11
1:51
AM ET
By
Brendan Hall
| ESPNBoston.com



WEST ROXBURY, Mass. -- "Read the papers!" shouted Brent Williams as he descended the ladder from the roof of the press box at the soon-to-be named O'Connor Stadium, the Catholic Memorial defensive coordinator wearing his emotions emphatically as he exited the box with 26 seconds left in the first half.

Forgive the former New England Patriot if he seemed a little jumpy. His godson, Penn State commit and returning All-Stater Armani Reeves, had just ripped off a 72-yard punt return for a touchdown that swung momentum in what was a tie ball game with Catholic Conference foe St. John's Prep.

That made it 14-7, and after a shutout second half, the Knights (5-1) walked away with their first Catholic Conference victory of the season, a 26-7 decision over the Eagles.

"I knew I had to get past the first guy, and then pretty much from there, I knew I could just outrun everybody to the sideline," said Reeves, who clocks in the 4.4's on his 40-yard dash. "I almost ran out of bounds at the sideline there, but luckily my feet were there. I stayed in, and gave it everything I got in me into the end zone."

Said head coach Alex Campea of Reeves, "Listen, he's a gamebreaker. He makes plays, whether you're throwing the ball or punting the ball to him, he's a heck of a player. He's just a difference maker."

Meanwhile, a defense led by Penn State-bound linebacker Cam Williams and junior defensive end Peter Ngobidi (16 tackles) forced three turnovers, and allowed just 51 yards of offense from the run-heavy Eagles (3-4) over the final two quarters.

"Prep's really known for running the ball all the time," Williams said. "The key is just to stop the run. We have great defensive backs and we always stop the pass, but we're known to let up 200 yards a game rushing every year. We've been doing that [stopping the run] all year, and then this year [with the Eagles] the defensive coordinator, my dad, was talking about getting turnovers, and we got that this week too...we try to be versatile against the run and pass, and we did well on all cylinders."

Armani Exchange: Plain and simple, ESPN Boston Mr. Football candidates repeatedly make plays that change the direction of the game, and Reeves showed why he's on the short list tonight.

His first two carries, toss sweeps to the left then right, went for 33 and 35 yards respectively -- the second one opening up the scoring on the evening. He then brought a sleepy game on Baker Street to life with his electric punt return, shedding a few arm-tackles at midfield and burning by the personal protector at the 30-yard mark on the left sideline.

After going for 68 yards on his first two carries, the Eagles' defense adjusted their responsibilities on the outside holes, blitzing both outside linebackers and forcing a quicker reaction from the player who's arguably the state's most dangerous coming around the end.

"That forced me to cut it up sooner," Reeves said. "It wasn't really much of an adjustment, but just something I had to pay attention to."

But Reeves merely came around and made them pay in multiple ways. First, there was the punt return. Then, early in the third quarter, he went up for jump ball at the left sideline and ripped the ball out of defensive back Gerald Kahari's hands (think Miles Austin vs. Antonio Cromartie). It was done so furtively that half the players on the field had already begun walking back to the huddle as if it were an interception -- instead, it was a 34-yard gain that set up first and 10 at the Prep 19.

In all, Reeves finished with 238 all-purpose yards, including 98 rushing on eight carries.

Thomas a stud in the making: In our midseason report last week, we named Prep sophomore tailback Jonathan Thomas one of the second-half breakouts to watch. He proved it again tonight, with 131 yards on 20 carries and the Eagles' lone score of the night, a 71-yard counter trey up the middle in which he followed a trap block up through to the second level and outran the secondary to paydirt.

"He's going to be a good player," Williams said. "Once he gets some weight on him...he's a pretty quick back. He slips underneath his big old offensive linemen, so he's going to be a good player. I told him 'Keep working' when I shook his hand [after the game]."

Prime Time Peter: Against the run-heavy Prep offense, which toys with looks out of both the traditional I-formation and various Georgia Tech-style triple option looks, angle pursuit is key. Head coach Jim O'Leary isn't afraid to repeat the same sequence of plays should it work, and tonight the Eagles were looking to run up the outside holes with their stable of speedy backers in Thomas, Kahari and Alex Moore.

Enter Peter Ngobidi, a junior from Hyde Park who should continue to climb on the college recruiting radar with performances like tonight. The 6-foot-2, 205-pounder might be a more natural fit out of a two-point stance, but with his hand planted in the turf he's proven just as efficient. With a quick first step and long, lean frame, Ngobidi made himself compact while also keeping his shoulders square, totaling 16 tackles on the night.

His biggest stop of the night came with nine minutes and change left, and the Knights holding on to a 20-7 lead. Ngobidi jarred the ball loose from the Eagles running back at the line of scrimmage, and Jon Schneider fell on it for a first and 10 for CM at the Prep 20. The next play, quarterback A.J. Doyle (9 of 19, 159 yards, 2 total TD) hit Brandon Hamel coming across the shallow middle end zone on a post route for a 26-7 score.

"I think I started off rough," Ngobidi said. "I got dropped a couple of times and I messed up on that counter trey (Thomas' touchdown). After that, my teammates picked me back up. I kinda fixed my own head, and kept pushing forward."

CATHOLIC MEMORIAL 26, ST. JOHN'S PREP 7

SJP (3-4) 0 7 0 0 --- 7
CM (5-1) 7 7 6 6 --- 26

First Quarter
C - Armani Reeves 35 run (Michael Keane kick) 4:50

Second Quarter
S - Jonathan Thomas 71 run (Connor Shaw kick) 9:18
C - Reeves 72 punt return (Keane kick) 0:23

Third Quarter
C - A.J. Doyle 1 run (kick failed) 4:20

Fourth Quarter
C - Brandon Hamel 20 pass from Doyle (8:40)
September, 3, 2011
9/03/11
4:43
PM ET
By
Brendan Hall
| ESPNBoston.com
WEST ROXBURY, Mass. -- The cupboard is never bare on Baker Street. But the hardware always seems to be out of reach.

For years, talent has been roaming the gridiron at Catholic Memorial School, going back 10 years ago to the days of head coach Dennis Golden and former Boston College running back L.V. Whitworth. But it's been a while since the Knights have grabbed at least a piece of the Catholic Conference title, and even longer since their last postseason appearance (1978, a 13-8 win over Chelmsford in the Division II Super Bowl).

This year, the stage is no different. The Knights feature four senior captains committed to BCS conference schools in quarterback A.J. Doyle (NC State), linebacker Camren Williams (Penn State), athlete Armani Reeves (Penn State) and defensive back Donovan Henry (Boston College); but just two Catholic Conference wins in two seasons to show for it, going 10-10 overall during that same stretch.

Last season, the Knights started off 4-1 (and were a last-second Longmeadow field goal from 5-0) before dropping their final four contests, allowing an average of 31 points per game over that span.

"I think because we haven't won the Catholic Conference in God knows how long, we're keeping [ourselves] level-headed," Reeves said. "I know me, Cam, A.J. and Dunny [Henry] get all the exposure, but it's all a team sport. And we can't win it by ourselves. So, if we keep the team in it, make sure they're working their butts off in practice, work hard every game, we'll be fine.

"I think it's mostly getting everyone to focus on their technique, making sure they know it's a team sport. We all need to do it together."

It's enough that the amicable Reeves, usually an articulate and polite interview, says he hasn't been returning as many phone calls from the scouting services with their routine check-ins.

"I don't really wanna say I'm trying to make everything about me," he said. "Because that's not what I'm trying to do. I'm trying to make it about the team. So, all these guys are calling me and everything, and they'll be alright for now. I'll call them every once in a while, tell them how the game went. But for now, it's me and my team, and the focus is on winning this championship."

Unlike fellow Catholic Conference powers BC High, St. John's Prep and Xaverian -- schools known to cycle as many as four-dozen players in their two-deep rotation -- the Knights lack depth. So Reeves, one of New England's most elusive threats with legitimate 4.4 burners, figures to shoulder a good chunk of that burden.

Head coach Alex Campea revealed as much last month when Reeves announced his decision to commit to Penn State, telling ESPNBoston.com at the time, "I'm going to play him in every conceivable fashion that we can get him on the field and help CM win some football games."

The 5-foot-10, 190-pounder is predicted to push for playing time early in his career in Happy Valley, and for the most part the hype is justified. He was named to ESPNBoston's inaugural MIAA All-State Team a year ago, racking up more than 1,200 all-purpose yards and scoring 16 times in four different ways -- rushing, receiving, returning punts and kicks.

Doyle showed much-improved footwork to accompany his accurate arm, while Williams has shown a cerebral ability with his improved physique at middle linebacker. But if the Knights are going to survive the late-season buzzsaw this time around -- their final four games are against No. 12 St. John's Prep, No. 5 Brockton, No. 7 Xaverian and No. 3 BC High -- they are going to have to not only find a way to finish drives, but make a few stops.

Run defense was the Achilles heel last season. The Knights allowed 13 rushing touchdowns in that four-game season-ending skid, and in each game the opponent's feature back accumulated over 150 yards on the ground -- most notably, BC High's Preston Cooper went off for 228 on Thanksgiving.

Size has never been an issue, and they'll be big up front once again between seniors Tyler Loring (6-4, 270 lbs), Jon Schneider (6-4, 250 lbs) and Mike Lyons (6-1, 260 lbs). Those same guys will be counted on in the running game, too, making holes for Reeves. Junior Peter Ngobidi, perhaps the Knights' next breakout star, figures to be a dangerous pass-rushing threat at defensive end, standing 6-foot-2 and 215 pounds.

And then maybe, just maybe, the pressure will subside.

CATHOLIC MEMORIAL AT A GLANCE

Coach: Alex Campea (7th year, 79-61)
Last year: 5-5
Key Returnees: A.J. Doyle, Sr. QB, 6-3, 225 lbs; Armani Reeves, Sr. ATH/DB, 5-10, 180 lbs; Camren Williams, Sr. LB, 6-1, 210 lbs; Donovan Henry, Sr. RB/DB; Tyler Loring, Sr. OL/DL, 6-4, 270 lbs; Peter Ngobidi, Jr. RB/DE, 6-2, 215 lbs; Jon Schneider, Sr. OL/DL, 6-4, 250 lbs; Mike Lyons, Sr. OL/DL, 6-1, 260 lbs; Josh Charles, Sr. WR/DB, 6-1, 175 lbs; Kevin Bletzer, Soph. LB, 5-11, 180 lbs; Eddie Murray, Sr. TE/DE, 6-1, 190 lbs; Garrett Ewanouski, Sr. LB, 5-10, 180 lbs; William Earl, Sr. RB/DB, 5-6, 170 lbs
Strengths: Speed, skill positions, experience
Weaknesses: Line, kicking game.
Outlook: After building considerable hype in the past two preseasons, 2011 is make or break for the Knights. Skill positions have never been an issue for the Knights -- instead, it's the run defense that has been its Achilles heel. More specifically, the Knights allowed 13 rushing touchdowns over their four-game losing skid to end the season, and in each game the opponent's feature back went off for 15 yards or more. Loring, a Norton native who could be the fifth D1 commit for CM, figures to be the foundation for improvement. "I think the line will be fine," head coach Alex Campea said. "I think we have some players there, they just need to be consistent." The Knights ooze athleticism in the secondary between Reeves, Henry and Josh Charles, and Williams has shown improved physique and leadership skills as middle linebacker. Some are predicting a breakout year for Ngobidi, who showed signs of such late last season amid the skid. Doyle, an NC State commit, is live in the pocket, and showed improved footwork in Saturday's scrimmage with No. 2 Duxbury. Overall, this is a team that appears to have learned its lesson from last season's collapse, but will that be enough to knock off BC High, Xaverian and St. John's Prep?
September, 3, 2011
9/03/11
3:16
PM ET
By
Brendan Hall
| ESPNBoston.com
DUXBURY, Mass. -- In a battle of two teams in the top five of ESPNBoston's preseason poll, No. 4 Catholic Memorial traveled to No. 2 Duxbury this morning in a highly-anticipated game scrimmage.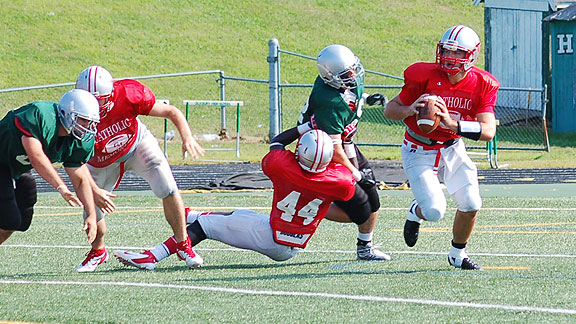 Brendan Hall/ESPNBoston.comDuxbury's pass rush forced CM quarterback A.J. Doyle to make decisions on the fly at times.
By virtue of two quick scores, CM took the first quarter. First, Penn State-bound middle linebacker Camren Williams intercepted a bullet over the middle, taking it 60 yards to the house. The ensuing kickoff was misplayed by Duxbury, giving the Knights the ball again at the Duxbury 30. CM marched down the field, aided by a late hit call on Penn State-bound athlete Armani Reeves; 6-foot-2, 215-pound junior Peter Ngobidi punched it in on a dive from two yards out.
Early on, perhaps in part to communication errors, Duxbury's offense was working out kinks. But as the game progressed, things loosened up. The Green Dragons notched their only score in the third quarter, when Andrew Buron took an eight-yard hitch route, shook his man in single coverage and scampered 40 yards down the left sideline.
Overall, it was an evenly-played matchup, with neither team able to get much of a drive going over the final three quarters.
"We're only replacing two starters on defense," Duxbury head coach Dave Maimaron said. "[But] you can tell that our offense isn't nearly where it needs to be in getting ready for B-R next Friday. So we have a lot of work to do on the offensive side of the ball. We're just not executing. We made some mental errors. That's a little frustrating right now."
Said CM head coach Alex Campea, "Overall, we did OK, I guess that's what I'm going to say. We did some good things at good times, other times we didn't. Consistency is a thing you look for through the entire season, and right now we don't have that."
Some other thoughts from the scrimmage:
-- The amount of talent in Duxbury's lacrosse program, and how many of those Division 1 recruits are an impact in football, is one of the reasons we've been so high on the Dragons this preseason. The Dragons return nine starters on defense, including Reilly Naton (Yale) and James Burke (Penn State) at the two safety spots, and linebackers Henry Buonagurio (Drexel) Seamus Connelly (Duke) and Max Randall (Dartmouth).
From that, the Dragons boast speed all over the field, and from that run an aggressive scheme out of a 3-4 base that isn't afraid to throw an array of blitzes.
But perhaps the athletic talent is most evident in Duxbury's pass coverage. In the Division 2A Super Bowl championship season a year ago, this unit combined for 16 interceptions, led by Naton with five. That lockdown coverage was on display again this morning, forcing CM's NC State bound quarterback A.J. Doyle into some second-guessing.
Said Reeves of the Dragons defense: "It was a really good test. You know, they brought a lot blitzes, mixed a lot of [Cover] 2's and 3's in there, Cover 6's, so it was a really good test of A.J., getting a lot of looks out there. It was really good for the wide receivers, to see where the holes open up in the zones."
-- In turn, the pass coverage bought some time for the speedy edge rushers, who forced Doyle to sometimes make decisions with his feet. Between Connelly Brody Zisko and Henry Narlee (two sacks), the Dragons got consistent pressure from the outside.
"We have a bunch of athletes on our defense who can get to the quarterback," Maimaron said. "We try to put on as much pressure as we can from various spots. The defense kept us in that scrimmage today."
-- On a defense full of speed, Williams is hardly the fastest. But he took charge of the defense and showed why Reeves calls him "the backbone", making all the right calls, and demonstrated a great nose for the ball, taking good angles in pursuit and coming up with two interceptions. His first, as discussed above, was a laser over the middle that he snagged away from a receiver running a shallow drag route, jumping in front. His second came on a tipped pass deep down the left side of the field.
"[He's been] terrific. He's making plays all over the field," Campea said. "I mean, he's a terrific player, he's a terrific leader, he sees the whole field and makes plays happen."
Said Maimaron, "Their linebackers are phenomenal. That Williams kid is an amazing player, he's tough to block. We just have to get better and be able to execute."
-- CM's Boston College-bound running back/defensive back Donovan Henry was not at this morning's scrimmage, as he was attending to the wedding of a family wedding.
-- By now, Catholic Memorial's "Big Four" of Doyle, Williams, Reeves and Henry are household names in the Northeast, as are the Dragons' many athletes, including quarterback Matt O'Keefe (a Johns Hopkins lacrosse commit) and wideout Don Webber (an Ivy League recruit). But keep an eye out for 5-foot-7 sophomore speedster Khai Perry, a fire hydrant who will get reps at running back and returner. The left side of the offensive line will be in focus, too, with bulky junior left tackle Rob Kosharek (6-foot-6, 250 lbs) and senior guard Gordon Acha (6-foot-4, 255 lbs).
Some of CM's lesser-known athletes look to be in for big things this fall, including wideout/cornerback Josh Charles, running back Eddie Murray, and linebackers Kevin Bletzer and Garrett Ewanouski. On the line, 6-foot-4 tackle Tyler Loring is getting a good share of Division 1 looks, while John Schneider and Mike Lyons will also turn some heads. Ngobidi is a Division 1 prospect at defensive end, and will split time on defense in both two-point and three-point stances.