Boston High School:

Peter Salem
September, 30, 2011
9/30/11
11:06
PM ET
By
Adam Kurkjian
| ESPNBoston.com
DRACUT, Mass. -- For the first half at least, it looked like Friday night's Billerica-Dracut game was going to rival last year's shootout, where the teams combined for 102 points in a blowout Middies win.

Billerica put an end to those thoughts in the second half, however, shutting down the hosts in a 40-14 rout that sends a message to the rest of the Merrimack Valley Conference -- that the Indians have the defense to match the explosive offensive arsenal they've seemingly always had.

Overall, Billerica (3-1) held Dracut (2-2) to just 172 total yards of offense, including 12 in the second half. The Indians did not allow a first down in the final 22 minutes, and Matt Clifford and Nick LaSpada made interceptions in the fourth quarter.

Of course, the Indians did a lot of damage with the ball in their hands, as Clifford scored a touchdown on a kickoff return, a pass reception and a handoff in the first half and finished with 249 all-purpose yards. LaSpada completed 14-of-23 passes for 239 yards and two scores, while rushing for another. Byron Ramirez rushed for 134 yards and two touchdowns on 20 carries, and receiver Willie Ricard was LaSpada's favorite target, with eight catches for 134 yards and a touchdown.

A few observations from Billerica's dominant win...

Laying it on the line: Coming into the game, one would have thought Dracut's line play would be a little superior to Billerica's. But that was not quite the case Friday night, as the Indians held their own against an active Dracut front. One player in particular who had a phenomenal night was 6-foot, 195-pound senior Billy McInnis. Although he was clearly one of the smaller linemen on the field, McInnis may have been the quickest, as he found his way into the Dracut backfield consistently and protected LaSpada from his right tackle spot. Dracut also had some solid play up front, particularly seniors Peter Salem and Jacob MacShane, but it was Billerica that had the edge there, which came as a mild surprise.

More than just LaSpada: Everyone knows how well LaSpada has played over his career at Billerica, and the hype around the senior signal-caller and safety has been justified. However, there was a lot of talk last year that he didn't have much around him in terms of skill players.

Well, that's not the case anymore. Clifford, a junior, is an explosive weapon no matter where you put him. Ramirez is a bruising runner with good vision. Ricard is a tall and fast option to throw to on the outside. While LaSpada gets a lot of just praise, let's put to bed the notion that he is doing it all by himself out there, because he really isn't. There's more to Billerica's offense than just him.

Middies show their Tuff-ness: It was a rough night for the Dracut offense, which has seemed to have hit a lull at this point in the season. However, one player to keep an eye on for the future is 5-8, 170-pound junior Bryant Tuff. The speedy Tuff gets moved around a lot on offense and just makes plays wherever he goes. He had Dracut's longest play from scrimmage with a 46-yard run that set up Zach Bassett's first touchdown. Tuff also made an interception deep in Dracut territory early on that helped keep the Middies in the game. While Dracut seems to be struggling a little on offense right now, the Middies can look forward to getting revved back up by getting Tuff the ball in space and watching him work.

BILLERICA 40, DRACUT 14
Billerica (3-1, 2-0 MVC) 12 14 0 14 --- 40
Dracut (2-2, 0-2 MVC) 0 14 0 0 --- 14

First Quarter
B - Matt Clifford 94 kickoff return (kick blocked)
B - Clifford 49 pass from Nick LaSpada (pass failed)

Second Quarter
D - Zach Bassett 2 run (Jacob MacShane kick)
B - Willie Ricard 55 pass from LaSpada (pass failed)
D - Bassett 14 pass from Jimmy Ryan (MacShane kick)
B - Clifford 50 run (Matt Shannon rush)

Fourth Quarter
B - Byron Ramirez 14 run (Jason Ferri pass from LaSpada)
B - LaSpada 1 run (rush failed)
September, 12, 2011
9/12/11
6:01
PM ET
The best and brightest from a helter-skelter Week 1 of MIAA football:
A RAM-BUNCTIOUS UPSET
Catholic Memorial plummets 15 spots to No. 19 after getting shut out 24-0 at Marshfield, and today there is undoubtedly some intense conversation going down on Baker Street. But to totally make the story about the heavily-favored Knights failing to get out of first gear is to forget what a well-coached team Marshfield is.
As we predicted last Thursday,
this was going to be a bad matchup for the Knights
. The talk at CM is often centered around its four BCS commits in Armani Reeves, Cam Williams, A.J. Doyle and Donovan Henry, while the line is considered a weakness in spite of its size.
Let's not forget that Marshfield is one of the South Shore's more historic programs over the last two decades (Sean Morey, Austin Giles, anyone?). For as long as we can remember, Lou Silva has been running an unorthodox Wing-T scheme and has always been strong in the trenches. Think back 10 years ago when Sean Morris was the Rams' feature back, and remember that every starter on that line went on to earn a college scholarship. Like those gritty Acton-Boxborough squads of the early 2000s, year after year the Rams' emphasis has been on beating you at the point of attack not with size, but speed.
For the Knights, who have garnered a lion's share of preseason hype the past few seasons, a hard lesson was learned. Games are still won on grass, not paper.
BE ON GUARD FOR ST. PETE
St. Peter-Marian debuts in the poll this week at No. 23 after scoring one of the more significant victories west of I-495 traveling up to Crocker Field and taking down a Quinton Perkins-less Fitchburg squad, 20-6. Those in the know will tell you it's far from an upset.
Could we be headed for a return to the golden era of Jerry Azumah, Ricky Appiah and the late legendary coach Owen Kilcoyne? Let's not get ahead of ourselves just yet. Still, the Guardians certainly have some talent that is blooming late, but worth your consideration.
Senior defensive end Jordan Knowles is a force coming off the edge at 6-foot-2 and 230 pounds, able to overpower with a bull rush but also come across the face with a shifty swim move. He racked up two sacks and nine tackles in the loss, and barring injury could end up with 12 to 15 this season. Meanwhile, the Guardians were stout in the secondary, with Roosevelt Westbrook, Tyler Kmon, and Jonathan Harrigan all coming up with a pick each. Tre Watson, a star during basketball season, is another key cog.
But the sleeper of the bunch might be senior quarterback Steve Flynn, who threw for 240 yards and two scores, and also led the way defensively with 11 tackles from the defensive end spot opposite Knowles. This is Flynn's first season as the full-time starter under center, and he's still somewhat new to the sport (he didn't pick up a football until his sophomore year).
You might remember his older brother Frankie –- a baseball standout at SPM, and one of the stars of the 2002 Jesse Burkett squad that lost to Louisville, Ky. in the Little League World Series final –- and the apple hasn't fallen too far. At 6-foot-5 and 240 pounds, Steve is an imposing force on the mound for the Guardians' baseball squad, with a fastball that has touched 90 miles per hour.
On the gridiron, though, he's just as intimidating.
"He's definitely the real deal," Guardians head coach Tom Henrickson said of Flynn. "He's thrown the ball 75 yards downfield. It's insane. You have to see his arm to appreciate it. He's thrown a 20-yard out from the short side of the field all the way across, and it's a laser. You just don't see that in high school football, he's a real good one."
Not to mention, Flynn will be a tough one to tackle this season. While he runs a 4.9 40-yard dash, he also reportedly benches upwards of 350 pounds, one of several reasons he's just starting to get Division 1 looks.
"He's not fast, but he's not slow either," Henrickson said. "People go to sack him, you try and grab him and he just tosses you…[against Fitchburg] our running back didn't pick up a blitz, so he took a sack once, but it took four guys to take him down. He's like an unknown commodity."
ANOTHER NAIL-BITER, ANOTHER CLASSIC
Once again, the Central Mass clash between St. John's of Shrewsbury and Holy Name went down to the wire. And, once again, the Pioneers emerged victorious over the Naps.
What also was displayed in the annual rite of autumn, in rare form, was the gut and determination of Mike Pucko's team to overcome what they might lack in depth. With an unseasonably warm day and playing on artificial turf at Assumption College, the matchup was a battle of attrition. Pucko commented postgame that his team was "gassed" by halftime.
"We knew we were going to be in for a long second half," he told Scott Barboza on Saturday.
With many of his players running on empty by the third quarter, three of the Naps starters would be taken to the hospital by ambulance while fighting dehydration. Lineman Sean Zuromsky was overcome by the heat at the end of the third. After receiving a double-team block from the Pioneers offensive line, Zuromsky doubled over, face first into the turf, unable to breathe.
"He was so dehydrated, his mouth was white," Pucko said.
Outsiders might think it extreme, the savagery of a brutal game, which football can be. But the underlying truth is that pound-for-pound, Holy Name teams remain toughest team in the state. Pucko gets his players to show up and play, no matter who the opponent, no matter what the circumstance.
That doesn't necessarily fit into the "What We Learned" category, but it's worth reaffirming.
CRIMSON CHURNING
The feeling among the Everett contingent following last Friday's 47-12 win over Leominster was not of satisfaction, to say the least.
"We take good out of it, but we have a long way to go," quarterback Jonathan DiBiaso said.
"There are a lot of things we need to improve upon," said his father, long time head coach John DiBiaso.
Fact: right now, there isn't a player in the No. 1 Crimson Tide's program at the talent level of either of its graduated wide receivers Matt Costello (Princeton) and Manny Asprilla (Boston College), considered two of the greatest in program history.
But here's another fact: The Tide could have put up 60 on Friday if not for a few drops in the end zone. Jakarrie Washington and Jaylen McRae are two potential home-run threats with burners (filling Costello's deep-ball role) while Kenny Calaj and Vondell Langston are tough to bring down, when taking handoffs out of the backfield or coming over the middle (much like Asprilla's role there).
Consider Everett's new batch of receivers like a baseball glove. It's going to take a few games to get broken in.
But when they're broken in, look out.
DEFENSE IS KING
As much as folks might dwell on the 42 points the Eagles posted on the Boxers at Viola Stadium, equally if not more impressive was the true shutout the BC High defense posted.
The Eagles' defense thrives behind junior middle linebacker Luke Catarius, who again set the tone with 15 tackles, including three for a loss, along with 1.5 sacks and two quarterback hurries.
"We just really practiced the coverages and where they set up," Catarius told ESPN Boston correspondent Adam Kurkjian on Friday. "I just read my keys well and made the plays."
Easier said than done, but the Eagles were effective in shutting down the Boxers' ground game behind Josh Brewster and quarterback Paul Mroz was held to completing just two passes for 10 yards with an interception.
The Eagles simply never Brockton in the game.
BIG WEEKEND FOR THE SMALL
The Merrimack Valley Small went 4-1 on this opening weekend, including eye-opening upsets by Lawrence (33-14, over then-No. 17 Reading) and Dracut (13-7, over then-No. 12 St. John's Prep). If you can recall, the Small had another strong start a season ago, but this time around the feeling is that momentum will stick.
By now, Dracut's read-option attack is a well-oiled machine, and despite some obvious signs of rust – and without returning MVC lineman of the year Peter Salem due to injury – the Middies sold play fakes well and at times took the outside lanes at will. It's also got a strong junior class led by quarterback Jimmy Ryan and running back/linebacker Zach Bassett.
For anybody that saw Reading this summer or in scrimmages, this Lawrence upset comes as a surprise. The Rockets are stout at the line of scrimmage and feature a core of youngsters that is talented in spite of its inexperience. But what the Lancers lack in size they more than make up for in speed, and that should make waves in this spread-happy conference.
Some predicted a drop-off at Methuen after the graduation of Cal Carroll and Raudy Minaya, and the departure of head coach Pat Graham. But they've picked up right where they left off, with quarterback Eric Lacroix racking up nearly 300 yards of total offense and having a hand in every score, as the Rangers exacted revenge on Plymouth North with a 27-13 win.
And last but not least, Haverhill snapped a 32-game losing streak forcefully, with an impressive 39-12 win over a Malden squad that isn't as thin as some people are saying. The Hillies reportedly took it to Central Catholic in a preseason scrimmage, so don't be surprised if they make some noise when it comes to the gauntlet that is the MVC slate. It's too early to predict hypothesize on the chances of their first postseason berth since 2002, but this will be a fun team to watch.
STREAKING NO MORE
While Auburn extended its state best 37-game winning streak on Friday, Eastern Massachusetts' longest football winning streak came to an end for Gloucester. The Fishermen's 26-game winning streak was derailed by a motivated Lynn English team at the Manning Bowl.
Bulldogs quarterback Jermaine Kelley went off for six touchdowns and 279 yards while earning ESPN Boston Player of the Week honors for Week 1. Kelley, a transfer from Swampscott, spread the ball around with Josh Batista accounting for four touchdowns and top target Malcolm Brown-Simpson, a Pope John transfer, providing big-play potential to the aerial attack.
Lynn English head coach Peter Holey wasn't about to get ahead of himself even after the victory, adding that there's a long way to go before deeming the season a success during practice in Lynn on Monday afternoon. However, with a talented offense led by Kelley and a talented running back in senior P.J. Dorsey, the Bulldogs will be worth watching all season long.
BAROMETER OF THE WEST?
Springfield's Putnam High beat previously ranked Central (No. 20 in preseason poll) on Friday, showing that the Beavers are the early favorites to claim the Division 2 crown in Western Mass. While the Division 1 race out West always runs through Longmeadow, the question is who will be the team to stand up to the Lancers this year?
We think Central can still be that team -- this weekend's test against No. 1 Everett will be an every greater indication -- but Putnam could serve as a great measuring stick. With a schedule that includes Westfield, Chicopee and West Springfield, the Beavers should prove a barometer as to who can take the fight to Longmeadow. After all, that is because Putnam might be the best team in Western Mass not named the Lancers.
September, 10, 2011
9/10/11
5:42
PM ET
By
Adam Kurkjian
| ESPNBoston.com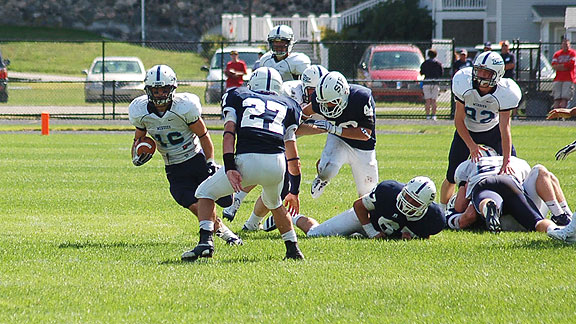 Brendan Hall/ESPNBoston.comDracut junior Zach Bassett came up with the game's first score and was in on a slew of tackles on Saturday.
DANVERS, Mass. -- St. John's Prep is usually the team with the big, experienced offensive line and overpowering ground attack.
Saturday at Cronin Memorial Stadium, however, it was visiting Dracut which fit that bill, and the result was a 13-7 win.
"We've got a lot of things to work on," Dracut coach Jason Houston said. "It wasn't pretty."
Indeed, it was a sloppy game on both ends. But if you think a senior group of linemen pushing its way forward on both sides of the ball is attractive, yesterday's performance by the Middies (1-0) was a thing of beauty. Dracut, looking to reach its fourth consecutive postseason appearance and third straight out of the Merrimack Valley Conference's Small Division, received the requisite might from seniors Anthony Metzler (5-10, 280), Mike Schiavi (6-4, 285), Conor McAnespie (5-10, 185), Jack Whelton (6-3, 200), Shawn Butt (5-11, 260) and Jacob MacShane (5-11, 200) to make up for the loss of reigning MVC Lineman of the Year Peter Salem, who was out nursing a minor injury.
Quarterback Jimmy Ryan, a junior making his first start, rushed for 103 yards and a touchdown on 19 carries and completed 10-of-15 passes for 113 yards. The Middies scored on a 2-yard Zach Bassett rush and a 16-yard zone-read keeper by Ryan in the second quarter to take a 13-0 lead into halftime.
Alex Moore (26 yards rushing, 74 receiving) dove over from a yard out for the Prep's only score with 2:58 to go, but the Middies picked up three first downs and forced the Eagles to burn their remaining four timeouts.
Game over.
"I look at it as a win is a win," said Bassett, who rushed for 47 yards and also made a key fourth-down stop on Prep quarterback Tommy Gaudet to start the third quarter. "Every win is huge, especially one like St. John's Prep. But we're going to look back, enjoy it tonight and go after it on Monday."
Some other observations...
Middies swarming:
Dracut's defense was billed as a strength coming into the season and it lived up to that reputation Saturday. In addition to the play from the linemen, the linebackers out of Dracut's 3-5-3 alignment were all over the field. Tony Ngeth, Bassett, Matt Ferrazzani, junior Pat Noonan and Ryan Schwartz were suffocating. St. John's Prep inexperienced offensive line opened very few holes and those that did appear closed fast.
"I wouldn't want to play this defense," Ryan said with a smile. "They're phenomenal. They're fast. They're strong. They just know where to be at all times."
Filling big shoes:
Ryan stepped in for his first varsity start and wasn't fazed one bit by an excellent group of defenders on the other side of the ball. He executed the zone read properly and made accurate throws in the short-range passing game. He did exactly what the offense asked him to do and more, and it looks like Dracut is going to be set at the quarterback position for another two years. He has a good group of skill players to work with in junior Bryant Tuff, Dante Torres, Ferrazzani, Bassett and Leo Lakmany. All four showed good hands and nice toughness after the catch.
Green in the trenches:
The Prep replaced every offensive lineman and it showed. The youth up front resulted in a lot of false starts and missed assignments. That will work itself out in time, though, as the Eagles were cleaner in that regard in the second half. The Prep was also missing senior Brennan Giles (6-2, 286), maybe the team's most experienced player in the trenches. Either way, Dracut had the advantage up front.
Promising Prep D:
The Eagles are going to be excellent on defense. Even with the offense sputtering like it did for most of the game, the Prep defense managed to shut out a good Dracut offense in the second half. Junior nose guard Corey Jean-Jacques (5-11, 291), a wrestling standout who just came out for football this year, is a nice anchor with ends Owen Lynch and junior Anthony Bongiorno providing speed off the edge. Junior Lucas Bavaro, sophomore Sean Smerczynski, junior R.J. Pizzano and sophomore Jonathan Thomas are a nice corps of young linebackers, while juniors Moore, Gerald Kahari and Jack Sharrio are hard hitters in the secondary. Once this offense starts clicking, look out, because the Prep's defense is good and will be even better in 2012.
DRACUT 13, ST. JOHN'S PREP 7
DHS (1-0) --- 0 13 0 0 - 13
SJP (0-1) --- 0 0 0 7 - 7
Second Quarter
D - Zach Bassett 2 run (Jacob MacShane kick)
D - Jimmy Ryan 16 run (kick failed)
Fourth Quarter
SJP - Alex Moore 1 run (Connor Shaw kick)
August, 25, 2011
8/25/11
5:27
PM ET
By
Andy Smith
| ESPNBoston.com
DRACUT, Mass. -- It is a humid, overcast afternoon as coach Jason Houston and his Dracut High School football team put the finishing touches on their first of two Thursday practices in a field hundreds of feet behind the football complex. The practice has already ran beyond its original noon ending time, but it's this extra time that could prove valuable in the future for the No. 19 Middies.

During one drill, Houston is taking a hands-on approach, acting as a quarterback while trying to teach his linebackers their proper gap-filling assignments on running plays. After each snap, they ask him questions about pre-snap adjustments, what to do when a player goes in motion, and so forth. The second-year coach answers them all, expecting that uncertainty one week into preseason camp. The questions have to be answered now, because once the season starts, the competition will not wait for them to work things out.

On the first Saturday of the season, the Middies play No. 12 St. John's Prep. Four of the six weeks after that, they face off against Merrimack Valley Conference Large competitors Billerica, Central Catholic, Lowell, and Chelmsford. That is stiff competition, to say the least.

"Playing St. John's Prep is going to be quite the task for us, where we're only returning four offensive starters," said Houston. "But it's a good way to gauge ourselves in the season and you can't get better by playing teams that are worse than you. You have to play teams that are better than you. That's why we play SJP, we scheduled Brockton a few years ago, and had Marshfield and Westford the last few years."

"We know going in that we might lose one, maybe two of those games, but we'd like to split our non-league games," he continued. "That way, when we get to the MVC Large teams, we're a little more ready to play those teams. We should have all the kinks worked out by league play."

One of the important new offensive starters is quarterback Jimmy Ryan. He spent two years as a backup to Matt Silva, who graduated, but this year he will be thrown into the metaphorical fire that is the MVC. He seems up for the challenge. Also graduated is Chris Malonis, who paired with Silva to be one of the most prolific pitch-and-catch combinations in the MVC.

"I'm excited (to take over at QB)," said Ryan. "I know there's a history of great quarterbacks here, from Coach (Bobby) Russo, (Matt) Grimard, Tim Dillon, to Matt Silva of course. I don't want to be the guy to let everyone down, but I think I can do it. I've been in this system for two years now and I know we have a great coaching staff here so I think I'll be ready."

"I know the schedule isn't easy, but the coaching staff does a great job preparing each week and coming up with schemes and all that, so I think we'll be ready no matter who we're playing," said Ryan.

Malonis was back at practice Thursday, helping lead the scout team offense and acting as quarterback during wide receiver vs. defensive back drills. He and Russo still being around the program can only help Ryan as he grows into his role.

As practice ends and Houston addresses his team, he acknowledges there is more work to be done. He knows how much he's going to rely on his new starters on both sides of the ball if he wants to get back to and make some noise in the playoffs.

Can his team do it? That's a question that can only be answered once the season starts.

DRACUT AT A GLANCE

Head Coach: Jason Houston (2nd season, 8-4)
Last Year: 8-4 (Lost to Reading in Division 2 playoffs)
Key Returnees: Zach Bassett, Jr., WR/OLB 5-8, 170 lbs., Dante Torres QB/DB 5-11, 160 lbs., Jimmy Ryan QB 5-10, 160 lbs., Peter Salem, Sr., OL/DL, 6-0, 225 lbs., Tony Ngeth, Sr. RB/LB, 5-9, 170 lbs., Mike Sarault, Sr., RB/LB, 5-7, 165 lbs., Ryan Ignacio, Sr., RB/LB, 5-10, 170 lbs., Nick Dubuque, Sr., OL/DL, 5-6, 185 lbs., Anthony Metzler, Sr. , OL/DL, 5-10, 280 lbs., Mike Schiavi, Sr., OL/DL, 6-4, 275 lbs., Nick Staub, Sr., OL/DL, 6-2, 230 lbs., Tom Babaletos, Sr. OL/DL, 5-11, 250 lbs., Matt Ferrazzani, Sr., TE/LB, 6-0, 190 lbs., Ryan Schwartz, Sr. WR/DB, 5-9, 160 lbs., Shawn Butt, Sr. OL/DL, 5-11, 245 lbs.
Strengths: Experience on both the offensive and defensive line
Weaknesses: Youth in the secondary, only returning four offensive starters, untested players at the skill positions
Outlook: With so many new players on offense, Dracut will try to rely on its defense through the first few weeks of the season. It will also try to take the pressure off its new quarterback. "Early on we'll probably lean on the run game a lot more than what we've done in the past," said Houston. "I don't know if we'll be throwing the ball and gun-slinging it in the first couple of weeks, but we should be alright. We'll probably look to control the clock with the run game and rely on our defense to get some big stops early, get the offense in some third-and-longs. We're more experienced upfront on defense so we might be able to do more stuff, play more man-to-man and put some pressure on guys. That will play into our gameplan of controlling the clock and controlling the tempo. Keep the other offense off the field so we can grind it out with our offense." They will look for balance on offense, not just in run versus pass, but also spreading the ball around through the air. If Dracut can achieve that, they will surely make noise in the MVC and stand a good chance at coming away with their fourth league title in as many years.
August, 22, 2011
8/22/11
6:55
AM ET
Below is our Preseason MIAA All-State Football Team, along with some other players to watch. Returning All-Staters are bolded.

OFFENSE

QB – Nick LaSpada, Sr., Billerica
QB – Jonathan DiBiaso, Sr., Everett
QB – Brandon Walsh, Sr., North Andover
RB – Andrew Coke, Sr., Andover
RB – Preston Cooper, Sr., BC High
RB – George Craan, Sr., Concord-Carlisle
RB – Sacoy Malone, Sr., Springfield Central
TE – Jameson McShea, Sr., BC High
TE – Lucas Bavaro, Jr., St. John's Prep
WR – Khary Bailey-Smith, Sr., Weymouth
WR – Efrain Montalvo, Sr., St. John's (Shrewsbury)
WR – Don Webber, Sr., Duxbury
WR – A.J. Baker, Sr., Swampscott
OL – Tyler Loring, Sr., Catholic Memorial
OL – Peter Salem, Sr., Dracut
OL – Ryan Anger, Sr., St. John's (Shrewsbury)
OL – T.J. Leeman, Sr., Andover
OL – John Montelus, Jr., Everett
ATH – Armani Reeves, Sr., Catholic Memorial
ATH – Karl Sery, Sr., Hudson
K – Jules Murphy, Sr., Xaverian

DEFENSE

DL – Ralph Jonathas, Sr., Everett
DL – Dino Hyppolite, Sr., Brockton
DL – Brendan Battles-Santos, Sr., Nauset
DL – Brett Harrington, Sr., Chelmsford
LB – Tim Joy, Sr., Chelmsford
LB – Max McDaniel, Sr., Lexington
LB – Vondell Langston, Sr., Everett
LB – Max Randall, Sr., Duxbury
LB – Buck McCarthy, Sr., Everett
LB – Camren Williams, Sr., Catholic Memorial
DB – Jesse Monteiro, Sr., Brockton
DB – Reilly Naton, Sr., Duxbury
DB – Casey DeAndrade, Sr., East Bridgewater
DB – Obi Melifonwu, Sr., Grafton
RET – Chucky Ortiz, Sr., Woburn

Watch List:
Chris Burke, Sr. LB, Gloucester
Drew Burnett, Sr. QB, Needham
Chris Calvanese, Sr. QB, Xaverian
Luke Catarius, Jr. LB, BC High
D.J. Crook, Sr. QB, Barnstable
A.J. Doyle, Sr. QB, Catholic Memorial
Donovan Henry, Sr. RB/DB, Catholic Memorial
Kurt Hunziker, Sr. RB/LB, Masconomet
Maurice Hurst Jr., Jr. DL, Xaverian
Damion Johnson, Sr. WR, Dennis-Yarmouth
Matt King, Sr. RB/LB, Scituate
Jake Lazarus, Sr. QB, Longmeadow
Matt Montalto, Sr. QB, Dennis-Yarmouth
Paul Mroz, Sr. QB, Brockton
Terry Norris, Sr. RB, Longmeadow
Chuddy Nwachukwu, Jr. OL, Dighton-Rehoboth
Marcus Odiah, Jr. RB, Burlington
Matt O'Keefe, Sr. QB, Duxbury
Quinton Perkins, Sr. RB, Fitchburg
Joe Previte, Jr. OL/DL, Brockton
Bartley Regan, Sr. QB, BC High
Charles Ruffin, Sr. RB, King Philip
Nick Schlatz, Sr. RB/LB, Bridgewater-Raynham
Mike Walsh, Sr. QB/S, Swampscott