Boston High School:

Peter Sikalis
March, 23, 2012
3/23/12
4:01
PM ET
First Team:
F – Brendan Collier, Sr., Malden Catholic
The two-time ESPN Boston All-Stater closed out his senior season with a second straight Super 8 title and claimed our Mr. Hockey Award. The Charlestown native and Boston University commit scored 26 goals with assists for 65 points, a figure which led all Division 1 scorers. Collier, who also plays golf and lacrosse at MC, plans on playing a year of juniors next year before joining the Terriers.
F – Ryan Fitzgerald, Jr., Malden Catholic
The Lancers' top-line pivot makes his second All-State team appearance, his first on the First Team. The North Reading native and Boston College commit again eclipsed the 50-point plateau (31-21-52), despite missing the first couple weeks of the season with a shoulder injury, and helped the Lancers to their second straight Super 8 title.
F – Sam Kurker, Sr., St. John's Prep
When looking up the term power forward, the Eagles senior winger and captain fit the mold. The 6-foot-2, 210-pound forward finished with 32 goals and 28 assists for 60 points. The Boston University commit has also seen time with U.S. National Team Development Program and skated with the U-18 select team at the Ivan Hlinka Tournament during the summer.
D – Colin MacGillivray, Jr., Malden Catholic
The Lancers blue-liner is made in the mold of an old school rugged defenseman. The 6-foot-1, 185-pound Peabody native played on MC's top pairing through the season while posting three goals and 10 assists for 10 points for the repeat Super 8 champions.
D – Nikko Markham, Sr., St. Mary's (Lynn)
The Catholic Central Conference Most Valuable Player and Spartans captain finished a sound career by leading St. Mary's to a No. 2 seed in the Super 8. The Salem native was among the top point-scoring blue-liners in the state with six goals and 12 assists for 18 points.
G – Peter Cronin, Jr., BC High
For the second straight season, the Eagles went as their netminder went, and Cronin led BC High to its first Super 8 finals appearance since 2007. Playing in each of the Eagles' 25 games, the Norwell resident posted a 2.00 goals against average and a 91.7 save percentage.
2nd Team:
F – Kevin Emmerling, Sr., St. John's (Shrewsbury)
Perhaps the most skilled skater in the state, the Pioneers' center provided a dynamic offensive punch to their Super 8 run. The Whitinsville native finished third in Division 1 scoring with 26 goals and 30 assists for 56 points. Emmerling is exploring his options for next year and hopes to play college hockey.
F – Conal Lynch, Sr., Boston Latin
Lynch also showed that Charlestown is again a hotbed of hockey, carrying the Wolfpack to a DCL/MVC Div. 2 championship. Lynch finished second in Division 2 in scoring with 35 goals and 18 assists for 53 points. The Wolfpack captain is weighing his options in pursuing prep or junior hockey next year.
F – Matt Sullivan, Sr., BC High
The senior captain was a true two-way center with a high hockey IQ. The Duxbury resident anchored the Eagles' top line, scoring 12 goals and 16 assists for 28 points and lifting BC High to its first Super 8 final appearance since 2007. He is pursuing prep and junior hockey opportunities for next season.
D – Casey Fitzgerald, Fr., Malden Catholic
The younger brother of Ryan, Casey catapulted himself onto the scene in his first year, filling the role of a puck-moving defenseman previously held by former All-Stater Conor Evangelista. The North Reading resident and Boston College commit tallied two goals and 15 assists for 17 points in his first year.
D – Peter Sikalis, Sr., Acton-Boxborough
The Colonials' captain was the impetus behind their run to the D1 North semifinals. Sikalis had eight goals and 11 assists for 19 points while eating up boatloads of ice time for head coach Bob Lavin. The imposing 6-foot-3 defenseman is exploring his hockey options for next year.
G – David Letarte, Sr., St. John's Prep
The captain has been the Eagles' backbone during the last three seasons, leading Prep back to the Super 8 once again. Letarte had a 2.08 goals against average and a 91.3 save percentage in 18 games played. He is currently mulling over college and junior hockey offers for next year.
"Best of the Rest"
Nick Bertoni, F, Franklin
Tom Besinger, F, BC High
Tommy Bishop, F, Chelmsford
Matt Brazel, F, Hingham
Trevor Cimino, F, Burlington
Frank Crinella, F, Springfield Cathedral
Paul Curran, F, Milton
Vin D'Amato, F, St. John's (Shrewsbury)
Jarrod Fitzpatrick, F, St. Mary's (Lynn)
James Gordon, F, Hingham
Danny Holland, F, Woburn
Mike Iovanna, F, Malden Catholic
Connor Irving, F, Beverly
Mike Kelleher, F, Central Catholic
Chris Leblanc, F, Winthrop
Bobby Mullins, St. Mary's (Lynn)
Ara Nazarian, F, Malden Catholic
Andrew Newis, F, Natick
Jack O'Hear, F, Catholic Memorial
Cam O'Neill, F, St. Mary's (Lynn)
Jake O'Rourke, F, Medway
Cam Owens, F, Wilmington
Brian Pinho, F, St. John's Prep
Dalton Rolli, F, Wilmington
Joe Strangie, F, Danvers
D.J. Walsh, F, Needham
Bryan Carter, D, Hudson
Connor Fenton, D, Braintree
Brian Furey, D, BC High
Pat Houghton, D, Westford Academy
Steve Mattos, D, Burlington
Nick Pandalena, D, St. John's Prep
Jake Secatore, D, Woburn
Brendan White, D, Malden Catholic
Joe Cerulo, G, Wakefield
Jordan Davis, G, Norwood
Mike Donadio, G, Franklin
Bailey MacBurnie, G, St. Mary's (Lynn)
Connor Murray, G, Needham
Connor Roddy, G, Medfield
Shane Starrett, G, Catholic Memorial
Steven Waites, G, Winthrop
Kyle Williams, G, Central Catholic
Coach of the Year
Chris Spillane, Franklin
Losing 15 seniors off of 2011's Division 2 state finalist team posed no problem to Spillane in guiding his team back to the Garden again. The 13-year Panthers bench boss is regarded as one of the finest in the state, but no season might have been more impressive for Spillane than getting this team back to the finals.
Finalists:
Karl Infanger, Natick
Mark Lee, St. Mary's (Lynn)
John McLean, Malden Catholic
March, 2, 2012
3/02/12
1:51
AM ET


READING, Mass. -- Calling 12th-seeded Acton-Boxborough's 3-1 win over No. 5 Reading in their first-round Division 1 North playoff game an upset would be a misnomer.

While the host Rockets — a team that generated some Super 8 consideration — earned their higher seed as the champions of the Middlesex League large division, the Colonials (11-8-2) battled their way into the postseason down the stretch. After suffering a slow start, A-B needed just about every point during a 6-1-1 stretch to close the regular season.

The Colonials continued their theme of coming on late with senior captain Tyler McKelvie breaking a 1-1 tie and providing the game-winning goal at 3:13 of the third period Thursday night at Burbank Ice Arena.

"They know they wouldn't be playing now if they didn't play good hockey," A-B head coach Bob Lavin said.

The teams played to a scoreless first period, before A-B junior forward Joey Peduto had the Colonials to a 1-0 lead. Providing some net-front presence, Peduto directed in a point shot from senior captain Peter Sikalis on the power play at 1:33 of the second.

Reading (12-6-6) answered before the period was out with defenseman Mark Dente pinching high in the neutral zone. Dente forced a turnover through mid-ice, collected the puck along the right wing boards and let off a wrist shot from inside the right-hand circle.

That's the only shot which beat Colonials sophomore goaltender Erik Wurman, who turned aside nine Rockets' shots in the final period for the win.

McKelvie netted his 11th of the season for the game-winner. As the Colonials were often successful to do against the Rockets, A-B forwards Travis Scott-Hamilton and Luke O'Brien were able to generate a scoring chance off sustained pressure down low. Scott-Hamilton pushed the puck back into the slot, allowing McKelvie to pot the go-ahead.

A-B senior forward Michael Berkley capped scoring with the empty-netter in the final minute of play.

The Colonials will face the winner of Saturday's first-round matchup between Woburn and St. Peter-Marian in a quarterfinal game on Monday at Woburn's O'Brien Rink.

MARATHON MAN
Pay attention to A-B's blue line and there will hardly ever be a time No. 16 isn't on the ice.

Sikalis pulls loads of ice time for the Colonials, in all situations.

It's easy to see why.

"He's steady for us defensively, but he also moves the puck very well," Lavin said, "so he lets our forwards out of the zone and creates opportunities."

The four-year varsity player has a hard and heavy shot, with good accuracy and speed — as evidenced on Peduto's goal. He has good size with about a 6-foot-2 frame and, like many of the best, he seems to make his movements look easy, with long strides.

The economy of motion allows Sikalis to remain a fixture on the ice, particularly in crunch time.

Sikalis, along with top pairing partner, senior Kurt Tugal, were on-ice for nearly all of the final three minutes of the game.

"It's really fun actually," he said of his high minute total. "It can be pretty tiring in the third period, but it's about sucking it up and gutting it out."

HOME ICE ADVANTAGE?
It must have been hard for Burbank general manager Ed Peduto to contain his excitement before the home crowd during the second period.

Peduto served as the P.A. announcer for Thursday night's game. And, as the rink's allegiance is to the hometown Rockets, Peduto's voice didn't waver when announcing his nephew, Joey, as a goal-scorer. It was Joey's third goal of the season.

There was another way in which Peduto showed his solidarity with A-B, however. There was a royal blue No. 24 painted below the ice next to one of the Colonials' bench doors.

A number that just so happens to belong to a certain family member.
December, 9, 2011
12/09/11
6:04
PM ET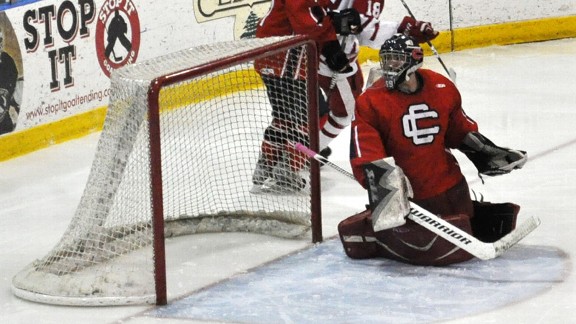 ESPNBoston.comCentral Catholic goaltender Kyle Williams surrendered just 43 goals last season while being named to ESPN Boston's All-State team. This year, the senior netminder kicks off the season in the same place on our First Team preseason All-State team.
Here is ESPN Boston's preseason MIAA All-State boys' ice hockey teams:
FIRST TEAM
F - Brendan Collier, Sr., Malden Catholic
F - Ryan Fitzgerald, Jr., Malden Catholic
F - Sam Kurker, Sr., St. John's Prep
D - Jared Beckwith, Sr., Catholic Memorial
D - Peter Sikalis, Sr., Acton-Boxborough
G - Kyle Williams, Sr., Central Catholic
SECOND TEAM
F - Liam Coughlin, Jr., Catholic Memorial
F - Casey Shea, Sr., Woburn
F - Matt Sullivan, Sr., BC High
D - Brendan White, Jr., Malden Catholic
D - Jake Secatore, Sr., Woburn
G - Peter Cronin, Jr., BC High
THIRD TEAM
F - Kevin Emmerling, Sr., St. John's (Shrewsbury)
F - Mike Kelleher, Jr., Central Catholic
F - Conal Lynch, Sr., Boston Latin
D - Connor Fenton, Sr., Braintree
D - Nick Pandalena, Sr., St. John's Prep
G - David Letarte, Sr., St. John's Prep