Boston High School:

Philips Andover
July, 25, 2013
7/25/13
11:26
PM ET
By
Brendan Hall
| ESPNBoston.com
Philips Andover Class of 2015 righthander Thomas Lane verbally committed to Boston College a short time ago, he told ESPNBoston.com tonight.

The 6-foot-3, 205-pound Lane, a Georgetown resident, last visited the Chestnut Hill campus a month ago on an unofficial visit. He had offers from William & Mary and Fordham at the time of his decision; he also had interest from St. John's, Virginia, Virginia Tech, Duke, East Carolina, Georgetown and Northeastern.

"What factored into the decision was the great opportunity to play in a great conference in the ACC, so close to home," Lane said. "BC is always a school that I really loved. I loved the academics there, I loved the baseball program -- [head coach Mike] Gambino, coach [Scott] Freiholm, everyone over there -- it just felt like the right place.

"Really I've been talking about it with my parents the last month or so. I just really wanted to make sure it was the right place for me, I wanted to visit other schools to make sure it was the right fit. Today just hit me that this was the right place that I want to be at."

Lane said he was told be Gambino he has the chance to make "an immediate impact" at BC, with the opportunity to pitch "valuable innings" as a true freshman.

"Coach Gambino said what he really liked was how composed I was and how I don't get rattled on the mound," Lane said. "He just loved my competitiveness and makeup as a pitcher.

"What he liked best was my breaking ball, my slider. He thought it was a good pitch I could develop to work at the college level, paired up with my fastball that was a good combination."

This past season, Lane managed an ERA around 2.20 and averaged two strikeouts per inning as the Big Blue captured their second straight Central New England Prep School Baseball League championship. Playing this summer with the Legends Baseball club, his fastball has routinely hit in the mid to upper 80's range, topping out at 89.

"I'm just so eccited, I've been waiting for this for so long," Lane said. "It's overwhelming. I'm so excited to even think about the possibility that I'm actually going to Boston College. It's just excitement."
May, 23, 2013
5/23/13
2:27
PM ET
By
Paul Lazdowski
| ESPNBoston.com
ANDOVER, Mass. -– Over the course of the 2013 season, the success of the Phillips Andover baseball team has hinged on three arms, or, more specifically, two right-handers and a southpaw.
Senior Rory Ziomek and sophomore Tim Salvadore, or simply 'Sal' to teammates and coaches, have brought power from the right side, while post grad Tim Superko has added craftiness from the left.
This talent -– Ziomek and Superko are headed to Tufts University next season, and Salvadore has verbally committed to Boston College –- led Big Blue to an 8-6 regular season record and a second straight Central New England Prep School Baseball League (CNEPSBL) title. Last weekend in Worcester, Mass., PA defeated Deerfield Academy in the semis and Worcester Academy in the finals for the crown.
[+] Enlarge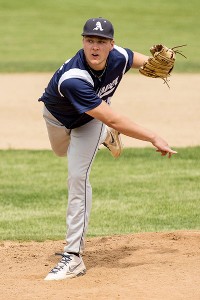 Karen Leavitt for ESPNBoston.comTufts commit Rory Ziomek, younger brother of former Amherst southpaw Kevin, distinguishes himself with his demeanor on the mound.
"Rory's been with us for three seasons now, and he's like an old pro," said fifth-year head coach Kevin Graber when asked to breakdown his three hurlers. "He understands every facet of this program and how we pitch. Superko is equally experienced, but it's his first year (here). Sal is young, has a year under his belt and he's kind of a phenom. He's still got two years of high school; he throws really hard (and) competes like you wouldn't believe. They all bring a little different piece to the equation.
"I have to think ... this is the strongest pitching staff we've had in recent memory."
In Ziomek, a 6-foot-4-inch, 210-pound, Amherst native, Graber has what he describes as "John Wayne because he's like the gunslinger at the OK Corral. He just stands on the rubber, looks at you over the top of his glove and you know you're gonna get his best."
Heading into the season finale this Saturday against Phillips Exeter Academy, Ziomek has pitched 37.1 innings and posted a 1.50 ERA and 52 strikeouts. His last two regular season starts were back-to-back complete game shutouts, including a one-hitter with 12 strikeouts versus Tabor Academy to clinch a playoff berth.
Ziomek's arsenal features mid-80s four-seam and two-seam fastballs, a slider in the mid-70's and a changeup around 70 mph. But his on-mound demeanor –- best summed up as fierce and intense –- is what distinguishes him from Superko and Sal.
"He knows what pitch to throw and when and where," said senior catcher Harry Roche after describing Ziomek as magical. "He will hit you in your weak spot whenever he feels it's necessary to hit you there. And he'll make sure you end up grounding out if he wants you to or striking out if he wants."
In three years at PA, Ziomek's evolved from a thrower to a pitcher. And when he takes the mound for Tufts next spring, he will do so as the second person in his family currently pitching in college. Older brother, Kevin, a lefthander, is a junior at Vanderbilt University who this season has racked up two SEC Pitcher of the Week awards, 10 wins and a 1.99 ERA.
Superko also understands how to pitch, but according to the lefty tends to rely more on his curve. With only one season at PA, the Wellesley product developed most of his pitching acumen at Wellesley High in the Bay State Conference.
"Polished," said Graber when asked what differentiates Superko. "When he came to me he knew how to pitch."
The 6-foot-2-inch, 170-pound post grad throws a mid-80's fastball, a curveball he acknowledges as his 'out pitch' and "lots of changeups to right-handed hitters to keep them off-balance." It's been a successful recipe. Over 26 innings he has a 2.42 ERA and has held opponents to a .170 batting average.
"I'm competitive," Superko said. "Once I get on the mound I'm kind of in the zone. People will be like, 'Did you hear me cheering for you?' or something. I'm like, 'Nah, I was pitching. I can't hear anything.'"
It's this mindset which led his fellow starters to label him as both calm and tenacious.
"Superko's really good at mixing up his pitches," said Roche, a day student from Andover who plans to walk on at Villanova University. "You never know what's coming. I was hitting off him the other day and he was throwing a curveball when I wasn't expecting it. And his changeup, it's the best on the team in my opinion."
The triumvirate's youngster, Sal, has the potential to not only excel at Boston College but perhaps beyond.
[+] Enlarge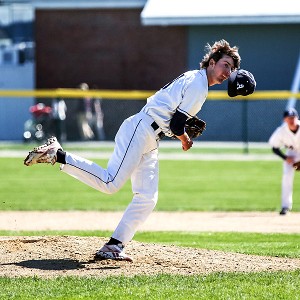 Karen Leavitt for ESPNBoston.comPhilips Andover head coach Kevin Graber believes sophomore righthander and Boston College commit Tim Salvadore is potentially "a future Major Leaguer."
"Future Major Leaguer," said Graber of his sophomore stud from Holliston. "I work in scouting and I have a background in professional baseball. I believe in my heart that he will play in the Major Leagues."
In his second season at PA, the fiery and vocal 6-foot-3-inch, 180-pound hurler pitched 29.2 innings and led the staff with a 1.18 ERA and 4-0 record.
"I look to get ahead in the counts and get quick outs," Sal said. "That allows me to go deep in the ballgames. I feel like I can rely on a fastball/slider combination."
His four-seam fastball tops out at 90 mph, and is complimented by a sinker in the high-80s and a high-70s slider and changeup. This combination has made Sal the staff's most dominant arm and one that oftentimes leaves batters feeling uneasy.
"I would say he's wild," Superko said. "But that has a negative connotation when you're pitching. He's composed while being wild to the point of making hitters uncomfortable."
Sal boasts the deepest baseball roots. His father pitched in college for Worcester Polytechnic Institute, and his grandfather was drafted by the Montreal Expos.
Big Blue's 2013 campaign was built around three players who, at times, carried the team. Each played a pivotal role, especially during the two playoff games, in giving PA its 10th CNEPSBL title since 1988.
"Sal is a huge reason why we were able to come out on top on Saturday," Graber said. "He got the start in the semis against Deerfield and was amazing, with just one earned run in five complete innings.
"Rory came in on two days rest and pitched the sixth and seventh to close out the semifinals win."
And Superko pitched a complete game six hitter with seven strikeouts to secure the finals victory over Worcester.
Both Sal, who was named First-Team All-Central New England, and Rory, who was awarded the Central New England MVP, were individually recognized.
But their legacy along -– along with Superko –- will not be based on awards or championships. Instead it will be in their impact on future PA pitching recruits, the stories teammates will recall once their playing days are past and the cohesion with which they carried themselves.
"I think it just continues the idea that every year Andover strongly emphasizes their pitching staff," Ziomek responded when asked about their legacy. "Every year I've been here it's gotten better. I think this will help (Coach Graber) and the rest of the team (recruit) new talent, younger kids, that he can work through the ranks."
"When I caught Rory during his one-hitter against Exeter," Roche said. "I went up to him afterwards and said, 'Rory, you gave me one of the best feelings multiple times in this game.' That feeling was striking out a kid looking to end an inning, tossing the ball back to the mound (and seeing) the kid would just stare there and look at it come in."
"One of the conversations I had with them early was that you have to foster the notion that you're a team within a team," Graber said. "When you guys condition, you condition together. When you long toss, you long toss together. When you do flat ground work, you do flat ground work together. When we watch video, we watch video together. You guys need to support each other even when you're not on the mound.
"And they have totally bought into that and (that's why) they're a true pitching staff."
ISL BASEBALL: SENIOR ROUND UP
A quick look at a few of the top seniors who will be playing collegiately next season:
Brendon Canavan (Middlesex School):
Playing this season with a torn ACL suffered during an ISL ski race this winter, the 6-foot-1-inch, 180-pound catcher has been relegated to first base. But the team captain's hitting has not suffered. Canavan is batting .424 with a .548 OBP through 12 games, and also providing the tone-setting leadership that, according to his coach, John Morrissey, has led to solid team chemistry.
Next year, Canavan, who lives in Carlisle, will suit up for Bates College, a decision he based on a number of factors, including the chance to play for coach Mike Leonard, a former Red Sox catcher. With two surgeries scheduled this summer –- one on his knee and the other on his right rotator cuff –- Canavan's focused on improving his position flexibility.
"I'm working on my versatility since I can't play catcher this year," Canavan said. "When I get (to Bates) next year (Coach Leonard) will have a senior catcher. So he was talking more about if (I'll be) ready to play with my knee and shoulder and also trying first base, right field, left field...another position where I could play to get my bat into the lineup."
Cameron DiSarcina (Groton School):
Through 12 games, the 5-foot-11-inch, 135-pound shortstop, who bats lefty and throws righty, has 18 hits in 36 plate appearances with 11 RBI. Coached by his father, Glenn, a former minor leaguer, and nephew to Gary, a 12-year major league shortstop, Cameron comes from strong baseball lineage.
But when the Shirley resident opted to play for Merrimack College next fall, it wasn't a decision based solely on baseball. In Merrimack, DiSarcina found a great fit with its strong engineering department, close geographic proximity and solid baseball program. Plus, he'll have the chance to play immediately.
"My Dad got recruited to Division 1 (UMass) and all that stuff," DiSarcina said. "But he told me that it's not about going to play D1. It's about finding the place where you're going to be the happiest on and off the field."
This summer he'll hone his game -– including expanding his inside plate coverage, adding more muscle and developing as an outfielder –- as a member of the Chelmsford Legion.
And when he finally pulls on the Warriors' uniform next spring, his father will be there to watch.
"It's going to be nice to see him play for the next four years," Glenn admitted.
Trevor Holmes (Governor's Academy):
Arguably the ISL's most feared hitter Holmes leads the league with four homeruns, while also batting .462 with 15 RBI through 12 games.
The 6-foot-1-inch, 215-pound catcher is described by his coach, Mike Kinnealey, as possessing tremendous bat speed and power, a dynamic arm and the mental makeup to thrive in the most stressful game situations. It was this combination of attributes which captured the University of Connecticut's interest and earned Holmes a baseball scholarship.
In addition to catching this season, the two-year captain has also joined Governor's pitching staff. Over 21 innings, he's posted a 1.67 ERA with 26 strikeouts and six walks. His success has opened the possibility of pitching and/or catching for the Huskies.
"I used to pitch back in middle school," Holmes said, "But I came in here and the opportunity arose for me to be a catcher. I threw off the hill once last summer, and my summer coach liked what he saw so he put me on the mound and exposed me a little bit. It took off from there."
This summer Holmes will again play for North East Baseball, before leaving his hometown of Ashburnham for the Storrs, Conn. campus and summer classes on July 11.
May, 19, 2013
5/19/13
2:20
AM ET
By
John McGuirk
| ESPNBoston.com
WORCESTER, Mass. -- Up until this past week, there was no guarantee that Phillips Academy-Andover would be grab a spot in Central New England Prep School Baseball League (CNEPSBL)/Thomas Blackburn Championship Tournament. Having won the title a year ago, the Big Blue struggled this season and needed to beat Tabor Academy on Wednesday to qualify. On the strength of pitcher Rory Ziomek, Phillips Academy cruised to a 5-0 triumph to earn the bid.
With the pressure off, the Big Blue walked into Assumption College's Rocheleau Field on Saturday with a "nothing to lose" attitude. That mindset certainly paid off as the fourth-seeded Big Blue defeated top seed Deerfield Academy, 10-7, in the semifinal round before knocking off No. 2 seed Worcester Academy, 12-8, in the afternoon in the title tilt.
"This is our second championship in a row but this is a much-different team than last year," fifth-year Phillips Andover head coach Kevin Graber said. "Last year's team was very dominant. This year we had to scratch and scrap and faced a lot of adversity along the way.
"Our pitching carried us into this tournament and our depth manifested itself and we were able to get our offense to catch up in the end. My philosophy has always been for us to be playing our best baseball at the end of the season, especially in a end-of-the-year tournament. We did that this year."
On the strength of 10 hits and a multitude of wildness by the Hilltoppers' pitching corps, the Big Blue (10-6) led late, 12-4. In hindsight, they were fortunate to construct such a cushion because Worcester (19-11), which blanked Phillips Exeter in its semifinal matchup, decided to make things a bit more interesting late.
Phillips Andover jumped out to a 2-0 lead in the second inning after Hilltopper starter Nick Johnson served up four consecutive walks. A double-play later in the frame led to the Big Blue's second run.
[+] Enlarge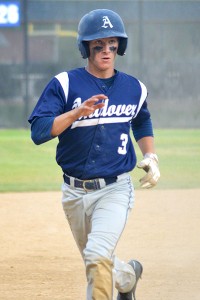 Brendan Hall/ESPNFreshman John Simourian went 5 for 7 in the championship game with 4 RBI to lift Philips Andover to its second straight CNEPSBL title
In the bottom of the inning, Worcester Academy cut the deficit to one after junior John Marculitis (3-for-4) tripled and later came home on Jessey Valdez's fly out. In the fourth, the Hilltoppers took a 3-2 lead thanks to Marculitis' two-run double. But the tide of momentum would quickly change over to the Big Blue side in the fifth. Johnson opened the frame by allowing a single and plunking the next two Phillips Andover batters to load the bases.
For the game, three Hilltopper combined to hit eight Big Blue batters. Hilltoppers head coach Dana Forsberg made the decision to pull Johnson in favor of Nick Economos. But the lanky right-hander walked John Festa to force in a run and knot the game 3-3. A passed ball ensued to plate Phillips Andover's fourth run. Harry Roche then lined a single to right for another run and push the lead to 5-2.
The Big Blue weren't done. Later in the inning they loaded the bases before Forsberg summond Greg Hemmer to the mound. But Hemmer was immediately greeted by a John Simourian a two-run single pushing Phillips Andover's advantage to 7-3. Simourian, a freshman transfer from Belmont Hill, finished 5-for-7 at the plate on the day and also drove in four runs.
"I'm just glad we came out with the win," said the Big Blue catcher. "As it showed today, everybody is a fighter on this team. There isn't one guy who wouldn't lay everything he has down for the sake of the team. I think that's what led to another championship for us."
After Worcester Academy got a run back in the fifth, the Big Blue responded with four more uns in the sixth highlighted by Joey Verhaegh's two-run double. In the seventh, back-to-back doubles from Chris Hohlstein and Connor Farrell increased the Big Blue's lead to eight runs.
To the Hilltoppers credit, they didn't go down without a fight in their final at-bats. Three errors sandwiched around a Marculitis RBI single pulled them to within four runs. But Phillips Andover and future Tufts University pitcher Tim Superko (CG, 6 hits, 7 Ks) worked through the circus-like atmosphere of the inning to nail down the victory, giving the Big Blue their 10th CNEPSBL crown since 1988.
"This is probably the most-talented team that I have ever had here," said Forsberg, who last won a title in 2011. "The kids played hard. When you are down big like that it is easy to fold but that never happened. These kids never stopped believing. We preach to our pitchers that you have to throw strikes.
"If you don't throw strikes and put people on those runs are going to cross and that bit us today. This was a special team and the toughest team that I've ever coached. They love the game of baseball. We've got some good kids coming back and some nice ones coming in so we'll be ready for next year."
Semifinals: Stefaniak shines, Dennehy says goodbye
In the day's first game, the Hilltoppers jumped on Phillips Exeter pitcher Hunter Carey for three first inning runs and made it stand due to the mound majesty of Mark Stefaniak. The lefty dominated the Big Red, striking out 15 in the process.
"I just went out tried to throw strikes and get ahead of the hitters," said Stefaniak, who also will pitch for Tufts University next year. "When you get ahead of hitters you have a much-better chance to put them away. That is what I focused on today and tried to stay ahead of their hitters."
After his rough opening frame, Carey settled down and kept Worcester Academy off the board the rest of the way. But it was the first inning that haunted the future Trinity College hurler. The Hilltoppers took a 1-0 lead on consecutive doubles by Anthony Barry and Brad Petitpas. Hemmer followed by blistering a moon shot over the center field fence for a two-run homer. That would prove to be enough run support for Stefaniak who handcuffed the Big Red (11-7) early and often.
"That team came out swinging and were ready to hit from the beginning," said 42-year Phillips Exeter coach Bill Dennehy, who is calling it quits at season's end. "I thought Hunter hung in there after that first inning but their pitcher was just too tough on us today.
"This is my last year and it's been tough to think about. You surprise yourself when you see how fast it goes even after 42 years. I couldn't have had a better job. I've been blessed here. What I'm going to miss most is being around the kids on a day-to-day basis. That was always the biggest thing for me. We've always had great kids here."
In the day's other semifinal, Phillips Andover jumped out to a 6-1 lead and held off a couple of late Big Green (10-3) surges to come away triumphant. The Big Blue put this one away with a five-run third. A two-run double from Farrell and RBIs by David McCullough and Matt Hosman pushed Phillips Andover out to a 6-1 lead. Deerfield Academy shot back in the fifth, scoring four times. Cullen Geary keyed the inning with a two-run single.
In the Big Blue's half of the sixth, they put this game out of reach after scoring three more times on a SAC fly, a fielder's choice and a Simourian double to lead 9-4. Phillips Andover led 10-5 going into the final inning. The Big Green scored a pair in the bottom of the frame on RBIs by Coltan Dana and Conor Quinn failed to draw any closer.
October, 5, 2011
10/05/11
11:19
AM ET
ESPNHS unveils its first Top 100 rankings for the Class of 2012, and the list is littered with local flavor.
One week after being named the nation's top attack by ESPNHS, Darien (Conn.) High's Case Matheis is ranked as the nation's top overall player; Salisbury (Conn.) attack Mikey Morris comes in at No. 7, while Deerfield Academy goalie Luke Aaron rounds out the top 10 at No. 10.
Three members of Duxbury's MIAA Division 1 state championship squad last spring are ranked in the top 60 -- Matt O'Keefe (32), Seamus Connelly (36) and Reilly Naton (51).
The full list
can be found here
. The locals populating the ESPNHS 100 are listed below:
1. Case Matheis, Attack, Darien (Darien, Conn.) - Duke
7. Mikey Morris, Attack, Salisbury School (Salisbury, Conn.) - Johns Hopkins
10. Luke Aaron, Goalie, Deerfield Academy (Deerfield, Mass.) - Duke
26. Tanner Scales, Defender, Salisbury School (Salisbury, Conn.) - Virginia
32. Matt O'Keefe, Defender, Duxbury (Duxbury, Mass.) - Johns Hopkins
36. Seamus Connelly, Attack, Duxbury (Duxbury, Mass.) - Duke
39. Dickson Smith, LSM, Holdnerness School (Holderness, N.H.) - Virginia
44. Joe Kruy, Midfielder, Philips Andover (Andover, Mass.) - Duke
51. Reilly Naton, LSM, Duxbury (Duxbury, Mass.) - Yale
61. Oliver Saffery, Midfielder, Wellesley (Wellesley, Mass.) - Gettysburg
64. Will Ryan, Goalie, Avon Old Farms (Avon, Conn.) - Johns Hopkins
65. Connor Darcey, Goalie, Wellesley (Wellesley, Mass.) - Penn State
71. Sean Conners, Attack, Deerfield Academy (Deerfield, Mass.) - Princeton
83. Bob Fahey, Defender, Bishop Guertin (Nashua, N.H.) - Undecided
93. Corey Wisnowski, LSM, Berkshire School (Sheffield, Mass.) - Undecided
96. Billy Heidt, Midfielder, Brunswick School (Greenwich, Conn.) - Dartmouth
100. Greg Stamatov, Goalie, Foxborough (Foxborough, Mass.) - Villanova
July, 9, 2011
7/09/11
7:25
PM ET


ALLSTON, Mass. -- While it came down the final seconds, the score didn't matter much in Saturday's competition at the ESPN RISE Warrior 40 held at Harvard Stadium.

The collection of 40 of the top underclassmen lacrosse talents from across the nation had a local flair. Seven Massachusetts natives played in the competition, which was split up into Blue and Orange teams. The Orange held on to post a 13-12 win after last-minute comeback from the Blue squad.

"It's a lot of fun and to win is great, but it's just great being out here and having some of the best guys around," said Wellesley High rising senior Oliver Saffery. "It's a really special experience and I'm glad I was able to partake in it."

Saffery, who collected a goal in the winning effort, was joined on the Orange squad by Raiders teammate goaltender Connor Darcey, who made the start.

Darcey was opposed by Foxborough netminder Greg Stamatov, the Villanova commit who led the Warriors to their deepest MIAA tournament run in program history. Stamatov also provided the highlight of the day, leaving his crease and turning up-field to score on Darcey in the first half.



"I came out of the net and I didn't think I was going to do that," Stamatov said. "I was just looking two-on-one. I kept moving up and no one was coming onto me, so I crossed midfield.

"I didn't want to score on Darcey, I felt bad – to get scored on by a goalie as a goalie, it's tough. I went down and I just had to do it."

Also representing the Bay State at the event was Duxbury longstick defender Matt O'Keefe, North Falmouth resident and Canterbury School attack Niall Devaney, Philips Andover midfield Joe Kruy and Governor's Academy midfielder J.C. Vivian.

Rounding out the New England contingent was New Canaan, Conn. Native and Brunswick School long stick Curtis Townshend.

"The competition was great," said O'Keefe, who helped the Dragons capture their eighth MIAA title at Harvard a month ago. "I learned that you always have to be on your game because you never know when a guy is going to take it to the cage, you've always got to be ready because there's so much depth out there."


July, 8, 2011
7/08/11
12:46
AM ET
Courtesy of Bay State Games media relations director Peter Cohenno:

BASEBALL
Bentley University – Waltham, MA

Metro 15, Central 7

In an offensive showcase, Metro earned a decisive 15-7 victory against Central in the opening game on Thursday.

Metro scored six runs on six hits in the top of the first inning to help propel the squad to an early lead, however, Central retaliated in the bottom of the inning, plating five to pull within one.

Metro pulled ahead, 7-5, in the second, as sophomore leftfielder Malcolm Nachmanoff (Boston, Boston Latin) drilled a RBI single, which scored junior right fielder Bartley Regan (Boston, Boston College HS), who had singled up the middle.

In the bottom of the third, sophomore first baseman Zackary Tower (Auburn, Auburn HS) nailed a RBI single and sophomore leftfielder Jake Ryan (Northbridge, Northbridge HS) drew a walk for a RBI to help Central knot the game at 7-7.

Metro put the game out of reach with seven runs in the fourth inning and added one more in the fifth to earn the 15-7 victory.

Nachmanoff and junior second baseman Austin Teal (Malden, Malden HS) led the offensive effort for Metro, going 2-for-2 with one RBI apiece. Sophomore shortstop Michael Woll (Milbury, Holy Name Central Catholic HS) was 1-for-1 at the dish with two RBI for Central.

Junior pitcher James Mulry (West Roxbury, Boston Latin) registered the win for Metro, hurling 21/3 scoreless innings, while tallying four strikeouts and allowing just one hit.

Northeast 8, West 0

A complete game shutout from junior pitcher Ryan McDonald (Boxboro, Acton-Boxboro Reg. HS) propelled Northeast to an 8-0 victory against West in game two on Thursday. McDonald tallied seven strikeouts and allowed just one hit in the solid outing.

Northeast jumped out to an early 2-0 lead in the first, thanks to RBI from junior designated hitter Peter Franchi (Lynnfield, Lynnfield HS) and junior right fielder Sean Glabicky (Peabody, Malden Catholic HS).

The only hit of the game for West came in the fourth, when junior centerfielder John Kinne (Great Barrington, Monument Mountain HS) sent a leadoff single to left field.

The Northeast squad never looked backed, adding six insurance runs on seven hits in the sixth to secure the victory.

Southeast 5, Coastal 5

In the third game on Thursday afternoon, Southeast and Coastal played a hard fought, back-and-forth contest that ended in a 5-5 draw.

Southeast broke the game open in the second inning, when junior first baseman Sean Greene (Hingham, Hingham HS), junior third baseman Mark Pomella (Marshfield, Marshfield HS), and junior centerfielder Jake O'Rouke (Medway, Medway HS) recorded consecutive singles to put their squad up, 1-0. Pomella scored on a wild pitch, giving Southeast an early 2-0 lead.

Southeast added a third run in the third, but Coastal would not go quietly. Sophomore centerfielder Dan Dougherty (Pembroke, Boston College HS), who singled to right field, set up a rundown, which allowed sophomore leftfielder Spencer McCaffrey (South Dennis, Dennis-Yarmouth HS) to score in the bottom of the third. In the squad's next at bat, Coastal registered three runs on four hits to take a 4-3 lead through four innings of play.

Southeast tied the game at four in the fifth on a RBI triple from junior designated hitter Phil Sciretta (Duxbury, Nobles & Greenough HS), but Coastal pulled ahead in the following inning, as junior leftfielder Aaron Chouinard (Swansea, Joseph Case HS) tallied a sacrifice fly to score junior catcher Brian Hocking (Duxbury, Boston College HS).

Southeast plated the tying run in the top of the seventh, when Sciretta lifted a RBI sacrifice fly to right field. The squad then shutdown Coastal in the bottom of the inning to end the game deadlocked at five a side.

West 3, Central 1

West used a seventh-inning rally to defeat Central, 3-1, in a defensive showdown on Thursday afternoon.

The squads were deadlocked at zero until the fourth inning, when junior centerfielder Steve Moyers (East Longmeadow, East Longmeadow HS), drew a walk to get on and scored on a throwing error by the Central pitcher to break the game open for West.

Central retaliated in the fifth, as junior first baseman Adam Goldstein (Worcester, Doherty Mem HS) knocked in junior leftfielder Matt Lavin (Worcester, Burncoat HS) with a single to center, knotting the game at 1-1.

West earned the go-ahead runs in the top of the seventh, as junior first baseman Brenden Geary (South Hadley, Tabor HS) and Moyers registered RBIs to put the squad on top. The West then retired the Central side in the home half of the inning to take the 3-1 victory.

The squads were led by outstanding showings from their pitchers, who each turned in complete game performances. West's junior Rory Ziomek (Amherst, Phillips Andover) allowed just two hits and one run, while striking out six in seven innings of work. Junior Tyler Wager (Uxbridge, Uxbridge HS) struck out seven for Central.

ICE HOCKEY
New England Sports Center – Marlboro, MA

Boys Scholastic

Northeast 5, West 1

Junior forward Joe Czarnota (Reading, Reading HS) tallied two goals and an assist to lead Northeast over West, 5-1. Pat Flanagan (Westford, Westford Academy), Brett Buckley (Wakefield, Wakefield HS) and Blaise Heally (Melrose, Tilton School) also potted scores for the winners. Sophomore David Senecal (North Adams, Drury HS) lit the lantern for West's only goal.

Southeast 9, Central 7

Southeast's Dean Chandler (Hanover, Hanover HS) and Jason Riley (Dedham, Dedham HS) each scored a pair of goals to help their team fend off Central, 9-7. Junior Paul Curran (Milton, Milton HS) chipped in with a goal and three assists. For Central, Tyler Kirby (Hudson, Hudson HS) and Brett Lawson (Milford, St. Mark's School) potted two goals apiece with Kirby also dishing out an assist.

Metro 4, Coastal 1

Junior forward Conal Lynch (Charlestown, Boston Latin) had a hat trick and Kevin Cotrone (West Roxbury, Boston Latin) tallied four points with a goal and three assists to lift Metro over Coastal, 4-1. Defenseman Max Sherman (Rochester, Old Rochester Reg HS) potted the lone goal for Coastal. In net, Peter Cronin (Norwell, Boston College HS) and Ryan Ciavette (Medford, Matignon) combined to 43 saves for the winners. Sean Cleary (Centerville, Barnstable HS) came on in relief for Coastal to make 18 saves while allowing a single goal.

Northeast 5, Southeast 2

Northeast jumped out to a three-goal lead in the first half and held on to defeat Southeast, 5-2. Forward Kevin Doherty (Wakefield, Wakefield HS) potted Northeast's second and third goals. Also chipping in on the Northeast attack was Blaise Heally (Melrose, Tilton School) who registered a goal and an assist. Southeast came out storming in the second half and began its comeback with two quick strikes by David Consigle (Medway, Catholic Memorial) and Brian Higgins (Milton, Milton HS) in the fourth and ninth minute, respectively. Southeast goaltender Stephen Jenner (Abington, Archbishop Williams) made 19 saves including two spectacular diving saves.

Girls Scholastic

Southeast/Coastal 4, Central/West 4

Southeast/Coastal scored twice in the final three minutes to salvage a 4-4 tie with Central/West. Southeast/Coastal got two goals apiece from freshmen Emily Kelly (Norwood, Norwood HS) and Brooke Matherson (Walpole, Walpole HS) including a score from each in the critical final minutes. Kelly also added an assist. Central/West had a balanced offensive attack that was lead by Shannon Reynolds (Belmont, Belmont HS) who had an assist on Colleen Lynch's (Worcester, South High Community School) strike in the first period, and scored in the third period to push the score to 4-2.

SOCCER
Waltham High School – Waltham, MA

Boys Scholastic

Northeast 0, Southeast 0
Great two way game by both teams.

Metro 8, Central 1
Dumbuya (ME) (unassisted) at 2min
Nichole (CE) from Lajoie at 12min
Chajon (ME) from Desouza at 15min
Chajon (ME) from Lo at 17min
B. Pires (ME) from Rolim at 24min
Dumbuya (ME) from Chajon at 45min
B. Pires (ME) from Teixeira at 55min
Murrill (ME) from Irazo at 66min
Murrill (ME) from Irazo at 68min

West 2, Coastal 1
Oupka (WE) unassisted at 33min
Thompson (CO) from Phillips at 55min
Merdcer (WE) from Friedman at 62min

Girls Scholastic

Northeast 2, Metro 0
Havelinan (NE) on assist from McDonough at 20min
McDonough(NE) from DesRosiers at 27min

Central 2, Southeast 0
Miele (CE) from Costa at 6min
Kane(CE) from Adams at 18min

West 3, Metro 0
Delasco0 (WE) from Caney at 22min
Caney (WE) from Bates at 27min
Bovat(WE) at 60min unassisted

Northeast 3, Southeast 0
McDonough(NE) from Cunnerty 10min
May(NE) from Newhall 30min
Digiacomo (NE) from McDonough 44 min

SOFTBALL
Regis College – Weston, MA

Coastal 4, West 3
Northeast 8, Central 1
Southeast 7, Metro 4
Metro 7, Central 0

Northeast v Southeast
Results not available
July, 1, 2011
7/01/11
3:48
PM ET
ESPN RISE today announced the second annual Warrior 40 Final Competition. The culmination of a four-region search across the United States to find the best lacrosse athletes nationwide, the Warrior 40 Final Competition will be held at Harvard University in Cambridge, Mass., Friday, July 8, and Saturday, July 9, 2011.
Focused on elevating lacrosse players' knowledge on and off the field, the athletes will be coached by top MLL players throughout the two days of competition. Friday will feature a skills competition with the final taking place at Harvard Stadium on Saturday before the MLL All-Star Game.
The skills competition and final will air on ESPNU Sunday, July 10, from 9-11 p.m. ET.
Locally, the Warrior 40 roster is set to include the following players:
Connor Darcey, Goalie, 2012, Wellesley, Mass. (Wellesley HS), Penn State
Niall Devaney, Attack, 2012, North Falmouth, Mass. (Canterbury School), Uncommitted
Joe Kruy, Midfielder, 2012, Sudbury, Mass. (Philips Andover), Duke
Matt O'Keefe, Defense, 2012, Duxbury, Mass. (Duxbury HS), Johns Hopkins
Oliver Saffery, Midfielder, 2012, Wellesley Hills, Mass. (Wellesley HS), Uncommitted
Greg Stamatov, Goalie, 2012, Foxborough, Mass. (Foxborough HS), Villanova
Curtis Townshend, Defense/LSM, 2012, New Canaan, Conn. (Brunswick School), Uncommitted
J.C. Vivian, Midfielder, 2012, South Hamilton, Mass. (Governor's Academy), Georgetown
The complete roster
can be found here
.
June, 28, 2011
6/28/11
11:36
AM ET
Earlier this month at the Warrior 40 Northeast Regional camp at Harvard Stadium,
five locals earned automatic spots
for the final camp back at Harvard for July 7-9.
As of yesterday, four more locals have been added to the roster:
Seamus Connelly, Jr., Duxbury (Duxbury, Mass.), attack
Joe Kruy, Jr., Phillips Andover (Andover, Mass.), midfield
Greg Stamatov, Jr., Foxborough (Foxborough, Mass.), goalie
J.C. Vivian, Governor's Academy (Byfield, Mass.), midfield
They will join Brunswick (Conn.) midfielder John Kelly, Duxbury defenseman Matt O'Keefe, Canterbury (Conn.) attack Niall Devaney, and Wellesley's tandem of goalie Connor Darcey and midfielder Oliver Saffery, among the locals in attendance.
The complete roster
can be found here
.
December, 22, 2010
12/22/10
2:23
PM ET
Holiday time is always an important time of year on the recruiting front, and for a couple of different reasons. First, there are numerous holiday tournaments and events going on right now that provide college coaches with the opportunity to see numerous teams in one day under the same roof. Second, with the first semester of the college calendar coming to a close there is a slight lull in the college basketball schedule because of final exams, meaning that coaches have a little more flexibility in their schedule.
Here is a look back at some of the more notable events that have taken place in the last two weeks:
Scholar Roundball Classic
-– This first time event run by Hoop Mountain and the New England Recruiting Report kicked off the holiday schedule last weekend at Babson College. Not so much a tournament as it was a showcase, the event featured many of the top academic schools in the northeast including Phillips Academy of Andover, Phillips Exeter Academy, Choate Rosemary Hall, Milton Academy, St. Mark's, Northfield Mount Hermon, Hill School, and many others. Over 50 college coaches were in the stands throughout the weekend including 30 on Sunday. Some of the players to help their stock the most included:
Demitry Coronell
,
Evan Cummins
,
Rene Castro
, and
Stefon Williams
.
Bob Southall Tournament
-– Held every year at Loomis Chaffee School in Connecticut, the Southall tournament annually attracts a wide range of on-looking college basketball coaches. The Salisbury School ultimately prevailed, defeating a tough Wilbraham & Monson team in the final. Salisbury features Quinnipiac signee
Zaid Hearst
in the backcourt along with junior point guard
Ryan Frazier
, who already owns an offer from Bucknell (head coach Dave Paulsen was in the house to watch Frazier on Wednesday night). Post-graduate swingman Jon Seltzer drew a large following from the Northeast-10 throughout the weekend, while Salisbury's underclassmen tandem of big men has coaches from the highest levels intrigued. Six-foot-eight freshman
Chris McCullough
has the length, athleticism, and mobility to be a prospect for the highest level while six-foot-six sophomore
Samuel Dingba
only recently arrived from Cameroon and has a tremendous upside of his own.
Mercer Invitational
-– The New Hampton School made the trip to Pennsylvania for the annual Mercer Invitational held by the Hill School and came away with their second consecutive championship as close to 30 college coaches from the greater Philadelphia area looked on. New Hampton defeated the Berkshire School in the open round, blew out the host Hill in the semis, and then knocked off the Landon School to take home the championships. UMass signee
Jordan Laguerre
continued to show why he could be an impact recruit in the Atlantic 10, earning MVP honors after averaging just under 20 points per game throughout the field. Also standing out was unsigned post-graduate
Travis Souza
, who is a six-foot-five swingman with a terrific skill set, high basketball I.Q., and the academic resume for the highest levels of admission standards.
Paul "Frosty" Francis Invitational
-– Trinity-Pawling came from New York to defeat the host school, Kingswood-Oxford (Conn.), in a dramatic final. T-P's Morgan Lee hit a driving lay-up with four seconds left to give his team a 64-63 win in the tournament final. Lee scored 23 points in the game and came away with MVP honors while teammates Blair Roberts and Pape Konteye were named to the All-Tournament Team. K-O was led by their backcourt tandem of Tylon Smith Jr. and Mike Deffley who both averaged well over 20 points per game. The third place game was no less dramatic as six-foot-seven big man Daryl Best Jr. scored with 12 seconds left to give Hamden Hall an 80-79 win over St. Luke's, while Darren Payen finished with 27 points, 13 rebounds, and 7 blocked shots to earn All-Tournament Team recognition.
St. Andrew's Holiday Classic
-– St. Andrew's School hosted some of the top AA prep schools in all of New England for their recent holiday showcase. Joining the Saints were powerhouse programs like Tilton, St. Mark's, Brimmer & May, Cushing Academy, Winchendon, Marianapolis, Lawrence Academy, Vermont Academy, Boston Trinity, and others. With all participating teams playing one game on Friday and another on Saturday no official champion was crowned, but a steady stream of college coaches came out to see the action. Among the players that impressed the most were:
Martin Dixon-Green
,
Marco Banegas
,
Zach Chionuma
,
Alex Murphy
,
Kaleb Tarczewski
,
Nerlens Noel
,
Wayne Selden
,
James Kennedy
,
Michael Carter-Williams
, and
Xavier Pollard
.
St. Sebastian's Holiday Basketball Tournament
-– St. Sebastian's put together one of their strongest fields in recent years for their 20th annual holiday basketball tournament. Milton Academy came away with the title after knocking off the Kent School in the final, 71-49, behind Boston College-bound big man
Dennis Clifford
, who came away with MVP honors. But it was far from a one-man show as Travis Sheldon scored a career high 23 points while Jesse Pagliuca added 21.
Huckins Rouse Invitational
-– Brooks came away with the championship at this eight school tournament hosted by the Middlesex School, defeating Thayer Academy 53-45 in the championship game. Anthony Barry took home MVP honors after scoring 22 points in the final. Barry began the tournament with 17 points in an opening round victory over Nobles 57-30 and then followed that up with 16 points in a 58-37 win over King.
Adam Finkelstein is the founder and editor of the New England Recruiting Report and also covers recruiting in the northeast for ESPN's Scouts Inc. Adam has the rare distinction of having coached or scouted at the high school, NCAA, and NBA levels, having worked as a Division I assistant at the University of Hartford and spent three years under the NBA's director of scouting Marty Blake.