Boston High School:

Plymouth (N.H.)
November, 23, 2013
11/23/13
10:42
PM ET
By
Roger Brown
| ESPNBoston.com
Saturday's NHIAA Division I championship game provided something no one expected to see: running time.

NHIAA rules require running time on the game clock once a team builds a lead of 35 points or more, and that's what happened during top-seeded Concord's 42-14 triumph over third-seeded Pinkerton Academy.

Concord led 42-7 after Robbie Law connected with Nicholas Comeau for a 5-yard touchdown pass with 6:28 left in the third quarter. Law completed 8 of 11 passes for 219 yards and three touchdowns in the victory, which improved Concord's record to 12-0.

"Our goal has always been to be the best team in New Hampshire and we achieved that today," Concord running back/linebacker Marc Gaudet said. "We definitely had the confidence coming in that we would be able to handle them, but not like this. Four or five touchdowns? We couldn't have pictured that. We were playing on a different level today."

Law also threw a 21-yard touchdown pass to Gaudet, and a 27-yard score to Seimou Smith. Top-seeded Concord received two rushing touchdowns from tailback Walters Ndi and a 27-yard touchdown run from Leo Sudeih.

Third-seeded Pinkerton (9-3) committed three turnovers (two fumbles) and had a punt blocked, and Concord turned each miscue into a touchdown.

T.J. Urbanik (5-yard run) and Manny Latimore (11-yard run) scored for Pinkerton, which has lost each of the last three Division I title games. Latimore finished the game with 91 yards on 16 carries.

"They earned it today, obviously," Pinkerton coach Brian O'Reilly said. "Having the clock run on us in the second half? I'm not sure that's happened to us before. That's a credit to them. They did whatever they wanted to today. They're undefeated for a reason."

DIVISION II
Plymouth 21, Portsmouth 14 (OT)
Chuck Lenahan won his final game as Plymouth's head coach when his Bobcats scored in overtime and then kept Portsmouth out of the end zone on its overtime possession.

Plymouth (11-1) took the lead for good when quarterback Collin Sullivan scored on a 13-yard run in overtime. Sullivan also had a 1-yard touchdown run earlier in the game.

Top-seeded Plymouth's other touchdown came on a 29-yard run by John Thomas.

Second-seeded Portsmouth received a 10-yard touchdown pass from Donovan Phanor to Loden Formachelli, and 19-yard touchdown run from Phanor. Portsmouth (10-2) beat Plymouth, 27-22, during the regular season.

It was Plymouth's 20th state championship in Lenahan's 43 years as the program's head coach. Lenahan, who announced his plans to retire earlier this year, improved his coaching record to 356-70-1.

DIVISION III
Bow 20, Stevens 6
Top-seeded Bow turned in another dominating defensive performance and won its first state championship since 2004.

Bow allowed 12 points in its three playoff games, and held eight opponents to seven points or less this season. The Falcons posted four shutouts.

Chris Robbins ran for 87 yards and two touchdowns for Bow, which raised its record to 10-1 and ended the season on a 10-game winning streak. Robbins scored on runs of 1 and 10 yards. The Falcons also received 123 yards rushing on 20 carries from Matt Ehrenberg, who set a school record with 1,503 yards rushing this season.

Bow's other touchdown came on a 1-yard run from Gavin Lacourciere.

Second-seeded Stevens (8-3) scored on a 5-yard pass from quarterback Ryan Tanguay to Brandon Bell. Donald Pellerin led the Cardinals with 127 yards rushing on 23 carries.

Roger Brown is a staff writer for the New Hampshire Union Leader and publishes the New Hampshire Football Report. Follow him on Twitter: @603sportsmedia.
November, 22, 2013
11/22/13
5:16
PM ET
By
Roger Brown
| ESPNBoston.com
New Hampshire will crown its three state champions in football Saturday, when the championship game in each division will be held at the home of the higher-seeded team. Here are the matchups and the top storyline in each game:

Division I: Pinkerton Academy (9-2) at Concord (11-0), 1 p.m.
Pinkerton is playing in the Division I championship game for the ninth time in the last 10 years and will be trying to knock off the only unbeaten team in the state.

Division II: Portsmouth (10-1) at Plymouth (10-1), 1 p.m.
This will be Chuck Lenahan's final game as Plymouth's head coach. Lenahan has a 355-70-1 record in 43 seasons on the Plymouth sideline. No New England high school football coach has won more games. A victory in this contest would hand Lenahan his 20th state championship.

Division III: Stevens (8-2) at Bow (9-1), 1 p.m.
Stevens will be trying to win its first state championship in football since 1962, and the school's first state title in any sport since 1989 (boys' soccer).

Here's a closer look at each game:


Pinkerton at Concord
No one has come closer to beating Concord this season than Pinkerton, which had an eight-point lead with less than a minute to play in the regular-season game between these teams. Concord scored with 51 seconds remaining in the fourth quarter, added the two-point conversion and prevailed 21-14 in overtime.

Each team has scored 467 points (42.5 ppg.), which is a single-season school record for both programs. Concord runs a spread offense and is as dangerous through air as it is running the ball. Pinkerton runs a wing-T that has helped Pinkerton coach Brian O'Reilly post a 270-103 record in 36 seasons with the Astros.

"That's a crowd-pleasing offense," O'Reilly said when asked about Concord. "That's not what we do. We run the ball until you stop us from running the ball."

Pinkerton will be looking for a big game from senior running back Manny Latimore, who has rushed for 1,496 yards and 16 touchdowns on 165 carries this season.

"Manny is a talented kid," Concord coach Eric Brown said. "Giving up big plays is my No. 1 concern. We'll have to minimize those."

Concord also has a 1,000-yard rusher in Walters Ndi, who has run for 1,095 yards on 21 carries. He's complimented by running back/slot receiver Marc Gaudet, who has scored 19 touchdowns (16 rushing).

Concord's other offensive weapons include quarterback Rob Law, who has completed 92 of 138 passes for 1,404 yards and 15 touchdowns; and wide receiver Seimou Smith, who has a team-high 32 receptions for 620 yards and seven touchdowns.

"It's hard to stop a team when they have so many facets they can go to," O'Reilly said. "They're the real deal."

Portsmouth at Plymouth
Plymouth hasn't lost a championship game at home since 1995, but Portsmouth beat the Bobcats 27-22 in Plymouth earlier this season. Plymouth built a 22-7 lead in that game, but the Clippers scored three touchdowns in the final quarter.

Like the Division I championship game, this contest will offer a contrast in offensive styles. Plymouth runs the wing-T and rarely throws the ball. Portsmouth uses a four-wide, no-huddle offense and prefers to attack through the air.

Plymouth has two 1,000-yard rushers in its backfield in Jared Kuehl (1,021) and John Thomas (1,011). Plymouth quarterback Collin Sullivan has completed 47 of 73 passes for 842 yards and nine touchdowns. He's also run for seven touchdowns.

Portsmouth quarterback Donovan Phanor has completed 89 of 166 passes for 1,478 yards and 17 touchdowns, and has run for 719 yards and 11 touchdowns. The Clippers have four receivers who are averaging at least 10 yards per catch.

"There's no rocket science in this one," Portsmouth coach Brian Pafford said. "You can't go toe-to-toe with them. You have to spread them out and make things happen. If it's OK weather I think we can move the ball and put points up.

"Defensively you have to play tough up front. When we watched film on them before our first game we never saw them punt. If we can get one stop a quarter, that's pretty good."

This is the fourth meeting between these programs. Plymouth has a 3-1 record in those games, which includes a 35-20 triumph in the 2006 Division III championship game.

Stevens at Bow
Defense has been the story for each of these teams. Seven of Bow's opponents failed to score more than seven points, and Stevens hasn't surrendered more than six points in any of its last five games.

Each team has a go-to player on offense. Bow's Matt Ehrenberg has rushed for a school-record 1,380 yards this year. Donald Pellerin leads Stevens with 1,377 yards and 22 touchdowns on 255 carries.

Bow scored in each quarter when it posted a 28-14 victory over Stevens during the regular season, but the Cardinals have won seven in a row since that loss.

Alex Reitze may be a wildcard for Bow, which is seeking the program's first state championship since 2004. Reitze missed the first five games this season with appendicitis, but gained a team-high 98 yards on 14 carries in last Saturday's semifinal victory over Inter-Lakes/Moultonborough.

The regular-season loss to Bow was the only game in which Pellerin didn't score at least one touchdown this season.

"Bow does a real good job against the run," Stevens coach Paul Silva said. "We'll need to be on top of our game in all phases."

Roger Brown is a staff writer for the New Hampshire Union Leader and publishes the New Hampshire Football Report. Follow him on Twitter: @603sportsmedia.
November, 7, 2013
11/07/13
9:45
PM ET
By
Roger Brown
| ESPNBoston.com
The regular season is in the rear-view mirror, and the high school football playoffs in New Hampshire begin this weekend with 12 conference championship games -- four in each of the three divisions. Each game is scheduled for Saturday at 1 p.m.

The conference champions will advance to next weekend's semifinals. Here's a look at this weekend's matchups and the teams to beat in each division:
DIVISION I:
East: Exeter (6-3) at Spaulding (6-3)
North: Central (7-2) at Concord (9-0)
South: Londonderry (4-5) at Pinkerton (7-2)
West: Keene (7-2) at Nashua South (8-1)
Analysis:
Concord is the only Division I team that navigated through the regular season without a loss, and is clearly the favorite in this division. The Crimson Tide has more offensive weapons than any other team in the division, and has put those weapons to good use. Concord scored at least 34 points in eight of its nine games, and held five of its opponents to seven points or less.
Manchester Central will be Concord's first hurdle. Concord beat Central 35-6 in Week 1, but Central has won seven in a row since its 0-2 start. Central running back Jesiah Wade has rushed for 2,074 yards this season, and gained 556 yards -- the single-game rushing record by a running back from New England -- against Merrimack earlier this year.
Keene, Nashua South and Pinkerton Academy also look like teams capable of winning this year's title. Keene has won six of its last seven games and handed Nashua South its only loss two weeks ago (42-28). Nashua South is led by University of New Hampshire-bound quarterback Trevor Knight, and Pinkerton also has a big-play threat in running back Manny Latimore.
It would be a surprise if Londonderry, Exeter or Spaulding advanced past the semifinals, although Exeter is averaging 38 points per game since moving Joey Jones to quarterback. The Blue Hawks have won the last two Division I titles.
DIVISION II:
East: Merrimack Valley (7-2) at Portsmouth (8-1)
North: Kennett (5-4) at Plymouth (8-1)
South: Trinity (7-2) at Windham (8-1)
West: Sanborn (5-4) at Monadnock (9-0)
Analysis:
There's a good chance Chuck Lenahan will end his coaching career with his 20th state championship. Lenahan, who has announced his will retire after this season, has a 353-70-1 record in 43 seasons as Plymouth's head coach. His Bobcats will be at home as long as they last in the postseason.
Plymouth's biggest threat may be Portsmouth, which used a late rally to post a 27-22 victory at Plymouth earlier this season. Portsmouth lost to Trinity in its opener, but enters the playoffs on an eight-game winning streak.
Monadnock is the only unbeaten team in Division II, but seven of its nine regular-season opponents finished under the .500-mark. Monadnock posted a 27-19 victory over Sanborn, the only playoff team it faced.
Saturday's Trinity-Windham winner may be the only other team capable of making a deep playoff run. Windham is a junior-laden team that made huge strides in the second half of the season. Windham's only loss came against Plymouth, but it was a 41-7 setback. Trinity may have more talent than anyone in the division, but will have to win a rematch with Windham to advance. Windham beat Trinity 52-20 two weeks ago.
DIVISION III:
East: Bishop Brady (4-4) at Epping-Newmarket (4-4)
North: Inter-Lakes/Moultonborough (4-4) at Gilford (6-2)
South: Bow (7-1) at Pelham (8-0)
West: Newport (6-2) at Stevens (6-2)
Analysis:
The two best teams in Division III may be on opposite sidelines Saturday, when Bow meets Pelham. The winner of that contest will be the clear-cut favorite to capture this year's title.
Bow's only loss was a 7-0 decision against Pelham in the opener for each team. Bow has won seven in a row since then, and posted three shutouts along the way. Pelham ended a 30-game losing streak last year, but was the only Division III team to finish the regular season unbeaten. The game will feature two of the best running backs in the division in Bow's Matt Ehrenberg and Pelham's Chris Medeiros.
Stevens may be the best of the rest. The Cardinals have a do-it-all running back in Donald Pellerin, who is also a threat as a receiver and kick returner.
The legitimate contenders for the Division III championship may end there since Newport and Giflord, the only other teams with at least six wins, were overmatched by the top teams during the regular season. Pelham beat Newport 56-6 and Bow defeated Giflord 42-7.
Roger Brown is a staff writer for the New Hampshire Union Leader and Sunday News, and publishes the New Hampshire Football Report. Follow him on Twitter: @603sportsmedia.
November, 1, 2013
11/01/13
3:00
PM ET
By
Roger Brown
| ESPNBoston.com
The final weekend of the New Hampshire high school football season is upon us.

Eight teams from each division -- two per conference -- will advance to next weekend's conference championship games, which will serve as the postseason's quarterfinal round.
Here's what's still at stake in each division:
DIVISION I
Four teams have already qualified for postseason play in Division I: Concord (8-0), Nashua South (7-1), Pinkerton Academy (6-2) and Londonderry (4-4). Londonderry will play at Pinkerton Academy in next weekend's Division I South championship game.
Keene (6-2) can clinch a playoff spot by beating Alvirne (1-7) Friday. If Keene wins, it will play Nashua South in the Division I West title game. Keene handed Nashua South its only loss (42-28) last weekend.
Spaulding (5-3) and Exeter (5-3) will be the two teams that move on from Division I East if each wins Friday. Spaulding plays at Dover (2-6), and Exeter is home against Nashua North (3-5). If either Spaulding or Exeter loses Friday, the door will be open for Winnacunnet (5-3) to reach the postseason.
The winner of Friday's game between Manchester Central (6-2) and Bedford (7-1) will face Concord in the Division I North title game.
DIVISION II
Seven of the eight playoff teams have been determined in Division II: Monadnock (8-0), Portsmouth (7-1), Plymouth (7-1), Windham (7-1), Trinity (6-2), Sanborn (5-3) and Kennett (4-4).
Sanborn will play Monadnock in the Division II West title game, and Trinity will face Windham in the Division II South title game.
Merrimack Valley will clinch a postseason berth if it beats Plymouth on Saturday, or if St. Thomas (6-2) loses to Trinity. A St. Thomas win and a Merrimack Valley loss would make it possible for St. Thomas to advance, depending on results of other Division II games this weekend. Either Merrimack Valley or St. Thomas will face Portsmouth in the Division II East championship game.
Kennett will face Plymouth in the Division II North championship game.
DIVISION III
The matchups in two of the four Division III conference championship games are set in Division III: Epping-Newmarket (3-4) will face Bishop Brady (3-4) in the Division III East title game; and Bow (6-1) will meet Pelham (7-0) in the Division III South championship game.
Stevens (5-2) and Gilford (6-2) have also qualified. Stevens will face the winner of Saturday's game between Mascoma Valley (5-2) and Newport (5-2) for the Division III West title, and Gilford will meet either Inter-Lakes/Moultonborough (4-3) or Winnisquam (3-4) in the Division III North championship game. Inter-Lakes/Moultonborough will advance if it beats Epping-Newmarket on Saturday, or if Winnisquam loses to Newfound (2-5).
NHIAA WEEK 9 SCHEDULE
DIVISION I
Friday
Spaulding at Dover
Nashua North at Exeter
Bishop Guertin at Timberlane
Winnacunnet at Nashua South
Manchester Central at Bedford
Goffstown at Concord
Manchester West at Manchester Memorial
Salem at Londonderry
Pinkerton at Merrimack
Alvirne at Keene
DIVISION II
Friday
Kennett at Kingswood
Pembroke at Mondadnock
Hanover at Portsmouth
St. Thomas at Trinity
Milford at Laconia
Lebanon at Kearsarge
Hollis/Brookline at Souhegan
Sanborn at Windham
Saturday
Merrimack Valley at Plymouth
Con-Val at John Stark
DIVISION III
Friday
Raymond at Stevens
Saturday
Franklin at Bishop Brady
Epping/Newmarket at IL/Moultonborough
Pelham at Farmington-Nute
Winnisquam at Newfound
Campbell at Bow
Fall Mountain at Somersworth
Newport at Mascoma Valley
UNION LEADER/WGIR/WMUR POWER POLL
1. Concord (8-0)
2. Bedford (7-1)
3. Pinkerton (6-2)
4. Nashua South (7-1)
5. Keene (6-2)
6. Manchester Central (6-2)
7. Bishop Guertin (5-3)
8. Portsmouth (7-1)
9. Exeter (5-3)
10. Plymouth (7-1)
Roger Brown is a staff writer for the New Hampshire Union Leader, and publishes the New Hampshire Football Report. Follow him on Twitter: @603sportsmedia.
October, 11, 2013
10/11/13
1:38
PM ET
By
Roger Brown
| ESPNBoston.com
There are plenty of people who figured the Concord High School football team would be good this season, but it's unlikely anyone expected the Crimson Tide to be this good.

Concord is 5-0, has won each game by at least 28 points and is averaging 50 points per contest.
Two Crimson Tide running backs are averaging more than 13 yards per carry: Mark Gaudet (13.5) and Walters Ndi (13.2).
"They've had their way with everybody," Pinkerton Academy coach Brian O'Reilly said when asked about Concord, a team Pinkerton will face Friday night in Derry. "No one has been able to stay with them so far, so we'll see. If we're not able to stop their offense it's going to be a long night."
The Astros are having a pretty good season as well, Pinkerton has won four in a row since opening with a 14-12 loss at unbeaten Bedford.
Pinkerton has the top offensive threat in the state in senior running back Manny Latimore, who has run for 955 yards and 11 touchdowns this season.
Concord coach Eric Brown said the No. 1 thing on his team's to-do list tonight is preventing Latimore from having a huge night.
"Manny Latimore is in a class by himself," Brown said. "It's not just his runs from scrimmage. It's his punt returns, kickoff returns and the other things he's done. Hopefully they'll have to go to someone else.
"We've been really strong against the run, but I think Pinkerton's offense is a different level than some of the teams we've been playing. This is going to be a big challenge for us."
Elsewhere in Division I this weekend:
« Spaulding (Rochester) will meet Bishop Guertin (Nashua) on Saturday (4 p.m.) at Nashua's Stellos Stadium. The game features two teams that are battling to get into the playoffs. BG (4-1) suffered a one-point setback against Winnacunnet (Hampton) in its opener, but has won four in a row since then. Spaulding (3-2) thrust itself into the playoff picture by beating Winnacunnet 42-29 last Friday.
« Keene (3-2) will play at Winnacunnet (3-2) in a game that will all but eliminate one team from the playoff hunt. Keene is in third place, behind Nashua South (5-0) and Bishop Guertin (4-1), in Division I West. Winnacunnet is in a three-way tie for first place with Spaulding and Exeter (3-2) in Division I East. Two teams from each conference will qualify for postseason play.
DIVISION II
Even though St. Thomas Aquinas in Dover is about a 15-minute ride from Portsmouth High School, it's been more than 40 years since the schools played each other in football. That will change Friday night, when the teams will meet in Portsmouth.
St. Thomas is 5-0, Portsmouth is 4-1. The winner will have sole possession of first place in Division II East. Each team runs a spread offense.
"We're very similar in terms of style," St. Thomas coach Eric Cumba said. "It could be a very high-scoring game, or the longest game in history."
St. Thomas has allowed 41 points in its five victories, two of which were shutouts. Portsmouth has scored at least 35 points in each of its five games, and has put up at least 41 points three times.
Portsmouth has won the last two Division III championships, and St. Thomas enters the weekend as one of seven unbeaten teams in the state. Concord, Bedford, Nashua South, Plymouth, Monadnock and Pelham are the others.
"The first thing that jumps out at you is that they carry that Portsmouth High School aura," St. Thomas coach Eric Cumba said. "There's a lot of tradition going on there.
"Then when you pop in the film you see that they get the ball to a lot of different guys all over the field. They might be the most explosive team I've coached against. They're a lot like Trinity (Manchester) and Plymouth in terms of their ability to score points, they just do it in a different way."
DIVISION III
Pelham, the only unbeaten team in Division III, will try to extend its winning streak to five games when it plays at Epping-Newmarket (2-2) Saturday. Despite its 4-0 record, Pelham has little room for error, since the three other teams in its conference -- Bow, Campbell and Somersworth -- each have three victories.
Pelham's defense has allowed 20 points in its four games. Division I Bedford is the only team in the state that has allowed fewer points (12).
« In terms of playoff position, the most meaningful game in Division III this weekend is Saturday's matchup between Gilford (3-2) and Newfound (2-2) in Bristol. Gilford is tied with Inter-Lakes/Moultonborough for first place in Division III North. Newfound is alone in third.
September, 13, 2013
9/13/13
11:34
AM ET
By
Roger Brown
| ESPNBoston.com
Keene football coach John Luopa won't be walking into the unknown this weekend. He's very much aware of what his team will be up against when it faces Exeter on Saturday night (7 p.m.) in Keene.

Exeter has won New Hampshire's last two Division I championships and is considered by many to be the team to beat again this season. The Blue Hawks have a roster of more than 100 players and have won their last 17 games against Division I competition.
"It's a daunting task playing Exeter," Luopa said. "They're hands down the best team in the state – and the best program. When you've won the last two Division I championships I think it's fair to say that.
"It's the same Exeter team. They've just changed the names and numbers."
Keene is coming off a 34-0 triumph over Nashua North. Exeter received three touchdowns from fullback Jay Inzenga in Saturday's 48-6 triumph over Dover.
"I thought we tackled well and we didn't turn it over, which is always a concern when you have all new backs," Exeter coach Bill Ball said. "Getting out of the gate with a win is huge. It gives you momentum heading into the next week.
"The road gets tougher. Keene is a lot like us – physical. It'll be a physical game."
Luopa said slowing down Exeter's running game and cashing in on scoring opportunities will be the keys for his team Saturday night.
"Offensively you have to find a way to get it in the end zone," he said. "In years past we've moved the ball well from the 20 to the 20. Inside the 20 is where they really buckle down.
"I think we match up well with teams that run the spread because defensively we can run with the spread teams. The big question entering this game is how will our defense hold up against a big, powerful team that runs the ball?
"It will be interesting to see if we do have the horses to give them a game."
DIVISION II
Trinity (Manchester) and Plymouth were the best teams in Division IV last season, and they may be the two best teams in a reconfigured Division II this year.
Plymouth, which beat Trinity 7-0 to win last year's Division IV title, rolled over Kingswood, 49-28, last weekend. The Bobcats will play at Windham on Saturday. Windham, which lost to Trinity in last year's Division IV semifinals, opened its season with a 28-7 triumph over Hanover.
"I saw their film (against Kingswood) and they flow to the ball real well," Windham coach Bill Raycraft said. "(Plymouth coach Chuck Lenahan) has 11 guys who make it look like they have 13 out there. Plymouth will be one of the top teams in the division."
Perhaps no team posted a more impressive victory last weekend than Trinity, which made a statement by beating Portsmouth, 58-37, Friday night. Portsmouth has won the last two Division III championships and was a preseason favorite to win this year's Division II title.
Trinity may get a stiffer test from Milford tonight. The Spartans returned their entire offensive backfield from last year's Division III playoff team, and showed plenty of offensive punch in Saturday's 48-23 victory over Sanborn (Kingston).
"Obviously it was nice to get that win, but we have a long way to go and a lot of work to do," Trinity coach Steve Burns said.
DIVISION III
Fall Mountain (Langdon) played a junior varsity schedule last season because of low participation in the program, but will have a chance to improve its Division III record to 2-0 when it travels to Raymond tonight (7 p.m.).
Fall Mountain is coming off a 40-8 victory over Newfound, and Raymond dropped a 53-35 decision to Bishop Brady (Concord) in its opener.
Tonight's game between Newport and Pelham is this weekend's only Division III matchup between teams that each won last weekend.
September, 5, 2013
9/05/13
2:15
PM ET
By
Roger Brown
| ESPNBoston.com
Pinkerton Academy football coach Brian O'Reilly had three quarterbacks competing for the starting job throughout the preseason, but few people outside of the O'Reilly household know who will be behind center when Pinkerton opens its Division I season at Bedford on Friday night.

The candidates are all juniors: Jack Hannaway, Conner Holland and Jake Froehlich. Hannaway and Holland were with the Pinkerton program last season. Froehlich transferred to Pinkerton from the Tilton School, where he threw for 1,492 yards and 13 touchdowns in eight games last season.
Choosing from three talented quarterbacks is a problem many coaches would welcome.
"But it is a problem," O'Reilly said. "They're all pretty good."
Regardless of who it is, Pinkerton's quarterback will be handing the ball to running back Manny Latimore often Friday night. Latimore, who is widely considered to be the top offensive players in the state, rushed for 1,504 last season. He'll likely have a larger role in the Pinkerton offense this season.
"Based on his senior year, it's possible that Manny could be one of the best running backs we've ever had here," O'Reilly said. "When you have that kind of weapon you have to use it. I will use it. Trust me."
Bedford is playing in its third division in as many years. The Bulldogs lost to Portsmouth in the 2011 championship game, and to Winnacunnet in last year's Division II championship game.
The Bulldogs, who have 125 players in their program, made to move to Division I in the offseason.
"This is where I would prefer to be," said Bedford coach Kurt Hines, who has been Bedford's head coach since the school first fielded a varsity team in 2008. "We're going to find out where we fit in the division Friday night."
***
Winnacunnet at Bishop Guertin is another interesting Division I matchup on this weekend's schedule. The Warriors and Cardinals are scheduled to meet Saturday night (7 p.m.) at Nashua's Stellos Stadium.
Both programs competed at the Division II level last season, but each was placed in Division I when the New Hampshire Interscholastic Athletic Association reduced the number of divisions for football from six to three.
Winnacunnet defeated BG in last year's Division II semifinals.
"As long as we stay healthy I think we should be in the playoffs," BG coach Travis Cote said. "We should be in that first round (quarterfinals) and who knows after that."
August, 26, 2013
8/26/13
2:52
PM ET
By
Roger Brown
| ESPNBoston.com
Chuck Lenahan's 43rd season as Plymouth (N.H.) Regional High School's head football coach will also be his final season as the Bobcats head coach.

Lenahan, 70, recently made it known that he will step down as the school's football coach and athletic director after the current school year. He's also in his 43
rd
year as Plymouth's athletic director.
"This is my last year," Lenahan said. "I'm going to miss it for sure, but this will allow me to go see a lot of games and do a lot of things I haven't done in a while. I haven't seen UNH play in a long time.
"I made up my mind last year. I talked it over with the administration and they said they wanted some notice. I want to go out by doing a good job."
Lenahan, 70, has twice been named the national high school football coach of the year. He'll enter the 2013 season with a career record of 345-69-1. He collected victory No. 343 last season, which set the record for career victories by a New England high school football coach.
Plymouth won its 19th state championship under Lenahan last season, when he guided the Bobcats to an undefeated season for the 13
th
time. Plymouth has strung together 46- and 57-game winning streaks during Lenahan's tenure. The latter streak was the longest in the nation in 2010.
"The one thing that stands out to me about Chuck is his attention to detail and his organizational skills," longtime Plymouth assistant coach Chris Sanborn said. "There's no limit to the amount of time and effort he'll put in.
"He'll do all of the little things – we all do. But he's definitely a guy who leads by example."
Lenahan, who is also known for his dry sense of humor, is currently a member of the NHIAA football committee. He said that's a position he may retain.
"I'll have to talk that over with (NHIAA executive director) Pat Corbin," he said.
Lenahan was one of the committee members who helped realign New Hampshire football in the offseason, when the Granite State went from six divisions to three. Plymouth, which had been competing in Division IV, is now one of 20 teams in Division II.
"It's going to be a challenge, but we're looking forward to it," Lenahan said. "We'll get to play some new teams like Portsmouth. We'll have three state champions this year. That'll make things a lot tougher."
Lenahan grew up in Mechanic Falls, Maine, and graduated from Plymouth State University. He was inducted into the National High School Hall of Fame in June.
Lenahan's first Plymouth team finished 0-6-1 in 1971, but he guided the Bobcats to a state title in his second season. Sanborn and Jon Bownes, another Plymouth assistant coach, are among the candidates who could replace Lenahan.
"It's a tremendous school and administration," Lenahan said. "I'll miss the relationships you have with the coaches and administrators. There's a lot of camaraderie there with the people you work with. One thing I've realized is how lucky I am to coach the kids that I have – that's what I'll miss the most.
"We've had a great run here. It's time to let somebody else do it."
Roger Brown is a staff writer for the New Hampshire Union Leader and publishes the New Hampshire Football Report. Follow him on Twitter: @603SportsMedia.
August, 14, 2013
8/14/13
5:46
PM ET
By
Roger Brown
| ESPNBoston.com
New Hampshire's high school football season will kick-off Wednesday, when teams are allowed to hold their first practice in preparation for the 2013 season.

Football in the Granite State has a drastic new look this year. The New Hampshire Interscholastic Athletic Association scrapped the six-division format it had used since 2008 in favor of three larger divisions that have four conferences in each division. The divisions are still based on enrollment and here's how the teams were divided:
Division I
East: Exeter, Winnacunnet, Dover, Spaulding and Timberlane.
West: Keene, Nashua North, Nashua South, Bishop Guertin and Alvirne.
North: Concord, Manchester West, Manchester Central, Manchester Memorial and Bedford.
South: Pinkerton, Salem, Londonderry, Goffstown and Merrimack.
Division II
North: Kennett, Hanover, Plymouth, Laconia and Lebanon.
South: Milford, John Stark, Windham, Souhegan and Trinity.
West: Monadnock, Con-Val, Hollis-Brookline, Sanborn and Kearsarge.
Central: Portsmouth, Pembroke, Merrimack Valley, Kingswood and St. Thomas.
Division III
South: Pelham, Campbell, Bow and Somersworth.
Lakes: Inter-Lakes/Moultonborough, Gilford, Winnisquam, Franklin and Newfound.
West; Raymond, Epping-Newmarket, Bishop Brady and Farmington/Nute.
East: Mascoma, Newport, Fall Mountain and Stevens.
"From the conversations I've had, more coaches like the new alignment than don't like it," Manchester Memorial coach Peter Colcord said. "I''m just not happy that we've gone down from tenB (regular season) games to nine. That's a lot of work, and you want to play as many games as possible.
"I also understand that you can't please everybody."
New Hampshire teams will no longer have room for a non-league game, so the Pinkerton-Brockton rivalry is among the casualties of the new alignment.
Eight teams will make the playoffs in each division (two from each conference), so the number of playoff teams (24) is the same as it was last year, when four teams qualified from each of the six divisions. The top two teams from each conference will meet in the quarterfinals. Teams will be reseeded for the semifinals using a point-rating system that will factor in each team's record and strength of its victories. A victory over a strong team is worth more that a victory over a lesser opponent.
"I like it," Nashua South coach Scott Knight said. "I'm not one of those guys who's afraid of change.
"The only thing I don't like is the two teams in one conference playing in the (quarterfinals). I don't see why you have to play a team twice in a 20-team division. I'd like to play different teams in the playoffs.
"After this year I'm sure they'll tweak it, but we're definitely headed in the right direction."
TEAMS TO WATCH
Here are 10 teams that should be in the hunt for a championship this season:
PINKERTON ACADEMY -- The Astros have the state's premier running back in senior Manny Latimore, who rushed for 1,477 yards last season.
NASHUA SOUTH -- South quarterback Trevor Knight, a three-year starter, has committed to the University of New Hampshire.
EXETER -- The Blue Hawks are seeking their third straight Division I title.
WINNACUNNET -- The Warriors won last year's Division II championship. They make the move to Division I this year.
CONCORD -- If there's a surprise team in Division I this season it will likely be the Crimson Tide.
PORTSMOUTH -- Clippers are also stepping up in class (to Division II) after winning the last two Division III championships.
TRINITY -- Quarterback Carmen Giampetruzzi is headed to Boston College … to play baseball.
PLYMOUTH -- Plymouth coach Chuck Lenahan has guided the Bobcats to 19 state titles.
BISHOP GUERTIN -- There's plenty of talent left over from a team that reach the Division II semifinals last fall.
BEDFORD -- The Bulldogs competed in Division III two years ago, moved to Division II last year and are in Division I this season.
MEET THE NEW BOSS
First-year head coaches this season: Mark Phillips (Alvirne), Dante Laurendi (Merrimack), Rob Pike (Salem), Jeff Hunt (Spaulding), Rich Bergskaug (Hollis-Brookline), Brian Pafford (Portsmouth), Mike Lochman (Souhegan), Greg Gush (Campbell), Vance Sullivan (Manchester West), Jeff Kaplan (Franklin) and Chris Marden (Gilford).
NIGHT VISION
Pinkerton Academy in Derry has added lights around its football field and, with one exception, will play its home games on Friday nights this season. Pinkerton's game against Londonderry will be played in Derry on a Saturday night, Sept. 28.
Last year, Pinkerton was the only Division I school without lights.
Roger Brown is a staff writer for the New Hampshire Union Leader and publishes the New Hampshire Football Report. Follow him on Twitter: @603SportsMedia.
August, 7, 2011
8/07/11
12:33
AM ET
By
Roger Brown
| ESPNBoston.com
WINDSOR, Vt. –- Some years the Shrine Maple Sugar Bowl is won with size. This year it was won with speed.

The Vermont defense spent much of Saturday's game chasing New Hampshire running back Max Jacques, and didn't have much luck catching him. Jacques, who can run a sub-4.5 40-yard dash, set a Shrine Maple Sugar Bowl record by rushing for 265 yards on 26 carries in New Hampshire's 45-21 triumph.

Jacques, who scored three TDs, broke the record set by former Plymouth High School standout Mike Boyle, who ran for 206 yards in the 2004 game. Boyle went on to play at the University of New Hampshire.

"I can just say without my line I couldn't have done that," Jacques said. "I saw yesterday in the Shrine book that the record was 206 (yards) and I told the line, 'Guys, let's go break a record. It's your record too.

"I just tried to keep my feet moving. Keep the legs pumping and when I saw daylight I took off."

Jacques, who led Salem High School to the Division I championship as a junior, will play at Marist College in the fall. He gained 178 yards on 16 carries in the first half.

"He's just outstanding," Vermont coach Jim Provost said. "Every time he touched the ball my heart was in my throat – for good reason. We just couldn't get our hands around him. He knows how to follow his blocks and when you have a line like that to run behind, that's what happens."

It was the 11th consecutive victory for New Hampshire, which now holds a 43-13-2 edge in the series.

Vermont was within seven, 21-14, at halftime, but New Hampshire took control by scoring three touchdowns in the third quarter.

The first second-half TD came on a 66-yard pass from Winnacunnet quarterback Steve Cronan to Bishop Guertin running back Mike Kelly on New Hampshire's opening drive in the quarter. Kelly will play at UNH this season.

Following a Micah Morton interception, Timberlane's Nick Lawrence capped a 12-play, 87-yard drive with a 2-yard TD run. Laconia's Kyle Behan made the the fifth of his six point-after kicks to make it 35-14 with 4:07 left in the quarter.

Jacques followed with a 43-yard touchdown run –- his third of the game –- on New Hampshire's next possession.

"Can't say enough good things about Max," New Hampshire coach Chris Childs said. "At halftime the kids said, 'Let's pound the rock, coach.' That's what our attitude was in the second half. You could see late in the third quarter that their defensive linemen were starting to hang their heads. They were starting to get worn down."

Vermont quarterback Christian McCormick (Rice Memorial) completed 22 of 48 passes for 278 yards and two touchdowns, but was intercepted four times. Vermont, which took a 7-0 lead on the game's opening possession, ran the ball six times for 18 yards.

Vermont wide receiver Troy Davine caught seven passes for 117 yards and two touchdowns. Wide receiver Kareem Hines (South Burlington) scored Vermont's other TD on a 64-yard catch.

Lawrence scored New Hampshire's other TD on a 3-yard run with 30 seconds left in the first quarter. New Hampshire led 21-7 at that point.

Cronan rushed for 69 yards on five carries, and completed three of six pass attempts for 92 yards.

Jacques set the rushing record with just under five minutes left in the third quarter. His three touchdowns tied a Shrine Maple Sugar Bowl record held by seven other players.

Jacques also holds the Salem High School record for career rushing yardage (4,559).

New Hampshire also set the record for team rushing yardage (441).

"At halftime I thought we were in the game," Provost said. "Then we didn't do the one thing we said we needed to do, and that's stop them on their first drive (in the second half)."

"I hoped that we could have controlled the ball by having a little bit more of a possession-type of game, so we could get more first downs, tire the defense out and keep 22 (Jacques) on the sideline."
January, 1, 2011
1/01/11
2:27
PM ET
By
Marc Thaler
| ESPNBoston.com
You can't ring in the New Year without a countdown.

In the spirit of the time-honored Dec. 31 tradition – counting down the final 10 ticks of the calendar year – here are the top items this reporter contributed to ESPNBoston.com High Schools since its launch in August 2010:
10. The 6-0-3 sets record. New Hampshire extended its win streak in the annual Shrine Maple Sugar Bowl to a series-record 10 games.
The Granite State's recent high school graduates topped Vermont in the 57th all-star football game, played at Windsor (Vt.) High's MacLeay-Royce Field, in early August, 34-20. The previous record for longest win streak was a nine-gamer set by New Hampshire from 1989-97.
New Hampshire's 14-point win makes it sound like the game was somewhat competitive. Guess again.
Despite committing seven turnovers, including four in the first quarter, and amassing 165 yards on 18 penalties, New Hampshire never trailed. The 2010 team did, however, twice lead by 20 points and ultimately improved the state's all-time record in the series to 42-13-2.
October, 27, 2010
10/27/10
10:18
PM ET
By
Marc Thaler
| ESPNBoston.com
The Granite State's governing body for high school sports, the New Hampshire Interscholastic Athletic Association, is conducting a postseason experiment.
It's currently taking place on the soccer pitch.

Every boys' and girls' soccer team in Division III, regardless of regular-season record, received the chance to compete for the state championship. During the 2009-10 academic year, athletics directors from the league's schools requested a one-year trial run with a "quasi-open" tournament format.
"It came about because, for a number of years, there's been a few ADs who have been pushing for an open tournament," NHIAA executive director Pat Corbin said. "It's a quasi-open tournament so as not to lengthen the season. We took the last regular-season game and considered it a 'play-in' game.
"It wasn't without controversy," Corbin added. "But it did finally pass (executive) council this year."
Whether you consider the play-in round part of the tournament – and the NHIAA does not – is splitting hairs. All 24 boys' teams and 19 girls' teams were playoff-eligible.
Similar to Division III soccer, the open format will be used this winter in Division III boys' and girls' basketball, and this spring in Division III baseball and softball.
"There's been a real push to look at alternatives to what's always been done," Corbin said.
Cutting down on travel time and costs are key reasons Division III schools opted to go this route. The NHIAA is encouraging more cross-divisional play. But, smaller schools playing teams from large-school leagues may incur additional losses on the regular-season resume.
The open format prevents a Division III team from being penalized – read: missing the playoffs – come tourney time.
But, does the format devalue regular-season results? Why play the games if, ultimately, they don't count toward tournament qualification?
"Well, if you want to play a weak regular-season (schedule) because you like having a good win-loss record, you'll play the mettle of the league in the tournament and not last long," said Corbin, playing the role of devil's advocate.
Under this experimental format, the top eight boys' soccer teams and top four girls' squads bypassed the play-in round. Given the number of teams in the girls' league, the top four teams also earned a bye in the tournament's first official round – a concern for some coaches, Corbin said, due to the long layoff.
Fifteen play-in matches – eight for the boys, seven for the girls – took place at homes of the higher seeds on Oct. 22.
Twelve of the play-in matches played out as expected. The better teams, based on a two-month body of work, extended their seasons. In three cases, however, the lower-seeded squads sprung upsets.
Two of those stunners took place in the girls' tournament.
Sixteenth-seeded Raymond (3-10-2 regular season) defeated White Mountains of Whitefield (8-6-1), the No. 9 seed, 2-0. Thirteenth-seeded Kingswood of Wolfeboro (6-8-1) beat Stevens of Claremont (7-7-1), the No. 12 seed, 3-0.
The lone upset on the boys' side belonged to No. 19 seed Stevens (2-12-1). It won, 2-1, over No. 14 seed Hillsboro-Deering (6-9-0).
"The intent is to collect data and look at it at the end of the year," Corbin said. "We'll do an analysis of how things would've likely shaken out if under the old format … and the council will make a decision."
POINT SYSTEM STIFF-ARMED
The NHIAA was recently at the center of another big decision. This one affected football.
On Oct. 21, the 21-member executive council voted to discontinue use of the first-year New Hampshire Index Plan. The controversial point-rating system, in place this year for use in all sports, decides playoff teams.
The system best serves sports whose teams cannot all play one another during the regular season, creating the need for an equalizer.
Football, however, is the one sport where every team – across all six divisions – faces all league foes. The need for this equalizer was unnecessary.
Furthermore, the system's way of awarding points seemed certain to penalize a playoff-caliber team from punching one of four postseason tickets per division. A win for the designated "road" team earned five points. A win for the designated "home" team earned four points.
Yet caliber of competition is a non-factor. A powerhouse team that beats its winless host earns more points than the struggling squad that springs an upset at home.
Earlier this season, Division I contenders Nashua North and Nashua South met in their annual regular-season rivalry game. Stellos Stadium is home for both teams.
Based on the NHIAA's designation for road and home teams, South was considered the visitor. South won the Week 6 contest, 38-21. It also collected an extra point – for winning on its turf.
"It's a crazy thing," South head coach Scott Knight, referring to the NHIP, said after the win. "I guess it stinks if it doesn't work (to your advantage). But it worked to our benefit this time."
Displeasure with the system mounted throughout the state's football community. The NHIAA's football committee, led by first-year chair Carol Dozibrin, made the issue an agenda topic for its Oct. 7 meeting.
Two weeks later, Dozibrin made a presentation to the NHIAA Council, which voted to re-instate the old tournament selection system. League records and head-to-head results are, again, top priority.
"When you deal with high school athletics … you just try to do the best thing for the kids," Dozibrin told the New Hampshire Sunday News. "I think the best thing for the kids is to allow them to determine the outcome on the field."
EXPECTED OUTCOMES
Soccer tournaments for the Divisions I and IV boys, and Division II girls are under way.
A combined 20 first-round matches were played in those tournaments. The higher-seed squad won 19 times.
The lone exception came in the Division IV boys' bracket. No. 10 seed Colebrook defeated No. 7 seed Nashua Christian, 5-1.
Tournaments for the Division I girls and Division II boys begin Wednesday. Playoffs for the Division IV girls start Thursday.
FINAL FOUR
Title contenders have been significantly whittled down in Divisions I, II and III field hockey.
The Division I semifinals take place Thursday at Exeter's Bill Ball Stadium. Second-seeded Pinkerton Academy of Derry (13-1-1) faces No. 3 seed Salem (13-2) at 5 p.m. Top-seeded Winnacunnet of Hampton (14-0-1) draws No. 5 seed and defending champion Timberlane of Plaistow (11-5).
Winners advance to Sunday's 2:30 p.m. final at Bedford.
The Division II semifinals take place Wednesday at Exeter. Second-seeded Kennett of Conway (15-1) meets upset specialist and No. 14 seed Plymouth (8-8) at 5 p.m. Top-seeded Bow (16-0) and No. 4 seed Oyster River of Durham (12-4) compete in the 7 p.m. matchup.
Winners advance to Sunday's noon championship at Bedford.
Division III has its finalists. Top-seeded Derryfield of Manchester (16-0) meets No. 2 seed Berlin (15-1) in Sunday's 5 p.m. clash at Bedford.
STRETCH RUN
Cross country's most important races are fast approaching.
Derryfield Park in Manchester is the site for the divisional meets on Saturday. Six races on the 3.1-mile course will determine team and individual champions.
The race day schedule is: Division I girls (10 a.m.) and boys (10:40 a.m.); Division II girls (11:30 a.m.) and boys (12:10 p.m.); and Division III girls (1 p.m.) and boys (1:40 p.m.).
Top runners in each division advance to the Meet of Champions, at Nashua's Mines Falls, on Nov. 6. Nashua South hosts the event, which is a qualifying race for the New England Championships.
The girls' race starts at 2:30 p.m. The boys' race begins at 3:20 p.m.
BIG GAME, GIANT WIN
Sixteen yards separated Nick Lawrence from Timberlane's single-game rushing record.
The senior running back carried the football 29 times for 324 yards and four touchdowns on Oct. 15. He surpassed 1,200 yards for the season as the suddenly surging Owls scored a 26-14 Week 7 win over Winnacunnet, at the time undefeated and New Hampshire's No. 1-ranked team.
Lawrence ran with power and patience. He ran tough between the tackles. He turned the corner when reaching the edges.
The ability to maintain his balance – a big reason he is a three-time Division I wrestling champion in the 130-, 140- and 160-pound weight classes – made him tough to tackle.
"It definitely doesn't hurt him," Timberlane head coach Kevin Fitzgerald said of Lawrence's wrestling experience. "I'm not a big wrestling guy, but I'm sure there's a correlation between (having) balance on the mat and on the football field."
The 5-foot 11-inch, 174-pound punisher looked a lot like former Timberlane star Derek Furey, owner of the single-game rushing record. As a junior in 2008, Furey turned 40 carries into a 340-yard, five-TD performance.
But Lawrence's most impressive contribution was arguably on the other side of scrimmage.
As an inside linebacker, Lawrence recovered two fumbles, one coming on his strip-sack of standout Winnacunnet quarterback Steve Cronan.
"It was one of his better defensive games of the season," Fitzgerald said. "He moved from the secondary to inside linebacker this season. It took time to transition, but with reps and looking at film, he's gotten better."
Marc Thaler is a staff writer for the New Hampshire Union Leader & Sunday News and UnionLeader.com. He has been the high schools reporter for football and lacrosse since joining the statewide newspaper in 2006. A graduate of Syracuse University (2000), he wrote about the state's football history for an exhibit at The Hall at Patriot Place. The Bedford, N.H., native has covered the Little League World Series, NCAA men's lacrosse championships, UNH athletics and New Hampshire Fisher Cats baseball. He can be reached at marc.thaler@gmail.com.
August, 18, 2010
8/18/10
6:13
AM ET
By
Marc Thaler
| ESPNBoston.com
Let's start, simply, with a three-syllable salute to the state whose high school sports provide the content for this notebook.

Six-oh-three!
The area code for New Hampshire — 603 — once again made for the most memorable post-game chant at the Shrine Maple Sugar Bowl on Aug. 7. The Granite State's recent high school graduates, on Windsor (Vt.) High's MacLeay-Royce Field, topped Vermont in the 57th annual all-star football game, 34-20.
New Hampshire clinched a Shrine-record 10th consecutive win in the series, eclipsing its nine-game streak from 1989-97.
As it relates to this year's game, here's how to best explain the superiority of New Hampshire's 35-player squad: It nearly doubled Vermont in turnovers, 7-4, including four first-quarter giveaways, and committed an astounding 18 penalties for 165 yards.
[+] Enlarge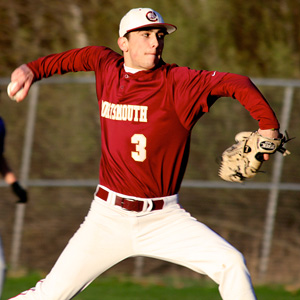 Courtesy of Julie BlackPortsmouth High's Keegan Taylor recently committed to Northeastern University. The right-hander figures to be the Clippers' ace in 2011 and will lead a team that enters the season with state-best 63-game winning streak.
And New Hampshire still won by two touchdowns.
"One-hundred-sixty-five yards in penalties?" Shrine assistant and retired Londonderry High coaching legend Tom Sawyer said in disbelief. "That's almost two football fields."
Fact is, New Hampshire never trailed. Instead, it twice built a lead of 20 points.