Boston High School:

Ponaganset
February, 16, 2013
2/16/13
4:34
PM ET
By
Mike Scandura
| ESPNBoston.com
Officially, the nickname of the Classical High boys' basketball team is the Purple.

But given how well head coach John Kavanagh's team has played in recent weeks, perhaps that nickname should be preceded by the adjective "red-hot."
Classical clinched the Division I-Central title by reeling off three consecutive victories – 79-75 over Hope, 82-58 over Smithfield and 89-70 over defending Division I state champion Central.
Ironically, Classical (14-3 in I-Central and 17-5 overall) is led by three of the shortest players on the team: 5-8 guard Kealen Ives, 5-10 forward Ismael Batista and 6-1 center Terrill Toe.
Ives is Classical's leading scorer while Batista has proven to be a force on the offensive glass.
Toe buried a 3-point shot with 16.5 seconds left in regulation to break a tie and give the Purple a 79-75 victory over Hope. Ives celebrated his 17th birthday by scoring a game-high 34 points, which included 15-of-18 from the free throw line.
Ives just missed a triple-double when Classical belted Smithfield.
He finished with 21 points, 11 assists and eight steals while Batista and Toe combined for 51 points; Toe nailed seven 3-point shots).
Classical held its senior night on Feb. 12, and Batista made sure his classmates would go out as winners as he scored 19 points – including a quintet of 3-point baskets – which helped the Purple crown the Knights.
SKIPPERS REBOUND
North Kingstown's Skippers, who had been cruising along in Division I-South, dropped an ugly 53-46 decision to La Salle in a crossover game.
Ugly was defined by the fact North Kingstown shot a frigid 29.3 percent (17-of-58) from the floor and 53.3 percent (8-of-15) from the free throw line.
But the Skippers (15-2) held onto first place in their division by rebounding to beat St. Raphael, 55-52, on Kazre Cummings' 3-point shot at the buzzer and South Kingstown, 58-33, with Justin Pratt and Owen Heath combining to score 30 points.
North Kingstown (20-2 overall) leads the power-point standings while Classical is in second.
OUTSTANDING PERFORMANCES
Austin Cilley broke the career scoring record for Westerly boys' basketball – one that had stood since 1952 – by pouring in 38 points during a 61-58 overtime conquest of Barrington in a Division II crossover game.
Cilley raised his career total to 1,399 points, which eclipsed the previous mark of 1,386 set by Bob Serra in 1952. In the game where Cilley broke the career record, he tossed in 38 points, including nine in overtime, as the Bulldogs beat Barrington, 61-58.
Three other boys surpassed the 1,000-point mark for their careers in recent games: La Salle's Jared Thompson; Mount Pleasant's Jovel Beckford; and Ponaganset's Scott Peterson.
PERFECTION ELUDES SAINTS
The St. Raphael Academy girls' had their sights set on at least an undefeated season in Division II-Central. But Johnston derailed the Saints by handing them their first loss of the season, 65-63 when Isabella DiRaimo nailed a 3-point shot with 3.2 seconds left and, following a turnover, Alex DiRaimo tossed in a basket at the buzzer.
The Saints still led II-Central with a 10-1 record.
Elsewhere:
Exeter/West Greenwich coach Steven McGrane notched the 350th victory of his career when the Scarlet Knights belted Cranston West, 64-37, due in part to Taylor Buckley's game-high 17 points.
Middletown (13-1) remained atop the III-South standings as the Islanders beat Hope, 58-31, with Chelsea Dowler posting a double-double (14 points and 10 rebounds).
Juanita Sanchez handed the Islanders their first loss, 53-47, and maintained a firm grip on second place (10-1).
"WEIGHTY" ACCOMPLISHMENT
Barrington High senior Charlie Ionata is inhaling rarified air after his performance at the East Coast Track & Field Invitational.
Ionata uncorked a heave of 77 feet, 6.5 inches in the weight throw, which not only captured first place, but, according to the U.S. High School Weight Throw Performance List, was the longest in the nation.
In addition, he beat the previous meet record of 73-feet and three-quarter inches and moved into 11th place on the all-time national list – good for second on Rhode Island's all-time list.
SIGNING ON THE DOTTED LINE
Several Rhode Island high school football players inked National Letters of Intent during the recent signing period.
One of the more notable "signees" was La Salle's All-State quarterback Anthony Francis – the 2012 Gatorade Rhode Island High School Football Player of the Year – who opted for Marist College.
Cumberland wide receiver Mitchell Baxter and North Kingstown tight end Alex Madoian signed with Bryant University.
Portsmouth native Charlie McKeeman, who played for Bishop Stang of Dartmouth, Mass., signed to play fullback for the University of Rhode Island.
THE "BUTLER" DID IT
Not only was Alex Butler one of the best basketball players ever produced by East Providence High – where he is the head coach these days – but he also was one of the best ever to play for Rhode Island College.
Not surprisingly, Butler was one of 11 players recently inducted into the Little East Conference Hall of Fame.
Butler, who was an All-Stater in high school, was a two-time Division III All-American at RIC.
Mike Scandura has been covering high school sports, college basketball, football and hockey plus minor league baseball in Rhode Island since the early 1970s. A native of Oswego, N.Y, he's a member of the Words Unlimited Hall of Fame which is the statewide organization of sportswriters, sportscasters and sports publicists.
December, 17, 2012
12/17/12
3:53
PM ET
In its 28th year of honoring the nation's best high school athletes, The Gatorade Company, in collaboration with USA TODAY High School Sports, has announced its nationwide High School girls' volleyball state Player of the Year awards.

Here's a look at the New England-based winners:

(Note: Vermont does not sanction high school volleyball.)

CONNECTICUT: MARINA ROSE, SR. OUTSIDE HITTER, COVENTRY
The 5-foot-9 senior outside hitter led the Patriots (24-0) to a seventh consecutive Class S state championship this past season. A three-time Class S First Team All-State selection as named by the Connecticut High School Coaches Association, Rose amassed 447 kills, 409 digs, 99 service aces, 34 blocks and 10 assists. She compiled a .708 hitting percentage and .781 kill percentage. In a Class S state championship sweep of Holy Cross, she recorded 17 kills, 16 digs, three blocks, two service aces and two assists, earning tournament Most Valuable Player honors.

Also a basketball standout, Rose has maintained a 3.05 GPA in the classroom. In addition to donating her time as a youth volleyball and basketball coach, she has volunteered on behalf of the Albert Schweitzer Fellowship, the Covenant Soup Kitchen, Operation Shoebox serving America's armed forces and the 30 Hour Famine end-hunger initiative.

"She is so, so smooth a player in all aspects of the game," said Paul Thees, head coach of rival Trumbull High. "It's amazing. Her team was No. 1 in the state for a reason. That's the main reason. That kid. She was just unbelievable. Everything she did—in the All-Star Game, too—was just so smooth."

Rose has signed a National Letter of Intent to play volleyball on scholarship at Providence College beginning in the fall of 2013.

Rose joins recent Gatorade Connecticut Volleyball Players of the Year Kyley Reed (2011-12, Rocky Hill High School), Madison McCaffery (2010-11, Fairfield Ludlowe High School), Tessa Smolinski (2009-10, RHAM), Erika Videtto (2008-09, RHAM) and Janice Ehorn (2007-08, Amity Regional) among the state's list of former award winners.

MAINE: MARIAH HEBERT, SR. SETTER, BIDDEFORD
The 5-foot-7 senior setter amassed 350 assists, 56 digs, 48 service aces, 25 kills and 12 blocks this past season, leading the Tigers (16-1) to the Class A state championship match. Also the Player of the Year as named by the Maine Sunday Telegram and Journal Tribune, Hebert compiled an .800 kill percentage. In three playoff matches, Hebert averaged 7.5 assists, 1.6 digs, 1.3 kills and 1.3 service aces per set before suffering a concussion midway through a 3-1 Class A state championship loss to Greely.

Hebert has maintained a 4.95 weighted GPA in the classroom and serves on her school's homecoming committee. In addition to donating her time to Biddeford's peer mentorship program, she has volunteered locally on behalf of the Salvation Army, the United Way, the Biddeford Recreation Department, the U.S. Marine Corps Reserve Toys for Tots Program, Rotary International's Interact club, a community Thanksgiving fundraiser, a breast cancer awareness campaign and a charity bottle drive.

"She had the best hands I've seen in a high school player," said Todd Brophy, head coach of rival Mt. Desert Island High. "She made excellent decisions setting and mixed up her sets really well. The quality of her ball was probably the best in the state, as far as unbelievable consistency. She dominated the All-Star Showcase and won MVP between her setting and serving. She really stood out."

Hebert remains undecided upon a collegiate destination.

Hebert joins recent Gatorade Maine Volleyball Players of the Year Brittany Bona (2011-12, Scarborough High School), Keila Grigware (2010-11, Biddeford High School), Michaela Campbell (2009-10 & 2008-09, Greely), and Mariah Grover(2007-08, Mount Desert Island) among the state's list of former award winners.

NEW HAMPSHIRE: MOLLY WOTTON, JR. OUTSIDE HITTER, DOVER
The 5-foot-11 junior outside hitter recorded 272 kills, 148 digs, 76 service aces and 44 blocks while posting a hitting percentage of .402 and a kill percentage of .564 this past season, leading the Green Wave (17-4) to the Division I state semifinals. The 2012 Coaches Division I Player of the Year and the New Hampshire Union-Leader Player of the Year, Wotton is a two-time First Team All-State selection. She concluded her prep volleyball career with 552 kills and 147 service aces.

Wotton has maintained a B average in the classroom. She has volunteered locally on behalf of the Special Olympics, her church nursery school and as a youth basketball coach.

"Molly Wotton is one of the more gifted and talented players I have seen at the high school level," said Sean Hogan, head coach of Timberlane High. "Molly can completely take over a match with her attack or her serve."

Wotton has verbally committed to play volleyball on an athletic scholarship at the University of New Hampshire beginning in the fall of 2014.

Wotton joins recent Gatorade New Hampshire Volleyball Players of the Year Kelsey Berry (2011-12, Hollis Brookline High School), Katie Schwarz (2010-11, Londonderry High School), Maria Kuehl (2009-10, Farmington), Amanda Saab(2008-09, Farmington) and Lauren Laquerre (2007-08, Concord) among the state's list of former award winners.

RHODE ISLAND: TAYLOR STEVENS, SR. SETTER, PONAGANSET
The 5-foot-6 senior setter and outside hitter recorded 442 assists, 219 digs, 215 kills, 63 service aces and 40 blocks while posting a kill percentage of .455 this past season, leading the Chieftains (8-9) to the Division I state quarterfinals. The 2012 Rhode Island Volleyball Coaches Association Player of the Year, Stevens was a two-time First Team All-State selection and a 2010 Second Team All-State honoree. She concluded her prep volleyball career with 2,026 assists, 324 kills and 262 service aces.

Stevens has maintained a 3.80 weighted GPA in the classroom. A member of the Ponaganset High student council, she has volunteered locally at Isaac Paine Elementary School in Foster and as a peer mentor.

"Taylor Stevens is clearly an intelligent, knowledgeable player who combines her athleticism to create a dynamic presence on the court," said Victoria Tefft, head coach of North Kingstown High. "She filled a number of holes for Ponaganset this season, displaying her overall skill set and comfort in a variety of roles."

Stevens remains undecided upon a collegiate destination.

Stevens joins recent Gatorade Rhode Island Volleyball Players of the Year Kelsey Lace (2011-12, Mount Saint Charles Academy), Elise Walsh (2010-11 & 2009-10, The Prout School), Katie Walsh (2008-09, The Prout School) and Sam Andreozzi (2007-08, North Kingstown) among the state's list of former award winners.
November, 6, 2012
11/06/12
4:24
PM ET
By
Mike Scandura
| ESPNBoston.com
If they haven't already, Rhode Island high school football fans should circle Nov. 9 on their calendars.

That's when La Salle and Hendricken – arguably the top two teams in the state regardless of division – will meet at the Hawks' field with the Division I championship at stake.
La Salle (6-0) and Hendricken (6-1) established that scenario last weekend when the Rams blasted Cranston East, 41-12, and the Hawks flew by Barrington, 18-6.
If the Rams prevail and also beat East Providence (1-5) on Thanksgiving, they'll clinch the outright title plus the No. 1 seed in the Division I Tournament. But should the Rams lose to the Townies and the Hawks beat La Salle, each team would finish 7-1, and Hendricken would earn the top seed by virtue of having beaten La Salle.
All-State running back Josh Morris shredded Cranston East's defense as he scored four touchdowns – for the second consecutive year against the Thunderbolt. Morris's scores came on runs of 19, 20, 18 and 30 yards.
In addition quarterback Anthony Francis threw a 59-yard touchdown pass to Keon Wilson and scored on a one-yard run.
In its previous game, La Salle only led Barrington 17-14 at halftime but exploded for 24 points in the second half and coasted to a 41-17 victory.
Morris again led the way by running 12 times for 122 yards and two scores.
Ironically, Cranston East was coming off one of the more dramatic victories in school history.
Coach Tom Centore's team spotted Portsmouth a 25-point lead at halftime and then rallied for a 51-47 victory.
E.J. Isom scored on a three-yard run with three minutes left on the clock to cap the comeback and set up the Bolt's big game versus La Salle.
DIVISION II PICTURE IN FOCUS
As a result of last weekend's games, the pairings are set for the Division II Tournament.
Johnston (7-0), Mount Hope (5-2), Woonsocket (5-2) and Westerly (4-3) earned the top four spots in Division II-A.
In Division II-B, undefeated Cumberland (7-0) earned the No. 1 seed followed by No. 2 St. Raphael (5-2), No. 3 West Warwick (4-3) and No. 4 Rogers (4-3).
Because West Warwick, Rogers and Central each finished 4-3, tiebreakers determined the last two seeds and Central became the odd team out.
Johnston finished strong by winning each of its last two games, 38-10 over Westerly and 42-6 over Warwick Vets.
In the victory over Westerly, Evan Hopson caught a pair of touchdown passes, kicked a 27-yard field goal and converted three-of-four extra-point attempts.
Hopson was just as prolific against the Hurricanes since he again caught two touchdown passes and returned a fellow Panther's fumble for a third score.
ISLANDERS MAKE HISTORY
Don't waste your time delving through the record books to find the last year when Middletown completed an undefeated regular season in league play (in this case Division III).
At the least, that happened four decades ago - perhaps when the parents of the current Islanders were youngsters. And, if Middletown beats Tolman and Portsmouth in a pair of non-league games, it will record an undefeated regular season – period.
Middletown, which has outscored its opponents by a combined margin of 339-96, handed East Greenwich its first loss of the season, 20-7.
Junior Connor Ross accounted for each of Middletown's touchdowns on runs of 13, 27 and five yards. Ross clinched the victory when he intercepted a pass with one minute remaining at the Islanders'10-yard line.
Also in Division III, Moses Brown (5-2) clinched a playoff berth by routing Burrillville, 31-13.
Andrew Howard paced the Quakers by rushing for 143 yards and two touchdowns on 19 carries.
KILTIES REIGN IN DIVISION IV
Mount Pleasant put the wraps on an undefeated Division IV season by blanking Central Falls, 33-0.
Randolph Zish paced the Kilties (7-0) by amassing 275 rushing yards and each of his team's five touchdowns.
The field for the Division IV Tournament is just about set.
Hope (6-1) will have the second seed while North Providence (4-2) and North Smithfield (4-2) will battle for the fourth and final seed.
HAWKS REMAIN DOMINANT
Few teams have dominated boys' cross country like Hendricken. The Hawks annexed their fifth consecutive state championship on Nov. 4 by scoring 44 points – 20 fewer than second-place La Salle.
Hendricken's points were accounted for by Connor Doyle (fourth), Colin Tierney (fifth), Tyler Henseler (seventh), Alex Doherty (135h) and Collin Manning (15th).
The Hawks added the state trophy to the Class A championship they had captured the previous week.
Trevor Crawley became the first Cumberland runner to notch the state individual title in 14 years by covering the 5000-meter course at Ponganset High in 15:39.47. That time was 20 seconds faster than second-place finisher Bryce Kelley of Chariho.
BARRINGTON GIRLS DOUBLE UP
The Barrington girls may have needed a trailer to carry home all the trophies they annexed at the state cross country championships on Nov. 4 at Ponaganset.
As a team, Barrington easily captured its second consecutive state title by scoring a mere 31 points – 40 less than second-place La Salle.
In addition, freshman Emma McMillan won the individual title with a time of 18:22.99 on the 5000-meter course.
According to Interscholastic League records, McMillan is the first freshman female to win the individual championship since 1995. She finished 8.5 seconds ahead of La Salle's Sheridan Wilbur.
After McMillan, Megan Vener-Crist (fourth), Fiona Paine (eight), Julianna Portelli (ninth) and Abigail Livingston (12th) rounded out Barrington's first five finishers.
LINCOLN TRIO OFF TO COLLEGE
When Nov. 14 rolls around, three Lincoln High student-athletes will sign National Letters of Intent.
All-State pitcher Lindsay Mayer will sign with Virginia while teammate Emily Bouthillete will remain in state and sign with Bryant University.
All-Stater Nick Zammarell will head south and play baseball with Elon University in North Carolina.
Mike Scandura has been covering high school sports, college basketball, football and hockey plus minor league baseball in Rhode Island since the early 1970s. A native of Oswego, N.Y, he's a member of the Words Unlimited Hall of Fame which is the statewide organization of sportswriters, sportscasters and sports publicists.
October, 24, 2012
10/24/12
5:50
PM ET
By
Mike Scandura
| ESPNBoston.com
La Salle Academy moved into sole possession of first place in Division I without having to score a single point or make any tackles.

Instead, the Rams might be inclined to send a "thank you" note to Portsmouth.
The Patriots pulled off the upset of the season in the state's top division by belting previously undefeated and defending state champion Hendricken, 39-14, on Oct. 20.
As a result, the Rams (4-0) are the division's only undefeated team while Hendricken (5-1) fell to second followed by Portsmouth (4-1) and Cranston East (3-1).
Obviously, if the Rams run the table they'll earn the No. 1 seed in the Division I Tournament (the top four teams qualify for post-season play).
Portsmouth led by a tenuous 9-7 margin at halftime but erupted for 30 points in the third quarter.
Quarterback Bob Chavous was a one-man wrecking crew as he passed the Hawks dizzy by completing 14-of-20 passes for two touchdowns and zero interceptions. Matt Sewall led Portsmouth receivers with six receptions for 55 yards.
Chavous also led the Patriots ground game. He carried the ball 18 times for 170 yards and one touchdown.
The loss took some of the luster off Hendricken's 21-14 victory over Cranston East on October 12.
Quarterback Patrick Gill snapped a 14-14 tie when he scored on a one-yard run with 2:02 left on the clock.
Cranston East hosts Hendricken on Friday night in what will be the key game in Division I this week.
ISLANDERS "STRAND" QUAKERS
In the previous six years Middletown has played in three Division IV Super Bowls (winning in 2006) and two Division III bowls (winning in 2010) – including 2011 when it was knocked off by Aquidneck Island rival Rogers.
The Islanders remained in contention for the top seed in the Division III Tournament by defeating Moses Brown, 35-13.
Connor Russ paced the Islanders (6-0) by scoring on runs of 18, 21 and 22 yards and combined with Randy Butler for just over 200 yards on the ground.
East Greenwich (4-0) is in second place – which means when the Avengers host the Islanders on November 12, first place and the top seed could (should?) be at stake.
PETERSON UNSTOPPABLE
Ponaganset (2-3) is in a five-team traffic jam for one of the last two playoff berths in Division III.
If the Chieftains qualify for the playoffs, it will be due in large part to the play of running back Scott Peterson.
Over his last two games, Peterson has been virtually unstoppable.
Peterson carried the ball 31 times for 269 yards and scored each of Ponaganset's four touchdowns during a 27-0 blanking of Classical.
The previous week, in a 24-12 non-league victory over Toll Gate, Peterson shredded the Titans defense for 322 yards and five touchdowns – each of which was a school record.
KILTIES STATE THEIR CASE
Even though this is the campaign season, Mount Pleasant doesn't need to take out an ad in local newspapers to state its case as perhaps the best team in Division IV.
The Kilties did their talking on a soggy field last weekend when they beat Smithfield, 35-6.
As a result, Mount Pleasant (5-0) is alone in first place, a half-game ahead of Hope (5-1).
The Kilties visit the Blue Wave on November 10 and can clinch the top seed for the playoffs with a victory.
Sophomore Stephen Young slogged his way to scoring runs of five and 67 yards while Joe Putu returned an interception 50 yards on the final play of the third quarter which set up a six-yard touchdown run by Montrell Hopper that put the game out of reach.
COMING UP ACES
The R.I.I.L. girls' tennis season came to an end over the weekend when the state singles title plus three team championships were decided.
East Greenwich's Alexsandra Drljaca dropped the first set to Smithfield's Jenna LaBarre but rallied for a 4-6, 6-2, 6-1 victory in the singles finals – which made her the first Avenger female to win a state singles title.
Ironically, Drljaca had defeated LaBarre in three sets during a regular-season match.
La Salle put the finishing touches on an undefeated season (14-0) by blanking Mount St. Charles, 4-0, for the Division I team title.
The Rams, who now have captured four state titles, received three of their four points from their doubles teams: Emily Carranza and Caroline Dunn; Annie Venditti and Natalie Pitocco; and Briana Hanson and Caitlin Wrag.
Amanda Pitocco accounted for the lone singles point.
Portsmouth emulated La Salle by also wrapping up an undefeated season (14-0) by beating Classical, 4-0, in the Division II finals.
Julia Harrigan and Kathryn Harper prevailed in singles while the doubles teams of Taylor MacLeod and Caroline Farrow plus Jamie Hole and Paige Colman annexed the other two points.
Mount Hope rebounded from a 4-8 season in 2011 to capture the Division III team title, edging previously undefeated Coventry 4-3 in the finals.
With the match tied at 3-3, juniors Marisa Silva and Destinee DeSousa captured a three-set match at No. 1 doubles.
PASSAGES
Rhode Island lost one of its most ardent advocates for high school sports with the passing on October 24 of Pete Connell in his hometown of Smithfield.
For over two decades while writing for either The Observer or The Valley Breeze, Connell was a fixture at games involving teams in the western and northern parts of the state.
Connell was equally as respected as a high school baseball umpire.
As a testament to Connell, the entire Smithfield High boys' soccer team paid their respects at his wake.
THE AXE FALLS
What had been on the drawing board became fact when East Providence's state-appointed Budget Commission passed a $154-million budget that, among other things, eliminated sports at the city's two middle schools.
At the moment, this is just a one-year cut. But that caveat notwithstanding, the loss of middle school sports should have a negative impact on East Providence High's varsity sports (especially football, basketball and baseball), which will now be deprived of their feeder programs.
Mike Scandura has been covering high school sports, college basketball, football and hockey plus minor league baseball in Rhode Island since the early 1970s. A native of Oswego, N.Y, he's a member of the Words Unlimited Hall of Fame which is the statewide organization of sportswriters, sportscasters and sports publicists.
October, 10, 2012
10/10/12
10:18
PM ET
By
Mike Scandura
| ESPNBoston.com
Cranston East last won a Division I Super Bowl in 1987 – which, of course, was well before the players on the current team were born.

But the Thunderbolt have an opportunity to prove they're a legitimate contender this season when they play at defending Division I Super Bowl champion Hendricken on October12.
Coach Tom Centore's team set the stage for this matchup of undefeated teams when it waxed East Providence, 42-20, on Oct. 5. Quarterback Alex Corvese threw four touchdown passes to four different receivers – all in the first half – as the 'Bolt bolted to a 28-7 lead. Covese's longest strike was a 46-yarder to Marquem Monroe. Nicholas Ferry caught a 28-yard TD pass just before halftime and, in the third quarter, returned a punt 35 yards for a score that broke the game open.
Hendricken (4-0) and La Salle (4-0) are tied for the division lead, but Cranston East (3-0) is only a half-game back and is 5-0 overall.
The Hawks tuned up for the 'Bolt by blanking Cranston West, 36-0, as quarterback Pat Gill ran for three scores passed for a fourth. In its previous game, the Hawks whipped Tolman, 28-7, converting three turnovers into three touchdowns in the process. Gill scored on a one-yard run and also connected with Marco DelVecchio on a 52-yard scoring bomb.
La Salle remained tied with Hendricken by whipping winless South Kingstown, 39-14, as quarterback Anthony Francis threw touchdown passes of 21 and 63 yards to Keon Wilson.
PANTHERS ON THE PROWL
Johnston maintained its status as the only undefeated team (4-0) in Division II-A by mauling Coventry, 26-6.
The final score was representative of how explosive the Panthers have been this season. In those four league games, they've outscored their opponents by a combined margin of 154-18.
Johnston built a 14-0 lead with five minutes left in the first half, thanks to a six-yard run by Brenden Pappas and a two-yard run by Joe Santilli.
WIZARDS DISAPPEAR – TEMPORARILY
West Warwick was knocked from the ranks of the undefeated in Division II-B when it was routed, 42-14, by Shea on September 28. Dennis Lloyd paced the Raiders with three touchdowns while Tyshon Ashe added a pair.
Cumberland, who blitzed North Kingstown 41-6, moved into sole possession of first place with a 4-0 record. Quarterback Brendan Guerin led the Clippers by passing for 132 yards and three scores.
The Wizards (3-1) rebounded the following week as they pasted Pilgrim, 41-6, with Austin Paygal running for four scores – including one that covered 66 yards.
AROUND THE GRIDIRON
Elsewhere, East Greenwich toppled previously-undefeated Moses Brown, 39-21, in Division III action. Carney Crawford paced the Avengers (4-0) with 230 rushing yards and two touchdowns while quarterback Andrew Minor passed for 117 yards and three scores.
Middletown (3-0) remained a half-game behind the Avengers thanks to a 48-20 victory over Tiverton. The Islanders' Randy Butler had a career game as he carried the ball 12 times for 149 yards and a touchdown and also returned a kickoff 70 yards for another score.
Overall, Middletown amassed 428 yards of total offense against the Tigers. Middletown gave a premonition of things to come when it belted Ponaganset, 48-7, in its previous game. Butler also was a force in that game since he scored on a 31-yard run and caught a 45-yard touchdown pass from Justin Sellers.
In other games of note:
* Mount Hope (2-2) evened its record in Division II-A by beating Woonsocket, 26-7, with Jesse Raiola rushing for 125 yards and three scores.
* Central Falls captured its first Division IV victory of the season by blanking Scituate, 42-0. Quarterback Brandon Canuto threw four touchdown passes – three to Odair Semedo.
* Classical also won its first league game, in Division III, by holding off Burrillville, 16-14. Amilcar Burganza provided what proved to be the winning score when he returned an interception 50 yards in the fourth quarter.
MILESTONE
Long-time Portsmouth boys' soccer coach Mike Stinton recently annexed his 200th career victory as the Patriots blanked South Kingstown, 1-0. Stinton was appointed Portsmouth's head coach in 1989.
Then, the following week, the Patriots (5-3-0) won their fifth consecutive Division I game, 5-1 over Tolman as Brendan Jumoas scored two goals and assisted on two.
RUNNING WILD
The East Greenwich boys' cross-country team ventured north and captured the team title in the Woods Trail Run Invitational in Thetford, Vt.
The Avengers amassed 107 points – 29 better than second-place South Burlington (Vt.) High. Ben Fazio (6th), Garrett Scanlon (18th), Scott Kulm (23rd), Nat Waddell (26th) and Tom Sommer (34th) accounted for the Avengers' scoring.
NO "MIDDLE" GROUND
What had been rumored is on the verge of becoming fact.
East Providence, which had accumulated a $7-million budget deficit and has been operating under a state-appointed Budget Commission, will eliminate middle school sports as part of a proposed plan to help get the city out of the red. Football, basketball and baseball, which have long served as successful feeder programs for East Providence High, would be the primary sports on the chopping block if the overall proposal is approved by November 1.
Mike Scandura has been covering high school sports, college basketball, football and hockey plus minor league baseball in Rhode Island since the early 1970s. A native of Oswego, N.Y, he's a member of the Words Unlimited Hall of Fame which is the statewide organization of sportswriters, sportscasters and sports publicists.
September, 26, 2012
9/26/12
4:30
PM ET
By
MIke Scandura
| ESPNBoston.com
When the Rhode Island Interscholastic League was founded in 1932, Westerly was one of the original schools to play football.

Chariho, which is roughly a long field goal from Westerly, didn't add football until 16 years ago.
While games between Division I teams like Hendricken, La Salle, East Providence and Portsmouth invariably dominate the headlines, Westerly and Chariho have forced their way into the spotlight.
In fact, the Chargers captured the 2011 Division II Super Bowl championship – the first in school history but five less than the Bulldogs have amassed.
Westerly made an early bid for the Division II-A regular-season title on September 21 by biting the Chargers, 35-14.
The teams were tied 14-14 at halftime but Westerly (2-0) went ahead for good in the third quarter when quarterback Phil Lynch ran four yards for a touchdown.
Westerly broke the game open in the fourth when Tom McGuire also ran four yards for a score and Rob Lamotte followed by returning a punt 45 yards for a touchdown.
Max Bumarch scored Westerly's first touchdown when he reeled off a 44-yard run midway through the opening quarter.
RAM TOUGH
La Salle remained undefeated (2-0) in Division I by posting a pair of impressive victories.
First, the Rams overcame an 11-7 deficit and rallied to beat Portsmouth, 42-25 as senior running back Josh Morris scored four touchdowns which accounted for 24 of the Rams' points while Tyrell Cooper returned a kickoff 87 yards for a score and later caught a 42-yard pass from quarterback Anthony Francis.
That set up a three-yard scoring run by Martin Bannerman.
Then, a week later, La Salle defeated Tolman, 42-20 with Morris shredding the Tigers' defense for 180 yards and two scores on only 14 carries.
Francis provided balance to La Salle's offense by completing 12-of-18 passes for 232 yards and three touchdowns.
September, 13, 2012
9/13/12
12:56
PM ET
By
Mike Scandura
| ESPNBoston.com
History.

That's what defending Division I Super Bowl champion Hendricken is chasing this season.
Since the Rhode Island Interscholastic League implemented the Super Bowl format in 1972, only three schools have captured three consecutive championships at the Division I level: Rogers from 1976-78 and from 1988-80; Portsmouth from 1991-93; and Hendricken from 1994-96.
Ironically, the Hawks also qualified for the Super Bowl from 1997-99 only to lose each time. But six consecutive trips to the Super Bowl is the best run in school history.
Hendricken entered this season having played in five of the last six Super Bowls and at the risk of stating the obvious is pursuing its sixth trip in seven years.
No other team besides Rogers and the 1990s Hawks have made six trips in seven years and bused home with three championship trophies.
While the returning players still may have memories of their shocking 17-14 upset of previously undefeated La Salle in the 2011 Super Bowl, coach Keith Kroft began practice thinking about how to replace three First Team All-State selections: quarterback Ryan Brannigan, offensive lineman Max Heintzelman and wide receiver Laionel Cintron.
But while Branningan ran for just over 1,400 yards last season, another Hawk may do the bulk of the ball carrying if Hendricken's 36-8 season-opening, non-league victory over St. Raphael Academy is any indication.
Junior running back Remmington Blue shredded SRA's defense for 290 yards and four touchdown runs of 3, 53, 8 and 65 yards.
In 2011, Blue was at best the No. 3 running back – and sometimes No. 4 – because Hendricken was loaded with seniors at that position. But barring injury, Blue could make several teams – excuse the pun – feel "blue" this season.
But, altogether, Croft must replace 16 of 22 starters who graduated.
Topping the list of Hawks whom Croft hopes will plug holes are senior linebackers Marco Delvecchio, Jarrid Witherspoon, Robert Lineberger and Erick Olson; senior two-way linemen Nick DeCiantis (who checks in at 6-3 and 308 pounds) and Mario McClain.
La Salle, meanwhile, who dropped its non-league opener to North Attleborough still boasts one of the top running backs in southeastern New England in senior Josh Morris who accounted for 1,304 yards plus 16 touchdowns last season and was voted the Rhode Island Gatorade Player of the Year.
Lining up under center will be First Team All-State quarterback Anthony Francis who last season passed for 13 touchdowns and ran for an even dozen.
WE HAVE LIFTOFF
In other non-league openers of note:
*Stefano Marzale intercepted a pass and returned it 75 yards for a score to break a tie and give Cranston West a 12-6 victory over Cumberland.
* Dave Parrillo only ran nine times but gained 189 yards as Smithfield punished Pilgrim, 33-12.
* Austin Sczepaniak ran for 105 yards and three touchdowns while Bob Chavous passed for 145 yards as Division I power Portsmouth belted Rogers, 46-0.
* Mamour Samb scored four touchdowns on "only" 98 rushing yards to lead Tolman to a 49-6 romp over Classical.
* A fourth-quarter interception by Nick Liguori enabled Moses Brown to preserve what turned out to be a 7-6 win over Mount Pleasant. The "pick" was Liguori's second of the game.
* Marc Breton only threw five passes, but he completed each one for 157 yards and three touchdowns as Johnston's Panthers mauled Ponaganset, 40-0.
GORHAM'S RETURN BOOSTS TOWNIES
Over the previous 17 seasons, few – if any – high school football coaches in Rhode Island have been more successful than East Providence's Sandy Gorham.
During that span, Gorham's guided the Townies to 15 trips to the Division I playoffs and captured five Super Bowl championships.
But in late May, Gorham announced that he would be retiring after teaching for 36 years in the school's Physical Education Department.
Gorham's reasons were personal and financial because, at the time, the teachers' union and the school committee were locked in contentious negotiations. Among other things, the committee was proposing to cut stipends for coaches and other teachers who performed extra-curricular work by 60 percent. And there was a chance that athletics would be eliminated – period.
But after a contract was hammered out and Gorham took time to discuss his initial decision with his family and friends, he decided to return.
HIGH SCHOOL FOOTBALL ON THE AIR
WOON radio (1240 AM) in Woonsocket again will broadcast a full slate of high school football games.
For example, September's schedule includes the following: Woonsocket at Johnson on September 14; Rogers at Cumberland on September 21; Woonsocket at Westerly on September 28.
All games will commence at 7 p.m.
HAWK WILL BECOME AN EAGLE
Senior pitcher Mike King, who led Hendricken to the Division I state baseball championship, has given a verbal commitment to play baseball at Boston College.
He's expected to sign his letter-of-intent during the fall signing period.
Mike Scandura has been covering high school sports, college basketball, football and hockey plus minor league baseball in Rhode Island since the early 1970s. A native of Oswego, N.Y, he's a member of the Words Unlimited Hall of Fame which is the statewide organization of sportswriters, sportscasters and sports publicists.
May, 31, 2012
5/31/12
6:17
PM ET
By
Mike Scandura
| ESPNBoston.com
In 1955 the late, great comedic actor Peter Sellers made a movie titled "The Mouse That Roared."

If the Rhode Island Interscholastic League should decide to make a high school baseball version of a sequel it should be named "The Cougars That Roared."
With an enrollment of barely 500 male students, North Providence is near the bottom of the R.I.I.L. when it comes to sports. But the Cougars sure know how to play baseball.
Not only did coach Dean Garganese's team capture the Division I championship with a 17-1 record, but the Cougars also earned the No. 1 seed in the 16-team, double-elimination Division I state tournament.
The Cougars got off on the right paw by mauling 16th-seeded Lincoln, 8-3, in an opening round game.
Mike Corin (three hits and two RBI), Nick DiDino (two-run single) and Tyler Proulx (two hits, one RBI) paced the attack as North Providence moved into the winners' bracket.
North Providence annexed the top seed by blanking Moses Brown, 2-0, in its regular-season finale as Corin blanked the Quakers for six innings and Dillon McCluskie pitched a perfect seventh for the save.
In other first-round games:
* No. 2 Hendricken (the Hawks beat the Cougars two years ago in the finals) beat No. 15 East Greenwich, 7-2, as Bill Walker belted a solo homer and Tom Pannone (who's signed a letter of intent to play his college ball at the University of Miami) allowed two runs on five hits over six innings.
* No. 14 Chariho upset No. 3 North Kingstown, 5-3, as Jacob Marchessault went the distance on a five-hitter. With the scored tied at 3 in the top of the seventh, Jim Paquette drilled a two-run single for the Chargers.
* No. 4 South Kingstown edged No. 13 Warwick Vets, 3-2, as Nick Hayes plated all of the Rebels' runs with two hits.
* No. 5 La Salle blanked No. 12 Pilgrim, 3-0, with Caleb Gardner and Tyler Drainville combining for 12 strikeouts. The Rams scored their runs in the third on RBI doubles by Jesse Lee, Frank DiMato and Pat Burns.
* No. 11 Coventry knocked off No. 6 Cranston East, 5-1 as Matt Laferriere went the distance on a six hitter and fanned eight in the process.
* No. 7 Portsmouth routed No. 10 Cranston West, 10-0, with Matt Peters homering to key a 13-hit attack.
* No. 8 Cumberland had to work "overtime" to dispatch No. 9 Middletown, 1-0, in 12 innings. Ryan Harris led the last of the 12th with a single, advanced to third on a wild pickoff throw and scored the only run on a wild pitch.
May, 6, 2012
5/06/12
11:07
AM ET
By
Mike Scandura
| ESPNBoston.com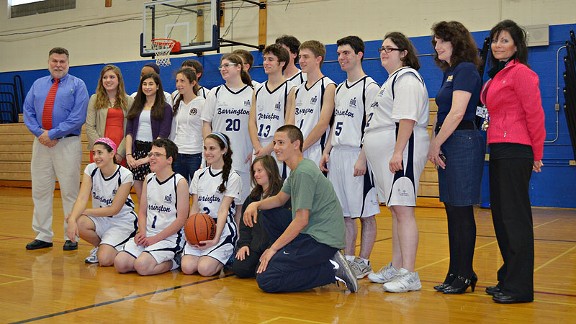 Scott Barboza/ESPNBoston.comThe Barrington (R.I.) Unified Basketball team, above. The program, a collaboration between the RIIL and Special Olympics, is in its third year and has grown to incorporate 25 basketball programs across the state.
PROVIDENCE, R.I. -- Perhaps Special Olympics of Rhode Island Program Director Chris Hopkins said it best when discussing the relationship between the Rhode Island Unified Basketball League and the Rhode Island Interscholastic League.
"Sports comprise a great vehicle to do some great things in schools," Hopkins said of the program which is in its fourth season.
The Unified Basketball League is a cooperative venture between the R.I. Interscholastic League and the Rhode Island Chapter of Special Olympics.
It comes under the Project Unify umbrella and is designed to allow people with intellectual disabilities to play sports with varsity student-athletes.
The program is partially funded by the U.S. Department of Education and other grants.
"As far as we were concerned, we thought it was a natural fit for our schools and us," said R.I.I.L. Assistant Director Mike Lunnie. "The partnership with Special Olympics has been tremendous from the start. The program keeps growing each year because word gets out about the positive aspects of it.
"Being part of it on two sides (i.e. Lunnie was the Director of Athletics at Portsmouth High before he was appointed to his current position), I believe it's one of the more important issues the league has taken on."
How has the basketball program grown?
"In Year One we just had bowling," said Hopkins. "In Year Two we had 10 basketball teams. In Year Three we had 10 volleyball teams and 18 basketball teams. This year, we have 25 basketball teams.
"It's through word of mouth and through administrators and athletic directors who've espoused that it's a viable program (which has led to the addition of more basketball teams).
"In many cases," continued Hopkins, "it's changed the entire climate of many of the schools."
Lunnie expanded on Hopkins' rationale for the acceptance and growth of the basketball program.
"The term we use is this program changes the culture within the schools," he said. "It's the vehicle schools use to provide acceptance for all of their students. It's something all the students can rally around.
"When the first concept was thrown out, the focus was on providing opportunities for the kids. It transcended the sport. It's not only a great opportunity for special needs students but also for the partners (i.e. the varsity athletes). It allowed (students with intellectual disabilities) to represent their schools in a way that couldn't before this program was established."
Because varsity student-athletes are on each team with students who have intellectual disabilities what's the criteria for determining who's allowed to participate?
"Our basic rule is you can't be a varsity athlete in the sport in which you're participating," said Lunnie. "For basketball, you can't be a varsity basketball player. Again, the perspective is you're trying to keep the playing field as level as possible.
"It's as much a positive experience for the partners as it is for the special needs players."
Gary Martinelli, who coaches the Ponaganset varsity girls' basketball team, also coaches the school's Unified basketball team.
"I was a little apprehensive at first because I had just finished (coaching) basketball," said Martinelli. "But that disappeared after I held the first practice.
"When I come to a practice and see them all light up, it's fantastic. All you have to do is see the smiles on their faces. Ironically, before the kids used to call me Mr. Martinelli. Now, they call me 'Coach.' They love having a coach, being a team and riding on a bus. [The team] really has had a positive impact on our school this year."
Perhaps even more ironic is the fact the R.I.I.L. approached Rhode Island Special Olympics regarding lending the proverbial helping hand.
"Right from the start, we wanted to bring athletes in our program together with high school students," explained Hopkins. "In the second year, the Interscholastic League approached us and asked 'What could we do together?'
"We decided to use both organizations to kick off this [basketball] program. At the time, there was money from the [U.S.] Department of Education that got this off the ground. It really was a good match between the R.I.I.L. and Special Olympics doing something for the first time in Rhode Island."
The program has been such a success that, at times, the phone almost rings off the hook at the Rhode Island Special Olympics office.
"We continue to get inquiries around the country regarding how we got the program started," Hopkins said. "We've been told by the National Project Unified office that we're way ahead of the curve as far as our collaboration with the Interscholastic League is concerned and the fact we can provide a varsity experience for these athletes with intellectual disabilities.
"What we've done is what other organizations are trying to establish. Plus, we've already had inquiries from schools that might want to participate next year."
October, 20, 2011
10/20/11
1:34
PM ET
By
Mike Scandura
| ESPNBoston.com
Call it the calm before the proverbial storm as far as Rhode Island Division I football teams were concerned.

First-place La Salle (4-0, 5-1) absorbed its first loss of the season as the Rams bowed, 27-16 to Bridgewater-Raynham in a non-league game Saturday.
As for the three teams that are tied for second place, Hendricken (3-1) and Cranston West (3-1) were idle while East Providence (3-1, 5-1) beat Mount Hope, 36-20, in a non-league game.
That was a good news-bad news scenario as far as the Townies were concerned.
The good news was that quarterback Brandon Peters ran for 173 yards and three touchdowns. Moreover, it was the second straight impressive game for Peters who ran for two touchdowns and threw a 60-yard touchdown pass to Victor Adewusi in a 27-19 win over Cranston East on Oct. 7.
The bad news was that the Townies were penalized an unbelievable 16 times for 128 yards against the Huskies.
But at the mid-point of the season, the best is yet to come.
Following is a list of games that could (should?) have a bearing on who wins the regular-season title and earns the No. 1 seed in November's tournament:
October 21 – East Providence at Hendricken.
October 28 – Cranston West at La Salle and Barrington (3-2) at East Providence.
November 4 – Cranston West at Hendricken.
November 24 (Thanksgiving Day) – La Salle at East Providence.
The Hawks (4-1 overall) may have the division's best running game led by Lou Falcone and Ryan Brannigan.
Heading into the East Providence game, Falcone has carried the ball 52 times for 386 yards (a 7.4-yard average) and eight touchdowns, while Brannigan has ran 55 times for 385 yards (7.0-yard average) and four scores.
Cranston West plays a non-league game Friday at Dennis-Yarmouth and the Dolphins may regret scheduling this contest because the Falcons are still seething after their first loss of the season – 40-7 to South Kingstown.
When all is said and done, that upset could wind up biting the Falcons where it hurts the most.
June, 1, 2011
6/01/11
2:57
PM ET
By
Mike Scandura
| ESPNBoston.com
Prodigy.

That's the appropriate noun to use when referring to Smithfield High freshman Matt Kuhar – all five-feet, two-inches and 93 pounds of him. Kuhar became only the third freshman in Interscholastic League history to capture the state singles championship when he polished off North Kingstown senior and No. 2 seed Dan Hansen in straight sets – 6-3, 6-3.
The only other freshmen to win state titles are Gordie Ernst in 1982 (Ernst, who initially attended Hendricken before transferring to Cranston East in the fall of 1982, holds the state record with four singles championships) and South Kingstown's Andy Singer in 2000.
In the process, top-seeded Kuhar extended his dual-match winning streak to 22-0 and beat the more experienced Hansen for a second time this season (albeit their first match was in April). And in that match, Hansen became one of only three players who would win one – repeat, one – set from Kuhar this season.
Kuhar's combination of groundstrokes and backhands enabled him to win the first set in 30 minutes and break open the second set after building only a 2-1 lead.
The loss was a bitter pill to swallow for Hansen – and not only because he lost in last year's finals to Wheeler's Jessie Frieder.
Hansen on April 20 underwent surgery after he was diagnosed with testicular cancer. But after missing just seven matches, he went 8-1 heading into the qualifying round on May 6.
January, 26, 2011
1/26/11
4:25
PM ET
By
Mike Scandura
| ESPNBoston.com
For decades, Central High ruled boys' basketball in Rhode Island.

The Knights won eight Division I state championships from the late 1960s through the late 1970s, including seven straight from the 1968-69 season through the 1974-75 campaign.
Central added two more crowns in the late 1980s and won its last title in 1992.
At the dawn of the next decade, Hendricken supplanted Central as the king of the boys' basketball hill. Entering this season, the Hawks have won six consecutive state titles under coach Jamal Gomes.
Central gave notice it might supplant the Hawks on Jan. 20 when it routed Hendricken, 76-61, in a game that wasn't as close as the final score indicated. But barely 48 hours later, Central received a dose of its own medicine when it was shocked, 65-61 by North Kingstown.
Central's Robert Lewis was a factor in both games although against the Skippers not in the way he's accustomed to being a factor.
Lewis dropped 36 points on Hendricken, which included five 3-point shots, and raised his season scoring average to 23.9 points. But against North Kingstown, the Skippers clamped down on Lewis and held him to 10 points while the winners' Derryck Kilgore scored a game-high 23 points.
Despite the loss to North Kingstown, Central is making strides under first-year head coach Todd Keefe to restore some its past luster.
Ironically, Keefe coached Classical to a pair of state titles before accepting the position at Central.
Among other things, he's instilled a sense of discipline and respect for opponents and officials which, in turn, has gained the Knights the respect of the Interscholastic League. And while run-and-gun ball has been a staple of past Central team's, Keefe has his team operating more in a half-court game.
August, 25, 2010
8/25/10
8:25
AM ET
By
Mike Scandura
| ESPNBoston.com
Realistically, Rhode Island and Kentucky have very little in common.

But that changed dramatically a few days ago when the Rhode Island Interscholastic League's Principals Committee on Athletics voted that one – repeat, only one – boys' basketball team will wear the title of state champion next March.
The Bluegrass state is the only other state in the country with a similar format, since Indiana several years ago went the way of the multi-state champion (or to put it another way, forget about the Hickory High Huskers and coach Norman Dale).
"I would say it's a pilot program," said RIIL Executive Director Tom Mezzanotte. "At the end of the season, we'll sit down as a committee and ask if it met our expectations and if it was good for the sport. Based on the feedback from our member schools, we'll either go forward or not.
"But, obviously, it's not a one-shot seal. That's the bottom line. This is a four-year alignment. We will reassess the teams in each division after two years."