Boston High School:

Princeton
February, 7, 2013
2/07/13
1:24
AM ET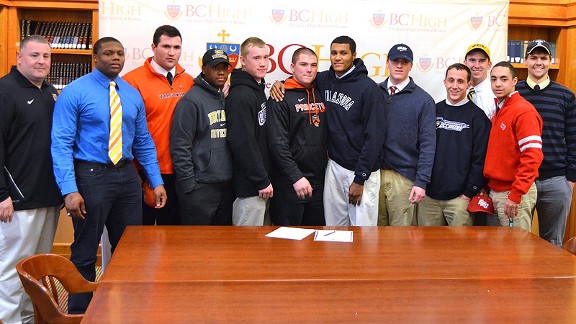 Scott Barboza/ESPNBoston.comEleven college-bound seniors from BC High football's team gathered for a ceremony Wednesday at the school on National Letter of Intent Signing Day.
BOSTON -- Luke Catarius' senior season didn't go as planned. Coming off a Division 1 Eastern Mass. Super Bowl championship season with his BC High teammates as a junior, the Eagles linebacker and fullback held high expectations for 2012.
Yet, his final campaign got off a rough start when he suffered an ankle fracture during a preseason scrimmage against Mansfield. It forced Catarius to miss the Eagles' first seven games of the season.
"It was tough because every year since freshman year everyone's like senior year is when everyone's going to come together," Catarius said Wednesday at the school's Morrissey Blvd. campus, "and obviously we had big shoes to fill from [the 2011] team. We wanted to repeat. I got hurt, a couple other guys got banged up, too, and it all went down hill from there."
BC High had a revolving door of injuries through the first half of the season and they struggled to gain momentum, finishing with a 4-6 record.
But Wednesday was National Letter of Intent signing day and Catarius joined 10 of his football teammates who are going on to play football at the college level for a ceremony held for the families and friends of the Eagles athletes.
While 2012 might have been a season of unrealized potential, the Eagles seniors will leave nothing behind.
"Going to BC High, you understand that an education is what gets you far in life," said wide receiver Lincoln Collins, who signed to FCS power Villanova. "In looking for colleges, we did the same thing. We're all setting ourselves up for life outside of football."
Looking on during the gathering was Eagles head coach Joe Gaff, a longtime Eagles assistant coach who assumed the program's reigns for the first time in the fall. Gaff held Catarius up as an example to younger athletes. It would've been easy for the injured player to pack it for the rest of the season. Instead, Catarius stuck to his strict rehabilitation regiment and made his return to the field while putting in some extra work in the library to work his way into Princeton.
"He took his frustration and turned it into action," Gaff said of Catarius, who originally committed to Bryant University before switching to Princeton in January. "He knew what he had to do to get into the Ivys. He needed a certain test score, so he went in and studied every day and he got himself mentally prepared.
"He did a tremendous job. It shows what kind of competitor he is."
On a day that marks a milestone for many families across the nation, Gaff's class headed the notion that Wednesday was but a transitional day.
Eagles offensive tackle Jack McDonald signed his Letter to Virginia before a large group of family members – most of whom were donning the Cavaliers' navy blue and orange colors.
"Football's going to end sometime, whether that's two years, four years from now, or even if you're lucky enough to make it to the NFL," the Eagles captain said. "It's going to happen sometime. You need that education for when it does end. I think that's what all of us have found."
Those BC High seniors pursuing collegiate football careers are:
Jackson Bockhorst - Tufts
Luke Catarius – Princeton
Lincoln Collins – Villanova
Skyler Evans – Mass Maritime Academy
Jaleel Johnson – Merrimack
Tim Johnson – Sacred Heart
Jack McDonald - Virginia
Mark McGuire – Holy Cross
Pat O'Hearne – John Carroll
Brandon Owens – Byrant
Mike Roberts - Colby
January, 18, 2013
1/18/13
9:03
AM ET
By
Roger Brown
| ESPNBoston.com
St John's Prep running back Jonathan Thomas may be known for his above-average speed, but he appears to be in no hurry to select the school where he'll play college football.

Thomas, who will be among the top recruits from New England in the Class of 2014, raised his profile by running the 40-yard dash in 4.47 seconds at the Under Armour Combine earlier this month. His time was the second fastest overall at the event, and the top time among juniors.
"Right now it's early in the process for me," Thomas said. "I don't have a No. 1 school. I'll be taking a lot of [unofficial] visits to schools before next season."
Thomas said Massachusetts is the only school that has extended a scholarship offer, but he expects both Boston College and Virginia to offer soon. Brown and Dartmouth have also shown strong interest.
"My grades are there, but I don't think I'll be going to the Ivy League," Thomas said. "I want to play at the [FBS] level, and I know I can."
Thomas, a Peabody resident, said Connecticut and Penn State are two other schools that have shown serious interest. He attended camps at BC and Virginia last summer, and said he's being recruited exclusively as a running back.
"I would like to go down South and play, but right now [BC] is an option," Thomas said. "Coach Addazio [BC head coach Steve Addazio] is good friends with Coach O'Leary [St. John's Prep coach Jim O'Leary] and he knows what he's doing. He's no stranger to big-time football programs. They're definitely on my list."
Thomas, a 5-10 1/2, 200-pound junior, helped St. John's Prep win the Division I Super Bowl last season. St. John's Prep defeated Brockton, 48-28, in the championship game.
Thomas finished the season with 1,794 yards rushing and 15 touchdowns on 220 carries. He also caught nine passes for 153 yards and three touchdowns.
"I just want a good academic school with good Division I football," Thomas said. "Whoever has interest in me, I have interest in playing for them."
QUARTERBACK KEEPER
Bedford (N.H.) High School's James Caparell may have been the best quarterback in New Hampshire last season, but he's still waiting for his first scholarship offer.
Caparell has received interest from mix of FCS and Division II schools, but said at this point his future is unclear. A postgraduate year at Worcester Academy is also a possibility.
Rhode Island, Marist and Albany are among the FCS schools that have shown interest. He's also been contacted by several Division 2 schools in the Northeast-10 Conference, including Merrimack, New Haven, St. Anselm and Stonehill.
"Merrimack and Stonehill have already said they were going to give me money, it's just a matter of how much," Caparell said. "I'm just looking for a good program at the highest level I can compete at."
New Hampshire has also shown interest in Caparell, but not as a quarterback. The Wildcats already have several young QBs on their roster.
"They're really the only school looking at me as an athlete," Caparell said. "I would still get some reps at quarterback, but they see me as a potential wide receiver or defensive back, which I've played.
"I'd like to play quarterback [in college], but it'll really come down to money and the school. Picking the right school is important just in case something happened and I couldn't play football."
Caparell completed 153 of 233 passes for 2,265 yards and 25 touchdowns last season. He also rushed for 536 yards and 11 touchdowns on 87 carries. He completed 579 passes for 5,389 yards during his four-year varsity career.
NOTEWORTHY
Sanford (Maine) High School running back Alex Shain has accepted a full scholarship from Division 2 Assumption last week. Shain rushed for 1,413 yards and scored 28 touchdowns last season, when he also made 43 solo tackles. He is one of three finalists for the Fitzpatrick Trophy, which is awarded annually to Maine's top senior football player. … Running back/defensive back Brendan Flaherty, a key piece on the Beverly High School team that won last year's Division 2A championship, committed to Holy Cross earlier this week. Flaherty rushed for 1,496 yards and 18 touchdowns on 160 carries last season. He also caught 10 passes for 236 yards and four touchdowns. … BC High fullback/linebacker Luke Catarius couldn't pass up an opportunity to play in the Ivy League. Catarius committed to Bryant in December, but told ESPN Boston earlier this week that he intends to attend Princeton. Catarius suffered a broken bone in his right ankle during BC High's first scrimmage last season, and missed first seven regular-season games. He learned that he had been accepted to Princeton last weekend. …. Three-star wide receiver David Coggins (Sacred Heart/Waterbury, Conn.) said he plans to attend prep school next season, but has yet to select a school. Coggins committed to Boston College last year, but parted ways with BC before the start of his senior season.
Recruiting information regarding high school or prep school players in New England can be sent to Roger Brown at rbrown@nhfootballreport.com.
July, 9, 2011
7/09/11
1:56
AM ET
ESPN RISE lacrosse editor Mike Loveday is reporting that Adam Haardej from Groton School, a Class of 2013 midfielder, has given a verbal commitment to play for Princeton.

Haardej plays club lacrosse for Laxachusetts.
February, 2, 2011
2/02/11
2:15
PM ET
The first day of the football National Letter of Intent signing period has arrived, and we've got you covered all day (though we'll probably be buried under snow ourselves). Here is a list of Massachusetts athletes committed to Division 1 programs headed into today's big day.
Any commitments can be sent to Scott Barboza at sbarboza@espnboston.com or Brendan Hall at bhall@espnboston.com.

(NOTE: The Ivy League does not recognize National Letters of Intent)
DIVISION 1 FBS
Taariq Allen
, Rivers – Nebraska
Manny Asprilla
, Everett – Boston College
Dalton Gifford
, Bridgton Academy (Maine)/Barnstable – UConn
Marcus Grant
, Lawrence Academy – Iowa
Harry Keselman, Oliver Ames - Temple
Anthony Knight
, Lawrence Academy – Nevada
Albert Louis-Jean
, Brockton – Boston College (enrolled in January)
Brian Miller, Andover
– Boston College
Paul Nwokeji
, Thayer Academy – UConn
Rodman Noel
, Milford Academy (N.Y.)/Everett – NC State
Mike Orloff
, Lawrence Academy – UCLA
Liam Porter
, Natick – Boston College
Max Ricci
, Lawrence Academy – Boston College
Richard Rodgers
, St. John's (Shrewsbury) – Cal
Andrew Siden
, Natick – Tulane
DIVISION 1 FCS
Jeff Anderson, Longmeadow - Brown
Ryan Barrett
, Holliston – Bryant
Connor Candito, Bridgton Academy (Maine)/St. John's (Shrewsbury) - Sacred Heart
Jamie Casselbury, Philips Andover - UMass
Connor Caveney, Cushing Academy - Sacred Heart
Matt Costello
, Everett – Princeton
Jeff Covitz
, Reading - Bryant
Ryan Delisle
, St. John's Prep – Harvard
Anthony Fabiano
, Wakefield – Harvard
Ryan Flannery, North Attleborough - Columbia
Justin Flores, Tilton School/Woburn - Maine
Dan Giovacchini
, Lawrence Academy – Brown
Will Guinee, Malden Catholic - Dartmouth
Greg Hilliard
, Suffield Academy (Conn.)/Brockton – UMass
Clay Horne
, Lawrence Academy – Villanova
Brandon Howard, Worcester Academy/King Philip - UMass
Randall Jette
, Martha's Vineyard – UMass
Isaiah Jones
, Mahar - Maine
Andrew Kestenbaum
, Dartmouth – Rhode Island
Ben Koopman, Marblehead – Holy Cross
John Lavin
, Falmouth – Bryant
Dan Light
, St. John's (Shrewsbury) – Fordham
Harrison Lyons, Avon Old Farms (Conn.)/Norwell - Bryant
Alec May, King Philip - Georgetown
Brian McDonald, Hebron Academy (Maine)/Westwood - Sacred Heart
Andrew Mizzoni
, Gloucester – Holy Cross
Obum Obukwelu
, BC High – Harvard
Ben Patrick
, Rivers – UMass (preferred walk-on)
Jason Richard, Milford Academy (N.Y.)/Weston - Sacred Heart
Peter Savarese, BB&N - Dartmouth
Zach Smerlas
, Lincoln-Sudbury – Brown
Keshaudas Spence, Taft (Conn.)/Catholic Memorial - Sacred Heart
Charlie Storey
, Milton Academy - Dartmouth
Brian Strachan
, St. Sebastian's – Brown
Cam Sullivan, Westfield - Bryant
Jeff Synan, Plymouth North - Bryant
Ben Ticknor
, Milton Academy - Dartmouth
John Wallace
, Somerville – UMass
Ryan Welch
, Lawrence Academy – UNH
Conor Wyand, Nashoba - Brown
DIVISION 2 RECRUITMENTS REPORTED
Nick Broughton, Marblehead - Merrimack
Matt Delaney, Barnstable - Assumption
Chris Mooney, Stoneham - Assumption
Mike Muir, Xaverian - Bentley
Bobby Richman, North Attleborough - Bentley
Chris Unis
, Gloucester - Merrimack
DIVISION 3 RECRUITMENTS REPORTED
Eric Bertino, BB&N - Middlebury
Ned Deane
, Andover - Amherst
Mike Devin, Bridgewater-Raynham, Bowdoin
James DiBlaisi, BB&N - Trinity
Josh Friedland, Marblehead - Bates
Jake Giovanucci, Dexter - Bowdoin
Mike Gustafson, Belmont Hill - Washington & Lee
Brett Harasimowicz, Duxbury - Middlebury
Mike Hogan, St. John's (Shrewsbury) - Wesleyan
Matt Perlow
, Marblehead - Bowdoin
Mike Tomaino, Gloucester - Bates
January, 11, 2011
1/11/11
6:44
PM ET
By
Brendan Hall
| ESPNBoston.com
Everett's
Matt Costello
, the Massachusetts Gatorade Player of the Year and ESPN Boston's Mr. Football, has verbally committed to play football at Princeton.
Costello took his official visit to Princeton this past weekend, and told ESPNBoston before the Crimson Tide's basketball contest against Cambridge Tuesday night that earlier in the day he got the call from the coaching staff that he is receiving a likely letter. The Tigers have been a favorite of Costello's for months now, so the verbal commitment was virtually immediate once he got the news. Costello said he's getting a call from the Dean of Admissions today to "make it official".
"It just takes a whole lot of pressure off my back," Costello laughed. "I've been sitting around getting them stuff for a while now, and it's just like, once they tell you it's like...whew."
There were a few other Ivy League schools in the running for his services, mainly Penn and Harvard, but at Princeton he said he felt "right at home".
"It was a combination of things," Costello said of his reasons for Princeton. "Offense, the team itself, and then where I want to be. I kinda wanted to get away, so Harvard was kinda in the back a little. And then between them (Princeton) and Penn, I found that I'd probably have a better chance of playing earlier at Princeton. So overall, it just came down to that."
Costello capped his high school career by catching 11 passes for 145 yards and three touchdowns in Everett's 31-7 triumph over St. John's Prep in the Division 1 Super Bowl. Costello had 76 receptions for 1,301 yards and 23 touchdowns last season, and helped Everett quarterback Jonathan DiBiaso set a state record with 43 touchdown passes.
Costello also has excelled in the classroom, where he has a 3.98 GPA.