Boston High School:

Princeton Tigers
February, 22, 2014
Feb 22
1:29
PM ET
Per his father Jim, Barnstable high senior offensive/defensive athlete Hayden Murphy has verbally committed to Princeton University.

The 6-foot-2, 200-pound Murphy was named to ESPN Boston's All-State Team last December after helping navigate the Red Raiders through a tough Division 2 South field en route to the district final. After starting at quarterback in the season-opener, Murphy switched to tailback and carried 154 times for 1,110 yards and 17 touchdowns, including six straight 100-yard games. He also added 19 catches for 269 yards and two scores, occasionally lining up on the perimeter. Defensively, rotating in and out of the box, Murphy recorded 58 tackles, 4.5 sacks and an interception returned for a touchdown.

Murphy will join his former teammate Nick Peabody -- a quarterback, and the 2012 ESPN Boston Offensive Player of the Year -- at Princeton, as well as another Cape Cod-bred former All-Stater, linebacker Luke Catarius of Sandwich and Boston College High.
October, 23, 2013
10/23/13
2:00
PM ET
By
Brendan Hall
| ESPNBoston.com
Former Barnstable High standout Nick Peabody of Princeton University was named one of five recipients of the National Football Foundation's Scholar-Athlete Awards, with each recipient selected as the best of the best from his region of the country at the high school level. The five winners, who are now playing college football, are being recognized solely for their accomplishments in high school.
The five winners will travel to New York City to be honored during the NFF Chapter Awards Luncheon, presented by Under Armour, on Tuesday, Dec. 10 at the Waldorf=Astoria. First bestowed in 1991, the NFF National High School Scholar-Athlete Awards have become one of the most prestigious high school honors in the country. Criteria for the award include, but are not limited to, academic achievement, athletic accolades and community involvement.
Peabody was named to ESPN Boston's annual All-State Team last year after leading the Red Raiders to their first ever No. 1 ranking in our statewide poll, a position they held for seven weeks before falling to Everett in the MIAA Division 1A Super Bowl at Gillette Stadium. Peabody was also honored as
ESPN Boston's Offensive Player of the Year
, and was a finalist for ESPN Boston's prestigious "Mr. Football" award, given annually to the state's top overall player.
Here is Peabody's bio for the award, from the National Football Foundation:
NICK PEABODY
Northeast Region
Jack Grinold/Eastern Mass Chapter

A three-year letter-winning quarterback, Peabody threw for more than 2,600 yards and 33 touchdowns his senior season, adding 400 yards rushing and seven rushing touchdowns. In 2012, he captained the football team and earned All-State accolades. He was the Offensive Player of the Year in Massachusetts as well as the Division 1A Player of the Year. A finalist for the 2012 Massachusetts Gatorade Player of the Year, Peabody won 16 of his 18 games as a starter, leading his team to three league titles.

Holding an astounding 4.71 cumulative GPA on a 4.0 scale and scoring 2280 on the SAT, Peabody graduated valedictorian of his class of 358 students. His many accolades include the Boston Globe and Boston Herald All-Scholastic Teams, the National Honor Society, the French National Honor Society, the Spanish National Honor Society and the Latin National Honor Society. A National Merit Commended Scholar, he received the 2013 Superintendent's Award for Academic Excellence, and he volunteers with youth football programs.

Peabody currently attends Princeton University, appearing as a quarterback and tight end on the Tigers' roster.

For the full release,
CLICK HERE
.
January, 14, 2013
1/14/13
11:30
PM ET
By
Brendan Hall
| ESPNBoston.com
BC High senior linebacker/fullback Luke Catarius told ESPNBoston.com tonight that he has switched his verbal commitment for the fall of 2013, de-committing from Bryant University and re-upping with Princeton University a short time later.

"When a school like Princeton presents itself, it's a no-brainer," Catarius said. "You can't pass up a school that has both great academics and football."

The 6-foot, 225-pound Sandwich resident initially committed to Bryant on Dec. 15, joining teammate Brandon Owens in the Bulldogs' 2013 recruiting class. But things took a change this past weekend; he took an official visit to the Princeton campus, where he was hosted by 2010 ESPN Boston Mr. Football Matt Costello, and then on Sunday was notified by the coaching staff that he'd been accepted to the school and would receive his likely letter this week. He was told to expect his official acceptance letter in March.

Catarius was one of the state's most feared run-stuffers in his junior season of 2011, being named to ESPN Boston's MIAA All-State Team after leading the Eagles to their second Division 1 Eastern Mass. Super Bowl in four seasons. In 10 games that season, he led the Eagles in tackles with 129, including 24 for loss, and also paved the way offensively as the lead blocker for running backs Preston Cooper and Deontae Ramey-Doe.

This past fall, Catarius suffered a hairline fracture to his right ankle in the Eagles' first preseason scrimmage, sidelining him for the first seven games of the season as the Eagles finished 4-6 and missed out on the playoffs.

Catarius says he was told by coach Bob Surace that he doesn't know which side of the ball -- linebacker or fullback -- he'd be playing yet, "because I could play either, whatever he thinks will be most beneficial."
December, 13, 2012
12/13/12
2:28
PM ET
By
Brendan Hall
| ESPNBoston.com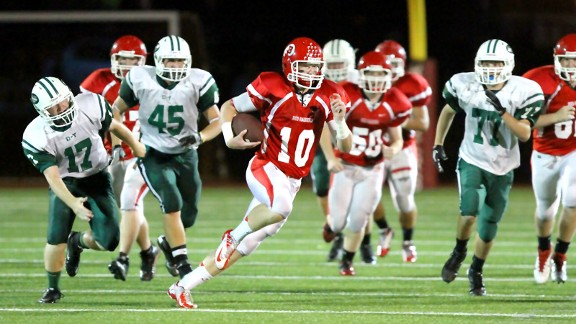 Eric Adler for ESPNBoston.comBarnstable QB Nick Peabody, ESPNBoston.com's 2012 Offensive Player of the Year, committed to Princeton on Wednesday afternoon.
Barnstable High senior quarterback Nick Peabody has verbally committed to Princeton University for the 2013 season, he announced this afternoon on his Twitter account.
"Committed to play football at Princeton University today #GoTigers", he wrote
in a post on Twitter
.
This past fall the 6-foot-4, 225-pounder led the Red Raiders to their most successful campaign in over a decade, holding the No. 1 ranking in ESPNBoston.com's statewide poll for seven consecutive weeks, winning the Old Colony League outright for the second straight year, and making their first appearance in an MIAA Super Bowl since 1999.
Back in Week 4 of the season, Peabody led his team into Everett Memorial Stadium and snapped the then-No. 1 Crimson Tide's 28-game win streak, in double overtime, for the Tide's first loss at home since 2008. In the rematch on Dec. 1 in the Div. 1A Super Bowl, at Gillette Stadium Peabody threw for three touchdowns in a 20-19 loss considered one of the best finishes ever of an MIAA Super Bowl at the stadium.
Earlier this month, Peabody was named to ESPNBoston.com's third annual MIAA All-State Team. For the 2012 season, he threw for 2,627 yards and 34 touchdowns, while also carrying the ball 73 times for 366 yards and seven more scores. Yesterday, Peabody was presented ESPNBoston.com's second annual
Offensive Player of the Year award.
Peabody visited the Princeton, N.J. campus last weekend. Ironically, his host was wide receiver Matt Costello, the former Everett High standout who in 2010 was the recipient of
ESPNBoston.com's inaugural Mr. Football Award
.
December, 19, 2011
12/19/11
11:53
AM ET
New Hampton School (N.H.) announced this morning that senior Anna Menke, an attack on the Huskies' girls lacrosse team, will continue her career next fall at Princeton University.
Courtesy of Director of Communications Will McCulloch:
NEW HAMPTON, NH. -– New Hampton School senior Anna Menke '12 made her college destination official this week. Menke was accepted early decision to Princeton University where she will enroll next year and play lacrosse for longtime Princeton coach Chris Sailer.

Menke was recruited by numerous Division-I schools, but made a verbal commitment to Princeton in February of her junior year. Ivy League student-athletes do not sign letters of intent because there are no athletic scholarships, but Menke signed her enrollment agreement, joining eight other New Hampton School athletes that have made their college destinations official.

"I visited a lot of schools throughout the recruitment process, but Princeton was definitely the one that best fit the three things I was looking for," said Menke, who at 5-foot-11 is a rangy athlete with exceptional stick skills. "I was looking for a school with a strong athletic culture and academics, and a good lacrosse team. Also, I really liked the coach and all the girls on the team."

One of the top women's players in New England, Menke scored 68 goals and dished out 30 assists to lead the Huskies to an 11-1 record and a Lakes Region Championship during her sophomore season. Her junior season was cut short by an injury to her knee — her second torn anterior cruciate ligament in less than a year — but Menke finished with 36 goals in seven games, including two nine-goal games. She has been an All-New England selection and was the recipient of the Skip Howard Scholar-Athlete award her sophomore year at New Hampton.

The road to a college lacrosse career has not been easy given two major knee injuries that have sidelined Menke for consecutive seasons of soccer, her other sport of choice.

"There have been a lot of highs and lows," said Menke, who also played for the Granite State Elite club lacrosse program. "I opened my email on September 1, of my junior year and there were a lot of recruitment letters and emails, asking me to come for a visit. But at the same time I had just torn my ACL and I was going to miss soccer season. That was really frustrating for me."

New Hampton second-year head coach Jenna McCabe, who was a standout player at Boston College, believes Menke has all the attributes to have a successful college career.

"Anna is an extremely passionate and hard working athlete. She is incredibly coachable and works great with her teammates," said McCabe. "I expect Anna to have a successful college career. Her work ethic will set her up to strive for success and be the best she can be."

August, 19, 2011
8/19/11
11:19
AM ET
ESPNHS lacrosse editor Mike Loveday is reporting that Groton School midfielder Adam Hardej has verbally committed to Princeton University for the 2013-14 school year.

The 6-foot-6, 215-pound midfielder also had offers from Air Force, Harvard, Maryland and North Carolina.

Hardej also plays club lacrosse for Laxachusetts.
July, 27, 2011
7/27/11
3:37
PM ET
ESPN's Roger Brown
checks in today
with Duxbury wide receiver
Don Webber
, who has dabbled in Division 1 FBS interest but will most likely end up playing in the Ivy League.
[+] Enlarge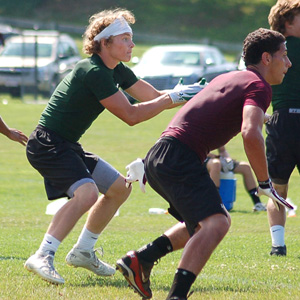 Brendan Hall/ESPNBoston.comDuxbury wide receiver Don Webber is favoring several Ivy League schools.
And for the 5-foot-11, 180-pound Webber, that's perfectly fine. He currently lists his favorites as Harvard, Princeton and Penn. Brown writes:
"Those are probably my top three," Webber said. "UPenn is showing the most interest. I've been told I'm one of their top receivers. "I went to the [Boston College] camp, but it doesn't look like that's going to happen. That's OK, because I'd rather play in the Ivy League anyway."

Webber ran a 4.4 40-yard dash two years ago, but said he has added weight since then and now runs the 40 in 4.6. He's 5-foot-11 and 190 pounds.

He set a school record by catching 53 passes for 921 yards and 10 touchdowns as a junior, when Duxbury went 13-0 and ended its season with a 35-13 victory over Concord-Carlisle in the Eastern Massachusetts Division 2A Super Bowl.

Webber also played lacrosse for Duxbury -- one of the top high school programs in the Northeast -- but stopped playing that sport so he could focus on football.

Although Webber did attract some FBS interest, he is being recruited primarily by FCS programs. He said with the exception of Dartmouth, all the Ivy League schools have shown interest. He visited Richmond and William & Mary last April, and has also been contacted by Holy Cross, Lafayette, Maine and New Hampshire.

Most schools are recruiting Webber as a receiver, but he said Penn and Brown both told him he's capable of playing outside linebacker or conerback as well.

"I visited some schools, but I wasn't focused on the Ivy League at that point," Webber said. "You hope to have to make a tough decision, and with the Ivy League you can't really go wrong."
For more recruiting updates on New England's top high school football talent, be sure to check out
Brown's ESPN blog
.