Boston High School:

Rachel Johnson
May, 16, 2013
May 16
6:38
PM ET
By
Roger Brown
| ESPNBoston.com
The Rochester girls' softball team was outscored 50-2 on May 4, when it lost both ends of a doubleheader against West Rutland. Rochester dropped the first game, 27-1, and lost the second contest, 23-1.

A 19-2 loss to Rivendell Academy on Monday dropped the team's Division IV record to 0-7, but the news hasn't been all bad.
The doubleheader against West Rutland marked the first time Rochester had played a game at home since Hurricane Irene ruined the school's softball field in 2011.
"It was awesome to be out there," Rochester coach Lisa Blair told
The Burlington Free Press
. "The players were just so excited to finally play there. The girls get a better field."
Rochester, which won the Division IV state title in 2011, traveled to each of its games last season while a new field was constructed. Rochester's field now features a new electronic scoreboard.
LAMOTHE RETURNS TO HOME FIELD
Former Lyndon Institute pitcher Buddy Lamothe was honored before Lyndon's baseball game against Montpelier last week.
Lamothe, who led the Vikings to the Division II state title in 2009, suffered a spinal cord injury during a swimming accident two years ago that left him paralyzed from the waist down. Lamothe was playing for San Jacinto College in Texas when he was injured.
Lamothe had a 0.77 ERA with 28 strikeouts in 23 1/3 innings for San Jacinto. He was drawing interest from professional teams before the injury, and the Houston Astros picked Lamothe in the 40th round that year after the accident occurred.
MOVING UP
Girls' lacrosse will likely have a new look next season.
The Vermont Principals' Association has proposed that BFA-St. Albans, Burr and Burton and Rice move from Division II to Division I starting in 2014. Rice and U-32 were both unbeaten after six games this season. Rice was 4-1-1.
If the proposal is approved, those three teams would join Brattleborough, Burlington, Champlain Valley Union, Essex, Middlebury, Mount Anthony, Mount Mansfield, Rutland, South Burlington and Spaulding in Division I.
Division II would have 15 teams: Chelsea, Colchester, Green Mountain Valley, Hartford, Harwood, Lamoille, Montpelier, Oxbow, Randolph, St. Johnsbury, Stowe, Stratton, U-32, Vergennes and Woodstock.
REPEAT PERFORMANCE?
The Essex softball team won the 2012 Division I state championship, and may be the team to beat again this season.
At 7-0, Essex is the only unbeaten team in Division I. The Hornets have outscored their opponents 83-17 in their seven victories.
TOUGH TO HIT
"Kayla Wood didn't allow a hit through nine innings of the Brattleborough softball team's season opener against Hartford, but the scoreless game was suspended in the 10th inning. Wood will try to complete her no-hit pitching performance when the suspended game resumes on May 29.
"Randolph Rachel Johnson had thrown two no-hitters through her team's first four games this season. Johnson, a sophomore, didn't allow a hit in victories over South Royalton and U-32.
Roger Brown is a staff writer for the New Hampshire Union Leader and has been covering high school sports throughout New England since 1992.
November, 18, 2012
11/18/12
12:46
AM ET
NORTHBOROUGH, Mass. – The plan for Melrose volleyball's designs on Saturday's Division 2 state championship match began immediately after last year's title game.
"Last year, after the match ended, we all look at each other and we knew that we didn't finish," Red Raiders senior Sarah McGowan said. "We didn't go out there and give it a 100 percent. So learning from that, we knew this was the last game of the season, the last game of my career, so I really wanted to come and win this last one."
In last year's final match, Melrose dropped a heartbreaker to Marlborough. Immediately following that ordeal, the Red Raiders planned on returning to Algonquin Regional and carried through that goal on Saturday.
[+] Enlarge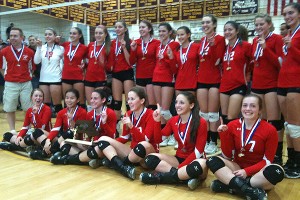 Scott Barboza/ESPNBoston.comMelrose claimed its first volleyball title with a 3-1 victory over Longmeadow.
However, this time the result was different and Melrose claimed its first volleyball title with a 3-1 victory over Longmeadow – 25-17, 24-26, 25-19, 25-10.
"Every year, this is our ultimate goal," Melrose head coach Scott Celli said. "But we've never done it before, I'm just so proud. This is definitely the highlight of it all. This is one of my favorite teams that I've ever had. They've had one goal all year and that was to win this game."
The Red Raiders came out in a furry, breezing through the first game; the second was another matter.
Longmeadow saw senior hitters Jennifer Hurwitz (7 kills) and Amanda Tyler (11 kills) begin to take control in the second. Hurwitz capped the Lancers' 26-24 win with two straight kills.
In Game Three, Melrose returned to its aggressive style.
"That style of play, they weren't able to handle," Celli said. "Our block was unbelievable in Game Four was unbelievable. I thought the play of Jen Cain and Rachel Johnson tonight was fabulous. Our back row in Game Three and Four was phenomenal. Give credit to our serving, too, that put them on their heels."
Cain led the Red Raiders with 11 kills, while McGowan was also in the double-digits with 10. Senior Brooke Bell, who earlier this season set Melrose's all-time career assists record, dished out a game-high 26 assists.
To finish it out, the Red Raiders kicked it into another gear, jumping out a 16-point lead at one juncture before closing out a 25-10 victory.
"Game Four, I don't know what got into them, but they were playing a different level,"Celli said. "They were hungry this year."
In return, Melrose's senior were driven to deliver that elusive state title for their head coach.
"He's an amazing coach, he's a great guy, he's a good friend and he's always been there for us," McGowan said of Celli. "This is the one we wanted for him. He's put countless hours into practice and game-planning, and he's helped make us better players, better people. So to be able to finish my senior year and give him this, he deserves it."