Boston High School:

Ray Gobbi
November, 23, 2012
11/23/12
7:56
PM ET
Presenting to you five, players, groups, teams and scenes on the rise heading from Turkey Day into the postseason.

5. STIFLING DEFENSES
Perhaps no team impressed more on the defensive side of the ball than St. John's Prep, which authoritatively stamped its postseason pass book with a 9-0 shutout against Xaverian. Of course, the Hawks were equally up to the task with a huge day from its four-man line of Joe Gaziano, Ray Gobbi, Mo Hurst, and Elijah Jolly.

Yet, the Eagles were also able to control the line of scrimmage coming off their blocks. Chris Newton, a lunch pail linebacker turned defensive tackle, might have had the game of his life with two sacks, including a strip-sack. Feeding off the double-teams generated by fellow tackle Corey Jean-Jacques, the duo were able to create an interior pass rush, and help bottle up the Hawks' physical backfield of Hurst and Hunter Taute.

Still, the performance of the day belonged to the Newton North secondary. The Tigers terrorized Brookline for six interceptions in the 116th annual meeting between the Bay State Conference rivals. Newton North also returned two of the picks to the house, a difference-maker in a 21-0 defensive maelstrom. Junior defensive back Jack Boucher led the charge with three interceptions, including a pick-six.

4. THE BERLUTI HOUSEHOLD
In lifting Westwood to a 42-14 win over perennial Tri-Valley League Large favorite Holliston, the Wolverines punched a card to their first postseason date since their Super Bowl season of 2004.

Leading Westwood's aerial attack was Alex Berluti. The senior completed 14 of 17 attempts for 269 yards and three touchdowns in the victory. Naturally, his top target was brother Bo Berluti. Bo finished the game with five catches for 107 yards and a touchdown.

"It's nice throwing to him," Alex Berluti told correspondent Bruce Lerch on Thursday. "It's fun. It was memorable. I'll have that for the rest of my life."

3. PIONEERS AFOOT
In projecting the result of the penultimate CAL/NEC Tier 3 game between Lynnfield and North Reading earlier this week on our podcast, I talked about Pioneers quarterback Mike Karavestos and his ability to change the game with his arm. Turned out I was partially right, but I underestimated Karavestos' running ability. The tough-nosed signal-caller's 157 yards on the ground on 19 carries set the tone for Lynnfield and his rushing touchdown truly was the difference-maker in a tightly contested 14-7 win over the Hornets, propelling Lynnfield into the playoffs.

2. AUGGIE TO MICAH … AUGGIE TO MICAH …
We all know what Austin Roberts means to Brockton and its offense. When one of the state's toughest pound-for-pound athletes is running the Boxers' Georgia Tech-style option game, few teams can find an answer. But in Thursday's win over Bridgewater-Raynham, another encouraging sign for Brockton's postseason hopes emerged. While Roberts dropped back to pass just five times against a stingy Trojans' defense, he managed to complete four of those passes for 90 yards – all of those completions went to game MVP – and one could argue – Boxers' MVP Micah Morel. Morel also grabbed a touchdown pass against B-R. While the ground game will continue to be the Boxers' key to success, if Roberts and Morel can continue to dial up big plays in the passing game through the playoffs, Brockton will be that much more difficult to dissect defensively.

1. A FEELING OF THANKS
While Upper Cape Tech has plenty to be thankful for, what with securing the program's first-ever playoff berth with a 42-18 win over Cape Cod Tech. However, if Holbrook/Avon beat West Bridgewater on Thanksgiving, the Rams would've had to sweat out a coin flip in a three-way tie-breaker procedure to determine who would represent the Mayflower Small in Saturday's Super Bowl against Dorchester.

Thankfully, it didn't come to that as West Bridgewater beat H/A, alleviating any potential agony.

As a token of thanks, we wonder if Rams coach Mike Hernon picked up anything on Black Friday as a thank you gift to the Wildcats?
November, 22, 2012
11/22/12
11:48
PM ET
WESTWOOD, Mass. -- Thousands of years later, the Greek phalanx remains one of the greatest military inventions to date. The principle was simple, relying on tightly arranged ranks with long spears protruding through packed-in shields.

You can make parallels between the Spartan tactics and this year's defensive unit of No. 3 St. John's Prep. The Eagles have been a machine-like, nearly impenetrable while surrendering an average of about nine points per game.

Also, as in those Greek battalions, Prep has been able to replenish its ranks. If one man falls, another steps up and takes his place. Eagles senior defensive lineman Chris Newton is proof positive. Originally a linebacker, Newton has stepped up to play defensive tackle in recent weeks.

Newton and his teammates showed that they haven't collectively lost a beat, putting together a thorough defensive showcase in a 9-0 blanking of Xaverian Thursday at the Hawk Bowl. In the process, the Eagles (9-1, 4-0) closed out the Catholic Conference title and advance to play Merrimack Valley Large champion Andover in Tuesday's Eastern Mass. Division 1 playoffs.

"The past three years, they've just had tons of formations coming into Thanksgiving Day that you really don't know what they're going to do," Eagles senior defensive end Tucker Mathers (2 fumble recoveries) said. "But we adapt and make plays. And that's what we're good at."

Prep took a first-quarter lead on a safety, with Xaverian punter's knee hitting the turf in the end zone, and that's the way it remained through halftime.

The defensive stalemate didn't cease but for a very brief moment in the third quarter for Xaverian. And Prep made them pay with Jack Sharrio hitting Alex Moore on a 95-yard touchdown pass.

From there, both defenses reassumed their stifling pace.

In total, there were nine turnovers between the teams (six fumbles recoveries and four interceptions). The defensive lines of both the Eagles and Hawks were dominant and disruptive.

"They've been playing like that all year long," Prep head coach Jim O'Leary said. "We've given up like nine points per game against one of the toughest schedules that anybody plays."

STEPPING UP
On a day chockfull of outstanding defensive performances, Newton might have been the player of the game. Along with fellow defensive tackle Corey Jean-Jacques, Prep was able to get an interior pass rush with Newton racking up two sacks, including a strip-sack in the first half. With Jean-Jaques occupying a double-team for most of the morning, the Eagles were also able to effectively set the edge with ends Anthony Bongiorno and Mathers (2 fumble recoveries).

"He was a linebacker, but we moved him down and made him put his hand down and he's played so tough," O'Leary said of Newton. "He's so undersized, but he goes sideline-to-sideline, he breaks double-teams, and then Corey [Jean-Jacques], they have to double him because he's so dominant."

Newton moved from inside linebacker to tackle when run-stuffer F.J. Murphy went down with a season-ending knee injury. He's taken to his new position.

"It was tough at first, but it's all about technique," Newton said. "I've just been working as hard as I can on that.

LOOKING FOR THE HOMERUN BALL
O'Leary and his team were fully prepared for the trench warfare that was about to ensue on Thursday, but it came as a surprise that Prep's big offensive play came via the pass.

The Hawks defensive line matched the intensity and pressure the Eagles brought with Xaverian's four-man line of Ray Gobbi , Mo Hurst (1.5 TFL, FF), Elijah Jolly (1 TFL, 2 FR) and Joe Gaziano (1.5 TFL, 1 sack) controlling the point of attack in the first half.

The Eagles' All-State caliber backfield of Moore and Jonathan Thomas were held at bay, with Moore (1 INT) finishing with a negative yardage mark for the first half. Although, at the end of the day, Thomas led all players with 141 yards on the ground, nearly outpacing the Hawks by himself.

"We knew they play tough defense," O'Leary said. "We had plenty of chances, in the red zone, in the first half, but we didn't score. I knew we were in trouble right then.

O'Leary continued, "They put all those people in the box and it came down to us against them. It was just man-on-man, and it was tough."

But Prep was able to put the game away on the Sharrio to Moore connection. The play was an 8-yard out, designed to pick up a first down. Moore came away with much more, however, after a missed tackle in the flat, a downfield juke and a downfield block left nothing but green in front of the Mr. Football Award finalist.

BACK TO THE PROMISED LAND
Thursday's win meant the Eagles will be right back to work on Friday, with Tuesday's playoff game against Andover looming.

But, for Prep's senior class, which returns to postseason play after an absense last year, they're right on schedule.

"We were looking for this for a while," Moore said. "We were saying senior year that we would be pretty good, and now it's here. It's great living it and we're just trying to live in the moment."
August, 31, 2012
8/31/12
11:43
AM ET
By
Adam Kurkjian
| ESPNBoston.com
Hunter Taute spent his middle school years in Dublin, Ohio, a city that sits just northwest of Columbus, where football is king.

On your typical Friday night at the high school he would have attended, he and the rest of his teammates for the Coffman Shamrocks would be playing in front of an average crowd of 17,500 people in the Buckeye State's highest classification.

It is a program that has produced notable recent alums such as Brady Quinn, who starred at Notre Dame and is now a backup quarterback for the Kansas City Chiefs, and offensive lineman Mike Adams, who played at Ohio State and is now with the Pittsburgh Steelers.

So when Taute's family moved to Franklin before Hunter began high school, he wanted to go somewhere that shared a similar passion for the sport.

"From a young age, football was a way of life (in Ohio). They take it all serious. It's a lot more important. Everyone cares more out there and everyone goes to the games."

After cruising around the Xaverian page on the Maxpreps.com website, Taute knew where he wanted to go.

And while there won't be a crowd approaching 20,000 people at the Hawk Bowl anytime soon, Taute is happy to be a Hawk, and his coach Charlie Stevenson may be even happier.

"Well, he's 6-2, 245 and ran a 4.75 (40-yard dash) at the BC camp," Stevenson said. "There's not much more that needs to be said. He's got good skills, he's very versatile; he can run and catch and play defense. His versatility is very good."

After playing with the freshmen in 2009, Taute was poised for a bigger role with the varsity as a sophomore before an injury sidelined him for most of the season. By the end of it, however, he was able to see the field at fullback.

Last season, he was the starting middle linebacker while retaining some of the same duties on offense. His fondest memory of 2011 came in a 27-9 win over St. John's of Shrewsbury, where he played a stellar game on defense and combined with Maurice Hurst for 266 rushing yards in a downpour.

"That was one of the best games of my life so far," said Taute, who holds an offer from Bryant and is also receiving interest from UConn, UMass, Boston College, UNH and Maine. "Me and Mo pretty much dominated that game. His 75-yard touchdown run sort of put (Xaverian) in the bigger picture and after that it set the tone for our running game."

But for as well as the Hawks ran the ball at times last year, they had just as much trouble stopping it against the best teams on the schedule. The most glaring example came in a 42-21 loss at Everett when Vondell Langston, now at UMass, put up 208 yards on just 15 carries. St. John's Prep's Jonathan Thomas also had 202 yards in Xaverian's 28-21 win on Thanksgiving.

For a team that returns a Michigan commit in Hurst at defensive tackle, Taute right behind him and nearly everyone else from last season's front seven, a repeat performance would be a major disappointment.

"Last year it was pretty embarrassing the yards we gave up against the run," said Taute, who now lives in Wrentham. "We work on tackling and making the other team have to pass more. With Mo, the pass rush is going to be great. The run defense should also be good but right now we're stressing the inside run and draw."

They'll need to be at their best with the schedule in front of them. But after watching Catholic Conference rival BC High win the Division 1 Super Bowl last year, Taute would be glad to trade those big crowds back in Dublin for a little hardware on Clapboardtree Street.

"This year we want to get back on the horse," he said, "get to the championship and take home the trophy."

XAVERIAN AT A GLANCE
2011: 6-5 (2-2 Catholic Conference)
Coach: Charlie Stevenson (20th season, 158-52-1)
Key Returnees: Maurice Hurst, Sr. DT/FB, 6-3, 285 lbs.; Hunter Taute, Sr. MLB/FB, 6-2, 245 lbs.; Austin DeCarr, Sr. QB, 6-3, 195 lbs.; Ray Gobbi, Sr. OL/DT, 6-1, 285 lbs.; DJ Pagliuca, Sr. WR/DB, 5-10, 185 lbs.; Joe DeNucci, So. WR/DB, 6-0, 180 lbs.; Shayne Kaminski, Jr. OLB/RB, 5-10, 193 lbs.; Eddie Hanlon, Sr. OLB, 6-0, 185 lbs.; Mike Brennan, Sr. RB/DB, 6-0, 185 lbs.; DJ Sperzel, Jr. WR/DB, 6-3, 185 lbs.; AJ King, Jr. WR/DB, 5-10, 180 lbs.; Jordan Bayuk, Sr. DT, 6-2, 250 lbs.; Ryan MacLean, Sr. DE, 6-0, 190 lbs.; Elijah Jolly, Sr. DE, 6-3, 195 lbs.
Strengths: Skill positions, experience on defense, defensive line.
Weaknesses: Inexperience on offensive line, schedule.
Outlook: Over Stevenson's tenure, Xaverian has proven its worth as one of those programs that will take on anyone at anytime. So it comes as a bit of a surprise that the veteran coach, when asked how this schedule stacks up with his previous ones, said, "This is the toughest, I think." But even with this layup-free slate that includes a trip to highly touted St. Joseph Regional of New Jersey, the Hawks have the potential to reach the postseason for the first time since 2009, where they defeated Everett in the Division 1 Super Bowl. Offensively, look for a faster tempo with DeCarr spreading the ball around to a deep corps of receivers. The running game should be strong once again with Hurst, Taute and Brennan expected to shoulder the load. Defensively, the Michigan-bound Hurst leads a strong front seven, while many of the same faces at receiver will fill the slots in the secondary. The one major concern Stevenson has expressed over the offseason is whether his inexperienced offensive line, which returns just one starter in Gobbi, can grow up fast enough to withstand the pressure opponents are sure to bring at DeCarr.
August, 25, 2012
8/25/12
6:08
PM ET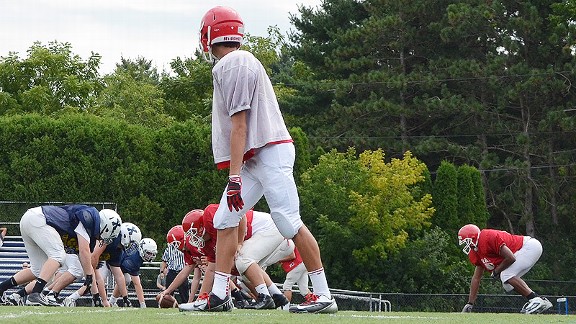 Scott Barboza/ESPNBoston.com
WESTWOOD, Mass. -- Battles between Bridgewater-Raynham and Xaverian football have become rites of fall in recent memory.
Yet, that non-league rivalry has taken root in the teams' annual passing scrimmage on the first weekend of the MIAA preseason calendar.
The Trojans and Hawks got back to work again Saturday morning at the Hawk Bowl, with Xaverian taking a slight edge in play. But after a nearly two-hour work through, both teams emerged with a lengthy list of both dos and don'ts.
"As a coach, looking down my list of notes here, there's more negative than positive," Xaverian head coach Charlie Stevenson said, "but I thought there times defensively we played really well and we put good pressure on them."
Trojans boss Dan Buron emphasized the fact that it's very early, saying "I told the kids we made mistakes, but it's nothing that isn't correctable. "
Xaverian, ranked third in our preseason statewide Top 25 poll, got several big plays early from the arm of senior quarterback Austin DeCarr, including a 70-plus yard bomb for a touchdown.
The Hawks also came away with several interceptions in the early going, but B-R (No. 8 in preseason poll) settled into its offense behind incoming senior quarterback Jordan Cohen before long.
Here are a couple of observations and notes from this morning:
ACCENTUATE THE POSITIVE
There was plenty of room for improvement on both sides, but both head coaches held their offensive lines in high praise.
Only once was B-R able to force DeCarr into a "sack" against Xaverian's No. 1 offense.
Meanwhile, an experienced Trojans group held their own while facing off with a physical Hawks defensive front.
"I thought they did a good job today," Buron said of his group. "Both teams know that have an advantage on defense because they know the pass is coming, but I thought our protection was good. They're in good shape and we have some depth there."
ANOTHER TO WATCH
Xaverian's big bodies on the defensive line, as in Mo Hurst and Ray Gobbi, and linebacker Hunter Taute get plenty of attention. They're also players opponents' offensive coordinators will surely point out on film in the week leading up to playing the Hawks.
But what could make Xaverian dynamic on defense is the work of defensive end Elijah Jolly.
Stevenson singled out Jolly's work on Saturday as the rangy, 6-foot-3, 215-pounder was able to establish the rush off the edge. If Jolly can keep up the pressure through the regular season, along with the Hawks solid interior defense, they could be very hard to beat.
MIXING IT UP
The Hawks have some bona fide targets in the passing game with Joe Bettinelli, Joe Denucci, D.J. Pagliuca and Greg Petrucci. But Stevenson primarily used Saturday to mixing up his personnel groups.
Denucci was also out nursing an injury, but Stevenson believes he'll return for the Hawks' opener at Malden Catholic.
While the scrimmage format slowed down the pace of play, Stevenson tried to turn out a bit of a new offensive identity for the Hawks, looking to go no-huddle.
Don't fret though, the Hawks' "500 pound" backfield combo of Hurst and Taute will see their time, as well.
"We have some players who can still run the ball, too," Stevenson said. "We'll put them to use."
VALUABLE EXPERIENCE
The Trojans will be breaking in a lot of skill players this preseason with the graduation of quarterback Brad Deluliis and running backs Nick Schlatz and Branden Morin.
Cohen exhibited nice touch on several of his passes out of B-R's bread-and-butter QB Waggle play.
While the running game was not featured, look for junior tailback Arcel Armstead to take on a bulk of the carries.
"They're good," Buron said of his running backs, "we just don't have any game experience."
September, 24, 2011
9/24/11
7:27
PM ET
By
Adam Kurkjian
| ESPNBoston.com
WESTWOOD, Mass. -- Over the years, Xaverian has won many games with field position and defense.

Saturday at the Hawk Bowl, the hosts dominated both facets of the game in the first half then turned on its offense for a 31-0 rout of Brockton.

No. 4 Xaverian started five first-half possessions on the Boxer side of the field and forced four turnovers - two fumble recoveries and two interceptions - to build a 17-0 halftime edge.

The Hawks have now won five straight in the storied series (leading 15-13 all-time), the longest win streak by either side since the Boxers took the first six when the rivalry was renewed in 1988. It also marked the program's first shutout win over No. 14 Brockton and largest margin of victory.

Senior kicker Jules Murphy consistently pinned the Boxers back inside their own end and the defense took care of the rest. Brockton gained a total of 116 yards against the Xaverian first-team defense and ran a total of eight plays from scrimmage in Hawk territory.

The Xaverian (3-0) offense, which sputtered at times in the first half and struggled to gain 75 yards against an active Boxer front, found its rhythm in the second half and compiled 197 yards in the final 22 minutes. Senior quarterback Chris Calvanese completed 7-of-12 passes for 119 yards and a touchdown and the Hawks marched 93 yards on 17 plays entirely on the ground to finish off the scoring when Hunter Taute plowed in from a yard out with 2:55 to play.

This one wasn't pretty for the Boxers (1-2), whose offense was shut out for the second time in three games. The last time Brockton has been shut out at least twice in the same season was 1969.

Some quick-hitters on Xaverian's historical drubbing of the reeling Boxers:

MURPHY'S MUSCLE
The Hawks always seem to have good kickers and Murphy certainly can add his name to the list of scholarship-level boots that includes Jon Barker (Syracuse) and Paul Asack (Duke). You can make the case that Murphy was Xaverian's MVP, although coach Charlie Stevenson gave the game ball to junior guard Ray Gobbi, who is from Brockton. Every single one of Murphy's kickoffs either went inside the 5-yard line or the end zone. He had a 57-yard punt that helped set up Xaverian's first touchdown, a drive that started on the Brockton 32. He was also perfect on four PATs and drilled a 38-yard field goal that may have been good from 50. On Xaverian's final drive, Murphy kicked a 26-yarder but was roughed by a Brockton player and was groggy coming off the field. The Hawks, clearly enraged by the vicious hit on the defenseless player, sent their offense back on the field and went for the score, Taute's 1-yard run. Murphy came back out, pounded out the PAT and then boomed the ensuing kickoff to the very back of the end zone, where Brockton's Jesse Monteiro ran it out to the 15. That kickoff may have drawn the loudest ovation from the Hawk sideline.

DEFENSIVE DOMINANCE
Stevenson said after the game he isn't quite satisfied with the offense yet, which struggled to move the ball in the first half before breaking out in the second. But he has to be impressed with where his defense is at the moment. Start with the defensive line, where junior tackle Maurice Hurst Jr. pretty much demands a double team and fellow tackle Kevin Painten and ends Matt Stapleton and Colby Enegren are no slouches. He recovered a fumble on one of two bad exchanges that he forces simply because he is so quick off the snap that it creates a panic-snap from the center. Then you have to account for middle linebacker Hunter Taute, a 6-foot-2, 235-pounder with great feet who is as comfortable in coverage as he is sticking running backs up the gut. And then you have an entirely-new secondary that hasn't missed a beat despite losing UNH-offered safety Ryan Farrell to injury. Calvanese plays back there now and is doing an excellent job, but can you imagine how good this defense - which has given up 12 points in three games - would be if they had him? Scary. Seniors Zach Maiuri and Mike Warren are also playing terrific in that almost completely inexperienced defensive backfield and sophomore outside linebacker Shayne Kaminski already looks comfortable in a varsity uniform, making an interception in the first half.

SELF-INFLICTED WOUNDS
The Boxers looked bad Saturday, but there may be hope for the offense if the Boxers can cut out the turnovers. Ball security as a whole was woeful. An improvement in that area alone will do wonders for a unit that has not shown the big-play ability that the program is known for. The defense actually played well in the first half considering how badly its back was against the wall. Still, the overriding challenge for coach Peter Colombo is to somehow keep the morale on this team from falling apart. If this squad has any senior leadership it needs to step up now and keep this season, filled with so much promise in August, from falling apart before October, as the Boxers travel up to Danvers next week to face a just-as-desperate St. John's Prep team.

Brockton (1-2) 0 0 0 0 - 0
Xaverian (0-3) 7 10 7 7 - 31



First Quarter
X - Zach Maiuri 4 run (Jules Murphy kick)

Second Quarter
X - Hunter Taute 3 run (Murphy kick)
X - Murphy 38 FG

Third Quarter
X - DJ Pagliuca 47 pass from Chris Calvanese (Murphy kick)

Fourth Quarter
X - Taute 1 run (Murphy kick)
September, 2, 2011
9/02/11
1:41
AM ET
By
Adam Kurkjian
| ESPNBoston.com
Xaverian went into Thanksgiving last year with a chance to win the Catholic Conference for the second straight season to defend their Division 1 EMass Super Bowl crown.

Then St. John's Prep came to the Hawk Bowl and pushed Xaverian around up and down the field, throwing just one pass on a spiked ball, to the tune of a 21-12 victory that sent the hosts home to watch their heated rival go to Gillette Stadium instead of them.

This year, the target is not placed squarely on the back of the Hawks, who check in behind fellow Catholic Conference members BC High and Catholic Memorial as the No. 7 team in the state. With the depth and talent in the Catholic Conference this year though, the Hawks could finish anywhere from first to fourth.

"The Catholic Conference is as strong as it's been in 10 years," said one rival assistant coach during the off-season.

That same coach said, "I wouldn't be surprised to see the 'X' shock people (and win the Division 1 Super Bowl)."

Given Xaverian's history, with four Super Bowl titles in the 1990s under coach Charlie Stevenson and another in 2009, that would hardly be a shock. But for the first time in at least 25 years, the top two favorites heading into the preseason for Catholic Conference play include neither Xaverian or St. John's Prep.

That is something that Stevenson is smiling about as his team is up at camp in New Hampshire preparing to "shock people."

The Hawks may not be coming into this season as the favorites, but that doesn't mean the target on their backs have gone anywhere.

This year, that target will be in the crosshairs of non-league teams like preseason No. 5 Brockton in Week 3, a 23-20 double-overtime loser to the Hawks at Clapboardtree Street a year ago; No. 2 Duxbury, a Division 2 juggernaut capable of playing with anyone and in the state; Bridgewater-Raynham, the No. 8 team in the state and owners of a victory over Xaverian last year; and No. 9 St. John's of Shrewsbury, a Central Massachusetts powerhouse that has beaten Xaverian just once in the modern era but come closer and closer in the last several years to the point where it is more of a rivalry.

Then, of course, the final three games of the season bring out the same quote by every coach in that league: "every game is a championship game."

For Xaverian, the Hawks travel to BC High, host Catholic Memorial, then visit the Prep with a chance to earn a little payback in Danvers.

Stevenson knows that stretch isn't going to be easy to win. But, deep down, everyone knows if the Hawks do, it's not going to come as a "shock" to anyone.

XAVERIAN AT A GLANCE
Coach: Charlie Stevenson (18th season, 151-47-3)
Last Year: 8-3
Key returnees: Chris Calvanese, QB, Sr. (14 passing touchdowns, 3 rushing); Ryan Farrell, WR/S, Sr.; Kevin Painten, OL/DT, Sr.; Colby Enegren, FB/DE, Sr.; John Warner, TE, Sr.; Andrew Malin, OL, Sr.; Hunter Taute, MLB/FB, Jr.; Matt Stapleton, DE, Jr.; Maurice Hurst Jr., DT/FB, Jr.; Ray Gobbi, OL, Jr.
Strengths: Quarterback, Offensive line, Defensive line, Fullback
Weaknesses: Inexperience at wide receiver, tailback, secondary and linebacker.
Outlook: Calvanese comes back for his second year as a starter and Stevenson will find ways to take advantage of both his considerable running and throwing talents. This is one of the better and more experienced offensive and defensive fronts that Xaverian has had, although the former doesn't compare to the 2009 edition that powered the Hawks to the Division 1 Super Bowl. The defensive line though will be stout with the likes of Stapleton and Enegren at end and Painten and Hurst at tackle. Farrell has been injured and is out indefinitely, which is a huge loss on both sides of the ball. Without him, the Hawks have zero returning starters in the secondary, made worse by the fact that they lost two of the best cornerbacks in the state to graduation in Joe Colton (Avon Old Farms) and Nick McDaniels (Merrimack). Taute is a potential Division I prospect at either fullback or inside linebacker and will need to hold down the fort in a depleted linebacking corps. Colton's loss at tailback is huge, as well, as Stevenson has nice young talent there but not at the level where Colton was a year ago. Whether or not this team can fill those holes will determine how well the Hawks do in the always-rugged Catholic Conference.
November, 2, 2010
11/02/10
10:34
AM ET
By
Adam Kurkjian
| ESPNBoston.com
The MIAA regular season is almost over, and we've gotten a chance to see a lot of talented football players showcase their skills over the past few months. You probably already know the names and teams to look out for, but we're taking sometime today to look at a number of under-the-radar underclassmen who haven't gotten a ton of attention so far, but - given their talent level - that won't last very long.

(Listed in alphabetical order):

Lucas Bavaro, OLB/S, 5-11, 162, St. John's Prep, Class of 2013
Yes, Lucas is the son of Mark Bavaro, who went from Danvers High to Notre Dame to the NFL as an All-Pro tight end. Lucas isn't the same type of player, but he has a bright future ahead of him. Bavaro is a fluid athlete who can both be an asset in pass coverage and against the run. His best attribute is his instinctual nature as a play develops. He simply knows where the ball is going to be before it gets there. He delivered one of the biggest hits we've seen all season in a game against Mt. St. Joseph's (Md.), where he laid out a Gaels' receiver in the right flat. Expect to see a lot more of that in the future.

Christopher Burke, LB, 6-2, 200, Gloucester, Class of 2012
There aren't a whole lot of Fishermen who start that aren't seniors, but Burke is a player who has earned his spot among a truly spectacular defense on the North Shore. Burke is like everyone else on the Gloucester defense in that he can run fast and hit hard. Burke has good size and the potential to add weight to his frame. He plays well in space and is an aggressive player on both sides of the ball (he also plays on the offensive line). There are many reasons why it is tough to run the ball on the Fishermen, and Burke is a big reason why.

Kenny Calaj, RB/WR/OLB/DB, 5-11, 180, Everett, Class of 2013
As you can see by the number of positions that are listed next to his name, one of the biggest strengths to Calaj's game is his versatility. Last year, Calaj started at cornerback as a freshman. This year, Calaj plays closer to the line of scrimmage and no one has been able to get the edge to his side all season. People who have seen Everett this season and watched their defense have noticed Calaj, but we're curious to see what happens next year when he will be more of a factor on an offense that will have to replace receivers Matt Costello and Manny Asprilla. Whatever happens, Calaj will be fun to watch the next few seasons.

Luke Catarius, FB/LB, 6-0, 210, BC High, Class of 2013
The last time BC High won a Super Bowl, it had a player a lot like Catarius on its roster named Tyler Horan, now a baseball player at Virginia Tech. Another player Catarius reminds us of is former North Attleborough star and current starting fullback for UConn, Anthony Sherman. On offense, Catarius is a punishing lead-blocker and runner between the tackles. Defensively, he's just always around the ball, and if he's able to get his hands on the ball-carrier, then he's going down. On top of that, Catarius plays with the type of enthusiasm and intensity you like to see in a player.

Lincoln Collins, WR, 6-3, 170, BC High, Class of 2013
Collins is a little bit more of a project than most of the other players on this list, but he has gotten better each time we've seen him. His ceiling is pretty high. He reminds us a little bit of former Xaverian and current University of New Hampshire wide receiver Kevon Mason at the same stage. The biggest difference between the two is that Mason didn't start until his senior year and by that time Mason was a lot faster than Collins is now. Collins isn't a burner, but he has shown good hands and has the size to be a mismatch against most defensive backs at this level. The more he plays and gets bigger and stronger, the more it will be harder to ignore his ability.

Casey DeAndrade, RB/S, 6-0, 175, East Bridgewater, Class of 2012
DeAndrade may play at a smaller school, but he is good enough to play at any of the bigger schools around here. DeAndrade is just a playmaker on either side of the ball. He possesses good speed and knows what to do with the ball in his hands. Defensively, he's the type of player that can cause receivers to play with alligator arms. DeAndrade has a solid build and looks more filled-out than his listed weight of 175 indicates.

Lucas Depina, WR/S, 6-1, 190, Brockton, Class of 2012
The Boxers seem to have a bevy of tall, speedy athletes on the perimeter this year, and Depina is one of the best of the lot. Depina doesn't start on defense yet, but when he does get in you can see his vast potential at the safety position. Depina is every bit of 190 pounds and pursues well to the ball in the run game. Overall, his game is a little reminiscent of former Boxer safety/wideouts Nate and Darren Thellen. Brockton's depth has limited Depina's playing time a bit this season but shouldn't overshadow his ability.

Colby Enegran, FB/DE, 6-2, 225, Xaverian, Class of 2012
As a sophomore, Enegran battled injury problems and wasn't able to get much varsity experience. This year, Enegran has been able to stay healthy and has gotten better with each viewing as a starting strongside defensive end for the Hawks. Enegran has good strength and can be overpowering for offensive tackles at this level. He hasn't gotten many reps at fullback, but he is a bear on that side of the ball as well.

Ryan Farrell, S, 6-1, 190, Xaverian, Class of 2012
The Xaverian coaches have been high on Farrell for a while, and this fall we've been able to see why. Farrell is a thickly-built, aggressive player who could be just as comfortable playing outside linebacker. Like DeAndrade, Farrell is the type of player who can be intimidating for opposing receivers going over the middle. Just a physical, aggressive player, Farrell has his best playing days ahead of him.

Ray Gobbi, G, 6-0, 288, Xaverian, Class of 2013
A native of Brockton, Gobbi is the type of mauling interior lineman that the Hawks used to lack for much of the last decade. While Gobbi at times has had some typical struggles of a sophomore starting on varsity against the Hawks' difficult schedule, you can see why he's earned a spot on the front five. Gobbi's strength at this point is his run-blocking, and one can expect to see him make huge strides each year under one of the best offensive line coaches in the state in Dennis Lozzi.

Kurt Hunziker, MLB/FB/H-back, 6-3, 215, Masconomet, Class of 2012
Hunziker has been a starter at Masco since his freshman season, and he looks like a man among boys sometimes. Hunziker is listed at 215 pounds, but he looks a lot more like 225 or 230. Hunziker moves well for a player his size and is a punishing tackler. He patrols the middle of the field well in the passing game but that's not his strength. Overall, Hunziker is light on his feet and an intimidating player at this level who also flashes good ball skills when needed.

Giovanni Hyppolite, DT, 6-0, 240, Brockton, Class of 2012
The height and weight listed here is taken off the Brockton program but doesn't look very accurate. Hyppolite may be 6-feet tall, but he is closer to 270 than 240. The Boxers are extremely deep at defensive tackle, but Hyppolite is one of the more essential pieces of that unit. Hyppolite plays with great leverage and quickness of the snap and has been able to get into opposing backfields all season. With another year of strength and conditioning, this already productive tackle will be even more so next season.

Ryan Kelley, LB, 6-2, 205, Brockton, Class of 2013
Kelley has been injured for most of the season, but he won a spot at inside linebacker early on and when he returns it will be a big boost to the Boxer defense. In a program with a lot of young talent, Kelley may have the most potential out of anyone. Kelley runs well and has the frame to add a lot of good weight. Kelley is one of the more complete linebackers in his class in terms of his overall versatility and it will be interesting to see how effective he is the rest of the season coming off his injury.

Jack McDonald, OT, 6-4, 255, BC High, Class of 2013
We talked to BC High coach Jon Bartlett at the Xaverian passing league this past summer about who some of the candidates are to start on an offensive line that lost four starters, and he raved about the progress McDonald made. McDonald didn't start at the beginning of the season but he does now, and he simply doesn't look like a sophomore. He has good length and we can only imagine how big and strong he will be by the time he's a senior. BC High always produces quality linemen and McDonald looks to be the next in a long line of great ones.

Gordon McLeod, WR, 6-0, 170, BC High, Class of 2012
Another player Bartlett was very optimistic about in that same conversation at the Xaverian passing league was McLeod. As a sophomore, McLeod was integral in his team's Thanksgiving Day win over Catholic Memorial. McLeod will need to keep adding weight as he still looks a little skinny, but there's no denying the speed he has. Truly one of the most underrated skill players in the state, McLeod has the speed to be a vertical threat to go along with very good hands.

Jameson McShea, TE/DE, 6-4, 230, BC High, Class of 2012
Like a few players on this list, we've put the height and weight that is listed on the roster, but we wouldn't be surprised if McShea is closer to 245 or 250 based on what we saw at the Everett game. If we had to compare McShea to a recent player from around the area, it would be former Eagle and University of Virginia standout Jack Shields. McShea has good hands and is a load to bring down once he gets a head of steam. But, like Shields, we wouldn't be surprised if McShea isn't converted to an interior offensive lineman at the next level.

John Montelus, OT, 6-4, 245, Everett, Class of 2013
When we talked to Everett coach John DiBiaso this past summer, he compared Montelus to Gosder Cherilus at the same stage. Cherilus went from Somerville to Boston College to the Detroit Lions, so it's pretty high praise. Montelus is the type of tackle prospect that major college programs covet because of his long arms and excellent footwork. Everett offensive line coach Mike Milo is one of the best you will find anywhere, not just in the state, and expect him to draw every bit of potential out of this promising tackle.

Alex Moore, RB/DB, 5-11, 176, St. John's Prep, Class of 2013
This is another player who looks a lot bigger than his listed height and weight on the St. John's Prep roster. Moore is part of a young secondary at the Prep, but he could just as easily be an outside linebacker like classmate Lucas Bavaro. His speed and physicality jump out at you in person. He is simply an impressive looking athlete who can bury a ball-carrier when he gets to him. He will get a look at the starting tailback job when Tyler Coppola graduates but his position at the next level is likely on defense.

Kevin Painten, OL/DT, 6-0, 250, Xaverian, Class of 2012
Yet again, we wouldn't be surprised if Painten were a little heavier than his listed weight. Overall, Painten's best quality is his footwork. He plays a lot like Brockton's Hyppolite, using his low center of gravity to get the best of opposing linemen. Painten is a two-year starter at offensive tackle, but his height will keep him on the interior at the next level. Xaverian will have a very good offensive line next year and Painten is a big reason why.

Hunter Taute, FB/ILB, 6-2, 225, Xaverian, Class of 2013
Like Brockton's Kelley, Taute has been injured most of the season but he is just getting healthy now. The Xaverian coaches are very excited about Taute's potential on both sides of the ball. A bowling ball of a player, Taute is a lot like Catarius. Right now, Taute is mostly getting reps at fullback but the Xaverian coaching staff wants him to eventually get time at middle linebacker, as well.

Jonathan Thomas, CB, 5-7, 137, St. John's Prep, Class of 2014
Thomas looks a lot more thickly-built than 137 pounds. Either way, it's impressive that Thomas has been able to crack the starting lineup and play at the Prep as a freshman. Thomas has had to cover the likes of Albert Louis-Jean, Matt Costello and Richard Rodgers this season and held his own. Obviously, Thomas will need to get bigger, but we can see Thomas being a force by the time he's a senior.

John Warner, TE, 6-7, 225, Xaverian, Class of 2012
Warner is just starting to scratch the surface of his potential. Obviously at this stage Warner's best attribute is his height, and he used it well this past weekend when he leapt for a jump ball in the end zone for a touchdown against St. John's of Shrewsbury. If Warner hits the weight room hard this offseason and works on his speed, he will be able to have his pick of schools by this time next year.

Jakarrie Washington, WR/RB/CB, 5-10, 160, Everett, Class of 2013
Everett has speed all over the field, and one of their fastest players is this talented sophomore. Right now, Washington plays wide receiver, but we wouldn't be surprised if he went the same route as teammate Manny Asprilla and eventually saw time at cornerback. Washington is also someone who will make an effective running back at this level, as he possesses outstanding speed and change-of-direction skills.