Boston High School:

Reilly Weiners
June, 16, 2013
6/16/13
2:31
AM ET
By
Josh Perry
| ESPNBoston.com


WORCESTER, Mass. – For the second year in a row, the Milford Hawks are the Division 1 state champions and, also for the second year in row, it was a freshman that delivered the winning hit.

Jill Powers' sixth-inning double plated Allie Piergustavo with the game's lone run, as Milford (25-1) took home the trophy with a 1-0 win over Agawam (18-7) on Saturday night at Rockwood Field on the campus of Worcester State University.

Heading into the sixth inning, Milford had already managed six hits off of Brownies starter Allison Wheeler, but had left seven runners on base. With two outs, Piergustavo drew a walk to reach base for the third time in the game. Powers came up next and wasted no time, drilling the first pitch on a line to the fence in left center and head coach Brian Macchi did not hesitate to wave Piergustavo home from first.

Macchi noted that his freshman shortstop had made an adjustment ahead of that crucial at bat, which paid off with the game-winning hit.

"Jill Powers has worked hard all season and it was funny that the inning before we were talking about staying back and thinking about driving the ball up the middle," Macchi said. "She did it at the right time and it's the biggest hit of her life to this point."

He added, "Tonight, the bottom of the lineup getting the job done with Jill Powers knocking in Allie Piergustavo, it's just a great way to end it."

In the 2012 final, catcher Taylor LeBrun had the walk-off base hit as a freshman and Powers matched those heroics this season, although she admitted after the game that she was a little confused at the excitement over her hit.

"I was just in shock after I hit it, I was like why is everyone cheering so loud," said an ecstatic Powers. "I was just thinking about knocking that run in; I wasn't thinking about what point in the game we were at."

Agawam's only offensive threat came in the top of the first. Faith Rheault, who also delivered a stirring rendition of the National Anthem prior to the game, lined a base hit to right and advanced to second on a passed ball. After the second strikeout of the inning, star catcher Reilly Weiners drew a walk, but Taylor Marcotte bounced back to the pitcher to end the rally.

Agawam would not get another base runner for the remainder of the game.

Milford senior pitcher Shannon Smith, who is the state's all-time strikeout leader and headed to the University of Kentucky next season, added to her impressive performances this postseason with 13 strikeouts. Smith allowed only three runs all season and none in six tournament games, while eclipsing the 1,200-strikeout mark for her career.

In the top of the seventh, protecting a one-run lead, Smith struck out the three, four, and five hitters in the Agawam lineup. It was a fitting end to a remarkable career.

Smith talked about her mindset heading into the final inning of her career.

"I knew those hitters were going to be amped," she said. "I knew they were going to be trying to hit a homerun…and I just wanted to keep pitching my game, make sure the team stayed level-headed and focused for three outs, and then start the celebrations."

Smith added, "Winning one is great, winning two is even better, but finishing my entire high school career with a state championship win – that's probably the best possible situation that you could ever have."



Macchi praised Smith's contributions to the program both on and off the field.

"Just to watch her work day in, day out for these four years – she wanted to cap it off with a win today," he said. "It just cements her legacy in Milford High athletics and the game of softball in the state. She's been an outstanding student-athlete to coach; it's been an absolute honor to watch her play."

The Hawks had several chances to take the lead earlier in the game. Milford had at least one base runner in scoring position in every inning but the first, but struggled to get the clutch hit that it needed.

In the second inning, Piergustavo crushed a double over the center fielder's head, but Caroline Fairbanks, who went 2-for-3 in her final game, was thrown out at the plate on a very close call. In the fifth, the Hawks had runners at first and second with one out, but Wheeler wiggled out of the jam by getting Smith to fly out to right and Fairbanks to ground to short.

In the end, it was an unlikely contributor that broke the deadlock and gave Milford the one run it needed.

The five seniors on the team have each played since their freshmen seasons and have led Milford to three state championship games, back-to-back state titles, and an incredible 50-1 record over the past two years. Macchi reflected on the impact of that group and the fulfillment of its preseason goal.

"I told them that they had a chance to leave a lasting impression and they did that today," he noted. "They had a mission at the beginning of the season – mission accomplished. We are always going to be a group together…from this point on we're going to be known as 2013 state champs and it sounds really good."


June, 15, 2013
6/15/13
12:50
AM ET
By
John McGuirk
| ESPNBoston.com
MONTAGUE, Mass. -- To get to this point, it goes without question that a little luck is needed.

For Agawam, on Friday night, the Brownies received their fair share and then some after pulling out a thrilling 2-1 victory over Marlborough in the Division 1 state semifinal played at Turners Falls High School.

With only three hits to its credit, Agawam won this tilt on the strength of its defense, its cool customer of a pitcher (freshman Allison Wheeler) and a lack of execution by the Panthers.

The Brownies (18-6) is back in the finals for the first time since 1995 when they lost to Bishop Fenwick. They will face Milford on Saturday at 7 p.m. from Rockwood Field in Worcester. Agawam and Milford are no strangers to one another. In last year's state semifinal, the Hawks dominated the Brownies, 13-0.

"Our defense got us here and our defense won this game," said Agawam head coach Kathy Georgina. "Allison [Wheeler] pitched great again. We are ready for Milford. This time we aren't walking in blind like last year. We know Shannon Smith is an excellent pitcher. We know what she can do and we know what we can do."

Against Marlborough, Agawam dodged a number of bullets to survive. The Panthers (17-7) finished the game having left eight runners on base, including seven in scoring position.

Trailing 2-1, Marlborough squandered a golden opportunity to tie or take the lead in the fourth.

With two runners on, Victoria Petrie lined a Wheeler fastball to right for a single. Lead runner Jessica Acosta, who was on second base, was waved around third. But right fielder Mary Kate Reidy threw missile to catcher Rielly Wieners. Just a few feet from home plate, Acosta stopped dead in her tracks and retreated back to third.

"We didn't get flustered," Georgina said. "Allison [Wheeler] showed tremendous maturity out there. That out we got [in the fourth] was a huge break for us.

Meanwhile, trailing runner Jen Bombard had already touched third at that point and went a few feet towards home. But once the senior saw Acosta coming back, Bombard spun around and headed back to second. Acosta barely got back to third safely with Wieners chasing her, but umpires ruled Bombard out because she never stepped back on third in her attempts to return to second base. Now with runners on the corners and two out, Wheeler struck out Erin Coughlin to end the inning.

In the seventh, Marlborough threatened again. Victoria Falco opened by singling to right. A steal and wild pitch moved the junior to third with two out, representing the tying run. But Wheeler got Erin Coughlin to ground out to end the game.

The Panthers jumped on Wheeler for a run in the first after Wieners threw the ball into center field trying to nail Bombard, who was stealing. Marissa Flynn, who reached on an error to start the game, scored easily.

The Brownies, after having trouble with Marlborough pitcher Molly McGuire early, finally got to the hard-throwing senior in the third. A Panther error and a Paige Circosta single put runners at the corners. Wieners then atoned for her earlier mistake by ripping an RBI single to left to tie things at 1-1. Taylor Marcotte followed with a ground ball to second. Flynn, Marlborough's second baseman, tried to go the easy route and throw out pinch-runner Jess Lingenburg streaking toward second. But Flynn's throw was off the mark and went into the outfield allowing Circosta to score the go-ahead run.

"We were able to get out of some tight jams because Allison hit her spots when she needed to," Wieners said. "She missed a couple of times but she really battled through it. Her mental toughness got us through this game. It's all about heart and our ability to manufacture runs when we needed to and do what it takes to get it done."

Marlboro, which finished with nine hits, will come away from this affair knowing the chances it left on the base paths, especially in the fourth and seventh innings. The Panthers also saw another chance to add runs snuffed out in the second. Again with runners on second and third and two out, Flynn smashed a hard grounder just to the right of second base. But Marcotte, Agawam's second baseman, dove to snare the ball and managed to throw out Flynn from her backside by a half step.

"Overall I thought we hit the ball well but just didn't get the clutch hits tonight," said Marlborough head coach Kyle Westcott. "We got a lot of runners on but didn't score when we needed to. It was an unbelievable season. No Marlboro softball team had ever won a district championship prior to this year. It was an amazing group and I'm proud of all of them."
June, 10, 2013
6/10/13
12:51
AM ET
By
John McGuirk
| ESPNBoston.com
AMHERST, Mass. -- For those who live outside the greater Springfield area, you probably have never heard of Allison Wheeler -- yet.

Wheeler is a freshman pitcher for the Agawam Brownies but certainly does not play like one. At Sunday's Division 1 Western Mass. final, Wheeler, showcasing outstanding movement with all of her pitches, silenced the Longmeadow offense in the form of a 1-0 victory at UMass.

With the win, the fourth-seeded Brownies (17-6) claim their second consecutive district title. They now move on to Wednesday's state semifinal versus Marlborough here beginning at 5 p.m. Last year, Agawam fell to Milford in the semifinal round.

"Allison has really come into her own this season," Brownies coach Kathy Georgina said. "Today she put the ball where she needed to. We had played Longmeadow twice before (earning a split) and we had studied their hitters. We had them all mapped out and Allison put the ball where she needed to so they couldn't hit it. For a freshman, her maturity and composure is truly amazing."

Entering this tilt, all talk focused around two young upstart pitchers who offer little to opposing offenses. Wheeler's counterpart, sophomore Jillian Stockley, also performed well in this one. But Wheeler was a tad better. The right-hander issued a first-inning single and then proceeded to keep the second-seeded Lancers quiet for the remainder of this tilt. She also picked up seven strikeouts. Stockley gave up five hits and fanned eight giving her 225 for the year.

"We just fought the whole way and wanted this so bad," Wheeler said. "My defense made some big plays for me and I owe a lot to my catcher Rielly Wieners. She keeps me calm. I love her and I'm so excited that we get to keep going."

Stockley's lone mistake came in the Brownies first inning. Danielle Stratton led off with a bunt single. Faith Rheault then reached on an error. After a sacrifice bunt from Paige Circosta advanced both runners, Wieners hit a fly to left that was deep enough for Stratton to tag up and score on.

"I think our experience played out in getting that first run," said Georgina. "We came here and weren't nervous. I think they were a little nervous maybe in that first inning and we took advantage of that to get that run across."

From that point forward that would be the only offense put forth by both clubs as Wheeler and Stockley took over and made life difficult in the batter's box. Agawam managed to get two base runners to second in the later innings but Stockley left them stranded there.

"We knew going in we had to get some timely, clutch hits," said Longmeadow coach Steve Marcil, after his team finished at 17-5. "Wheeler pitched very well. We just didn't get a lot of good swings on her. Agawam played a great game. Danielle [Stratton] is probably the mentally-toughest kids I've ever coached. She has a plan for every pitch and every at bat. She's all business. She's just a phenomenal competitor and a great kid."

Mount Everett 3, Turners Falls 0
History says to beat a reigning state power like Turners Falls you need to be as close to perfect as one possibly can. be. The Indians have earned that reputation having won six state championships.

On Sunday, Mount Everett played near-flawless and certainly did enough to thwart the defending two-time Division 3 state champions 3-0 in the Western Mass. final played at UMass.

Much of the credit goes to Eagles hurler Alicia Bazonski. The hard-throwing righty curtailed the Indians' powerful bats throughout. After surrendering two first inning singles, the junior righty issued no more the rest of the way. At one point she set down 13 Indians in a row. Bazonski also registered six strike outs.

"This feels really good," said Bazonski, clutching her team's first district title trophy. "We knew Turners is a really good hitting team so I was just trying to keep them off-balance as much as I could. Fortunately, I was able to."

Mount Everett (22-1), the top seed, advances to Tuesday's state semifinal to be played here against Central Mass. champ Assabet Valley beginning at 5 p.m.
Having lost to the Indians in this game two years ago, Mount Everett, located in Sheffield, finally gained a little payback.

"We've been close a few times at winning this but always fell short," Eagles head coach Kurt DeGrenier said. "We live in a very tiny community so our whole community truly deserves this. Alicia [Bazonski] is the total package. I'm glad we've got her and nobody else does. She never gets rattled and never gives in. Turners has the best team in Western Mass for the last 20 years so beating them today is very special."

Mount Everett jumped ahead 1-0 in their half of the second against Indians ace Dakota Smith-Porter (CG, 4 hits, 2 Ks). Samantha Hoover walked, advanced to second on a sacrifice and scored on Emily Coon's bloop single that landed on the foul line beyond third base. On the play, Indians left fielder Amber Caouette bobbled the ball allowing Hoover to sprint home.

While No. 2 Turners Falls (20-3) bats continued to grow listless against Bazonski, the Eagles threatened to add to its lead in the fourth.

Bazonski opened with a walk. With Kayla Krom pinch-running, Hoover laid down a sacrifice bunt moving Krom to second. Alex Hoover then sent a flare to left. Caouette charged the ball, played it on a hop, and fired a laser to Indians catcher Morgan Ozdarski who tagged out Krom. On the play, Hoover took off for second but Ozdarski alertly fired a strike to second baseman Jenna Putala, who placed the tag on a sliding Hoover to end the inning.

In the sixth, the Eagles made amends after scoring a pair. Haley Finn singled. Morgan DeGrenier laid down a bunt. Ozdarski picked it up and threw it into right field. Brittany York, the right fielder, let the ball go past her with Finn crossing the plate. DeGrenier, taking third on the double error, scored moments later on Natasha MacLeay's ground out.

"I felt one run wasn't going to be enough," Bazonski said. "We knew we needed to get some more and we did."

Bazonski retired the Indians in order in the top of the seventh to deny them a chance for a third straight state crown.

"We hit a few balls hard and they made the catches," Turners Falls coach Gary Mullins said. "Their pitcher was tough and we couldn't handle it. We made three errors today and I don't think we've made three errors in over a month."
April, 25, 2013
4/25/13
12:33
PM ET
By
John McGuirk
| ESPNBoston.com
AGAWAM, Mass. -- There are many adjectives you could attach to Reilly Weiners: fierce and competitor are a few that quickly come to mind.

A senior catcher at Agawam High School, Weiners is considered by many to be the best at her position in the state, let alone New England.

The Brownies are a perennial state softball power and Weiners is a big reason why. Last year, she batted .531 with 32 RBI in 77 plate appearances, helping guide Agawam to the Division 1 Western Mass. title before falling in the state semifinal to pitcher extraordinaire Shannon Smith and the Milford Scarlet Hawks, who went on to capture the state crown.

Weiners says the bitter taste of that defeat still remains and will only disperse should the Brownies get back to the state championship round and a possible rematch with Milford.

"I think talent-wise we are a better team than we were last year," said Weiners. "We were thrilled to win Western Mass. last year because that is always one of our goals. But we want to go beyond that. I'd love to get back to the states and face Shannon Smith again. As a team we think about it all the time and it is definitely something that drives us."

With Weiners orchestrating the leadership among this club, a second meeting with the Scarlet Hawks (albeit it would be in the state final this year now that Milford has now moved to Eastern Mass.) remains a possibility. Presently sitting at 4-3, the Brownies still have some work to do in the hotly-contested Valley League.

Few catchers are able to master their position the way Wieners has. Not only is she exceptional defensively, whether it be blocking balls in the dirt or throwing out would-be base runners, but also has the high IQ to control a game. Earning the trust of her head coach Kathy Georgina, Wieners has been handed the responsibility to be the coach on the field. Quite often you will find her moving her defensive mates around the infield in preparation against a particular opposing batter or lining up players up on cutoffs and relays. Offensively, she is a natural contact hitter with power.

"She really is amazing," said Georgina, now in her 11th season at the helm, and a star in her own right at Springfield College. "I've known Reilly since kindergarten and watching her throw a ball as a first-grader in my physical education classes, I knew then she would be a good one someday. She is very sound technically. It is a blessing for me to have a player like her on this team. She knows the game inside and out and is one of the best high school players I have ever seen. It is also a luxury to have a catcher who can run the team on the field the way she does."

Of all the things Wieners has accomplished on the field, perhaps the biggest, and most-difficult, one took place off of it. Admitting she was not pleased with her physical stature a year ago, Weiners was determined to do something about it. Her struggles with obesity, she believed, was limiting her abilities as an athlete. Once the high school season was over last June, Weiners adopted a daily ritual of distance running, weight lifting, cardio-vascular drills and maintaining a healthy diet. The end result was her shedding more than 80 pounds over the fall and winter.

"I felt good hitting last season but I just didn't feel I was able to give 100 percent of my physical self everyday," Weiners said. "After last season I started to work out hard every day. I think what I have done and still doing is only going to make me better. I am one who wants to get better at something each and every day. I feel like I have proven to myself and those who had doubted me wrong. I feed off of that every single day."

Weiners admits she wasn't proud in having difficulty taking part in team conditioning drills. On numerous occasions she was unable to finish jogging laps or run wind sprints, often finding herself short of breath. Realizing she would be going into her senior year as a team captain and leader, Wieners knew her lifestyle and eating habits had to change immediately. Now, with the excess weight gone, Weiners says she feels like a completely different person.

"I go out now and lead both physically and mentally and it feels great," she said. "I feel I get a lot more out of the practices now than I ever did before. I can do all the conditioning drills without any problems. I feel a lot better about myself. I enjoy being out here playing and having fun instead of struggling just trying to get through it like I did in the past. [My weight] really held me back. Now I am a lot more excited to come out here every day and show that I have been working very hard with my conditioning and it is starting to pay off for me."

From a softball perspective, because she is such an imposing force at the plate, Georgina says some opposing teams have already decided to pitch around her, which, in turn, has limited her production at the plate up to this point. Teams seem complacent to put her on base rather than feel her wrath with the bat. But sooner or later teams will have to pitch to her and take their chances.

With five new faces on the Brownies roster this season, Weiners, along with the other returning players, are making a point to remind all of them what the Brownies mission is for this year.

"We relay a message to them all the time about the hunger all of us returning players have to get back [to the state tournament]," she said. "We want to make sure they understand that. It sucked losing 13-0 to Milford last year and we want to be the team that beats them this year. We have great team bonding sessions here and we talk about that goal all the time."

While Weiners has been nothing short of spectacular during her time at Agawam, freshman pitcher Allison Wheeler has also begun to open up some eyes. Sporting a blazing fastball, to go along with a baffling change-up and curve, Wheeler says having a veteran player the likes of Weiners as her battery mate has made her transition to the varsity level much smoother.

"I feel so comfortable pitching to Rielly," Wheeler said. "As a freshman playing on varsity, I am so lucky to have a catcher like her behind the plate. She has helped me out in so many ways and keeps me calm when I get into tight situations. I feel it is a real honor for me to be pitching to her. Our relationship is very good and I think it will only get stronger moving forward. She is the best catcher that has ever caught for me and probably will be the best that I will ever pitch to."

There is no arguing the fact that Wieners is a Division 1 college talent. Enough so that she was heavily recruited by a number of quality programs, including national powers Tennessee and UMass-Amherst. An honors student, Wieners has remained true in her beliefs that academics holds a higher importance than softball. That being said, she has committed to attend and play for Wesleyan University next season, majoring in English/Journalism.

"Reilly has made it clear from the beginning that she wanted to go to a college that had her major and also had a solid academic reputation," Georgina said. "She didn't want to somewhere to just play softball. Wesleyan had everything she was looking for and I think is a perfect fit for her."

Weiners is the latest in a line of outstanding catchers who have played here. In the early 2000s, Teresa Bonavita was a much-heralded backstop who went on to star at AIC and later Temple University. Amy Mantha followed Bonavita and carved her own notch at Agawam before moving on to a successful career at Post University. Says Wieners, both left an indelible mark at Agawam and to her personally. Having grown up watching Bonavita and Mantha only heightened her desire to follow admirably in their footsteps. Another inspiration came from her father, Don. Also a catcher in baseball, Weiners says she would watch her father play in a local 30-and-older league and quickly noticed the style in which he played and started taking mental notes.

"You could say playing catcher is sort of in my blood," laughs Weiners. "I used to watch his games and he was very assertive behind the plate. He would take control of a game as catcher and I guess I picked up that trait from him."

Weiners says her biggest fan is her mother, Dion Berte, who regularly attends Agawam's games, cheering both her daughter and the Brownies on.

"My mother is truly amazing," Weiners said with a smile. "She doesn't know a lot about the game but is here all the time rooting us on. To be totally honest I don't think I would have been able to do any of this without her and her support. She is so awesome."

And in turn, Agawam would not be in the position it is in without her.
April, 9, 2013
4/09/13
11:19
PM ET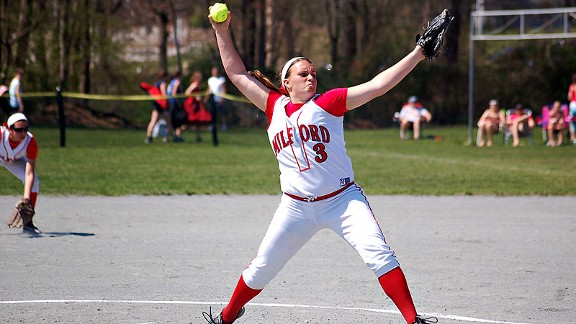 Brendan Hall/ESPNBoston.comReigning ESPN Boston Miss Softball Award winner Shannon Smith hopes to lead Milford to back-to-back Division 1 state titles.
STARTING ROTATION
Megan Colleran, Jr., North Attleborough
Anna O'Neill, Sr., King Philip
Lauren Ramirez, Sr., Dracut
Kendal Roy, Jr., Grafton
Shannon Smith, Sr., Milford
STARTING NINE
Tori Constantin, Sr. 2B, King Philip
Stephanie Cornish, Sr. 3B, Abington
Alexis DeBrosse, Sr. SS, New Bedford
Caroline Fairbanks, Sr. 3B, Milford
Nicole Lundstrom, Sr. C, Dighton-Rehoboth
Bella Picard, Sr. SS, Blackstone Valley Tech
Madi Shaw, Jr. SS, Bridgewater-Raynham
Dakota Smith-Porter, Sr., P/SS, Turners Falls
Reilly Weiners, Sr. C, Agawam
WATCH LIST
Olivia Antczak, Soph. P, Central Catholic
Allie Colleran, Jr. SS/OF, Concord-Carlisle
Megan Cook, Jr. P, Bellingham
Haley Currie, Sr. 3B, Burlington
Sara Dawson, Soph. P, Bridgewater-Raynham
Kaleigh Finigan, Sr. 3B, St. Mary's (Lynn)
Bridget Furlong, Sr. 2B, Malden
Courtney Girouard, Jr. P, Fairhaven
Galen Kerr, Sr. P, Concord-Carlisle
Taylor LeBrun, Soph. C, Milford
Rachel Levine, Sr. CF, Milford
Michaela Mazure, Soph. INF, Burlington
Shannon McLaughlin, Jr. P, Tewksbury
Paige Mulry, Jr. C, Boston Latin
MacKenzie Navarro, Jr. 1B, Taunton
Alicia Reid, Sr. CF, Abington
Kelsey Saucier, Jr. P, Holy Name
Rachael Smith, Jr. P, Winchester
Lauren Tuiskula, Sr. P, Leicester
Jurnee Ware, Sr. P, Hudson
June, 22, 2012
6/22/12
2:21
AM ET
Starting Rotation – First Team
Kiara Amos, Sr., Malden
The Providence College signee led the Golden Tornadoes to their first-ever state finals appearance after claiming the Eastern Mass. title. Amos went 15-1 for Malden, notching 195 strikeouts in 105 innings thrown all while boasting a 0.47 ERA. The right-hander set another first for Malden's program as its first-ever Div. 1 college scholarship player.
Meghan Rico, Sr., King Philip
Rico concluded her high school career as one of the most decorated players in the state, a winner of two state championships and last year's ESPN Boston Miss Softball. The George Washington signee went 17-3 for the Warriors this season, striking out 274 in 142 innings thrown while surrendering just 10 earned runs all season.
Sarah Ropiak, Sr., Acton-Boxborough
Headed to Brown University next year, Ropiak was a three-time Dual County League All-Star and earned MVP honors in the large division this season. The right-hander posted an ERA of 0.69 while leading the Colonials to a Division 1 North final appearance.
Kendal Roy, Soph., Grafton
The second-year sensation lifted the Indians to their first-ever state championship with a win over Abington in the Div. 2 final. Roy went 18-1 with an ERA of 0.72 in 126 innings thrown with 176 strikeouts while allowing just 11 walks.
Shannon Smith, Jr., Milford
The University of Kentucky commit was near unhittable this season while leading the Scarlet Hawks to an undefeated season and the Division 1 state title. This year's ESPN Boston Miss Softball Award recipient was also named Massachusetts Gatorade Player of the Year for the second time (2010, '12) in her career.
Starting Nine – First team
Katie Caruso, Sr. SS, Newton North
Caruso won the Bay State Conference's triple crown, leading the league in batting average (.662), home runs (10) and RBI (47) while also clubbing a conference-best 51 hits. The Bay State MVP was also a standout on the Tigers' hockey team. The four-year starter will continue her playing career next year at Southern New Hampshire University.
Lexi Gifford, Sr. SS, Natick
While Caruso may have been named Bay State Conference MVP, Gifford has been the league's most valuable lead-off hitter during the last four years. The UConn signee hit at a .615 clip while driving in 33 runs for the Red & Blue this season. Gifford was also a true three-sport athlete at Natick, as a four-year letter-winner in soccer, basketball and softball.
Bri Chiusano, Sr. CF, Mansfield
One of the most feared lead-off hitters in the state and a superb slap hitter, the Hockomock League All-Star showed off her power as well with four home runs this season. The Coastal Carolina signee finished second in the Hock in hitting with a .521 batting average.
Olivia Godin, Sr. C, King Philip
The UMass-Amherst signee was a four-year starter for the Warriors, helping guide the program to back-to-back state titles in 2010-11. The backstop hit .299 this season with three home runs and 18 RBI.
Alexis DeBrosse, Jr. SS, New Bedford
Already a three-time New Bedford
Standard-Times
Player of the Year award winner, the three-time Big Three All-Star hit .521 for the Whalers this season. The three-sport athlete also hit five home runs with 26 RBI and a slugging percentage of 1.099.
Julie LeClair, Sr. 3B, Coyle-Cassidy
Comprising one half of the state's best left side of the infield, along with shortstop Patty Borges, the St. Anselm signee led the Warriors to the EAC crown with a league-best .527 average. The three-sport athlete also clubbed a league-leading five home runs along with 32 RBI.
Bella Picard, Jr. SS, Blackstone Valley Tech
The nation's leading hitter resided in Upton this year with the Beavers' shortstop hitting an astounding .877 (57-for 65). The converted soccer player also tied for the state lead in home runs with 10 while driving in 43 runs.
Madi Shaw, Soph. SS, Bridgewater-Raynham
The second-year shortstop powered the Trojans to their first-ever Division 1 South sectional crown. Shaw hit .471 with eight home runs and 34 RBI for the Old Colony League champions.
Reilly Weiners, Jr. C, Agawam
Weiners helped lead the Brownies to the Division 1 West sectional title this season. The backstop led all Div. 1 players in Western Mass. with 35 RBI while knocking out 38 hits on the season, including three home runs.
Bullpen – second team
Megan Colleran, Soph., North Attleborough
Megan Cook, Soph., Bellingham
Mackenzie Coopinger, Sr., Lynn Classical
Audrey Dolloff, Sr., Bridgewater-Raynham
Courtney Girouard, Soph., Fairhaven
Trish Hansen, Sr., Mansfield
Shelby Higgins, Sr., Lowell
Kelly Norton, Sr., Abington
Shannon Orton, Sr., Case
Lauren Ramirez, Jr., Dracut
Jurnee Ware, Sr., Hudson
Bench – second team
Patty Borges, Sr. SS, Coyle-Cassidy
Tori Constantin, Jr. 2B, King Philip
Caroline Fairbanks, Jr. 3B, Milford
Courtney Hoban, Sr. OF, Boston Latin
Emily Hoffman, Sr. C, Malden
Nicole Lundstrom, Jr. C, Dighton-Rehoboth
Michaela Mazure, Fr. INF, Burlington
Kelsey Perron-Sovik, Sr. CF, Fairhaven
Christina Raso, Sr. SS, Burlington
Dakota Smith-Porter, Jr. P/SS, Turners Falls
COACH OF THE YEAR
John Furlong, Malden
May, 2, 2012
5/02/12
10:33
PM ET
By
John McGuirk
| ESPNBoston.com
AGAWAM, Mass. -- In between pitches yesterday, Agawam ace pitcher Danielle Circosta routinely strolled away from pitchers circle and glanced out toward her younger sister Paige in centerfield. Upon making eye contact, the two would simultaneously take a deep breath together before the senior returned to the pitching rubber to deliver her next pitch.

To some, this act might have served as just another quirky ritual softball players like to do. But there was nothing quirky about it. It was later revealed that Circosta was battling a case of walking pneumonia and this unorthodox practice she was performing was giving her the durability needed in order to be effective.

Obviously well-below 100 percent, Circosta would need squeeze out every last ounce of energy she had in her having to face the region's top team. As it turned out, the deep breathing routine worked out quite well as Circosta limited previously unbeaten Westfield to six hits and struck out nine en route to a 14-1 mercy-shortened Valley League victory. With the win, the Brownies earned a postseason tournament berth as they improved to 10-2.

"I'm on medication and it can really take its toll out there," Circosta said. "But when I was out there I just needed to take deep breaths and forget about it. Looking back at my sister, and the two of us taking deep breaths together, really helped me a lot today."

The Bombers (11-1) grabbed a 1-0 lead in the second inning when leadoff batter Kaitlyn Puza stroked a low fastball deep to center for a triple. On the play, Paige Circosta's throw sailed over the cutoff allowing Puza to cross the plate.

But from that point forward Circosta was dialed in and kept Westfield's offense at bay with a solid mixture of on-the-spot fastballs, a riser and an occasional change up. Agawam tied the game in its half of the third, taking advantage of a pair of Bomber errors. In the following frame, the Brownies opened up the flood gates.

Agawam sent 10 to the plate in the fourth, scoring five times in the process to put this one out of reach. Faith Rheault started things by ripping an 0-2 pitch to left for a single. Two sacrifice outs later, Danielle Circosta helped her own cause by slapping another 0-2 pitch into right for an RBI single to put the Brownies ahead to stay.

"You cannot go 0-2 in the count and give up hits like that," Westfield coach Joe Stella said. "We did that four times today. I hope this is a learning thing for us. We saw some weaknesses today. We know what we need to work on and we'll move on."

Bomber sophomore pitcher Sarah McNerney (CG, 21 hits, 4 Ks) did a manageable job keeping her pitches around the plate, however Agawam was feeling it at the plate and sitting dead-red on McNerney's fastballs. Danielle Stratton allowed the inning to continue by reaching on another error (4 total by Westfield) and Paige Circosta, a junior batting .500, brought in two more runs with a single to left. A Reilly Wieners single was next followed by Rebecca Fondakowski's line drive to center to plate another run. Alexa Smith, running for Weiners, scored the final tally of the frame after Lauren Brodeur smacked a single to left to make it a 6-1 contest.

"Usually when we get down by a run we never seem to do to well but today we were just so fired up," Danielle Circosta said. "When we got up big I was able to relax and breath more. I didn't have to worry about things except to just make the pitch and let my defense make the play."

The onslaught continued in the fifth as Agawam scored three more times on RBI by Stratton, Paige Circosta (3 hits, 3 RBI) and Wieners (3 hits, 4 RBI).

The Brownies were hardly finished. In the sixth, they added to the Bombers' on-going misery. Rhealt and Jenna Fenton each drove in a run and Wieners, a junior who is batting .579 this season, sent three more runner across the plate thanks to a bases-clearing double which then forced umpires to call this contest in accordance with the 12-run mercy rule.

"I could tell when we came here today that something special was going to happen for us," Brownies coach Kathy Georgina said. "I think now, that once we know how we can play, there's no going back. I think these girls know what our potential is. Danielle's pitches were working great and hitting her spot. Knowing her personality I knew she wanted to pitch today. It's pretty awesome. I think our girls' confidence after this game will be 10 times greater."
March, 30, 2012
3/30/12
3:02
PM ET
Today we kick off our high school coverage of the spring season with our preseason MIAA softball All-State team, as selected by ESPNBoston.com staff and state high school coaches.

STARTING ROTATION
Kiara Amos, Sr., Malden
Trish Hansen, Sr., Mansfield
Meghan Rico, Sr., King Philip
Sarah Ropiak, Sr., Acton-Boxborough
Shannon Smith, Jr., Milford

STARTING NINE
Taylor Archer, Sr. C/3B, Milford
Patty Borges, Sr. SS, Coyle-Cassidy
Alex Burgess, Sr. OF, Chelmsford
Bri Chiusano, Sr. OF, Mansfield
Lexi Gifford, Sr. IF/OF, Natick
Olivia Godin, Sr. C, King Philip
Nicole Lundstrom, Jr. C, Dighton-Rehoboth
Christina Raso, Sr. SS, Burlington
Reilly Weiners, Jr. C, Agawam

"BEST OF THE REST"
Meg Carnase, Sr. P, King Philip
Katie Casey, Jr. P, Braintree
Katherine Clark, Sr. P, Coyle-Cassidy
Allie Colleran, Jr. SS, Concord-Carlisle
Meghan Colleran, Soph. P, North Attleborough
Stephanie Cornish, Sr. SS, Abington
Abby Curran, Sr. IF, Bishop Fenwick
Alexis DeBrosse, Jr. 2B, New Bedford
Audrey Dolloff, Sr. P, Bridgewater-Raynham
Maggie Hoffman, Jr. P, Avon
Kaleigh Finigan, Jr. C, St. Mary's (Lynn)
Natalie Leone, Jr. 2B, Ashland
Rachel Levine, Jr. CF, Milford
Abby Johnson, Sr. SS, Chelmsford
Galen Kerr, Jr. P, Concord-Carlisle
Jackie Kielty, Jr. P, Middleborough
Kayli Moniz, Sr. SS, Fairhaven
Breanna Monroe, Sr. OF, Shrewsbury
Shannon Orton, Sr. P, Case
Kaci Panarelli, Jr. C, Shrewsbury
Meghan Rich, Sr. P, Chelmsford
Julie LeClair, Sr. 3B, Coyle-Cassidy
Cayleigh McCarthy, Sr. 1B, King Philip
Madi Shaw, Soph. SS, Bridgewater-Raynham
Alyssa Siegmann, Sr. SS, King Philip
July, 1, 2011
7/01/11
10:31
AM ET
STARTING ROTATION – FIRST TEAM

Ali Maloof, Sr. P, Norwood
The senior captain led the Mustangs to the D1 South finals with a 12-1 record and 0.59 ERA with 162 strikeouts in 82 innings. The Southern New Hampshire commit also hit .493 out of the leadoff spot for Norwood.
Emma Mendoker, Sr. P, Amherst
The Gatorade Massachusetts Player of the Year finished her high school career with 1,002 strikeouts, including 300 this season. The East Carolina commit went 23-2 leading the Hurricanes the D1 state final while posting a 0.17 ERA. She also batted .461 with three home runs and 23 RBI as Amherst's clean-up hitter.
Meghan Rico, Jr. P, King Philip
Rico went 21-0 with a miniscule ERA of 0.15 and allowed just 29 hits over 144 innings thrown with 313 strikeouts and 24 walks. The George Washington University commit allowed only seven runs all season, three of which were earned, and threw two perfect games. Rico also threw four shutouts in the postseason on the Warriors' drive to their repeat D1 title performance.
Sarah Ropiak, Jr. P, Acton-Boxborough
The two-time Dual County League All-Star team went 13-2, including 10 shutouts, with a 0.60 ERA. Ropiak is a member of the National Honor Society, Spanish Honor Society and American Leadership Council.
Shannon Smith, Soph. P, Milford
The 2010 Gatorade Player of the Year returned with a fine second season, going 21-2 for the D1 Central champion Scarlet Hawks. Smith posted a 0.94 ERA while striking out 296 in 164 innings. Smith also contributed to her own cause, hitting at a .357 clip with three home runs and 25 RBI.
STARTING NINE – FIRST TEAM
Katie Bumila, Sr. C, Coyle-Cassidy
The senior captain led a vaunted Warriors offense, hitting .536 with a home run and 22 RBI. The four-year starter was also entrusted by Coach Russell Hunt to call all the pitches behind the plate and was a three-year EAC All-Star. A star in the classroom as well, Bumila will attend Worcester Polytechnic Institute next year.
Megan Congro, Sr. Sr. 1B, Sandwich
The URI commit led the Atlantic Coast League with a robust .661 batting average with two home runs and 30 RBI.
Lauren Duggan, Sr. 3B/P, Norwood
At third base, the UConn commit delivered the ball from third to first just about as quickly as you'll ever see. Duggan's cannon arm also helped her boast 1.13 ERA in the circle, splitting time with Ali Maloof. She also led the Bay State League in home runs with eight, while batting .415 with 33 RBI.
Quianna Diaz-Patterson, Sr.
The UMass-Amherst commit was perhaps the most feared lead-off hitter in the state with a tremendous first step out of the box. The captain and three-year starter hit .559 with eight home runs and 40 runs scored. Diaz-Patterson also stole 31 bases this year and held the distinction of never having been thrown out once on an attempted steal during her high school career.
Olivia Godin, Jr. C, King Philip
As much as Meghan Rico garnered the attention of the softball world this year, it was the Warriors' junior backstop who helped call the games for the hurler. The defensive stalwart also managed to put up a .400 on base percentage along with three home runs and 18 RBI. The Plainville resident has a verbal commitment to UMass-Amherst.
Meg Kelly, Sr. 2B, Reading
Kelly was a triple crown winner in the Middlesex League this season, batting .628 with five home runs and 35 RBI. She also struck out just three times all season. The URI commit was also a standout out on the Rockets' soccer and indoor track teams.
Anna Kelley, Sr. 3B, King Philip
Kelley's defense at the hot corner and her bat were main contributions to the Warriors' second straight D1 title. The UMass-Amherst commit batted .375 with a slugging percentage of .697. She also led KP in RBI with 33.
Brianna Martin, Sr. CF, Central Catholic
The three-year Merrimack Valley League All-Star was as strong in the field as she was at the plate. Martin didn't commit an error in her senior year while adding three outfield assists. Martin hit at a .549 clip while setting a Raiders program record for slugging percentage at .985.
Jenn Robillard, Sr. SS, King Philip
The Sacred Heart commit set the table for the Warriors from the lead-off spot with a .467 average and .533 on base percentage. The senior captain also stole 15 bases while contributing strong defensive play in the field.
BULLPEN – SECOND TEAM
Kiara Amos, Sr., Malden
Emily Berardi, Sr., Boston Latin
Noelle Christmas, Sr., Plymouth South
Audrey Dolloff, Sr., Bridgewater-Raynham
Meg Donegan, Sr., Central Catholic
Trish Hansen, Jr., Mansfield
Courtney Lanfranchi, Sr., Burlington
Bridget Lemire, Sr., St. Peter-Marian
Emily Mailloux, Sr., Turners Falls
Kelly Norton, Sr., Abington
Shannon Orton, Jr., Case
Megan Rich, Sr., Chelmsford
OFF THE BENCH – SECOND TEAM
Hannah Byrne, Sr. SS, Lynn Classical
Michelle Cooprider, Sr. P/OF, Hopkinton
Ellen Czuba, Sr. CF, Franklin
Alexis DeBrosse, So. 2B, New Bedford
Zoe Dillon-Davidson, Sr. C, Amherst
Amy Entel, Sr. P/OF, Somerset
Simone Frank, Sr. 3B, Amherst
Laura Kaminski, Sr. C, Amesbury
Nicole Lundstrom, So. C, Dighton-Rehoboth
Breanna Monroe, Jr. CF, Shrewsbury
Christina Raso, Jr. SS, Burlington
Reilly Weiners, So. C, Agawam
HEAD COACH OF THE YEAR
Dustin Belcher, Wahconah