Boston High School:

Rhett Weisman
April, 22, 2011
4/22/11
10:35
PM ET
By
Brendan Hall
| ESPNBoston.com
GROTON, Mass. -- To watch a Tyler Beede start is to watch an event.
Not just for what's on the hill for Lawrence Academy, where the 6-foot-4, 200-pound, Vanderbilt-bound righthander is off to a dominant start for the Spartans (23 IP, 44 K, 3 BB, 2 hits allowed, 1 ER) after a stellar 2010 season (6-1, 87 K, 45.1 IP, 1.08 ERA); but for what's behind the backstop. Since transferring into the Groton campus after leading Auburn High to the 2009 Division 2 MIAA state championship, throngs of major league scouts flock to every one of his starts, often in the dozens (a rumored 40 were on hand for his 16-strikeout performance against St. Sebastian's last week). And not to be forgotten is his added bat this year, with five homers and 10 RBI so far as a leadoff hitter.
[+] Enlarge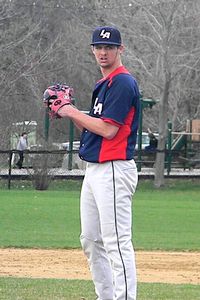 Courtesy Brendan Hall Tyler Beede, who is off to a strong start this spring for Lawrence Academy, is being watched closely by major league scouts.
Earlier this month, an American League scout told me Beede projects as
"a potential first-rounder, but top three rounds in particular"
for June's amateur draft. That can be a lot of pressure for an impressionable high schooler, but the senior handles it like he's been there for years -- and truthfully, he has.
Beede spoke with ESPNBoston.com following a dominant performance in a 10-1 win over St. Mark's (13 K, 0 BB, 0 ER, one hit allowed, no balls out of infield) to discuss the scouting herd, his workout regimen, and his future in baseball.
Q: Just seeing what we saw before the game, all the scouts standing at the top of the hill overlooking the bullpen and watching you warm up, you're probably used to it by now. But what's it like pitching in front of so many scouts every time out?
A:
"Oh man, I really don't know. I guess it's just an honor to have this opportunity. I'm a 17-year-old kid who's just trying to get to that next level, college, and having the pro guys here is just an honor. I just try to go out there and have fun, play like it's a high school game, no added pressure or anything like that. They're there, but I really don't try to pay attention to them. I just try to pitch my game for sure."
Q: The first time you threw in front of that many scouts, were you nervous?
A:
"Oh yeah, definitely nervous (laughs). I would peek over the catcher, see some guys and be like 'Wow, this is a little too much'. There were a lot of scouts back there. But you just settle into your game, you kinda block them out, like I was saying, and it's just like pitching a regular game."
Q: When was that first time?
A:
"Jeez, probably 14 [years old]...actually 15. I was with a travel team playing down in Arizona."
Q: You've had some great performances so far. People point to the St. Sebastian's game as one of your better performances (Beede struck out 16, allowed two hits and a walk, and homered, in a 5-1 win). What have you found to be working for you so far?
A:
"I definitely worked on a lot of stuff during the off-season. I threw in a new mechanic, going over my head a little bit like Curt Schilling. It's helped me balance, and stay over my leg a little longer. Having a new catcher, (sophomore) Kevin Wnukowski, he's been a great help. He's really given me confidence throwing my off-speed, he's great at blocking pitches, and he calls a great game. The team's playing great, and it relieves pressure off me when they're scoring five, six runs, (or) 10 runs like we did today. It's just a great all-around team, and teamwork, throughout this whole season so far."
Q: Obviously, the fastball has gotten you a lot of attention. But how satisfied are you with your curve and change?
A:
"Yeah, the curveball's been a great pitch for me this year. That's what I over the offseason a lot. I'm glad it's feeling good coming out of my hand, and I'm getting a lot more comfortable throwing it in 2-1 counts, 3-2 counts, so that's been a great pitch for me for sure."
Q: Who are the best hitters you've faced so far in your high school career?
A:
"High school career man, ooh, that's tough. Here in my league, Rhett Weisman for sure, lefty hitter from BB&N. And then guys throughout the country, Blake Swihart from New Mexico (Cleveland High, Rio Rancho, N.M.), Dante Bichette Jr. (Orangewood Christian, Maitland, Fla.), Shawon Dunston (Valley Christian, Fremont, Calif.), future Vandy commit. There's just so many great hitters, and it's a privilege playing against those guys over the summer for sure."
Q: The Vanderbilt head coach, Tim Corbin, is a local guy, and he's in on a lot of the talent around here. What's his program like?
A:
"They just produce first rounders after first rounders, and they really develop their pitchers, hitters, all positions. The coaching staff is tremendous, they really make you comfy right when you get down there. They really make you feel a part of the team. There's no spots guaranteed. The freshmen that come in next year have an equal opportunity for starting positions in the field and in the pitching rotation. I've been talking to the other guys [coming in], and we're all excited for sure."
Q: You talk to Adam Ravenelle (a Vandy commit from Lincoln-Sudbury) a lot. Are you surprised that he's hitting so well this year?
A:
"Kids that come from Cressey [Performance], they have some power. Me, I've hit three, four home runs this year. But yeah, Rav's a great kid, and I'm excited to play with him next year."
Q: Take me through your pregame routine. What's going through you head?
A:
"I watch a lot of video before games, with my mechanics. I'm just trying to get it in my head, because I'm a mental pitcher. I kind of just adjust as the game goes on. With whatever's working after I come from the pen, if the curveball's not working I'll try and throw a little more in the game, first few innings, just to get a feel for what I'm going to do today. It's just an inning by inning thing, I'll take my adjustments when I get them."
Q: In regards to what people are saying about your draft status, are there any thoughts right now on where you'd be leaning, whether it's college or going into the minors?
A:
"I'm not sure. Right now, college is the only guarantee, so that's what I'm going for. But you know, when the draft comes I'm going to talk to my parents and go from there."
September, 22, 2010
9/22/10
2:29
PM ET
By
Adam Kurkjian
| ESPNBoston.com
The Buckingham, Browne & Nichols football program has been a powerhouse under coach John Papas since he took over eight years ago, as the Knights have won and won big — especially lately — losing just three times in the last four years.

Their average margin of victory over that span has been 24.5 points, with most of the scoring done in the first half before Papas takes his starters out for the second.

But this fall, BB&N comes in having lost the majority of its starters – and five Division I athletes – from a team that lost to Lawrence Academy last season, 28-26, denying the Knights an undefeated season and a shot at a NEPSAC bowl berth. In other words, the perception around the ISL is that BB&N is in for a down year, and teams are lining up for their chance to even the score.

"Our kids have to realize that a lot of people that want to get back at us," Papas said. "[Schools around the league] pretty much think that there's nothing left. I think we have a bull's eye on our chest. There's a lot of payback they want to get. We've got to take on all comers right now. We've done a lot of punching the last few years. They want to punch us now."

While BB&N will only have three seniors and will be short on experience, there is going to be enough talent on this team to weather the haymakers the rest of the league will be throwing its way.

Eric Bertino (an ISL-leading 24 TD passes in 2009), a returning starter at quarterback, fullback/outside linebacker Peter Savarese (an ISL leading seven TD receptions in '09) and newcomer to the sport James Diblaisi, a 6-foot-6, 225-pound hockey player who will play defensive end, make up that small but talented senior class.

Papas raves about Diblaisi's potential and compares him to Blake Barker, who held several BCS offers last year before committing to Harvard.

"This is his first year of organized football, but I'll tell you what, he's been unbelievable in preseason scrimmages," Papas said of Diblaisi, a Winchester native. "He plays with a flat back and is really tough off the edge. He really has the chance to be a Division I football player if he matures."

Papas, who previously coached in the college ranks for 13 years at Tufts, Harvard and Bentley, knows a thing or two about sending players onto the next level. In his tenure at BB&N, 31 of his former players have gone on to play college football. There are currently seven ex-Knights on Ivy League rosters, the most of any school in the country, according to Papas.

"We've been able to attract a lot of kids that want a first-rate education at an urban prep school," Papas said of the Cambridge institution that is just a stone's throw away from Harvard Square. "It's unique in that you don't have to board, it's co-ed and in Cambridge. There are a lot of kids that have come looking for that education and football experience."

Two new additions to the program are juniors Chris Coady and Dan Connaughton, who transferred in from St. John's Prep and Lincoln-Sudbury, respectively. Coady, who is also a tremendous lacrosse player, will take over at tailback and outside linebacker, while Connaughton will be a two-way tackle. Both players are receiving early interest from Boston College.

Another junior, Nick DiChiara, younger brother of Mike, a former Knight quarterback who is now at Cornell, will start at middle linebacker and is one of the team's few returning starters.

Papas believes classmate Eric Olson, a 6-foot, 6-and-one-half-inch, 255-pound offensive tackle, may end up being the most highly sought-after recruit of the bunch, as he is already receiving early interest from BC, Stanford and Notre Dame.

"He's got great feet," Papas said. "He plays basketball, as well. He's just kind of figuring it out. He's a late bloomer in football."

Papas' two starting cornerbacks, junior Rhett Weisman and sophomore Willie Peoples, probably won't play football in college, but are both Division I athletes. Weisman, Mansfield native, will play baseball at Vanderbilt, while Peoples, who hails from Cambridge, is a budding tennis star.

"He's a ridiculous tennis player, unbelievable," Papas said of Peoples, "and he's out there banging with us."

While everyone around the league will be focused on a Lawrence team that already has four BCS-committed players, Papas insists his team is focused solely on Saturday's opener at Belmont Hill. The Hillers, who were the league's premier program in the years leading up to the emergence of BB&N and Lawrence, had beaten their neighbors 21 consecutive times before the Knights won the last three meetings.

"They have a great tradition and great players as well," Papas said of Belmont Hill. "If you ask our kids, the biggest game they circle is Belmont Hill."

It's safe to say that there are plenty of school's that have BB&N circled, as well.

BB&N AT A GLANCE
2009 record: 7-1
Coach: John Papas (47-13)
Players to watch: Eric Bertino, Sr., QB, 6-1, 200; Chris Coady, Jr., RB/OLB, 6-2 ½, 220; Dan Connaughton, Jr., OT/DT, 6-3, 265; Nick DiChiara, Jr., MLB, 6-0, 205; Eric Olson, Jr., OT, 6-6 ½, 255; Rhett Weisman, Jr., CB, 6-1, 180; Willie Peoples, So., CB, 6-0, 175; James Diblaisi, Sr., DE, 6-6, 225; Peter Savarese, Sr., FB/OLB, 5-10, 190.
Strengths: Line play, experience at QB, linebackers.
Weaknesses: Inexperience.
Outlook: The Knights were decimated by graduation, losing five Division I athletes off a team that only lost to a loaded Lawrence Academy squad last fall. Although Papas' charges will be breaking in a lot of new starters, the cupboard isn't exactly bare, as a bevy of highly-touted juniors are in the fold to restock the roster. Papas likes what he sees up front on both sides of the ball, and the Knights should be strong enough there to control the line of scrimmage against most of the teams on their schedule. Bertino returns at quarterback, and he will be giving most of his handoffs to Coady, a transfer from St. John's Prep that is getting major interest in both football and lacrosse. Savarese led the ISL in touchdown receptions a year ago, as Papas likes to use a power run game to set up the play-action pass. The defense operates out of a 4-3 cover two base, and Papas thinks he has one of the best groups of linebackers in Eastern Mass. in Coady, DiChiara and Savarese. Lawrence comes in as the heavy favorite in the ISL, but despite their inexperience, it would be a mistake to dismiss the Knights and their upcoming talent.