Boston High School:

Ricardo Calixte
December, 2, 2012
12/02/12
12:13
AM ET
By
John Botelho
| ESPNBoston.com


WALTHAM, Mass. -– From the time Brockton muffed the opening kickoff, setting St. John's Prep up with a short field to start the EMass. Div. 1 Super Bowl at Bentley University on Saturday, it was clear there would be no momentum shifts as the Eagles cruised, 48-28, for their first title since 1997.

No, momentum stayed with St. John's for the duration of the one-sided Super Bowl showing.

Just 50 seconds after the attempted squib kick set St. John's up at their own 45, Jonathan Thomas caught a pass in the flats and streaked 33 yards for a touchdown and a 7-0 Eagles (11-1) advantage.

The Boxers (9-4) quickly went three-and-out -– marking the best part of their first possession. A bad snap resulted in blocked punt by Lucas Bavaro, and a scoop and score by senior Jake Anemoduris –- and just like that, the Eagles were up 13-0 less than three minutes into play.

"We came out and executed the way were supposed to execute our game plan," said St. John's coach Jim O'Leary. "That's what we do and that's how we played."

It got briefly better for the Boxers, who put together 10-play scoring drive capped by a 6-yard run by Moise Edouard. The rush attempt on the conversion failed.

Another attempted squib kick, this time a low line drive that settled at about the 15-yard line, resulted in bad fortune for Brockton. Gerald Kahari caught the ball inches from the turf, and took off up field. A couple blocks and a missed tackle later, he was tossing the ball to a referee 85 yards away after scoring a touchdown.

"Obviously you have to play better than that to beat a great team like St. John's Prep," said Brockton coach Peter Colombo. "Take nothing away from them, they beat us twice and they beat us in all three phases today and they deserved to win.

"Right off the bat, we gave them easy field position. They jumped out to the lead and now we're playing catch up and that's obviously not what we wanted. We were hoping to shorten the game and control, but we couldn't do it."

Brockton quickly turned the ball over on downs in their own territory, and Thomas eventually ran in from two yards out to extend the lead to 27-6.

After a Boxers punt, it seemed like Brockton would get a chance to get the ball with decent field position after a pass fell incomplete on third down at the St. John's eight yard line. An unnecessary roughness penalty instead gave the Eagles another first down.

And when Brockton forced a second stop, a roughing the kicker on fourth down planted St. John's at their 42 with a first down.
The following play was a 58-yard catch for a touchdown by Gatorade Player of the Year Alex Moore from quarterback Jack Sharrio.

An onside kick attempt by St. John's was recovered by the Boxers. Zack Kessler was hurt on the play, and left on a stretcher (later diagnosed with a severe concussion).

Austin Roberts hit Micah Morel on the next play for a 59-yard score, cutting the lead to 34-12.

In the final minute of the first half, Thomas punched in another score, extending the halftime lead to a whopping 41-12. Moore added a 19-yard fumble recovery for a TD in the second half to cap the scoring for St. John's.

Edouard added another rushing touchdown and Ricardo Calixte chipped in with a score with just under two minutes to play to wrap up Brockton's scoring, but it wasn't nearly enough to overcome their first half woes.

"We just didn't execute," said Roberts. "They played at a Super Bowl speed and we didn't. They played kicked it up today and we didn't, and that was the difference. All the credit to them, they deserved it."


November, 28, 2012
11/28/12
2:49
AM ET
By
Brendan Hall
| ESPNBoston.com



WEYMOUTH, Mass. -– The last time Brockton was in an MIAA Division 1 Super Bowl, gas prices were around $3, the housing market was spiraling downward, and Barack Obama had just been elected President.

Nothing crazy, right? Well, just understand that four years is an eternity in Brockton.

The Boxer faithful are known for their uniquely feverish blend of paranoia and restlessness, and aren't afraid to let it be known to the players, coaches and everyone in between.

"We were beyond sick and tired of it, especially after last year," said senior safety Micah Morel, alluding to their disappointing 5-6 finish in 2011. "We were absolutely disgusted with not being in the playoffs the last two years. We just wanted to turn this ship around."

Said quarterback Austin Roberts, "They're always coming up to you, and no one's happy until you win a Super Bowl."

For now, everyone can rest easy. Brockton (9-3) is back in its first Division 1 Super Bowl since 2008, by way of an easy 33-7 victory over Bay State Carey champion Weymouth at the latter's home field, thanks to a dominant rushing attack that gained 432 yards with just a single passing attempt.

Brockton hasn't won a Super Bowl since taking back-to-back titles in 2004-05, when quarterback Jessy Resende and tailback Junior Penn were taking New England by storm and the Boxers were getting love in national polls. If they are to bring home the third Super Bowl title of the Peter Colombo era, they'll have to do beat St. John's Prep, which won the first meeting, 27-12, in Week 4.

"It's been a while," Colombo said.

Alluding to the Boxers' first Super Bowl title in the first year of the era, in 1972, he continued, "We're hoping to get back, and 40 years later...We started it off in '72, and we're hoping to put the brackets around this era."

As usual, the dominant ground game was primarily the work of a four-pronged attack in the Boxers' flex scheme: Roberts (18 carries, 125 yards, 2 TD), and senior running backs Moise Edouard (seven carries, 106 yards, TD), Ricardo Calixte (eight carries, 88 yards, TD) and Morel (10 carries, 90 yards, TD).

The Wildcats (8-4) stacked the box with its 50 front, yet the Boxers were able to establish the edge consistently, for big gains. Leading the attack as usual was Roberts, unafraid to lower his shoulder and charge forward and making the correct read on the option seemingly every play.

"He was very, very efficient tonight," Morel said. "He played 'Augie-Ball' tonight. It was great."

It started on the Boxers' opening drive of the game, gift-wrapped for them at the Wildcats' 19 after a Weymouth fumble on the first play of the game. Four plays later, Roberts tossed out wide to Morel, who glided over the left pylon for the game-opening score just two minutes into the contest.

Weymouth drove all the way to the Boxers' 20 on the next drive, but stalled after quarterback David Harrison threw incomplete looking for the end zone. Going the other way, the Boxers completed a 12-play, 80-yard scoring drive thanks to Edouard's work, taking an off-tackle 44 yards down to the Weymouth 3 then punching it in on a dive the next play.

Then, the weirdest thing happened. Brockton's kicker slipped as he went to kick, getting the nose of the ball, and the ball rolled 10 yards only to bounce off a Weymouth blocker into the hands of Brockton's Justin Ahanon. Three plays later, the 215-pound Calixte made it 21-0 just 11 minutes into the contest with a 38-yard touchdown scamper, sprung loose by an Edouard kick-out block and cutting back at the left sideline with 10 yards to go for an easy score.

Defensive Back U: Year after year, the Boxers' secondary churns out future Division 1 college athletes, this year being the Bryant University-bound Morel. Tonight, the unit made arguably the statement of the game after the offense fumbled the ball away on the first play of the second half. Harrison used a bubble screen to Ozzy Colarusso and a 24-yard QB draw to give the Wildcats first and goal from the Boxer 4.

Earlier in the game, Harrison knifed through the defense with a slick 18-yard touchdown pass to Colarusso. The play was drawn up perfectly, with trips to the right, both inside receivers running out routes and the outside man – Colarusso – cutting to the goal post on a slant.

This time, however, Harrison threw four incompletions to end the drive. Roberts then led the Boxers 96 yards the other way, accounting for 52 of the yards plus the score to make it 33-7.

"If we elimintated Harrison from extending the plays, we knew we had a good shot," Morel said. "We've been playing great lockdown defense on the outside with our corners and our secondary the past few weeks, and we knew if we could contain Harrison then we had a good shot at winning this game."

And how did they contain?

"Pressure up front, linebackers took their key steps," he said. "Stay in the cutback lanes and just make sure that he wasn't going to get anywhere."

Tanks in the trenches: The Boxers installed their "Flex" offense, an option-based scheme utilizing multiple wing-backs (popularized by college programs such as Navy and Georgia Tech), as a way to take advantage of Roberts' run-first exploits and the running back depth. Suffice to say it's more than paid off, as the Boxers have run for 3,066 yards and 37 touchdowns as a team, with an average of 255.5 yards per game, making them among the state's most efficient rushing attacks.

It's a misdirection offense, but also one predicated on mobile linemen. Led by 6-foot-2, 260-pound road grader Joe Previte, the Boxers controlled the line of scrimmage from the opening whistle. It was an efficient night, calling 45 running plays and averaging 9.6 yards per run.

"The o-line has been great all season," Roberts said. "They're the best part of our team, offensive line and defensive line. They did a great job today. They controlled the line of scrimmage, made it easy for the backs."

For all the headlines Roberts and Morel tend to grab, Weymouth head coach Kevin Mackin agreed it's the guys in the trenches that are the key ingredient.

"The most impressive part is that offensive line -- they are very, very physical," he said. "They've played a lot of years together obviously, and we threw everything we had at them. I think at one point we had all 11 guys in the box, and they still pushed us back. So, you've got to tip your hat to a team like that. They're very physical."

BROCKTON 33, WEYMOUTH 7

BRO (9-3) 7 20 6 0 --- 33
WEY (8-4) 0 7 0 0 --- 7

First Quarter
B - Micah Morel 8 run (De'Andre Brown kick) 7:58

Second Quarter
B - Moise Edouard 3 run (kick blocked) 9:30
B - Ricardo Calixte 38 run (Austin Roberts run )8:06
W - Ozzy Colarusso 18 pass from David Harrison (Colarusso kick) 2:27
B - Roberts 5 run (kick blocked) :16

Third Quarter
B - Roberts 2 run (rush failed) 3:07
November, 3, 2012
11/03/12
12:16
AM ET
By
Corey J. Allen
| ESPNBoston.com
WEST ROXBURY, Mass. -- No. 9 Brockton defeated Catholic Memorial 41-6 on the heels of De'Andre Brown (two interceptions) and Ryan Kelley (two fumble recoveries, kick block) leading the defensive charge. Aaron LeClair (two rushing TDS) and Austin Roberts (one rushing TD, one passing) led the Boxers offensively.

"I was kind of surprised it was this easy, but we'll take it", said Brockton coach Peter Colombo.

Although CM (2-6) did not score until the fourth quarter, the Knights were moving the ball well for a time in the first half, but direct turnovers and failure to convert on third down were crucial to the Knights.

"When you're playing a team like Brockton, you can't turn the ball over at all," said CM coach Alex Campea. "We'll go back to the drawing board come Monday and we'll be on the field working at it to get better.

Brockton has been turning up the defensive play, according to Colombo, and capitalized on those opportunities yesterday.

"The defense has been playing good football three weeks in a row," added Colombo. "I have been very impressed by their hitting too."

On the offensive front, Ricardo Calixte came up big for the Boxers, ripping a 52-yard run on their first possession, following Kelley's first fumble recovery, to set up Brockton's first score. Calixte, along with LeClair and Roberts, got good-sized holes from the offensive line and took advantage of the speed benefit once they were in the open field to produce extra yardage.

"They were blocking good, moving people and giving up space," said LeClair. "This was a big week."

Jimenez Injured Early: With 5:30 left in the first quarter, senior running back Luis Jimenez took a handoff from Austin Roberts and broke left with a touchdown on his mind. He laid out his body and broke the plane with the ball, lighting up the scoreboard for Brockton. As the team and fans alike celebrated the first score of the day, Jimenez remained on the ground with little movement. Jimenez was immobilized, placed onto a gurney, transferred to a stretcher and taken to hospital with an undisclosed leg injury.

As the World Turns: Last year, Catholic Memorial blanked Brockton 26-0. After Brockton went up early, talk of last year's game and this year's opposite outcome spread through the press box, airwaves and in the crowd.

"We twisted it around on them. They were a great team last year," said Colombo. "And I think we're turning into a pretty good team this year, We're right where we want to be."

Lunch Of Champions: While some students complain about school lunch, Ryan Kelley has made the grub at Brockton High School a part of his regiment.

"I had a chicken sandwich during school," said Kelley with a laugh when asked about his game day menu. "After that I went to D'Angelo's and had my meatball sub. That's my ritual."

BROCKTON 41, CATHOLIC MEMORIAL 6
BR (6-3) 7 21 13 0 --- 41
CM (2-6) 0 0 0 6 --- 6

First Quarter
B – Luis Jimenez 12 run (Levon Merian kick)

Second Quarter
B – Aaron LeClair 6 run (Merian kick)
B – LeClair 4 run (Merian kick)
B – Micah Morel 17 pass from Austin Roberts (Merian kick)

Third Quarter
B – LeClair 12 run (Merian kick)
B – Roberts 1 run (Kick failed)

Fourth Quarter
CM – Darren Wagner 3 run (kick blocked)
October, 13, 2012
10/13/12
12:56
AM ET
By
Corey J. Allen
| ESPNBoston.com


BROCKTON, Mass. –- Despite fumbling the ball, losing it four times, and an interception, the Brockton Boxers made it a game down the last two minutes. But the New Hampshire power Pinkerton Astros concluded the teams' 19-year interstate rivalry in dramatic fashion, with a stern defensive stand late in the fourth quarter, to win out 20-14.

"I think [turnover ratio] made all the difference in the world," said Pinkerton coach Brian O'Reilly.

Brockton last took possession of the ball with 2:33 left in the game, in receipt of the ball following Pinkerton gave up their fourth lost fumble. After Aaron LeClair and Micah Morel rushed for seven and five yards, respectively to get the first down, the Boxer fans were licking their lips, hoping their team could drive the 43 yards to the end zone to tie the game, and either kick or convert on the extra point to win.

On the following play, Brockton spiked the ball at 1:50 to stop the clock. On second down, Aaron LeClair (2 TDs) caught the ball in the middle of Pinkerton defenders but could not hold on. On second down, a screen pass from Morel to Ricardo Calixte netted a two-yard loss, leaving Brockton with a fourth and 12 from the Pinkerton 45.

Morel decided to go back to LeClair on a swing pass to the left, and the ball hit LeClair, but he was again unable to hold onto it. Regardless, he was surrounded by Pinkerton defensive backs and linemen who slid over to secure the victory. Had he caught the ball, nothing short of an apparition could have granted him the opportunity to run for the first down.

Before giving the ball up for the last time, Pinkerton had an interesting series.

Recovering the ball for the fourth time on the day, and starting from their own 47, Pinkerton first received a facemask penalty to move back to the 32. An illegal motion made it first and 30 for the Rockets. Jake Lisauskas carried the ball for four yards before a delay of game set up a second and 29 for Pinkerton.

Conroy fumbled the ball on the following play and fell on it for three-yard loss setting up 3rd and 32. Manny Latimore (27 carries, 150 yards) took the ball one yard before David Andrews' 35-yard punt, which was nearly blocked.

"We were on our heels the whole time," added O'Reilly. "Our offense went into the tank in the fourth quarter. We really couldn't sustain a drive. I thought we could get that last one and run the time out and we couldn't."

Tradition's future on hold: Pinkerton and Brockton have been playing each other for the last 17 years. Last night's match was the last scheduled between the two teams due to shifting schedules for Pinkerton which do not allot any open dates.

"We came in here, a long, long time ago, got the first one, got the last one," joked O'Reilly. "It's been an honor to play this program. I hope we can get back in the future."

Brockton coach Peter Colombo admires not only the competitive side of the nearly two decade relationship, but the camaraderie that has been birthed out of a mutual occupation as head coach of premier football teams.

"We're going to miss it," Colombo added.

PINKERTON (N.H.) 20, BROCKTON 14
PA (6-1) 7 13 0 0 -- 20
BR (3-3) 6 8 0 0 – 14

First Quarter
P – Manny Latimore 27 run (Erik Anderson kick)
B – Aaron LeClair 82 punt return (kick failed)

Second Quarter
P – James Toohey 33 pass from Sean Conroy (Anderson kick)
B – LeClair 26 run (Micah Morel pass from Isaiah Kearns)
P – Ryan Day 1 run (kick failed)
September, 29, 2012
9/29/12
2:08
AM ET


BROCKTON, Mass. – Mix up two run-oriented teams, add in some inclement weather with swirling winds and driving rain, and you could pretty much figure out what the result would be.

No. 2 St. John's Prep did what it does best, and did it a little bit better than No. 7 Brockton Friday night at Rocky Marciano Stadium. Eagles running back Jonathan Thomas was off to the races all night, tallying three touchdowns and 224 rushing yards on 23 carries. Thomas' scores supplied Prep with its 20 unanswered points, all that it needed to claim a 27-12 win over the Boxers.

Although Prep (3-1) found its groove in the second half, dominating the time of possession battle in holding the ball for the greater portion of the fourth quarter, there was also a caveat.

The Eagles have expanded their playbook in recent weeks, adding Wildcat formation plays so as to take advantage of their backfield of Alex Moore and Thomas. Prep's first touchdown of the evening came on a 70-yard run off a direct snap to Moore. In addition to Thomas' eye-popping stat line, Moore also broke the century mark, running for 104 yards on nine carries.

Having such a dynamic backfield has its advantages, particularly in terms of play-calling.

"We did it last week, too, with Johnny [Thomas]," Prep head coach Jim O'Leary said. "We have to do that [use the Wildcat] because they start keying on people and there's times we need first downs and they put too many people in the box. That gives us the ability to go outside, inside and they can't key on either one of those guys."

While the Eagles ran away with the second half, the Boxers (2-2) were the aggressors early on. Brockton was on the board with its first offensive possession of the game. Aaron LeClair capped a 14-play, 80-yard drive with an 8-yard touchdown run over the right side end zone pylon.

Prep sent a return salvo on Moore's 70-yard touchdown run on the ensuing possession, but the Boxers responded as well.

After another sustained drive, Brockton quarterback Austin Roberts plunged in with a 5-yard touchdown run off an option play. Roberts was hit in the back while making his dive into the end zone, however. He hobbled to his feet and tried to return to the Brockton sideline, but soon collapsed on the field. He was taken off the field by paramedics and taken to the hospital as a precaution.

The Boxers never got off the mat.

ONE IF BY LAND, TWO IF BY LAND
Face it, opposing defenses know what's coming when the Prep comes calling. Any defense had better commit to stopping the run and the Eagles' array of sweeps, tosses and ole fashioned power football.

Yet, with the added wrinkle of Moore and Thomas lined up in the backfield side-by-side, running the Wildcat, the Eagles have become even harder to stop.

Part of the success Prep enjoyed against Brockton, particularly in the third quarter, came with the multi-back direct snap plays. Moore and Thomas stood shoulder-to-shoulder in place of the quarterback. Where the snap was headed was another question. In addition, the Eagles ran the package with tempo. The plays were sold with quarterback Jack Sharrio fetching play calls from the sideline. When Sharrio stepped off the playing field, the Eagles would step to the line and snap. It only added to the confusion and disguise.

"We've been working on it in practice with the zones and the hits up the middle because defenses don't know whether it's going to be me or John [Thomas] getting it," Moore said. "We have many plays off of it that could go for a touchdown."

It worked from the get-go. Moore's 70-yard run came on the first Prep play with that personnel grouping.

From there, it was a matter of execution.

"Smuz [Sean Smerczynski] made a great block, I cut off of him to left and I saw a lot of green grass, so I made another cut and it was a touchdown from there."

AIR LET OUT
Aside from the obvious fact of losing their starting quarterback, the Boxers also lost their emotional leader in Roberts. Forced to go their second quarterback, starting safety Micah Morel, the Boxers attack slowed in the second half.

Postgame, Brockton head coach Peter Colombo characterized Roberts' injury as tied to the sciatic nerve. His status going forward is unknown.

On Friday, Roberts' absence was apparent. Despite getting a 10-carry, 98-yard performance from Ricardo Calixte, the Boxers faltered without their charismatic leader.

"We took the lead, Auggie [Roberts] was in the end zone, we were doing what we wanted on offense," Colombo said. I didn't know if they had an answer for what we were doing."

O'Leary admitted as much.

"It's tough to defend when you have a quarterback like him that can spread the ball, spread the field and make those good decisions with the ball. And he's tough."
September, 15, 2012
9/15/12
12:38
AM ET
By
John Botelho
| ESPNBoston.com
READING, Mass. -- The No. 22 Reading High football team made one thing pretty clear when they shutout No. 9 Brockton, 12-0, on Friday night.

The Rockets' defense is as for real as is their lauded offense.

That's no easy task either, as Reading has averaged no less than 27.2 points per game in each of the last four seasons. The Rockets made the playoffs in each of those seasons.

In 2012, though, the Rockets' defense is yet to surrender a point. In week one, the two points that Lawrence scored came off a returned point after try.

And against Brockton?

The Boxers rushed for 141 yards on 29 carries, all while passing for just 23 yards and throwing two interceptions. In their week one win against then No. 2 BC High, Brockton got 139 yards from quarterback Austin Roberts.

He was again Brockton's leading rusher, but was held to just 61 yards on 14 carries in the loss.

The Rockets defense, which only allowed Brockton to advance past the Reading 35-yard line once in the game, earned praise from their offensive signal caller.

"They've been outstanding. They've played physical, and they've played 'Rocket Football' as Coach [John Fiore] likes to say," said Rockets quarterback Drew Belcher. "It's awesome. It helps me out knowing if we can only get a couple touchdowns, we can still get out of there with a win."

Linebacker Liam Kenneally paced the defensive attack, racking up eight tackles for the Rockets (2-0). Robert DiLoreto and Zack Krugman, both part of the line-backing corps as well, added four tackles a piece in the win.

Reading ended the last two Brockton drives with interceptions - one by Joe Papplardo and one by Chris Godwin – to seal the win.

Much of the defensive success is because of defensive coordinator Dave Blanchard.

"Coach Blanchard has helped us a lot over the last 10 to 15 years, in so many capacities," Rockets head coach John Fiore said. "He's just an unbelievable teacher of the game and an unbelievable classroom teacher. What a job he's done coaching. Look back at every big game we've had the last couple years, and he's found a way to shut the other team down."

Getting behind a good run game
The Rockets defense may have shined brightest on Friday night, but they wouldn't have been able to mount much of an offensive attack without an effective running game.

Led by Belcher's 76 yards on 11 carries, Reading ground-and-pounded their way to a 164 yards on the ground on 26 carries. Belcher also ran in their first score with 2:54 remaining in the first half from 12 yards out.

The rushing success was especially important considering Brockton's made passing difficult all night. Belcher finished 3-for-10 passing for 27 yards and a TD, but was 0-for-7 in the first half.

Reading's run game picked up steam on their second possession, when their offensive linemen, led by senior captain Matt Comerford at right tackle, started dominating the trenches.

"They were awesome," Fiore said. "That was a big question mark coming into the year. People thought we were going to a finesse team but the last two games we were pretty heavy on the run, and pretty heavy running off tackle and downhill."

Added Belcher: "They played great all night. They were just awesome. They deserve a lot of credit tonight. We were just finding the holes. The running backs also did a great job of lead blocking and we were getting off the ball well."

The line paved the way for Reading to run three drives of at least eight plays, including their 15-play scoring attack to open the third quarter. Belcher finally capped the drive 7:38 in the quarter with a touchdown pass to Godwin.

"They're a good team and they put some drives together," Brockton head coach Peter Colombo said. "The game got short and we had to pass the ball which isn't our game."

The lateral that wasn't
Brockton's best chance to put points on the board was stopped by the referees before it was stopped by Reading's defense.

On fourth-and-5 from the 14 yard line with 9:40 remaining, Austin Roberts took off on a QB-keeper. When it became clear he would be dragged down by a Reading defender, Roberts pitched the ball backward toward Ricardo Calixte, who snagged it and took off toward the end zone, being forced out at the one.

With players milling about after the play, the referees converged on the spot where Roberts was taken down. They deemed an inadvertent whistle was blown, and the down was re-played.

Brockton's second fourth down attempt resulted in an incomplete pass, signaling a turnover on downs.

"They explained it was an inadvertent whistle," Colombo said. "They took away one of Auggie's [Roberts] magical tricks. He knew it was fourth down and he was trapped there. He made a lateral and we got it to the one yard line. That would've given us a chance to make it a one score game.

"He apologized to me - the ref. He thought he fumbled intentionally instead of lateralling it. The ball never got on the ground anyway, so it wasn't a fumble."

The play may have changed the game late, but Brockton knew they lost the game because of missed opportunities throughout.

"We didn't execute on offense and I'm very disappointed with that," Colombo said. "We need to learn from it. It's a long road, we can't let this effect us. We have to move on."
September, 8, 2012
9/08/12
12:16
AM ET
By
Adam Kurkjian
| ESPNBoston.com
BROCKTON -- There have not been a lot of recent instances where Brockton was beaten as soundly as it was by BC High in last year's season opener.
The Eagles' 42-0 win was complete in every phase on their way to a Division 1 Super Bowl title. The loss sent Brockton into a tailspin that resulted in a 5-6 season, the program's first losing mark since 2001.
Well, last night at Marciano Stadium, the Boxers delivered a rousing counterpunch with a 21-0 shutout that felt even more decisive than the final score indicated.
"Last year, we couldn't match them, physically," said Brockton coach Peter Colombo. "This year, we obviously did."
And then some. Both lines dominated for the host Boxers, as they rushed for 310 yards and held BC High to 143 total and just 62 in the second half.
[+] Enlarge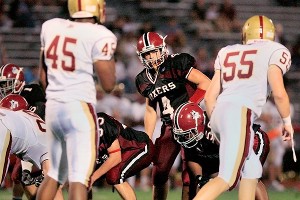 Jon Mahoney for ESPNBoston.comBrockton QB Austin Roberts orchestrated the offense in a vengeful shutout of rival BC High.
Senior quarterback Austin Roberts led the way for Brockton with 139 yards and two touchdowns on 23 carries, while junior tailback Aaron LeClair added 83 yards and a TD on seven attempts and fullback Ricardo Calixte contributed 61 yards on 10 rushes. Brockton only threw two passes (one interception, one incompletion), but didn't need to the way their front was blowing BC High off the ball. The Boxers completely eschewed the passing game in the second half with zero attempts but didn't punt, either. Their four second-half possessions read: touchdown, touchdown, lost fumble, touchdown.
The defense was physical and had its way between the hashes just as much as the offense did. Nowhere was that more apparent than at the end of the first half with the game still scoreless, when BC High marched inside the Brockton 10. On third down, quarterback Dan Collins took off and made a leaping attempt to the goal line but was leveled a yard short by a host of Brockton tacklers. After a timeout, BC High decided to go for it but Collins' sneak was stuffed by backup middle linebacker John Flaherty. The momentum lifted Brockton into the second half and the Boxers never looked back.
"I can't describe it. I'm still speechless, actually," said Brockton defensive back Micah Morel, who made an interception in the second half and played tight man coverage in the first half on Villanova-bound receiver Lincoln Collins. "I mean, I know it was only 21-0, but whenever you pitch a shutout against the No. 2 team in the state, that's saying something. That's saying a lot."
STRENGTH IN SENIORS
Usually, when BC High and Brockton meet up, no matter what the final score says, the ledger of the line play favors BC High. That was not the case Friday night. Not even close. Despite boasting Virginia-bound lineman Jack McDonald, BC High was pushed backwards on both sides of the ball by Brockton's line. The difference? For the first time in at least seven years (maybe longer), Brockton started five seniors on the offensive line. The defensive line is also a veteran unit. Four-year starters Joe Previte and Anthony Davis led the way, as Previte showed off the strength he displayed this offseason in throwing up a 410-pound bench press. On defense, players like Malik Cooley-Walker, Jeff Celestin and Max Castor were in the backfield all night.
LEADING ROLE
Like many teams, the Boxers have taken on the personality of their quarterback and it looks like it will pay big dividends this fall. Roberts is a tough runner who creates extra yards after contact and is simply a natural leader on the field. Many of his runs were just pure sneaks that he turned into 5-yard gains as the line pushed the pile forward. Coach Peter Colombo had the difficult task of retooling an offense that was shut out four times last season and built one around the strengths of his returning talent. The option scheme used most prominently in the college game by the likes of Navy and Georgia Tech can only work with a smart, tough quarterback and Roberts has both of those traits in abundance. He is also bigger, stronger and faster than he was last year, as he simply refused to go down on the first hit.
ROUGHED UP
BC High came into the game missing fullback/linebacker Luke Catarius to injury. The Eagles were also out three other starters on both lines, which needs to be factored in to an extent when taking into account how much Brockton controlled things physically. But at the end of the game, BC High suffered yet another brutal setback when quarterback Brendan Craven was carted off after getting hit low as he released a pass on the final possession of the game. In a scene eerily similar to Preston Cooper's season-ending ankle injury against Everett, Craven's injury looked very serious and left a pall over an already shaken squad.
BROCKTON 21, BC HIGH 0
BC High (0-1) 0 0 0 0 – 0
Brockton (1-0) 0 0 7 14 – 21
Third Quarter
Austin Roberts 1 run (Levon Merian kick)
Fourth Quarter
Aaron LeClair 10 run (Merian kick)
Roberts 23 run (Merian kick)
August, 25, 2012
8/25/12
4:36
PM ET
By
Brendan Hall
| ESPNBoston.com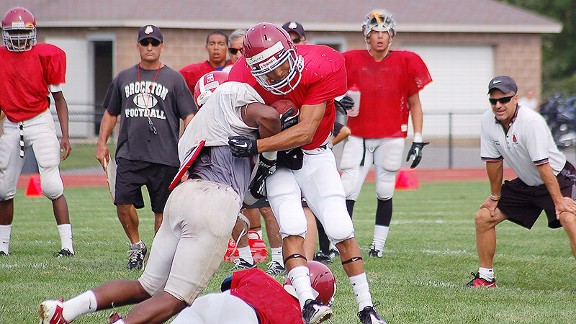 Brendan Hall/ESPNBoston.com St. John's defense showed plenty of pop this morning in its annual preseason scrimmage with Brockton.
SHREWSBURY –- Thoughts and observations from this morning's annual preseason scrimmage between Brockton and St. John's of Shrewsbury, on the grass at Pioneer Field:
Blurring the lines:
In three series of starters against starters, each team scored once. But overall, I would say St. John's was the aggressor for most of the morning, given the efficiency of their "Blur" offense, a very uptempo no-huddle look with spread principles, and the way they exploited the perimeters for multiple first downs.
One particular sequence that stands out is in the Pioneers' first offensive series. Tailback Shadrach Abrokwah took an inside dive handoff and just before he hit the hole, cut back to his left and followed a big seam 15 yards down the left side. The Pioneers, with the ball now at the 10, went straight into the hurry-up. Before Brockton's defense could get settled, Andrew Smiley hit Davon Jones in the right flat on a flare route, and the sophomore did the rest, diving over the pylon for the Pioneers' only score.
"It really comes down to conditioning, staying focused, and making sure that we can execute our assignments," head coach John Andreoli said. "It's ball security and it's playing penalty-free, because you really cannot stop that offense for reasons that you cause yourself. You've gotta make the defense make a mistake.
"You can't make a mistake to stop that offense, you have to make sure it's moving and you're executing. That's why I thought it was a good day for us today."
Key injuries:
Scary moment for the Pioneers on their second play from scrimmage, when incumbent starting quarterback Connor Kurtz went down with an injury to his left knee after getting his leg tangled in the pile while getting dropped for a loss. A diagnosis on the severity of the injury, or to what extent, was unknown after the scrimmage ended. Kurtz had to be helped off the field, and was seen on crutches on the sideline.
Kurtz's backup, Smiley, took over duties for the rest of the afternoon. The 6-foot-4 junior looked sharp at times, tossing a 40-yard fade to Jones in the third offensive series, and making a few plays with his feet after getting flushed out of the pocket.
Meanwhile Brockton lost defensive back Micah Morel, a preseason ESPN Boston All-State selection, in the third series with an injury to his left shoulder. Morel will be re-evaluated on Monday, but having him out for an extended period of time could be a bad blow to the Boxers' defense.
Shadrach reads and reacts:
When you hear the term "blur offense", it's usually in reference to the no-huddle spread scheme run by Chip Kelly's Oregon Ducks, who often try to snap the ball in 15 to 20 seconds. After evaluating his skill personnel, Andreoli felt his offense was up to the task, and as previously mentioned they looked crisp at times.
One of the foundations of this offense is the "Inside Zone Read", a dive play out of shotgun that typically involves zone blocking principles up front, and a sharp cutback from the tailback. The play made a Heisman candidate out of LaMichael James last year; here in Shrewsbury, the play could lead to a breakout senior season for Abrokwah.
At 5-foot-7 and 205 pounds, and blessed with both speed and a powerful lower body, Abrokwah is essentially a sprinter in a hockey player's body. His low center of gravity makes it difficult to get a clean shot, and today he used that to his advantage, repeatedly cutting back to the weak side on these zone plays to run off multiple gains of 10 yards or more.
"It's all in the zone play," Abrokwah said. "Once the offense flows one way, most likely the cutback is going to be on the other side, so I read my blockers, was patient, and just hit the hole."
How quickly does he decide where he's going to go on a zone play?
"It's all instinct," he smiled. "You have to feel the offense, and that's what I did."
New-look backfield:
Devoid of a pure fullback, Brockton didn't run its trademark Pro formation today, instead opting for a modified spread triple option popularized by college programs such as Georgia Tech and Navy.
The change was made to better utilize senior quarterback Augie Roberts' dual-threat capabilities, and things started well in the first series. Roberts is a runner first, and on the second play from scrimmage he demonstrated his running ability, slipping outside a crack back block from Jeff Celeste for a 25-yard gain. But he also has a quality arm, connecting with Lorenzo Lovesy on a fly route for a 50-yard touchdown pass that was negated by a block in the back (an excessive celebration penalty was tacked on for good measure, too).
The Boxers rotated Morel and Aaron LeClair at one wingback position, Louis Jimenez and Moise Edouard at the other, and senior Ricardo Calixte at the fullback spot. Pat Healy is also in the mix at wingback, a baseball outfielder who is back in football after taking the year off.
"I just think it takes advantage of Austin's skills," head coach Peter Colombo said. "You didn't see the whole package obviously today, and he's not limited to that, but I just think it gives us a good opportunity for him to take advantage of his skills. We'll see, we'll adjust as it needs."
The Boxers were good at times, but some of the problems that plagued them in last year's disappointing 5-6 campaign –- namely, red zone struggles –- reared their heads. Jimenez did score from 10 yards out on the Boxers' second drive, but on the first drive they were halted at the Pioneers' five yard line. First, Matt Murphy made a stuff of the ballcarrier at the line of scrimmage. Then on the next play, fourth and goal from the five, Roberts was sacked by Andrew Sullivan.
It was a cycle that flashed in and out all afternoon, with the Pioneers bringing the heat in the front seven behind Connor Gatto, Sam Norton and Barron Dandridge.
Jones brings the wood, and the flash:
I'm going to try my best to avoid the hyperbole highway this season with Davon Jones –- he is just a sophomore, after all, and he did fumble a ball away -– but it's hard not to be impressed every time he comes to play.
Roaming around at free safety, Jones covers a lot of ground in the secondary, and played the bump well in the slot when the Pioneers went to a man press in the red zone. He showed off his live hips on offense, plugging himself into the slot and making defenders miss with multiple jukes.
But the trait that probably sticks out most at this point is his physicality. As the last line of defense against the run, Jones brings considerable pop for someone that's 6-foot and 180 pounds, and it is certainly loud.
Earlier in the week, Andreoli told ESPNBoston.com of Jones, "If he continues to develop the way he develops, the way he's playing now, he's got the ability to play at the highest level" of college football.
"He's a football player," Andreoli said. "He doesn't want to come off the field, he doesn't care how tired he is, he'll take a sip and get back on the field. He loves to play the game. And he plays hard, and he plays it the right way. He's just got to continue to feel comfortable in our scheme, get good at reading receivers."
Referring to Jones' success so far as a guard for the Pioneers' state semifinalist basketball team, Andreoli continued, "The thing too about him is, he's played in a lot of big games –- basketball-wise, and in football. So he's used to competing on the big stage here at the varsity level, so he can just basically play the game and get in the flow of the game."
Jones says he's learned a lot in the last 12 months, and has become more vocal in the secondary, calling out checks. Asked about those progressions he's made in the mental side, Jones chalked it up to "muscle memory".
"The coaches just pound it into my head – pass first, run second," he said. "So I see it, and I just come up running fast."
August, 22, 2012
8/22/12
1:03
PM ET
By
Adam Kurkjian
| ESPNBoston.com
If there's one word that Micah Morel could use to describe his anticipation for the 2012 football season, it isn't excited or nervous or happy.

Since Brockton lost to Bridgewater-Raynham last Thanksgiving to be kept out of the playoffs with a 5-6 overall record, the senior safety has felt something different all offseason.

Hungry.

Hungry to prove that one of the worst statistical seasons in the program's storied history is also a thing of the past, hungry to show that he can be as good as the many recent Boxer safeties to go on to play Division I football, hungry to help a famished offense reach the end zone after not being able to do so at an alarming rate in 2011.

Most of all, Morel is starving, ravenous in anticipation to regain a once-proud program's place among the state's elite.

"There was a lot of emotion and feeling right after the season," Morel said. "The number one thing is I'm just hungry to get back to what Brockton always was. There's been so many greats and the last two years were really disappointing. We really need to turn the ship around and really, really get the ball rolling this year. We've really worked so hard as a team. We just need to take one good thing as it comes."

Once a promising third baseman and outfielder on the baseball diamond, Morel has focused his workouts all offseason on improving himself as a football player under the tutelage of Michael Williams, who supervises an intense training regiment to those in the city who choose to accept it. Morel calls the workouts "one of the hardest things we've ever done."

In addition to the current players that participate, some of the former Boxers that have moved on to the next level also come back and get involved. One former player that has had a particular influence on this group is current Boston College safety Dominique Williams, who is Michael's nephew.

"I get to talk to [Dominique] quite a bit," said Morel, who made four interceptions in his first year as a starter last season. "We text each other quite a bit and talk about football, life. I really listen to any tips he gives to me and the rest of the team. After last year, we're really, really focused on working together as a team. What he's said to us motivate us really got us. I can honestly say we worked harder as a team than any season I can think of."

"The thing [Morel] has in common [with previous Boxer defensive backs] is the awareness you look for in a guy in that position," said Brockton defensive coordinator and secondary coach Bobby O'Neill. "He understands the big picture, takes on the responsibility of making the checks.

"A lot of those guys going into their senior year, it just clicked and became good football players. At that position, it doesn't always happen overnight. As a junior, Dominique would be in position a lot of times and just didn't finish. As a senior, he did. [Morel] is very similar. In the run game, I think you'll see a vast improvement. I think the pass game he's going to be fine. He learned a lot last year. I expect it to all come together. He's worked hard. He's been in the system three years. I expect it to all come together."

Morel definitely wants to put his name in there as the next Brockton defensive back to get a Division I scholarship. But he makes a clear distinction that the only thing that will fill the hole in his stomach left by last year's famine is getting his high school team back to its winning ways.

"I'm getting some good interest (from colleges), but I'm focused on winning right now," he said. "Once we keep winning one game at a time, the rest will take care of itself. I'm not concerned with playing selfish, individual ball out there. All that matters is winning and the rest will take care of itself."

Sounds like he's ready to eat.

BROCKTON AT A GLANCE
2011: 5-6 (2-0 in the Big Three)
Coach: Peter Colombo (10th season, 77-29-1)
Key Returnees: Austin Roberts, Sr. QB, 5-10, 185 lbs.; Micah Morel, Sr. S/RB/WR, 6-0, 190 lbs.; Joe Previte, Sr. OT/DT, 6-3, 250 lbs.; Anthony Davis, Sr. G/DT, 5-11, 250 lbs.; Moise Eduard, Sr. LB/RB, 5-8, 220 lbs.; Ricardo Calixte, Sr. OLB/RB/WR, 6-0, 195 lbs.; Malik Cooley-Walker, Sr. DT, 5-8, 240 lbs.; Jeff Celestin, Sr. DE/TE, 6-0, 220 lbs.; Max Castor, Sr. DE/TE, 6-0, 215 lbs.; Matt Adams, Sr. C, 6-2, 200 lbs.; Aaron LeClair, Jr. DB/RB, 5-8, 170 lbs.; Kervin Jean-Claude, Jr. LB, 6-0, 200 lbs.; Sebastian Porter, Jr. OT, 6-2, 270 lbs.
Strengths: Defense, offseason commitment.
Weaknesses: Offense, tough schedule.

Outlook: After a disappointing season in 2011, the Boxers have the potential to field the type of defense that this traditional powerhouse is used to with experience returning at every positional unit. Morel and LeClair lead the secondary while big things are expected from Calixte, Jean-Claude and Eduard at linebacker. Celestin, Castor, Cooley-Walker, Davis and Previte all saw significant action on the defensive line in 2011. However, it's the offense that needs a major rebuilding job after getting shut out four times a year ago. Roberts returns as the team's signal-caller and promises to steer an option attack that will feature a committee of backs. The offensive line returns four-year starters Previte and Davis and will be an overall experienced group that figures to be physically stronger than last year's. We will know just how much this team has recovered from last year right away when it takes on BC High, Reading, Xaverian and St. John's Prep in its first four games.
May, 29, 2012
5/29/12
12:14
PM ET
By
Brendan Hall
| ESPNBoston.com
In between baseball and girls lacrosse games, I had the chance to check out a few football combines this past month. Emptying out the notepad, here are some leftover nuggets:
Massachusetts High School Football Coaches Association Combine
Gillette Stadium
Foxborough, Mass.
May 6
Earlier this month,
we checked in with several of the state's top prospects who were at the combine
, including Xaverian's Maurice Hurst Jr., Mills/Hopedale's Jon Baker, and Dighton-Rehoboth's Chuddy Nwachukwu. Today, with new information, I'm bringing to light some new information about some players with hidden potential.
Athletic Standard CEO Thomas Newman passed along some information regarding the tests his company ran during the combine, pasted below. I've added each player's school in parentheses:
The following Athletes all tested in the 95th percentile in the nation for vertical jump (Horsepower and the first indicator of genetic potential):

Sean Antonuccio (Masconomet)
Junior Oyaronbi (St. Clement)
Frank Ansah (Worcester South)
Terrance Gibson (Taunton)
Berny Platel (Fitchburg)
Shaun Callahan (Norwood)
Nick Patten (Medford)
Sean Eldridge (Bristol-Plymouth)
Isaiah Douglas (Bishop Feehan)
Dominque Leite (Brockton)
Alex Jette (North Attleborough)
Babila Fonkem (Abington)
Elias Camacho (Canton)
Jamal Williams (Taunton)
Justin Mount (Westford)
Shadrach Abrokwah (St. John's of Shrewsbury)
Quron Wright (Holy Name)
Kevin Makie (Mansfield)
Kaylan Philbert-Richardson (Archbishop Williams)
Thomas Johnson (Pembroke)
Daniel Kegbeh (Holy Name)


Lateral Speed (huge component for separation or locking down on defense)

Jhalen Bien-Aime (Boston Latin)
4.218 - Laser pro agility
4.01 - Stop Watch Conversion time


Additionally, it should be noted this kid was so raw any speed coach will bring this down to a sub 4.0 pro or a 3.8 stopwatch time. Great kid by the way, real gentleman

Watch List (these kids have one standout feature):

Andrew Benson (East Bridgewater)
6-foot-1, 175 lbs.
Vertical - 27.75
Pro Agility - 4.421

It doesn't appear that he will grow much more but depending on his football skills this would be a solid pick.

Ricardo Calixte (Brockton)
5-foot-10-3/4, 198 lbs.
6-foot-4 wingspan nearly (this kid will grow over the summer)

Vertical - 28 inches - Normalized Index 406
Pro-Agility - 4.43 - Normalized Index 330

I would keep a close eye on him because if he gets any taller or heavier he will easily tip into the strong D1 prospect.
Calixte's story is an interesting one. He has the athletic frame and raw tools to be an impact on defense (he also ran a 4.75 second 40-yard dash), but has played sparingly to this point -- allegedly, he didn't suit up for Friday night games last season due to religious obligations. The only points to his name in last year's box scores is a two-point conversion run. Micah Morel is probably the Brockton prospect with the highest ceiling right now, but keep an eye on Calixte.
Impact Performance Football Combine
Massachusetts Maritime Academy
Buzzards Bay, Mass.
May 26
Impact Performance Training owner Ross Jatkola put on his first combine on the turf at Mass. Maritime's Clean Harbors Stadium, attended primarily by athletes from the Cape Cod area.
Pound for pound, Dennis-Yarmouth was arguably the toughest team in the state last fall. The Dolphins' run to the Division 2A Super Bowl title this year, blowing out many of their opponents despite being routinely undersized (sometimes comically so), and everyone playing both ways, is testament to this. A lot of credit goes to Paul Funk and the remarkable building job he's done over the last decade to a program that won just six games in the 1990's. But credit also has to go to Jatkola, a D-Y grad and former University of Albany tight end who also works as the Dolphins' strength coach.
Cape Cod football is on the rise in Massachusetts -- a record five Cape teams made playoffs last year, with four of them winning Super Bowls -- and this was a good chance to see some of the rising stars in action. About three dozen competed, with Barnstable's Bryan Hardy winning the pro agility and Bourne's Josh Curry winning the 40-yard dash.
For the complete results
CLICK HERE
.
A few observations:
Peabody pleases
If I'm picking four quarterbacks for our preseason All-State team, Barnstable's Nick Peabody is probably on the list -- I would have said this in January. He has ideal quarterback size (6-foot-3, 225 pounds) puts a lot of zip on the ball, and has big-game experience (leading the Red Raiders to their first playoff appearance in 10 years). I know we have to take these things for what they're worth, but the way he threw the ball around in 7-on-7 drills reaffirmed my disposition. Saturday morning, he was putting the ball in tight spots all over the field, hitting teammates on 15-yard out patterns seemingly on a dime.
Linemen to watch
Two Class of 2013 linemen to keep an eye on are Barnstable's Tom Grimmer and D-Y's Joe Tyo. Grimmer is built low to the ground, going about 5-foot-11 and 250 pounds, but has good balance and posture. He won the bench press event, doing 26 repetitions at 185 pounds.
Tyo could be a late-bloomer. He's a raw prospect at 6-foot-4 and 250 pounds, didn't start on the interior defensive line until Week 3 of the 2011 season, and needs to build more upper-body strength. His frame has yet to fill out. But he also ran a 4.9 second 40-yard dash, and demonstrated terrific footwork in pass-blocking drills.
Next In Line?
It's too early to predict the next Matt Montalto, D-Y's 2011 ESPN Boston All-Stater at quarterback who will be suiting up for Bentley University this fall. But when the time comes, his cousin, Michael Dunn, could fit the bill. The freshman won the vertical jump at 9 feet 3 inches, and I'm told he'll be used in an "athlete" slasher role going forward for the Dolphins.