Boston High School:

Rich Moran
December, 2, 2012
12/02/12
12:06
AM ET
By
John Botelho
| ESPNBoston.com
MILTON, Mass. -- After Upper Cape's EMass. Div. 5 Super Bowl win, 22-8, over Dorchester at Curry College, it's starting to feel like where Rams' coach Mike Hernon goes, a Super Bowl is sure to follow.

He won one as a player with Rockland (2001), then won two more as an assistant coach at South Shore Vo-Tech (2002, 2003). And yesterday, the 27-year old Hernon added a ring as a head coach, in just the second year Upper Cape was a varsity program.

"When you're a head coach, you have so much invested in the programs and invested in these kids," said Hernon. "I came in with these kids, building the program together. We took our lumps last year and it was painful. Coming in to this year, it was kind of like 'what do we do to fix it.' These kids vowed to make it better and they did."

Led by a pair of touchdowns and 131 yards on 16 carries by junior running back Jonathan Dumont, the Rams completed the transition from new program to Super Bowl champion, handing Dorchester their first loss of the season.

"They've got talent and they should be proud of that," said Dorchester coach Rich Moran. "Overall we just made too many mistake – we dropped the ball a lot and gave them extra chances. But hey, they beat us what else can I say? It was a great high school football game and congrats to Upper Cape."

Added Hernon: "We just talked about grinding it out. That's our gameplan – ball control offense and get timely stops on defense, and I thought we did that today."

Dorchester pulled out all the stops in this one, including opening the game with a successful onside kick, but just couldn't overcome the ground attack of Dumont and sophomore Dylan Derby, who combined on 180 yards on the ground.

The teams were knotted at zero when Upper Cape had what looked like a touchdown pass from Edgar Eldredge to Derby wiped off the board because of an ineligible receiver down field.

On the next play – a 4th-and-10 from the 15 – Dumont broke around the right edge, racing past the would-be first down and into the end zone with 1:57 left in the first. A two-point try failed and the Rams led 6-0.

Dumont pushed his rushing total over the century mark about halfway into the second quarter when a 42-yard touchdown run sent his total to 103 yards.

Dorchester got on the board in the final minute when quarterback Demetrius Leary tossed a 32-yard score to Arrik Bell, cutting the lead to 14-8.

On the first play of the fourth quarter, Eldredge extended the lead with a four-yard dive up the middle for the score, and followed with a successful pass to Matt Hoadley for the two-point conversion, making the score 22-8.

Rich Semple sparked the defense in the win, intercepting a pair of passes and knocking down a third in the win.

Trevaughn McCoy chipped in 84 yards on 17 carries in the loss.

Even after taking their first loss of the season in their biggest game, the Dorchester players certainly earned the respect of
their coach.

"These guys, from the beginning there was something different," said Moran. "They got a long and worked together well. I didn't expect this, I didn't expect 10-0 (before the Super Bowl).

I'm so damn proud of the kids, it's just phenomenal what they did this year. We beat a lot of good teams, but we ran into a power today. We did play good football."

And for Upper Cape (10-1), this Super Bowl meant a lot more than just adding a ring to Hernon's collection – it meant they had opened people's eyes to their program.

"I'm not sure too many people even knew what Upper Cape even was until this year. Hopefully we put Upper Cape on the map a little bit. It's the first state championship in school history."
November, 8, 2012
11/08/12
5:08
PM ET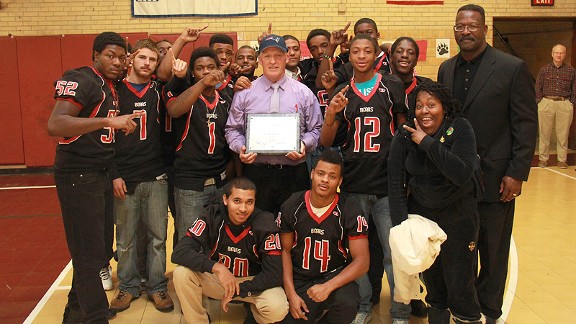 Courtesy of New England PatriotsRich Moran, clutching his Coach of the Week award, is surrounded by his 8-0 Dorchester football team.
The Dorchester football is off to an 8-0 start and have already clinched a Super Bowl berth. In honor of those accomplishments, Bears head coach Rich Moran has been named this week's New England Patriots Coach of the Week.
Here's more from the team's release:
Dorchester High School's Rich Moran has been named this week's New England Patriots High School Coach of the Week in recognition of his team's 12-0 victory over Burke High School on Friday, Nov. 2. The victory clinches the Boston South championship for the 8-0 Bears and also guarantees Dorchester a spot in the Division 5 Super Bowl for the first time in 23 years. It is Dorchester's second consecutive shutout and fifth of the season. The New England Patriots Charitable Foundation will donate $1,000 to Dorchester High School's football program in Moran's name in recognition of his Coach of the Week selection.

Patriots and Pro Football Hall of Fame linebacker Andre Tippett, the team's executive director of community affairs, visited Coach Moran and his team on Thursday, Nov. 8 at Dorchester High School. The visit and check presentation will be featured on the team's weekly television magazine show, Patriots All Access, which airs at 7 p.m. on Friday, Nov. 9, on WBZ-TV in Boston and will be available immediately after on Patriots.com.

This is the 17th year in which the Patriots join the National Football League in conducting the High School Coach of the Week program, which recognizes outstanding high school coaches and promotes youth football throughout New England. Tippett oversees the program as part of the New England Patriots Charitable Foundation's commitment to youth football initiatives.

"The camaraderie between the players and coaches at Dorchester High School was evident during my visit with Coach Moran and his team," Tippett said "I'm excited to present this award to Coach Moran and the Bears following another strong defensive performance that showcased solid team football. It has been a remarkable season thus far for the Dorchester High and we congratulate the team on its Super Bowl berth. The Patriots are proud to reward Coach Moran and Dorchester High School with a donation to the football program and we wish them luck during the rest of the season."

At the conclusion of the season, one high school coach will be named the New England Patriots High School Coach of the Year and will receive an additional $2,000 contribution toward the school's football program.
August, 31, 2011
8/31/11
7:58
PM ET
By
Brendan Hall
| ESPNBoston.com
DORCHESTER, Mass. -- All around Steven Poilucci, bodies old and young were filing in and out of the weight room in the bowels of the Dorchester Education Complex, some marveling at the upgrades to the once-dormant facilities, others bee-lining for the tubs of Powerade that lay about.
Seemingly oblivious to his surroundings, the 17-year-old Mission Hill resident and junior linebacker had football practice in an hour. He calmly stared into the wall-sized mirror on front of him, exhaling deep as he grabbed a pair of dumbbells.
"You guys put a little bit of pressure on us now, but we can handle it, it's all good," he laughed to an ESPNBoston reporter in between sets of military presses.
The wide smile is from the excitement at actually having a legitimate bench to sit on, and "the right weights" to build muscle with, all courtesy of ESPN as part of its "RISE Up" series (this Boston-based episode is slated to run September 27).
The pressure he's referring to is essentially two-fold.
[+] Enlarge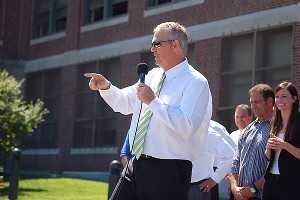 Brendan Hall/ESPNBoston.comDanny Ainge paid a visit to Dorchester Academy and urged students to make good use of the new facilities.
Poilucci is fairly new to the many complex intra-city rivalries of the Boston City League, having just transferred in earlier this summer from Lynn English High School, but no stranger. And with all of the fresh new dumbbells and weight machines sprawled around him, as well as significant upgrades to the school's Roberts Field, not only is the pressure on to beat Madison Park the Friday before Thanksgiving -- but Southie, English, O'Bryant, Charlestown and The Burke, too.
Morale spiked this summer with the spectre of new facilities, announced last June on the building's front steps., and unveiled earlier this afternoon. Players like Poilucci were amped at the fresh new paint job on the walls, decked in the red and black colors, and exclamated with the school's familiar bear logo donut-holed inside a block-pattern "D".
"It's crazy, I didn't think they were going to do that much," he said. "The paint on the wall is crazy, having all that, probably my favorite part."
Asked about school pride within these confines, Poilucci -- a frequent mover, who spent his freshman year at Port Charlotte (Fla.) High -- said, "The difference is, even though this is a smaller school, it's like there's more pride at this school than any other I've been to."
Myles Alexander, a senior offensive lineman from Dorchester's Quincy Street, says morale "has been way up."
"Everyone's real excited," he said. "Excited to see what the locker rooms were going to be like, what the walkway on the field was going to be like...everyone's been enthusiastic in practice this season, because we think we have a real good shot this year."
Moran recalled his days coaching at Hyde Park six years ago, and looking across to the Dorchester sideline to see 12, maybe 13 players. He brought up a story from a few years ago, coaching in an all-star game as a representative of Dorchester, and hearing them complain of travel budgets, video equipment, all sorts of stuff, before stopping them dead in their tracks with a cold figure: $1,700. For the year.
"I told them, I order five new helmets and four sets of shoulder pads, and that's my budget," he laughed. "One guy said, 'Gee, that's more than our budget for the buses."
As always, the Boston City League schools find creative ways to get it done. Fifty-five players reported to camp on the first day of MIAA-sanctioned practices last Aug. 22, though he notes the number is down to the high 30's.
But beyond hopes for success this season, there is hope that the facilities upgrade leads to an increase in presence from college scouts herein.
For decades, the pecking order in Massachusetts has been well-established. First two calls are to Everett and Brockton. Next four are to Catholic Conference powers St. John's Prep, Xaverian, BC High and Catholic Memorial; then it's on to Worcester, to Fitchburg, to the Merrimack Valley, the Hockmock, the Old Colony and Natick; and so on, so forth.
In the same thread, an NFL prospect always seems to pop out of Boston proper every few years, from Ron Stone (West Roxbury) to Jermaine Wiggins (East Boston). The Bears have Division 1 potential in the trenches this year in the form of 6-foot-6, 300-pound tackle Bryant Andrews, who has received interest from FCS caliber programs like Sacred Heart and New Hampshire. Like seemingly dozens of inner-city line prospects, Andrews gets his footwork from the basketball court.
While noting the articulate Andrews is "a Division 1 athlete if he wants to be" and needs to get in shape, Moran noticed the correlation between Dorchester's new digs and the potential for more visits from college recruiters.
"It will definitely put us on the map," he said. "I think when recruiters see this and hear about what's going on...they'll catch Bryant when they see the size of him. But I've had some great running backs the last couple of years that haven't gotten that type of exposure, so I think this might do it."
On a larger scale, the pressure is on to raise the profile of the neighborhood. Mayor Tom Menino, in speaking with the students this afternoon, reminded them that it's up to them to accept responsibility for the upkeep.
Historically, this neighborhood has seen its share of problems. As high-profile local figures spoke to the crowd gathered on the building's front steps, in the irony of ironies, two police cruisers speed down the street behind the softball field, sirens blaring loudly, attending to an emergency a few blocks away.
"This really makes a difference not just in young peoples' life, but the people who live on the streets around here," Menino said. "They now have access to this Roberts Field, [whereas before] they didn't have access because there were fences barring them from coming here. Now the fences are open, and available to them."
The table set, Poilucci now awaits the next prize -- a Boston City Championship ring.
"I'm trying to get two before I graduate," he smiled.
How that would resonate here in "The Dot" speaks for itself.