Boston High School:

Richard Roach
September, 24, 2011
9/24/11
12:10
AM ET
By
Andy Smith
| ESPNBoston.com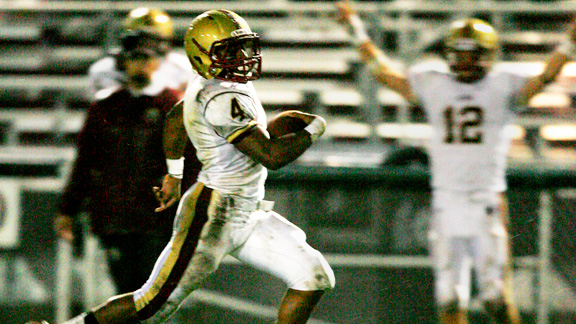 Jon Mahoney for ESPNBoston.comPreston Cooper ran for 123 yards and returned an 82-yard kickoff to spark the Eagles on Friday night.
CHELMSFORD, Mass. -- Things went from bad to worse quickly for No. 8 Chelmsford team Friday against No. 5 BC High. Gordon McLeod fielded the opening kickoff at his 17-yard line and took it all the way for a touchdown. From there, the rout was on and the Eagles came away with a 35-14 victory.
Chelmsford's Eddie Sheridan took the next kickoff back 60 yards down to the BC High (2-1) 30, and it seemed like the game might turn into an instant classic. The Lions went four-and-out however, and BC High proceeded to drive 75 yards for another touchdown.
The Lions (2-1) got on the board in the second when Colby Emanouil hit Matt Rabbito from one-yard away, capping off a long, systematic drive down the field to make it 14-6.
Not to be outdone by his teammate, Preston Cooper took the ensuing kickoff back 82 yards for a touchdown, negating the entire Chelmsford drive in one play.
"Me and (Gordon) always talk and joke around in practice and say 'Oh if you get one, I want to get one,' so he got one and I said, 'I'm gonna get one this time,' and I got one," said Cooper.
Cooper was also the leading rusher in the game, with 20 carries for 123 yards and a touchdown.
"Preston is a special player," said BC High coach Jon Bartlett. "He's a play-maker. You have to give him the football, whether it's on a kick return, a handoff, or a pass route, he has to touch the ball."
BC High took a 28-6 lead into the half and never looked back.
Sheridan was the leading rusher for the Lions, with 18 rushes for 103 yards and a touchdown. He was also his teams leading receiver with three catches for 39 yards. His quarterback, Emanouil, had a difficult night through the air. He finished the game 8-of-20 for 71 yards with an interception and a touchdown. It was hard to tell how much, if any, the wet weather contributed to his struggles.
A few other observations from the game:
Running wild:
The ground game was so effective for BC High that Regan attempted only one pass in the second half. He ended the game 3-of-10 for 49 yards and a touchdown. After Chelmsford took 6:44 off the clock in the third quarter driving for its second touchdown, the Eagles answered with a 5:53, 70-yard drive that spanned both quarters. When Luke Catarius punched it in to make it 35-14, that was the final nail in the coffin for Chelmsford.
"We saw that they were tired and Coach wanted us to keep pounding them, so that's what we did and it worked," said Cooper. "Being conditioned helps. That's what got us through that whole drive."
Bulletin board:
There was added motivation in the game for BC High. First, the team wanted to avenge its 49-35 loss to DePaul Catholic last week.
"We went down to New Jersey and really didn't know what to expect," said Cooper. "But that's Massachusetts football and that's New Jersey football. We just had to come out and play hard and that's what we did. We didn't do that last week and that's what happened."
There was also talk in the days leading up to the game that fueled the BC High fire Friday.
"We heard there was rumors that their quarterback (Emanouil) was guaranteeing victory and all that, but we just put it aside and used it as motivation and we took it out on the field."
Weathering the storm:
It did not appear that way on the scoreboard, but the elements may have helped the Chelmsford offense during the game. On multiple occasions, Emanouil found himself under immense pressure from the BC High defensive line and had to use his feet to escape. On one particular play, he ran what appeared to be 40 yards horizontally in what ended up being only a one-yard gain. Sheridan also found himself in trouble and had to go horizontally to get away from defensive end Adam Richard and others. It appeared they were being assisted by BC High arm tackles, which might be a result of the wet weather on the field Friday.
"It was a combo of everything," said Bartlett. "We have to get better, we definitely have to get better. That's part of (Sheridan) being a good back, but maybe part of it was the weather. I don't know. But we have to be better tackling."
Lost in transition:
Two particular exchanges proved costly for Chelmsford.
In the second quarter, on the first offensive play following Cooper's kick return touchdown, there was a fumbled handoff between the quarterback and running back, which was recovered by BC High in Chelmsford territory. Then a Chelmsford player was called for a personal foul penalty, bringing BC High closer. On the next play, a defensive lineman jumped offsides, bringing BC high even closer. That made it very easy for Cooper to run eight yards off left tackle for a touchdown.
Then, after getting the ball back late in the quarter, Chelmsford was driving down to its own 25. Emanouil dropped back and looked to throw to a receiver running an out-pattern. That receiver was double-covered and Richard Roach intercepted the pass, ending any hope Chelmsford had of making it a two-score game going into the half.
BC HIGH 35, CHELMSFORD 14
B (2-1) --- 14 14 0 7 - 35
C (2-1) --- 0 6 8 0 - 14
1st quarter
B - Gordon McLeod 83 kick return (Jackson Bockhurst kick)
B - Jameson McShea 10 pass from Bartley Regan (Bockhurst kick)
2nd quarter
C - Matt Rabbito 1-yard pass from Colby Emanouil (kick failed)
B - Preston Cooper 82-yard kickoff return (Bockhurst kick)
B - Cooper 4-yard run (Bockhurst kick)
3rd quarter
C - Eddie Sheridan 5-yard run (Matt Rabbito run)
4th quarter
B - Luke Catarius 6 run (Bockhurst kick)
August, 30, 2011
8/30/11
10:41
PM ET
By
Adam Kurkjian
| ESPNBoston.com
MANSFIELD, Mass. -- Last year, Mansfield rag-dolled BC High in a scrimmage in Dorchester, as Jamel Marshall, George Busharis and Jeff Hill put on an offensive clinic against the Eagles at Viola Stadium.

On Tuesday, the Eagles returned the favor, but it was not as one-sided. Still, BC High looked pretty impressive, as starting running back Preston Cooper and both starting junior tackles -- returning starter Jack McDonald and Pat Connolly -- were in attendance but not suited up, nursing minor injuries.

It was fairly obvious, though, that BC High didn't have any depth issues.

"They are big, strong, physical," said Mansfield coach Mike Redding of the Eagles. "I think the difference is this year, they're big and physical and they just seem better at all the skill positions. Their quarterback's a little better; Cooper's a little better; their wideouts are taller, a little faster..."

He was then interrupted and told that the player who housed a 55-yard toss to the left sideline was actually backup Deontae Ramey-Doe.

"Oh, (Cooper) didn't play?" he said. "I thought it was him. OK. They just got nice skill kids everywhere. The height that we kind of wish we had -- they all seem like they're 6-1, 6-2, they can run and they've got the big horses up front. They'll be tough to defend the way pound you and then play-action. The quarterback's very poised. They're getting a lot of hype, and rightfully so. They've got a nice package.

"But I think we held our own against a good football team. We're making strides. It's just building that depth a little bit. Unfortunately we can't make the kids bigger when we go to practices. We just make them tougher, make them smarter and do the best we can with what we got."

Cooper was a de facto coach on the field for the Eagles, and spoke about the importance of developing the depth that BC High is going to need for the schedule it plays.

"I mean, everyone gave it their all," Cooper said. "Of course we have backups come in and do the job. So even if I'm hurt or I'm out or whatever like that, no one should worry. Everyone should play 100 percent and everyone did that."

Some other thoughts...

-- Usually, BC High looks big up front, but not athletic. That is not the case this year. The linemen are leaner and quicker. It looks as if the Eagles spent as much time running in the off-season as they did lifting - which is not always how it's been at that program.

"Offseason conditioning was a huge thing for us -- weight room, speed development, particularly for our linemen," said BC High coach Jon Bartlett. "We need quicker, faster, stronger linemen. Hopefully that will continue as the season goes along."

One player in particular who has slimmed down and increased his speed is senior tight end and Temple commit Jameson McShea. Although the coaches have slid him down to defensive tackle, he's lighter on his feet and more nimble. The defensive line as a whole is still a strength despite the graduation of ESPNBoston All-State Obum Obukwelu (Harvard).

-- Speaking of the former Eagle defensive tackle, don't be surprised to see senior Oderah Obukwelu sneak into the lineup at some point in the season. A basketball player who didn't come out for football until this year, the 6-foot-3, 215-pounder made a number of plays in the backfield at defensive end. The BC High staff wishes it could have had him sooner. But there's another one in the pipeline. Eighth-grader "Mookie" Obukwelu is built more in the mold of Nnamdi, also at Harvard and the oldest of the brothers, who led the 2008 team to a Division 1 Super Bowl.

-- Redding wasn't kidding about the speed and size at the skill positions for BC High. Seniors Gordon McLeod, Tom Lomenzo, junior Lincoln Collins are all tall, fast players with good hands that make nice plays after the catch. The Eagles are three-deep at quarterback with returning starter Bartley Regan, junior Brendan Craven and running threat Richard Roach.

-- As for Mansfield, the Hornets are trying to build some depth as well. They just don't have as much of it as BC High.

"We've got three or four guys going both ways and what we're trying to do is get answers for getting everybody going one way," Redding said. "We'd like to get to the (Carrier) Dome (in the opener against Syracuse's Christian Brothers Academy) with 22 starters because it's 12-minute quarters up there. And they're going to do some no-huddle, we're going to do some no-huddle. The more one-way we go, the better. So we're trying to build some depth here in the preseason."

-- Still, Mansfield has some nice pieces to work with offensively. Quarterback George Busharis has another year of experience under his belt and tossed a nice middle screen over the trees to senior Blayne Taylor, who motored downfield for a long touchdown on the first series.

"I think the idea with Greg (Donahue) and Blayne is to get the ball in the open field," Redding said. "We're not going to line up and run iso and pound people but I think our fullbacks can keep people honest inside. And I think with Blayne, it's whether it's toss or screen or passes, he's going to make something happen like Greg. We just want to get the ball to those guys in space."

-- Mansfield didn't give up too much in between the tackles. Defensive ends Nick Chiocco and Brent Doherty and junior defensive tackles James Comer and Ryan Galanti combined with linebackers Dylan Finerty, Derrion Walker, Nick Leonard and Zack Schafer to form a stout group in the 4-4 scheme.