Boston High School:

Rick Kronenwett
June, 6, 2013
6/06/13
1:18
AM ET
By
Ryan Kilian
| ESPNBoston.com
ACTON, Mass. – With a berth in the Division 1 semifinals on the line, No. 4 Acton-Boxborough hosted No. 5 Marshfield in a quarterfinal game that pitted two of the state's most physical, up-tempo teams against each other.
The Colonials would utilize an aggressive, five goal third quarter to hold off a gritty Marshfield squad and come away with the 10-9 victory.
[+] Enlarge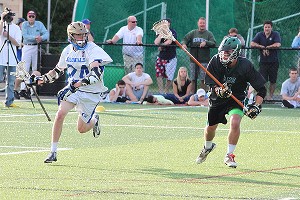 Ryan Kilian for ESPNBostonNo. 4 seed Acton-Boxborough edged No. 5 seed Marshfield. 10-9 in a Division 1 quarterfinal on Wednesday and advance to play Dual County League rival Lincoln-Sudbury in the semifinals.
"That is our M.O.," Acton-Boxborough head coach Pat Ammendolia said after the game. "We like to attack, attack, attack."
Despite arriving in Acton slightly behind schedule, due to travel delays, Marshfield jumped out to an early 2-0 lead in the first 90 seconds of the game. Nolan Ryan and Mike Carbone banged home quick scores to give Marshfield the 2-0 advantage.
A-B (18-4) would settle in midway through the first quarter as their defense buckled down and their offense would score four first half goals as Joe Cormier, Chris Wiggins, Trevor Kononenko and J.T. Kelly added scores to even the game at 4-4 at the half.
"They are a tough, physical team," Marshfield head coach Jake Jones said. "I thought we did a good job defensively of slowing them down early on."
In an evenly played, back-and-forth game, the third quarter would prove to be the difference. Cormier did a great job at the faceoff X for A-B ad helped the Colonials control the majority of the possessions in the quarter.
A-B took advantage of the time of possession advantage, stayed aggressive, and went on a 5-2 run in the third, behind three goals in the quarter from A-B attack Thomas Cotter.
"We like to go, go, go and when we are clicking like we were in the third quarter we can score in bunches," Ammendolia said.
Leading 9-6 heading into to the fourth quarter, Carbone would score the first goal out of the break to cut the A-B lead to 9-7.
A-B's Hunter Arnold would then answer to extend the lead back to three goals at 10-7. The A-B defense, led by goalie Rick Kronenwett, would remain stout until the final minute of the game when Carbone would put a scare into the Colonial faithful.
Marshfield's Shawn Daly, who played a great game all evening, would find the diminutive but tough Carbone for two late goals at the 34 and 13 second marks in the fourth to cut the lead to 10-9.
Cormier would secure the ensuing draw for A-B to preserve the one-goal victory.
"That put a scare into us late when they scored those two," Ammendolia added. "We got the big faceoff at the end, got it behind the net and killed it. It was a good team effort today and we did the little things that were important."
Marshfield concludes their season with an 18-5 record and showed tremendous heart and fight as they battled the entire game until the final horn sounded.
"I am just real proud to have coached these guys," Jones said. "Having started with a lot of these guys last year, in my first year as their coach, I have seen the growth of many of them and I am just real proud."
Marshfield goalie Pat Burchill also played well in net making 15 saves in the game.
An All-DCL Large State Semifinal
: A-B advances to the D1 state semifinals for the first time in program history. They will take on a familiar foe in DCL Large rival Lincoln-Sudbury on Saturday. L-S defeated Billerica, 14-1, in quarter-final action in Sudbury on Wednesday.
L-S (17-2) defeated A-B both times they met in regular season play.
"We have a lot of respect for that team and their coach," Ammendolia said. "We look forward to playing them. L-S is just a real good team and we are just going to go out there and give it our best."
April, 10, 2013
4/10/13
12:26
AM ET
By
Bruce Lerch
| ESPNBoston.com
WESTFORD, Mass. -- With so many league matchups taking place early in the season, Acton-Boxborough knew it had to make a statement against Westford Academy to avoid losing pace in the Dual County League Large race.

The Colonials did exactly that, dominating in all phases of the game en route to an 18-13 victory over the No. 4 Grey Ghosts at Westford Academy.

Ten different players found the back of the cage for A-B (4-1 overall, 1-1 DCL), topped by Scott Rogers (four goals, two assists) and J.T. Kelly (four goals, one helper). Trevor Konenenko added a hat trick while Hunter Arnold and Brian Picca each contributed a goal and two assists.

On defense, poles Ian Maxwell, Gabe Cormier, Austin Wolf and James Gnall, along with LSM Kevin Brogie, were outstanding in front of goalie Rick Kronenwett.

"We're very athletic," said A-B head coach Pat Ammendolia. "Last year I think we had some great lacrosse players. This year, we have some good lacrosse players but I think we've got great athletes on this team. We can run and that's definitely a strength of ours, team speed. That's what we like to do, get out there and try to run by people."

In order to do that, the Colonials needed to have possessions and the trio of Joe Cormier, Gabe Cormier and Josh Bucens took care of that. Joe Cormier was particularly dominant as the main draw-taker and A-B won all eight faces in the opening quarter and the offense staked the team to a 6-1 lead.

The Colonials would extend that lead to as many as nine goals in the second as Joe Cormier, Arnold, Konenenko, Bryan Sweeney, Rogers, and Kelly all scored during a 6-1 spurt. Loyola-bound attackman Jay Drapeau (four goals, assist) had the first tally of the frame for Westford (4-1, 1-1) and added two more before the half to make it a 12-5 game.

"We isolated their shorties up top, we ran our system and dodged up top," Rogers said of the offensive explosion. "Their slides were a little late and we just put it to them, put the ball in the back of the net. When we ran down the alleys, their slide would come from the crease. J.T. [Kelly] did a good job of popping up to the high crease and getting a couple looks. I got both my assists to him."

Acton-Boxborough pushed the lead back up to nine in the third (15-6) as Rogers, Max Emond and Kelly all connected before Josh Sawyer (four goals, assist) slowed the run. The Colonials slowed the pace in the fourth, trading goals to start the frame with Joey Biggins getting the final score for an 18-9 lead with 5:05 left. The Grey Ghosts popped in four in a row to close it out.

"I think I underestimated their athleticism a little bit," admitted Westford coach Matt Tholander. "I knew they had good, individual, on-ball defenders but I didn't realize that the faceoff circle was going to be a huge problem for us. Faceoffs and ground balls were the big differences in the game."

"Our unsettled defense has been better this year and we obviously got caught up a little bit there with our matchups," he continued. "We knew defensively, we weren't ready at the beginning of the year and we're a long way from where we need to be but like I said to the kids, I've been on this side of it multiple times with A-B where they bum-rush us and next time around, it always seems to work out that you always get another shot at them."