Boston High School:

Rick White
December, 6, 2014
Dec 6
9:48
PM ET
By
Joe Parello
| ESPNBoston.com


FOXBOROUGH, Mass. -- The Dartmouth Indians have found a way all year long, so it was fitting that it came down to the final minute in their Division 3 state championship game against Melrose.

With just 13 seconds left to play, senior Jacob Rose flew across the field from his safety position to pick off Red Raider quarterback Jake Karelas' desperation heave, and seal a 14-7 victory for the Indians.

For Dartmouth (11-2), it was a day of hanging on. After building a 14-0 lead in a dominant first quarter, the Indians leaned on their defense and running game to close things out. Clearly, it was a strategy the Dartmouth players were comfortable with.

"I think the defense, really, was the key to this whole season," senior linebacker Seth Oliveira said. "They stepped up every single game and made so many plays. It's unbelievable what this team has accomplished this year."

Dartmouth's big first quarter began with a one-yard touchdown run from junior Chris Martin. The run capped a 12-play, 73-yard drive that ate up over five minutes of clock on the Indians' first drive.

After forcing a three-and-out, the Indians got the ball back, and wasted little time adding to their lead.

With Martin again leading the way, the Indians marched down to the Melrose 12-yard line, where junior Alex Tisdelle bounced it outside and ran in for another score.

The quarter ended with Dartmouth out-gaining Melrose (10-3) 118 yards to 4, but things would get substantially tighter once the second frame began.

The Indians failed to cash in on other opportunities in the second, coming up empty on their next drive, despite having first and goal at the Melrose 4-yard line. The Red Raiders would make Dartmouth pay, going 75 yards in just three minutes. The key play of the drive came when Karelas found sophomore Michael Pedrini for a 29-yard gain down to the Dartmouth two-yard line.

The next play, with just 40 seconds left in the half, senior Jack Hickey punched it in to make it 14-7.

Though they would not score again, the Indians would mount a pair of time-consuming drives, twice holding the ball for more than five minutes and bleeding the clock. Plenty of that time was eaten up by Martin, who finished the day with 215 yards, 112 in the second half.

"We were able to get those big first downs in the fourth quarter when we had real bad field position off a punt," coach Rick White said. "Chris Martin was able to break a couple big ones."

But it wasn't quite a perfect finish for Martin, who broke off a 51-yard run that appeared to ice the game. But, as he was being brought down by William Caffey, the ball came loose, and Christian Pizzotti pounced on it for the Red Raiders.

"Unfortunately, we fumbled down at the end there," coach Rick White said. "But it ended up being as good as, actually, better than a punt. They had to go the whole length of the field, and the D stepped up again."

Rose's interception in the game's waning moments ended things and completed the journey for Dartmouth.

"We just played as a team (this year), no matter who's in, always supporting the other guy and giving 110 percent effort," senior quarterback Blaine Almeida said. "We did it!"
December, 6, 2014
Dec 6
9:36
PM ET
By
Josh Perry
| ESPNBoston.com
FOXBOROUGH, Mass. - As the Dartmouth players and fans broke into the school's alma mater, head coach Rick White stood on the podium soaked but with a big smile across his face, quietly singing along.

It had been 30 years since the Indians last held a championship trophy aloft and one of the members of that 1984 team was White, a senior defensive back. Now he can share the feeling of winning a title with his players after the Indians hung on for a 14-7 victory against Melrose in the Division 3 Super Bowl at Gillette Stadium.

"It's just a great feeling," said White after the game. "It's great for our town, our kids, our community -- we had a lot of support this week and I want to thank everybody that helped us along the way."

In 2007, White also led the Indians to the state title game, then in D1, and lost an overtime classic against perennial power Everett. He admitted that the experience was "tough" and that he wanted this year's team to go one step further.

"Having the opportunity to be here, you don't want to just be here and get the consolation prize," said White. "The kids came out focused with a purpose tonight and were ready to play from the opening kick-off and that really showed."

Despite having experience as a player in a championship game, White explained that he kept most of that to himself and kept the 1984 team out of most of his pregame talks.

He said, "We didn't want to make them nervous. I just told them that it's a big stage but we're not worried about where we're playing, we're worried about who we're playing."

Dartmouth took a 14-0 lead in the first half on Saturday evening in the pouring rain. Chris Martin, who finished with 215 yards on 31 carries, opened the scoring after a Melrose fumble and then Alex Tisdelle scored a second touchdown in the first quarter.

Melrose scored just before halftime and in the second half the teams struggled to create offense in the terrible conditions. The Red Raiders had one last drive in the fourth quarter but Jacob Rose stepped up with the interception that clinched the victory and ended a three-decade wait.

"I was just praying at the end that we would come up with a big play," said White. About the final defensive stand, he joked, "I had my fingers crossed and I may have closed my eyes."

In addition to celebrating an important anniversary of his playing days, White also received an early birthday present when tournament director Barry Haley handed him the trophy.

He reflected, "It's a long time man -- 30 years, 1984 -- I was a lot younger and had a lot more hair. It's real special."

White smile from ear-to-ear as he thought about two titles earned 30 years apart and listened to the cheering of the Dartmouth fans who had surrounded the press area to share in the celebrations.
September, 22, 2012
9/22/12
1:03
AM ET


DARTMOUTH, Mass. – What's the old expression that you have to crawl before you can walk? No. 22 BC High football did a little bit of both while capturing its first win of the season in a 31-0 blanking of Dartmouth on Slocum Road.

Hampered by an ever-mounting list of injuries to starters, the Eagles weren't about to make excuses for themselves and their 0-2 start. So they continued plugging holes, watching younger players step into greater roles. Of course, it always helps when you're star receiver puts up a 5-catch, 181-yard night as Villanova commit Lincoln Collins did Friday night. But even as Collins was doing big things, it was the little things that sprung the largest gains.

The prime example was Collins' electrifying 85-yard touchdown midway through the third quarter.

Mired in a competitive 10-0 battle at halftime, the Eagles (1-2) distanced themselves with Collins' lone touchdown of the game in the third. After starting a drive backed up in their own end, BC High was simply looking for a first down and some field position on a third-and-3 drop back by quarterback Dan Collins (6 of 9, 199 yards). The play call had Lincoln Collins, the rangy 6-foot-4 target, as the right outside receiver. Lincoln's route a routine 5-yard out on a play designed simply to pick up that crucial first down.

What happened from there took everyone by surprise.

Lincoln shook his defender, using his sizable wingspan to stiff arm the cornerback. Once he wiggled a couple more yards downfield, it was fellow receiver Tim Johnson, who with a downfield block on Dartmouth's strong side safety, allowed Lincoln space to burn down the right sideline to paydirt.

"That was just all teamwork," Lincoln Collins said. "Tim [Johnson] came underneath and made a great hustle play."

From there, the Eagles were off and running with 21 points after halftime to close out an emphatic and much-needed victory.

"We came in as a unit and said, 'We've gotta' finish it,'" said Eagles head coach Joe Gaff, who also collected his first win as head coach at BC High.

INJURY BUG STRIKES AGAIN
BC High was out to a 7-0 lead on a 9-yard touchdown run by Brandon Owens (11 carries, 63 yards, TD) and finding increased success in the running game.

That is until the Eagles were again thrown for a loss.

With less than three minutes to play in the first half, Owens was running a stretch play to the left side when he was met in the backfield by Indians linebacker Dalton Soares. Both players went down in a heap, with Soares taking a nice angle to the ball. However, when Owens cleat was caught in the turf and Soares corralled him to the ground, BC High's senior back was left on the field grabbing his left ankle.

Owens was assisted off the field flanked by two his teammates and was unable to put pressure on that leg.

Gaff said Owens will be evaluated tomorrow. But the scenario strikes home with the Eagles who'd already lost seven starters to injury coming into Friday's action.

"I hate to say it, but we've gotten hardened to all the guys going down," Gaff said. "We've got seven starters not playing – that's not an excuse, we're BC High, we've got plenty of guys. They're stepping up and trying to the best we can. That's all I can ask from them and tonight they did it."

It's also helped the Eagles shape a mentality early in the year.

"Our mentality is plug-in and plug-out," Lincoln Collins said. "We'll just keep pushing and we'll get guys back eventually. We've just got to keep going."

CONTAIN YOURSELF
The key to BC High's defense shutting down the Dartmouth attack was keeping their outside contains. As the Indians (1-2) tried to bounce their running backs outside, they were often met by an Eagles end or outside linebacker – many times at a loss. While Dartmouth has some talented runners in senior captain Mitch Loranger and running back turned quarterback Tim Smith, but BC High was able to all but erase the Indians' ground game, forcing Smith (who was making his first start under center) to beat them.

There was simply no getting around the outside of BC High's front seven with Steve Dicienzo, Mitchell Laferriere, Brian Robinson, and Owens doing the duties. Coupled with a strong inside presence from defensive tackle Jaleel Johnson, who returned from injury, the rushing lanes largely were unavailable.

"They kept widening and widening, so we tried to run it inside,' Dartmouth head coach Rick White said. "They took away our outside run, they did a good job of that. Those outside ends were very good athletes."

ALL'S NOT LOST
While it might not have been the result the Indians were looking for, White and Co. made a statement in adding the Eagles to their 2012 slate. White was pleased with his team's ability to match BC High's physicality.

Had the Indians been able to scrape across some points in the first half, the game's complexion might have been very different. Dartmouth started four of its five first-half drives on the plus side of the 50-yard line, including a first-and-goal from the 7 after a fumble recovery by Eddie Cadorette (2 TFL). Both teams lost fumbles on their respective opening drives. The Indians also missed a 27-yard field goal attempt at the tail end of the second quarter.

"We had three chances to score in the first half of the game and we couldn't do it," White said. "That was the difference."

BUILDING TO A POINT
BC High doesn't have long to enjoy win No. 1 with New Jersey power St. Peter's Prep looming.

Next Saturday, the Eagles travel to play the Jersey City school at Rutgers University.

While the Eagles will have their hands full with one of the nation's top programs, their boss reflected on what last year's 35-19 loss to St. Peter's meant to their Super Bowl season.

"We went down there and we competed against two really good teams [St. Peter's and DePaul] with great speed," Gaff said. "When we came back, we solved things. As a defense, I know it really clicked for us because we saw faster players. So that's what we're hoping for."
September, 16, 2011
9/16/11
2:19
PM ET
By
Brendan Hall
| ESPNBoston.com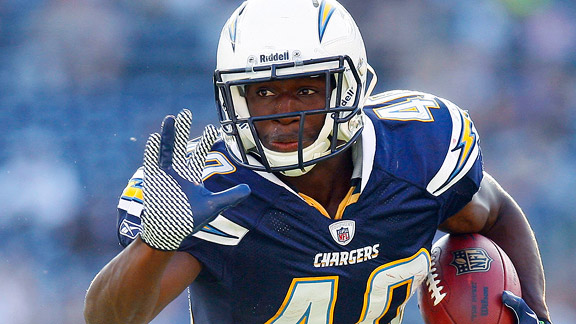 Jody Gomez/US PresswireFormer Dartmouth High standout Jordan Todman was a sixth-round pick by the Chargers.
Try as he might to ignore it, Sunday ought to be one of those full-circle kind of days for Dartmouth's own Jordan Todman.
A decade ago, he was staring down a life of trouble
as a middle-schooler in his native New Bedford
. But after moving in with one of his close friends in neighboring Dartmouth, he righted the ship and endured one of the most decorated football careers the South Coast has seen in sometime, leading the Indians to the 2007 Division 1 Super Bowl and graduating as the state's second all-time leading rusher (behind another New Bedford native, Jo Jo Goodine).
In spite of this, Todman was overlooked by many Division 1 colleges for his undersized frame, until late in his high school career. He ended up proving all the doubters wrong in a terrific career at UConn, rushing for 1,000 yards twice and being named Big East Offensive Player of the Year last season. After the Fiesta Bowl loss last January, he declared for the NFL Draft.
Is the motivation in place again? Todman fell to the sixth round to the San Diego Chargers in last April's draft, and will be battling it out with Mike Tolbert, Ryan Mathews and Jacob Hester for playing time in the backfield. The Chargers visit the Patriots this Sunday, and either way there's sure to be a few cheers when Todman takes the field.
Following practice yesterday, Todman talked with ESPNBoston.com from across the country to talk about his journey to the NFL.
Q: Going back to your days growing up in New Bedford, what attracted you to football? What players did you look up to?
A:
"I started playing football like any other kid, naturally in the backyard, that type of thing. I play a lot down at the Boys and Girls Club, and from the age of eight on I started playing for the New Bedford Bears [in Pop Warner]. I instantly fell in love with it. When you do something a lot and it's all you think about, it's easy to love it. Since I was seven years old, playing football was my life, and the NFL was my dream.
"Growing up, playing for the Bears, you started to look up to the Bears, and I wanted to be like a Walter Payton type of player. But obviously, I didn't get to see that much of him growing up, so when I first started out I was a big fan of Terrell Davis. As I got older, Reggie Bush was definitely my idol, watching what he did at USC."
Q: You were part of a pretty talented group at Dartmouth, along with Artie Lynch (Georgia), Sean Sylvia (Boston College), Justin Mello (UNH) and Justin Cruz. Looking back on those days, what do you remember most about playing with those guys?
A:
"Playing with them, we knew we were good athletes, but at the high school level of competition, we didn't know if we'd all go on to be as successful at the college level. I think we're all lucky to have that success. With them, it was more of building relationships that I didn't have...I mean, I had them, but this was more so just building community, camaraderie, friendships. Justin's my brother [the Cruz family maintained legal guardianship of Todman during his time at Dartmouth], so I still talk to him a lot. Sean and Artie, I talk to them a fairly good amount, but they're both always at practice, and the time difference out in California with the three-hour time difference makes it difficult."
Q: Last time you were at Gillette, you were in one of the more epic high school games to be played at the stadium. It was you versus Everett running back Isaac Johnson in the Division 1 Super Bowl, and you guys fell in overtime. What feelings come up when you think back to that? Do you still regret losing?
A: "I've been in the film room this week watching film against the Pats from past games at Gillette Stadium, watching it alone it brings back memories. I'm in the meeting room thinking, 'Wow, back at Gillette I scored three touchdowns, so I've got a little bit of bragging rights (laughs). But we're at the NFL level now, so if I go there and do pretty well, I'll be happy.
"Any time you lose a game, you're not excited about it. I went all out in my last high school game, and to lose like that was tough. But you win some, you lose some. It's part of the game, you've got to move on."
Q: You were in a unique situation in high school. You encountered some trouble in middle school in New Bedford, and stayed with the Cruz family in Dartmouth throughout high school, renewing legal custody every 90 days. What kind of influence did they have on you?
A:
It was an amazing influence. They gave me a lot of structure, staying with them, making sure I was focused in school, keeping my head on straight. They gave me a chance to have a fresh start."
Q: What kind of life lessons from coach Rick White do you still carry with you?
A:
"Me and Coach White have a great relationship. We still talk to this day, I'll text him any time of the day with any questions. He's been huge, so that's a tough question...it's more so he was a great coach that pushed me, and expected me to push myself at all times. The things I'd done last year that I'm doing here now, there'll be be a play that I'd run, I'll go out there and remember him telling me 'Do it like this', to this day, you know, 'Do it like this'. It's more so the memories. We just had a great relationship, we could talk about anything."
Q: Cooler moment for you last year -- playing in The Big House or in a New Year's bowl game?
A:
I'd say the New Year's bowl. Playing in the Fiesta bowl great accomplishment for us and for the University of Connecticut. Play in a football game against a great team like Oklahoma on a high stage, it was huge, something you don't get to do every day. They put us on that pedestal to compete and show what we can do against that competition."
Q: Take us through draft day. How nervous were you watching the ticker? What was your reaction when your name was called?
A:
"Not so much nervous, but I was anxious. I had a lot of things going through my mind. You try not to let it get to you, but it definitely gets to you. It's one of those feelings where you can't really explain how you feel about it until you're in the situation. Waiting for your name to be called, you never know what it feels like until you're there. It's tough.
"Then once you get called, you're excited, you forget about everything, how long it took, all of the stress waiting for it. It's a huge weight off your back, you take a deep breath and you're like, 'I made it'. Not too many people achieve their dream of going pro and being successful, so it was outstanding."
Q: Not having contact with coaches in the offseason during the lockout, how did you prepare yourself?
A:
I came out to San Diego probably a month or so early, to get in a few workouts with Philip Rivers and the rest of the guys, going over the playbook and protection, trying to give ourselves an advantage. As far as regular training, not knowing when the lockout's going to end kind of put us in a weird situation, because it's something where you have a lot of time on your hands, but you've got to focus and you want to maximize the time, but without knowing when you'd be needed. It was tough, but I stayed focused. But even more than that, I couldn't wait for the lockout to end.
"You really can't prepare self [for contact], you know what it's like that first day of contact after you haven't been tackled in months. You put in that mouthpiece and go full speed. You get a headache after that first hit definitely, but after that you right back at it play after play. The next day, you practice, you go out and do the same thing."
Q: What's the most difficult part transitioning to the NFL?
A:
Attention to detail. Every inch matters, and it can change a game in the NFL. The stuff at the college level that you get away with and still be successful, in the NFL it doesn't work. When you're playing the best of the best, there's no room for mistakes."
Q: You're with two other Massachusetts guys, Stephen Cooper (Wareham) and Jacques Cesaire (Gardner), have you found anything in common?
A:
"Coming in, I heard a lot about Coop. Being from Wareham, that's close to hometown, and we know a lot of the same people and some of the same friends, and coming to San Diego I knew nobody. Coop greeted me with open arms. He's shown me the ropes and given me a lot of lessons. He's helped me out with my moving situation, I hang out with him, he's shown me around san diego, and now I feel like I'm home. It was a head start getting to know one of my teammates for a while. He's been a successful player in the league for a long time. If I'm able to do what he did for as long as has, then that's a huge success for me. With him, it's about picking his brain.
"Jacques is another guy that's been here a long time. He's got a lot of wisdom. He knows a lot about the system and the people around here. He references things back home he had back there that they don't have here. Our Boston accent gets picked on a little. We talk about how many people we have out for the Patriots game. We have a lot in common, being from Massachusetts."
Q: What are you going to do when you get back out here?
A:
"If I have time on my hands, I'd love to go home. It would be cool stop in and see my grandmother and both families. I'm not staying too far from home, so there's a good chance I'll be able to go to Dartmouth and spend some time with family."
Q: What do you expect that first walk back into Gillette to be like?
A:
"Another game. Yeah, I'm playing in front of my hometown, but it's another football game, no matter who's playing and and who we're playing against, it's another football game. There's really no other feeling. It's cool to have family and close friends there to support, I'm happy and grateful to have them. But it doesn't change much, it's just another football game."