Boston High School:

Rob McClure
September, 15, 2012
9/15/12
8:11
PM ET
By
Brendan Hall
| ESPNBoston.com
SHREWSBURY, Mass. -– St. John's quarterback Andrew Smiley noticed receiver Micah Cummins putting on a red basketball-like compression sleeve on his left arm before this afternoon's visit from Longmeadow, and kept things real –- "You drop a pass, I'm gonna be all over you about it," Smiley cracked to him.
Done and done.
[+] Enlarge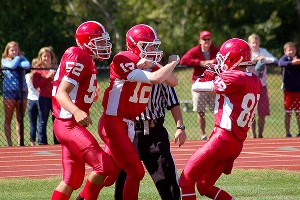 Brendan Hall/ESPNBoston.comQuarterback Andrew Smiley (12) and receiver Micah Cummins (88) connected for two touchdowns to lead St. John's to a 35-14 win over Longmeadow.
Not only did Cummins refrain from a drop, but the 5-foot-11 wideout came up with two pivotal touchdown catches in the first half that put the No. 18 Pioneers ahead for good. The defense did the rest in the second half, forcing the No. 6 Lancers into three straight turnovers on downs en route to a 35-14 win at Pioneer Field.
After a dazzling debut in his first varsity start last week against Holy Name (353 yards, 4 TD), Smiley once again went over the 300-yard mark in total offense. He was 16-of-18 passing for 246 yards, and carried the ball 15 times for 96 yards, with four touchdowns total.
Meanwhile Cummins finished with four catches for 74 yards for St. John's (2-0), but earned most of his yardage after the catch with some slippery moves. At 160 pounds, Cummins is not the biggest or most intimidating target for the Pioneers – but he may have the best body control.
That was perhaps best explicated on Cummins' second touchdown catch, a 30-yard snag at the two-minute warning of the first half that put the Pioneers ahead 21-14. The play called for Cummins to run a "jerk" route to the left sideline, in which the receiver fakes like he will sit in a zone hole before continuing his shallow crossing route. He hauled in Smiley's short dart with a few feet of real estate left, then planted upfield, spun through one defender, juked to the right of another, and marched the final 25 yards untouched.
That was preceded by a 47-yard strike to Cummins towards the end of the first quarter that put the Pioneers up 14-7. Cummins ran a post route up the left sideline, facing man coverage with a safety shaded to his side, and was sprung free by a pick from John Giacoppe (5 catches, 62 yards) to make the grab behind the safety and glide into the end zone.
"He's so shifty, hard to tackle," Smiley said. "He's not the strongest kid out there, but he's quick. He's just hard to tackle."
Smiley came up with two more scores in the third quarter to put this one away, first calling his number for a seven-yard scamper, then finding Davon Jones on a seam deep downfield for a 30-yard pass.
Improved defense:
The Pioneers came away with the win last week against Holy Name, but were not satisfied with the run defense, giving up 463 yards and five scores on the ground to the Naps' vaunted Double Wing scheme (282 coming from Quron Wright). This week, they split that number in half, allowing 233 yards and two scores against the Lancers' modified Wing-T scheme (which today also showed elements of the "Flexbone" formation, with heavy personnel groupings).
Give credit to the front four for that marked improvement. Against a Longmeadow's senior-laden offensive line that is considered one of the state's best -- averaging over 260 pounds across, and led by road graders Rob McClure and Lou Calabrese -- the Pioneers held their own. Led by juniors Jeff DeMango and Connor Gatto, and sophomore Sam Norton, they were able to stuff the interior gaps ably.
The hallmark of today's defensive effort was the aforementioned second-half effort, in which the Lancers ended three straight drives with a turnover on downs in Pioneer territory.
"They've gotten some confidence every week, and they're getting better," St. John's head coach John Andreoli said. "We've played some tough teams all along – Brockton, New Bedford, Shepherd Hill [all three were scrimmages], Holy Name, I mean those are great teams. And our kids stepped up and played disciplined.
"We stayed in a lot of base fronts today, they trusted their reads, and ran to the football. That's what they did, and that's what they've been doing all year."
Longmeadow quarterback Frankie Elder led the Lancers with 86 yards and a score on 16 carries, but a had a forgettable day through the air with 74 yards on 5-of-17 passing, with two picks. Fullback Austin Sierra also had 14 carries for 68 yards.
Dejection, but praise:
Some Lancers felt their hearts sink to their knees in the moments following the game. Elder, for one, sat on the grass, helmet still buckled and lay motionless with a thousand-yard stare.
With legendary former head coach Alex Rotsko leaving behind arguably one of the Lancers' most talented senior classes in a while, there have been high hopes for this year's squad, with a No. 6 preseason ranking in ESPNBoston.com's statewide MIAA poll. A win today would have satisfied Longmeadow's wishes to be taken seriously as one of the state's elite programs.
But in the eyes of many, they already are, and have been for some time.
"It's a respectable win [today], because Longmeadow is a very good program," Cummins said. "I think in a couple articles, they said they wanted to get themselves into the elite of Massachusetts football, and I think they already are elite. I look back at the stats, and they're one of the top programs in the state year in and year out.
"They're well-coached, and I have all the respect in the world for them."
One aspect of the Lancers' gameplan that worked particularly well today was their defense of St. John's running back Shadrach Abrokwah. Coming off a 205-yard, three-touchdown performance last week over Holy Name, the Worcester resident was held to 36 yards on seven carries, but did have a nice 40-yard reception off a swing pass.
But as the stats indicate from today's game. Keying Abrokwah on the zone read opened the field once again for Smiley and the air attack.
"They're just athletic," Longmeadow head coach Nick St. George said. "They're good athletes, they have good receivers, they get the ball out to their guys in space and they force you to make tackles. We missed a lot of tackles today."
Flash cards?
One of the most interesting nuggets from today's post-game interviews was the suggestion from Smiley that the Pioneers may begin to utilize flash cards from the sideline to speed up what has already been a turbo-charged playcalling system.
But not just any ol' flash cards. One of the main storylines with the Pioneers' early season is how they have adopted the "Blur offense" tempo popularized by the University of Oregon under coach Chip Kelly. In recent years, Kelly's assistants have used posterboard-sized placards consisting of four panels with seemingly any sort of picture on it –- a number, a color, a school logo, a mascot, characters from
Caddyshack
, hosts from
ESPN College Gameday
, and so forth.
Even among the increasingly-innovative college coaching ranks, Oregon's method of calling in plays is considered radical. The only thing that's come close so far in the MIAA in recent years might be Duxbury, which dresses five JV players in bright orange hats (
nicknamed "The Amigos"
) and gives them color-coded cards to hold up.
"Oh, we might be bringing those out," Smiley said when a reporter asked about replicating the "Blur" tempo and referenced the Ducks' flash cards.
Have they been working on it?
"Yeah, a little bit," Smiley said.
It could be an innocent comment, and ultimately nothing could come of this. But given the progression of this offense, it could also be the next natural step.
ST. JOHN'S 35, LONGMEADOW 14
LHS 7 7 0 0 --- 14
SJS 14 7 14 0 --- 35
First Quarter
L – Frankie Elder 3 run (Eric Barsalou kick) 6:36
S – Andrew Smiley 8 run (Pat Lehane kick) 6:16
S – Micah Cummins 47 pass from Smiley (Lehane kick) 1:50
Second Quarter
L - Joe Lee 1 run (Barsalou kick) 6:51
S – Cummins 30 pass from Smiley (Lehane kick) 2:00
Third Quarter
S – Smiley 7 run (Lehane kick) 8:02
S – Davon Jones 30 pass from Smiley (Lehane kick) 1:52
September, 14, 2012
9/14/12
2:41
AM ET
NO. 19 AUBURN (1-0) AT HOLLISTON (0-1)
The Skinny: Retribution is on Holliston's mind after last year's tough 14-13 loss in Auburn, and they'll face an uphill battle in trying to return the favor on their own turf. The Panthers fell to a talented Stoughton squad last week, while Auburn looked sharp in an easy victory over Shrewsbury. Holliston's Max Athy is a playmaker on defense, but the Panthers will have their hands full against an Auburn offensive line that averages nearly 280 pounds across and has been playing together for the last two seasons.

Co-editor Scott Barboza: The Panthers have some nice athletes on defense, the Rockets line simply takes over. Auburn, 28-14.

Co-editor Brendan Hall: Rockets will win again, and this time there will be no dispute about it. Auburn, 21-6.

DENNIS-YARMOUTH (0-0) AT NO. 4 BARNSTABLE (1-0)
The Skinny: The last three results of this early-season rivalry have been decided by a total of five points, with D-Y holding a two-game win streak in the series, making this the fiercest non-Thanksgiving rivalry on Cape Cod. Barnstable figures to have the advantage offensively, with Nick Peabody leading a potent and speedy attack that is coming off a 55-3 blowout of Durfee, but the Dolphins have always devised a great defensive game plan to slow things down. The key matchup might be in the trenches, where Barnstable center Tom Grimmer is expected to square off with D-Y tackle Joe Tyo.

Barboza: I think the rivalry factor keeps this game closer than it might look otherwise. Barnstable, 25-21.

Hall: On paper, the Red Raiders have an advantage in many facets of this game. But they don't call it a "Backyard Brawl" for the seafood chowder. I'm hoping to get out of Hyannis in one piece after this one.

Barnstable, 21-20. NO. 6 LONGMEADOW (1-0) AT NO. 18 ST. JOHN'S OF SHREWSBURY (1-0)
The Skinny: St. John's may have answered any offensive questions with its 47-point outburst over Holy Name last week, but may have raised defensive ones by allowing 40 points and over 460 yards rushing. The road doesn't get any easier this week, with some calling this Longmeadow's best shot at getting an elusive win over the Pioneers. As usual, they'll do it behind a surgical Wing-T scheme, with an all-senior line led by Rob McClure and Lou Calabrese. Pioneers quarterback Andrew Smiley looked impressive in his varsity debut, and he'll be hoping for another big day from Shadrach Abrokwah to open up the middle of the field again.

Barboza: I think Longmeadow is able to play ball control and keep St. John's offense off the field. And it doesn't matter where Frankie Elder is lined up, he makes it happen. Longmeadow, 20-13.

Hall: Much like Holy Name last week, this is the year Longmeadow has to beat St. John's. But if this turns into a track meet again, I don't like the Lancers' chances. St. John's, 30-20.

NO. 1 EVERETT (1-0) AT NO. 15 SPRINGFIELD CENTRAL (1-0)
The Skinny: A season ago, Central rolled into Everett Memorial Stadium and was swiftly handed a 42-13 loss. The Golden Eagles have grown up a lot since that fateful night in Everett, reeling off 10 straight wins en route to the 2011 D1 West Super Bowl, and return many key components, including quarterback Cody Williams and defensive tackle Shawn Lockett. Everett remains unsettled, with running back Kenny Calaj's status up in the air and the quarterback situation a mystery. Last week, the Tide resorted to Gilly De Souza under center, even though he'd never played the position before, but he got the job done in a 29-7 win over Leominster. The biggest question might be whether the Eagles' secondary can contain Everett's talented perimeter players, specifically Jakarrie Washington and Jalen Felix.

Barboza: Similar to Everett's matchup with Leominster last week, Central is a strong team in its own right, but just not enough to dethrone King Crimson. Everett, 34-21.

Hall: Central might have its own "Honey Badger" (the good kind, of course), but the Tide have "Felix The Cat". Everett, 35-14.

No. 21 NEEDHAM (1-0) at No. 20 MANSFIELD (1-0)
The Skinny: Both teams rolled in the season openers last week, but this one could go down to the final seconds. The Rockets had a tremendous performance last week from Mike Panepinto (8 carries, 181 yards) running behind a line anchored by tackle Mitch Hildreth. Meanwhile, Mansfield claimed a 49-15 romp over Westfield. Alex Ruddy led the Hornets on defense, racking up 10 tackles (8 solo) in last week's win and will be a key to slowing down the Rockets' rushing attack.

Barboza: The scoreboard at Mansfield might malfunction trying to keep up with the scoring in this one. Needham, 35-34.

Hall: We could honestly see 800 yards of offense in this one. Mansfield, 38-34.

No. 9 BROCKTON (1-0) at No. 22 READING (1-0)
The Skinny: The question is what the Boxers will do with the momentum they gained while shutting out BC High last week. Will they ride the wave and roll over the Rockets? Or does this game have let down written all over it? The matchup to watch will be watching Rocket-armed Reading quarterback Drew Belcher operating against the Brockton secondary led by Micah Morel. Boxers QB Auggie Roberts had a huge week against BC High, running to the tune of 139 yards and two touchdowns, so the Rockets will need to slow down the triple-option threat if they're to defend their home turf.

Barboza: Made this pick in the preseason when we projected out Brockton's record through the first month of the season. Boxers are moving to 2-0. Brockton, 25-21.

Hall: Since Reading head coach John Fiore is a big pro wrestling fan (just like Scott and I), my gut tells me the Rockets will deliver a Stone Cold Stunner under the bright lights. Reading, 21-20.

NO. 17 NORTH ATTLEBOROUGH (1-0) at NO. 13 BC HIGH (0-1)
The Skinny: BC High will assuredly enter this one ticked off as a bull after failing to get on the board against Brockton in Week 1. But what the Eagles will look like on offense is a whole other deal. Brendan Craven joined BC High's growing MASH unit against Brockton and should be out a month. On the other hand, North enters with a modicum of momentum after dispatching Rhode Island's No. 1 squad, La Salle Academy. Alex Jette went off for 346 all-purpose yards while scoring three touchdowns as our Player of the Week for Week 1.

Barboza: I think the X-factor is the Red Rocketeers' offensive line, which is athletics as ever, but also one of the biggest lines Don Johnson's ever seen in his tenure. North, 14-13.

Hall: I'm getting antsy here. If BC High can't pull this one out, I'm 0-2 with the Eagles and I might have to default on my mortgage. I'm still in debt to Galvo for my anti-Brockton picks. BC High, 13-6.

CENTRAL CATHOLIC (1-0) at NO. 3 ST. JOHN'S PREP (1-0)
The Skinny: The question of this matchup might be how many passes are attempted. These teams love them some ground game and, why not? With running backs like Central's Santino Brancato and Prep's Alex Moore and Jonathan Thomas, there's not a lot of incentive for airing out the ball. This one is going to be settled with three yards and a cloud of dust.

Barboza: Even though these teams could end up in a ball-control kind of game, I think there will be a couple of big running plays to be had for either side. Prep, 31-20.

Hall: As they have done in recent years, the Raiders will find a way to make this game interesting. But if they don't, then you know Prep is for real. Prep, 24-10.
August, 30, 2012
8/30/12
1:36
PM ET
By
Jimmy Kelley
| ESPNBoston.com
LONGMEADOW, Mass. -– It is never more apparent why Longmeadow football has become the powerhouse that it is than right after the high school team wraps up their practice around 5:30 p.m. at Longmeadow's Williams Middle School. As the big guys walk off the field, on come the future in the form of sixth, seventh and eighth grade teams dressed in all black and running that same Wing-T offense.

Not long ago, the Lancers' senior class was taking that 6 p.m. shift at Williams and doing things the exact same way. Winning included.

"Eight games, we went 8-0," said Steve Krushell, one of the team's five senior captains. "We used to sign a contract saying we wouldn't score more than 21 points so we wouldn't run up the score"

Krushell, along with his co-captains Austin Sierra, Mike Sell, Rob McClure and Frankie Elder, is one of 34 seniors on the Lancers roster. This group has lost just six games since that eighth grade season and credits their success to the family culture around the program.

Legendary coach Alex Rotsko stepped down after last season having brought the Lancers to 15 straight Super Bowls, winning 11 of them. Instead of going outside for a hire, Longmeadow kept it in the family by hiring longtime assistant Nick St. George.

"We like to put a big emphasis on family," said McClure. "We have so much experience and with Coach St. George it's the same offense, practices are run the same. It's got the same feel and we're a very close group this year."

All of that experience has not only eased the transition for the players, but also for St. George himself. After 25 years as Rotsko's right-hand man he is pleased with the way the seniors have taken ownership of this team.

"The seniors have done a great job this year," said St. George. "They set the tone, they teach the younger kids, they want to do this the right way. They want this to be a good team but they want this to be a close group. They genuinely care about each other."

The Lancers' Wing-T offense has been the crux of the program's success and this year will feature two of the most diverse running backs in Western Mass. in Sierra and Elder. Sierra, who's older brother Niko ran for 1,427 and 23 touchdowns in 2008, will fill the fullback role at 6-foot-4, 200 pounds while Elder will be more of the speed back at just 5-foot-7 and 170 pounds.

Sierra replaces T.J. Norris who last year ran for 1,313 yards and 23 touchdowns but dealt with injury problems that allowed Sierra to get some seasoning last year.

"I feel great [about replacing Norris]. I got some good reps when I started rotating in towards the end of the season," said Sierra, who ran for 522 yards and 5 touchdowns in 2011, including 171 yards against Northampton. "I feel like I can be just like T.J."

The biggest part of ensuring success for Sierra, Elder and junior-quarterback John Falcone will be their offensive line. The Lancers starting line is comprised of all seniors with the smallest being ESPNBoston Preseason All-State guard Lou Calabrese at 6-foot-1, 245 pounds, who shed 30 pounds during the offseason.

"I think if you went across the team you would see that we're in better shape than we were last year," said St. George. "Having Louie in shape and stronger is going to help us and it is going to make him a much more effective football player."

McClure (6-3, 260 lbs.) and Calabrese are joined on inside by Zach Calman (6-2, 245) while Mark Gentile (6-2, 275 lbs.) and Krushell (6-3, 275) will handle the outside. The offensive line's average of 260 pounds makes them one of the biggest -– and fastest –- lines in the state.

This group of seniors, with all of their success -– two super bowls and just the six losses -– still have one fish to fry: St. John's of Shrewsbury.

"We took that loss last year really personally," said Krushell of last season's 26-21 loss to the Pioneers. "They are the one team we haven't been able to beat in our four years."

"Nobody like's losing," added McClure. "A lot of us were extremely upset after those losses and goal is to eliminate that. We want to win every game and we think that we can."

The Lancers will take on St. John's on Sept. 15 at Pioneer Field in Shrewsbury.

These players have not lost sight of what makes Longmeadow football so special, however.

"We've been playing together for 10 years, since third grade," said Elder as his fellow captains all laughed. "Same offense, same everything; nothing's changed, just the positions,"

As the older guy's leave the field, the sixth grade team takes the field and gets into their Wing-T formation. Indeed, nothing has changed.

LONGMEADOW AT A GLANCE
2011: 11-2, won Division I West Super Bowl
Coach: Nick St. George (1st year)
Key Returnees: Frankie Elder, Sr. RB/S, 5-9, 170 lbs.; Austin Sierra, Sr. RB/DE, 6-4 200 lbs.; Mike Sell, Sr. TE/MLB, 6-1 215 lbs.; Rob McClure, Sr. OL, 6-3 260 lbs.; Lou Calabrese, Sr. OL, 6-1 245 lbs.; Mark Gentile, Sr. OL, 6-2 275 lbs.; Zach Calman, Sr. 6-2 245 lbs.; Steve Krushell, Sr. OL, 6-3 275 lbs.
Strengths: Experience, Leadership, Offensive Line.
Weakness: Quarterback
Outlook: To say that quarterback is a weakness for Longmeadow is actually a bit nit-picky considering their vaunted Wing-T offense is not particularly reliant on the position. The Lancers' offensive line will once again pave the way for one of the state's best rushing offenses which will run through Austin Sierra and Frankie Elder with several other players also in the mix to get some carries. Sierra will be playing the fullback position vacated by T.J. Norris (1,313 yards, 23 TD in 2011) but showed last year that he is more than up to the task (620 yards, 7 TD). The always stingy defense is looking particularly quick again in 2012 and points will certainly be at a premium when playing against Longmeadow. The Lancers will play that crucial game against St. John's (Shrewsbury) on Sept. 15 in Shrewsbury.