Boston High School:

Rob O'Gara
June, 28, 2012
6/28/12
11:46
PM ET
WILMINGTON, Mass. -- Milton Academy's
Rob O'Gara
just graduated high school. but he's already a veteran of Boston Bruins development camp.
For the second straight summer, the Nesconset, N.Y. native is skating in the camp alongside the organization's top prospects.
A year ago, O'Gara was selected in the fifth round (151st) of the NHL Entry Draft by the Bruins. Next season, the 6-foot-3, 185-pound blue-liner will skate at Yale.
On Thursday, O'Gara was back at Wilmington's Ristuccia Center to get back to work under the watchful eye of Bruins brass and assistant general manager Don Sweeney. We caught up with him after the team's morning practice for this Q-and-A:
Q: You were part of a NEPSAC championship team in 2010-11, but you chose to go back for another year and the team had a tough year last year. What did you learn from that experience?
A: "That was the biggest thing, being a leader to that group of guys, being able to show them the ropes right off the bat, getting into the weight program in the fall. Sort of that whole experience of being that leader, I learned a lot in that sense. From a hockey sense, I got play more of an offensive role than I did in the past because I consider myself more of a stay-at-home defenseman. I was able to run the power play and learn a lot about that element of the game, that was very helpful."
Q: What will you take from your time at Milton Academy?
A: "From the time going into Milton [to now], I feel like a completely different person. I learned so much about myself, what I can do. I think that's the biggest thing, gaining confidence to go after my goals
Q: What do you take from the experience of going through development camp last year to this year's camp?
A: "I knew sort of what to expect. On the first day last year, we tested right away in the morning We hit that pretty and it was hell. So I tried to prepare myself the best that I could for that. I've been hitting the gym a lot and getting on the ice, trying to get my feet back under me after not skating for a while. I've been skating a lot this spring. I knew it was going to be tough getting back into it. I knew this was going to be a tough week, so I wanted to prepare myself the best I could."
Q: Have you been working with anyone in particular in the offseason?
A: "Back home, I go to Boris Bykovsky, I skate with him a lot. I played with him for a few years. He's a great coach, he knows so much. It was good to be back at home. He knows so much. This summer I'll have the Yale workout program. I'll be hitting the ice as much as I can and against the best competition I can find. I just want to get ready for next year best I can and just keep developing."
January, 5, 2012
1/05/12
12:23
AM ET
By
Tom Layman
| ESPNBoston.com


BOSTON -- Noble & Greenough used a four-goal outburst in the third period to exact a little bit of revenge on its long-time rival Milton Academy with a 6-2 victory on Wednesday night at Fenway Park in the Sun Life Frozen Fenway event.

Andrew Doane scored two goals and notched an assist, as Nobles beat the Mustangs for the first time in five attempts.

"We had know idea what to expect, because we haven't played them yet," said Doane, whose team dropped all four games against their rivals last season. "We knew it was going to be a battle. … It's a big school rivalry. It ends every season with us playing them and the kids get really into it."

Chris Calnan got Nobles on the board first at 7:13 of the first period. Adam Gilmour took a shot from the slot and Calnan came buzzing around to pot the rebound for the 1-0 lead.

Doane's line broke out in a picture-perfect 3-on-1 in the second period as Max Franklin broke down the middle of the ice, passed it over to Will Sleeper on the right side of the triangle and he swept one right to the stick of Doane for the 2-0 lead.

"The linemates all helped me there," said a humble Doane. "I didn't do anything. I can't take any credit."

Jimmy Haddad got Milton on the big board when he lifted a wrist shot over the glove hand of Connor Maher, but the Mustangs would see Nobles run away from them in the third period with four unanswered goals.

"We got four in a row and it takes a little of the momentum," head coach Brian Day said.

Gilmour took a nice feed from Phillip Sciretta right up the middle of the ice and he scored on the breakaway to get the first goal of the third period. Franklin was quick to get back on the board for Nobles as he took the puck over the blue line and went shortside to beat Andreas Graham.

The puck movement for Nobles was crisp for most of the night, and Doane's pass to a back-cutting Tim Boyle was evidence of that when Boyle snapped one in for the 5-1 lead.

Doane finished off the scoring with a shorthanded goal when he picked the pocket of Mustangs' defenseman Rob O'Gara at center ice and finished with a shot past Graham.

"We got four goals and a couple of bounces that we were able to jump on," Day said.


July, 8, 2011
7/08/11
6:03
PM ET
By
Brendan Hall
| ESPNBoston.com
WILMINGTON, Mass. -- From Long Island to Milton and now the Boston Bruins, it's been a dizzying year for Milton Academy defenseman Rob O'Gara. In his first year with the Mustangs, O'Gara had nine points in 30 games as they took home a NEPSAC championship.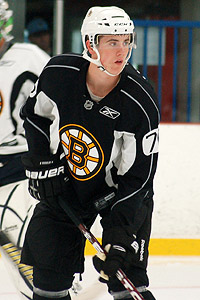 Courtesy of Brendan HallMilton Academy defenseman and Bruins draftee Rob O'Gara shows promise with his physique and skill set.
After getting
selected in the fourth round (151st overall) by the Bruins last month
, O'Gara is in the team's development camp this week at Ristuccia Arena. Following the first training session yesterday, Bruins assistant general manager Don Sweeney called him
"a piece of clay right now, albeit it's a big piece."
And at 6-foot-4 and 197 pounds, having just turned 18 two days ago, and getting set for his final year of eligibility with the Mustangs before heading off to Yale in the fall of 2012, there's seemingly nowhere to go but up for the wide-eyed prospect.
O'Gara sat down with ESPNBoston.com following day two of camp to talk about his development, being part of the Stanley Cup champs' organization, and life back home on Long Island.
Q: You're from Nesconset, New York. How did you end up at Milton?
A:
"Last summer, probably this time last summer, my coach [Paul] Cannata called me and asked if I was interested in the school. We weren't really sure, you know, financially, stuff like that. We looked into it, I applied, and it's just been a whirlwind since. It's been great."
Q: Tell us about your development over the last year at school.
A:
"I think starting, I remember my numbers in the fall when we do training with our school. My numbers were crap to be honest. Just to see them go up, just the hard work, and then all that happened at school with the team and everything, it's just been incredible. I've learned so much as a player. Being able to go and skate against these guys now, it's a big stepping stone."
Q: More specifically, what kind of training were you doing that last fall?
A:
"A lot of mobility. My hips were really tight coming in, and just stretching, cleans, all the power stuff, we really focused on that. That's where we tested."
Q: How would you say you progressed during the season as a player?
A:
"I think being able to adapt to the role I had on the team, I'd say we had four very offensive defensemen besides me, and I think I was able to fit the role being more of a defensive style of player. I think I really progressed that side of my game a lot. I tried to get better each and every game."
Q: Getting ready for the game, some guys like to relax, others get focused. Take us through your pregame routine.
A:
"I like to get to the rink at least two hours before the game. I put on my iPod, and for the first hour we'll kick around the soccer ball and stuff. We usually have a team meeting an hour before the game, then after that I just stretch, I focus, I kind of keep to myself, really think about what I have to do for the team to win."
Q: What kind of music is on that iPod?
A:
"I'm all over the place, to be honest. I like the classic rock, from my dad, but I'm into the hip-hop, rap stuff too. I like Drake, to be honest, I don't know why...Actually, I'll tell you, my roommate at school is a huge Drake guy. So whenever I'd come into the room he'd be listening to that. So, I guess I got accustomed to that and started to like it."
Q: What kind of goals have you set for yourself for the rest of the summer and the fall?
A:
"This summer I'm going to be skating with Aleksey [Nikiforov], he's a skating coach on Long Island [in Hauppauge]. He's got a couple professionals with him. Just keep progressing, skating with high competition, getting to the gym as much as I can, get bigger. I want to be at least 205 by the time I get back to school, and hopefully by next September I'll be 220, I'll fill out but keep my mobility and stuff like that."
Q: You're an Islanders fan. But what's it like being in this locker room?
A:
"Actually, being near Boston, there's a ton of Bruins fans at school. So through the playoff run, it was hard not to root for the Bruins, it was the buzz around campus. It was an amazing run they had, just great to watch and really get behind. And then to get picked by them is such an honor, so incredible."
Q: There's not exactly star power here, but when you first got on the ice yesterday, did you find yourself star struck at all?
A:
"Sure, I mean just stepping out and taking a few laps, and telling yourself, 'I'm here'. But I've just got to focus, and I think I did a pretty good job of that yesterday."
Q: Have you had a chance to speak with Vice President Cam Neely yet?
A:
"No, not yet, but that would be incredible (laughs)."
Q: Big Neely fan growing up?
A:
"Oh yeah. My dad showed me all the videos he had, just watching Neely and all that old-time hockey. It was great stuff."
Q: Back on Long Island, what's the best beach?
A:
"Back on Long Island, I go to Robert Moses. There's a Par-3 there, and I love golfing. Just going with friends, it's a good time."
Q: What's the best place to eat in Suffolk County?
A:
"I'm a big bagel guy. The best bagel store on Long Island is this place 'Hot Bagels' in Hauppauge, by my grandpa's house. It's about 20 minutes from my house. My dad refuses to go anywhere else, so he drives 20 minutes Saturday mornings to go grab some bagels."
July, 7, 2011
7/07/11
9:56
PM ET
By
Brendan Hall
| ESPNBoston.com
Bruins fourth-round draft pick and Milton Academy junior Rob O'Gara reaffirmed with ESPNBoston.com that he will return to the ISL school for his final year of eligibility. O'Gara, a Massapequa, N.Y., native, repeated his junior year this season after transferring into the New England powerhouse.

The deceivingly lanky 6-foot-4, 197-pounder, who just turned 18 on Wednesday, is well aware of the development he needs to make over the next year before heading off to Yale in the fall of 2012. At the first day of the Bruins' Development Camp held at Wilmington's Ristuccia Arena, O'Gara did 10 reps of 155 pounds on the bench press Thursday morning at the fitness testing. He's shooting for a target weight of 205 pounds by September, and 220 by this time next year, and says his diet currently calls for at least 3,000 calories per day.

"I've gotta fill out, I know that," he said. "Testing this morning just shows that. It's going to be a lot of hard work. Just gotta keep skating, keep hitting the gym, and it'll come."

Bruins assistant general manager Don Sweeney said O'Gara is "a piece of clay right now, albeit it's a big piece."

"At 6-foot-4, it can change. Things have come at him here a little quicker in the last, I'd say, eight months," Sweeney said. "But we got a chance, I did in particular and other people got a chance to see him a lot. He's in our backyard. We went down and spoke to him and he's excited. This is probably catching him a little off guard in terms of the preparation aspect of it.

"As I mentioned, you come from the prep-school ranks and, you know, there's a lot to digest here in a short period of time. The good thing is there's no timetable for him. He's not going to get any smaller. He's only going to fill out and continue to get better. And he's going to be right in our backyard for another year then on to a real good program in Yale. So I think that he'll learn a lot. He'll be one of those kids that walks out of here, hopefully, and learns an awful lot and takes some of this stuff going forward."
June, 25, 2011
6/25/11
4:50
PM ET
Milton Academy junior Rob O'Gara didn't have to wander far to find his NHL team as the Stanley Cup champion Bruins selected him 151st overall in the fifth round of the NHL Entry Draft.

The Massapequa, N.Y. native was at home, watching the draft unfurl via the computer. He received a message from his advisor saying, "Great pick."

Then, there was confusion.

"My dad was like, 'Wait a minute, what's going on?'" O'Gara said. "Because we hadn't refreshed the computer screen yet and we saw that I was picked by the Bruins.

"And I can't describe how happy I was."

A few minutes later, the 6-foot-2, 185-pound blue-liner received a phone call from Bruins assistant general manager Don Sweeney confirming the pick.

O'Gare scored two goals with seven assists for nine points in 30 games in his junior season with the New England champion Milton Academy squad. He said he plans to stay on with Milton Academy for another year before matriculating to Yale.

The only thing that will have to change is his rooting interest.

"I've been an Islanders fan since I was born, mostly as a result of my dad," O'Gara confessed. "I've been watching games since I was five probably and I've loved [hockey] ever since."
April, 12, 2011
4/12/11
1:42
PM ET
A year ago, local hockey fans intently waited to see whether Taylor Hall or Tyler Seguin would finish the season atop the NHL Central Scouting's final rankings with the B's holding the second pick. While there might not be quite the level of attention on this year's
final rankings
, there are plenty of locals in the high school and prep school levels represented in this year's season-ending report.
Choate-Rosemary forward Philippe Hudon, of Quebec, remained the the top-rated local among North American skaters despite falling from the 31st rank on the midterm report. Milton Academy blue liner Rob O'Gara was the first Massachusetts-based skater on the list at No. 107, down from No. 95 on the midterm.
A new-comer to the final report was ESPN Boston's inaugural Mr. Hockey Award winner Colin Blackwell of St. John's Prep. The Eagles center is ranked 173rd after a strong Super Eight tournament showing while leading all scorers.
Mike Vecchione, captain of the Super Eight champion Malden Catholic Lancers, also climbed back onto the final rankings, after being left off the midterm, at No. 209.
Another name to watch out for is Loomis-Chaffee goaltender Stephen Michalek who's ranked fifth overall among North American goaltenders.
Northeastern defenseman Jamieson Oleksiak led the list of names with local college ties at No. 13.
Also, keep an eye on Connor Murphy of the U.S. U-18 National team. The 6-foot-3 blue liner was born in Boston and is the son of former Bruins defenseman Gord Murphy. Despite being left off the midterm rankings, Murphy has catapulted up the boards and is ranked 25th among North American skaters and eighth among defensemen.
Here's a look at the local high and prep schoolers represented on the list by ranking:
Skaters
74 Philippe Hudon, Right Wing/Center. Choate-Rosemary
75 Colin Sullivan, Defenseman, Avon Old Farms
107 Rob O'Gara, Defenseman, Milton Academy
109 Stephen Miller, Left Wing, Noble and Greenough
112 Craig Wyszomirski, Defenseman, The Gunnery
127 Kevin Morris, Left Wing, Salisbury
144 Michael McKee, Defenseman, Kent School
145 Joseph Manno, Center, South Kent School
150 Jimmy Vesey, Left Wing, Belmont Hill
171 Nicholas Bligh, Center, Dexter School
173 Colin Blackwell, Center, St. John's Prep
189 Matthew Harlow, Left Wing, Noble and Greenough
191 Joe Prescott, Right Wing, St. Sebastian's
203 Jack Barre, Right Wing, Salisbury
209 Mike Vecchione, Right Wing, Malden Catholic
Goaltenders
5 Stephen Michalek, Goalie, Loomis-Chaffee
January, 11, 2011
1/11/11
1:26
PM ET
Mid-term rankings were released by the NHL Central Scouting Service and there are a handful of locals who are turning heads.

Noble and Greenough leads the local talent crop with three players appearing on the list. Forward Steven Miller checks in at No. 85 overall among North American skaters with fellow winger Matt Harlow at No. 101. Defenseman Michael Reardon is ranked 180th overall.

The highest ranked player with New England ties is power forward Philippe Hudon of Choate-Rosemary Hall. The Quebec native and Cornell commit is ranked 31st in North America. Former Wild Boar and U.S. NTDP U-18 teamer Michael Paliotta, of Westport, Conn., checks in at No. 32.

The highest ranked Massachusetts player is Belmont Hill left winger Jimmy Vesey (No. 80).

Junior Bruins forward and Harvard commit Mike Seward, who helped Winchester to a Super 8 appearance last year, is ranked 210th.

Milton Academy defenseman Rob O'Gara (95) and Dexter center Nicholas Bligh (123) made the list as well as Newburyport native Chris Eiserman, the Valley Junior Warriors goaltender who is ranked 34th among netminders.