Boston High School:

Robbie Pisano
May, 15, 2013
5/15/13
2:03
AM ET
By
Bob McGovern
| ESPNBoston.com


NEWTON, Mass. – Less than 24 hours after its biggest win in nearly a decade, the Needham High School lacrosse team was drained and maybe a bit hungover from all the excitement.

The Rockets (15-2), fresh off a 6-4 win over former No. 1 Duxbury, came out flat against Newton North (11-4) and had to fend off a late-game rally to bring home a 12-8 victory. With the win, Needham clinched its 10th-straight Bay State League title.

"I feel like we definitely had a mental lapse. These guys did something that is so monumental for our program, and not just this season, I'm talking about our program for the last 10 years, and they've been feeling it," said Needham head coach David Wainwright. "A lot of people have been patting them on the back today, and people need to stop doing that because we've got to get ready for the playoffs."

After goals from Nico and Mikey Panepinto early in the fourth quarter, Needham appeared to be in control with a commanding 11-4 lead. However, Newton North, fueled by attackman Anthony Wyse, stormed back with four unanswered goals.

The newly anointed No. 1 Rockets were able to stem the tide with two long possessions, and Nico Panepinto slammed the door shut when he rolled in his second goal of the game with less than a minute remaining.

Wainwright said his team was essentially waiting for the win and didn't keep its foot on the gas.

"We kind of sat back a little bit more and tried to waste some time off the clock rather than keeping going toward the net and keep doing what was working," he said. "When you start changing things like that, teams can all of a sudden adapt, which they did."

Newton North's strategy was to win the possession game, which it did throughout the first half. However, the Rockets started winning the lion's share of face offs in the second half, and their athleticism took over.

Needham ended up with a 13-10 edge on faceoffs, many of which came in the third quarter when the Rockets outscored Newton North, 5-2.

"I thought our guys did a fairly good job. Our game plan was to possess the ball and keep it away from them. … I think we did that for the most part," said Newton North head coach Bussy Adam. "We struggled a little bit on the face-offs, and that hurt us a little bit."

The Rockets were led by Mikey Panepinto and Robbie Pisano, who had four and three goals, respectively. Pisano was a spark plug for the Rockets offense and scored two of his three goals by attacking the middle of Newton North's defense.

"It was also important that we didn't lose any momentum. We wanted to keep that going after the Duxbury win. We knew that if we didn't win this game, that would have meant nothing," Pisano said.

Big House: Newton North's Wyse is a big man, and opposing coaches know they have their hands full when trying to keep him away from the goal. The junior, who baffles opposing goalies with his quick left-handed shot, had four goals and an assist against Needham.

"He's a house. That's the best way to describe it. When he comes your way, if you don't get positioning first, he's going to run right through you, and he was able to do that today," Wainwright said. "Even though we knew about it, we couldn't stop it."

Brotherly Love: The Panepinto brothers are two of the better lacrosse players in Massachusetts and are a major reason why Needham is positioning itself for a run at the state title.

Nico, a senior, will play for Fairfield University next year, while Mikey, a junior, will head to the University of Massachusetts.

"They're special guys. I think I've said that four, five or six times this year. Time and time again they show up and do great things for us," Wainwright said. "I don't even know who got what for points, but I know they're difference-makers. For our guys, they look toward those guys to generate and initiate things, but we need to be more of a well-rounded team moving forward."

Up Top: Newton North goalie John Hogan had a pretty solid game in a losing effort. During the first half, he held Needham to four goals while systematically stopping nearly every above-the-belt shot that came his way.

He finished the game with 10 saves.

"He was doing very well, especially in the first half. We missed a bunch of shots. He played very, very well I thought," Pisano said.

Needham started to get to Hogan once they changed up their approach and started firing the ball at his feet. A number of shots were from point-blank range, and Hogan had little chance to make the stop.

"In the beginning of the game, I think they had some high shots on him and (Hogan) stopped them," Adams said. "In the third and the beginning of the fourth quarter they started to shoot low and made it a little more difficult for the save."
April, 12, 2013
4/12/13
5:12
PM ET
NEEDHAM, Mass. – When Needham lacrosse is operating in the offensive half, you can hear attack Nico Panepinto and his midfielder brother Mike. They go back-and-forth volleying messages about positioning while on the field. They're equally as vocal during timeouts, going over previous plays and the ways things could have gone better, both on their own and with Needham's coaching staff.
During an early season league game against Framingham on Thursday, the Panepintos were frustrated through the first half and the Rockets trailed in the third quarter. After a couple of lackluster looks at the cage to start the second half, they finally synced. They began a string of absolute rips on the net, turning a once tight game into a non-competitive one by the fourth quarter.
[+] Enlarge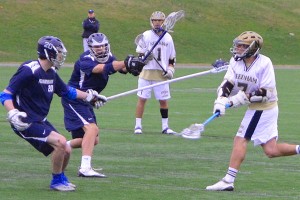 Scott Barboza/ESPNBoston.comNeedham attackman Nico Panepinto was among the state scoring leaders in 2012 with 54 goals and 30 assists while being selected an All-American and to the ESPN Boston All-State Team.
Offense can be a struggle for all teams this early juncture of the year and the Panepintos are no exception. They understand they'll improve – and they know they'll have to improve as the Rockets eye a repeat final appearance at Harvard Stadium come June. But they also know they have one major advantage over their competition; that is the ability to be each other's harshest critic.
"I think the best thing is that we can say anything to each other and not take it personally," said Nico, who signed his National Letter of Intent to play at Division 1 Fairfield University in November. "It might sound bad, but if I was open and Mikey took a bad shot, I would tell him, 'What are you doing.'"
And – perhaps more importantly – the business of lacrosse remains just that.
"Even if we say something not so nice to each other, we get over it pretty fast because we live together," added Mike, who has a verbal commitment to UMass-Amherst in place.
For the last couple of years, the name Panepinto is synonymous with Needham athletics. Whether working on offense with the Rockets football team or the lacrosse team, they've been targeted players by the opposition.
Nico has been among the top offensive weapons in the state on the lacrosse field for the last couple of years. He nearly single-handedly led the Rockets in a second-half comeback bid against Duxbury in last year's Division 1 state title game. While Needham fell short, 10-8, Nico's four-goal performance made the Dragons sweat out their ninth championship in a decade and turned a game that was supposed to be a laugher into a spell-binding nail-biter. He finished 2012 with 54 goals and 30 assists while being selected to ESPN Boston's All-State Team.
Mike, aside from his lacrosse talent, carved out a name for himself during football season last fall. As Rockets head coach Dave Duffy searched for a starting running back during summer scrimmages, Mike moved to the forefront. He won the job and ran with it for more than 2,000 yards and 26 touchdowns – good for best among Division 1 teams in Eastern Mass.
Both brothers claim lacrosse is their favorite sport to play, but both echoed the sentiment of the importance of playing different sports.
"It's just fun," Mike said. "Why not play football? Why not do something different in the offseason? Plus, college coaches love that. They're interested in what else you're doing. I think everybody should play as many sports as they can."
He tailed off for a moment and then added, "I would play basketball, too, but I'm just so bad at it."
If basketball is the Pinepintos' athletic kryptonite, there's still a lot left over. They take after their father, who went to Hamilton College to play football and ended up adding lacrosse to his repertoire while there. Their mother, Cristina, danced ballet. They always encouraged the boys' athletic development, but of late lacrosse has come to the forefront – if mostly because it's portable and less destructive.
"Lacrosse, you can do it anywhere, anytime," Nico said. "Football is something that's real organized. You can't really play a game of pickup football."
To which Mike chimed in, "Well, we did play football. Until everybody started getting hurt."
Of course, lacrosse is a shared experience for the brothers. They played together on youth teams and on out-of-season travel teams. That's developed into a shared brain of lacrosse acumen; two bodies pulling in the same direction, both knowing how the other will react.
Aside from the natural chemistry shared by siblings, they're also finding out how they fit in the dynamic of this year's Needham squad. The Rockets are talented with a mixture of Division 1 talent in attack Robbie Pisano (Marquette) and long-stick midfielder Mike Elcock (UMass). But they're also inexperienced in other areas. So the early season has turned into a bit of a trial by fire, which fits perfectly into head coach Dave Wainwright's mentality.
"You see it every day in practice and our games, we have four, five different kids playing at attack right now," Mike said. "Coach says it every time, that every practice, every game is a tryout."
Still, the Rockets enter the season ranked third in ESPN Boston's MIAA Top 25 poll. They are among the favorites in Division 1. That might fly in the face of everything Wainwright preaches, but a state championship isn't outside of the realm of attainable goals. The mindset will not change. All the Rockets have to remember is what they proved in defeat a year ago.
"I think it showed that we have a lot of heart and how far our program has come," Nico said. "Going into that game, we were looking at the scores that everybody was predicting for the game. We came in as real underdogs, and that's what we like, being under the radar."
And for the all the praise that have been heaped upon the Panepinto Bros., they remain understated. Spending even a couple minutes in their combined presence and you'll find a pair of siblings who legitimately seem to enjoy each other's company. Nothing is forced. They have a knack – not for finishing each other's sentences — but for picking up on each other's thoughts and running with it.
When talking about how they each other's harshest critic, they both engaged in a bout of putting themselves down – not for lack of confidence, but for out of respect for each other's accomplishments.
"I wouldn't say that we're some kind of dynamic duo or anything," Mike droned.
But combined, they might just be good enough to get Needham over the hump.
April, 8, 2013
4/08/13
2:24
AM ET
Attackmen:
Tyler Bogart, Soph., Catholic Memorial
Jordan Dow, Sr., Lincoln-Sudbury
Jay Drapeau, Jr., Westford Academy
Brandon Jaeger, Sr., Dover-Sherborn
C.J. LoConte, Sr., Duxbury
Andrew Melvin, Sr., Medfield
Nick Menzel, Jr., Archbishop Williams
Nico Panepinto, Sr., Needham
Robbie Pisano, Sr., Needham
Tyler Reilly, Sr., Grafton
Andrew Smiley, Jr., St. John's (Shrewsbury)
[+] Enlarge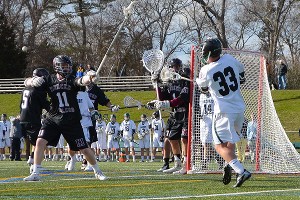 Scott Barboza/ESPN Army commit C.J. LoConte will look to shoulder a bigger part of the offense for defending Division 1 state champion Duxbury.
Midfielders:
Kevin Bletzer, Jr., Catholic Memorial
Will Blumenberg, Soph., Concord-Carlisle
Caleb Brodie, Jr., Hingham
Alec Brown, Sr., Wakefield
Tucker Ciessau, Sr., Scituate
Dan Delaney, Sr., Lincoln-Sudbury
Henry Guild, Sr., Lincoln-Sudbury
Carson Hart, Sr., Wayland
Davis Kraft, Sr., Algonquin
Matt LaCroix, Sr., Westfield
Drew O'Connell, Jr., St. John's Prep
Mikey Panepinto, Jr., Needham
Kieran Presley, Sr., Amherst
Bryan Rotartori, Sr., Grafton
Jack Wheeler, Jr., Xaverian
Long-stick Midfielders:
Nick Brozowski, Jr., Concord-Carlisle
Mike Elcock, Jr., Needham
D.J. George, Sr., Arlington Catholic
John Sexton, Jr., Lincoln-Sudbury
Defensemen:
Evan Boynton, Sr., Concord-Carlisle
Tim Gillis, Soph., Cohasset
Brian Uva, Sr., St. John's Prep
Luc Valenza, Sr., Foxborough
Jay Walsh, Sr., Duxbury
Tyler Weeks, Sr., Andover
Ian Yanulis, Sr., BC High
Goaltender:
Andrew Blood, Jr., Walpole
Matt Comerford, Sr., Reading
Ryan Goodall, Sr., Dover-Sherborn
Nick Marrocco, Jr., Duxbury
Giles Ober, Sr., Algonquin
Jake Reynolds, Jr., Scituate
D.J. Smith, Sr., Billerica
Robert Treiber, Jr., Medfield
Tighe Van Lenten, Sr., Masconomet
June, 28, 2012
6/28/12
1:41
PM ET
Needham lacrosse junior attack Robbie Pisano has given a veral commitment to Marquette University.

Pisano was a driving force behind the Rockets' run to a Division 1 state tournament finals appearance this season, where Needham fell to Duxbury, 10-8. He is also a member of the Laxachusetts lacrosse club and was a Philly Showcase Fab 40 All-Star.

Marquette will enter its first varsity season of competition during the 2012-13 academic year.
May, 17, 2012
5/17/12
1:13
AM ET
NEEDHAM, Mass. – From the way it started, its outcome would seem dubious.

No. 19 Norwood came charging out of the gate, scoring the game's first goal against Bay State rival No. 6 Needham on Wednesday. The Mustangs also held a 2-1 lead midway through the first quarter.

Things simply unraveled from there as the Rockets coasted to a 13-2 victory.

"That third quarter was probably the best offense we've played all season, spinning the ball and keeping it hot," Needham attack Nico Panepinto said of the Rockets' six-goal third.

Panepinto and Jamie McGill paced the Rockets' high-fueled attack with four goals each. Robbie Pisano chipped in two goals of his own, while James Caruso, Alex Mirages and Mike Riley also found the back of the net.

But the Needham (12-4) attack started at midfield with the expert face-off work of Caruso, who won over 80 percent of his draws. It was a complete effort for the midfielder, who also won a team-high five ground balls.

"It makes all the difference when you're able to win the ball and get it to the offense," Panepinto said of Needham's faceoff dominance. "That means everything."

BUILT FROM THE BACK OUT
While the Mustangs (11-4) were off to hot start, Needham's defense quickly regrouped and held Norwood to just three shots at the cage for the remainder of the first half.

Rockets head coach Dave Wainwright said it was a credit to the team's pillars.

"[Mike] Vespa, [Dan] Kavanaugh, those guys have done a fantastic job of kind of jelling together, and with Lucas [Davis] inside the cage, it's been a nice little group and a foundation for everyone to build confidence on."
April, 26, 2012
4/26/12
12:18
AM ET
By
Bruce Lerch
| ESPNBoston.com


NEEDHAM, Mass. -- Wellesley attackman Peter Crane hadn't been doing much dodging at all during Wednesday's Bay State Conference rivalry showdown with Needham. But when the right moment came, the move was there and the shot was true.

Crane took a feed from teammate Adam Horelick, slipped past his man and buried the game-winner with 1:13 remaining in overtime as Wellesley completed an epic, fourth-quarter surge to upend the Rockets for a 10-9 victory at Memorial Park.

"We had the middie dodging down the alley and he moved it down to the attack who bumped it to me," explained Crane. "I just dodged my defender, got to five and five, and turned and shot. I saw it go five-hole and I was fortunate enough for it to go in."

That the game even required overtime is a story unto itself. The two teams battled back and forth throughout the first half, with goalies Lucas Davis (Needham) and Connor Darcey (Wellesley) standing out as the early stars. The Rockets took a 4-3 lead into the break courtesy of a man-up goal by Jamie McGill.

After a man-down goal by Crane set up by a beautiful end-to-end rush by Darcey, Needham exploded in the third with a 4-0 run. Mark Riley, Nico Panepinto (four assists), Alex Mirageas and McGill each scored to push the Rockets' advantage to 8-4.

Wellesley got one back as John Caraviello converted a feed from Horelick with 28 seconds left in the third, jumpstarting a 5-0 spurt that saw Nate Levin tie it and Horelick put the Raiders ahead for the first time since the first ten seconds of the second at 9-8.

Robbie Pisano completed his hat trick with 1:33 left in regulation to force the overtime, but Darcey (20 saves) made a pair of big stops with Needham dominating possession in the extra frame. Once Wellesley got it back, the ball found its way to Horelick and then Crane, who beat his man and snapped the game-winner.

"We drew that up, that's exactly how it's supposed to go," Horelick said of the final play. "Peter didn't have too many dodges this game and I think we all felt he could take his pole to the cage. I just gave it to him, I knew he was going to put it home. He went right past his man and it was a great goal."

FRUSTATING LOSS TO A RIVAL
The Rockets day started off with plenty of positives. Davis was terrific in the cage, stopping 17 shots in all. With the Raiders tough defense focused on defending standouts Riley and Panepinto, players like McGill and Pisano stepped up and combined for eight points.

"Our goaltending, I couldn't be more proud of Lucas Davis," praised Needham coach Dave Wainwright. "He played a great game, he's a fantastic boy, and its a pleasure and an honor to have him. I think he kept us in the game more than anyone on offense or defense did for him."

"We're definitely upset from the outcome," Wainwright continued. "We'll definitely learn from it but at some point we have to start executing better than we have."

CENTURY-OLD RIVALRY REACHES ALL SPORTS
The storied tradition of the football rivalry between the two towns needs no explanation as the longest-running public school clash in the nation.

The gridiron isn't the only place that tradition matters, however. Pick a sport in any season and at any time of the year and know that when Wellesley and Needham hook up, it matters.

"You grow up in Wellesley wanting to beat Needham in every sport you play," Crane said. "You play them from youth lacrosse on and every time its a big game. We weer really looking forward to this one and we were fortunate enough to get away with a win."

Raiders assistant coach Adam Pascal offered his passionate take on the tradition as well and the importance of the role the seniors play in each game.

"We told the kids this was a neighborhood game, you have to be the toughest kid on the block before you leave the neighborhood and Needham-Wellesley, this is one of the oldest rivalries there is," Pascal explained. "Down 8-4, Coach [Rocky Batty] and I just kind of looked at each other and said lets get some seniors on there. We put Adam Horelick down there. He's a senior, he's been playing for a couple of years, and that was the change in the game. Reed [Westerman] goes to defense, throws a big assist down there throwing the ball to another senior Peter Crane. And the last one was even Horelick spinning the ball to Crane.

Pascal continued, "We just needed to get some kids who played in big games before, know what it feels like to want to win the game, have some idea what it feels like to actually win the game and they just did it. Finally the kids just came together. That was the best performance...I think Connor Darcey played great, Ryan Cassidy, our whole defense. Offensively, that's great to see Peter get off there a bit and win the game and it feels great. They'll never forget it, Thanksgiving when they come back, they'll meet on that Wednesday and they'll be getting on Peter Crane for beating Needham."
April, 18, 2012
4/18/12
12:50
AM ET
By
Matt Noonan
| ESPNBoston.com
NEEDHAM, Mass. -- Last season against Bishop Guertin, Needham's offense rallied during the final quarter to beat the Cardinals by three goals, and claim their first victory against the New Hampshire powerhouse since 2008.

On Tuesday, BG erased Needham's memories of 2011 by tallying six goals in the first quarter, and five in the third, which helped the Cardinals beat the Rockets, 14-8.

"We came out and jumped on them, [6-1] and the key to that was our face-offs," Bishop Guertin head coach Chris Cameron said. "Our faceoff guy was outstanding, and today he just gave us possession after possession."

BG's junior Blake Boudreau, who won all the faceoffs in the first quarter, began the game by winning the opening draw, and then racing down field to net his team's first goal in a span of eight seconds.

"Basically that's pretty much what I work on in practice, and to tell you the truth, I just try to do my thing," Boudreau said of his faceoff victories. "I was a freshman on the team, and I learned from the seniors and I just worked my way up, and it's finally paying off."

"[My goal] definitely started [our team's] momentum," added Boudreau. "We just got off to a [quick] pace, and I try to get [my team] as much possession as we can, and the more possessions we get, the more time we get the ball and the more goals we score, so that's what I try to do."

Boudreau's faceoff prowess sparked the Cardinals offense to construct a 5-0 cushion, as seniors Paul Spinney, (five goals, one assist) and Brody Smith, junior Tommy Vailas, and freshman Colin Swanson all whipped the ball past Needham's senior netminder Lucas Davis before junior Ned Connolly registered the Rockets first score at 5:27.

BG (4-0) answered two minutes later when senior Luke Roever connected with Spinney, but Needham (2-2) responded with two quick tallies prior to the conclusion of the opening quarter, as juniors Nico Panepinto (3 G) and Robbie Pisano (2 G) each rifled the ball past senior goaltender Colin Delea.

The Rockets rallied to tie BG midway through the second frame by rattling off three consecutive goals by senior Jamie McGill, Pisano, and Panepinto before the Cardinals pulled ahead with Spinney's third strikes of the evening.

"It's all about runs," exclaimed Needham head coach Dave Wainwright. "They were able to capitalize on [various] opportunities and we weren't."

McGill evened the score with less than three minutes remaining in the first half, but sophomore Dom St. Laurent helped the Cardinals regain the lead for good by skipping in the go-ahead goal at 1:48, which gave the Cardinals an 8-7 lead at the break.

"We were focusing on good shots, and that was key for us [in the first half]," Cameron said. "Once there was a swing – we were shooting the ball well tonight, which was good, but we knew that we needed possessions because they can score."

Entering the second half, BG's offense obliged to their coaches halftime orders by possessing the ball and registering five tallies in seven minutes. Spinney and sophomore Connor Donahue each notched two goals, while sophomore John Miller recorded his only score of the contest during the third period.

"After seeing [the score at halftime], so I knew I had to step up for my team, and do what I had to, and make sure that everyone knew their objectives they had to get done," said Spinney. "I just did mine as best I could, and that's all I can really say [because] we didn't quit. We kept our sticks good, and kept our legs good."

Needham's offense, which was shutout for the entire third quarter, managed to locate the back of Delea's cage midway through the fourth quarter when senior J.P. McHale set up Panepinto for the Rockets' eighth goal.

BG tallied their final goal during the closing seconds when Roever rushed from behind Davis' net for the score.

"I think that anytime you can come to Needham, and beat Needham, I think they're one of the top three or four teams in Massachusetts ... it was a great win for us."
April, 7, 2012
4/07/12
8:00
PM ET
By
Bruce Lerch
| ESPNBoston.com
HINGHAM, Mass. -- It has become something of a tradition over the years that when Needham and Hingham match up in an early season lacrosse game, it ends up becoming an instant classic.
[+] Enlarge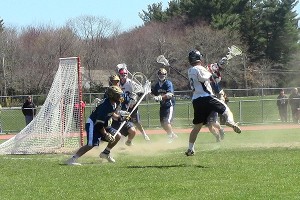 Bruce Lerch for ESPNBoston.comNo. 5 Hingham endured No. 4 Needham's late charge to come away with a 12-11 overtime win Saturday morning.
Since 2005, the Rockets and the Harbormen have met once a year with all but one of those contests was decided by three goals or less. Four of them were one-goal thrillers.
History repeated itself Saturday morning at Hingham High School, as Noah Ellis fired home the game-winner at 2:35 of overtime to lift the Harbormen to a 12-11 victory over Needham.
"I think it was a battle all the way," admitted a somewhat relieved Hingham coach John Todd afterward. "I think it was a one or two goal game, back and forth, both teams holding leads and we were just lucky enough to get a look at the cage in overtime. Good early season lacrosse."
Ellis finished with three goals and an assist for the Harbormen (3-0), David Freitas had five goals and a helper, and Kevin Blair had a game high seven points on four goals and three assists.
Mark Riley paced the Rockets (0-1) with four goals and two assists, Nico Panepinto added two goals with four assists and Robbie Pisano collected a hat trick.
The Rockets (0-1) tied the game when Panepinto set up Riley for a laser to the far post with just 23 seconds remaining in regulation. The Rockets then won the faceoff for overtime, but the Hingham (3-0) defense bottled up Riley as he tried to dodge through the lane.
With possession in hand following a timeout and another stoppage, Ellis worked himself into great position and let loose with what ended up as the game-winner.
"Kevin Morris set a good pick for me on the corner and my guy was kind of sagging in a little bit so I just split him to the middle," Ellis described. "Everyone was clearing out so I had a lane right to the net."
After a penalty-filled third quarter in which 10 flags were thrown (seven against the Harbormen), Freitas scored back to back goals, the second on a diving shot while getting hacked, to give Hingham an 11-10 lead with 3:09 to play. Panepinto rung one off the crossbar in a man-up a minute later, then Riley finally forced the extra frame with his tying goal.
"Our team has a lot of poise," Blair said. "It was pretty crazy and there was a lot of confusion with the referees and all the flags and stuff but we had a run, we kept it together."
In a year where expectations are high for both squads, the importance of the triumph was not minimized at all for the Harbormen.
"Its definitely big," Todd admitted. "We always battle these guys, every year it's a one or two goal game. That's why we play each other. We've got very high expectations for our kids and great respect for Needham. Having this game early in the season gives us a good benchmark of where we want to be and where we are."