Boston High School:

Robert Treiber
March, 7, 2014
Mar 7
2:40
AM ET
By
Josh Perry
| ESPNBoston.com
BUZZARDS BAY, Mass. - Going into Thursday night's Division 2 South semifinal, Medfield coach Toby Carlow knew that goals would be at a premium against Oliver Ames junior goaltender Jimmy Tierney. Luckily, for the Warriors, they would only need one.

Brett Thomas scored with just fewer than six minutes remaining in the first period and Medfield (17-3-3) tacked on a pair of empty net goals in the final minute, as the Warriors beat Oliver Ames 3-0 at Gallo Arena and advanced to the sectional for the first time.

"They've got an outstanding goaltender over there and he can win you a game," said Carlow. "We knew that…we knew that we had to keep to our game, keep to our style and we'll get our chances and, you know, we did. We got one chance really and we put it in the back of the net."

With 5:45 left in the first period, Thomas was on the post to tap in a rebound after good work from Robert Treiber and Lou Cappucci. Tierney almost got to that point-blank shot, but it was an early lead for the Warriors, which was one of the goals that Carlow set for his team before the game.

He explained, "We knew that a kid like him, as good as he is, to get comfortable in net only makes him better. To get one early was big because it puts a lot of pressure on their team, which we knew was having some trouble on the offensive side of the puck."

Medfield controlled most of the play with far more of the puck possession and a 34-22 advantage in shots. OA was content to try and sit back and not allow Medfield's speed to cause odd-man rushes and let Tierney keep the score low.

"We tried to clog up the middle a little bit," said first-year OA coach Mark Homer. "They're a quick team, there's no doubt about it and not just the first line but all three lines. You take the middle of the ice, try to stay on the strong side of the puck and try to put the puck on net as often as you possibly can and hopefully you get a break."

Tierney lived up to the billing to prevent Medfield from getting a second goal, although John MacLean had a wrist shot ring off the crossbar midway through the second period. Homer could only marvel at how much the netminder has meant to the Tigers in their run to the semifinal.

"Jimmy speaks for himself in the way that he's played the last six or seven games," said Homer. "He made some unbelievable stops out here tonight to keep us in the game. Right now, I don't think there's a better goaltender out there. He was in a zone."

OA (12-9-2) had two goods scoring opportunities in the opening minute of the third period on rebounds from Medfield goalie Dan Graham, but no one was able to get a stick to them and the chances were cleared. The Warriors then gained control of play again (dominating 18-10 in shots in the third) but could not find the goal to put the game away.

In the closing minutes OA had a few other chances as it started to be more aggressive pushing forward and leaving forward Matt Campanella high in the neutral zone in hopes of catching Medfield in a quick transition. The Tigers would get two more good chances -- a pass into the slot just rolled off the blade of an open OA forward and then a shot from the point handcuffed Graham but Medfield cleared the rebound.

With 56.3 on the clock, Jack Scannell stole a pass at the blue line and skated in unopposed to fire home an empty net goal to make it 2-0. Twenty seconds later, Justin Hirschfeld added a second empty netter and let Carlow, and the bench, breathe a lot easier.

When asked about his reaction to Scannell's goal, Carlow smiled and replied, "A big sigh of relief because it's such a tense game and one bounce of the puck and it's a tie game. Anything is possible at that point."

Homer reflected, "The score doesn't indicate the game -- we were one shot away. We're probably not the most talented team compared to some of the teams in here, but we have more damn heart than any other team that you've probably seen."

He added, "We took one of the best teams in Division 2 to a 1-0 game with two minutes left what more could you ask for as a coach? That scoreboard is not going to determine how I feel about this team."

This was the third time in the past four seasons that Medfield has reached a sectional semifinal (the previous two were in D3) and the first time that it has advanced to the finals.

"This is the third time that we've been in this game with this group of guys and never gotten by it," said Carlow. "I was just really happy for them to get over this hump."

Medfield will play Canton in the final on Sunday at 4:45 p.m. at Gallo.
July, 29, 2013
7/29/13
2:36
PM ET
Medfield lacrosse rising senior goaltender Robert Treiber has committed to the admissions process at Tufts University, the Warriors' official Twitter account announced today:
Congrats to @Med_Lax's Robert Treiber who committed to the admissions process @TuftsLax. @blerch27 @ESPNBostonHS @GlobeSchools @bostonlaxnet

— Medfield HS Lacrosse (@Med_Lax) July 29, 2013
Treiber earned an ESPN Boston All-State honorable mention nod following last season, when he helped Medfield to a MIAA Division 2 Eastern Mass. championship and state final appearance.
July, 1, 2013
7/01/13
5:53
PM ET
FIRST TEAM
G – Nick Marrocco, Jr., Duxbury
In his first season starting between the pipes for the Dragons, Marrocco was named an Eastern Mass. All-American while averaging 13 saves per game. Also a standout hockey player during the winter season, Marrocco is committed to Georgetown and was named Most Valuable Player of the bostonlax.net All-American game.

D – Rob Breed, Sr., Xaverian
One of the galvanizing forces behind the Hawks' run to the program's first state lacrosse title, the Eastern Mass. All-American was tasked with shutting down the opponent's top attacks.

D – Ben Cox, Sr., Medfield
Named the Tri-Valley League's Defensive Most Valuable player, Cox was a four-year member of the lacrosse team and part of back-to-back MIAA Division 2 state championship lacrosse teams. During the winter, Cox finished second on the Warriors hockey team in scoring, posting 12 goals for 38 points in 21 games. He will continue his lacrosse career at the University of Vermont.

D – John Sexton, Jr., Lincoln-Sudbury
The Notre Dame commit was a jack of all trades for the Warriors this season, taking faceoffs, playing on man-up situations and providing lockdown defense. Sexton was named an Eastern Mass. All-American and is a three-time Dual County League All-Star.

LSM – Nick Brozowski, Soph., Concord-Carlisle
A ground ball machine, the Maryland commit was named an Eastern Mass. All-American in addition to Dual County League All-Star honors.

M – Dan Delaney, Sr., Lincoln-Sudbury
The Eastern Mass. All-American tallied 38 goals and 20 assists while leading the Warriors to a Division 1 final appearance. Delaney will continue his lacrosse career at Fairfield University next year.

M – Keegan Dudeck, Sr., Longmeadow
The Lancers captain closed out his career on a high with a five-goal outburst in their Division 2 state championship win over Medfield. Dudeck tallied 38 goals and 17 assists for his senior season.

M – Jack Wheeler, Jr., Xaverian
Turning in a dazzling offensive display at Harvard Stadium, Wheeler was a key component to the Hawks' first-ever lacrosse championship. The Boston University commit and Eastern Mass. All-American tallied 42 goals with 15 assists this year.

A – Jay Drapeau, Jr., Westford Academy
Among the state scoring leaders in each of the last two seasons, Drapeau ripped off 71 goals in 2013. The Loyola commit was an ESPN Boston MIAA Lacrosse All-State second-teamer last year and also was a Hockey All-State Honorable Mention during the winter season.

A – Andrew Melvin, Sr., Medfield
The Eastern Mass. All-American helped lead the Warriors back to the Division 2 state championship game. Melvin will continue his lacrosse career at Bates College.

A – Nico Panepinto, Sr., Needham
Named ESPN Boston's third annual "Mr. Lacrosse" winner last week, the Fairfield University signee finished his high school career with 179 goals and 159 assists. Panepinto, also a standout on the football field for the Rockets, was a two-time Eastern Mass. All-American and ESPN Boston All-State selection.

Specialist – Derek Osbahr, Sr., St. John's Prep
Osbahr was an offensive weapon for the Eagles at the faceoff X as the best draw-winner in Eastern Mass. Also a member of Prep's Super 8 hockey squad, the Eastern Mass. All-American will continue his lacrosse career at Bentley University.

SECOND TEAM
G – Ryan Goodall, Sr., Dover-Sherborn
D – Jack Ullrich, Jr., Hingham
D – Jay Walsh, Sr., Duxbury
D – Ian Yanulis, Sr, BC High
M – Caleb Brodie, Jr., Hingham
M – Brendan Flaherty, Sr., Beverly
M – Mike Panepinto, Jr., Needham
M – Roby Williams, Jr., Wayland
A – Hunter Burdick, Sr., St. John's (Shrewsbury)
A – Nick Pino, Sr., North Andover
A – Tyler Reilly, Sr., Grafton
Specialist – Drew Kelleher, Jr., Longmeadow

Honorable Mention
Dom Abate, Sr. M, Beverly
Tommy Bannan, Sr. G, Hingham
Kevin Bletzer, Jr. M, Catholic Memorial
Rogers Boylan, Sr. D, Dover-Sherborn
Evan Boynton, Sr. D, Concord-Carlisle
Mike Carbone, Sr. A, Marshfield
Tucker Ciessau, Sr. A, Scituate
Matt Comerford, Sr. G, Reading
Pat Cronin, Jr. A, BC High
Matt Crowell, Jr. M, Medfield
Mark Dente, Sr. A, Reading
Kevin Farrell, Sr. FOGO, Billerica
Chris Frye, Sr. A, Walpole
Andrew Gallahue, Jr. A, St. John's Prep
Henry Guild, Sr. M, Lincoln-Sudbury
Carson Hart, Sr. M, Wayland
Keifer Heckman, Sr. A, Peabody
Eamon Hunter, Soph. LSM, Lincoln-Sudbury
Joe Igoe, Sr. M, Framingham
Reid Leveillee, Jr. D, Longmeadow
Giles Ober, Sr. G, Algonquin
Kieran Presley, Sr. M, Amherst
Brian Rotatori, Sr. M, Grafton
Drew Smiley, Jr. A, St. John's (Shrewsbury)
D.J. Smith, Sr. G, Billerica
Robert Treiber, Jr. G, Medfield
Luc Valenza, Sr. D, Foxborough
Tyler Weeks, Sr. D, Andover
Sam Wheaton, Sr. G, Minnechaug

Coach of the Year -- Ryan Liebel, Longmeadow
June, 13, 2013
6/13/13
2:41
AM ET
By
Ryan Kilian
| ESPNBoston.com


ALLSTON, Mass. – No. 1 seed Hingham and No. 3 Medfield would go toe-to-toe on Wednesday afternoon in a classic Eastern Massachusetts Division 2 boys' lacrosse final. With both teams being so evenly matched, it would be only fitting that the game would end in overtime,

With 2:10 on the clock in overtime, Medfield attack Andrew Melvin would win it, as the senior beat his man to the cage from behind the net to give Medfield an 11-10 overtime victory. The win sends Medfield (22-3) back to the Division 2 state championship for the third time in four years.

"When it comes down to overtime at Harvard, you need to put the ball in the stick of your senior leader and the quarterback of our offense," Medfield defenseman Ben Cox said after the game. "That is Andrew, and he stepped up big for us today."

Medfield led early and took a 7-4 advantage to the half as they controlled the possessions and did a great job of executing their scoring opportunities.

Cox (1 assist) and goalie Robert Treiber (8 saves) both did their job on the day as the tandem helped contain a dangerous Hingham offense for most of the half.

Trailing by three goals Hingham would come out of the half and score the next three on goals from David Freitas (3 G, 1A), Matt Giarrusso and Boyce Bleak to tie the game at 7-7.

Treiber made the save of the day as the goalie stopped a late opportunity that would have given Hingham the lead heading into the fourth quarter.

"Robert [Treiber] stood on his head," Cox said. "I think they hit him once in the face, and were buzzing shots at him."

Despite going back and forth in the final quarter it would be Medfield who would take the control of the game in the final minutes of play as freshman John Maclean (2G) and junior Matt Cahill would score big goals to give Medfield a 10-8 lead late in the final quarter.

Medfield's offensive balance was highlighted by the play of a trio of freshmen, including Mclean, Matthew Treiber and Nigel Reiff.

"Great composure, good maturity, and we brought them along the entire season," Medfield head coach John Isaf said of his freshmen. "We have been giving them increasing levels of responsibility and building their confidence. John (Mclean), Nigel (Reiff), and Matt (Treiber) are all guys that have really helped us."

Despite trailing by two goals late in the game Hingham's Patrick Burke and Jacob Brodie would net the ninth and tenth goals of the game for Hingham as they tied the game, 10-10, with just 24.7 seconds remaining in the game on Brodie's goal.

Hingham's (21-4) spirited comeback would last midway into the first overtime period as Melvin would find the back of the net to help send Medfield back to the state championship game on Friday night (7 p.m.) at Foley Field in Worcester.

"I was here my freshman and sophomore year and I was sitting on the bench and not getting much time," Melvin said. "I feel like now, as seniors, we have earned it. We are excited and pumped to get back out to Worcester."

Defenseman Jack Ullrich (1G) and goalie Tommy Bannan (9 saves) played well for Hingham in defeat.

"Hingham is a very talented team," Isaf said. "They are well coached. They were very patient in the second half and got some good looks."

Medfield's Matthew Crowell (1G) and faceoff man Brian Bissell also shined for the winners.

Medfield's win sets up a date with Western Mass. champion Longmeadow, who defeated St. John's of Shrewsbury, 15-6, in Wednesday night's Western vs. Central battle.

"One more game," Isaf told his team after the game. "You guys got one more goal, and one more ground ball today."

Medfield will need to continue to take advantage of the loose balls , team depth and clutch playmaking as they look to avenge a 16-1 mid-season drubbing at the hands of Longmeadow.

"We go seven middies deep," Isaf said. "The whole D-middie group; we go five attack deep and it helps us stay fresh come the fourth quarter and in overtime which helps us make a play like that."


June, 11, 2013
6/11/13
8:31
PM ET
DIVISION 3

Dover Sherborn (18-4) vs. Cohasset (17-3)

Players to watch: D-S – D Rogers Boylan, A Matt Davies, G Ryan Goodall, M Matt Huemme, A Brandon Jaeger; Cohasset – G Jack Conte, LSM Tim Gillis, M Will Golden, A John Mills, M Colin Whelan.

Breakdown: The Raiders eye their second straight Division 3 title, but face a Skippers team that has won nine straight games dating back to a May 9 regular-season loss to D2 finalist Hingham. D-S feeds off of their goaltender, Goodall, who is equally adept making tough stops as he is springing the transition game with his long-strike passing ability. The Skippers are guided to Harvard by first-year head coach James Beaudoin, who hopes to lead the program to its first championship since 2010.

X-factor: For the skippers to win, they'll need Golden to bring his A-game to the faceoff X and control play. He's capable.

Pick: D-S 11, Cohasset 7.

DIVISION 2 WEST/CENTRAL SEMIFINAL

Longmeadow (23-0) vs. St. John's of Shrewsbury (18-3)

Players to watch: Longmeadow – A Kevin Barry, M Eric Barsalou, G Matt Draymore, M Keegan Dudeck, A Zack Lukus; SJS – G Andrew Arnold, A Hunter Burdick, A Josh Freilich, FOGO Connor Maloney, A/M Andrew Smiley.

Breakdown: The two district champions met once during the regular season, with the Lancers invading Shrewsbury and keeping their perfect season in tact with a 10-8 victory. Both of these teams have their share of offensive firepower, but they can also stop it, highlighted by Pioneers pole Aidan Fox. As their prior meeting, this game will likely be decided by the midfielders and which team is able to win 50-50 ground balls.

X-factor: Another matchup where I'll be watching the faceoff X. Maloney will need to be on point for the Pioneers to reverse the previous result.

Pick: Longmeadow 11, St. John's 10 (OT).

DIVISION 2 EASTERN MASS

Hingham (21-3) vs. Medfield (21-3)

Players to watch: Hingham – G Tommy Bannan, M Caleb Brodie, M Jacob Brodie, A David Freitas, D Jack Ullrich; Medfield – D Ben Cox, M Matt Crowell, A Andrew Melvin, G Robert Treiber.

Breakdown: The last time these teams squared off at Harvard Stadium (2010), the result was a double-overtime instant classic. The Warriors, who were then on a run of two straight state titles, hope the result is near the same. These squads have been near lights-out in front of their goaltenders, so expect a low-scoring struggle.

X-factor: Cox and Ullrich: Two of the state's best operating in their own end, they are game-changers.

Pick: Medfield 7, Hingham 5.

DIVISION 1

Lincoln-Sudbury (18-2) vs. Xaverian (15-6)

Players to watch: L-S – M Dan Delaney, A Jordan Dow, M Chris Giorgio, A Matt Hall, LSM Eamon Hunter, LSM John Sexton; Xaverian – D Rob Breed, M Ryan McClellan, M Ryan Scheib, A D.J. Sperzel, M Jack Wheeler.

Breakdown: It's been a while since the two teams met in the first week of the season on April 6 (a 10-5 win for L-S), and many things have changed. The No. 1 seed Warriors held serve through the bracket, running through their opponents by a combined score of 41-11 on the road to Harvard. Meanwhile, the Hawks had to dispatch last year's D1 finalist Needham and fend off Catholic Conference rival BC High — in overtime – in the semifinals.

X-factor: It doesn't matter where he is (taking faceoffs, on defense, on the man-up), Sexton is a force. It's always worth watching the manner in which head coach Brian Vona deploys Sexton in the game plan.

Pick: L-S 9, Xaverian 6.
May, 21, 2013
5/21/13
2:57
AM ET
DOVER, Mass. – As spring turns to summer and as the MIAA lacrosse tournament nears, it's also around this time of year that Tri-Valley League rivals Dover-Sherborn and Medfield wrap up their season series – usually, with a conference title on the line.

Monday night's tilt between the old adversaries was no different, with the Raiders looking to win the TVL outright, having beaten Medfield in the teams' first meeting. Looking to earn a share of the league crown, the Warriors took the task to heart, taking a two-goal halftime lead. D-S pulled even in the second half, however, and the game looked destined for overtime.

But Medfield's John MacLean tallied his lone goal of the game with 56 seconds remaining in regulation, and along with goaltender Robert Treiber's 11 saves, the No. 9 Warriors earned a 6-5 win and a share of the TVL championship.

"It shows we can be tough in the fourth quarter," Medfield head coach John Isaf said. "They came back to tie it, so we had to make a play to win it. We were smart, patient in the fourth quarter and good things happened."

The Warriors (16-3) received multi-point games from Matt Crowell (goal, three assists) and Andrew Melvin (G, A) to shoulder the offense, but it was the defenses that were on display.

Despite suffering the loss, Raiders goaltender and ESPN Boston preseason All-State selection Ryan Goodall made 19 saves and was active in the clearing game, even earning an assist on Rogers Boylan's goal to start the second half.

Treiber was equally up to the task. The junior netminder's final save of the evening was his most important, stopping Brandon Jaeger last-ditch attempt to tie the game with about 12 seconds remaining.

"I wanted to make sure he wasn't going to come near-post, so I locked that off and got ready to explode off-post," Treiber said. "He put it out and there and I was able to catch up to it."

His performance came as somewhat of a surprise to his coach, considering Treiber has been battling a groin injury and was held out of practice this week, as a result.

"I was sitting there wondering how he's going to react when he hasn't seen a shot in four days, going into tonight," Isaf said. "But he's a tough kid, he's a gamer. He made some key saves for us tonight."

FOCAL POINTS
Both Goodall and Treiber racked up the saves, but it was their clearing game, which paid real dividends for their teams.

Goodall got on the scoresheet with his third quarter assist, drawing the Raiders (13-4) within a goal. But Treiber's feet were also an asset. On several occasions, particularly in the first half, the junior took off and created transition opportunities as D-S sought to cut off his midfield options.

"I like the run-and-gun," Treiber said. "In transition, they're always tough, and we allowed a few of them, but that's part of the game. That's what we're trying to do, that's what they're trying to do."

Although Isaf and his staff made a concerted effort to limit Goodall's ability to connect on home-run passes, the talented senior still found his spots.

"Our game plan was to keep Goody [Goodall] from open-field clearing," he said. "We didn't do a very good job of that. He can throw a 50-yard pass on a dime, we know that, we've played against him for two years and we know he's dangerous."

MOVING ON
Aside from the opportunity to sweep the season series from their rivals, the Raiders missed out on a chance to claim the TVL title.

And while the result was ultimately different (following the Raiders' 6-3 win on April 26), there were similarities between the two matchups.

"They were pretty similar games, in that they were both defensive battles," said D-S head coach Brian McLaughlin, who secured career win No. 200 last week. "We were shaky, at best, on offense, with a lot of turnovers. They were probably caused by good defenses on each end, and that's a main thing."

With just one non-league game remaining on their regular-season schedule (against Franklin on Wednesday), McLaughlin's team turns its attention to the lessons learned in Monday's shortcomings and defending their Division 3 state championship.

"It's a good measuring stick going into the playoffs," McLaughlin said of playing the Warriors. "Obviously, we need to score some more goals. But, if we can hold Medfield to six, hopefully, we can some Division 3 teams to six as well."
April, 8, 2013
4/08/13
2:24
AM ET
Attackmen:
Tyler Bogart, Soph., Catholic Memorial
Jordan Dow, Sr., Lincoln-Sudbury
Jay Drapeau, Jr., Westford Academy
Brandon Jaeger, Sr., Dover-Sherborn
C.J. LoConte, Sr., Duxbury
Andrew Melvin, Sr., Medfield
Nick Menzel, Jr., Archbishop Williams
Nico Panepinto, Sr., Needham
Robbie Pisano, Sr., Needham
Tyler Reilly, Sr., Grafton
Andrew Smiley, Jr., St. John's (Shrewsbury)
[+] Enlarge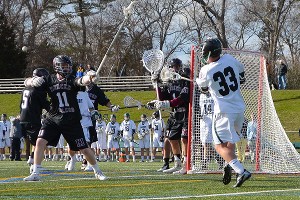 Scott Barboza/ESPN Army commit C.J. LoConte will look to shoulder a bigger part of the offense for defending Division 1 state champion Duxbury.
Midfielders:
Kevin Bletzer, Jr., Catholic Memorial
Will Blumenberg, Soph., Concord-Carlisle
Caleb Brodie, Jr., Hingham
Alec Brown, Sr., Wakefield
Tucker Ciessau, Sr., Scituate
Dan Delaney, Sr., Lincoln-Sudbury
Henry Guild, Sr., Lincoln-Sudbury
Carson Hart, Sr., Wayland
Davis Kraft, Sr., Algonquin
Matt LaCroix, Sr., Westfield
Drew O'Connell, Jr., St. John's Prep
Mikey Panepinto, Jr., Needham
Kieran Presley, Sr., Amherst
Bryan Rotartori, Sr., Grafton
Jack Wheeler, Jr., Xaverian
Long-stick Midfielders:
Nick Brozowski, Jr., Concord-Carlisle
Mike Elcock, Jr., Needham
D.J. George, Sr., Arlington Catholic
John Sexton, Jr., Lincoln-Sudbury
Defensemen:
Evan Boynton, Sr., Concord-Carlisle
Tim Gillis, Soph., Cohasset
Brian Uva, Sr., St. John's Prep
Luc Valenza, Sr., Foxborough
Jay Walsh, Sr., Duxbury
Tyler Weeks, Sr., Andover
Ian Yanulis, Sr., BC High
Goaltender:
Andrew Blood, Jr., Walpole
Matt Comerford, Sr., Reading
Ryan Goodall, Sr., Dover-Sherborn
Nick Marrocco, Jr., Duxbury
Giles Ober, Sr., Algonquin
Jake Reynolds, Jr., Scituate
D.J. Smith, Sr., Billerica
Robert Treiber, Jr., Medfield
Tighe Van Lenten, Sr., Masconomet
May, 4, 2012
5/04/12
2:28
AM ET
By
Matt Noonan
| ESPNBoston.com
MEDFIELD, Mass. -- No. 4 Wellesley lacrosse relied on its second-half transition, producing eight goals after the half en route to a 13-5 win over Division 2 rival Medfield.

While securing their 10th win of the season on Thursday, the Raiders defeated the Warriors for the second consecutive year in the regular season.

Senior Peter Crane, who paced the Raiders with four tallies, jump started Wellesley's third-quarter attack with a strike at 9:11, which was followed up by an additional tally from senior netminder Connor Darcey.

"I think it was pretty much a team effort," Crane said. "Connor makes a lot of saves, and right away he picks his head up, and we get a lot of guys to break open, even poles, and so they'll break off to the midline and the other team usually won't be ready for that, so they'll get the ball. On a good fastbreak, we usually get a lot of fast breaks a game, and we were just executing them today and finishing."

"[The transitions] were very key," added Darcey. "In practice, all we work on is shot, save or loose ball, we get it out right away, so it's just off a ground ball you move it and that's basically what our team [exhibits]."

The Warriors earned their only lead of the contest at 8:43 in the first frame when senior David Parsons collected a pass from junior Matt Ruzzo before he whipped the ball past Darcey for the score.

The Raiders evened the score a minute later when senior Adam Horelick (2G) rifled a shot past senior goaltender Dougie Nelson on the man-up, which provided Wellesley with all the momentum for the remainder of the contest.

Senior Oliver Saffery (3G) sophomore John Caraviello and Crane each tallied one goal in the second quarter, which gave Wellesley a 5-3 lead at the break, which eventually blossomed into an eight-goal victory.

"Obviously, we didn't play well," Medfield coach Mike Douglas said. "A lot of unforced turnovers, [and] all the little things hurt us, [such as] ground balls, extra possessions, which led to extra goals, and didn't execute on 'man up,' didn't do a lot of things well."

A TRUE RIVALRY GAME
The teams combined for 13 penalties, which resulted in four man-up goals, and was indicative of the teams' recent history.

"They probably had more penalties than we did," Douglas said. "It's a rivalry game. They beat us during the regular season, we beat them in the tournament, I mean it's a rivalry game, [and] it's game that both teams get up for and that's going to happen."

Medfield and Wellesley tangled twice last season, once during the regular season and once in the tournament. The Warriors defeated the Raiders, 7-5 in the D2 Eastern Mass. quarterfinals, so this particular match had a certain meaning to Crane and Saffery.

"We all know that what counts is the playoffs, but it was nice to definitely get one under our belt against Medfield," Crane said.

"This is always a big game for us, it's always a benchmark game of the season," Saffery added. "[Our senior class] hasn't wont on this field in the four years since we've been on the team, so we really wanted to come out tonight, send a message. We worked hard, everyone felt like we played a big game, and [we were] emotionally up, and got the job done."

PHYSICAL PLAY HAS TOLL
Aside from penalties, both teams sustained key injuries in the physical bout.

Medfield's Dougie Nelson endured a thumb injury late in the fourth quarter, and was replaced during the final minutes by sophomore Robert Treiber.

Meanwhile, Horelick sustained a concussion late in the second quarter after he notched his second strike of the contest.

"I'm very disappointed Adam Horelick took a shot to the head after he scores a goal," Wellesley head coach Rocky Batty said. "That's got to be taken out of the game. The referees need to take control, coaches need to make sure they don't do that [going forward]."

DARCEY LIGHTS IT UP
It's not too often that fans witness a team's goaltender scoring a goal. Although, against Medfield's midfield and defense, Darcey collected a pass following a dead ball at the midfield and then dodged his way through the Warriors' zone to net a goal at 7:13 in the third quarter.

"It was basically just off a dead ball, and I saw the attack crowd [around] the midfield line, so I just went up to midfield, caught it, other [defensemen] pushed out, basically the same thing like last year, they all pushed out during slide and I just let it go," he said. "I've been shooting a lot in practice, so I was ready for it."

Darcey, who has now recorded two goals against Medfield, explained that this particular strike wasn't has exciting as the one he scored against the Warriors in Wellesley last season.

"[My last goal] was at home, so that was pretty exciting, and that was definitely a closer game. That was definitely more exciting, but when I score, I find it pretty exciting, it's nice."
June, 18, 2011
6/18/11
1:50
AM ET
By
Bruce Lerch
| ESPNBoston.com
WORCESTER, Mass. -- Medfield had its hands full with Algonquin for three quarters, but it was in the fourth where the defending Division 2 boys' lacrosse state champions turned back into reigning state champions.

The Warriors broke open what was a one-goal game by scoring four straight times in the opening 3:11 of the final frame to surge past the Tomahawks and take a 13-9 decision in the Div. 2 title game at Foley Stadium Friday night.

"I don't think we thought it was going to be as close of a game as it was," said senior goalie Sam Aronson. "All the credit to them. They came out and played hard. They gave us one of the best battles of these playoffs, and we've had some pretty big battles. I'm proud of the mental toughness we all showed. We never gave up. We just kept fighting the whole game until the fourth quarter was ours."

Algonquin (20-5) seemingly grabbed the momentum, capitalizing on a Medfield penalty with a big goal by Davis Kraft (hat trick) in a man-up situation with just 22 seconds remaining in the third.

Instead, the current chose to ride with the Warriors (18-7), who rallied behind faceoff specialist Clay Richard (12-for-13 on faceoffs in the second half) for quick goals by Chris Diana, Connor Roddy (twice) and Matt Crowell. That spurt turned a 9-8 affair into what proved to be an insurmountable 13-8 Medfield advantage with 8:49 left to play.

"We were in the hunt. We were in there in the third quarter," said Algonquin coach Rich Luongo. "I think the difference was their faceoff guy took control of the game in the second half."

The Warriors junior FOGO finished with 19 faceoff wins in 25 attempts but deflected a lot of the credit to his teammates.

"I do as good as my team, it's a collaborative effort," Richard said. "I know I got a lot of help from Ben Mastrogiovanni on the sidelines, calling out where their defense was, where I should put it to best help my team. We've been saying all year that we need to make runs and we made a run and pulled away and that's what made the difference."

Medfield pulled out to a quick 2-0 lead on goals by Peter Gill and Roddy, but received a quick wakeup call as Algonquin stormed back with three straight, one by Ian Kemper and a pair from Kraft, to take a 3-2 lead.

The two teams traded goals to open the second before Medfield went on it's first run, getting consecutive goals from Andrew Melvin, Peter Gill and David Parsons (hat trick) to pull ahead, 6-4. Junior Connor Healey (two goals, two assists) got one back for the Tomahawks before halftime, and Zack Tarallo tied it at 9:52 of the third.

After another Richard faceoff win, Roddy spotted freshman Robert Treiber flashing toward the middle and hit him with a perfect pass for an easy look, but Algonquin responded again as Tarallo ripped a sidewinder into the back of the cage for his third goal just under two minutes later. Parsons and Melvin put Medfield back up by two before Kraft's extra-man tally at the end of the quarter.

The final stanza, however, would belong to Medfield, who was bred for the moment thanks to a combination of having been there before and a brutal regular season schedule that featured some of Massachusetts' elite lacrosse programs.

"One of the things that we told the kids coming in, looking at our run through the tournament and theirs, I think we had a pretty tough draw on our side of the bracket," Medfield coach Bob Aronson said. "But even so, we came out unscathed. Everybody's healthy, everybody's eligible and everybody's playing."

"And we knew they had three overtime games to get here so they're tired and a little beat up," he continued. "We figured if we could stay ahead of them or hang with them for three quarters that we'd own the fourth quarter and that's pretty much what happened."