Boston High School:

Ron St. George
December, 3, 2011
12/03/11
11:53
PM ET
By
Roger Brown
| ESPNBoston.com


FOXBOROUGH, Mass. -– No Jordan Keli'inui. No problem.

The Mashpee High School football team was without Keli'inui, the team's leading rusher, for Saturday's Division 4 Super Bowl against Cardinal Spellman, but had the best running back in the game anyway.

Junior Jarod Taylor rushed for a career-high 306 yards and three touchdowns on 26 carries, as Mashpee rolled to a 34-8 triumph in the program's first Super Bowl appearance.

"I was trying to fill his shoes today," Taylor said. "It was a great feeling to help out. I did it for everyone in Mashpee."

Keli'inui missed the contest because of a sprained ankle he suffered in Tuesday's playoff victory over Millis/Hopedale. He has rushed for 1,170 yards this season.

Mashpee coach Matt Triveri said he didn't know Keli'inui wouldn't be able to play on offense until about five minutes before the opening kickoff. Keli'inui did play on defense.

"He was about 60 percent," Triveri said. "He played fine on defense, but he just couldn't go on offense.

"Taylor is a guy who is gonna be one of the better backs in the state next year. He might be there right now. To have two backs like that, we're lucky and blessed. No doubt about it."

Taylor entered the game with 1,070 yards rushing this season. Before Saturday, his career high for yards rushing in a game was the 183 yards he gained in an 31-7 victory over Norwell earlier this season.

Two of Taylor's three touchdowns came in the third quarter, when the Falcons put 22 points on the scoreboard to take complete control. He gained 209 yards on nine carries in the quarter.

"We knew [Taylor} was capable of this," Triveri said. "As a staff we joke that we're doing a terrible job by not giving him enough carries because he's averaging over 9 yards per carry. We knew he had it in him. It was just a matter of getting him the football and the offensive line coming to play."

It was the third time Spellman has surrendered more than eight points in a game this season.

Mashpee, which completed its season with a 13-0 record, led 6-0 at halftime and 28-0 entering the fourth.

Spellman, which lost to Holliston 21-7 in last year's Division 3A Super Bowl, finished its season with a 12-1 record.

"Their offense is very, very good, and their defense is exceptional," Cardinal Spellman coach Ron St. George said. "They're extremely fast, extremely physical and extremely instinctive. They just proved that they were the better team.

"That Taylor kid is gonna be tearing it up next year. He's as talented as the senior (Keli'inui)."

The only scoring in the first two quarters came on the half's final play. Quarterback Zak Orcutt shifted to wide receiver and pulled in a 4-yard touchdown pass from backup quarterback Cody Bingham-Hendricks as time expired.

Mashpee's lead swelled to 14-0 when Taylor scored on a 58-yard run on the first play from scrimmage in the third quarter. Orcutt added the two-point conversion.

The Falcons added another touchdown when Orcutt connected with Kyle Murray for a 14-yard touchdown pass with 4:26 left in the third.

Taylor scored on a 54-yard run with 2:52 left in the third, and then capped his night by scoring on a 10-yard run with 5:35 to play.

"All we wanted to do was get this win for our school, our community and our kids," Triveri said.

Shouldering the load: Spellman running back Pat Hinkley was questionable because of a separated shoulder he suffered in Tuesday's victory over Shawsheen Valley, but did play. Hinkley gained 44 yards on 10 carries and scored his team's only touchdown on an 18-yard run with 38 seconds to play.

Hinkley was not used on defense, where he usually lines up at linebacker.

"I gotta give the kid a lot of credit," St. George said. "His shoulder totally popped out. They had to go to the hospital Tuesday night and put it back in. For him to come back and be ready to play was a great display of courage on his behalf."

Numbers game: Cardinal Spellman entered the Super Bowl averaging 28.2 points per game, but was outgained 438-104. The Falcons gained 18 yards (all rushing) in the first half, and finished the game with 79 yards on the ground."

"What can I say," St. George said. "It was a tough way to end our season."

MASHPEE 35, CARDINAL SPELLMAN 7
Cardinal Spellman (12-1 ) 0 0 0 8 – 8
Mashpee (13-0) 0 6 22 6 – 34

2nd Quarter
Mas – Zak Orcutt 4 pass from Cody Bingham-Hendricks (rush failed), 0:00.

3rd Quarter
Mas – Jarod Taylor 58 run (Orcutt rush), 9:40.
Mas – Kyle Murray 14 pass from Orcutt (Orcutt rush), 4:25
Mas – Taylor 54 run (rush failed), 2:52.

4th Quarter
Mas – Taylor 10 run (pass failed), 5:35.
CS – Pat Hinkley 18 run (Ricky Donovan pass from Tim Burke), :38.
November, 29, 2011
11/29/11
11:26
PM ET
By
Roger Brown
| ESPNBoston.com
ANDOVER, Mass. -– Even though his team had just posted a playoff victory, Cardinal Spellman coach Ron St. George was not a happy man following Tuesday night's 31-7 triumph over Shawsheen Valley.

The reason? Senior running back/linebacker Pat Hinkley, one of four team captains, suffered a shoulder injury while making a tackle late in the game and might not be available for Saturday's Super Bowl.

"There's a lot of concern because one of our best all-around football players right now ... his status for the game is in question," St. George said. "If there's any way a kid can be back Pat Hinkley will be the kid who can do it. He's worked so hard.

"I feel terrible about it. I feel bad for the team and I feel bad for Pat mostly. We gotta regroup in a short amount of time."

All Hinkley did Tuesday night was run for two touchdowns, catch a touchdown pass and lead Cardinal Spellman in solo tackes (five). He scored on a 1-yard run in the first quarter, on a 15-yard run in the second quarter and on a 15-yard reception early in the fourth. He entered the game with 18 touchdowns this season.

"He doesn't go down easy," St. George said.

Spellman's other touchdown came on a 29-yard run by Scott O'Brien with 1:01 left in the first half.

The victory raised Cardinal Spellman's record to 12-0. The Cardinals will face Mashpee (12-0) in the Eastern Mass. Division 4 Super Bowl at Gillette Stadium. Saturday's opening kickoff is scheduled for 8 p.m.

Shawsheen's only score came on a 9-yard touchdown run by Brian Ward with 2:06 to play. The Rams completed their season with a 6-5 record.

"I thought our effort was great," Shawsheen coach Al Costabile said. "They made the most out of their opportunities [early]. It gave them the lead and allowed them to dictate play the way they wanted to."

Shawsheen put the ball in the air 31 times. Starting quarterback Mike O'Hearn completed 10 of 29 passes for 76 yards.

The Rams turned the ball over four times (three interceptions). Spellman allowed an average of 5.6 points per game through its first 11 contests.

"We don't usually throw the ball that much, but they're a real tough team to run on," Costabile said. "That was the game plan."

EASY PICKIN'
Spellman had a 10-0 lead early in the second quarter, but didn't have to work very hard for its points.

A bad snap from punt formation gave Spellman the ball on Shawsheen's 6-yard line and set up Spellman's first touchdown. Three plays later Hinkley scored the game's first touchdown on a 1-yard run.

Then Dan Kustka intercepted an O'Hearn pass late in the quarter. Spellman took over on the Shawsheen 11-yard line and added to its lead when Ben Cowan made a 22-yard field goal.

"We were fortunate early," St. George said. "We didn't create those points. They turned the ball over and we turned it into points. At any level of football you can't turn the ball over, especially when the other team cashes it in for points."

HALF EMPTY
Shawsheen was held to three first downs in the first half, and one of those came on a pass interference penalty.

The Rams generated 30 yards of offense on 28 plays in the half. Shawsheen failed to gain any yards on four of its seven possessions, and turned the ball over twice (both interceptions).

Spellman had a 24-0 lead entering the fourth quarter.

CARDINAL SPELLMAN 31, SHAWSHEEN 7
Shawsheen (6-5 ) 0 0 0 7 – 7
Cardinal Spellman (12-0) 7 17 0 7 – 31

1st Quarter
CS – Pat Hinkley 1 run (Ben Cowan kick), 3:19.

2nd Quarter
CS – FG Cowan 22, 8:26.
CS – Hinkley 15 run (Cowan kick), 5:53.
CS – Scott O'Brien 29 run (Cowan kick), 1:01.

4th Quarter
CS – Hinkley 15 pass from Tim Burke (Cowan kick), 9:22.
Sha – Brian Ward 49 run (DeVonn Pratt kick), 2:06.
December, 4, 2010
12/04/10
1:39
PM ET
By
Phil Perry
| ESPNBoston.com
FOXBOROUGH, Mass. -- Holliston finished its perfect run to the Division 3A Super Bowl championship on the back of a beast.
One year after falling in the 3A title game, Panthers running back Kevin Curry rushed 36 times for 182 yards to lead Holliston over Cardinal Spellman at Gillette Stadium, 21-7.
"He is 'the beast,' " said Panthers coach Todd Kiley. "That was our theme, 'Feed the beast.' It's not only him, it's the guys up front. We put some different backs in there and they're doing some nice things too so it was just a team effort."
[+] Enlarge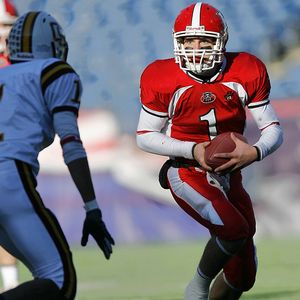 Courtesy of John MahoneyHolliston QB Sean Mayo tries to shake a Cardinal Spellman defender out of his shoes during the Panthers' 21-14 Division 3A Super Bowl win at Gillette Stadium.
Curry spearheaded a prolific rushing attack that totaled 279 total yards on the ground for a Panthers team that is usually known for its passing game. Quarterback Sean Mayo entered the game with 1723 yards passing and 21 touchdowns, but Holliston (13-0) broke a 7-7 halftime tie and pulled away in the second half, attempting just three passes in the third and fourth quarters.
"We've gotten a lot of press, a lot of ink for our pass game," said Kiley. "We knew all along we've got great guys up front, we've got a great running back, and our quarterback can run too, so we're a tough team to defend."
Mayo (7-20, 40 yards; 13 carries, 69 yards) provided some change of pace for the Panthers, converting two long third downs on quarterback draw plays, and punching in two scores when Holliston got deep in Cardinals territory.
His first score came as the last play in the third quarter and broke the 7-7 tie. From the Cardinal Spellman (11-2) one yard line, he spun, faked a hand off and dove across a pile for the score. His play was the exclamation point to a 10-play 55-yard drive where Curry carried the ball six times.
On Holliston's subsequent possession, they went 60 yards in just under five minutes. This time, Curry got to put on the finishing touch with a ten yard run where he was sprung loose with a lead block from an unlikely source: his quarterback.
"On that [touchdown to end the third quarter], he drove it down the field and I got the one yard carry in the end zone," said Mayo. "I had to repay him somehow."
That made the score 21-7 and proved to put the game out of reach.
"The whole town was here today," said Kiley, whose team fell 38-15 to Austin Prep in last year's 3A Super Bowl. "You don't know how it feels until it happens. It's the greatest feeling. It's up there with having a child. It really is. Don't tell my wife that."
Holliston opened the scoring with 5:57 remaining in the first half when Mayo plunged across the goal line from two yards out. For a team that averaged just under 40 points per game during the season, it was a light-scoring half. But with the way the Panthers defense played, the lead seemed safe.
Cardinals running back Blaise Branch (6 carries, 5 yards), who had scored 36 rushing touchdowns coming into Saturday, was held to just five yards in the first half. On the first play of the second half, he suffered a concussion and did not return.
"Their defense dominated so we couldn't do anything, when we lost our one weapon for the first half, that got our kids down a little bit," said Cardinal Spellman coach Ron St. George. "We all hate not to be success but I am proud of how hard we played."
The Cardinals scored when quarterback Zac Cooney found Joe Glynn wide open for a 25-yard touchdown strike with 23 seconds left in the first half. The play capitalized on a Patrick Hinkley interception that put Cardinal Spellman on the Holliston 45-yard line.
"We turn it over, we get right back on the ball and it's time to play," said Curry of his team's attitude going into halftime. "Going into half they got one, but we're coming back to play."
That they did.
Holliston forced its first turnover with just over a minute left in the game. Brody Ciarcello intercepted Cardinal Spellman backup quarterback Kevin Crane to effectively end the game.
"The emotion, I can't even explain right now," said Curry. "It hasn't even gone through my head yet. It's great. The season's over with a 'W.' It's perfect."
And so are the Panthers.
Holliston – 0 7 7 7 – 21
Cardinal Spellman – 0 7 0 0 – 7

First quarter
H – Mayo 2 run (Christian Baker kick)
Second quarter
CS – Cooney 25 pass to Glynn (Jordan Williams kick)
Third quarter
H – Mayo 1 run (Baker kick)
Fourth quarter
H – Cooney 10 run (Baker kick)
December, 1, 2010
12/01/10
3:15
AM ET
By
Brendan Hall
| ESPNBoston.com



READING, Mass. -- They say the nail that sticks up gets hammered down? Well, whatever sky-high feelings of glimmer and glee was abound in the countenance of the Cardinal Spellman players, following their 28-16 win over Hamilton-Wenham that punched their ticket to Saturday's Division 3A Super Bowl at Gillette, was shot back to Earth when it came time for head coach Ron St. George to speak.

"We played terrible and we still won," St. George grunted to his players, down on one knee. And the underlying message -- stay humble, stay hungry -- wasn't lost. Senior running back Blaise Branch finished with 176 yards and two scores, to make it 36 rushing touchdowns on the season, but was held to just 40 yards in the second half. So with that in mind, Branch deferred to his teammates.

"I don't know what happened, I'll have to watch the film, but they shut me down," Branch said when asked what adjustments he might have seen from the Generals' defense in the second half. "But luckily, we have some guys who can come up big for us."

Enter Jared Lordi. The senior fullback is used to creating holes for Branch out of the backfield. But with Branch struggling, Lordi served as the perfect antidote, taking jet sweep and veer handoffs, as well as some long strikes out of the backfield, to put the game out of reach.

With six minutes to go, the Cardinals (12-0) clinging to a 14-9 lead and facing fourth and 13 from 31 yard line of H-W (8-3), the Cardinals went for broke. Zac Cooney tossed a fade down the left sideline to Lordi, who came down with it for a 20-yard completion. Two plays later, Cooney ran it in from nine yards out for a 21-9 lead.

Dylan Keith (208 yards passing) fired back quickly with two long strikes, first a 28-yard bullet to James Love, then a 23-yard score to Trevor Lyons running a slant over the middle from the left slot. But Lordi was right back at it, moving the chains with runs of 14 and 11 before punching the ensuing seven-play scoring drive with another fade down the left sideline from Cooney, this one for 23 yards to the near pylon. That made it 28-16 and, with 1:08 left in the game, essentially put things away.

"I didn't like our kids' biorhythms in the locker room," St. George said. "They seemed content, I mean I could sense it. I've just been doing this for too long."

Taking some of the blame unto himself, he continued, "They come out and do nothing, and all of a sudden they hit that bomb, and that one's my fault," referring to the first H-W score, a 68-yard strike from Keith to Love in single-coverage -- shedding his man in single-coverage and with nobody over the top, Love raced easily to paydirt. "I went after them when we were in man, and hey, if you get beat, you get beat, there's nobody behind you."

But Lordi? Only the highest praise.

"He was huge down the stretch, kid's been unheralded all year," St. George said.

CARDINAL SPELLMAN 28, HAMILTON-WENHAM 16

CS 7 7 0 14 --- 28
HW 0 0 9 7 --- 16

First Quarter
C - Blaise Branch 1 run (Jordan Williams kick) 2:52

Second Quarter
C - Branch 7 run (Williams kick) 7:35

Third Quarter
H - James Love 68 pass from Dylan Keith (kick failed) 8:57
H - James Brao 29 field goal 2:55

Fourth Quarter
C - Zac Cooney 8 run (Williams kick) 4:01
H - Trevor Lyons 23 pass from Keith (Brao kick)
C - Jared Lordi 22 pass from Cooney (Williams kick) 1:08
September, 21, 2010
9/21/10
4:40
PM ET


Cardinal Spellman head coach Ron St. George handily won the 200th game of his high school coaching career. His Cardinals led Norwell, 42-0, through three quarters en route to a 42-22 win on Saturday.

In honor of St. George's milestone, we named him the first Peak Performer of the Week, which we will present every week in partnership with Valvoline.

Helping give him the win was senior running back Blaise Branch, who carried the ball 13 times for 124 yards and three touchdowns.

St. George, a Plymouth native, is in his third year as head coach of the Cardinals, after a three-year stint at BC High where he led the Eagles to a Division I playoff berth in 2007. Prior to BC High, St. George had a successful run at East Bridgewater.