Boston High School:

Rory Keohane
August, 28, 2013
8/28/13
12:18
AM ET
By
Brendan Hall
| ESPNBoston.com
MANSFIELD, Mass. -- Late this afternoon, No. 4 Mansfield hosted No. 19 Boston College High in their annual preseason scrimmage. In three alternating 10-play series of varsity on varsity, Mansfield scored once, while BC High failed to reach the end zone.

Some notes and observations from this afternoon's scrimmage:

The Whole Nine Yards: The spread offense is a wide spectrum, and today we saw a cornucopia of different elements of it from Mansfield. Expect senior quarterback Kyle Wisnieski to throw the ball close to 30 times a game, with such a talented target as junior tight end Brendan Hill to work with.

The two connected for the afternoon's lone varsity touchdown in the second series, a 70-yard fade in which Hill was left on an island opposite the strength of the formation, read tight coverage and beat his man off the line of scrimmage with a move to the outside. Wisnieski delivered a perfectly-threaded dart deep down the right sideline, in stride, allowing Hill to scamper the final 35 yards easily.

Mansfield operated primarily with trips formations, with Hill away from the strength, but also experimented with him lined up tight with his hand in the ground. The Hornets did a lot of funky stuff, from zone read triple options to even some shovel options; considering Hill's unique versatility, and the fact the Hornets were missing a number of key bodies such as receiver Michael Hershman (more on that later), it will be interesting to see what direction head coach Mike Redding ultimately goes with this talented offense.

"Obviously Brendan is a big part of what we do, we're gonna run him wide away from trips. We're gonna bring him in as tight end and run some drag, short routes," Redding said. "We'll balance up when we get Hershman back, we'll go Hershman and Hill on opposite sides and see how people want to play us. A lot of it is personnel. Miguel [Villar-Perez] has had a great preseason -- he didn't play tonight, but he's a great counter, bubble guy, and he's a great receiver. I think when we get the full package in there, it'll be pretty tough to defend. I just think right now, we're in flux with injuries and waiting on guys to be back."

King of the Hill: It's no secret that Hill will line up in a variety of spots in the passing game, both tight and split wide, to utilize his strengths. Last season as a sophomore, Hill led the Hornets in all major receiving categories (48 catches, 849 yards, 17.7 yards per catch, 11 TD), knifing through the middle of coverage with crisp vertical routes and also making some great catches along the sidelines.

Currently the 6-foot-5, 205-pound Hill holds one Division 1 FBS offer, from UMass, but the list of suitors should grow. His athleticism speaks for itself -- last year, he was named the Hockomock League's MVP in basketball -- and Redding makes no effort to hide how involved the kid will be in the offense.

"The game plan has about 12 highlighted sets and plays, and they're all for him, how do we get him in a position to get a bad matchup for the defense," Redding said. "He's a franchise guy, so we've got a lot of different ways to get him in spots where we can have this or that, and if he's double-covered, we've got a run call to take advantage of the double. He's an integral part of what we do with the spread, he's got to be the one guy in a balanced look, away from trips, make him a receiver and then we've got the ways to make him an inside guy on the trips, trade to the other. There's a lot of creativity to move him around formation-wise."

Eagles stuff the run: Try as they might, Mansfield simply could not establish any sort of running game, as the BC High front seven routinely overmatched them. They attacked and filled the inside gaps with tackles Rory Keohane and Yacoub Dobieb, preventing any cutback lanes from forming. When the play spilled to the outside, ends Darren Amado and Chris Solis were there to greet them for a minimal gain. In the second level, linebackers Steve DiCienzo and Mitch Laferriere shed blocks well and were aggressive in sideline pursuit.

"They've had a great offseason working, getting themselves into great shape," Eagles head coach Joe Gaff said of Amado and Solis. "They've been great for us all preseason. And then Steve DiCienzo, and Mitch Laferriere has really... [he's] healthy for once, and we've got Roy and Doubs in the middle, we like what we've got there."

For most of the afternoon, BC's front seven controlled the edge, which should help them out early in the season when they face similar-minded spread teams like Andover, North Attleborough and Barnstable.

"That's something we've really been working on, setting the edge, because we're going to see a lot of that jet stuff, spread," Gaff said. "It's been a big camp push for us, juust to know our roles, every kid knows his role on D. We're like the no-names, you know? We don't have those big guys this year. They understand that. What I liked today is when someone made a play on the ball, there were four or five jerseys flying to the ball, and that's what our defense is about."

Hershman finally in the clear: For much of the last year, Hershman has been nagged by injury. He missed most of basketball season, which made some of us wonder what could have been, with the Hornets losing to Springfield Putnam in an overtime thriller of the MIAA Division 1 State Championship.

It looked as if things were going to persist into this fall, his senior season. But doctors have recently concluded that what was believed to be a groin injury all this time is actually a sports hernia. Hershman was cleared for contact today, and will finally suit up for practice on Wednesday.

"Literally, all the time he rested, the only thing that allowed the doctors to do is diagnose it as a sports hernia," Redding said. "So he's cleared today to do football, basketball, he'll have a little discomfort but it won't get worse and he'll have surgery after basketball season. If we had figured it out in March, he could have had the surgery then [and] he'd be good now, but it actually took the months of resting to realize it was a hernia and not a groin pull.

"He's been out running routes, covering, just not been allowed contact, so now finally he'll be allowed to join us as a football player, and he's very anxious to play some football."

Battle at QB: Junior Sean Holleran got the start at quarterback this afternoon, and he has been the frontrunner for the position through most of camp. The spunky Holleran gives them a certain toughness under center that seems to trickle down to other players. When he scrambled, Holleran was unafraid to lower his head and invite contact. On a quarterback sneak in the third series, Holleran tucked behind his center and followed him up the middle, making a violent collision at the end of the play.

"He's a funny kid. He is a tough kid, and the kids lead after that," Gaff said. "It's just one of those things that, if your leader's tough, you're gonna go through a wall. He's got that nice presecne about him there, and he's enjoying what he's doing."

Still, Gaff is not yet ready to declare Holleran the starter for Week 1. Keep an eye on sophomore Marco King, who has been impressive as of late.

"Marco King's pretty good, behind him, we've got some guys competing for spots, so it's nice to have that," Gaff said.

Eagles run well: Operating primarily out of the I-Formation with either two-receiver or two-tight end personnel, BC's running game was fluid, with tailbacks Rob Harnais and Brendan Smith showing flashes of high potential.

The Eagles' best run came in the third series, when Smith took a toss left and was sprung loose by the left tackle Solis, who sealed off his man away from the play, for a 40-yard gain.

"Chris is hungry, some of these seniors are hungry," Gaff said. "They've been waiting after that nice class we had last year. They've been waiting to get up there, so they've been really biting to get in. I just like this group, I think you saw some energy today. I thought we got after the ball pretty good today."
August, 23, 2013
8/23/13
10:31
PM ET
By
Bob McGovern
| ESPNBoston.com
DORCHESTER, Mass. -- Slot receivers dart across the middle of the field, running backs run track-meet speed between the tackles, and the scout-team defense spreads cautiously out of the box.
There is certainly a different look to the Boston College High football team.
[+] Enlarge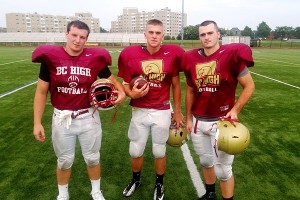 Bob McGovern for ESPN No. 19 BC High will look to rebound from last year's 4-6 campaign behind (L to R) Steve DiCienzo, Sean Holleran and Rory Keohane.
The Eagles typically run a pro-style offense, but with questions at the offensive line, and a healthy stable of smaller sprinters, head coach Joe Gaff is adding a little spread attack to to the playbook. However, he is adamant that B.C. High is maintaining its offensive identity.
"We're still an I (formation) team. We're still a pro style team. We just have a little speed that we're trying to tinker around with and have some fun," he said. "We're trying to get some guys with a little quickness the ball more."
Part of the new-look spread attack is junior quarterback Sean Holleran, who at 5-foot-11 doesn't exactly have a pocket passer's frame. The first-year starter airs the ball out, but also looks comfortable running the read option.
"Sean is a good athlete, and there are some guys behind him that are pushing him. Sean is really a great athlete as a junior, and we're really excited to have him out here," Gaff said. "He gives us a different look than we've had in the past."
Holleran started for B.C. High's junior varsity team last year and said he's been "studying the playbook all summer." He added that he and his receivers have been working out together during the offseason. Holleran has particularly good chemistry with Scott Gosnell, who he refers to as "Goose."
The offensive line, with a list of newcomers, will be charged with replacing Jack McDonald, a hulking 6-foot-5, 275-pound athlete who will play guard for the University of Virginia. Joe MacDonald and Evan Burton will look to step up, while team captain and defensive lineman Rory Keohane will lead the group.
The Eagles will also go through some changes on defense. While B.C.'s base will still be the 4-4, Gaff said that the emergence of the spread attack is forcing him to change philosophies.
"We don't sit in it. It's pretty tough to sit with eight in the box when the other team is running spread on you," he said. "I think we're going to see quite a few teams in it this year. You won't be seeing the 4-4 much when we're up against the spread."
Linebacker Steve DiCienzo, who stepped in when Princeton-commit Luke Catarius went down with an injury, is going to be asked to be a physical leader for the team. The senior captain acknowledged that there is no way to replace guys like McDonald or Catarius, but indicated that this year's Eagles team has some intangibles.
"What you can replace is team chemistry. Our team this year is really tight, and that is the difference between this year and last year," he said. "That's why we struggled a little last year. This year, we're all friendly, while last year there were a few different groups."
The Eagles will also look for linebacker Connor Walsh and Sean Malone –- a speedy defensive lineman with a motor –- to make plays this year. Malone suffered a separated shoulder during the Eagles' first full-pads practice but is expected back in a few weeks.
After a disappointing 4-6 season, the Eagles are hoping team speed tied with the new spread attack will pay dividends.
"We're going to take things one game at a time." Keohane said. "I think we'll surprise some people. We're faster, and we're a lot tougher than we were last year."
BC HIGH AT A GLANCE
Coach:
Joe Gaff (second season, 4-6)
Last season:
4-6
Returning Starters:
Two
Key Returnees:
Sr. DT/OL Rory Keohane, Sr. RB/MLB Steve DiCienzo
Strengths:
Speed, team chemistry, athleticism
Weaknesses:
Lack of size, offensive line, unsettled special teams
Overview:
With a smaller and faster team, B.C. High is going to rely on its athleticism to get by. The Eagles have a tough running back in Rob Harnais, who has decent size and doesn't hesitate when looking for running room. He will work well with Sean Holleran, a first-year quarterback who is dangerous in the open field and can extend plays with his feet. The Eagles have some bulk, and they will need to figure out how to best utilize it when they come across teams with more meat in the trenches. The kicking situation is unsettled, and Gaff is hoping to find a starter during camp. "We have a few guys trying to take that spot right now, so we're still trying to fill that out," he said. The senior leaders said that last year's team had a few cliques, and that doesn't exist anymore. The Eagles may be able to run past a few teams, but they are going to have to make up for their lack of size with hard-nosed football. "We have a lot of tough kids. Everyone likes to hit, and no one is afraid to bring the wood," team captain Steve DiCienzo said. "What we lack in size we make up for in toughness. Discipline, toughness and speed are the three keys to success for us this season."