Boston High School:

Roundtable
January, 25, 2013
1/25/13
3:46
PM ET
At the midpoint of the MIAA basketball season, we've asked our panel of experts to submit their picks for ESPN Boston All-State, as well as Mr. and Miss Basketball along with a number of superlatives:
***
Brendan Hall
ESPN Boston High Schools Editor
All-State Super Team
G – Tyler Nelson, Jr., Central Catholic
G – Darien Fernandez, Sr., Wareham
G – Jameilen Jones, Sr., BC High
G/F – Kamari Robinson, Sr., Springfield Central
F/C – Tyler Gibson, Sr., Rockland
Second Team
G – Jaylen Blakely, Sr., Brockton
G – Nick McKenna, Sr., Danvers
F – Nick Cambio, Jr., Central Catholic
F – Brendan Hill, Soph., Mansfield
F – Isaiah Nelsen, Sr., North Andover
Third Team
G – Riyadh Asad, Sr., West Springfield
G – Juwan Gooding, Soph., New Mission
F - Sam Dowden, Sr., Andover
C - Dakari Wornum, Sr., Dorchester
C – Chris Baldwin, Soph., Springfield Central
Girls Super Team
G - Infiniti Thomas-Waheed, Jr., Newton North
G - Donnaizha Fountain, Sr., Cambridge
F - Olivia Healy, Sr., Reading
F - Caitlyn Abela, Sr., Oliver Ames
C - Molly Reagan, Soph., Braintree
Mr. Basketball Finalists
Tyler Nelson, Jr., Central Catholic – WINNER
Darien Fernandez, Sr., Wareham
Jameilen Jones, Sr., BC High
Tyler Gibson, Sr., Rockland
Kamari Robinson, Sr., Springfield Central
Defensive Player of the Year
– Drew Healy, Lowell
Coach of the Year
– John Walsh, Danvers
Best Shooter
– Tyler Nelson, Central Catholic
Biggest surprise (player)
– Dakari Wornum, Dorchester
Biggest surprise (team)
– St. Peter-Marian
Most underrated (player)
– David Stewart, Madison Park
Most underrated (team)
– Melrose
All-Defensive
G – Tyree Weston, Soph., New Bedford
G – Marcus Middleton, Sr., Stoughton
F – Isshiah Coleman, Sr., New Mission
F – Prince Unaegbu, Sr., Brighton
C – Drew Healy, Sr., Lowell
All-Shooters
Tyler Nelson, Jr., Central Catholic
Tommy Mobley, Soph., Newton North
Daivon Edwards, Sr., Brighton
Giulien Smith, Soph., Catholic Memorial
Ben Judson, Soph., St. John's Prep
Second half sleepers to watch
Dorchester
The Bears are a streaky team, but also a gritty one, as shown in their 58-57 loss to East Boston on Wednesday. Dakari Wornum has been one of the breakout stars of the first half of the season, but a number of athletic shooters -- including Jeduan Langston, Khalil Newson, Ceejae Agnew-Carter and Dean Lee -- can make this team explode at any moment. The expected return of 6-foot-7 junior D'Bryant Coraprez should bolser the frontcourt too.
Sharon
We knew junior point guard Brian Mukasa (18.8 points per game) was good, and we though he had potential to be this good, but we had questions about the Eagles' supporting cast. Jimmy Fritzon (14.2 points per game) has some answers.
Waltham
Hawks are my favorite to win the Dual County League's Large division, in a year of parity across the board. Keep an eye on Mike Gelineau, one of the area's more underrated shooters.
Case
Most expected Wareham to run away with the South Coast Conference (again), but guess who's sitting at 11-2 and 8-1 in the league? The Cardinals are allowing a league-best 46 points per game, and face Wareham on Wednesday for a first-place battle in the SCC. Keep an eye on 6-foot-8 senior center Matt Plante.
***
Chris Bradley
ESPN Boston correspondent
All-State Super Team
G - Darien Fernandez, Sr., Wareham
G - Tyler Nelson, Jr., Central Catholic
F - Jameilen Jones, Sr., BC High
F - Kamari Robinson, Sr., Springfield Central
C - Tyler Gibson, Sr., Rockland
Second Team
G - Jaylen Blakely, Sr., Brockton
G - Riyadh Asad, Sr., West Springfield
F - Nick Simpson, Sr., Brighton
F - Nick Cambio, Sr., Central Catholic
F - Brendan Hill, Soph., Mansfield
Third Team
G - Nick McKenna, Sr., Danvers
G - Rod Milton, Sr., Worcester South
F - Sam Dowden, Sr., Andover
F - Isaiah Nelsen, Sr., North Andover
C - Chris Baldwin, Soph., Springfield Central
Girls Super Team
G - Kayla Burton, Sr., Newton South
G/F - Donnaizha Fountain, Sr., Cambridge
G/F - Olivia Healy, Sr., Reading
F - Morgan Lumb, Sr., North Andover
C - Molly Reagan, Soph., Braintree
Mr. Basketball Finalists
Tyler Nelson, Central Catholic - WINNER
Darien Fernandez, Wareham
Jameilen Jones, BC High
Tyler Gibson, Rockland
Kamari Robinson, Springfield Central
Defensive Player of the Year
- Isshiah Coleman, New Mission
Coach of the Year
- Sean Connolly, St. John's Prep
Best Shooter
- Tyler Nelson, Central Catholic
Biggest Surprise (Team)
– Wachusett
Biggest Surprise (Player)
– KayJuan Bynum, Springfield Putnam
Most Underrated (Player)
– Sam Dowden, Andover
Most Underrated (Team)
– Dorchester
All-Defensive
G - Marcus Middleton, Sr., Stoughton
G/F - Nate Anderson, Sr., New Mission
F - Isshiah Coleman, Sr., New Mission
C - Alex Cooper, Sr., Wachusett
C - Drew Healy, Sr., Lowell
All-Shooters
Tyler Nelson, Jr., Central Catholic
Tim Dufficy, Sr., Whitinsville Christian
Tommy Mobley, Soph., Newton North
Zack Berman, Sr., Wachusett
Jaylen Blakely, Sr., Brockton
Second-half sleepers:
Andover
If Connor Merinder is back in time for the tournament, then consider Andover a favorite in Division 1 North. Central Catholic has clearly separated themselves from BC High, St. John's Prep, Lowell, and Andover so far, but if Andover gets a healthy, productive Merinder back, they will make a run to the Division 1 North final. The Golden Warriors have gone 10-2 thus far without the 6-foot-5 forward, who is considered one of the MIAA's best in a loaded 2015 class. Sam Dowden has done a great job of leading Andover so far, but getting a healthy Merinder makes them a legitimate contender to be at the DCU Center come March.
Worcester South
South became the first team to finally knock off previously undefeated Wachusett in Central Mass. The Cononels, who with the win moved to 8-2, did so without junior point guard Kasheen Cunningham, one of the area's best outside shooters. South has the best scorer in Central Mass. in Rod Milton, a strong young big man in Khalil Bryan-Robinson, and a constant threat from outside in Cunningham—with Central Mass. Division 1 as up in the air as it has been in years, look for South to make a run to the Division 1 finals at WPI.
***
Ryan Kilian
Founder and Editor-in-Chief, Mass. Prep Stars (www.massprepstars.com)
Boys Super Team
G - Tyler Nelson, Jr., Central Catholic
G - Jameilen Jones, Sr., BC High
G - Malik James, Jr., Brighton
F - Brendan Hill, Soph., Mansfield
C - Chris Baldwin, Soph., Springfield Central
Girls Super Team
G - Morgan Lumb, Sr., North Andover
G/F - Alana Gilmer, Soph., Archbishop Williams
G/F - Donnaizha Fountain, Sr., Cambridge
F - Olivia Healy, Sr., Reading
C - Molly Reagan, Soph., Braintree
Mr. Basketball
Tyler Nelson, Jr., Central Catholic
Miss Basketball
Olivia Healy, Sr., Reading
Defensive Player of the Year
Boys: Kendall Hamilton, Sr., Wakefield
Girls: Infiniti Thomas-Waheed, Jr., Newton North
Coach of the Year
Boys: Mike Kasprzak, Melrose
Girls: John McNamara, Pentucket
Best Shooter
Boys: Tyler Nelson, Jr., Central Catholic
Girls: Morgan Lumb, Sr., North Andover
Biggest Surprise
Boys: Frantzdy Pierrot, Jr., Melrose
Girls: Molly Bent, Soph., Barnstable
Most Underrated Player
Boys: Doug Gemmell, Sr., Central Catholic
Girls: Tess Noguiera, Sr., Pentucket
Most Underrated Team
Boys: Melrose
Girls: Ipswich
Second Half Sleepers
Boys: Wakefield
– They have been hanging in the wings with a few losses and have battled some injuries but with a healthy Bruce Brown and continued improved play of Kendall Hamilton, Mikol Blake-Green and others they should be back in the title hunt by the end of the regular season.
Girls: Westford Academy
– Westford Academy has played a very difficult schedule, losing to Bishop Feehan, Wachusett and Billerica by a combined five points. They have wins over Lincoln-Sudbury and Arlington Catholic as resume boosters and can play with any team in the state. Juniors Sam Hyslip and Hannah Hackley lead the Grey Ghosts in most statistical categories.
***
Rob Sarmiento
Founder and Editor, Beantown Hoops (www.beantownhoops.com)
First Team
G - Jameilen Jones, Sr., BC High
G - Darien Fernandez, Sr., Wareham
F - Sam Dowden, Sr., Andover
F - Tyler Gibson, Sr., Rockland
F - Doug Gemmell, Sr., Central Catholic
Second Team
G - Jaleel Bell, Sr., Wayland
G - Jaylen Blakely, Sr., Brockton
G - Malik James, Jr., Brighton
G - Tyler Nelson, Jr., Central Catholic
F - Isaiah Nelsen, Sr., North Andover
Third Team
G - Giulien Smith, Soph., Catholic Memorial
G - Juwan Gooding, Soph., New Mission
G/F - Bruce Brown, Soph., Wakefield
F - Brendan Hill, Soph., Mansfield
F - Nate Anderson, Sr., New Mission
Girls Super Team
G/F - Donnaizha Fountain, Sr., Cambridge
G/F - Olivia Healy, Sr., Reading
G/F - Molly Bent, Soph., Barnstable
G/F - Morgan Lumb, Sr., North Andover
F - Sarah Hope, Sr., Medway
Mr. Basketball
- Jameilen Jones, BC High
Miss Basketball
- Olivia Healy, Reading
Coach of the Year
- Mark Antonelli, Somerville
Best Shooter
- Tyler Nelson, Central Catholic
Biggest Surprise (player)
- Molly Bent, Barnstable (Girls)
Biggest Surprise (team)
- North Reading
Most Underrated (player)
- Jaleel Bell, Wayland
Most Underrated (team)
- Melrose
All-Shooters
Tyler Nelson, Jr., Central Catholic
Sam Dowden, Sr., Andover
Sam Bohmiller, Sr., Franklin
Tommy Mobely, Soph., Newton North
Mike Gelineau, Sr., Waltham
Second Half Sleepers
Boys: Franklin
- Well-coached and playing in a tough conference will make them battle ready come playoff time. Plus, they have a player who can make threes in bunches with Bohmiller.
Girls: Arlington Catholic
- Seem to always make a run and their style of play is tough to prepare for. They are young in some key positions, but first half of the season experience will show during the playoffs.
December, 13, 2012
12/13/12
4:10
PM ET
In our first "Roundtable" of the 2012-13 high school basketball season, we're joined by Beantown Hoops' Rob Sarmiento and Hockomock Sports' Josh Perry as we take a look at the state's best shooters, and some of the sleepers to watch out for.
***
1. WHICH CURRENTLY UNRANKED TEAMS WILL BE THE BIGGEST SURPRISES?
Brendan Hall, ESPN Boston High Schools Editor
Needham will be an intriguing team to watch just based on its size alone, between juniors Trevor Dow (6-foot-8) and John Madsen (6-foot-6). All that considered, the Rockets are not totally polished in the frontcourt, but when they are clicking they do impressive things like Saturday night's 63-60 upset of Brighton. If senior shooting guard Connor McLeod plays like that the rest of the way, he should be in All-State consideration by season's end.
Also keep an eye on North Quincy, by far the biggest surprise in D1 South based on the first week of action. The Red Raiders fell to Brockton by one point in last Friday's season-opener, then last Wednesday went up double-digits on Wareham in the first half before holding on for a 61-58 win. The Raiders found success breaking Wareham's 1-3-1 zone with the marksmanship of twin brothers Pat and Dan Gould, and in general they space the floor well on offense.
In the North, keep an eye out for Malden, which got 44 points from sophomore Anthony Gilardi in Wednesday's season-opening win over Winthrop, and has two other dynamic scorers in seniors Rodney Morton and Terrence Maisonneuve. Waltham returns almost everyone from last year's surprise squad that upset Lynn English in D1 North, so they should be considered as well.
After last weekend's Randolph jamboree, we penciled in Worcester South as a dark horse in D1 Central, but we may have to add a few teams to that list. Shrewsbury upset Doherty in overtime on Tuesday night, then last night Wachusett dropped Worcester North 63-12.
Rob Sarmiento, Founder and Editor-in-Chief, Beantown Hoops (beantownhoops.com)
We had Concord-Carlisle at both of our fall shootouts in September and I like their potential. Jamir Henderson is strong at the point, Zach Dowd is an underrated shooter from the perimeter and Alex Sugarman is getting plenty of D3 looks for his improvement the last two years. A team that could suprise in CMass is Wachusett. Good size, solid guard play, and very well coached.
Josh Perry, Managing Editor, Hockomock Sports (hockomocksports.com)
Needham is currently in the "Last 10 Out" in ESPNBoston.com's rankings, so it's not a stunning upset, but the 63-60 win over no. 10 Brighton to open the season showed that the Rockets will be a team to be reckoned with in the Bay State Conference alongside Newton North and Weymouth. Also, don't count out another strong season from Stoughton in the Hockomock. The Knights lost Aaron Calixte, but still have star guard Marcus Middleton in a pretty balanced Davenport division. Stoughton shouldn't be overlooked by any opponent.
***
2. WHO ARE THE BEST SHOOTERS IN THE MIAA?
Hall:
Safe to say Central Catholic junior guard Tyler Nelson is the no-brainer atop everyone's list here. When he gets going from deep, he gets
going
like few others around. That said, we should consider a few others in the conversation.
Daivon Edwards nailed 98 three-pointers in 26 games last season for Brighton, and looks to be primed for another impressive run. I got the chance to check him out during the preseason, and it looks like he's straightened -- and quickened -- his release. Andover's Sam Dowden is just as smooth as anyone else, and Newton North sophomore Tommy Mobley is simply automatic. In a few months' time, we might be adding Catholic Memorial sophomore Giulien Smith to this list if his performance against Franklin on Tuesday night is any indicator.
Sarmiento:
Tyler Nelson of Central Catholic and Sam Dowden of Andover hands down. Nelson and Dowden have both shown the ability to knock down the three consistently but more importantly in pressure situations in big games. Sam Bohmiller of Franklin is right there too, but if I had to put money on it Nelson and Dowden are my guys.
***
3. WHO WILL LEAD THE STATE IN SCORING AVERAGE?
Hall:
This is an interesting debate, because all of the natural candidates have sidekicks that can bail them out on a given night. My gut tells me to go with BC High's Jameilen Jones, even though to this point he hasn't been asked to shoulder the majority of the scoring load. However, he is one of the most difficult players to defend one-on-one, and with a marked improvement from point guard Charles Collins, I can see him going off for an even bigger campaign than his All-State season of 2011-12.
Sarmiento:
A lot of good candidates, but I'm going to go with a suprise pick, Greg Bridges of New Mission. He can shoot, score at the rim, and more importanly to this question, plays for a team that will press and run -- which means a lot more scoring opportunities.
***
4. THERE DOESN'T APPEAR TO BE AN OVERWHELMING FAVORITE IN DIVISION 2 SOUTH. ARE THERE ANY FAVORITES? WHO COULD SURPRISE IN THAT DISTRICT?
Hall:
The short and simple answer to the first question here is no. As for the second question...Well, that's where things get interesting.
We were spoiled in D2 South the last several years with a dynamic, Division 1-caliber player capable of taking the game over, such as King Philip's Jake Layman and Stoughton's Aaron Calixte. This season, it's a pretty even front, which is why I still like Dorchester in this region even after falling by double-digits to Cambridge on Monday night. The Bears will be a matchup problem with 6-foot-7 forwards D'Bryant Coraprez and Dakari Hannahwornum, and they can score in bunches in transition with guards Dean Lee and C.J. Agnew.
But right now, the Bears are no better than any of possibly a dozen other teams capable of taking the field. Falmouth has one of the region's best coaches in Paul Lundberg, and a feisty point guard in four-year starter Andrew McGill. Stoughton may have taken a hit with the loss of Calixte to prep school, and may take a beating in the Hockomock; but if they get into the tournament, I like my chances with Marcus Middleton and Joe Bunce-Grenon. Also keep an eye on Hopkinton, Medfield, Oliver Ames, Plymouth North, Sharon, Somerset-Berkley, Wellesley and Whitman-Hanson.
Sarmiento:
Seems like a down year in D2 South with no apparent favorite, but I do like Falmouth early. They were the No. 1 seed last year before falling to Oliver Ames, and have a lot to prove this year.
Perry:
I don't think that anyone has pulled away to be a favorite in D2 South. While I don't expect Stoughton to repeat as sectional champs, don't count out the Knights making some noise. Sharon has very high expectations this season behind star guard Brian Mukasa and the Tri-Valley League could be a tough out again with both Medfield and Hopkinton threats to win it.
***
5. IN GIRLS' BASKETBALL, WHAT'S THE TOUGHEST LEAGUE IN THE STATE?
Hall:
My vote is for the Dual County League. The Merrimack Valley Conference has accounted for the last four Division 1 state titles, while the Catholic Central has taken three of the last six in D3 and sandwiched in the D2 title in 2011. But they are more top-heavy than the DCL, which gets pretty even production from both tiers of its leagues.
In any given year, the top four teams in the DCL are among the state's best. This year it's looking like a race between Lincoln-Sudbury, Newton South and Westford Academy for the Large title, though Acton-Boxborough should be right in the mix as well. In the Small division things have shored up, with Bedford coming off a 19-win season and Weston expected to be improved.
Sarmiento:
It's a toss up between the MVC and CCL, but I'm going to go with the MVC. Archbishop Williams, St. Mary's of Lynn, Arlington Catholic, and Cardinal Spellman have all been strong and ranked in the Top 25 the past three seasons, but the three headed monster of Andover, Central Catholic, and Billerica this year make the MVC the choice this season.
Perry:
The Merrimack Valley Conference is loaded in girls' basketball. Three teams in the top 10 including Central Catholic and, the three-time defending state champs, Andover means that the league is as deep as any in the state.
December, 7, 2012
12/07/12
7:14
PM ET
Now that we've wrapped up the 2012 football season, ESPNBoston.com staff and correspondents offer some early projections for next fall. Because hey, it's never too early, right?

***

Brendan Hall
ESPN Boston High Schools Editor

Top 10 for 2013

1. St. John's Prep – Jonathan Thomas is my early, early front-runner for the 2013 Mr. Football Award, and for good reason. This kid is the total package, and with him back in the fold, I expect that Ferrari of a run game to hum nicely once again.

2. Natick – OK, so you think you've solved Brian Dunlap (and the operative word there is think). Now, get a load of Justin Robinson and Alex Hilger. Making it all sing is quarterback Troy Flutie and his dangerous ability when extending the play. Wondering if the Redhawks should go full-out Air Raid, with so many elite weapons at their disposal and the graduation of running back Nick Lee. If so, they could put some passing records out of reach.

3. Reading – If Jonathan Thomas is the No. 1 contender for Mr. Football in 2013, QB Drew Belcher is the 1A. The Rockets will miss Matt Comerford, but return a number of playmakers on the defensive side of the ball, including lineman Andrew Bourque.

4. Everett – Finally out from underneath the shadows of Jakarrie Washington and Jalen Felix, safety Lubern Figaro and linebacker C.J. Parvelus step up and take the reigns of the Tide's ball-hawking defense.

5. Mansfield – We've only just begun to scratch the surface with 6-foot-5 wideout Brendan Hill. Couple that with fellow wideout Mike Hershman and QB Kyle Wisniewski, and you have a pretty well-oiled machine.

6. Leominster – Curious to see if athlete Neil O'Connor slides from wideout to quarterback, with the graduation of Garrett DelleChiaie, because they certainly have enough returning skill to hang with anyone in the state. Also look out for linebacker Jason Valera on the other side of the ball.

7. Brockton – Boxers must find a way to replace experienced senior class and, especially on the line. But a number of playmakers still return, including Aaron LeClair, Kervin Jean-Claude and Giovanni Pimentel. Also keep an eye on 2015 lineman Aaron Monteiro, a promising prospect at 6-foot-5 and 290 pounds.

8. Springfield Central – Golden Eagles lose Aaron Owens and their own "Honey Badger" in Tejano Smith, but return safety DaQuon Clemons, receiver Ju'uan Williams and his cousin, promising quarterback Cody Williams. Like Leominster, Natick, Mansfield and a few others, I'll put Central's group of skill players up against anyone in the Massachusetts.

9. Bridgewater-Raynham – Brandon Gallagher is going to be a legend in Bridgewater when his playing career is done, and as long as Dan Buron is around the Trojans are going to be one of the toughest outs in Massachusetts –- and perhaps even moreso, with the new state playoff.

10. St. John's (Shrewsbury) – Defensively, you can't get much worse than the product the Pioneers put on the field in 2012. But with some terrific individual talents, and a blitzkrieg offense led by record-setting quarterback Andrew Smiley, they have to get better, right?

Others to watch: Bishop Feehan, Cambridge, Catholic Memorial, Dennis-Yarmouth, Doherty, Lowell, Lynn English, Millis/Hopedale, Plymouth South, Stoneham

5 Players to Watch

Cody Williams, Jr. QB, Springfield Central – Showed his mettle against one of New England's top teams in Week 2, and showed his grit in leading the Golden Eagles to a Division 1 Super Bowl with a badly-injured ankle. He's receiving varied degrees of interest from Division 1, with Boston College and Missouri among the most notables.

Hayden Murphy, Jr. ATH, Barnstable - I'm hesitating to call this kid underrated, especially after leading the Red Raiders to the OCL title with a dramatic overtime win over B-R in 2011. The 6-footer is deceptively speedy and figures to fill multiple roles on the offense next season -- maybe even quarterback -- and in the secondary he could be one of the better safeties in Eastern Mass.

Davon Jones, Soph. FS, St. John's (Shrewsbury) – As bad as the Pioneers were at stopping the run this season, the 6-foot sophomore was a wrecking ball in the secondary, recording 96 tackles, seven forced fumbles and five interceptions. Has the potential to play at the highest level of college football.

Justin Robinson, Jr. WR, Natick – A big, long target at 6-foot-2 who came on strong late in the season, finishing with 37 catches for 552 yards and five scores. Together with Brian Dunlap and Alex Hilger, this could be the best group of receivers in the MIAA since Everett took the state by storm with Matt Costello, Manny Asprilla and a young Jakarrie Washington in 2010.

Rufus Rushins, Soph. RB/LB, Bishop Fenwick – Lynn resident ran for 1,302 yards and 17 touchdowns for the 8-3 Crusaders. He is a bruiser 6-foot and 225 pounds, and considered one of the top Class of 2015 prospects in Massachusetts.

5 Storylines to Watch

Doherty Powder Keg Ten years ago when I was playing high school ball, losing to lowly Doherty was flat out embarrassing. Now, they've got a heck of a program on their hands, with linebackers leading BCS programs (UConn's Yawin Smallwood) and an impressive grouping of skill players and back-seven defenders. Talent-wise, the Highlanders have been viewed as a sleeping giant. After tasting the playoffs this year, and returning one of the more intriguing QB-to-WR connections in Luke Brennan and Isaac Yiadom, can they build on that success in the radically refurbished state tournament?

Second life in the GBL Building on the "powder keg" theme, I've always contended that there is always great talent in the Greater Boston League outside of Everett, with the point that three active NFL vets come from the league yet none of them are Everett guys. Cambridge is by far the most intriguing of the non-Everett bunch, with quarterback David Maaghul returning from a record-setting 2012 campaign, alongside receiver Elijah Booker and running back Shaquille Anderson.

Can the saint slay the devil? Since Dave Palazzi took over the Leominster program in 2011, the Blue Devils are 4-0 against nemesis St. John's of Shrewsbury, including Super Bowl victories in 2011 and 2012. Both teams return tons of talent, between St. John's quarterback Andrew Smiley and Leominster athletes Neil O'Connor, Jerrel Addo, Mayson Williams and Jason Valera. Both teams could start the year high in the polls, and are the two favorites in Central Mass. Div. 2.

More conference hopping? With the shortened seven-game regular season upon us with this new playoff system, several conferences will be stuck in no-man's land as one league with nine members, unable to make the 5-5 split. The South Coast Conference currently sits at nine members, while the South Shore League will add Hanover as its ninth member in 2014. Could we still see teams jumping to new conferences?

New Best of the West? For the longest time, Longmeadow was the Academy of Western Mass. football, having made a Super Bowl an unprecedented 16 straight seasons. Head coach Alex Rotsko moved on to a new frontier at Marshwood (Maine) last offseason. Meanwhile, Springfield Central has grown as a program power, giving Everett a good run in Week 2 this season, and taking three of the last four meetings with 'Meadow, including this year's Super Bowl. Is a shift in power happening in Western Mass., or is it already under way?

***

Adam Kurkjian
ESPN Boston correspondent

Top 10 Teams for 2013

1. St. John's Prep - No, losing players like Alex Moore, Lucas Bavaro, Gerald Kahari, Tucker Mathers, James Fagan and Corey Jean-Jacques will not make your team better. However, when you return a running back like Johnathan Thomas, who coach Jim O'Leary thinks could be a national recruit, you won't exactly be hurting, either. Oh yeah, Thomas will be running behind a line that returns four starters. The defense needs to replace nearly everyone but middle linebacker Sean Smerczynski and cornerback Michael Fawehinmi are good building blocks.

2. Lowell - This team nearly made it to the playoffs a year ahead of schedule this fall, but you can expect the Red Raiders to make an even bigger push in 2013. Jack Galvin comes back as one of the most productive receivers in the area, while other speedy skill players like Shyheim Cullen, Ngilva Mason and Musa Mansaray add to what promises to be a high-scoring bunch. The major question mark will have to do with an inexperienced offensive line. Overall, though, this team has the athleticism and speed to match anyone.

3. Reading - The offensive line will take a big hit with the loss of Matt Comerford and receiver Ryan Maney will not be easily replaced. Still, the defense returns enough pieces to again be one of the best in the state. Rob DiLoreto is an underrated two-way player at tight end and linebacker and Liam Kenneally is a chain-mover at tailback. Also, it doesn't get much better at the quarterback position for next year than Drew Belcher.

4. Natick - There may be some holes that need to be filled on the offensive line and on a defense that at times was a little porous this season, but forget about that for a second and just focus on this offense. There may not be a more explosive unit than what the Redhawks are going to be able to roll out next fall. Troy Flutie will have a terrific group of receivers to throw to, including the ultra-productive Brian Dunlap, and this team will be able to put up points on anyone.

5. Mansfield - The biggest losses here are in the backfield, where Robbie Rapoza and Kevin Makie both had good years, and in the defensive front seven, which was a strength for most of the year. But there is plenty to be optimistic about, especially the passing game, which returns quarterback Kyle Wisniewski and receivers Brendan Hill and Mike Hershman. Big offensive tackle Ollie Erickson is another player to keep an eye on and highlights a line that returns three starters.

6. Duxbury - Sure, the winning streak may be over, but this program is in reload mode right now. The offensive line loses Rob Kosharek but returns three other starters and the backfield loses Jon Hurvitz but brings back Khai Perry. The Dragons have not one but two dependable quarterbacks to run the up-tempo spread offense in Sean McCarthy and Liam Stauss. The question mark will be how the defense replaces middle linebacker Marshall McCarthy, the heart and soul of that side of the ball.

7. Leominster - You look at this team in warmups and think there's not much to worry about, because the Blue Devils are never going to blow anyone away with their size. But once the ball is snapped, this team attacks opponents with a high level of quickness. Also, Dave Palazzi is proving to be one of the top young coaches in the state. Neil O'Connor is a special player at wide receiver who can also play quarterback, while Jarell Addo is one of the better linebackers around.

8. Everett - In John DiBiaso We Trust. Basically, there's very little reason personnel-wise to expect the Crimson Tide to experience anything other than a big step backward next season. Gone is the entire offensive line, including Notre Dame-bound John Montelus. Gone are scintillating skill players like Jalen Felix, Jakarrie Washington and Kenny Calaj. However, the defense should be strong with the likes of Lubern Figaro, Josh Palmer, Angel Duarte and C.J. Parvelus coming back. If the offense can restock the lines and find some new playmakers, expect this team to grow into one of the top teams in the state by the end of the season.

9. Bridgewater-Raynham - The Trojans had a disappointing losing season this fall but figure to rebound in 2013 with a team that may be the favorite in Division 1 South. The offensive line should again be a strength, and it will block for a running back in Brandon Gallagher who had a breakthrough year as a sophomore. He will share carries at times with Arcel Armstead, who doubles as a hard-hitting outside linebacker. Quarterback Matt Clement should take the reins and give this team a threat through the air, as receiver Ryan Martin has game-breaking speed.

10. Brockton - The graduation losses are heavy, but there is still enough here to make a deep playoff run. The backfield should be a strength with second-leading rusher Aaron LeClair back and the talented Kerry Raymond set to take a more prominent role. They will run behind battering fullback Giovanni Pimentel and a sizable line, led by Sebastian Porter, Terrence Thorpe and tight ends Dean Vacca and Justin Ahanon. Strong-armed quarterback Pat Burke takes over for Austin Roberts. The defense has good pieces to build around in Jayden Celucci and Ahanon up front, John Flaherty and Kervin Jean-Claude at linebacker and LeClair in the secondary.

Ten teams that were heavily considered but just missed the cut (in alphabetical order): Central Catholic, King Philip, Needham, Plymouth South, St. John's (Shrewsbury), Springfield Central, Tewksbury, Walpole, Waltham, Xaverian

5 Players to Watch

Jarell Addo, LB/TE, Leominster - A fierce hitter who patrols the middle of the field as well as anyone. If the Blue Devils win the state's inaugural Division 2 title, he will have a lot to do with it.

Shayne Kaminski, OLB/RB, Xaverian - If you watched Xaverian play this season, chances are you heard the phrase, "No. 33, Shayne Kaminski in on the tackle for Xaverian," around a dozen times a game. This kid simply has a nose for the ball and those inside the program compare him to former tackling machine Chris Tamasi, which is pretty high praise.

Eddie Matovu, RB/LB, Tewksbury - As versatile a player as it gets in the Merrimack Valley Conference, Matovu shows off impressive speed out of the backfield and can hurt you in the return game, as well.

C.J. Parvelus, LB, Everett - Trusted high school football talent evaluator and Boston Herald colleague Bruce Lerch is very high on this defender and for good reason. An instinctive and athletic player, Parvelus is as strong coming off the blitz as he is stuffing the run.

Isaac Yiadom, WR, Doherty - If Yiadom played in Eastern Massachusetts, he would be on everyone's radar. A tall receiver with good speed and excellent hands, he can go up and get it with the best of them.

5 Storylines to Watch

True State Championship The top storyline has to be how the new playoff proposal works out. The main issues to watch are scheduling and how teams treat Thanksgiving rivalries.

All eyes should be on Division 2 Putting aside the fact that you will have a slew of Eastern Mass. teams coming back with loaded rosters, this will be the highest division that includes teams from both Central and Western Mass., as Division 1 will be comprised of just North and South brackets. If you're not excited to see how a Leominster, St. John's (Shrewsbury) or Springfield Central would match up against a Reading, Natick, Duxbury or Mansfield in a true state title game at Gillette Stadium, this site and high school football in general probably isn't your thing.

Hey Catholic Conference, should we be concerned or are you just going through a phase here? Look, everyone is allowed to have an off year (see Brockton, 2011), but while St. John's Prep rolled to a Division 1 title this fall and will be the favorite to do so again, the rest of the league has to get its mojo back after a seriously subpar 2012. While some longtime observers are optimistic about the young talent at both BC High and Xaverian, both programs lost a lot of talent. It will be interesting to see how those teams and Catholic Memorial recover from what was a forgettable fall.

Has Springfield Central overtaken Longmeadow as the premier program in Western Massachusetts? Maybe. It takes more than one year for a statement like that to be true, but the Golden Eagles swept the Lancers this year and return enough talent to be treated as the favorites for that section in 2013. How will this program handle going from being the hunter to the hunted? The thought here is that the momentum is going to carry over.

Is Governor's Academy coach Jim O'Leary ever going to suffer a loss? In two years, all O'Leary has done is go 9-0 in back-to-back years with convincing NEPSAC bowl wins. Chances are this run comes to a halt sometime next fall, as it will be difficult to replace the likes of linebacker Ryan Macri, quarterback Tate Jozokos and running back Eli Morrissey. Then again, doubt O'Leary and the Governors at your own peril.

***

John Botelho
Editor-in-Chief, South Shore Sports Journal

Top 10 for 2013:

1. St. John's Prep Hard not to have them on top with Jonathan Thomas and Sean Smercynzski coming back.

2. Reading Drew Belcher will be back under center next year, which means the offense should keep rolling.

3. Natick Hard to believe Troy Flutie has another year, but Natick should have one of the premier offenses in the state next year.

4. Everett Even after graduating a ton of talent, something feels wrong by having Everett ranked No. 4.
5. Weymouth David Harrison and his 33 total touchdowns will be back running the offense for the Wildcats.

6. Brockton Similar to Everett, this team just seems to find a way to reload.

7. Plymouth South Dylan Oxsen led the state in touchdowns, and there's no reason to think he won't be up there next year too.

8. BC High What's a top 10 without two Catholic Conference teams?

9. Abington Matt Kilmain tortured playoff opponents this season. Next year, he'll do the same to the South Shore League.

10. Bridgewater-Raynham If Dan Buron has a good running back, his team will find a way to be good. Brandon Gallagher is one of the best young runners out there.

5 Players to watch

Dylan Oxsen, Plymouth South: He scored 40 touchdowns as a junior this year while leading Plymouth South to their first ever playoff appearance, so what could be in store for an encore? Oxsen has to be among the early favorites in the 2013 Mr. Football watch.

Brandon Gallagher, Bridgewater-Raynham: Gallagher piled up 16 touchdowns as a sophomore for the Trojans next year, despite splitting caries most of the season. Next year, he's going to be the featured back from the get-go and has a chance to break out in a big way.

David Harrison, Weymouth: The first year signal-caller scored 21 touchdowns and added 12 through the air. Weymouth looks like the early favorite to win the Bay State Carey, especially when you consider it'll be the first time they've returned a starting QB in three years.

Aaron LeClair, Brockton: A dynamic back for the Boxers this season, he finished second on the team with 10 touchdowns. Brockton spread the ball all over the field because a slew of athletes this season, but LeClair is line to carry most of that production next season.

Matt Kilmain, Abington: Similar to LeClair, Kilmain's numbers this year were constricted by sharing carries in a loaded backfield (he, Jack Malafronte and Babila Fonkem rushed for nearly 2,500 yards this year). Kilmain jumped on to everyone's radar in the postseason, piling up more than 400 rushing yards and four scores in the first round playoff and Super Bowl wins.

Storylines to watch:

1. The biggest storyline to pay attention to this year is how the new playoff system unfolds. Will it be a success? Will it fail? It's been a long time coming, but for the first time we'll get true state champions. All eyes will be on the new system during the two year trial period to see if it's the best solution for football in this state.

2. Can Abington put together another run like this season? Jim Kelliher plans to be back, but he admits his days have to be numbed on the sidelines at Abington. Is there enough magic left for one more big run? In addition to Kilmain, the Green Wave also return stars Steve Manning, Jon Aprile and Sam Malafronte.

3. Can anyone unseat Everett at year's end as the best team in the state? Lately, that's where they stood when all the chips fell.

4. Football on the cape has come along way in recent years, can they keep it up? It's not likely they can match their Super Bowl performances of 2011, but Upper Cape won this year and Barnstable was finalist. So, which Cape teams will continue the trend of good football next year?

5. Will Brockton reinvent itself without Austin Roberts under center? One of the best option QBs in school history, Roberts perfectly ran an offense that seemed built for him. Peter Colombo has shown an ability to adjust to the weapons he has, and next year should be no different.

***

Ryan Kilian
Editor-in-Chief, New England Prep Stars

5 Players to Watch in 2013

Jonathan Thomas, 2014 RB, St. John's Prep - Thomas was the top back in New England as a junior and continues to improve and dominate opponents with his speed and ability to explode through the hole. The Division 1 recruit will look to lead St. John's prep to a repeat Super Bowl performance and Catholic Conference crown in 2013.

Jon Baker, 2014 OL/DL, Millis-Hopedale - Baker was on of the most dominating two-way lineman in Massachusetts this season. The Division 1 prospect helped lead Miliis-Hopedale to the 2012 post-season and should continue to improve and dominate opponents again in 2013.

Brian Dunlap, 2015 WR, Natick - Dunlap is on pace to shatter local records as the junior has proved to be one of the top skill players in the MIAA since entering the gridiron his freshman year. Dunlap is a game-breaker who provides Natick quarterback Troy Flutie '14 with an elite weapon to terrorize Bay State opponents again in 2013.

Drew Belcher, 2014 QB, Reading - Belcher led Reading to a Super Bowl championship in 2011 and all signs point to Belcher being a favorite to do that again in 2013. The tall and athletic, dual function quarterback will enter his third season under center for Middlesex League power, Reading, next season.

Jack Galvin, 2014 WR, Lowell - Galvin has been torching Merrimack Valley Conference defenses for three years now. He helped lead Lowell to a share of the MVC Large crown in 2012 and will provide the incumbent Lowell quarterback with one of the area's top targets in 2013.

Top 5 storylines

QB Class: The Class of 2014 is loaded at the QB position, between Belcher, Troy Flutie of Natick, and David Maaghu of Cambridge. It should be exciting to see the developments of these returning players and the impact they make on their offenses.

Coming out party: Beverly running back/ defensive back Isaiah White '14 of Beverly looks like he is ready to take the baton from Brendan Flaherty and Kenny Pierce as the current junior had an explosive 2012 playoffs en route to a Super Bowl championship.

The MVC Large balance: The Merrimack Valley Conference is always one of the top conferences top to bottom in the state. In 2012 Andover, Central Catholic and Lowell all had great seasons but next year it should be anybody's race. Look for a very balanced MVC Large next season as Chelmsford and Billerica both return starters at quarterback and running back as well as on the defensive side of the football. The top three from 2012 should also be strong as they are will be led by running back Jack Sylvester (Andover), RB/ DB D'andre Drummond Mayire (Central Catholic) and Galvin (Lowell).

Who will reign in the Catholic Conference? St. John's Prep looks like the early favorite as they return Thomas and All-State LB Sean Smerczynski. Can BC High bounce back from and injury plagued 2012 season and can CM and Xaverian challenge for the top spot next year?

Can anybody dethrone Governor's in the ISL? St. Sebastian's may be the answer as they shared the title at the top this year and if schedules work out we should see them go head-to-head next year. Linebacker Connor Strachan '14 is a top talent in the ISL and in New England. Milton, BB&N, Roxbury Latin. Lawrence , Nobles and Thayer also return top talent. It should be another competitive season 1-16 in the ISL.
November, 8, 2012
11/08/12
12:33
AM ET
A number of league championships will be decided this weekend, and with that, we're discussing "X-factors" for each of the most crucial matchups.

NO. 5 WALPOLE (9-0) AT NO. 21 NATICK (8-1)

Scott Barboza, ESPN Boston High Schools editor: You can pick just about anyone off this elite Rebels' defense, but let's go with senior captain and inside linebacker Cam Hanley. He's been the quarterback to this Walpole defense for a few years now and will be a vital cog plugging the running lanes when Natick quarterback Troy Flutie takes off on the run.

Brendan Hall, ESPN Boston High Schools editor: When these two teams squared off last season, Walpole went almost exclusively with a three-man front and five in the box. They did just fine, holding the Red Hawks to just 17 yards of offense in the first half, and eked out a 16-13 win on a last-second field goal. I don't expect much to change this year. Walpole has one of the state's most aggressive pass rushes, with 6-foot-4, 270-pound defensive end Chris Collins leading the way, and is a big reason why the Rebels haven't allowed a point since Sept. 28.

This Natick line has improved since the beginning of the season, but expect their hands to be full. Natick plays an uptempo, hurry-up style aimed at making the defense think fast, but quarterback Troy Flutie is going to have to make quick decisions –- chuck it or tuck it. And with receiver Brian Dunlap expected to draw extra attention, supporting receivers Justin Robinson and Andrew Boynton are going to be crucial.

Adam Kurkjian, ESPN Boston correspondent: This game will come down to whether or not Natick can make enough stops to give its explosive offense a chance in the end. Both of these teams can put up big numbers on the scoreboard, but while Walpole's defense has been equally effective, Natick's was lit up last week against Wellesley and lacks the same amount of playmakers the Rebels have on that side of the ball. The Red Hawks need to make stops early and often or else they can kiss their hopes of a Bay State Herget Division title goodbye.

***

BISHOP FEEHAN (6-2) AT NO. 16 SOMERSET-BERKLEY (9-0)

Barboza: Sometimes the simplest answer is the best answer. I might be going super-safe here, but Garrett Carlos and Mike Garrant have been the key to Somerset-Berkley's success all season long. If the two-headed backfield is on point on Saturday, the Blue Raiders will be tough to beat.

Hall: There's nothing fancy about Somerset's offense -– Garrett Carlos left, Mike Garrant right, vice-versa, fullback dive –- and there are no tricks. With its one-inch splits, the double wing eliminates blitz packages. Stopping the attack requires discipline not to over-pursue, and generally the play is read by following the pulling guards or watching where the quarterback opens his hips, then crashing the other way.

Of course, Feehan knows all this. This is nothing new to the Shamrocks, who sees this attack year in year out, and solved it last season for a 41-7 romp of the Blue Raiders. Somerset is looking like its 2010 dominance, but it is a smaller yet faster unit than that Super Bowl finalist squad which ran behind 320-pound road grader Ian Levesque. Plain and simple, the Feehan defensive line is going to have to get off its blocks -– and do it quickly.

Kurkjian: Bishop Feehan has to force negative plays on early downs and get Somerset's offense off the field. The way Somerset pounds teams on the ground, your defense can be worn out by the time the fourth quarter comes around. The Shamrocks would love to take an early lead and force Somerset out of its comfort zone by going to the air, although it's unlikely to happen unless Somerset is behind my multiple scores in the latter stages of the game.

Josh Perry, Managing Editor, HockomockSports.com: The X-factor between the top two teams in the EAC will be Shamrocks senior quarterback Nick Romero. Both teams are heavily focused on the ground game, but if Feehan can get something going in the passing attack and balance its offense it should provide the edge. Both teams will be crowding the line of scrimmage and bringing numbers up into the box. If Romero can connect with his receivers, even simple screens to Matt Allen and Isiah Douglas, it will give Feehan an edge.

***

NO. 18 KING PHILIP (8-1) AT NO. 24 NORTH ATTLEBOROUGH (6-3)

Barboza: I'm going with go with Sam McDonald, who's made King Philip's offense more dynamic in recent weeks. McDonald's had two-touchdown games in two of the last three weeks, including last week's win over Oliver Ames, when he hauled in a 22-yard touchdown pass from John Dillon and added a spark to the Warriors' special teams with a 66-yard punt return for a touchdown.

Hall: Joe Johnston gives this King Philip rushing attack its spunk, but it's going to be his play on defense that is the difference in this one. The Warriors are noted for devising great defensive gameplans, but that was delivered a swift wakeup call in the 46-33 loss to Mansfield. North has some big-play threats, and if KP wants to keep them in check they will have to dictate the pace of this game early.

Kurkjian: A year ago, King Philip held North Attleborough to just seven points. This year, it's the North defense that will need to be up to the task if it wants to take this showdown in the Hock. North can't count on its offense to just outscore King Philip because outside of an uncharacteristic breakdown against Mansfield, the Warriors have been strong on that side of the ball. Lately, North's defense has shown some weakness and it cannot allow more of that because KP is not the type of team that is going to allow the type of Arena League scores that the Red Rocketeers have hund up on teams this year.

Perry: The biggest X-factor in this game will be health. Sean Peters and Alex Jette are back for the Rocketeers, but neither is 100 percent. Jette's hair-line fracture is not fully healed yet and Peters will probably need surgery on his shoulder after the season. Even at only 75 percent, both players have made a significant contribution to the team on the field as well as positively impacting the team's attitude and confidence. Meanwhile, KP are a little banged up after fullback/linebacker Ryan Dunn went down with an arm injury in last week's rout of Oliver Ames. Dunn left the field with his arm in a sling and he would be a huge loss for the Warriors if he can't play. He is the lead blocker for Joe Johnston, a good inside option in the power running game, and is one of KP's best defensive players against the run.

***

NO. 17 NAUSET (9-0) AT PLYMOUTH SOUTH (6-3)

Barboza: Dylan Oxsen obviously is having a historic season for the Panthers with 28 touchdowns to date, but Harrison Holbrook and Devin Guadagno have also been intergral to Plymouth South's success. Now, we'll see if they can run together to a Atlantic Coast League title.

Hall: South's Dylan Oxsen is as hard-charging as they come -– you don't tip-toe your way to 28 touchdowns -– running behind some quick pulling linemen. For that, I think the key to this game will if Nauset's two-way lineman Dakota Girard can get off his blocks and create some havoc at the point of attack. The Brown University-bound senior is one of the biggest reasons the Warriors are having their best season in school history.

Kurkjian: Nauset needs to be able to slow down Dylan Oxsen enough to force Plymouth South to beat it in other ways. Oxsen has put up monster numbers this season and his team is on a major roll right now. If Nauset is somehow able to limit his yards and force the Plymouth South offense to go elsewhere, it could be the key in this pivotal Atlantic Coast League game.

***

NO. 11 BEVERLY (9-0) AT MARBLEHEAD (8-1)

Barboza: Pick your poison with the Panthers' backfield, right? So I'm going to go with the Magicians' defense, in particular their defensive line of Rajive Alcindor, Trever Gelineau and Kyle McCormack. They'll have their hands full with the Panthers' athletic offensive line and will have to play their responsibilities if Marblehead is to have any hope of slowing Beverly's stable of backs and a chance at victory.

Hall: Fitting that Marblehead goes by the Magicians, because their front seven is going to have to turn in some majestic play to keep this one close. The evolution of the spread has yielded video game-like stats for high school teams across Massachusetts, but what should scare you about the Panthers' average of 38 points per game is that they're doing it heavy on the run with a Wing-T offense. My advice: shoot the guards up the A-gaps, get upfield and hope for the best.

Kurkjian: The Magicians will be heavy underdogs in this game and the key for them to pull the upset is to make Beverly play a four-quarter game. Most of the opponents on the Panthers' schedule have fallen behind by so much that the fourth quarter is usually a JV contest. The Panthers have not trailed much at all this season and a second-half lead or a one-score game in the fourth quarter would give Marblehead a major advantage because they've been in more close games this season.

***

NO. 23 ABINGTON (9-0) AT EAST BRIDGEWATER (6-3)

Barboza: We all know the big-play ability Babila Fonkem brings for Abington, but the Green Wave is very much a three-headed monster. And the straws that stir the Green Wave's drink are a dangerous duo in Brian Kilmain and Jack Malafronte.

Hall: Abington goes in as the favorites, but they're going to have to stop East Bridgewater's option game. Andrew Benson is a run-first quarterback who can keep the sticks moving if you give him the edge. The Green Wave are going to have to contain the outside gaps and funnel things through the middle of the field.

Kurkjian: The Vikings will come into this one as underdogs and deservedly so because Abington has been so solid all season. However, an upset is not out of the question and the way that East Bridgewater can do it is by jumping out to an early lead and keeping the game close heading into the fourth quarter. Abington has not played a close game since September and since so much is expected of this team, all the pressure will be on the Green Wave in a hostile environment. The Vikings need to maintain that pressure and see if it can have a negative impact on the visitors.

***

FRANKLIN (7-2) AT MANSFIELD (6-3)

Barboza: Junior linebacker Alex Ruddy has taken a big step forward for the Hornets this season and leads the team in tackles with 62 (35 solo) through nine weeks. He'll be key to slowing the Panthers' potent offense.

Hall: We've mentioned before about this Mansfield offense's ability to reel off scores in bunches, and we saw that a few weeks ago in the Hornets' 46-33 win over King Philip. It was vintage Mansfield, rushing for over 360 yards as a team. For all the talk we've made of the Hornets opening up the passing playbook the last few years, they can still run the ball downhill efficiently. We know Franklin can hang with them in the air, but can they stop the run?

Kurkjian: Both of these teams have proven to be solid when they choose to go to the air. The winner of this game will likely be the one who can also get its ground game going to complement that aerial attack. A lot of these Hockomock battles lately have been very high scoring and this one could be as well, but if someone can find a rhythm running the ball it could be the difference.

Perry: Mike Carden could be the deciding factor in a game that will be Franklin's first of two straight title deciding games (they play King Philip on Thanksgiving). The Panthers' kicker is considered a D1-caliber talent by head coach Brad Sidwell and won the game against Attleboro a couple of weeks ago with a 41-yard kick. In fact, he had a 48-yard attempt against Taunton that would have kept the Panthers perfect but it fell inches short. A solid kicking game is a rare luxury at this level and it could provide the edge in a tight game.

***

BOSTON CATHEDRAL (7-2) AT POPE JOHN XXIII (5-4)

Barboza: Mike Sullivan's done a fine job all season taking over for Robert McMaster at quarterback for Pope John all season. For Pope John to knock off Cathedral, he'll need to be at his best again.

Hall: Pope John is going to need to find a way to neutralize Kadeem Edge. The 6-foot-4 Cathedral receiver is a matchup problem for most small-school squads, able to win jump-balls as well as accelerate quickly in space. Also look for several Cathedral defenders to have big roles in this one, namely Cameron Seemore, Derek Welcome and Mohammed Braimah.

Kurkjian: Cathedral quarterback Kejonte Hickman has not played like a sophomore in guiding this team to where it wants to be heading into the end of the season. For Pope John to win this game, it has to force him into the types of mistakes and bad decisions that sophomores tend to make. Cathedral's offense can be brutal to defend with the number of speedy athletes it gets into space, but a disruptive defense that hassles the quarterback into bad decisions is a nice way of messing up its timing.

October, 10, 2012
10/10/12
11:47
PM ET
1. WHAT TEAM IS THE MOST SURPRISING UNBEATEN TEAM IN THE STATE?

Scott Barboza, ESPN Boston High Schools Editor: I'm going to go with Stoneham at 5-0. The Spartans are coming off a two-win 2011 campaign and have already more than double last year's win total. The last time Stoneham started a season 4-0 was 1992. The Spartans have a legitimate backfield with Aaron Louis and Darius McPherson at running back. Even though Stoneham hasn't yet opened up play in the Middlesex League Freedom (Small) division, it has a boatload of momentum heading into its opener against fellow upstart Watertown this weekend. That's something that hasn't been said in a while.

Brendan Hall, ESPN Boston High Schools Editor: We all know this team is super talented, but let's be honest. Who here saw Barnstable sitting at 5-0 right now? We're two weeks out from that fateful rainy night at Everett Memorial Stadium, and I'm still getting emails and texts from people wondering how the heck Barnstable beat Everett. Granted, we all knew this would be a close game going in (both Scott and I picked Everett to win by a score, for instance), but nobody predicted they'd actually pull it off.

Adam Kurkjian, ESPN Boston correspondent: Gotta go with Stoneham here. No, the list of teams the Spartans have played haven't exactly been the caliber of say, Xaverian's, but this is not a program that has had very much success at all in recent years. No matter what happens the rest of the way, Bob Almeida has to be commended for the job he's done so far.

If there's a second choice, it would be Sharon. A long-suffering program in a strong league, it is good to see this team have some success.

Ryan Lanigan, Editor-In-Chief, HockomockSports.com: To me, the most surprising unbeaten team has to be Sharon. In terms of Hockomock power houses, the Eagles came into the season pretty low on that totem poll. Sharon finished last season at 4-6 after only picking up one win in 2010. Now, they stand at 5-0. They've gotten strong performances from quarterback Sean O'Neill (8 passing touchdowns) and running back Sean Asnes (5 total touchdowns). Accompanied with their offense, their defense has been solid.

On top of that, they have had a clutch factor this season. Against Taunton, they scored on their final play with 6 seconds left and won on the extra point. Last week, they scored two fourth quarter touchdowns against Canton, including the second with under a minute before winning in overtime. They might not have had the strongest schedule in the state, but it's still impressive to have already won as many games as their previous two seasons combined.

Corey Allen, ESPN Boston correspondent: Dorchester. The Bears have a bye week, and with two-fifths necessary Boston South wins under their belt to take the league outright (O'Bryant, Burke and English in weeks 8, 9 and 10 remain), will the 5-0 Dorchester squad stay hungry or lose their picnic basket?

Josh Perry, Managing Editor, HockomockSports.com: Considering I picked Mansfield to beat them by three touchdowns, the most surprising unbeaten team is Stoughton. In addition to the difficult schedule, the Black Knights are dealing with unspeakable tragedy and the team showed incredible guts to go out and perform like they did against Foxboro last week. The defense has been better than advertised and they have gotten strong performances by running backs Aaron Mack and Frankie Morris.

I'm not sure that the unbeaten run will continue past this week against North Attleboro, but at this point there will be no surprises from Stoughton because it is a very good team. Also in the Hockomock, Sharon is surprisingly undefeated as well, albeit with a much weaker schedule than Stoughton and the unbeaten run should end this week against King Philip.

2. WHICH CENTRAL MASS. UPSET FROM LAST WEEKEND WAS MORE IMPRESSIVE: WACHUSETT OVER LEOMINSTER, OR SHREWSBURY OVER ST. JOHN'S?

Barboza: I'm conflicted on this one. Both of these came as a shock, more so Wachusett's victory over Leominster, so I'm going to go with Wachusett. Shrewsbury, while not considered to quite be at the Pioneers' level this year, comes as less of a surprise. Wachusett had gotten blown out by St. John's (Shrewsbury) the week before and got thumped in its opener against Nashoba. So how were we to expect the Mountaineers would stymie Leominster (at Top 5 team in last week's poll) the way they did? Perhaps the most impressive stat line any team put up last week was the measly 32 yards Wachusett allowed in the second half of Saturday's upset.

Hall: I'm inclined to go with Wachusett, a team that St. John's pasted 46-14 two weeks ago, for the simple fact that St. John's isn't invincible against the run. We saw this in Week 1, when Holy Name ran for 460 yards on the ground in a 47-40 shootout win by St. John's. The next week, the Pioneers cut that number in half, against a tough Wing-T attack from Longmeadow. But if you can establish the run early, you can go far, and Shrewsbury went up by as much as 17 in this one. Zach Dionis ran for 200 yards and three scores in the first half alone. Plus, this is an intense rivalry game, and you know how we feel about rivalry games. Anything can happen.

Kurkjian: Tough to say, but the thought here is that Wachusett is a little more surprising given how poorly it has played at times this season. Shrewsbury's only loss was to a loaded Auburn squad and already had a win over Doherty that looks a lot better after the Highlanders' win over Holy Name this weekend. Wachusett was blown out in its two losses and had the look of a down year yet beat a Leominster team that nearly everyone pegged as the preseason favorite in Central Massachusetts.

Allen: Shrewsbury. President Bush was in office the last time the Colonials beat St. John's. The tides have turned on Route 140.

3. WHAT WILL FRIDAY'S CONTEST BETWEEN SPRINGFIELD CENTRAL AND LONGMEADOW TELL US ABOUT THE DIVISION 1 WEST SUPER BOWL RACE?

Barboza: About as much as we learned last year. Last October, the Golden Eagles put Western Mass. on notice, eking out a 21-20 win and ending the Lancers' 52-game league winning streak. When the chips were on the table at Gillette Stadium in December for the Division 1 Super Bowl, it was a different matter. I think Friday's game will count for about as much as it did last year, as one regular season game. Of course, we'll see which team has the inside track at the ultimate prize in December. But, in the same token, I fully expect to see the teams meet once again in the final game of the season.

Hall: Considering Springfield Central's top-flight quarterback will be sitting on the bench in this one, this will tell us just how deep the talent pool goes on Roosevelt Ave. Central's Cody Williams is serving a two-game suspension as part of the fall-out from the Eagles' melee with Chicopee two weeks ago, and naturally there have been questions abound about what changes with him out. Last week against East Longmeadow, Cody's cousin Ju'uan Williams moved into the quarterback role, and the Eagles went with a hybrid spread/single-wing look (similar to what Everett threw at them in Week 2) en route to a 40-7 blowout. Ju'uan reportedly hasn't played quarterback since fourth grade, but it just goes to show what kind of athletes coach Valdamar Brower is molding.

We know what we're getting with Longmeadow, and right now it seems like those Lancers and these Eagles are a class above the rest in Western Mass. But if the Eagles can win without their star signal-caller, that will tell us just what a complete team this is.

Kurkjian: Probably not as much as it would seem at first glance. Remember, last year Springfield Central defeated Longmeadow in the regular season only to be blown out at Gillette Stadium. A lot of things can happen between now and December: injuries can occur, personnel adjustments can be made, you name it. Also, don't underestimate how difficult it can be to beat a quality opponent twice in one season. That said, it is still a big game and the winner should have a lot of confidence heading down the home stretch.

Allen: The game will let us know if the Longmeadow linemen (Lou Calabrese, Rob McClure, et. al) that were in Gillette last year have been preparing for another trip to the promised land, or whether they are ready to relinquish the crown.

Jay King, Sports Producer, MassLive.com: Longmeadow and Central are the two best teams in Western Mass., and the third team (whoever that may be) isn't even close. That being said, Friday night's meeting might not explain as much as we'd hoped, because Central will be missing its star QB.

Without suspended Cody Williams, Central dominated a decent East Longmeadow team 40-7 last week. Ju'an Williams, filling in for his cousin under center, transitioned well especially considering it was his first time at the position since 4th grade (when, ironically enough, Cody beat him out for QB on their youth team), showing a better-than-expected arm as well as the expected ability to make plays with his legs. But as St. John's showed earlier this season, the best way to beat Longmeadow is by featuring a strong passing attack to take advantage of Longmeadow's lack of explosive athletes. With Cody Williams, Central has that. Without him, the Golden Eagles don't.

Still, the game should be a fine contrast between Longmeadow's impressive strong front line and Central's deep stable of playmakers. Both teams know their game Friday night is likely to be replayed in December when the Div. I Super Bowl arrives. If Central can win without Cody Williams, Longmeadow should be worried. If the Golden Eagles can't, the two teams should still be evenly matched come December.

4. AT THIS POINT, IS THERE A FAVORITE ANYMORE IN THE HOCKOMOCK LEAGUE?

Barboza: Yes, I think they are King Philip and Stoughton, respectively, in their divisions. I know KP hasn't exactly faced murderer's row of competition in the early going, but they've done everything they've needed to do to this point. By the same extension, the Black Knights are undefeated rolling into a Week 6 matchup with North Attleborough and already have a critical Davenport division win over Foxborough last week. If Stoughton's able to pull off another big win against North, they might ride that wave of momentum through the rest of the season.

Hall: As talented as King Philip may be, I'm not sold on them yet, on account of its soft schedule. Ditto Sharon. No, the only true favorite right now in the league is Stoughton, which proved itself with back-to-back dominant wins over Mansfield and Foxborough to assume a de facto pole position in the Davenport division. It's hard not to root for these guys, after the way they responded following the tragic death of teammate David Wade two weeks ago. But cast aside the inspirational back-story, and by itself this is a talented defense. Marcus Middleton is among the elite coverage defensive backs in Massachusetts, and Imani Pina has emerged as another turnover threat in the secondary.

Kurkjian: In the Kelley-Rex, no. King Philip has yet to really play anyone all that challenging outside of maybe Dartmouth. Franklin, Attleboro, Mansfield and North Attleboro are all dangerous but there is no one dominant team. All of these games should be very close and you could easily see a scenario where the playoff participant is decided by another three-way tiebreaker.

In the Davenport, you have to like what Stoughton has done so far. Yes, Sharon is undefeated, too, but the schedules the two have played to date aren't even comparable. Foxboro had a nice win over North Attleboro but will now need some help after the loss to Stoughton. Oliver Ames is flying under the radar a bit for a team that won the title last year and the Tigers' win over Pembroke last week was a quality one. Still, Stoughton has been the most impressive team in either division thus far and has to be considered the favorite right now.

Lanigan: In the Davenport Division, Stoughton has emerged as the clear cut favorite after the season began a little cluttered. Sharon has impressed at 5-0 and Oliver Ames has played well at 4-1, but neither have dominated or have been as impressive as Stoughton. Couple that with their unbelievable performance last Friday after the tragic loss of teammate David Wade, and it looks like the Black Knights are poised for something special this season.

For the Kelley-Rex, a clear favorite hasn't emerged, but that doesn't mean things haven't changed from the beginning of the season. North Attleboro started the season as one of the hottest teams in the state, but has fizzled after two straight losses. Mansfield picked up an important win over Attleboro but haven't shown consistency, failing to win back-to-back games. King Philip stands at 5-0 but haven't dominated teams in the way some expected. Joe Johnston has very reliable in the back field while the offensive line has done their job. If you had to pick a clear favorite from the whole league, it'd be the Black Knights of Stoughton while King Philip is tops on the big side.

Perry: The answer is yes...and no.

Stoughton has taken on the mantle of favorites in the Davenport division after impressive wins over Mansfield and Foxboro. The Black Knights defense has been outstanding and, although Oliver Ames will give them a battle, should be too much for the other teams in the small school bracket. The Kelley-Rex division, on the other hand, is up for grabs.

Many people, myself included, think that North Attleboro is the most talented team in the league this season and are stunned at the recent performances from the Rocketeers. KP is undefeated, but has not played any top opponents. Mansfield is a very strong team, but could be a year away from challenging for the league title. Attleboro and Franklin are improved from last year, but have not been able to put together a string of victories that makes it seem as though they can claim a playoff spot. In the end, North Attleboro could still be the last team standing but trying to predict anything in the Hock is a futile exercise.

5. EVERETT 51, CAMBRIDGE 30. CAUSE FOR CONCERN? OR IS THE REST OF THE GREATER BOSTON LEAGUE BETTER THAN WE'VE GIVEN CREDIT FOR?

Barboza: Not entirely, but the question it raises in my mind is whether Everett's secondary is the sound group we thought it was heading into the season. While it didn't bear its head in the Crimson Tide's loss to Barnstable (largely due to the weather conditions), Everett surrendered 274 yards and four touchdowns against David Maaghul and looked vulnerable. That group will have another test on its hands Saturday with Xaverian; the Hawks have a deep core of pass catchers. While it's premature to overreact in a game Everett ultimately won, it's worth keeping an eye on as the Crimson Tide builds toward the postseason.

Hall: There are a number of different things we can read into this, but the underlying theme here is the dirty little secret that true insiders know about the GBL: namely, that no matter how lopsided the league has become over the last decade, there will always be talented individuals outside of Everett's program.

Consider, for instance, that there are three guys currently on active NFL rosters that played their high school football in the GBL, and not one of them played for Everett -- Malden's Breno Giacomini (Seahawks), Somerville's Gosder Cherilus (Lions), and Waltham's Mackenzy Bernadeau (Cowboys).

[Editor's Note: Waltham left the GBL in 2008, the same year Bernadeau was drafted by the Panthers]

In more recent years, there have been players to go on to Division 1 colleges from a non-Everett GBL squad, be it Cambridge's Josh Adams (North Carolina), Malden's Wiston Jeune (UTEP) or Somerville's John Wallace (UMass). Think about it -- when you're a league of five urban schools that each serve as the lone public high school for a working-class city of a population anywhere from 40-100,000, it's just law of averages that you'll find enough talent to field a decent team. No one team can truly monopolize the talent pool, the trick is maximizing the exploits -- and that seems to be what Cambridge is trying to do here with its pass-happy attack.

Cambridge, as noted before, is viewed by some as the powder keg of this bunch. Consider that last season, the Falcons went 2-8 yet sent tight end Kevin Lovaincy off to UMass, where he is currently redshirting. After watching the Cambridge-Everett game on film twice now, I can confirm that both wide receiver Elijah Scott and quarterback David Maaghul are legit; and after making a few calls, I can confirm there is Division 1 interest building. And with a 2014 nucleaus of Maaghul, receiver Elijah Booker, and tailback Shaquille Anderson, you're looking at potentially a Top 20 team to start the 2013 season.

Elsewhere around the league, look out for Somerville two-way lineman Ryan Conte, another prospect who is building some Division 1 interest in a program that routinely challenges itself with a tough non-league schedule.

So let's not overreact to this Everett scare, but let's also give credit where credit's due. The rest of the league is working hard towards relevance.

Kurkjian: There are a number of reasons to be concerned as an Everett fan. The injury bug has been one, the toll graduation has taken another. Overall, the team has played a tough early schedule that doesn't figure to get any easier the next two weeks with road trips to Xaverian and BC High. No, neither the X nor BC High have played well early, but playing them in back-to-back weeks takes a physical toll (ask Brockton about how scheduling consecutive Catholic Conference opponents affects the roster).

No doubt the final score of the Cambridge game was a surprise, but a cause for concern? Well, it came the week after a very physical and emotionally draining loss to Barnstable. Everett gave up a lot of points but got the W. That's all the team should really be concerned about, not style points.

As far as the rest of the GBL, Cambridge has some excellent skill position talent. The defense of course needs work, but this is an offense that can score points in bunches and will only get better as the season progresses.

Cambridge has always been perceived as a sleeping giant type of program, because there are plenty of athletes in that building that get overlooked. But in the early part of this decade, Kwame Dixon came in and turned the Falcons in to a real threat, even knocking off the Tide on Thanksgiving in 2001. Cambridge had teams in subsequent years under Dixon, most notably with quarterback Matt O'Brien, that went into Thanksgiving with a chance to win the league with a win over Everett.

With a lot of the key pieces from this year's team returning next season, keep an eye on Cambridge as it attempts to knock the Tide off the GBL throne.

Allen: Defense wins championships, this offensive showcase sounds four alarms for fans of the game. Stop the madness and stop the JV basketball scores. The deeper into the season, the less surprises there are on offense, these scores will slow down if coaches are paying attention.

Perry: After an emotionally and physically exhausting game against Barnstable and the loss of the number one ranking, there had to be a little drop off for Everett. Cambridge deserves credit for a great game and could be considered a threat in the league going forward, but I think that this will be a blip for a team that has played a brutal early season schedule and Everett will recover quickly for a strong finish. It is hard to doubt a team that is always considered one of the top teams in the state and they just needed a week to get back on their feet and get over the disappointment of the loss to the Raiders.

6. WHAT ARE THE ODDS OF DUXBURY AND READING BOTH FINISHING THE REGULAR SEASON UNDEFEATED?

Barboza: Both teams are good enough to run the table in their respective divisions, but I'm looking at the strength of schedule each team plays through the end of the season. Reading's schedule features only two games where I truly feel they'll be pushed (Wakefield and Stoneham). On the other hand, Duxbury's schedule is rife with potential pitfalls. That starts this week with a Pembroke team that took a big win over Whitman-Hanson two weeks ago. Not to mention, the Dragons have to contend with the aforementioned Panthers and a defensively sound Hingham squad to clinch another Patriot Keenan title. With that being said, I feel that both Duxbury and Reading will navigate the regular season without a blemish. The postseason is another question though.

Hall: Set the odds at three to one. Reading still faces a stiff challenge on Nov. 2 in Wakefield, and Duxbury should get a good push from Patriot League foes Pembroke (Friday), Hingham (Oct. 26) and Whitman-Hanson (Nov. 9). But the good news is both Reading and Duxbury got scares last weekend, having to pull out wins in the final minute in different methods -- Reading via a Drew Belcher touchdown, Duxbury via a goal-line stand. It's not about one superstar with either team, it's about a collective ball-hawking defense that swams, and that's why I believe these two teams will meet in the Division 2 Super Bowl with matching 12-0 records.

Kurkjian: The odds that both teams run the table are excellent. Not a knock on any of the teams remaining on either schedule, but it would be a major upset if either Duxbury or Reading took a loss. At this point, those teams are also my picks to meet up in the Division 2 Super Bowl, although obviously a lot can happen between now and then.

Allen: 83 percent, unless players begin taking practice days and series off with premature thoughts of the playoffs, then we drop to 41 percent. Teams with nothing to lose always practice harder than teams with a full meal in their bellies.
September, 26, 2012
9/26/12
4:31
PM ET
1. THROUGH THREE WEEKS, WHICH TEAM HAS BEEN THE BIGGEST SURPRISE?
Scott Barboza, ESPN Boston High Schools Editor:
I don't know if it's so much of a surprise, but I think we can say that Nauset football is for real and might be the front-runner for the Atlantic Coast League crown this season. While Mashpee has fallen below some preseason expectations, the Warriors 20-point win over the defending Division 4 Super Bowl champions last week was impressive. I'd absolutely put head coach Keith Kenyon on my shortlist for Coach of the Year in the early season, having completely turned that program around in his third year on the job. They'll have another challenge this week with a trip to Cardinal Spellman, but I wouldn't be surprised to see the Warriors undefeated after Week 4.
Brendan Hall, ESPN Boston High Schools Editor:
I know in the preseason I predicted Nauset would win out in an Atlantic Coast League that was expected to be a toss-up this year, and through the first three weeks of the season the Warriors have looked strongest. But if you told me in the preseason the Warriors would not only break through a stout veteran Wayland defense, but also roll over Mashpee with ease, I'd have chuckled.
But that's exactly what we've got here. The Warriors have been off to a dominant start to the 2012 season, outscoring the opposition 95-32, including a 34-15 thump of Mashpee last weekend. But more than the impressive statistics on defense, and more than the shroud of scouting mystery provided by its remote location (ever been to Eastham after Labor Day?), it's the offensive gameplan that makes the Warriors such a tough –- and unpredictable –- squad.
Keith Kenyon has turned around a once-dormant program (4-46 from 2005-09) into a formidable foe, in part due to the fact Nauset is one of the few teams in New England running exclusively out of a true Single-Wing offense. We're talking one-inch splits, unbalanced formations and even fullbacks calling the cadence.
Last year, captain and fullback Brendan Battles-Santos (also an ESPN Boston All-Stater and UConn freshman)
said of Kenyon's offense
, "when he brought in the Single Wing, I thought it was the best thing in high school football. I was like, 'This is sick', I'm not even getting the ball and this is fun, you know?"
Heck, even Wikipedia
applauds Kenyon's application of the Single Wing at Nauset
.
Last year, you had to pick your poison between the aforementioned blocking back Battles-Santos and brothers Nathan and Dylan Holmes, who shared quarterback duties. This season, Jimmy Sullivan has taken the reigns at QB, and he had his breakout last weekend against Mashpee, carrying 22 times for 205 yards. Look for him to be a continued threat as the Warriors look for their first playoff berth ever in school history.
Adam Kurkjian, ESPN Boston correspondent:
Have to go with Chelmsford. It speaks to the depth of the Lions' program that they can lose as much talent and experience from a year ago and beat teams like Westford Academy and Acton-Boxboro that decisively. It remains to be seen whether or not Chelmsford will keep up this pace with the iron of the Merrimack Valley Conference Large Division, but it's a good start.
Bruce Lerch, ESPN Boston correspondent:
How about Bishop Fenwick? The program hasn't had a winning season since 2007 and is off to a 3-0 start with three different types of wins. First came a solid 22-14 victory over an always tough Northeast team, then the Crusaders showed they could do the shootout thing by putting up 39 points against Pope John, and last week they showed they can do it with defense in a 14-7 triumph of Lynnfield. Rufus Rushins is finding the end zone on the ground while quarterback Nick Bona and wideout Charlie Maistrellis have a strong connection through the air. The Catholic Central Large has been the domain of Cardinal Spellman, St. Mary's and Austin Prep over the years but Fenwick looks like it may be ready to get back to challenging those teams this season.
John Botelho, Editor-in-Chief, South Shore Sports Journal:
Whitman-Hanson is off to a 3-0 start with wins over Plymouth North, Marshfield and should keep getting better. The Patriot League Keenan Division is still a race for who finishes second to Duxbury until someone knocks them off. Still though, the Panthers have closed the gap, at least a little bit, and this league has to be among the best on the South Shore now with undefeated Hingham in it as well. Tom Sapienza has transitioned seamlessly from wide out to quarterback this year, and has already found a top target in Dondre James, who has caught four of his eight TD passes.
Noth Attleborough has also been a pleasant surprise so far this year. Yes, they were a team many people thought could win the Hockomock Kelley-Rex crown, but they already hold wins over Rhode Island's top team in LaSalle and they beat the defending EMass. Div. 1 Super Bowl champ in BC High. If you had North at 2-0 after those two games before the season started, you were in the minority. And they didn't just squeak by, they beat both teams by at least 20 points. Sure, they won a close call against Bishop Feehan, but that was a trap game for them coming off those two huge wins. This team has already raised the ceiling for the expectations significantly in 2012.
Talking surprises, we might as well bring up both Middleboro and Norwell here too. Both programs have struggled to be competitive in recent years, but both are currently 2-1 this year (and both are following 2-9 campaigns in 2011). Neither team has gotten to the meat of their schedule yet, but it's always nice to see teams trending upward.
The Sachems have cruised past Coyle & Cassidy and Falmouth the last two weeks. Unfortunately for them, Duxbury comes to town this Friday. Still though, a clear message would be sent if they can put on a competitive show. As of right now, they'd probably be the favorites against Silver Lake, North Quincy and Carver, and winning those three would mean finishing at at least .500 for the season.
Norwell beat Randolph and South Shore Vo-Tech the last two weeks, surrendering 12 total points along the way. They host winless Rockland on Saturday, and the Bulldogs are having trouble finding the end zone. The Clippers could find themselves 3-1 before they run into Abington and Mashpee in the next few weeks.
2. WHICH PLAYERS HAVE SEPARATED THEMSELVES SO FAR FOR ESPNBOSTON.COM'S "MR. FOOTBALL" AWARD?
Barboza:
Averaging nearly 17-yards-per-carry heading into Week 4 action, it's hard to argue that any other single player in the state has contributed more to his team than Holy Name senior running back Quron Wright.
Beyond Wright, I don't know if there's another singular talent that has entirely joined that conversation, but there's a couple others worth watching. Darien Fernandez is tearing up the record books for the Vikings, setting a school-record with six touchdowns in a 51-14 win over Falmouth and leading Wareham to a 3-0 record. This might be a little more outside of the box, but I defy you to find a lineman who's been more valuable to his team in the early going than Reading tackle Matt Comerford, who's absolutely eaten up all comers in the early season, including Brockton's defensive line, which is no slouch in its own right. If you want to look at the defensive side of the ball, linebacker Zach Hume is poised to lead Nashoba to great heights.
Hall:
At running back, Burlington's Marcus Odiah and Quron Wright have separated themselves for contention with some impressive yardage in the early-going. Wright has amassed over 650 yards rushing on just 39 carries, while Odiah is averaging over 230 yards rushing per game. Both demonstrate exceptional top-end speed, albeit in different manners –- Odiah the long and slender build at 6-foot-1, Wright the short and compact frame that makes him difficult to spot behind the huge Holy Name linemen in the double wing.
And I mean, honestly, how can you not dig #QuronMania?
At quarterback, the competition is furious right now, with a number of players putting up impressive stats so far. St. John's of Shrewsbury's Andrew Smiley, Natick's Troy Flutie, Reading's Drew Belcher and Springfield Central's Cody Williams, all juniors, have put up good numbers and showed resilient poise in the crunch. However, Barnstable's Nick Peabody seems to be a cut above the quarterbacking competition right now. In just three games, he has already racked up 13 touchdown passes and over 1,000 yards of offense.
Defensively, it's hard to ignore the impact Jon Baker has had in the middle of the field for Millis/Hopedale, and while Xaverian has struggled to a 1-2 record Maurice Hurst Jr. has had a big impact on the interior as a defensive tackle. Also look out for Nashoba linebacker Zach Hume and Reading lineman Matt Comerford, two leaders on two of the state's stingiest defenses.
Kurkjian:
It's still very early, but it's hard to go against Holy Name's Quron Wright. Through three games, according to the Worcester Telegram & Gazette, he is averaging almost 17 yards per carry and has scored 10 touchdowns. Those are incredible numbers, regardless of the opponent, and expect them to continue.
Bruce Lerch:
Burlington's Marcus Odiah has a staggering 705 rushing yards and 10 touchdowns in just three games for an average of 235 per. Already the program's career rushing leader with 3,551 yards, Odiah could surpass the 4,000-yard milestone within the next couple of games.
Josh Perry, ESPN Boston correspondent:
There are a host of quarterbacks that are putting up incredible numbers early in the season, including Troy Flutie of Natick, Drew Belcher of Reading, and my favorite -- Nick Peabody of Barnstable. Peabody fits in perfectly with the Red Raiders attack and has that offense rolling. He leads the state with 13 touchdown passes and has been incredibly accurate, while throwing more than just about anyone else in Massachusetts. Of course, I always have a special place in my heart for teams that love to throw and score points so Barnstable is intriguing.
Alex Jette of North Attleboro is another player that I think could get more attention at a state level, if he can stay on the field for four quarters. He has all the skills - breakaway speed, quick cuts, and great hands in the passing game, but a combination of cramping and some cheap shots at the bottom of piles has taken him out of games in the second half. A good example was Week 1 against LaSalle (R.I.) where he put on a show in the first half with nearly 300 yards of offense, but then was on the field for only a couple of snaps in the second half. Hockomock League play tends to slow down offensive attacks anyway so Jette is missing chances to rack up statistics before having to face Mansfield and KP's defenses.
Botelho:
Quron Wright has put up some ridiculous stats the first three, rushing for over 600 yards already. But don't sleep on Duxbury's Jon Hurvitz either. The Dragons have pushed their state-best win streak to 29 games despite running a changed offense. With Matt O'Keefe under center and a seemingly endless repertoire of weapons at his disposal, Duxbury blew past teams with a pass-happy offense. O'Keefe is gone, but the high scoring offense remains because of what Hurvitz has done out of the backfield. The senior tailback has already rushed for 10 touchdowns and shows no signs of slowing down.
Barnstable's Nick Peabody has torched opposing defenses, leading the Red Raiders to just north of 40 points per game, and his 13 touchdown passes lead the state. We find out just how good Barnstable is this weekend when they play No. 1 Everett. If Peabody can deliver there like he has the first few weeks, Mr. Football is probably his award to lose.
3. WHICH BROCKTON TEAM ARE WE LIKELY TO SEE THE REST OF THE WAY -- THE ONE THAT STRUGGLED AGAINST READING, OR THE ONE WITH TWO WINS OVER TOP-5 CATHOLIC CONFERENCE POWERS?
Barboza:
Once again, I'll happily eat my slice of humble pie for picking the Boxers to open up the season 1-3. They've certainly acquitted themselves as a better team than that in their two early wins. Whether Brockton can run their Catholic Conference win streak to three games against the Prep on Friday is another question. I'm sticking by my preseason pick that the Eagles will escape Marciano with a victory in tow. However, I think the destiny of this Boxers team is more in line with the pluses than the minuses, provided they can move the ball. The Rockets utterly shut down the triple option in Week 2, creating concern of Brockton's ability to consistently move the ball. As long as there's no repeat performance, and Prep's stout defense provides an ample challenge this week, Brockton will be just fine in the long run.
Hall:
Either there is just something about Catholic Conference schools that bring out the best in Brockton, or the Boxers are just better than any of us have given them credit for. Based on the early returns, my inclination is the latter, and you have to like the Boxers' chances going forward. This St. John's Prep squad is good, but not invincible, and even perhaps a little too conservative at times if the Everett loss is any indicator.
If the Boxers win out here, their next three opponents are Fitchburg, Pinkerton (N.H.) and Durfee. Of those three, I only expect the Pinkerton game to be a toss-up -– but then again, a year ago supposedly the worst Brockton team in a decade knocked off the unstoppable juggernaut that was supposed to be the 2011 Astros.
It's very possible we could see Brockton at 6-1 headed into Week 8's showdown with Leominster, and let the record show I predicted a 1-3 record for the Boxers coming into September.
Kurkjian:
Your guess is as good as mine. There is one thing that is for sure, however. This Brockton team is light years better than last year's version. Maybe that's not saying much because last year's team struggled so mightily, but this team is just so much better up front and there's an overall uptick in focus and leadership that recent Brockton teams have lacked.
Lerch:
You have to like the strength the Boxers have shown against the Catholic Conference with both of its wins coming against BC High and Xaverian. I think this is the week where we'll be able to better answer this question, as they'll take on a St. John's Prep squad that battled Everett tooth and nail. If Brockton can continue the momentum they picked up last week, I like their chances for a strong finish.
Botelho:
Well, the one thing we know about the Boxers for sure is their defense is premier. They shut out BC High, then held Reading's powerhouse offense to just 12 points before allowing 14 in the win against Xaverian last week. The bad news for Brockton is that if they can't get their offense rolling early, they have a hard time finding the end zone at all. Since the beginning of the 2011 season, Brockton has been shutout in five of their seven losses. The only time they've reached double digits and lost since last year was their game 22-15 defeat against St. John's Prep last season.
That said, even with the shutout against Reading already on their tab this season, this year's version of the offense looks more complete than last season's. I'd be shocked if this team is shutout again this year, and wouldn't be at all surprised if they don't lose another game, because they don't need many points to with the defense they've got. My guess is as the season continues to carry on, and they hammer down their Georgia Tech-style offense more, they'll become a tough team to slow down.
4. WHICH RUNNING BACK HAS BEEN THE BIGGEST SURPRISE THUS FAR?
Barboza:
This name might not be among the better known in the state in year in which, for all intents and purposes, is fairly deep at running back, but Somerset-Berkley's Garrett Carlos has been a revelation. The senior is averaging a shade over 10 yards per carry while running for 411 yards and eight touchdowns in three weeks. After a bit of a rebuilding year last year, the Blue Raiders' cupboard is full this year with 20 returning seniors, meaning that Nick Freitas' team should again be in the poll position for an Eastern Athletic Conference title. And Carlos is no small part of that.
Hall:
The one that sticks out in my mind is Wareham's Darien Fernandez running roughshod over Falmouth in Week 1, running for 246 yards and six touchdowns (five in the first half). He has cooled down since then, but the kid is flat out an athlete. At 5-foot-6 and blessed with great leg strength, he is as durable as he is tough to get a good angle on. He's already well-known on the basketball court, making our All-State Team last winter in leading the Vikings to the Division 3 Eastern Mass Final at TD Garden. But some have mused he may be a better football player, with some feelers from a few Division 1 FCS programs.
Kurkjian:
Going to go with Needham's Mike Panepinto here. So far, he's been outstanding for an undefeated Needham team already owns a win over Mansfield. A tough runner, he simply doesn't go down on first contact and he's a perfect complement to a passing game that continues to get better with junior quarterback Ryan Charter.
Lerch:
Needham's Mikey Panepinto is a heck of an athlete who is putting up tremendous numbers in what his probably his second-best sport, given that he's already committed to platy lacrosse at UMass. It's not so much the numbers that have surprised me with Panepinto though as much as it is the manner in which he's gotten them. He was able to get off for some big gains in two of the Rockets games but against Mansfield, he really impressed me by proving that he could also grind out the tough yardage and punch in a series of short TD runs.
Perry:
Attleboro running back Malique Clark is not an unknown quantity after several explosive cameo appearances last season. He has breakout speed and the strength to carry the ball 20 times per game. The surprise is that the Attleboro offensive line has been able to create openings for him against tough defenses like Bishop Feehan and Dartmouth. Teams will be packing the box and daring junior QB Tim Walsh to beat them with his arm, but to this point it hasn't slowed Clark down at all. The Hockomock is loaded with running backs this season, but Clark's ability to turn a nothing play into a big gain has kept the Attleboro offense rolling and has the Bombardiers at a surprising 3-0. Hopefully, Clark's rib injury that made him miss this weekend's game won't be a long-term problem.
Botelho:
Darien Fernandez at Wareham, Kiivone Howard at Foxboro and Hurvitz have all exceeded expectations, but Jalen Felix has kept Everett rolling. He did it again last week against St. John's Prep, scoring a TD and rushing for 96 yards on 12 carries.
5. WHICH LINEMAN IS MAKING THE BIGGEST PUSH FOR ALL-STATE INCLUSION CURRENTLY?
Barboza:
Aside from a lot of the familiar names you've seen in our preseason lists, here's a couple who have stood out to me in the first quarter season. Both Brendan and I were taken back by the performance of Barnstable center Tom Grimmer during the Red Raiders' man-handling of Dennis-Yarmouth. He spent most of that evening riding the Dolphins' nose guard five yards back. I'm also looking at North Attleborough's big bookend tackles –- Sean Peters and Eric Beckwith. We talked a little bit earlier in the season about how the Red Rocketeers have historically had good speed/zone blockers, but have often lacked size. Both Peters (6-4, 240) and Beckwith (6-2, 270) bring exactly that. Although North sees plenty of pressure from the outside against traditionally strong defensive sides in King Philip and Mansfield in its Hockomock League schedule, they might be better prepared this year to deal with the outside rush than at any time in recent memory behind their pillars on the end.
Hall:
I'm making a case for Holy Name's Basit Dennis to be included in this discussion. Off the field he's a great story, with his Liberian roots, and a great kid. On the field, at 6-foot-1 and 290 pounds, the senior has been a dominant two-way force in the interior. As talented as Quron Wright is on his own merit, a big reason for his ridiculous rushing average is the Naps' punishing offensive line, led by Dennis at right tackle.
Brockton's Joe Previte has been a leader at center for a revitalized Boxer offense. And don't forget about Everett's bookend defensive ends, Jeff Soulouque and Omar Graciano, who have taken turns applying pressure on quarterbacks and causing confusion.
Kurkjian:
Reading's Matt Comerford was pretty impressive in the game against Brockton Week 2. He's strong, mobile, tough and plays with good technique. And it doesn't hurt that he's about 6-4 or 6-5 and 285 pounds.
Lerch:
Regardless of who is taking the snaps in Everett or what trickery John DiBiaso uses to get the ball into the hands of those tremendous athletes, the one constant is John Montelus. The Michigan-bound senior has really solidified his standing as the state's top prospect, regardless of position, and has done it againts one of the state's toughest, early-season schedules.
Two guys to keep an eye on are Millis/Hopedale's Jon Baker and Burlington's Mike Woods. Baker is a 290-pound beast who dominated both sides of the line of scrimmage in the Mohawks rout of Norton last week and has drawn plenty of notice from big-time college programs. Woods is the left tackle and leader of the Red Devils line that has paved the way for Marcus Odiah to run for 705 yards and 10 scores and is another player catching looks from several Division 1 FBS and FCS level schools in the Northeast.
6. IT'S A MEGA-WEEKEND OF MUST-SEE FOOTBALL ACTION. WHICH GAME ARE YOU MOST LOOKING FORWARD TO?
Barboza:
Well, since it's part of our Massachusetts Army National Guard Game of the Week program, I'm going to go with St. John's Prep at Brockton. As we went over in Question 3, the onus is on Brockton to show that they are in fact the team that's notched two, tough Catholic Conference wins in the early going. But this one will also be a litmus test for the Eagles, who played a very competitive game against No. 1 Everett. It'll be interesting to see how Prep responds – whether they use last week as a rallying point into their later schedule or if this one presents a letdown after taking on No. 1. This certainly isn't a game to be taken lightly and I'd expect neither team will. This will be an ole fashioned slobber-knocker on the ground.
Hall:
You ask anyone in Everett, and they'll tell you Barnstable was the hardest-hitting team they faced all season. The Red Raiders come at you with a certain level of abandon replicated by few programs, and nobody embodies this more than middle linebacker Andrew Ellis. But it's a much different level of football in Everett than the Raiders have seen so far (Durfee, Dennis-Yarmouth, Sandwich), so this should be a great litmus test under the lights at Everett Memorial Stadium.
Kurkjian:
Barnstable at Everett. Any time you have the clear-cut No. 1 team in the state going up against a quality opponent it's pretty compelling. You have to wonder just how healthy the Crimson Tide are coming off such a physical battle with St. John's Prep last week. Barnstable has been throwing the ball all over teams so far but they haven't faced a defense anywhere near the level of Everett's. Everett definitely comes in more battle-tested. Not sure how much Durfee, a rebuilding Dennis-Yarmouth and Sandwich prepare you for the best team in the state, but we will find out Friday night.
Lerch:
You really can't go wrong with a loaded schedule this weekend, particularly on Friday, but it's hard to look past another Game of the Week taking place in Everett. Last week the Crimson Tide hosted No. 2 St. John's Prep, and this week, it's No. 3 Barnstable coming to town. Everett hasn't yet seen an offense capable of putting up the kind of numbers that the Raiders have been achieving (145 points through three games) but the reverse of that is true as well in that Barnstable has yet to match up against a team that has as much athleticism as the Tide.
Perry:
The easy choice would be Everett versus Barnstable, but I am a sucker for history.
In Hockomock country, old rivals North Attleborough and Foxborough will meet at Ahern Middle School. For decades, the Hockomock League title came down to North, Foxboro, and Mansfield, but recently the Warriors have been hit by changing demographics within the town. Each year the Foxboro program has shrunk a little bit and now KP has replaced it at the top of the league while Oliver Ames, Stoughton, and Canton have threatened to pass them by in the small school division.
This is a Warriors team that has promise and a desire to put North in its place (this is a trend among most teams in the Hockomock). Running back Kiivone Howard has been a star with 9 touchdowns in the opening three weeks and Foxboro wants nothing more than to reestablish itself in the Hockomock pecking order. Although the game lacks playoff implications, the rivalry between the teams makes this a must win for both.
The Rocketeers certainly saw last week what an angry rival is capable of, when they struggled to put away Feehan, and I expect a reaction from them, but still can't count out Foxboro.
Botelho:
This is the easily the most exciting weekend of the season so far, and you can look all over the state and find exciting games. Out west you've Minnechaug-Longmeadow, which is always one of the game's of the year. In the central region, Holy Name and Nashboa are colliding in a Super Bowl rematch. And in Eastern Mass, it's nearly impossible to pick just one. No. 1 Everett vs No. 3 Barnstable should be a blast. No. 18 Needham plays at No. 20 Weymouth in what is essentially a league title game in September. Brockton hosts St. John's. Bob Bancroft's Pembroke team host Whitman-Hanson, the team he became a legend with (and Panthers coach Mike Driscoll captained one of Bancroft's unbeaten Super Bowl champions). East Bridgewater and Mashpee has evolved into a huge tilt in the SSL the last couple years, and the Falcons have ended the Vikings' postseason chances each of the last two years. Mansfield might have the best passing attack in either Hockomock League, and Stoughton seems to have the best pass defense, and this week we'll find out which strength is greater.
A great weekend indeed if you're a high school football fan.
September, 12, 2012
9/12/12
2:46
PM ET
After a wild weekend of upsets and blowouts, there are questions abound heading into Week 2 of the MIAA football season. Joining us in this week's roundtable are MassLive producer Jay King along with correspondents Adam Kurkjian, Ryan Kilian and John Botelho.
1. OF ALL THE LOPSIDED WINS LAST WEEKEND BY TEAMS RANKED IN ESPN BOSTON'S TOP 25, WHICH ONE WAS THE MOST CONVINCING?
Scott Barboza, ESPN Boston High Schools Editor:
I'm looking no further than the 49-6 beating No. 3 St. John's Prep gave Dracut on Friday night. Last year, the Middies stunned the Eagles in a low-scoring affair, but in the Week 1 rematch, Prep hit the throttle. While Alex Moore and Jonathan Thomas combined for more than 200 rushing yards, the more impressive part of the Eagles' performance was on defense, where they were able to slow down Dracut's spread attack. That bodes well for the confidence of a very talented defensive secondary.
Brendan Hall, ESPN Boston High Schools Editor:
Having not seen enough of Dracut to know whether they're down this year or not (the MVC is down as a whole, but the Middies return a number of integral figures from 2011), I'm going with St. John's Prep's thrashing of a rival that has traditionally given them trouble.
My rationale is simple -- find me the last time Prep dropped half a hundred on somebody. There has been this stigma about Prep the last few years that sometimes they keep things too vanilla despite a deep arsenal of talent, but clearly that's not the case this year. Jonathan Thomas is a legitimate Division 1 talent at running back, and the backfield pairing of him and Alex Moore should prove to be formidable all season long. How far that takes them is anyone's guess, but the early returns on this rejuvenated Eagles offense are favorable.
Adam Kurkjian, ESPN Boston correspondent:
Tough to say because who knows how good some of these teams are right now, but St. John's Prep certainly looked dominant against Dracut. Is Dracut a little down? Probably. But the offensive line, which struggled last year, appeared to be light years better than a year ago and this team seems like it is on a mission to overcome the inconsistencies of the last few years.
John Botelho, Editor-in-Chief, South Shore Sports Journal:
Everett beat Leominster by 22 points, without one their top receivers or the two QBs on top of their depth chart. Beating any team with your third string quarterback would normally be impressive, but blasting the No. 7 team in the state, in front of a packed crowd at their house? C'mon. If there was anyone out there doubting Everett wouldn't be the best team in the state, this win last weekend should have cleared up that notion.
Sure 2011 Mr. Football Jonathan DiBiaso is gone, but with their offensive line it seems like they could plug anyone in to the skill positions and succeed, and last weekend that was Gilly Souza, normally a kick returner and defensive back, shining at QB. Some of the other wins might have been by a bigger margin, but none was more impressive than this one.
Ryan Kilian, Founder and Editor-in-Chief, New England Prep Stars:
It is tough to look away from the dominating performance that St. John's Prep put on Dracut in week 1. While Dracut is a young team St. John's Prep came out of the gate and took control of the game early.
After losing to the Middies last year the Eagles returned most of their roster and turned the table from a 13-7 loss in 2011 to a 49-6 victory this season. St. John's Prep has improved all over the field and have a lot of young veteran players who have played a lot of varsity football. The most impressive part of the win was that they did it on the ground with their multiple back sets as well as in the air when they needed to. Quarterback Jack Sharrio showed that he can make the completions when needed and the two-headed attack of Alex Moore and Jonathan Thomas are as any backfield in the state. The defense is also much improved as they are led by safety Lucas Bavaro and a top ranked defensive backfield. Teams are going to have to ground and pound St. John's Prep and establish the running game early as they will be very difficult to throw on this season.
Jay King, Sports Producer, MassLive.com:
The most convincing win in WMass was Longmeadow's 46-0 smackdown of Chicopee Comp. The ease with which the Lancers bulldozed Comp should keep future opponents awake through all hours of the night, trembling with fear. Frankie Elder accounted for five touchdowns in less than two quarters of play, Austin Sierra ran for 124 yards on just 12 carries and Longmeadow's line--praised throughout the preseason as the best unit in WMass--lived up to the billing and then some. Alex Rotsko is departed, but, at least this year with an absurdly deep senior class, Longmeadow's tradition lives on. St. John's is up next to pose a real challenge for the Lancers.
2. XAVERIAN HELD MALDEN CATHOLIC TO NEGATIVE-18 YARDS IN THE FIRST HALF OF LAST WEEK'S 35-7 WIN. WHAT'S THE BEST DEFENSE IN THE STATE RIGHT NOW?
Barboza:
I think there are several teams we can lump into this equation. As I said in the first question, I was encouraged by Prep's opening performance and they return as solid a core on D as any team in the state. I think the Hawks are a part of that conversation, too, but I want to see a great sample size with them since they had some defensive problems as a group in 2011. I'm also looking at Duxbury, spurred by the hit-stick that is linebacker Marshall McCarthy and you really can't overlook No. 1 Everett. I know we've spent more of the preseason talking through the Crimson Tide's offensive options, but there are plenty of playmakers on the defense as well including two linebackers in Jeff Soulouque and Omar Graciano who will be worth watching all season long.
Hall:
There seems to be some discrepancy as to whether Brockton played zone or man coverage on Lincoln Collins, but the bottom line remains: one of the state's best wide receivers -- and at that, a 6-foot-4, home-run target -- was held without a catch. I don't care about all the other variables surrounding the fact, that's just darn impressive. Period.
Still, I want to see how Brockton does against Reading's option attack before we start comparing the Boxers to the 2002 Buccaneers. Xaverian seems like the safe choice for now, given how much double-team attention Maurice Hurst Jr. commands and how that will free up the rest of the front seven. But we'll have a better idea after the Hawks' tussle this weekend with New Jersey power St. Joseph Regional. My friend Brian Fitzsimmons over at MSG Varsity
thinks the key matchup will be with the receivers
, and the Green Knights have an exceptional high-major talent in wideout Ricky Jeune. Here's what the Hawks are getting themselves into:
If they can find a way to neutralize this offense then Xaverian has my vote, but that's easier said than done. The Knights are coming off a tough 14-10 loss to D.C. area power Good Counsel, at Navy Stadium.
Kurkjian:
Not that those stats aren't impressive, but Malden Catholic isn't exactly a great measuring stick for a defense. Brockton shutting out BC High deserves mention, but heading into this season I really liked the Prep's returning talent and experience and I'm going to stick with them until proven otherwise.
Botelho:
I picked Brockton to win the Super Bowl because of their defense, I just didn't think it would have already clicked together so well. The Boxers just pitched a shutout over the defending Div. 1 Super Bowl champs and it's hard to spot a weakness on that side of the ball for them.
Micah Morel held Villanova-bound Lincoln Collins catchless last week against BC High, and even came away with a pick late in the game. As good as Morel was - and his performance was as good as any by a Brockton defensive back in recent memory, which says something considering that position seems to be a D-1 pipeline for the Boxers these days - the defense up front might have been even better. This team is very for real, which is good because high school football in Massachusetts is a lot more interesting when the Boxers are a hard-hitting, playoff-bound team.
Kilian:
Xaverian is my pick for the top defense. They have talent all over the field and are strong in the trenches, at the linebacker position as well as in the defensive backfield. They will certainly be tested early and often with their difficult schedule but with veterans like Maurice Hurts Jr., Hunter Taute and DJ Pagliuca they are certainly battle tested and know what to expect. After this week's game against out of state St. Joseph's (NJ they play three high scoring Eastern Mass. offenses in Andover, Duxbury and Everett so that will give us a great indicator of where they stand before league play.
3. THE SPREAD HAS REVOLUTIONIZED THE HIGH SCHOOL GAME FOREVER. BUT AFTER SEEING SOME OF LAST WEEKEND'S RESULTS, THE GROUND-AND-POUND ISN'T EXACTLY DEAD EITHER...RIGHT?
Barboza:
What's interesting to me is how even spread teams have been able to run the ball. In Duxbury's opening week win over Bridgewater-Raynham, I was impressed not only with Jon Hurvitz's breakaway speed in the backfield, but also how Dave Maimaron's team was able to exploit holes in the Trojans' defense with quarterback Sean McCarthy running out of the shotgun. McCarthy showed he's a load bring down as well, initiating contact on several of his carries. When a defense has to take that ability into account, it's make an offense all that more dynamic.
Hall:
Long live the Double Wing, baby. You can still win at a clip of 8-9 games a year with the Double Wing in the MIAA level -- just ask Shepherd Hill. And you can run the ball down Top 25 teams' throats with a small scatback fleeting behind big linemen on sweeps -- just ask Holy Name, which put up 40 on St. John's last weekend thanks to Quron Wright's big rushing day (282 yards, 4 TD) behind bulldozers like Basit Dennis, Antonio Paulino, Joe Fitton, Liam Perry and Nick Geneva.
My favorite ground-and-pound Double Wing affair from the weekend? Austin Prep, which pounded its way to a 22-14 upset of a previously-ranked Mashpee squad that is no slouch. The Cougars are a team everyone hates to play, with those one-inch splits, double-handoffs and super-sweeps. Best of all, they don't even use a kicking tee. Legit, they lay the ball flat across the 40-yard line and toe-kick it, then BOLO for whichever sideline it inevitably rolls towards.
Botelho:
I don't think the ground-and-pound will ever be gone from the game, because not every team has a quarterback capable of handling all the responsibilities that come with running the spread. Running the spread correctly takes a QB who is a jack-of-all trades type, and sometimes, it's just easier to build an offense around the running game. And when guys like Darien Fernandes or Quron Wright get in the zone, why take the ball out of their hands?
Kurkjian:
Correct. I don't care how many teams chuck it around the field and spread things out, there will always be a place for a punishing ground attack if you have the horses to pull it off. With defenses so used to the dink-and-dunk spread, sometimes seeing a team that attacks you between the tackles is the last thing they want to see.
Kilian:
I could not agree more about the running game still being alive. After watching Beverly execute an elite Wing-T performance in a win over Concord-Carlisle, and St. John's Prep running for over 250 yards on the ground in a win over Dracut, I would say that teams are certainly not going away from the ground game. It is always interesting to watch how the passing games develop over the course of the season as most teams come out of the gate more conservatively and looking to establish the running game early.
4. MINNECHAUG PASTED SILVER LAKE LAST WEEKEND, AND THERE ARE TWO PIVOTAL CROSS-STATE GAMES INVOLVING WESTERN MASS. TEAMS FROM THE TOP 25 THIS WEEKEND -- NO. 6 LONGMEADOW AT NO. 18 ST. JOHN'S (SHREWSBURY), AND NO. 1 EVERETT AT NO. 15 SPRINGFIELD CENTRAL. CAN THE 413 GET ANOTHER WIN OUTSIDE THE REGION?
Barboza:
I think Central can give Everett a run for their money, but I don't see them pulling out the upset in that one. However, after Frankie Elder's brilliant performance against Chicopee Comp, I like Longmeadow's chances against the Pioneers. I know Quron Wright is the real deal, but if Holy Name's shootout with St. John's last week told us anything, it's that you run on the Pioneers front. I think the Lancers will be able to do so with Nick St. George continuing Longmeadow's excellence in the ground game in taking over for Alex Rotsko.
Hall:
I'm giving Central a puncher's chance, if only because it hasn't been made clear whether Kenny Calaj (ankle) will play this week. But if there's any legitimate chance, it's got to be Longmeadow over St. John's. Holy Name exploited St. John's weaknesses against the run last week to the tune of five rushing touchdowns, and now they face a group of Longmeadow trenchmen that is bigger and faster than what the Naps have to offer. Slowing down the Pioneers, with their Chip Kelly-esque "blur offense", won't be easier either. Still, just like with Holy Name last week, if there's any year for the Lancers to get that elusive win over their long-time foils from the 508, it's this year.
Botelho:
The best chance for the 413 to pick up a win this week is Longmeadow. Central is a very good team, but plenty of very good teams have lost to Everett during their 26-game winning streak. That said, I think the 413 is in for a rough weekend against those from different zip codes and Shadrah Abrokwah will lead St. John's past the defending Div. 1 West champs.
Kurkjian:
Everett should be able to handle Springfield Central, but I think this is the year Longmeadow takes down St. John's. The Lancers almost pulled it off last year but fell just short. Still, like Holy Name, you have to wonder if St. John's is just one of those teams Longmeadow can't get over the hump against.
King:
With an athletic line averaging about 260 pounds and skill players loaded with experience, Longmeadow should be able to compete with any team in the state. The Lancers' Wing T offense is difficult to prepare against, especially when Longmeadow can get a great push at the line of scrimmage like they should be able to all season. A lot of tears were shed after the Lancers lost 26-21 to St. John's last year on a 55-yard, last-minute touchdown pass. They might not get revenge this year, but they're hunting for it with a scowl of remembrance on their faces.
Central didn't execute flawlessly during its Week 1 victory against Putnam, but showed a stubborn commitment to the game plan that coach Valdamar Brower loved. This time last season, Central was preparing to meet Everett with a sophomore quarterback making his first start. Now that signal-caller, Cody Williams, is a junior and one of the best players in WMass. The Golden Eagles might not down Everett, but they should at least provide a much stiffer test than they did a year ago in a 42-13 defeat.
5. ARE YOU CHANGING YOUR MIND ABOUT THE CATHOLIC CONFERENCE WINNER AFTER WEEK 1?
Barboza:
I went with BC High
in our preseason picks
, so it might be easy for me to jump off the bandwagon after a Week 1 loss to Brockton and a mounting number of injuries to key players on either side of the ball. That said, I'm going to pick it and stick it with the Eagles. Even without Brendan Craven, BC High still has athletes on offense with top target Lincoln Collins and Brandon Owens in the backfield. There's still a lot of time for the Eagles to solidify before they take to their Catholic Conference schedule, so that's good news.
Hall:
Not yet, but the injuries from BC High are cause for concern. It's my understanding that quarterbakc Brendan Craven's injury last week at Brockton is not as severe as we all were initially led to believe, and he could be back in a month. The absence of Craven and returning All-State linebacker Luke Catarius is huge, but not a knockout blow. The Eagles will benefit from this wakeup call, after all they hype they've been receiving on the recruiting front and from the media (we're guilty as charged, so be it). With their program depth, and all the talent still left on the field, I expect BC High to figure this all out before Catholic Conference season gets under way.
Botelho:
No. I'm stubborn. In all seriousness, the road got a lot tougher when Brendan Craven was carted off the field last Friday night against Brockton. Luke Catarius, who leads the defense from his linebacker spot, is already out until late October or so, and now they'll be without their starting signal caller. Not an enviable situation. If Xaverian stays healthy, they could be the current favorite to win the league. It's going to be a fun race to watch.
Kurkjian:
A little. To overreact to the BC High loss would be a mistake. Luke Catarius was a huge loss but he will be back by the time league play rolls around. Don't forget that the Eagles were missing three starters on the defensive line against the Boxers for most of the night. The Prep looks very solid right now and I would not be surprised to see them take it this year. Xaverian will be right there too and I feel Catholic Memorial is the fourth team.
6. DENNIS-YARMOUTH VISITS BARNSTABLE ON FRIDAY IN WHAT HAS BECOME THE CAPE'S MOST HEATED RIVALRY. THE LAST THREE MEETINGS BETWEEN THE TWO HAVE BEEN DECIDED BY A TOTAL OF FIVE POINTS. WHAT ARE YOUR FAVORITE NON-LEAGUE, NON-THANKSGIVING RIVALRIES?
Barboza:
I'm going to stoke up some passion for our upcoming kickoff to our Game of the Week program and go with Barnstable and Dennis-Yarmouth. I'm sure Brendan will be better able to regale about inter-Cape tensions, but even though you have to think the Red Raider juggernaut would have the upper hand in this one going in, don't discount the passion that's going to be brought on both sides. It should be a fun night.
Hall:
Scott, I know what you're getting at. Some will say the alleged confrontation between D-Y coach Paul Funk and some Barnstable fans during a scrimmage is overblown,
while others called it epic
. I'll tell you what though, driving through Hyannis on my way to last year's DY-Barnstable contest, I passed at least two stop signs that had been spray-painted over with the words "D-Y SWAGGG". I love this rivalry like Scott Barboza loves indie rock. Barnstable High should be swelling on Friday night, and I can't wait.
Anyways, for me, it's got to be Everett vs. the Catholic Conference. Last year the Crimson Tide easily steamrolled through Prep, Xaverian and BC High in succession, and the league as a whole is 0-7 against the Tide since the 2009 Division 1 Super Bowl. But in most years, this is one-score, defensive-minded football with a big fourth-quarter play breaking the game open. The crowds are always into it from both sides, and the stands are always packed. It has been must-see football theatre for about 15 years now.
Botelho:
Brockton/BC High is generally a pretty good one. As is Bridgewater-Raynham/Xaverian. Rockland/Abington, which is a league game now that both are in the South Shore League, was always a tremendous rivalry, even when Rockland was in the Patriot League. The schools are small, but both communities get real fired up, and both teams seem to deliver their best performances of the year in that one. Plus, any opportunity to bring up the "nuts and bolts" video that went viral after they played in 2010 is one that can't be missed.
Kurkjian:
Brockton-BC High, Xaverian-Brockton, Xaverian-Everett, Chelmsford-Acton-Boxboro, St. John's Prep-Central Catholic, Bridgewater-Raynham-Xaverian all probably rank up there as the ones I've covered the most and had the most fun doing so. Back in the day, North Attleboro-Bishop Feehan would have been on that list.
September, 5, 2012
9/05/12
3:48
PM ET
This season, we're trotting a new feature for football season that we started back in the spring. Each Wednesday, we'll pool the minds of our ESPN Boston staff and contributors to debate several hot button topics across the state in our Roundtable.

Without further ado, let's kick off the new season with these takes:

1. BC HIGH RECEIVED SOME BAD NEWS LAST WEEK WHEN RETURNING ESPN BOSTON ALL-STATE LINEBACKER LUKE CATARIUS SUFFERED A HAIRLINE FRACTURE ON HIS ANKLE. HOW WILL THE EAGLES COPE?

Brendan Hall, ESPN Boston High Schools Editor: Over the last decade, BC High has proven to be a program with enough sufficient depth to compensate when star players miss a significant time with injury. However, it's different when you lose the quarterback of your defense, especially when it's a player as special a talent as the Eagles' Luke Catarius.

In the scrimmage against Mansfield, after Catarius went out with the ankle injury, the Hornets went to the underneath game and exploited the flats for big gains. There was also one big miscommunication in the secondary that allowed Kevin Maki to wheel right through the middle of the deep field for a 45-yard completion. Not that this won't be shored up before Friday's big tilt with Brockton, but it is worth pointing out.

The good news, obviously, is that the Eagles' Catholic Conference season doesn't start until late October – but with Xaverian and St. John's Prep looking sharp, it will be obvious if this team isn't in proper shape. With that in mind, I expect Brandon Owens' role at outside linebacker to have an even bigger significance than before. The pressure will also be on the front four, led by Jaleel Johnson, to buy the back seven time.

Scott Barboza, ESPN Boston High Schools editor: In terms of talent, I think the Eagles can get along. My greatest concern for BC High's defense without Catarius relates to communication. The linebacker has been the leader of the defensive huddle, with messages from the sideline passed along to the inside linebacker. On field, Catarius was the quarterback of the defense as well, not only knowing his own responsibilities, but that of his teammates. That comes from knowledge of the system and cannot be replicated; it only comes through game-condition experience. The Eagles have a bevy of returning starters on the defensive line and secondary to shoulder the load but this one hurts. Will they rely on Brandon Owens to not only be the feature back, but take on more Catarius' two-way role? We saw what happened last year when Preston Cooper went down at running back and how Deontae Ramey-Doe filled those shoes. So perhaps this will be more of the same for a deep Eagles' squad. But a player of Catarius' ilk cannot simply be replaced.

Adam Kurkjian, ESPN Boston correspondent: Without question, losing one of the top two-way players in the state will have a negative impact on BC High. The Eagles will not be able to replace his production easily and there may be an extra loss or two that comes down their way early on because of it. That said, if he is back by the time Catholic Conference play rolls around, BC High will still be one of the favorites to make it back to the playoffs. But still his loss cannot be understated.

Bruce Lerch, ESPN Boston correspondent: Believe it or not, I think the Eagles will be fine defensively. Obviously, Catarius is a one-of-a-kind talent with the ability to singlehandedly change opposing offensive gameplans. BC High will simply lean more on the unit as a whole rather than an individual to bail them out, as Catarius often did with his read and react style of play. Linebackers Danny Collins and Brandon Owens are leaders, defensive linemen like Billy Breen and Jaleel Johnson will take up blockers and make a few plays on their own, and the secondary will have to be more active in supporting.

Oddly enough, I think it's on offense where the Eagles may miss Catarius the most. A bruising fullback, Catarius helped pave the way for Preston Cooper and Deontay Ramey-Doe to pile up yardage last season. New backs Owens and Skyler Evans, along with a mostly inexperienced line, would have benefitted greatly from having Catarius leading the charge.

John Botelho, Editor-in-Chief, South Shore Sports Journal: I'm not even sure this Luke Catarius injury will have any real impact on BC. And I don't mean that as a slight to Catarius - in fact, I think he's the best linebacker in the state. My point of view though is this is a non-issue for the Eagles for two reasons.

First of all, replacing Catarius obviously wouldn't be easy, but aren't teams in the Catholic Conference best suited to replace someone they lose to an injury? Those teams are so loaded and so deep that it seems they have significant depth at every position. Or at least it seemed that way when Preston Cooper - who was arguably the best running back in the state in the first half of last year - went down with a broken ankle. All BC did was go on to win the Super Bowl as Deontae Ramey-Doe stepped in and the Eagles never missed a beat.

Secondly, and most important, is that BC doesn't open up league play until October 26 when they host Malden Catholic. I think even without Catarius, it'd be considered an upset if the Eagles lost that match-up. If it really comes to it, they don't need Catarius back until November 4th, week eight of the season, when they travel to Xaverian. It's reasonable to think that a hairline fracture would be healed up and they'd have him back by then.

2. WHICH REGION OF THE STATE HAS THE BEST UP-AND-COMING TALENT?

Hall: The emergence of Springfield-area talent over the last few years is one of the best stories developing this fall. But in terms of pure talent, for me it's got to be the Cape & Islands region.

Every year, there seems to be a Cape player that seemingly washes ashore to earn a Division 1 scholarship. Two years ago, it was Randall Jette from Martha's Vineyard going to UMass. Last year, Nauset's Brendan Battles-Santos surprising everyone at UConn's prospect camp to earn a scholarship practically on the spot. This past summer, UMass dug back into the region to pluck 6-foot-7 tight end Terrel Correia out of Nantucket, with intentions of making him an offensive tackle.

We'll obviously be watching Correia closely this fall, but he isn't even the best player from the region. Barnstable quarterback Nick Peabody is among the state's best, with Ivy League interest. Mashpee has three athletes with Division 1 potential in tackle Nate Chrzanowski, running back Jared Taylor (he of the 300-yard epic last year at Gillette Stadium) and his new backfield mate Malik Lee, a Cape Cod Tech transfer with plenty of upside at 6-foot-2 and 235 pounds.

Also keep an eye on Dennis-Yarmouth's Joe Tyo, who still has to fill out but is projectable with a long 6-foot-5 frame and some active footwork. Falmouth sophomore Craig Green will be an intriguing prospect to monitor, after running a 10.6-second 100-meter dash last spring at the New England Track and Field Championships. And as good as Darien Fernandez was on the basketball court for Wareham last winter, some believe he's an even better running back.

Barboza: I'm looking no further than our statewide preseason Top 25 poll to find two Springfield squads (Central at No. 14 and Putnum at No. 23) and another (Springfield Commerce) knocking on the door. Central is retooled for another run at Longmeadow in Div. 1 West with some key returnees from last year's squad that made it to Gillette Stadium. Quarterback Cody Williams could be a breakout performer this year and Shawn Lockett is a legitimate force to deal with on the lines. Melquawn Pinkney might be gone, but the cupboard's not bare for Putnam with Wayne Lowery, shouldering more of the running load while playing lock-down corner. Sha'ki Holines (UConn) and Hassan Graham (not to be confused with the Patriots receiver of yesteryear) grade out at their positions against anybody across the state.

Kurkjian: This is a tough question because the season has not started yet, so it is hard to assess which region has the top players. As it stands now, though, the North Shore looks to have an overflow of top players if you consider Everett part of that region. Also, don't forget BC High's Brandon Owens hails from Salem.

Botelho: Last fall made it hard to argue with any region being more up-and-coming than the Cape. Four of the nine Eastern Mass. Super Bowl champs were from the Cape and Islands (Dennis-Yarmouth Div. 2A, Bourne Div. 3A, Mashpee Div. 4 and Nantucket Div. 5). Not only did those teams each win Super Bowls last season, but the Cape teams outscored opponents 120-29 in those games. Only Bourne had a competitive game, beating defending Super Bowl champ Hamilton-Wenham, 16-14.

3. WHICH RUNNING BACK WILL HAVE THE BIGGEST BREAKOUT?

Hall: There's a lot of directions you can go with this one. The addition of Malik Lee, and his soft hands, to Mashpee's already-dangerous backfield has to feel like a high school offensive coordinator's dream. Out west, Springfield folks are excited about two potential breakout candidates in Putnam's Wayne Lowery and Central's Aaron Owens. St. John's of Shrewsbury's Shadrach Abrokwah is bound for a breakout in John Andreoli's new Oregon-style "blur" offense.

However, I'm going with BC High's Brandon Owens. That he is already committed to a Division 1 FCS school (Bryant) despite only seeing part-time duty one way last season speaks to his upside. As a runner, there is no wangle to his makeup – he's a north-south, one-cut guy with a powerful frame that accelerates quickly to hit the hole at full speed.

Losing fullback Luke Catarius for the first six weeks of the season means the Eagles may have to get more creative with their offensive sets. But after seeing him take the corner on toss plays out of "Ace" formations, in the Mansfield scrimmage, I think he's up for any task the coaching staff throws at him.

Barboza: I think we're all hedging that Malik Lee of Mashpee will have a monster season in his first year with the Falcons, but I'm going to buck the trend here and go with another runner inside the South Shore League. Abington's Babila Fonkem tallied seven touchdowns (five of those came in one game against backyard rival Archbishop Williams) and ran for over 1,000 yards last season. I think the 5-foot-10, 180-pounder has the potential to more than double last year's tally as a feature back during Jim Kelleher's swan song as head coach.

Kurkjian: From the looks of it, Brandon Owens has had a spectacular preseason and he will be the feature back in what expects to be another punishing ground attack for BC High. It appears as if the Eagles have just reloaded there.

Lerch: Everett's Kenny Calaj is already something of a household name, having been an impact weapon in Everett's offense the past two seasons. The majority of that. however, came as a pass catcher. With a pair of untested quarterbacks still battling to replace record-setting Jonathan DiBiaso, not to mention a mammoth group of offensive linemen, it would only make sense for the Tide to return to the ground game and Calaj should benefit as the main ball-carrier. I'm not sure what the record for all-purpose yardage in Massachusetts history, but Calaj is in a position to do some historic things as a senior.

Botelho: Arcel Armstead is primed to have an elite year at running back for Bridgewater-Raynham this season. It's no secret that Dan Buron-coached teams run the ball as well as anyone, and with both Nick Schlatz and Brandon Morin gone, Armstead will be the featured back for the Trojans. His athleticism alone would be enough for him to have a big year in that system, but B-R returns their entire offensive line from a season ago, led by 6-foot-4, 260-pound Joey MacInnis, meaning the sky is the limit for Armstead.

Don't sleep on guys like Jon Hurvitz at Duxbury, who is the best athlete returning to the Dragons who will need to remake their identity a bit without Matt O'Keefe under center. Hurvitz runs hard and has a chance to be the first running back Duxbury has built their offense around in recent memory.

Also, the South Shore League seems littered with potential breakout candidates. Jared Taylor is probably the best well-known running back who was a back-up last season. He flashed his electric running ability in the Super Bowl to the tune of more than 300 yards. But he won't be the only guy terrorizing defense in the league.

Babila Fonkem returns to Abington for a senior year with added size from his 1,000-yard campaign a year ago. Brian Kilmain, a junior for the Green Wave, could give them the most dangerous two-headed backfield in the league.

Andrew Benson, who looks like he'll officially be a quarterback, is ready to break out at East Bridgewater. He could end up running for more yards than ESPN All-Stater Casey DeAndrade a year ago, for more than one reason. Last year, DeAndrade split carries with Tim O'Brien. While Benson will share the backfield duties with Kevin Lynch, he'll see a higher percentage of touches than DeAndrade last year. Also, E-B's offense was so explosive last year that DeAndrade (and O'Brien) had their numbers cut down because the Vikings had big enough leads that the starters weren't on the field a lot in the fourth quarter. Only when they played Abington and Mashpee did starters stay in the entire game. This year's team will rank among the best in the SSL, but I don't think they'll put teams away so quickly this time around.

4. TAKE A LOOK AT THE FIRST MONTH OF BROCKTON'S SCHEDULE, AND PREDICT A RECORD.

Hall: This is going to upset some of our readers in the City of Champions, but there's a realistic possibility of the Boxers coming out of the gate 0-4. Of those first four opponents – BC High, Reading, St. John's Prep, Xaverian – nobody's gotten worse from 2011, while I feel Brockton is still sitting in second gear after last year's disappointing end.

That said, it sounds like Bryant-bound running back/defensive back Micah Morel will be ready for Friday's opener against BC High after injuring his shoulder in the preseason, so that's a positive sign. As for record, I think the Boxers will steal a game, either against Prep or Reading, to start off 1-3.

Barboza: Well, let's go the tape … And hold me to this. I'm going:

Week 1, vs. BC High – Loss

Week 2, at Reading – Win

Week 3, vs. Xaverian – Loss

Week 4, vs. St. John's Prep – Loss

That would make the Boxers 1-3 rolling into October. Then I think they rebound with three straight wins and finish out the season at 6-5 and represent the Big Three in the Division 1 playoffs as a very dangerous team after enduring a trying first month.

Kurkjian: With so many question marks surrounding this offense, it is hard to project exactly how the Boxers will fare. That said, this is a brutal start to the season. The feeling here is that Brockton manages to steal one and get off to a 1-3 start.

Lerch: It's a very real possibility that Brockton goes 0-4, and I think best case scenario is that they salvage a 2-2 mark. Any better than that and I wonder if the Catholic Conference would have an issue with adding a "league game" between Brockton and Everett to play for its championship.

Botelho: Brockton has the best program in state history. Literally. Their 751 all-time wins ranks first in the state by a wide margin (no one else even has 600 wins). They've also captured 11 Super Bowl titles in 40 years. That said, the last few years haven't been what Boxer fans are used to. They missed the playoffs two years in a row, and last season slumped to a disappointing 5-6.

All those struggles did was ignite something in the Boxers, who look primed to return to the postseason this season. I'm going to say Brockton gets through that portion of the schedule (one Peter Colombo said might rank as the toughest in New England) with a winning record. I'm a believer in Brockton this year, and they'll knock off at least one Catholic Conference opponent, as well as take care of business with Reading and Fitchburg. My guess is the Boxers end up 3-2 in this stretch (including a loss to BC High week one, which they'll avenge in the Super Bowl in December).

5. WHAT GAME WILL BE THE MOST THRILLING OF WEEK 1?

Hall: On a state-wide level, Everett's trip to Leominster is certainly garnering the most interest, and deservedly so. The atmosphere there is going to be electric, with projections of anywhere up to 7-8,000 for expected attendance at Doyle Field. But, at the risk of being the wet blanket here, find me a pundit that doesn't expect Everett to win.

Putnam-Central will be an intriguing battle out west, but I'm going with an underrated Saturday afternoon showdown in Shrewsbury, where St. John's will host Holy Name in their customary season-opener. For all of Holy Name's success under Mike Pucko, the Naps have never beaten St. John's under John Andreoli. Last year's contest, a 22-21 St. John's thriller, was just epic on all fronts. And if there's any year for Holy Name to get that elusive win over the Pioneers, it's this one.

Barboza: This might not be the most high profile game on the docket, but I'm looking at the good ole fashioned brawl in the backyard between Dighton-Rehoboth and Somerset. The Falcons, coached by Somerset alum Dave Driscoll, are looking to rebound a bit in the South Coast Conference this season behind physical tackle Chuddy Nwachukwu and the Raiders could bounce back from a rebuilding year last year to finish atop the Eastern Athletic Conference this year. This has always been an underrated rivalry game in Southeastern Mass. and it's a great way to kick off the season for both squads.

Kurkjian: When in doubt, go with the No. 1 team opening up on the road against a program and community brimming with optimism over a Super Bowl win. No matter what happens, the atmosphere for Friday night's Everett at Leominster game will be electric.

Lerch: With apologies to several other high profile (BC High/Brockton) and not-so-high-profile (East Boston/Blue Hills will be a barnburner) matchups certainly deserving attention, the game at the top of my marquee is Duxbury at Bridgewater-Raynham (Saturday, 4 p.m.). Two programs very similar in the foundations programmed by a pair of tremendous head coaches, and both with an eye on getting a jump start on the "reload" process should be ready to go toe-to-toe for 44 minutes (or more).

Botelho: My favorite week one match-up is always Bridgewater-Raynham and Duxbury (especially this year, where these two teams grabbed the top two spots in our pre-season poll over at SportsJournal.co). Both perennial Super Bowl contenders, if either team doesn't bring their 'A' game from the get-go, they start the season with a loss. Dave Maimaron and Dan Buron always have their kids supremely prepared, so this one has a playoff atmosphere in September.
August, 20, 2012
8/20/12
8:14
AM ET
By
Brendan Hall
| ESPNBoston.com
In our first "Roundtable" of the 2012 football season, our high school staff and correspondents submitted their best position players in the state, and predicted champions for the state's most anticipated league races.

Brendan Hall
ESPN Boston High Schools Editor

Best QB: Nick Peabody, Barnstable
Best RB: Jared Taylor, Mashpee
Best WR: Jalen Felix, Everett
Best TE: Chris Collins, Walpole
Best OL: John Montelus, Everett
Best DL: Maurice Hurst Jr., Xaverian
Best LB: Luke Catarius, BC High
Best DB: Micah Morel, Brockton
Best K: Gilly De Souza, Everett
Best RET: Cam Farnham, Andover

Catholic Conference: Xaverian
MVC Large: Andover
MVC Small: Dracut
Bay State Carey: Needham
Bay State Herget: Natick
Old Colony: Barnstable
Atlantic Coast: Nauset
South Coast: Dighton-Rehoboth
Dual County Large: Lincoln-Sudbury
Dual County Small: Wayland
Patriot Keenan: Duxbury
Patriot Fisher: Pembroke
Hockomock Kelly-Rex: North Attleborough
Hockomock Davenport: Stoughton
NEC/CAL Tier 1: Masconomet
NEC/CAL Tier 2: Beverly
Middlesex Large: Reading
Middlesex Small: Wakefield
South Shore: Mashpee

Scott Barboza
ESPN Boston High Schools Editor

Best QB: Drew Belcher, Reading
Best RB: Jonathan Thomas, St. John's Prep
Best WR: Jalen Felix, Everett
Best TE: Chris Collins, Walpole
Best OL: John Montelus, Everett
Best DL: Maurice Hurst Jr., Xaverian
Best LB: Luke Catarius, BC High
Best DB: Alex Moore, St. John's Prep
Best K: Gilly De Souza, Everett
Best RET: Cam Farnham, Andover

Catholic Conference: BC High
MVC Large: Andover
MVC Small: Dracut
Bay State Carey: Weymouth
Bay State Herget: Natick
Old Colony: Barnstable
Atlantic Coast: Marshfield
South Coast: Dighton-Rehoboth
Dual County Large: Lincoln-Sudbury
Dual County Small: Concord-Carlisle
Patriot Keenan: Duxbury
Patriot Fisher: Pembroke
Hockomock Kelly-Rex: King Philip
Hockomock Davenport: Stoughton
NEC/CAL Tier 1: Lynn English
NEC/CAL Tier 2: Beverly
Middlesex Large: Reading
Middlesex Small: Wakefield
South Shore: Mashpee

Adam Kurkjian
ESPN Boston correspondent

Best QB: Drew Belcher, Reading
Best RB: Jonathan Thomas, St. John's Prep
Best WR: Jakarrie Washington, Everett
Best TE: Chris Collins, Walpole
Best OL: John Montelus, Everett
Best DL: Maurice Hurst Jr., Xaverian
Best LB: Luke Catarius, BC High
Best DB: Jalen Felix, Everett
Best K: Jackson Bockhurst, BC High
Best RET: Ozzy Colarusso, Weymouth

Catholic Conference: BC High
MVC Large: Central Catholic
MVC Small: Haverhill
Bay State Carey: Weymouth
Bay State Herget: Walpole
Old Colony: Bridgewater-Raynham
Atlantic Coast: Dennis-Yarmouth
South Coast: Wareham
Dual County Large: Lincoln-Sudbury
Dual County Small: Concord-Carlisle
Patriot Keenan: Duxbury
Patriot Fisher: Pembroke
Hockomock Kelly-Rex: King Philip
Hockomock Davenport: Stoughton
NEC/CAL Tier 1: Lynn English
NEC/CAL Tier 2: Beverly
Middlesex Large: Reading
Middlesex Small: Wakefield
South Shore: Mashpee

Ryan Kilian
Founder, New England Prep Stars

Best QB: Drew Belcher, Reading
Best RB: Jonathan Thomas, St. John's Prep
Best WR: Jalen Felix, Everett
Best TE: Chris Collins, Walpole
Best OL: John Montelus, Everett
Best DL: Maurice Hurst Jr., Xaverian
Best LB: Luke Catarius, BC High
Best DB: Alex Moore, St. John's Prep
Best K: Gilly De Souza, Everett
Best RET: Cam Farnham, Andover

Catholic Conference: BC High
MVC Large: Central Catholic
MVC Small: Haverhill
Bay State Carey: Weymouth
Bay State Herget: Natick
Old Colony: Barnstable
Atlantic Coast: Dennis-Yarmouth
South Coast: Dighton-Rehoboth
Dual County Large: Lincoln-Sudbury
Dual County Small: Concord-Carlisle
Patriot Keenan: Duxbury
Patriot Fisher: Pembroke
Hockomock Kelly-Rex: Mansfield
Hockomock Davenport: Stoughton
NEC/CAL Tier 1: Masconomet
NEC/CAL Tier 2: Beverly
Middlesex Large: Reading
Middlesex Small: Wakefield
South Shore: Mashpee

Corey Allen
ESPN Boston Correspondent

Best QB: Nick Peabody, Barnstable
Best RB: Brendan Flaherty, Beverly
Best WR: Jakarrie Washington, Everett
Best TE: Chris Collins, Walpole
Best OL: John Montelus, Everett
Best DL: Peter Ngobidi, Catholic Memorial
Best LB: Luke Catarius, BC High
Best DB: Jalen Felix, Everett
Best K: Gilly De Souza, Everett
Best RET: Cam Farnham, Andover

Catholic Conference: BC High
MVC Large: Central Catholic
MVC Small: Dracut
Bay State Carey: Needham
Bay State Herget: Walpole
Old Colony: Bridgewater-Raynham
Atlantic Coast: Nauset
South Coast: Wareham
Dual County Large: Lincoln-Sudbury
Dual County Small: Boston Latin
Patriot Keenan: Duxbury
Patriot Fisher: Pembroke
Hockomock Kelly-Rex: North Attleborough
Hockomock Davenport: Stoughton
NEC/CAL Tier 1: Masconomet
NEC/CAL Tier 2: Beverly
Middlesex Large: Reading
Middlesex Small: Wakefield
South Shore: Mashpee
June, 29, 2012
6/29/12
11:26
PM ET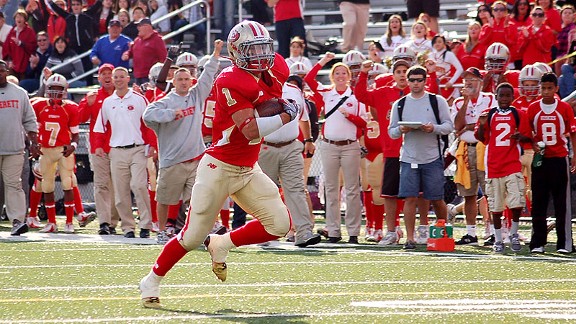 Brendan Hall/ESPNBoston.comKenny Calaj is expected to take over tailback duties this fall for Everett, which hasn't lost a game since 2009.
It's the weekend before the Fourth of July, so we're doing our patriotic duty bringing you the first look at our predictions for the upcoming football season in our latest Roundtable discussion.
ESPN Boston High School co-editors Brendan Hall and Scott Barboza and correspondent Adam Kurkjian have provided a preseason Top 10, five players to watch, storylines and five surprise teams for the 2012 season:
Brendan Hall
ESPN Boston High Schools Editor
PRESEASON TOP 10
1. Everett – I have some headlight fluid I'd like to sell to the folks evangelizing this myth that the Crimson Tide somehow have question marks coming back on offense.
2. BC High – A nasty defense led by man-child Luke Catarius is why Eagles are everyone's early favorite to win their third Division 1 title in five seasons.
3. Xaverian –The 500-pound backfield of Maurice Hurst Jr. and Hunter Taute might be the state's most punishing power-running tandem.
4. Leominster – They've been talking about the Blue Devils' 2014 class since they beat Everett, Brockton and St. John's of Shrewsbury in succession in freshman ball. Time to saddle up.
5. St. John's Prep – Jonathan Thomas is one of the best individual offensive talents in the state, but Eagles need to show more consistency than their 2011 product.
6. Barnstable – Red Raiders are loaded at the skill positions, and have one of the state's best linebacking corps led by Andrew Ellis and Ryan Litchman.
7. Longmeadow – Alex Rotsko is leaving the cupboard full, with a loaded senior class led by two of the finest linemen outside I-495, Lou Calabrese and Rob McClure.
8. Duxbury – Let's put it this way. Rumors of Dragons' demise, following one of their greatest seasons in school history, have been greatly exaggerated.
9. Mansfield – When in doubt, make the Hornets your favorite in the Hockomock.
10. Natick – It's very possible that quarterback Troy Flutie will lead the state in total offense.
5 PLAYERS TO WATCH
Brian Dunlap, Soph. WR, Natick – In his first varsity action in Week 1 of 2011, his 15th birthday, he caught over 220 yards. There hasn't been a wideout with this combination of IQ and physical maturity at such a young age in a while.
Jalen Felix, Sr. WR, Everett – Tide legend Manny Asprilla is the first name that comes to mind when you watch this guy in the open field.
Sha'ki Holines, Sr. LB/TE, Springfield Commerce – UMass-bound star is probably the least talked about prospect of all the Bay Staters currently committed to Division 1 FBS schools. Hits like a brick, commits to the second level in run blocking, and has a diligent motor.
Nick Peabody, Sr. QB, Barnstable – Has the size and tools of a Division 1 quarterback, and has that calm under pressure that last fall led the Raiders to their first playoff appearance in a decade.
Quron Wright, Sr. RB, Holy Name – Lilliputian scatback will likely surpass current Philadelphia Eagles fullback Emil Igwenagu this fall as the school's all-time leading rusher.
Storylines to Watch
Cape Cod Crusade
An unprecedented four teams from the Cape & Islands region won Super Bowl titles last fall. That number, combined with the sudden recruitment of UConn-bound Nauset star Brendan Battles, shed light on what the insiders already know: Cape talent is thoroughly on the rise. Past the cottages and picturesque seashores, this is a tough place to live year-round, and it reflects in the teams' pound-for-pound toughness on the field.
Logjam in the Hock
With the Hockomock officially expanding from 10 to 12 teams this season, the Kelly-Rex (or Large) division looks like this: Mansfield, North Attleborough, King Philip, Franklin, Attleboro and newcomer Taunton. The former three will generally be perceived as the favorites, however this is a wide-open league. There isn't a team with a slim chance to take the division here. Watch how this race unfolds, then try telling yourself we need to protect the sanctity of this "Super Bowl" system.
Springfield on the Rise
Putnam's Melquawn Pinkney and Springfield Central's Sacoy Malone put Springfield football on the map last season, with each rushing for over 2,000 yards and the former breaking Cedric Washington's sacred single-season state record for yards and touchdowns. Long-time Western Mass juggernaut Longmeadow is facing an uncertain future after the departure of its legendary head coach; meanwhile, Valdamar Brower and Tyrone Mathis are building powerhouse programs at Central and Commerce, respectively, and Putnam is bringing some talented young players up the ranks. The future is now in the City of Firsts.
Save The OCL
Over the last decade, no league has been raided more than the Old Colony League, a sobering thought considering its rich history. With Taunton departing, the OCL will operate as a three-team league in Division 1A this fall. Mergers with the Big Three or Atlantic Coast League have been entertained, but put off. And with the Bay State Conference seeking applications for potentially up to three new members, there is the temptation for a school like Bridgewater-Raynham to apply. Can the OCL be saved, or will it be divided and conquered?
New Blood Rising at QB
After three years of Jonathan DiBiaso, Nick LaSpada and A.J. Doyle, a new batch of quarterbacks is set to make waves across the state. Keep an eye on Nick Peabody (Barnstable), Brendan Craven (BC High), Justin Mount (Westford), Garrett DelleChiaie (Leominster), Troy Flutie (Natick), Drew Belcher (Reading), John Dillon (King Philip), Ryan Charter (Needham) and Austin DeCarr (Xaverian).
5 Teams That Will Surprise
Taunton – The Tigers turned some heads at the MHSFCA combine last month, when they rolled out a baker's dozen and every one of them had double-digit reps on the bench press. Is something brewing after a 1-9 campaign in 2011?
Dartmouth – You don't schedule Catholic Conference schools unless you have something in the tank, and the Indians' junior class is reportedly pretty good.
Dennis-Yarmouth – How do you follow up the greatest season in school history? You don't, but the Dolphins have some green gems coming up through the ranks. Not to mention, another branch of the Montalto family tree within that.
Abington – Preseason talk in the South Shore League will probably be dominated by East Bridgewater and Mashpee again, but the Green Wave should make a splash behind running back Babila Fonkem.
Pembroke – Titans graduate a lot of talent from the 2012 class, but if there's one thing we know, it's that Bob Bancroft has had a Midas touch wherever he's gone.
Scott Barboza
ESPN Boston High Schools Editor
Preseason Top 10
1. Everett – It might be an old convention, but it's true. The Crimson Tide will remain in the top spot until they next lose a game. We're not saying they'll run the table again, but anything short of another Super Bowl title is a disappointment, particularly with the road-graders they have on the line.
2. Xaverian –Either way you slice it, we could make the Hawks and BC High 2 (a) and 2 (b). We're giving Xaverian the slight edge for now because I like the matchup in the trenches.
3. BC High – The Eagles are starting from square one when it comes to the running game, but we'll see if Mr. Football award candidate Luke Catarius will get more opportunity to shoulder the load. Or, he'll simple continue blowing the opposing team's backfield from his linebacker position.
4. Leominster – Showed they're for real with a huge win at Gillette Stadium in last year's Super Bowl. And they're going nowhere.
5. Barnstable – Red Raiders only scratched the surface of their potential last season. The bar should be set that much higher next year.
6. St. John's Prep – The Eagles were very young last year and took a ton of lumps for it. They'll be that much better for it this season.
7. Longmeadow – Even without Alex Rotsko , do we really think much will change with the Lancers?
8. Duxbury – The Dragons have had some exceptional athletes in the last couple of years, but they still have some horses in the stable on the line and in the backfield.
9. King Philip – John Dillon is the type of quarterback who doesn't cost his team games. That, along with the defense, is why the Warriors will keep winning.
10. St.John's (Shrewsbury) – Will the Pioneers have enough to unseat Leominster? Maybe not, but an experienced returning roster will keep them in the running in Central Mass.
5 Players to Watch
Andrew Ellis, Sr. LB, Barnstable – A lot will be made of the Red Raiders' offense this season, but Ellis led a stout defense that was superb in the second half last season.
Alex Jette, Sr. RB/DB, North Attleborough – With a strong group of Hockomock running backs moving on in recent years, the time is ripe for the 6-foot, 170-pound back to take over the league rushing title.
Lucas Bavaro, Sr. S/TE, St. John's Prep – Be prepared for another year of highlight hits from the playmaker.
Dan Noviello, Sr. TE/DE, Bridgewater-Raynham – He'll be the key to the Trojans' blocking scheme and their black and blue presence on defense.
Jon Hurvitz, Sr. RB/DB, Duxbury – Seeing a lion's share of the carries after Henry Buonagurio's injury last season, Hurvitz is poised for a breakout season this year.
Storylines to Watch
The Year of the Big Man?
A lot of this year's offseason recruiting news has centered around a good crop of linemen getting Division 1 college attention. Xaverian's Mo Hurst Jr., Everett's John Montelus, BC High's Jack McDonald, Millis-Hopedale's Jon Baker have all committed or fielded offers in the last few months.
Sea change in Tri-Valley League?
Will someone finally be able to knock Holliston off its pedestal? (Looking at you Hopkinton and Westwood.) And might the little Millis-Hopedale collaborative that could be the strongest team in either division?
How does Auburn bounce back?
Shepherd Hill's upset of the Rockets was one of the most memorable moments of 2011. Does Auburn have enough to get back to the top of the SWCL standings?
Can Needham repeat Bay State Carey success?
Will Ryan Charter's first full season under center get the Rockets back to the Super Bowl?
Is there any way New Bedford pulls out its third straight Big Three title?
Dennis Golden has put the program in the right direction. Do the Whalers have enough to find yet another way to get "past" Brockton?
5 Teams That Will Surprise
1. Sharon – Hey, how many people believed Brendan and I when we said to watch out for Oliver Ames in the Hockomock Davenport?
2. Arlington Catholic – The Cougars are going to be difficult to run or pass against with 6-footo-4 DL John Strezzo coming off the edge.
3. Wakefield – The Warriors were dealt a rude awakening by Dennis-Yarmouth in the Super Bowl, but return a solid core of players from last year's Middlesex Small division championship team.
4. Dartmouth – Don't want to steal Brendan's thunder here, but the Indians are a darkhorse in the OCL race. For real.
5. Marshfield – Will the Rams reclaim their post atop the ACL this season? They just might.
Adam Kurkjian
Correspondent
Preseason Top 10
1. Everett – Too much speed, and maybe the program's best offensive line ever.
2. BC High – Joe Gaff takes over and keeps the machine humming.
3. St. John's Prep – No one in Division 1 returns more experience.
4. Xaverian – If the defense improves, the Hawks could finish a few spots higher.
5. Leominster – Will have the state's best group of juniors.
6. Longmeadow – One of the state's best offensive lines and a stable of good backs.
7. Bridgewater-Raynham – Trojans will be stacked on both lines.
8. King Philip – Experienced lineup and one of the best defenses in the state.
9. St. John's (Shrewsbury) – Plenty of young talent got experience a year ago.
10. Duxbury – Dragons reload with superb defensive line and running game.
Five Players to Watch
Luke Catarius, BC High, LB/FB, Sr. – Tackling machine the heart and soul of the BC High defense.
Maurice Hurst, Xaverian, DT/RB, Sr. – People his size (6-2, 285) shouldn't move that quick.
John Montelus, Everett, OL, Sr. – Everything you are looking for in a high school offensive lineman and college prospect.
Jarod Taylor, Mashpee, RB, Sr. – Supremely gifted back with size, speed, power and instincts.
Jon Thomas, St. John's Prep, RB, Jr. – Will put up monster numbers and may even play a little defense this year, too.
Storylines to Watch
The new football playoff proposal, and whether or not it passes
This has huge ramifications for the sport and its future across the state. The current system is as bad as it gets yet there are plenty in the community who feel this plan still has too many flaws.
How will Everett replace all-time state passing leader Jonathan DiBiaso?
At this point, it is looking like the Crimson Tide will turn to rising sophomore Lukas Denis. A talented dual-threat signal-caller, Denis will get thrown into the fire immediately with a trip to Leominster.
Can the Boxers get off the canvas?
Brockton suffered its first losing season since 2001 last year, was shut out four times and scored less than four points per game in the six losses. The Boxers face a murderous first four games in BC High, Reading, Xaverian and St. John's Prep that will give an indication whether or not this traditional powerhouse has recovered from 2011.
Is Leominster ready to take the next step?
The Blue Devils have always been a Central Mass. power, but rarely beat Brockton and have never beaten Everett. Now, with a rising junior class expected to be one of the best in the state, second-year coach Dave Palazzi could boost this program up a notch in the season opener when the Crimson Tide come rolling into town with what should be the consensus No. 1 team in the state.
How will coaches Joe Gaff and Nick St. George handle the responsibilities of taking over for Jon Bartlett at BC High and Alex Rotsko at Longmeadow, respectively?
Gaff has been handed the keys to a Ferrari at BC High and St. George returns a loaded lineup from the top program in Western Mass. With such high expectations at each school, it will be interesting to see how the new men in charge handle the pressure.
Teams That Will Surprise
1. Haverhill – Running back Chance Brady will be the best in the Merrimack Valley Conference and this is an early favorite in the Small Division.
2. Stoughton – Maybe not a total shock to people paying attention last year, but the Black Knights return a ton and have an interesting non-league tussle with Bridgewater-Raynham.
3. Lowell – Despite the loss of all-everything quarterback R.J. Noel, the Red Raiders return a good nucleus and will be in the mix for the MVC Large crown.
4. Fairhaven – Former New Bedford quarterback Rudy Bulgar is building this South Coast Conference team into a contender and has some nice returning pieces to work with.
5. Westford Academy – If the defense can take a few steps forward, the Grey Ghosts will have the offense to match as they make a run at a Dual County Large title.
May, 31, 2012
5/31/12
11:45
AM ET
Today, with the MIAA Baseball and Softball tournaments set to begin, the lacrosse tournament in its first action, we roll out predictions from ESPNBoston.com staff and correspondents.
BOYS LACROSSE
Scott Barboza
ESPN Boston High Schools Editor
DIVISION 1 EASTERN MASS.
Final - Duxbury over Acton-Boxborough
Why this pick:
Really?
DIVISION 2
Eastern Mass.
Final - Concord-Carlisle over Hingham
Central
Final - Algonquin over Grafton
West
*Brackets to be released
State Final
Concord-Carlisle over Algonquin
Why this pick:
The Patriots defend better than just about anybody in the state, save for No. 1 Duxbury. While C-C might not overwhelm with offense, they're still talented up top with Will Blumenberg and Jackson Finigan.
Division 3 EMass
Final - Dover-Sherborn over Norwell
Why this pick:
Because it has to be the Raiders' year eventually, right?
SOFTBALL
Scott Barboza
ESPN Boston High Schools Editor
Division 1
North
Final - Malden over Boston Latin
South
Final - King Philip over Bridgewater-Raynham
Central
Final - Milford over Shrewsbury
West
Final - Agawam over Minnechaug
State final - Milford over King Philip
Why this pick:
The Scarlet Hawks have been the most consistent team box to wire. And there's Shannon Smith, who's been unreal this season.
Division 2
North
Final - Dracut over Burlington
South
Final - Coyle-Cassidy over Fairhaven
Central
Final - Grafton over Notre Dame Academy
West
Final - Hampshire over Wahconah
State Final - Dracut over Grafton
Why this pick:
The Middies beat up on a deep Merrimack Valley Conference schedule this season. That'll make the postseason seem a little easier.
Division 3
North
Final - St. Mary's (Lynn) over Greater Lowell
South
Final - Greater New Bedford over Avon
Central
Final - Blackstone Valley Tech over Assabet
West
Final - Turners Falls over Franklin County Tech
State final - Greater New Bedford over Blackstone Valley Tech
Why this pick:
As mentioned in my bold prediction, I think the Bears will enter well adapted to playoff softball.
BASEBALL
Brendan Hall
ESPN Boston High Schools Editor
DIVISION 1
North: Lowell
The No. 1 seed Red Raiders have one of the state's toughest draws to start, in a pairing I like to call the "Group of Death" in the upper left quadrant of the bracket. To get to the semifinals, the Raiders have to face the winner of tonight's Westford-Salem matchup, followed by the winner of Chelmsford and Malden Catholic. Should they make it to the semifinals, the presumptive opponent would likely be Peabody -– and you have to think the Tanners will roll out ace Pat Ruotolo in that matchup.
If the Raiders can survive all of that -– which they can, with a deep stable of hitters and one of the state's best rotations in Matt Tulley, Chad Gens and R.J. Noel –- why shouldn't they win this bracket?
South: BC High
"Group of Death 1-A" might be the lower left quadrant in this bracket –- Barnstable, Catholic Memorial, Framingham and the Eagles. A win over Framingham would pit the Eagles against either CM or Barnstable –- neither of which is an easy out by any stretch – and after that, you have to think there is vengeance on their minds at the possibility of facing Franklin again in the semifinals (the Panthers crushed BC High last year, plating 17 runs). A BC High-Xaverian final isn't out of the question here.
Central: St. John's of Shrewsbury
No team in the state has been as consistent as the Pioneers, who swept St. John's Prep, didn't allow a run in two games against Burncoat, and came back around to clobber their lone losses (BC High, New Bedford) the second time through. Look for Ben White, Mike Badjo and company to beat Milford in a much-anticipated final.
West: East Longmeadow
This is the last chance for the Spartans, who have been placed with lofty expectations since the town won the state American Legion title two summers ago. If Steve Moyers, Matt O'Neil and company can't get it done this year, then when?
State Champion: Lowell
One of the state's great baseball cities gets a state title to call its own, while Tulley and Gens go down as two of the Mill City's best ever.
DIVISION 2
North: Danvers
North Andover is the No. 1 seed for the second straight year, but Danvers has the big-game experience to overcome everybody else in this bracket. Potential semifinal matchups with either Lynn Classical or Reading will be must-see.
South: Plymouth North
This is my bold prediction of the playoffs. Few teams across the state have a track record like Eagles skipper Dwayne Follette when it comes tournament time, and if they can get by Dennis-Yarmouth in the quarterfinals –- a team they lost to twice this season –- I can see them overcoming Hingham or Oliver Ames. Top seed Dighton-Rehoboth lost to the Eagles in last year's final, by the way –- could we see this again in 2012?
The Eagles are aggressive on the basepaths and at the plate, in a unique brand of baseball my loyal legion of Twitter followers have dubbed
"DwayneBall"
. How this hasn't become a hashtag until 2012 is anyone's guess, but let's get this trending, fellas.
Central: Auburn
Rockets have the clearest path to the final, whereas No. 1 seed Northbridge might have to avoid an upset from feisty Hudson in the quarterfinals. The Rockets also hold the advantage over Northrbridge in the regular season.
West: Monument Mountain
More than Pittsfield or Taconic, everyone out west says this is the best team in the Berkshires. And the fact the Spartans have been doing it all without Columbia-bound shortstop John Kinne, who has been out all season, is even more impressive.
State Champion: Plymouth North
A seven-loss state champion? Better believe it. I like the Eagles' chances in any given year, to be honest.
DIVISION 3
North: Lynnfield
Or to put it more bluntly, I like any team from the Cape Ann League taking this field.
South: Coyle-Cassidy
Mac Curran gets most of the attention, but this is a squad that dominated the Eastern Athletic Conference, has won 10 of its last 11, and is among the state's stingiest defenses (2 runs allowed per game). A potential semifinal matchup with Wareham is very intriguing.
Central: Maynard
Bryant University commit Mike Marshall has been as good as advertised for the Tigers, but he's not alone. The Tigers have five starters batting over .375, led by Marshall, and will dole out ace righty Ben Chiasson, a Franklin Pierce commit who has been one of Central Mass.'s best (7-1, 51 IP, 83 K, 12 BB, 0.96 ERA).
West: Frontier
Frontier and Pioneer Valley (the top two seeds in this field) split the regular-season series, but I'm going to go with Frontier unseating the defending Division 3 runners-up. Quality bats in the Frontier lineup, let by Keith Spencer, Rylan Baronas and Niko Ames -– those three have a combined 64 RBI between them.
State Champion: Coyle-Cassidy
We could end up with a heck of a pitchers' duel at Fitton Field if it's Coyle's Curran against Maynard's Chiasson, but for now that's just wishful thinking of course.
Andy Smith
Correspondent
Division 1 North: St. John's Prep
Coach Pat Yanchus said Saturday his team isn't hitting the way he'd like them to be going into the tournament, but they have enough strong pitching and defense to carry the bats if needed. Plus, given the way the bracket is laid out, it's hard not to see Prep cruising to at least the semi-finals. I think they can win the final two games and take the North.
Division 1 South: Norwood
8-0 over its last 8 games. Call it a crazy pick, but I never bet against the Big Mo...mentum.
Division 1 Central: St. John's (Shrewsbury)
Hard to find a team that has played as well as SJS has against against a schedule as tough as SJS had this season. I can't see any team taking SJS down in this bracket. I think this is a state finals team.
Division 1 West: Springfield Cathedral
Cathedral went 18-2 and won four games all year by more than 3 runs. That type of experience with small deficits can only help in the playoffs, where most games are the tightly-contested, grind-it-out type.
Division 1 State Champion: St. John's (Shrewsbury)
If I think long enough, I could talk myself into Prep winning D1, but SJS has been playing too well for too long for me to think someone will take them down in these playoffs.
Division 2 North: Danvers
The Falcons have outscored opponents 33-14 in the past five games. I'll give them the benefit of the doubt and say Saturday night's 8-2 loss to St. John's Prep was a reminder of the difficulties that lie ahead in the playoffs. I look for them to go all the way.
Division 2 South: Dennis-Yarmouth
Same rationale as D1 South: D-Y is 10-0 in its last 10 games. I'll take the team with the most momentum going into the playoffs and feel good about it.
Division 2 Central: Northbridge
Important rule to follow: If you want to keep getting assignments, don't bet against ESPNBoston.com Editor David Lefort's alma mater. Northbridge it is.
Division 2 State Champion: Northbridge over D-Y
I can't see a team from the West making it to the state title game. Ultimately, I don't think Danvers has enough pitching to make it to the finals. I'm taking Northbridge here because of nothing more than a gut feeling. I could very well be wrong here. It wouldn't be the first time.
Division 3 North: Newburyport
They won Division 3 last season. Their longtime coach retired at the end of last year, but here they are again. This veteran team was two wins away from the No. 1 seed in this bracket. Give me the team that's been there before. I trust them to do it again.
Division 3 South: Coyle-Cassidy
This bracket is Coyle's to lose. Two of its three losses this season came against Dartmouth, and that team isn't in this bracket. C&C is an easy pick here.
Division 3 Central: Oxford
This team is capable of putting up a lot of runs when it needs to (scored double-digit runs eight times this season). I like teams with firepower, so I'm picking Oxford here.
Division 3 State Champion: Newburyport
For all the reasons mentioned in the bold prediction.
John Botelho
Staff Writer, Brockton Enterprise
South Section Champions:
Division 1: BC High
The offense has been top notch all season, and probably features more future NCAA D1 hitters than any lineup affiliated with the MIAA. Put metal bats in their hands after using wood all year, and the Eagles will bash their to a South crown.
Division 2: Oliver Ames
Hall of Fame coach Leo Duggan seems to have a knack for developing pitching. Ryan O'Shea, a Central Michigan commit who was supposed to be the staff ace, has thrown four innings this year because of a shoulder injury. The Tigers didn't miss a beat early and raced out to a commanding lead they never relinquished in the Hockomock League Davenport Division. Their path won't be an easy one, but David Holmes (4-0, 1.35 ERA) is as good as any pitcher in this sectional. If he beats Pembroke, one of the Tigers' younger pitchers will have to find a way to pitch OA past a very good Hingham team but this team is capable of playing with anyone, and comes into the tourney battle tested from Hockomock League play.
Division 3: East Bridgewater
The Vikings and Coyle & Cassidy will get a lot of play here, but E-B just seems to have the clearest bracket. Coyle will have to go through Apponequet or Rockland in the quarterfinals before squaring off with the likes of a string Wareham or Middleboro team just to reach the finals. The Warriors are loaded with pitching, led by Mac Curran and Donny May, who both sports sub-1.00 ERAs this year, but they have less room for error than East Bridgewater does. A match-up featuring these two teams in the final would be ideal, as they're probably the two most complete teams in this sectional.
State Champs
Div. 1:
BC High beats Lowell in EMass final, then takes out Steve Moyers and East Longmeadow in the state title game.
Div. 2:
Danvers beats Monument Mountain in state title game.
Div. 3:
Lynnfield beats Pioneer Valley in state title game.