Boston High School:

Ryan Canty
April, 8, 2011
4/08/11
5:02
PM ET
The New York Post is reporting that Fordham University landed two verbal commitments yesterday from brothers
Jared
and
Jake Fay
of Brimmer & May School.
Jared, a 6-foot-3 senior shooting guard, will join teammate Ryan Canty in head coach David Pecora's five-man recruiting class of 2011, and will join three other players with ties to New England prep schools: sophomore Chris Gaston (New Hampton) and freshmen Marvin Dominique (Winchendon) and Lamount Samuell (Notre Dame Prep).
Jake also held an offer from UMass at the time of his commitment, and Scouts Inc. currently evaluates the sophomore as follows:

Strengths:
Fay is a shot maker with good size and bounce for the backcourt. Even at a young age Fay has the same outward confidence and swagger that every great shooter owns. He shoots it with range and needs only a split second to get it off thanks to his size and quick trigger. He also shoots the ball well off the dribble and has developed an attacking game off the catching making quick rip through and step back moves to get to his pull-up. Fay plays the game with no hesitation and is an instinctive offensive player.

Weaknesses:
Fay is still physically undeveloped and needs to get much stronger in his upper body. He can't play through contact on either end of the floor right now and although his long arms are an asset defensively, he is limited laterally. Defensively, he must give a more diligent effort in order to better compensate for his lack of quickness and strength. Offensively, he isn't much of a decision maker in the backcourt as he doesn't handle or pass and is essentially a one-dimensional catch and score player.

Bottom Line:
Fay is developing into a pretty big time shooter and with a frame that is now stretched out to six-five, good length, and athleticism he has all the makings of a high level prospect.
January, 25, 2011
1/25/11
3:20
PM ET
Thirty-eight athletes playing at Massachusetts high schools have been nominated for this year's McDonald's All-American basketball games, and it is quite the interesting list. On the boys side, Notre Dame Prep has a whopping six players nominated; also of note, Newton North's Tevin Falzon gets a nomination despite not playing a minute all season due to a wrist injury.

Below is the complete list of nominees for the boys and girls games:

BOYS

Pat Ackerman, Worcester Academy
Khem Birch, Notre Dame Prep
Joe Bramanti, Andover
Ryan Canty, Brimmer & May
Sam Cassell Jr., Notre Dame Prep
Dennis Clifford, Milton Academy
Pat Connaughton, St. John's Prep
Aaron Cosby, Northfield-Mt. Hermon
Myles Davis, Notre Dame Prep
Tevin Falzon, Newton North
Grandy Glaze, Notre Dame Prep
Jon Henault, St. Bernard's
Kyle Kager, Deerfield Academy
James Kennedy, Cushing Academy
Samir McDaniels, New Mission
Joe Mussachia, Manchester-Essex
Angel Nunez, Notre Dame Prep
Kachi Nzerem, New Mission
Andrej Pajovic, Wilbraham & Monson
Joe Sharkey, Northfield-Mt. Hermon
Chris Sherwood, Brimmer & May
Tyler Strange, Notre Dame Prep
Vincent Van Nes, Northfield-Mt. Hermon
Jimmy Zenevitch, Central Catholic

GIRLS

Nicole Beresford, Marshfield
Sophie Bikofsky, Newton South
Kendall Burton, Newton South
Blake Dietrick, Wellesley
Amber Dillon, Brookline
Tori Faieta, St. Mary's
Julie Frankian, Millbury
Natalie Gomez-Martinez, Andover
Brenna Goncalves, Coyle-Cassidy
Briana Hunt, Newton North
Mariah Lesure, Tabor Academy
Samantha Mangano, Winchester
Gabie Polce, Central Catholic
Clare Sullivan, Rivers
January, 22, 2011
1/22/11
8:14
PM ET
By
Andy Smith
| ESPNBoston.com
CHESTNUT HILL, Mass. -- Sometimes when watching the Tilton School basketball team, it is hard to divert attention from the imposing 6-foot-10 figure of
Nerlens Noel
in the middle. But when
Georges Niang
has a game like he did Saturday in a 88-64 victory against Brimmer and May, one could almost forget Noel is even on the court.
Niang, a 6-foot-7 junior, put up 28 points and five rebounds against the home team, and was a perfect 7-of-7 from the free throw line.
[+] Enlarge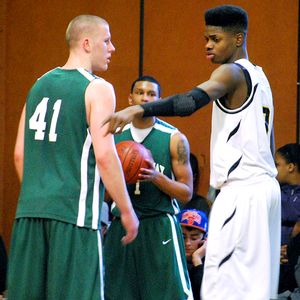 Lucas Shapiro for ESPNBoston.comTilton's Nerlens Noel (right) battled Brimmer's Ryan Canty and came up with 16 points, seven rebounds and seven blocks.
He overshadowed what was a prolific game for Noel, who had 16 points, seven rebounds, and seven blocked shots. He exhibited much of the characteristics that make him the No. 3 recruit in the class of 2013, according to ESPN. When he needed to, he utilized a jump hook, a drop-step move, and thunderous dunks to score on his former Tilton teammate
Ryan Canty
, a Fordham commit.
Defensively, when he wasn't blocking shots, Noel was altering Brimmer players' approach, making life more difficult for them in the paint.
"When you have Nerlens, who blocks everything, and
Goodluck (Okonoboh)
, who are such good rebounders and have such good knacks for the ball, sometimes I can run past a three-point shooter and start heading the other way (on offense)," said Niang. "I hate to do it, but sometimes you're allowed to."
Tilton (13-2) played most of the game in a full-court press, which stymied the Gators (4-10) and forced them to turn the ball over, giving the prep juggernaut layup opportunities that were more often than not turned into points.
"We thought if we just kind of sat back, they are pretty good in the half-court," Tilton head coach Marcus O'Neil said. "They knocked down three-point shots, they're good with their pick-and-roll, pick-and-pop stuff, so we didn't want to just sit back and let them pick us apart. We tried to create turnovers. I wasn't sure if we were going to be able to do it but we did."
His team jumped out to a 10-0 run to start the game and it never looked back. The pressure defense supplied by the likes of
Dominique Bull
, Aaron Law, and
Wayne Selden
wreaked havoc on the Gators' offense, allowing
Marco Banegas
(20 points) and company to get over half-court only three times in the first four minutes of the game.
"We knew they couldn't stay with us if we kept the game moving," said Niang. "We knew they could shoot the ball real well so we tried to push them off the arch. We felt that if we pressed them and made them go up against Nerlens, who blocks everything, that would help."
Tilton even extended their lead to 23-2 with 11 minutes left in the first half, and had a 48-26 lead headed into the break. Brimmer was not the only team to face difficulty against these guys, however. Twelve of the Rams' thirteen wins have been double-digit wins.
With that in mind, it can be hard for some to believe a 13-2 team has to improve on much as the season progresses, but O'Neil knows that to avoid complacency, his team has to keep working to get better, regardless of the record.
"Every day brings new challenges, sometimes those are successes and sometimes they are failures," said O'Neil. "We try to take each day by itself and try to get better. If you don't, you're going to get beat."
November, 9, 2010
11/09/10
9:51
AM ET
ESPN's Adam Finkelstein is reporting that Brimmer & May senior forward/center
Ryan Canty
has verbally committed to Fordham University for the fall of 2011.
Canty, a 6-foot-10 finisher from Danvers, transferred to Tilton (N.H.) after the 08-09 season at St. John's Prep and re-classified as a junior. He transferred to the B&M campus in Chestnut Hill after the helping the Rams capture their third straight NEPSAC Class B title this past March. Canty was also considering Rhode Island, UMass, St. Joseph's, Hartford, Drexel, Fairfield, and UNH.
There is great potential with Canty, but as Scouts Inc. notes, some improvement needed:

Strengths:
A physically imposing presence with a terrific frame and great athleticism, Canty has the physical tools needed to play at almost any level. He loves to dunk the ball and finishes above the rim through contact in both transition as well as the half court. Defensively, he has the size and strength to defend the low post without help and is also a formidable shot-blocker from the weak-side of the court. Canty runs the court well and will make momentum building plays with his habit of throwing down dunks in traffic and blocking shots.

Weaknesses:
Canty can be lackadaisical at times and doesn't appear to be naturally competitive. He only sprints the court when he thinks he has a chance to dunk the ball and could be an absolutely fantastic rebounder if he showed the interest. Canty is also unskilled with the ball in his hands. He is rarely a threat to score the ball beyond five feet, lacks a go to weapon on the low post, is a poor free-throw shooter, and has a limited feel for the game.

Bottom Line:
Canty has all the physical tools to play the game at a very high level and despite a lack of ball skills if he learns to play the game harder with more consistency he could have a major impact inside the paint at the next level.