Boston High School:

Ryan Donato
July, 11, 2014
Jul 11
12:38
AM ET
WILMINGTON, Mass. -- Hockey can be equated to a classic Disneyland ride.
"It's a pretty small hockey world," Boston College forward and Massachusetts native Ryan Fitzgerald said Thursday after skating in the second day of Bruins development camp, "to be this far down the line and still be playing with kids that I played with when I was 10."
It's been a common occurrence for the Bruins in the last several years.
Boston has drafted a Massachusetts-born player in each of the last three drafts. The organization hasn't really seen a bumper crop of New England-born players from the region's secondary schools since the period from 1984 through 1992 -- a span that also happens to coincide with what many view as the zenith of high school hockey in Massachusetts.
Many of the recent draft picks have ties to the team. Both Fitzgerald and Ryan Donato, this year's second-rounder, have fathers (Tom and Ted, respectively) who donned the spoked B. Charlestown native and current Boston University defenseman Matt Grzelcyk, who was selected out of the United States National Team Development Program in the third round in 2012, is the son of John Grzelcyk, longtime member of the "bull gang" at TD Garden.
In addition, the Bruins drafted defenseman Robbie O'Gara out of Milton (Massachusetts) Academy in the fifth round of the 2011 draft. Although O'Gara is a native of Long Island, he and 2013 fifth-rounder Wiley Sherman (Hotchkiss School/Greenwich, Connecticut) add further New England roots.
All are in attendance at development camp this week.
"I think half the guys here are from Massachusetts," Providence Bruins head coach Bruce Cassidy quipped after Thursday's skating session.
It underlines one of two recent trends in the Bruins' draft philosophy.
In the same years the organization has increasingly pulled from its backyard, the Bruins are also looking to Sweden. Boston has taken five players from the country's junior ranks in the last two years, headlined by the Bruins' first picks in each of those years -- 2014 first-rounder David Pastrnak and 2013 second-rounder Linus Arnesson.
The Bruins also have beefed up their presence in the area, adding former fan favorite
P.J. Axelsson
as a European scout, in addition to Svenake Svensson, who also is based in Sweden and has been with the team for 24 years.
It points to the evolving nature of hockey at home and across the pond -- one that has brought two schools of philosophy closer together.
"I think the game's becoming more centralized," Cassidy said Thursday. "The North American game has gone more toward the European game -- with puck possession and the way the lineups are filled out. And the European game has moved a little bit toward the North American styles. Some of these Swedes that are coming over here and they're gritty, they're hard on the puck, they're hard to get the puck from, they compete for it, whereas in years past you might not have said that."
It should come as no surprise that the Bruins' assistant director of amateur scouting is a local as well. Scott Fitzgerald, brother of
Tom Fitzgerald
and uncle to Ryan, is part of the brain trust that has charted a course to familiar waters.
"It's pretty special putting on the black and gold, but it's awesome to be able to do it with a couple of Mass. guys as well," Ryan Donato said Thursday. "It shows how good Mass. hockey is. I think it just shows that Mass. hockey is getting better."
There might just be a symbiotic relationship to hockey in the area. For all the rinks and hockey careers Bobby Orr inspired, the same might be able to be said of the Bruins' most recent Stanley Cup victory.
"You watch [Donato's] family realize how exciting it is, both Ryans for that matter [Donato and Fitzgerald], and Grizz's [Matt Grzelcyk] family is a great story," Bruins assistant general manager
Don Sweeney
said on Wednesday. "They weren't drafted because of the story, but the best part about it is they get to add another chapter. And if they do go on to fulfill their dream, then it becomes that much better, that much more rewarding for everybody involved because the Bruins are part of the fabric of this community."
While tight-knit, there are six degrees of separation sometimes in the hockey community.
Despite growing up in the same state, having fathers who played for the same team and being separated by only a couple of years in age, the younger Donato and Fitzgerald had never met until joining the team at Ristuccia Arena this week. The centers have more in common than not. Besides their first name, they share the same outlook regarding the name on the back of their sweaters.
"He'll probably say the same thing, we've had it our whole life," Ryan Fitzgerald said about the pressures of growing up in an NHL family. "It's something that we've dealt with. We don't feel that much pressure to be honest with you."
Donato reflected on the impact he and his fellow local Bruins could have on the younger generation. It's also possible that Massachusetts could produce next year's overall No. 1 draft pick in Chelmsford's Jack Eichel -- a former teammate of Donato's at the youth level -- in addition to several potential first-rounders in a rich draft class.
"Little kids will look up to them and a bunch of the guys here and want to be like them," Donato said. "That's a pretty special thing."
A world of hockey that's pretty small, after all.
June, 28, 2014
Jun 28
1:08
PM ET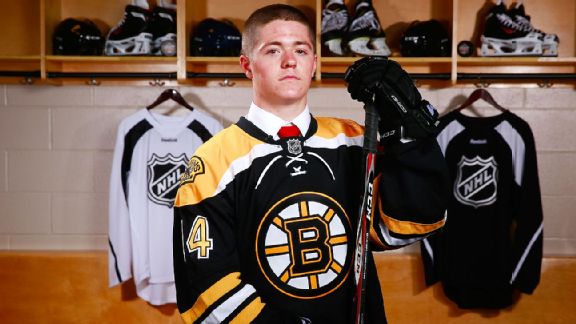 Jeff Vinnick/NHLI/Getty Images
In the second round (56th overall) of the 2014 NHL draft, the Boston Bruins stayed local and selected 18-year-old Boston native Ryan Donato.
"Really excited. No words to explain it right now," he told reporters in Philadelphia.
Donato, a 6-foot, 174-pound center from the Dexter School, is the
son of former Bruins forward and current Harvard men's ice hockey coach Ted Donato
.
"I've just grown up around the rinks -- it would be a dream come true, and when they had the pick, I was shaking in my seat for a minute while they were waiting and I couldn't be happier with the pick," Ryan Donato told reporters. "Proud to be in such a great organization now."
The Bruins drafted Ted Donato in the fifth round (98th overall) in 1987, and he eventually played nine seasons for the Bruins.
"I follow the team religiously," Ryan Donato said. "Just being in Boston, it's such a big part of Boston. I couldn't be happier going to this team -- just being around the guys, growing up with all the Bruins players in the house, being friends with all the Bruins players. There really are no words to describe it right now."
Donato recorded 37 goals and 41 assists for 78 points in 30 games for Dexter last season. Overall, in three seasons he has registered 174 points in 83 games.
He plans on playing for his father at Harvard starting in the fall of 2015, but he still needs to decide whether he'll return to Dexter for his senior year or play for the Omaha Lancers of the USHL this coming season.
"I'll talk to [the Bruins] and see what they think, and now that the draft's over, I got a weight lifted off my shoulders and I think I can make a clear decision soon," he told reporters.
Speaking about his father, he added, "Me and him have a good relationship, and I think it's going to be beneficial because he's not going to be afraid to tear me apart as much as any other guy. So I think it's going to be good and I think he'll get me ready the fastest to hopefully play NHL hockey."
June, 27, 2014
Jun 27
1:44
PM ET
The NHL Draft kicks off tonight in Philadelphia and there are more than a dozen New England-bred skaters who are hoping to hear their names called during the two-day event.

Last year's local draft class was exceptionally deep, with 12 New England-born players at the secondary or junior level coming off the board.

Before getting the scouts' takes on this year's class, here's a look at the locals that made the NHL Central Scouting bureau's final North American rankings:

SKATERS

45. Shane Eiserman, C/LW, Dubuque (Cushing, St. John's Prep), 6-1 1/2, 200

58. Ryan Donato, C, Dexter, 6-0 1/4, 174

74. Miles Gendron, D, Rivers, 6-1 1/2, 181

79. Beau Starrett, C/LW, South Shore (Catholic Memorial), 6-4 1/2, 197

109. J.D. Dudek, C, Kimball Union, 5-11, 1/4, 180

116. Max Willman, C, Williston-Northampton (Barnstable), 5-11, 181

117. Tyler Bird, RW, Kimball Union (St. John's Prep), 6-1 1/2, 200

119. Bobo Carpenter, C, Sioux City (Austin Prep), 5-10, 183

147. Jonathan Barry, D, Thayer Academy, 6-1, 192

177. Billy Sweezey, D, Noble & Greenough (Archbishop Williams), 6-0 1/4, 192

184. Sam Lafferty, C/LW, Deerfield Academy, 6-0 1/2, 187

203. J.C. Brassard, D, Noble & Greenough, 5-10, 190

GOALIES

14. Joey Daccord, Cushing (North Andover), 6-2, 199

In advance of the draft, we sampled the views of a couple of NHL amateur scouts based in the area and their evaluations of the aforementioned prospects.

Shane Eiserman
One scout's take: "He's a heavy body and he plays a heavy, physical game. He finishes his checks and he's got a mean streak in him. He plays with an edge. He's a good skater and he gets around the ice well – especially in a straight line. I think he projects a third-line winger, who can provide some secondary scoring."

Scout's need to improve: Scoring touch.

Ryan Donato
One scout's take: "He has really high-end skills: great hands, super soft hands, great vision in offensive zone. So obviously that's when he's most dangerous, when he has the puck, you have to keep your head on a swivel. He has a great shot and the ability to thread a pass into a tight area."

Scout's need to improve: Skating.

Miles Gendron
One scout's take: "He's an interesting player because he's a forward-turned-defenseman. He's a kid that still needs time to learn the position, but he's heading to UConn and he's going to get great coaching from Mike Cavanaugh and Mike Souza – they've got big plans for him. He's probably the most dynamic skater in the East – a great stride, fluid, long and thin with great balance. He's a one-man breakout."

Scout's need to improve: Net-front defending.

Max Willman
One scout's take: "I think he's a kid that played at a lower level and was underrated for a while but he's really coming on strong. I think he had a great year last year and he's headed to Brown, so he's maybe a bit of a wild card, just from perspective of taking the skill set that he has, and you can see it, and applying that to the next level. You might be taking a bit of a chance, but you're getting a guy that has some really nice skill, can pass the puck as good as anyone and can shoot the puck well."

Scout's need to improve: Can he carve out role outside of top six skilled forward?

Bobo Carpenter
One scout's take: "I don't think he's a natural goal-scorer, but he has an unbelievable shot, shoots a heavy puck. He's good on the power play and he'll be utilized there. He's a very tough competitor and loves to finish checks. He's always going as hard as he can to the whistle. He loves to the play in the role of a bottom six forward, and he can fit in there because he loves to finish checks and get those dirty, greasy goals. He's going to a good place, a good school [BU] and I think he did fairly well in the USHL at the end of the season when he was there."

Scout's need to improve: Skating.

Joey Daccord
One scout's take: "He's a very technical goaltender. He handles the puck well and he's good with his stick, he can move the puck like a college player. He's very technical. He's got good size, good height, a long, rangy kid. He just has to get a little more consistent with his play."

Scout's need to improve: Game-to-game consistency.
March, 3, 2014
Mar 3
1:51
AM ET
By
John McGuirk
| ESPNBoston.com
NEW HAVEN, Conn. -- You had to wonder if a trend was taking place.

With the top seeds in Sunday night's other two NEPSAC championship games going down to defeat, would a similar scenario be in store for the Salisbury School?

The way seventh seed The Gunnery School was holding its own on the ice, it was a distinct possibility. But to understand the strength of the Crimson Knights program is knowing that such fears are a considerable waste of time.

Even though it took a little longer than it would've like, Salisbury completed its mission in dramatic style.

Evan Smith's goal at 15:19 in overtime lifted the Crimson Knights to a thrilling 3-2 triumph over the Highlanders and be crowned the Stuart-Corkery Tournament champions inside Yale University's Ingalls Rink.

The victory earns Salisbury (24-1-4) its second consecutive Elite 8 championship. Last year, they defeated the Kent School, after the Crimson Knights also hoisted trophies in 2009 and 2006.

The Gunnery (20-7-1) forced the extra frame by striking for a pair of goals late in the third period.

But all of that was soon forgotten following Smith's heroics after taking a a tic-tac-toe pass from Derek Barach and sending a hard wrist into an open right side of the net.

"I was just busting down the line and I saw Barach up high and gave him a drop pass," said Smith, who will play his college hockey in the same arena next year for Yale. "He fed it back to me and I had an open right side of the net to put it into. It was deflating being up two goals with five minutes left and them coming back to tie it. But all of us kept our composure and we came out in overtime and were determined to repeat as champs and that's what happened."

After a scoreless opening period, Salisbury went to work in the middle frame. At 4:12, Kale Kane, a junior from Kahnawake, Quebec, on the power play, dove head first to push a wobbling puck across the goal line for a 1-0 lead. The initial shot came from Barach. The puck bounced off of Highlander goaltender Matt Schneider and flipped into the air and behind his left leg pad where Kane alertly knock it in. Barach, a senior, finished with two assists, giving him a team-high 33.

Four minutes later, with Alec Mehr serving a charging penalty, it was Kane coming up huge again. Lined up in the left slot, the forward took a nice crossing feed from Matthew Muzyka and beat Schneider with a one-timer to make it a two goal contest. Schneider, a senior, had a solid first period, stopping several quality shots to keep the game scoreless.

Overall, his play was stellar on the night except for a couple of miscues in the second and Smith's game-winner in overtime. Schneider finished with 35 saves.

Not to be overshadowed in all of this, Crimson Knights netminder Mitchell Datz, a senior from Kitchener, Ontario, was equally impressive between the pipes. Datz turned aside 20-of-22 shots with the only blemishes coming in the third when he surrendered goals to Mehr at 12:31 with the man-advantage, and couldn't catch up to Joey Fallon's bullet from the right wing circle at 15:18 to even this tilt.

"Overall I was pretty confident during the overtime," Datz said. "We hadn't lost an overtime game all year so I was pretty confident in my teammate's abilities to score. It was a little nerve-wracking when they tied it up but going into overtime I knew I still had a job to do and needed to remain focused and confident. Fortunately my teammates got the win."

Salisbury's defense did a nice job getting through those last few minutes of the third as they buckled down refusing to allow the Highlanders to gain any further momentum from their scores. In overtime, the Crimson Knights controlled much of the play. They consistently worked the puck inside The Gunnery zone, putting up 11 shots in the process with Smith's being the most important one of the night.

"This was a fantastic hockey game by both teams," Salisbury head coach Andrew Will said. "It was two teams playing their best hockey at the right time of the year and it showed. We score two goals in the second period and they come back with two in the third. In overtime all we were focusing on was getting the next goal. Giving up those two goals certainly takes wind out of your sails but our guys went back to the locker room and refocused. We didn't worry about what happened because it's so easy to do that. We just set our sight to coming back and playing our brand of hockey which I thought we did."

Martin/Earl final: Loomis-Chaffee 3, St. Paul's 2

In a wide open affair at both ends of the ice, leave it to a turnover to decide matters.

Loomis-Chaffee senior forward Alex Esposito, from nearby West Haven, picked off an errant pass inside the St. Paul's zone, skated in alone on goaltender Nathan Colannino (23 saves) before beating the junior glove side at 9:35 of the third period to give his team a 3-2 victory in the Martin/Earl Tournament. The triumph marks the first NEPSAC boys hockey title for No. 6 L-C (15-10-3).

Ironically, it was Esposito who scored the game-winning goal in the closing seconds of Saturday's 2-1 semifinal victory over Phillips Academy-Andover.

"Their defenseman was bringing the puck up and I went down and it hit my hand," said Esposito of his deciding score. "I just came down on their goalie and held him out a little bit and then went short side. This is such a huge win for our program."

L-C got hot at the right time heading down the stretch. They closed out the season going 5-0-1 in their final six games. According to head coach John Zawisza, this team was built on a premise that you had earn what you got with a lot of hard work.

"We had a couple of rough patches during the season but I think we started peaking at the right time and were able to come away with a championship," said Zawisza, whose club lost to St. Paul's in a regular season meeting back on Dec. 19. "I credit our guys' persistence during the season. Even when it was rough they still showed up for work every day. We were able to find consistency over the last two weeks of the season and the kids found that will to win."

With both teams getting a few quality looks on net during the opening period, the game remained scoreless until the waning seconds of the frame.

With 14 seconds showing, Austin Ricci pushed in a short-side shot into the net, putting No. 1 St. Paul's (20-9-1) ahead 1-0.

But L-C, showing a little more patients with the puck in the second period than it did in the opening frame, answered back. Senior defenseman Matt O'Donnell, flying down the left wing, beat goaltender Nathan Colannino with a hard backhander at 8:03 to knot things at 1-1.

St. Paul's followed that up with a couple of scoring chances on goalie Nick Kamm (13 saves) but were denied. Back came L-C down the other end. Ben Sharf delivered a perfect centering pass over to Esposito in front of the crease and Esposito buried it into the back of the net to give L-C a 2-1 lead after 36 minutes.

"Over the course of his career Alex has gotten a lot of big goals for us," Zavisza said. "As a coach you want your top guys to have games like that especially when it really matters."

St. Paul's wouldn't be down for long though. Just 2:08 into the third, senior Cam McCusker, got enough his stick on the puck to slip it past the out-stretched left leg pad of Kamm to deadlock things at 2 apiece. But the offense went silent thereafter.

"Loomis played very hard so give them all the credit," St. Paul's head coach Mark Bozek said. "Either we were tired or we didn't have our best game tonight. It's tough to come out on the losing end after you've worked so hard all year. We gave up a couple of odd-man rushes and they made us pay for it. Rarely tonight did we have an odd-man rush."

Piatelli/Simmons final: Kimball Union 5, Dexter 1

The Wildcats claimed their second Piatelli/Simmons Tournament crown in three years after storming past top seed Dexter.

KUA jumped out to a 2-0 lead in the second period and never looked back.

The second-seeded Wildcats (26-6-5) officially put this one in the books with a three-goal third. Westwood native Bobby Hall and Andover product Tyler Bird scored 13 seconds apartj, both coming from the left circle, midway through the final frame to extend KUA's advantage to 4-0. For Bird, it was his team-high 33rd marker of the season.

Dexter junior sniper Ryan Donato got one back (his team-high 37th) a few minutes later but the damage was already done. Dom Franco (Scituate, R.I.) added an empty-net goal for the Wildcats in the waning seconds to finish this one out. KUA defeated Holderness in the 2012 championship game. Prior to that, the Wildcats won titles in 2010 and 1982.

After an uneventful first period, the Wildcats started to force the action during the middle frame. The up-tempo style would lead to a pair of goals. Chris Shero started things off by ripping a one-timer off a left wing circle face off feed from Brendan Riley to put KUA on the board at 12:16. Three minutes later, with the Wildcats continuing to move the puck up ice, forward Jacob Paluch, positioned at his own blue line, took a pass and fired a shot through traffic that Dexter goalie Pat Fraser (20 saves) never saw coming.

"We did get stronger as the game went on," KUA head coach Tim Whitehead said. "We obviously had a ton of respect for Dexter and knew it would be a tight game. The final score was not indicative of how this game was. We were able to kill off some penalties which was very important because we knew they had a strong power play.

"Our goaltender Paul Leger (18 saves) played very well in net and was our best penalty killer tonight. We just kept pushing offensively and got more chances with each period."

Dexter, which was in search of its second championship having last won it in 2011, finishes the season at 22-6-2.

"They did a nice job of clogging up the neutral zone on us, especially early which limited us offensively," Dexter head coach Dan Donato said. "They also did a nice job neutralizing Ryan before he got going a bit. We made some coverage mistakes on those two goals in the third. Both of those players are high-end guys and that is what high-end guys do when you make mistakes. I thought their first two lines really moved the puck well for them."
January, 30, 2014
Jan 30
11:14
PM ET
Dexter School hockey junior center
Ryan Donato
announced his college decision Monday, giving a verbal commitment to Harvard, joining his father Ted's Crimson.
It is anticipated Donato's commitment is for the 2015-16 season.
Extremely excited to officially announce my commitment to play college hockey at Harvard University #GoCrimson

— Ryan Donato (@DonatoRyan) January 30, 2014
A 1996 birthdate, the 6-foot, 174-pound Scituate native was the highest ranked prep school player in New England in the NHL Central Scouting's Midterm Report released earlier this month. Donato ranked 54th among North American skaters.
Last year, Donato posted 29-31-60 totals in 28 games played at Dexter.
"He expects himself to do great things every time he's on the ice, that's the sign of a great player," said Dexter head coach Dan Donato, Ryan's uncle. "I've been really fortunate to have coached three players that have gone on to the NHL, but in some ways, Ryan's on another planet. I truly believe his best hockey is ahead of him."
Donato also fielded offers from Boston College and Boston University, before choosing the Crimson -- both his father's alma mater and where he's coached for the last 10 seasons.
"I think with his father being there, it ended up being a nice possibility for him," Dan Donato said. "I'm so happy for him. [Harvard] is the ultimate pinnacle of where high school hockey players look to go, especially in the Boston area. I'm not knocking any other schools, they're terrific schools, but this was a special opportunity for him."
January, 13, 2014
Jan 13
2:27
PM ET
The National Hockey League's Central Scouting bureau released its midterm rankings for the 2014 draft today.
Once again, local-based skaters littered the rankings, with St. John's Prep and Cushing Academy product Shane Eiserman leading the class. The West Newbury native was 39th among the 200-plus ranked North American skaters.
There is also a goaltender in the mix, with Thayer Academy standout Bob McGovern ranking 25th among North Americans.
Here's how the locals stacked up:
(For a look at the complete rankings, click
HERE
.)
Skaters:
39 Shane Eiserman, Dubuque - USHL (U.S. NTDP, Cushing, St. John's Prep), C/LW, 6-1.5, 200
44 Johnathan MacLeod, U.S. NTDP (Kimball Union), D, 6-1.5, 200
54 Ryan Donato, Dexter School, C, 6-0.25, 174
83 Beau Starrett, South Shore Kings - USPHL (Catholic Memorial), LW, 6-4.75, 195
85 Miles Gendron, Rivers, D, 6-1.5, 173
121 Michael Turner, Cushing Academy, LW, 6-1.5, 192
123 Tyler Bird, Kimball Union (St. John's Prep), RW, 6-1.5, 202
146 Bobo Carpenter, Austin Prep, C, 5-10, 183
157 J.D. Dudek, Kimball Union, C, 5-11.25, 178
159 Michael Lee, The Gunnery, D, 5-11.25, 165
177 Max Willman, Williston Northampton (Barnstable), LW, 6-0, 180
188 Dominic Franco, Kimball Union, RW, 6-2.75, 183
193 Billy Sweezey, Noble & Greenough, D, 6-0, 190
204 Evan Smith, Salisbury School, C, 6-0, 190
Goaltenders:
25 Bob McGovern, Thayer Academy, 6-4, 245
September, 23, 2013
9/23/13
10:45
AM ET
This morning the National Hockey League's Central Scouting Service released its preliminary "Ones to Watch" for the 2014 draft.

The New England region was well-represented with current and former high schoolers and prep schoolers making the grade.

Here's a breakdown of New England skaters:

MASSACHUSETTS HIGH SCHOOLS
B Skaters
Ryan Donato, Dexter School, C/LW, 6-0.25, 174 lbs.
Miles Gendron, Rivers, D, 6-1.5, 173 lbs.

C Skaters
John-Claude Brassard, Noble & Greenough, D, 5-10, 180 lbs.
Bobo Carpenter, Austin Prep, C, 5-10, 183 lbs.
William Feeney, Dexter School, D, 6-1.75, 202 lbs.
Michael Turner, Cushing Academy, LW, 6-1.5, 208 lbs.

C Goaltenders
Bob McGovern, Thayer Academy, G, 6-4, 245 lbs.

NEW HAMPSHIRE HIGH SCHOOLS
C Skaters
Tyler Bird, Kimball Union (St. John's Prep), RW, 6-1.5, 202 lbs.
J.D. Dudek, Kimball Union, C, 5-11.25, 178 lbs.
Dominic Franco, Kimball Union, RW, 6-2.75, 183 lbs.

CONNECTICUT HIGH SCHOOLS
C Skaters
Will Brophy, Westminster, D, 6-3.5, 193 lbs.
James Gobetz, Salisbury, D, 6-2, 188 lbs.
Mike Lee, The Gunnery, D, 5-11.25, 165 lbs.
Evan Smith, Salisbury, LW, 6-0, 190 lbs.
Mitchell Smith, Salisbury, LW, 5-11, 182 lbs.

C Goaltenders
Joseph Lissak, Taft School, G, 6-1.5, 203 lbs.
Sam Tucker, Choate-Rosemary, G, 6-1.25, 177 lbs.

UNITED STATES HOCKEY LEAGUE
B Skaters
Shane Eiserman (U.S. NTDP/ Cushing Academy/ St. John's Prep), Dubuque, LW, 6-1.5, 200 lbs.

UNITED STATES PREMIER HOCKEY LEAGUE
C Skaters
Beau Starrett (Catholic Memorial), South Shore, LW, 6-4, 190 lbs.
May, 2, 2012
5/02/12
11:46
PM ET
The United States Hockey League held its annual Futures Draft on Tuesday night and there were four Massachusetts-based players and one Rhode Islander taken in the six-round selection process.

Boston Advantage Midget Major forward and Maine commit Liam Pecararo (Canton, Mass.) was the No. 2 overall selection. Scituate's Conor Garland of the Boston Junior Bruins went to the Muskegon Lumberjacks in the third round. La Salle Academy (R.I.) standout winger Bryan Lemos was taken in the fourth round by the Youngstown Phantoms. Malden Catholic freshman center Ara Nazarian was the first pick of the sixth round, going to the Des Moines Buccaneers. Also going in the sixth round was Dexter School forward Ryan Donato.

The players selected in the futures draft selected were from the 1996 birth year. The respective teams hold the player rights for three years.

However, it is expected that Nazarian will return to MC for his sophomore season as the Lancers look for a third straight Super title, sources say.