Boston High School:

Ryan Hoey
December, 3, 2011
12/03/11
2:28
PM ET
By
Ryan Kilian
| ESPNBoston.com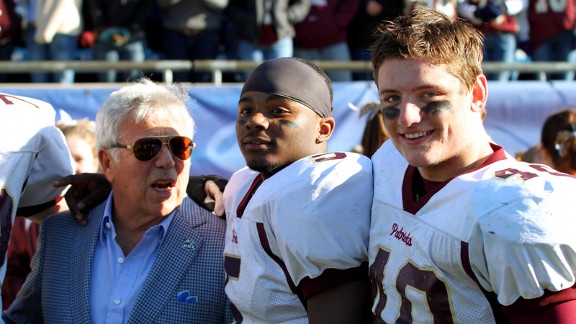 Ryan Kilian/ESPNBoston.com Patriots owner Robert Kraft dropped by the Concord-Carlisle sideline.
FOXBOROUGH, Mass. -- Concord-Carlisle made their second consecutive trip to Gillette Stadium a successful one as they defeated Oliver Ames (7-5) 42-9 to win the Eastern Massachusetts Division 3 Super Bowl.
The game plan for C-C was to run the football, just as they had done in each of their previous 12 victories this season. C-C pounded the ball for 298 total rushing yards behind their veteran offensive line and three-headed backfield of seniors George Craan, Tyquan Culbreath, and junior Tim Badgley.
"For those guys to have a great day, particularly George and Ty as seniors, that makes it special," Concord-Carlisle head coach Mike Robichaud said.
When Concord-Carlisle (13-0) went to the air they also converted as C-C quarterback Ryan Hoey found tight end Henry Bumpus on two separate occasions for touchdown strikes.
"It was a complete team effort," said Robichaud. "I could not have been more proud of our team today."
Oliver Ames could never get any sustainable drives going on the day despite solid games from quarterback Jared Schneider (11-22 passing for 123 yards and 2 INT) and running back Sam Langston (14 rushes for 60 yards and one touchdown).
Bumpus rebounds and stars:
Bumpus had a strong junior season for C-C last year but had a dropped ball in the end zone that would have been a score for Concord-Carlisle in their Super Bowl loss at Gillette Stadium to Duxbury last year.
"Last year was the worst day of my life," Bumpus said. "I dropped a big catch that I should have had so this year I knew I had to make up for it. I think I did that today and it feels so good to get that off my back."
The Dual County League MVP had the biggest game of his career on the biggest stage as the 6-foot-6 defensive end/ tight end had two catches for 34 yards and two touchdowns to go along with an interception where he leaped up and picked off a Schneider pass and returned it deep into Oliver Ames territory.
Bumpus is also the captain of the C-C basketball team as well as a starting defenseman for the Patriots lacrosse squad. He will attend Brown University next season along with teammate and two time DCL lineman of the year Andrew VanderWilden. Together they will team with Henry's older brother John who was a 2009 captain for Concord-Carlisle.
Right time to shine
: Craan has put together one of the all-time great careers for any running back in the history of the Dual County League. This season Craan stepped his game up at the right time for the Patriots as the senior ran for 342 yards (122 in today's Super Bowl win) and seven touchdowns in C-C's two playoff wins.
"I remember when I came in as a little cocky freshman, I told my coach we were going to win the state championship before we left here," Craan said. "We did it and it feels real good to finish big."
History repeats itself for the Robichaud family:
The last time Concord-Carlisle won the Super Bowl was 1978 at Nickerson Field in Boston and the head coach was the legendary Al Robichaud, who manned the Patriots' sidelines from 1972-1990. Al, a member of the Massachusetts Football Coaches Association Hall of Fame, is the father of current head coach Mike Robichaud. He was on hand to witness the championship game and share an emotional moment with his family after the game.
"My dad is my role model," Robichaud said. "I am just proud of the kids to get this done. It is just a great honor to be in the profession he was in. It was not always about the wins and losses as much as it was the impact that he had on so many kids lives."
Seniors go out in style:
"We got together as freshman and collectively said that we wanted to be the best," Bumpus said. "I love all these kids and this is the greatest team I have been on."
The senior class has made it to three straight playoff games, improving each year to win one more game.
"A perfect season feels good," said Craan. "We all put in the hard work, we all worked out together in the offseason, we had good chemistry and we did it. We are a family. We are more than just a team off the field. Brothers look out for each other and that is what we did today."
"They were the first class I connected with as sophomores," Robichaud said. "To execute this way and to end on a perfect season is not just something they deserved or were entitled to. They worked for it. I am just really happy I was able to be a part of it and to spend these lat years with these kids. I am really proud of them."
CONCORD-CARLISLE 42, OLIVER AMES 9
C-C (13-0) - 13 - 8 - 14 - 7 --- 42
OA (7-5) - 3 - 0 - 0 - 6 --- 9
1st Quarter
C – George Craan 4 run (Evan Boynton kick)
O – Ryan McGrath 26 field goal
C – Craan 9 run (kick failed)
2nd Quarter
C – Bumpus 20 pass from Ryan Hoey (Craan run)
3rd Quarter
C – Tyquan Culbreath 35 run (Boynton kick)
C – Bumpus 14 pass from Hoey (Boynton kick)
4th Quarter
C – Craan 12 run (Boynton kick)
O – Sam Langston 3 run (kick failed)
November, 30, 2011
11/30/11
1:56
AM ET
By
Ryan Kilian
| ESPNBoston.com
LOWELL, Mass. --- Concord-Carlisle is heading back to Gillette Stadium for the second consecutive year, as they defeated Holliston 32-27 in one of the most exciting contests of the 2011 Eastern Massachusetts season.
Holliston (9-2) got on the board first in the opening quarter as senior quarterback Dan Barone tossed the first of his three touchdown passes on the evening to a leaping Brody Ciarcello for a 38-yard score.
[+] Enlarge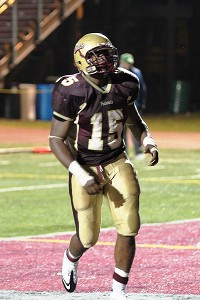 Ryan Kilian for ESPN.comC-C's George Craan (35 carries, 220 yards, 4 TDs) put in a heavy workload to keep feisty Holliston at bay.
The constant misdirection, no huddle offense and unbalanced alignments had C-C (12-0) befuddled early, as Holliston moved the ball up and down the field through the air in the first half.
"Holliston is an incredibly tough team to prepare for," said C-C head coach Mike Robichaud. "I think we did a good job against their run but they are so multi-faceted that they were able to execute in their passing game."
C-C bounced back in the second quarter on two consecutive George Craan scoring runs. The senior tailback was a workhorse on the day as he carried the ball 35 times for 220 yards and four touchdowns.
After some great back and forth play through the middle portions of the game it would come down to the final stages of the fourth quarter as both teams had critical defensive stands within the final five minutes of the game.
C-C got a final time-consuming drive that ended in a six-yard surge through the line by Craan to all but ice the game.
Barone, however, would not settle for defeat after the C-C score, as he led Holliston all the way down the field and into the end zone. The quick drive was capped off by a fantastic individual effort, as the senior signal-caller dove for the pylon and scored from five yards out to cut the lead to five, 32-27, with 35 seconds to play.
The ensuing two-point conversion attempt was unsuccessful, and the Patriots recovered the onside kick to advance to the 9 a.m. Eastern Massachusetts D3 Super Bowl game on Saturday morning at Gillette Stadium in Foxborough.
"We basically knew it was going to be a hard fought game," said Craan. "Coming into the game Coach said it was going to be a senior game so we all just had to step up."
Low Numbers, Big Effort:
Holliston had one of the smallest rosters in the 2011 Eastern Massachusetts playoffs, with 40 players. With what they lacked in numbers they made up for with experience, skill and effort as the defending Eastern Massachusetts Division 3 Super Bowl Champions did not quit at any point on the night.
"They are really well coached so they knew what we were trying to do," said Robichaud. "We kind of out physical'd them but they got us a little more one dimensional then we wanted to be."
Down Lineman:
In the fourth quarter C-C lost senior offensive lineman Owen Guattaduaro to a knee injury as they were driving toward the end zone.
After the game, instead of huddling at midfield, the team all ran over to the sideline bench to be with their fallen teammate and celebrate the win while listening to the coaches.
"It was a group effort and without my O-line I would not have got any of the yards I had," said Craan.
On Saturday's opponent Oliver Ames:
"They have an unbelievable tradition in that town", said Robichaud of Oliver Ames. "We know that they have been down for awhile but Coach (Jim) Artz has done a great job of getting them back."
CONCORD-CARLISLE 32, HOLLISTON 27
C-C (12-0) - 0 - 16 - 8 - 8 --- 32
HOL (9-2) - 8 - 6 - 7 - 6 --- 27
1st Quarter
H – Brody Ciarcello 38 pass from Dan Barone (Stephen Hennessy run)
2nd Quarter
C – George Craan 3 run (Craan run)
C – Craan 24 run (Henry Bumpus pass from Ryan Hoey)
H – Ciarcello 17 pass from Barone (rush failed)
3rd Quarter
C – Craan 4 run (Craan run)
H – Max Athy 24 pass from Barone (Barone kick)
4th Quarter
C – Craan 6 run (Tyquan Culbreath run)
H – Barone 5 run (rush failed)
October, 15, 2011
10/15/11
12:04
AM ET
By
Andy Smith
| ESPNBoston.com
CONCORD, Mass. -- Not even thunder and lightning could stop the No. 8 Concord-Carlisle ground attack Friday. It ran all over Westford Academy, propelling the Patriots to a 61-14 victory in front of its home crowd.
[+] Enlarge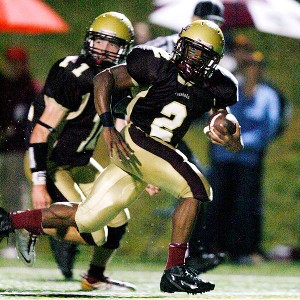 Jon Mahoney for ESPNBoston.comRunning back Tyquan Culbreath had two touchdowns on his first three carries for Concord-Carlisle during Friday night's 61-14 rout of Westford Academy.
Tyquan Culbreath got things going for CC (6-0) early and often. After his team forced Westford (3-3) to punt on its opening drive, Culbreath scored a 10-yard rushing touchdown when he took the option handoff straight through the heart of the Westford defense.
Minutes later, on his teams next offensive possession, he broke two tackles in a 50-yard touchdown run to put his team up by two scores.
In the second quarter, he added a 26-yard touchdown and a 4-yard touchdown on a reverse 5.5 seconds before the end of the half. It was his ability to break multiple tackles that made his performance so memorable in the game.
"We see those kinds of things in practice that only we see," C-C head coach Mike Robichaud said. "He's a special kid who really works hard. He's very quiet and has really improved this year as a blocker. I think he's really bought in to being a complete back, so it's really nice to see him get the ball and just make some unbelievable plays.
"I wish I could say it was a great scheme and all the right blocks, but he just made a lot of great things happen. It's great to see for him."
Culbreath ended the game with six carries for 130 yards and four touchdowns.
His fellow running backs would not let him have all the fun, however.
In the third quarter, Tim Badgley scored on an 85-yard run, giving him four carries for 104 yards and a touchdown. George Craan had a 28-yard touchdown run of his own. He ended the game with 10 carries for 102 yards and the touchdown.
"We're really proud of all the backs because of the way that they practice and the way they push each other," Robichaud said. "They really challenge each other during the week."
They, as well as the rest of the team, will have to keep challenging themselves if they want to keep up their undefeated record.
-- The game was forced into a half-hour delay when thunder and lightning rolled into the area. With 1:02 left in the first half, the teams were told to head into the locker rooms and wait out the storm. The teams made the decision that when they came back from the break halftime would be treated like a quarter, with a shorter break rather than another long one. With time in the locker room so close to the half, Robichaud treated it like the real thing. "We had other things that we were talking about, so it was less about game-planning, it was a little more about leadership during that break," he said. "The guys did a great job of putting things behind them and playing the way we know that we can play. It was a little bit different, but it was no big deal. It's a pretty mature group of guys and they rolled with it.
-- The leadership issues Robichaud was addressing was his team's willingness to take what some coaches would call retaliation penalties in the first half. On more than one occasion, his players were flagged after engaging a Westford player. The penalties came at costly times, keeping Westford drives alive when C-C needed to make stops. "We had what, I think, were maturity issues in the first half," he said. "We had a number of penalties we discussed during the lightning break and we really challenged the seniors to snap out of it and be the leaders we know they are."
-- While its offense will get the most attention attention in the scorebook, the C-C defense also came to play Friday. Collectively, it intercepted the Westford quarterbacks four times, including Tyler Koning's interception return for a touchdown in the first quarter. It also came up with a crucial 3-and-out in the second quarter when Westford was driving to potentially make it a one-score game. "This year, the offense has been a little ahead of the defense developmentally, personel-wise, things like that," Robichaud said. "We made some adjustments during the week and the kids really responded to that. I think we really showed the way we can play on defense. It wasn't a perfect game, but I was really pleased with our pass coverage. This was a great team we played. The kids were really looking forward to the game and I think they did a good job of just executing what the defensive coaches set them up to do. We have to get ready for [Acton-Boxborough] now."
NO. 8 CONCORD-CARLISLE 61, WESTFORD ACADEMY14
C-C (6-0) 20 15 19 7 -- 61
WA (3-3) 0 14 0 0 -- 14

1st quarter
C-C - Tyquan Culbreath 10-yard run (Evan Boynton kick good)
C-C - Culbreath 50-yard run (Boynton kick good)
C-C - Ben Aley interception return (Boynton kick failed)
2nd quarter
W - Alex Eaton 11-yard run (Alex Locker kick good)
W - Justin Mount 1-yard run (Locker kick good)
C-C - Culbreath 26-yard run (2-pt conversion good- Ryan Hoey pass to Evan Boynton)
C-C - Culbreath 4-yard run (Boynton kick good)
3rd quarter
C-C - George Craan 28-yard run (Boynton kick blocked)
C-C - Tim Badgley 85-yard run (Boynton kick wide right)
C-C - Javier Flores 6-yard run (Boynton kick good)
4th quarter
C-C - Flores 73-yard run (kick good)
October, 7, 2011
10/07/11
12:09
AM ET
By
Ryan Kilian
| ESPNBoston.com
CONCORD, Mass. -- Concord-Carlisle scored early and often on its way to a convincing 35-7 win over Boston Latin on Thursday afternoon. The win moved C-C (5-0, 1-0) into an early first place lead in the Dual County League Small, as Boston Latin fell to 3-2, 0-2.

C-C led 35-0 at the half, with each of their five first half touchdowns coming by way of the "big play". The Patriots struck first early in the opening quarter as senior quarterback Ryan Hoey found classmate Jackson Finigan on a 47-yard touchdown strike.

"That was all (Ryan) Hoey," said Finigan. "We actually had a run play called but Ryan checked to the fade and threw a perfect ball that I caught and it was all grass from there on."

Hoey looked sharp all day controlling the C-C offense, and has been a steadying factor in his first year under center for the Patriots.

"Offensively we did a good job," said Concord-Carlisle head coach Mike Robichaud. "We talked about the trenches and the edges and I think we did a good job there. We have some running backs that can make things happen if we get to the second level so we were pleased with that."

C-C star running back George Craan scored the next two touchdowns on long runs of 71 and 55 yards respectively. The senior totaled 156 yards on the day, on only five carries

Junior tailback Tim Badgley got into the scoring action as well, with a 65-yard burst through the middle of the Boston Latin defense midway through the second quarter.

Senior tailback Tyquan Culbreath concluded the first half scoring barrage with a 44-yard scamper through the Wolfpack defense.

C-C has come out of the locker room the last two games and put their opponents away early with big opening first halves.

"It is a credit to these captains and a credit to these seniors," said C-C head coach Mike Robichaud of his team's early game execution and focus. "They take a lot of pride in coming out and being real good on first downs and early in the game."

Boston Latin's lone score on the afternoon came with 2:59 remaining in the third quarter, as junior Mike Surdek plunged in from two yards out to break up the shutout.

Latin was also playing without injured junior quarterback Miles Wright who was present on the sidelines sporting a hard cast on his right arm. Junior Cal Cahill took the snaps for the Wolfpack on the day.

Huge holes: "The offensive line are all big fast guys," said Craan. "They do a good job conditioning and at practice and the coaching staff does a great job preparing them."

The C-C veteran offensive line led by seniors Andrew vanderWilden, Trevor Castrichini, Owen Guattaduaro, Tom Gregory and Thomas Kleyn opened up some monster holes for the C-C running backs to run through.

"The offensive line did a great job," said Robichaud. "It is a senior group and these guys have played with each other in some tight situations."

Seniors step up: The C-C senior class has experienced success having advanced to the post season the past two years including a Division 2A Super Bowl appearance last season where they lost to Duxbury 35-13 at Gillette Stadium.

Whether it was captain Henry Bumpus' big fourth down sack in the first half or the aggressive pursuit tackling of defensive backs Tyler Koning, Anthony West and linebacker Kleyn the C-C defense was up to the task.

"Our defense is led by a strong senior group," said Finigan. "We have a bunch of hard hitting kids and we are doing a good job stopping the run and pass and whatever is called."

Hoey, Finigan, Craan, Culbreath and the veteran offense line all led the way for the offense.

Finigan factors in: Finigan was all over the field for C-C. The senior caught a touchdown, returned punts, threw some key blocks to spring the running backs and was a big factor in containing the edge from his defensive back position.

"Probably the guy that is most unsung in our running game is Jackson Finigan," said Robichaud. "He does a tremendous job of making blocks downfield. When you have good backs half our touchdowns are because Jackson has gotten on someone down field and what was a 30-yard run becomes a 50-yard touchdown. We don't throw the ball a whole lot but he has just been huge for us the past three years."

CONCORD-CARLISLE 35, BOSTON LATIN 7

CC (5-0) --- 14 21 0 0 - 35
BL (3-2) --- 0 0 7 0 - 7

First Quarter
C – Jackson Finigan 47 pass from Ryan Hoey (kick failed)
C – George Craan 71 run (Craan run)

Second Quarter
C – Craan 55 run (Evan Boynton kick)
C – Tim Badgley 65-yard run (Boynton kick)
C – Tyquan Culbreath 44-yard run (Boynton kick)

Fourth Quarter
B – Mike Surdek 2-yard run (Jake Hardy kick)
August, 26, 2011
8/26/11
4:13
PM ET
CONCORD, Mass. -- Things are on the rise with Concord-Carlisle football.

A few years ago, a young Patriots team took their lumps. But those learning experiences translated into a historic season in 2010, when C-C made its first Super Bowl appearance since 1978. Although the Patriots fell short of their ultimate goal, taking a thumping at the hands of Duxbury, 35-13, C-C is reloaded for 2011 with 14 starters returning from the squad that walked off the Gillette Stadium field.

"In the offseason, guys were really working hard," C-C head coach Mike Robichaud said. "I think it's a pretty dutiful and a focused group. It starts with our three senior captains, too. They're good kids, they're good students and they're good players. I think it's a group that still feels that there's something to prove. I don't think they're about to put the cart before the horse."

The commitment to finishing off what they started last season has been enforced by the Patriots' three senior captains -- Henry Bumpus, George Craan and Thomas Kleyn.

Craan, for one, committed himself to an extensive offseason training program that should scare DCL Small defenders from Arlington to Weston. The running back has put on an additional 15 pounds to his 5-foot, 11-inch frame and plans to play at around 210 pounds.

"I want to top last year," said Craan, who led all of Division 2A with 24 touchdowns in 2010. "Last year's in the past, it's history. But I just want to have a better year. I'm bigger, faster … Hopefully, that'll help."

The Metco student from Boston spent his offseason working out with his C-C teammates, bulking up and looking to improve on his 1,914-yard performance last year. A lofty goal, certainly, but Craan's also hoping to alter his running style some.

"He was more of a buzz downfield type of runner," Robichaud said, "but now he wants to run some people over this year and take it up to the next level."

Not only has Craan upped his focus, he will be running behind an experienced line. Six-foot, 245-pound center Andrew VanderWilden is the catalyst for the line that also returns Trevor Castrichini, Tom Gregory, Owen Guttaduaro and Kleyn, in addition to Bumpus at tight end.

"Our linemen are fast," said Craan, who has received interest from BC and UConn in addition to a host of FCS schools, "we don't have any fat, slow guys. We have linemen who can get out and move. We have big, experienced, smart, fast guys. And they're aggressive."

All that's left is to get out on the field and do it, although that sometimes can be a problem for the excitable Craan, who's known around C-C as much for his chronic forgetfulness as his highlight-reel runs.

"He's a ready-fire-aim-type guy sometimes," said Robichaud, laughing about Craan's absent-mindedness. "But, in all seriousness, he's a terrific kid and some of his forgetfulness is really kind of endearing. He's such an excited, enthusiastic kid that sometimes, literally, he'll forget where his helmet is on the way out to practice."

Rest assured, he'll be ready for the Patriots' opening challenge against Beverly, the defending Division 3 Super Bowl champions.

"We just have to do it out on the field," Craan said.

CONCORD-CARLISLE AT A GLANCE
Coach: Mike Robichaud (3rd season, 18-7)
Last Year: 10-3 (Lost to Duxbury in Division 2A Super Bowl)
Key Returnees: George Craan, Sr. RB/DB, 5-11, 210; Henry Bumpus, Sr. TE/DE, 6-6, 200; Andrew VanderWilden, Sr. C/DL, 6-0, 245; Thomas Kleyn, Sr. OL/ILB, 5-10, 200; Evan Boynton, Sr. E/OLB, 6-0, 175; Jackson Finigan, Sr. SE/DB, 6-1, 175.
Strengths: Running game, run defensed.
Weaknesses: Passing game, pass defense.
Outlook: Robichaud is straight forward when assessing the Patriots' strengths and weaknesses. And they would be apparent to anybody who watched C-C in last year's D2A Super Bowl against Duxbury. While the Patriots were able to move the ball on the ground with Craan, they were simply overmatched defensively by the Dragons' sophisticated aerial attack. This year, Robichaud said his staff has taken upon themselves to mix things up on offense and make sure their responsibilities are covered against the pass. "It's up to me to make sure that we're addressing those things during the week," Robichaud said. "I'm a little more conservative by nature, so I have to have a little bit more trust in our guys that we can go to the pass in some situations that we haven't in the past." Don't be surprised even to see Craan flexed out of the backfield in some passing situations. Senior Ryan Hoey goes under center, taking over for Peter George. The Patriots will again be strong in the trenches with nose tackle Jack Donovan returning. Bumpus is primed to have a huge season at defensive end after hanging some extra weight on his 6-6 frame. Fellow tri-captain, Kleyn, is the defensive quarterback at inside linebacker. "We want to take pride in the fact that we won our league and won a playoff game for the first time in a long time," Robichaud said. "But we want to get back to that place."