Boston High School:

Ryan Jones
March, 28, 2013
3/28/13
9:11
PM ET
FIRST LINE
F - Liam Coughlin, Sr., Catholic Memorial
Finished third among all Division 1 players in scoring, while leading the Knights back to the Super 8 for the first time since 2009-10. The South Boston native put up 28-20-48 totals, tied for first among Catholic Conference scorers this season.
F - Ara Nazarian, Soph., Malden Catholic
ESPN Boston's Mr. Hockey award winner this season, Nazarian had 26-22-48 totals for the regular season, along with nine goals and five assists during the Super 8 tournament for the three-time defending champions. The Boxford resident and center is the first underclassman to win the Mr. Hockey award.
F – Brian Pinho, Sr., St. John's Prep
The Providence College commit led the Eagles to a No. 1 seed in this year's Super 8 tournament. The North Andover resident compiled 12-24-36 totals this season and, in January, was ranked No. 117 among North American skaters in the NHL Central Scouting's Midterm Rankings.
D – Casey Fitzgerald, Soph., Malden Catholic
The North Reading resident earned his second Super 8 title with the Lancers, playing on all defensive units and is one of two players making a second-straight appearance on our All-State team. The Boston College commit had 5-17-22 totals on the season and recently was accepted in the United States National Team Development Program's U-17 team.
D – Matt Foley, Sr., Springfield Cathedral
The two-way blue-liner finished third on the Panthers in scoring with 10-16-26 totals this year while leading them to another Super 8 apperance. A Longmeadow resident, the captain is deciding among prep schools for next year, as well as offers to play in college.
G – Peter Cronin, Sr., BC High
The only repeating First-Team All-Stater this year, Cronin finished in the top five among Division 1 netminders in both goals against average (1.40) and save percentage (94.6) while starting all 23 of the Eagles' games. He is currently considering colleges among playing opportunities at the prep school and junior levels.
SECOND LINE
F – Tom Besinger, Jr., BC High
The Eagles' top center and captain was force to reckon with in the circle, in addition to leading the Eagles with 35 points (10 goals and a team-best 25 assists).
F – Cam Owens, Sr., Wilmington
Finished his high school career with back-to-back Division 2 state championships. Owens racked up 30 points, playing alongside All-State honorable mention Brendan McDonough. Owens is currently weighing prep and junior options for next year.
F – Nolan Vesey, Sr., Austin Prep
The senior captain led the Cougars back to the Super 8 for the first time since the 2009-10 season and all the way to a finals appearance at the Garden. Vesey led AP in goals (18) and points (31) while kicking in 13 assists.
D – Nick Gorski, Sr., Central Catholic
A player who head coach Mike Jankowski repeatedly called his "most improved player" since freshman year, the Raiders captain played on all units, leading Central to another Super 8 appearance.
D – Jack Williams, Sr. Springfield Cathedral
A major component to perhaps the state's best blue-line core, Williams did a little bit of everything for the Panthers, including playing forward on power-play units. The Suffield, Conn. resident tallied four goals and 19 assists for 23 points. He is currently weighing his playing options for next season.
G – Colin Soucy, Jr., Central Catholic
The break-out star of this year's Super 8 tournament, Soucy nearly delivered the Raiders to a quarterfinal-round upset of No. 1 seed St. John's Prep in his first year as Central's starting netminder.
Best of the Rest – Honorable Mention
Forwards
Tyler Bird, Jr., St. John's Prep
Tommy Bishop, Sr., Chelmsford
Matt Brazel, Jr., Hingham
Brian Brooks, Jr., Canton
Mike Carbone, Sr., Marshfield
Bobo Carpenter, Soph., Austin Prep
A.J. Couto, Sr., Danvers
Ben Cox, Sr., Medfield
Peter Crinella, Soph., Springfield Cathedral
Cam Curley, Sr., Franklin
Sam D'Antuono, Jr., Hingham
Jordan Dow, Sr., Lincoln-Sudbury
Josh Edwards, Sr., Blue Hills
Brendan Greene, Jr., Winchester
C.J. Grinnell, Sr., Burlington
Marc Happy, Jr., Wachusett
Lloyd Hayes, Jr., Central Catholic
Kevin Hock, Frosh., Catholic Memorial
Mike Iovanna, Sr., Malden Catholic
Andrew Irving, Sr., Beverly
Connor Irving, Jr., Beverly
Ryan Jones, Sr., Coyle-Cassidy
Jack Kilty, Sr., Medway
Pat Kramer, Soph., BC High
Tom Koopman, Jr., Marblehead
Matt Kustra, Sr., Natick
Brendan McDounough, Jr., Wilmington
Anthony Lespasio, Sr., Bedford
Jack O'Hear, Sr., Catholic Memorial
Derek Petti, Sr., Tewksbury
Eddie Pratt, Sr., Xaverian
Nolan Redler, Jr., Winchester
Tyler Sifferlen, Jr., Malden Catholic
Mike Sorenti, Jr., Archbishop Williams
Sean Spohr, Sr., Westfield
Max Turcotte, Sr., Holliston
Max Willman, Sr., Barnstable
Defense
Matt Burchill, Sr., Marshfield
Derek Butler, Jr., Natick
John Carlson, Jr., Hingham
Adam Crowley, Jr., Burlington
Nick Edwards, Jr., Blue Hills
Sean Heelan, Sr., Catholic Memorial
Kurt Leavitt, Sr., Canton
Bryan Nelson, Soph., St. John's (Shrewsbury)
Nick Rolli, Jr., Malden Catholic
Ryan Shea, Frosh, BC High
Sam Topham, Sr., BC High
Goaltenders
Tim Birarelli, Soph., Beverly
Alex Buckley, Sr., Newburyport
Brandon Collett, Frosh., Catholic Memorial
Jordan Davis, Sr., Norwood
Derek DeCastro, Sr., Burlington
Drew Foley, Jr., Wilmington
Nolan Greene, Jr., North Quincy
Elijah Harris, Soph., Austin Prep
John Liquori, Jr., Springfield Cathedral
Al Lynch, Jr., Framingham
Evan Morelli, Sr., Reading
James Offner, Soph., Winchester
Nick Russo, Sr., Waltham
Jimmy Tierney, Soph., Oliver Ames
February, 22, 2013
2/22/13
1:20
AM ET
By
Josh Perry
| ESPNBoston.com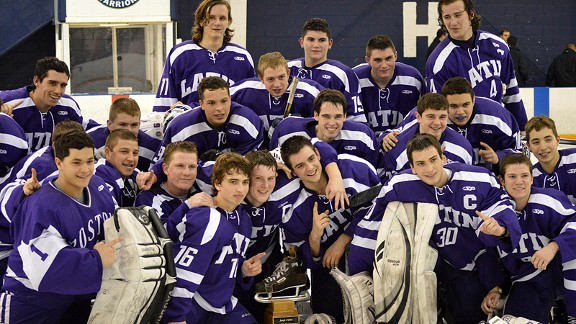 Joshua Perry for ESPNBoston Latin claimed the inaugural Joseph Quinn Tournament championship with a 2-1 win over host Coyle-Cassidy.
RAYNHAM, Mass. -- If the Joseph Quinn Tournament is any indication, the Division 2 state tournament is going to be exciting. All four games at the Raynham Ice Plex were played with playoff-like intensity, with very few penalties, and each was decided by a single goal.
With 7:22 remaining in the championship game and the score tied 1-1, Boston Latin senior forward Joe Gillespie turned with the puck against the near boards. Heeding his coach's advice, Gillespie flipped the puck towards the net where it ricocheted off the stick of a Coyle-Cassidy defenseman, past goalie Brent Petrowski, and into the far post.
In tight games, sometimes it is the bad bounce that decides the outcome. In the tournament final, the Wolfpack was the beneficiary of a fortunate bounce and turned it into the trophy-winning goal in a 2-1 victory.
It may not have been the prettiest of goals, but following the trophy presentation Boston Latin head coach Frank Woods was not complaining.
"We have a lot of kids that work hard and we preach throw the puck at the net because you never know what can happen," he explained. "It's just kind of our game. You give yourself a chance to bang an ugly one or two in, in games like this with competitive teams it's usually the difference."
When asked about how unlucky the final goal was, Coyle head coach Dave Borges simply smiled and shrugged.
"Like we told our guys, come next week those are the kind of pucks that go in the net," Borges said. "You have to get pucks to the net in tight games and you never know what can happen. That's a perfect example. Unfortunately, we're on the short end, but I thought it was a great game."
The Wolfpack (11-6-3) made a conscious effort to get the puck to the net as frequently as possible. Boston Latin dominated the first period, outshooting Coyle ,14-5, and opened the scoring with just 15.9 seconds remaining. Senior captain Ryan Dougherty made a great move through the Coyle defense and punched the puck in on the second attempt.
In the second period, the hosts asserted themselves. Coyle (13-5-1) outshot Latin 10-6 in the period and had a number of scoring chances before finally finding the equalizing goal. Nick Cambria laid the perfect pass in the path of captain Ryan Jones. The forward outskated the defenseman to the net and finished with a backhand over the pads of goalie Michael Murray before following the puck into the back of the net.
Borges praised Petrowski for keeping the team in the game and giving them the chance to turn the game around.
"I told Brent before the game that it's their style," Borges said. "They like to throw the puck at the net and he did a great job of either holding them or kicking the rebounds out to the corners."
He added with a chuckle, "It was a great game…other than losing."
Boston Latin won both games in Raynham by 2-1 scores (the first was on Tuesday against Franklin) and Woods feels that this will give his team plenty of confidence ahead of the state tournament.
"we have a group of seniors that have had a lot of success with this team, been in tournament games and won the league, but it's good to get wins with this particular group," Woods said.
CANTON 3, FRANKLIN 2
The consolation game featured Hockomock League division champions No. 24 Canton and Franklin meeting for the third time this season. The teams had split the opening two games so, in addition to finishing third in the tournament, the game would give one team the edge in the season series.
After losing third period leads in each of its last two games (including Tuesday's overtime loss to Coyle), Canton (15-3-2) held off a late Franklin (13-7-2) flurry to win 3-2 and clinch the top seed in the upcoming Division 2 South sectional.
Bulldogs head coach Brian Shuman understood the importance of his team managing to hold on and get the victory over its league rival.
"In the third period against a good team, you need a lot of things to go right," he remarked. "You've got to give credit to Franklin, they're a phenomenal team, two very even teams and we just scored one more goal than them tonight."
Canton stormed out of the gates and jumped to a 2-0 lead in the first period.
Just 2:50 into the game, senior captain Pat Ward scored his third goal of the tournament as Franklin goalie Devon Maloof was caught too deep on his line and the puck squeezed across the line at the near post. The first goal was fortunate, but the second was a great shot from J.C. Marcone just underneath the crossbar.
At this point, it seemed like Canton would cruise to victory, but Franklin showed the heart of a team that has been to consecutive state finals.
The Panthers got on the board on a redirected shot by sophomore Alec Borkowski, who got his stick to a shot by defenseman Kyle Filbert and sent it through Rich Nee's five-hole. A minute later, captain Mike Patjane pounced on a rebound to make it 2-2 and give the Panthers momentum.
The momentum was short-lived as Canton fully controlled the second period, outshooting Franklin, 14-1. After Maloof robbed Brian Brooks, the Bulldogs got the go ahead goal from junior Ben Lodge, who found space in the slot and fired into the top corner.
Franklin head coach Chris Spillane emphasized the need for his team to play a full 45 minutes if they hope to be successful in the state tournament.
"It's sort of been the season for us," Spillane said. "We haven't played three periods. We always take a period off and tonight it was the second. We had one shot on goal and the puck was in our zone the entire time and it takes a lot of gas out of you."
Canton withstood a strong third period from the Panthers and Shuman was pleased to see that other players besides his top two scorers (Brooks and Ward) got on the scoreboard.
He said, "We had our second power play out there, which doesn't get much run because our first line is pretty talented. They just kept it simple. We always say to win this time of year, you need twenty-four guys. You need those second and third liners contributing and we got it tonight."
February, 20, 2013
2/20/13
12:15
AM ET
By
Josh Perry
| ESPNBoston.com
RAYNHAM, Mass. -- The inaugural Joseph I. Quinn Memorial Tournament kicked off on Tuesday night at the Raynham IcePlex. The tournament pits four Division 2 state tournament qualifiers: Boston Latin, No. 24 Canton, Franklin, and host team No. 21 Coyle- Cassidy. It's a chance for all four teams to challenge themselves against playoff competition.

Coyle head coach David Borges noted that the tournament, which was named in honor of former Warriors coach Joe Quinn, who passed away this summer, meant a lot more to the Coyle program than just the chance to play good teams.

"The guys that played for him can't say enough about how much he gave of his time, his money… it means a lot to us," Borges said. "These guys [the current Coyle team], even though they haven't been around him, we've tried to convey the history of Coyle hockey and they wanted to win for Joe tonight."

Quinn was the head coach of Coyle for 35 years and won 11 division titles during his tenure, before stepping down in 2005. He founded the program and financially supported it while coach.

"He owned the shirt on my back when I played here," Borges said.

Coyle (13-4-1) rallied to earn an overtime win over Canton (14-3-2) in the nightcap.

But, until the game-tying goal went in, the Bulldogs were dominating. This is the time of year when one mistake or one slip can turn a game around and send a team home and the Bulldogs saw that firsthand in 3-2 loss.

Leading 2-1 in the third period, Canton's top line created four great scoring opportunities, but failed to finish any of them.

First, senior captain Pat Ward had the puck roll off his stick in front of an open net after slipping past two Coyle defenders. Then leading scorer Brian Brooks missed short side on a breakaway chance. Minutes later, Ward rifled a shot off the post. Finally, senior Michael Denehy had his one-timer in the slot saved by Warriors goalie Brent Petrowski.

Coyle made Canton pay with 4:13 left in the third period. Senior captain Ryan Jones flicked a pass from behind the net to a wide open Greg DiBona and the senior forward roofed his backhand to make it 2-2. Coyle had chances to win it in regulation but Canton goalie Rich Nee made several great stops to send it to overtime.

In the overtime, both goalies were tested before a slip by Bulldogs senior defenseman Stephen Mullaney gave Coyle an opening. Nick Cambria fired in a wrister just under the crossbar to win the game for the Warriors.

"We sensed desperation down 2-1, but once we scored that goal, we had the confidence that we could keep doing that," Borges said about changing his team's approach in the third period from carrying the puck to chipping it in deep. "That's a great Canton team. They're disciplined, they work hard, and they make you earn every inch of the ice."

As far as the MIAA is concerned, the game finished in a 2-2 tie. This is the second consecutive game that Canton has allowed a third-period lead slip to a D2 tournament team.

That is a pattern that head coach Brian Shuman is working hard to change.

"I think one of the things that we have to learn is when we don't get our scoring opportunities, or when we miss our chances, that we still have to pick up defensively," he explained. "What you saw there was guys get frustrated that they couldn't bury the puck and they lose their defensive responsibility. We've got to figure out a way to close out games."

Jones had the opening goal of the game for Coyle on an assist from DiBona. Ward scored twice in the opening period, including a blistering slapshot into the top corner, to give Canton the lead which the Bulldogs held until the final period.

BOSTON LATIN 2, FRANKLIN 1

The cliché says, "You can't score if you don't shoot."

That was especially true for Boston Latin (10-6-3), which had two deflected goals in its 2-1 win over Franklin (13-6-2) in the tournament opener.

The opening goal came with 5:28 remaining in the first period as defenseman Brian Forgione carried the puck into the attacking zone. The senior had few options so he fired a shot at Franklin goalie Devon Maloof. The puck ricocheted off the post and off the goaltender to make it 1-0.

Following a Troy Donahue short-handed goal that tied the game at 1-1, Wolfpack forward Greg Penella turned and fired a hopeful shot towards the Panthers net. The puck deflected off the skate of a Franklin player and past Maloof to make it 2-1.

Boston Latin head coach Frank Woods admitted after the game that these are the types of goals that his team has to score to be successful.

"That's how we score," he said. "We don't have a very skilled team this year. We have a bunch of kids that work hard and we preach put the puck on net and go get the ugly goals or bang in a rebound."

Despite trailing by a goal, Franklin was outshot in the third period, 12-2, and Panthers head coach Chris Spillane was disappointed that there was no reaction from his team to get back into the game.

"You expect everyone to step up and have a little extra offensive jump in your step and we didn't see that," he said. "We were content just backing up. Anytime that you put the puck on net in a close game, it's a good shot and we just didn't do that."

Spillane added, "I guess if you're going to have a bad game it's better to have it this week than next week. We still have an opportunity to play a good team on Thursday. If we come out and play a good solid hockey game, we'll go into the tournament feeling comfortable."

Thursday night, Hockomock League rivals Franklin and No. 24 Canton will face-off for the third time this season in the consolation game at 6 p.m. and No. 21 Coyle will take on Boston Latin in the nightcap at 8 p.m.
March, 2, 2012
3/02/12
12:03
AM ET
By
Ryan Kilian
| ESPNBoston.com
WEYMOUTH, Mass. --- Despite a valiant fourth quarter Weymouth comeback the visiting No. 14 seed Mansfield Hornets held on to win a hard-fought 69-66 victory in the first round of the Division 1 South sectionals.

Mansfield held a 56-36 lead over the No. 3 seed Wildcats heading into the fourth quarter. Mansfield built their lead by dominating the rebounding edge through the first three quarters and knocking down key 3-point shots in the middle quarters of the game.

"We needed every single point of that 20-point lead," said Mansfield head coach Mike Vaughan. "Weymouth is senior lead group and they were not going to go down without a fight."

The host Wildcats, playing with their backs up against the wall and down by 20 points in the fourth quarter, came out firing and applied a full-court man-to-man press that gave Mansfield problems down the stretch.

Weymouth senior guard Colyn Ahola came off the bench to score 20 points, with 10 coming in the final quarter, to help lead the comeback. Sophomore forward Ryan Jones also added a physical post presence for the Wildcats to help combat some of Mansfield's height and rebounding advantage.

The Wildcats scored 30 fourth quarter points but it was not enough as Mansfield freshman forward Brendan Hill hit three important foul shots down the stretch to help seal the three point victory for the Hornets.

The 6-foot-3 Hill scored nine of his 18 points in the fourth quarter to go along seven rebounds, two assists and two steals on the night.

Weymouth was led by 6-foot-4 senior forward Terrance O'Mara who scored 20 points (15 in the first half), pulled down six rebounds and dished out four assists to help pace the Green Hornets offense. The senior also provided a defensive post presence in Mansfield's zone that helped keep the Wildcats out of the paint.

"I think we did a good job of clogging up the paint and neutralizing a lot of their athleticism," said Vaughn. "It helped put us in a position that we could get the rebounding edge."

Mansfield led 33-25 at the half and built their largest lead in third quarter as they outscored the Wildcats 43-25 during the two middle quarters. They also held an 18-8 rebounding edge during those two quarters.

"We worked real hard to get position and box out," said O'Mara. "It is a tribute to coach and how hard we work in practice. He works us really hard and it is all for the best."

Youthful experience: Mansfield has a balanced roster of youth and experience and they got big contributions on Thursday night from their young players in Hill, sophomore point guard Ryan DeAndrade (8 points), and sophomore guard Michael Hershman (10 points).

"They having been doing it for us all year," said Vaughan. "Sometimes they hit the freshman and sophomore walls but at the end of the day they are very skilled and very talented basketball players and overall they came up with some real big plays for us tonight.

O'Mara echoed his coach's thoughts.

"These young guys are so talented," said O'Mara. "They are going to have a real bright future. That being said this is the best team chemistry of any team I have ever played on."

Lugay Goes Out Scoring: Weymouth senior guard Damian Lugay did not score until midway through the second quarter but the senior lit the basket on fire from that point on, scoring a team-high 23 points with six 3-pointers.

Lugay and his 10 senior teammates finish their careers with impressive winning resumes. They finish the 2011-2012 season with a 17-4 record after going 18-4 last season.

Next up… Franklin: It is only fitting that Franklin defeated BC High on Thursday night as the two Hockomock League rivals will meet for a third time in the D1 South sectional quarter-finals on Saturday in Franklin.

"I am friends with almost everyone on Franklin's team," said O'Mara after hearing of their impending re-match. "It should be real fun and we are looking forward to playing them again."

Franklin defeated Mansfield in both of their prior match-ups this season. Franklin won their most recent contest by 18 points, 60-42, on February 14 when the teams last played in Mansfield.
February, 2, 2012
2/02/12
8:56
PM ET


NEW BEDFORD, Mass. -- In the middle of January, Coyle-Cassidy boys' hockey had already lost their first league game of the season to Martha's Vineyard and they were about to be run out of the rink again, down 3-1 to Eastern Athletic Conference rival Bishop Stang.

Then, something clicked. The Warriors came back to pull out a 4-3 win over the Spartans in their first meeting. That's when C-C head coach Dave Borges said "the team learned how to win."

The Warriors swept the season series with a 5-2 win over Stang on Thursday at Hetland Arena.

It started out as a dominant performance, with Warriors goaltender Brent Petrowski (22 saves) pitching a shutout until 2:29 remained in the third period. But C-C weathered the Spartans' harshest charge and kept pace in the EAC title race with the Vineyarders.

"I thought we controlled the pace of the game and played well in our defensive end," Borges said. "But at the end, they got a power play goal and that brought a little momentum to them. Then, we starting running around a little bit and we didn't do what we needed to do the get the puck out of our end."

The Warriors (5-5-1, 4-1-0 EAC) held a 3-0 lead until Spartans forward Kody Skolis finally beat Petrowski.

The goal set in motion a frenetic flurry to the end of the physically played match.

Stang (10-3-0, 3-3-0) senior forward Ben Lloyd whittled the lead to one goal, banging home a rebound with 1:15 to play. The Warriors responded immediately as Shea Powell turned a neutral zone turnover into C-C's fourth goal six seconds later.

Nick Cambria added an empty-netter for his second goal of the game to round out scoring.

"I think we're starting to come together now and we're playing better hockey," Cambria said.

C-C built a two-goal lead by the second intermission with goals in each of the first two periods. Junior captain Ryan Jones scored on a partial breakaway for a 1-0 lead at 5:08 of the first. Cambria then scored his first of the game at 3:35 of the second.

Warriors defenseman Steve Cogan picked up assists on both tallies, helping to set up the transition game out of C-C's defensive zone.

Greg DiBona had the Warriors to a 3-0 lead at 8:38 of the third, again coming on a partial break stemming from a neutral zone turnover.

WARRIORS UNDAUNTED
While their 5-5-1 record might not rock your socks off, the Warriors will again prove a tough out in the Division 2 South tournament – akin to their Thursday opponents and the D3 tournament.

C-C has traditionally scheduled aggressively, and this year has the tall task of playing four teams who participated in last year's Super 8 tournament, in addition to D1 non-leaguers against St. John's (Shrewsbury) and Xaverian.

It all makes for a battle-tested squad, which Borges believes is coming together at the right time.

"I like where we're headed," Borges added "We're starting to play our best hockey of the season now."

With the early warning shot fired in their earlier loss to the Vineyarders, the Warriors have learned to tighten up where it counts.

"A lot of it's just doing hard work, keeping our heads up, finding the open man and making the right plays," Cambria said.


February, 24, 2011
2/24/11
1:41
AM ET


BRIDGEWATER, Mass. -- It was the perfect time for a milestone.

As Bridgewater-Raynham captain and forward Anthony Hardy slid the puck from the blue line toward the open Coyle-Cassidy net, the Trojans could finally breathe a sigh of relief. While tallying his 21st goal of the season and his second of the night, Hardy not only netted an empty-net goal capping off B-R's 3-1 win Wednesday at the Bridgewater Ice Arena, it also tied the program record for goals in a season.

The Trojans advance to face Marshfield in the championship game of the South of Boston Shootout, giving Hardy one more chance to break the record. But he was simply happy to come away with a win.

"They're a huge rival," Hardy said. "When we see them on the schedule, we want to go out and get it."

Neither team could find the back of the net in a tightly checked first period. However, B-R (13-4-1) got things started quickly in the second period, when 48 seconds in Pat McNamara's blast from the blue line found its way through a crowd and past Warriors netminder Seth Lavigne (25 saves).

C-C (9-8-2) countered less than two minutes later with Nick Cambria burying a wrister assisted by Mike Jessman and Ryan Jones.

The momentum shifted back once again in the Trojans' favor as Hardy scored his first of the game with assists from Ted Buckley and Adam McGrath.

"Buckley hit it out front and the goalie wasn't in position," Hardy said, "it came out to me and I just shot it."

The Warriors comeback fell short in the third period, partially because they spent a good portion of the period short-handed. C-C had three successful penalty kills in the period, but the Warriors were unable to beat Trojans goaltender Craig Pantano, who finished with 18 saves.

"We've got to get a rabbit's foot in our pocket at some point," Warriors head coach Dave Borges said. "We're getting shots to the net, but not getting them through. We're having a difficult time finishing.

"We need to get those mucking goals. We need more plumbers out there."

CONNORS IS MR. 100 FOR MARSHFIELD


Hardy wasn't the only player setting records during the second day of the Shootout.

No. 21 Marsfield advanced to the championship game, beating 17th-ranked Xaverian, 4-2, thanks to a hat trick from senior forward Ryan Connors. While posting a four-point game, Connors also eclipsed the 100-point plateau for his high school career — although he was unaware of the milestone.

"Coach [Dan Connolly] came in, gave me the puck and said it was my hundredth," Connors said.

Despite having no prior knowledge that he was on the cusp of the century mark, Connors left his imprint on the game.

Marshfield (13-3-5) went to the first intermission with a 1-0 lead Connors' on first goal of the game.

The Hawks (9-8-2) tied the game, 1-1, on Joe Bina's second-period goal. The puck deflected of a Rams defender's skate into the net with assists from Ryan Hall and Ricky Smith.

Chris Perry restored Marshfield's lead 6:46 into the second period on a goal assisted by Connors and Matt Entwhistle. The Hawks returned serve to tie the game once more, 2-2, on Billy Hildebrand's tally.

Then, it was time again for Connors to take the center stage. He potted the game-winner 5:17 into the third period, gathering a loose rebound in the slot and burying into the open net. Matt Burchill and Chris Perry each picked up their second assists of the game on the play.

Connors completed the hat trick, netting an empty-netter with 30 seconds remaining.

"The last time, they tied us with a minute and 35 seconds left," Connors said, "so it felt good to beat them."

Rams head coach Dan Connolly found more to like in Connors' play.

"He's really starting to find the back of the net for us, which is good," Connolly said. "He's a good offensive player He's got great speed and he showed that tonight on our second goal."

PANTHERS READY TO POUNCE


Late-season tournaments, like the South of Boston, provide teams a final tune-up before postseason play.

If Franklin's play during the Shootout has been any indication, they could be a very tough out in Division 2 South come March. The Panthers challenged Xaverian in a physical battle before falling, 2-1, to the Hawks on Monday. They followed up that performance with a 3-2 win over Old Colony League champion Barnstable (12-3-4).

"It's our third year coming down here and it's because of the competition," Franklin head coach Chris Spillane said.

There are still a couple things Spillane would like to see the Panthers (13-4-2) tighten up in their final regular-season tilt against Oliver Ames on Thursday.

"We had a little let down tonight and I think both teams were a little bit off their games," Spillane added. "We were just lucky to get a couple bounces and come out with the win."

The meeting will be the third time the Hockomock League rivals have met.

Oliver Ames (8-8-4) punched their ticket to the Division 2 South tournament with a 4-3 win over St. Peter Marian in the early action on Wednesday.