Boston High School:

Ryan Liebel
May, 10, 2014
5/10/14
1:11
AM ET
By
Terrence Payne
| ESPNBoston.com
LONGMEADOW, Mass. — Six days ago, Longmeadow lost its first game in 38 tires when Medfield avenged last season's loss in the Division 2 state championship game with 10-9 win on Saturday night.

The Lancers have since started a new, modest three-game win streak, the most recent of which was an 11-6 win over St. John's of Shrewsbury on Friday night at home, handing the Pioneers their first loss of the season.

"Yesterday (versus Westfield) we came out really slow," Longmeadow senior midfielder Drew Kelleher said. "Coach talked to us and told us we needed to have a four-quarter effort for tonight.

"This is a huge momentum swing. St. John's was undefeated, came in here today playing some great lacrosse, so for us, this is a big win."

Kelleher wasted no time getting points on the board, scoring the his first of five goals 27 seconds in. That was followed by his younger brother, Cam, posting another goal, giving Longmeadow a 2-0 lead only 90 seconds in.

The early offense provided some comfort for goalie Matt Draymore, who put forth a 13-save effort for the Lancers.

"When we played Medfield, I think he had two saves," Longmeadow coach Ryan Liebel said. "He was really down on himself, and we tried to stay positive and keep him going. He turned it around real quick. It woke everybody else up."

St. John's attempted to cut into the lead in the third quarter, scoring three unanswered goals from Jared Ward, Drew Smiley and Andrew Cox. The trio of goals, made it a 7-5 game. Longmeadow would counter with a goal from Drew Kelleher, who knocked in a shot midair after a scrum of white and red jerseys attempted to scoop a ground ball outside the crease.

Ward's second goal made it 8-6, the last time the game would be that tight. Max Stukalin ripped in a netter with less than a minute to play in the frame, and the Lancers added two more in the fourth quarter.

"The defense is aggressive and pushed out on us," St. John's coach Terry Leary said. "I thought Draymore had a great game. We had as many easy opportunities and he was the difference maker."

The face-off battle between Kelleher and Connor Maloney was tight throughout the game, but Longmeadow was able to control the game, scooping ground balls, resulting in transition for the Lancers.

While Kelleher had five goals, Will Lukas set up a handful of his own for Longmeadow.

Smiley recorded a hat trick for the Pioneers.
May, 4, 2014
5/04/14
2:04
AM ET
By
Josh Perry
| ESPNBoston.com


MEDFIELD, Mass. - When Jack Isaf collected a pass, ducked past an onrushing Longmeadow defender and bounced his shot past Matt Draymore, it gave Medfield its first lead of the game. As it turned out, it was the only one that the Warriors would need.

In Saturday night's rematch of last season's Division 2 state championship game, Isaf's third goal of the game with little more than two minutes remaining provided Medfield with a 10-9 victory over visiting Longmeadow. It was also a little revenge for the Warriors for the 2013 final.

"You know that you're going to get punched and you have to punch back; you know that the team is going to go on a run and you need to make a run back," said Medfield coach John Isaf about his team's resiliency. "We just don't quit and that's what we're finding out about ourselves -- we're tough and we can punch back."

Longmeadow head coach Ryan Liebel, who saw the Lancers 37-game winning streak come to an end and suffered just his first loss as coach, called the loss a "good learning experience" for his squad. He also recognized that there was a little edge to Medfield with thoughts of last year's final still fresh in the memory.

He said, "They might have had a little bit more of a taste in their mouth from last year and they may have gotten the best of us. They wanted it. They were prepared and, as soon as we got here, we could see that in their eyes."

Liebel added, "We had chances but we didn't put them away and overall they played better; they played tougher."

It was the Lancers that jumped out to a 6-4 halftime lead. Senior attacker Myles Smith scored two goals and sophomore Max Stukalin added two of his game-high four goals in the opening two quarters.

Jack Isaf scored twice for the Warriors in the opening half but it would be several second half adjustments that would pay huge dividends for Medfield to create better attacking opportunities and outscore the Lancers 6-3 after the break.

"We did a little bit of an adjustment on the defensive midfield side to play further out on them and offensively we went to a different set," John Isaf said. "It forced their slides to be a little bit longer and just got much better looks in the second half."

He added, "We made an adjustment on defense, we made an adjustment on offense, and then we basically said that what it comes down to is they won the 50-50 balls in the first half and we need to win them in the second half."

Matt Crowell got Medfield back within a goal inside the opening 30 seconds of the second half. Longmeadow answered back with a goal by Cam Kelleher, but sophomore Nigel Reiff matched it for the Warriors.

With 2:46 left in the third quarter, Stukalin got his hat trick and made it 8-6, but Medfield once again answered back with Kevin McCordic firing a shot under the bar and then Tyler Hagan scoring from in close with just 1.9 on the clock to tie the game heading to the final quarter.

Stukalin would once again give the Lancers the lead just 45 seconds into the fourth but little more than a minute later, Crowell picked the top corner to tie it at 9-9. The score would remain deadlocked until 2:04 left when Isaf stepped up with his game-winner.

"That's one of our backside looks is we try to dodge on one side and get the ball on the back side," said Coach Isaf of the play that led to his son's goal. "He did a good job getting upfield and increasing his angle and putting the ball where the goalie couldn't save it."

Longmeadow had its chances to try and break the game open, but Liebel highlighted face-offs as a factor in Medfield's ability to hang around. In a battle of two of the best face-off middies in the state, Brian Bissell out-dueled Drew Kelleher, 13-10.

"The face-off 'X' was huge. They controlled the ball; they controlled the tempo," said Liebel, who also noted the play of Medfield goalie Robert Treiber, who made 15 saves in the win.

When asked what it meant to come back and take the lead right at the end, Trieber responded, "It's just what my coach has been preaching all year. He said we've got to step up; next guy in and if something's not going right just flush it and we'll get back into it. We did a great job of not worrying about coming back and just playing our game like it's 0-0."

John Isaf added, "All tonight did was show that we can play and we're not the team that you saw a week ago (in a loss to Catholic Memorial). But, like I said at the end -- we didn't win anything and we still need to get better."

"We can't be satisfied with tonight, we need to get better for the last two weeks of the season."


April, 14, 2014
4/14/14
6:26
PM ET
LONGMEADOW, Mass. -- It didn't take long for first-year Longmeadow boys' lacrosse head coach Ryan Liebel to figure out the kind of talent he had for the 2013 season.
"When I was at tryouts, I just said to myself, 'This is awesome.'"
For the then-25-year-old coach, an alumnus, himself, of Longmeadow and a standout at UMass-Amherst, his return home was truly an ideal situation. After a season as the head of Belchertown lacrosse, Liebel returned to his roots, taking over the Lancers program last season.
[+] Enlarge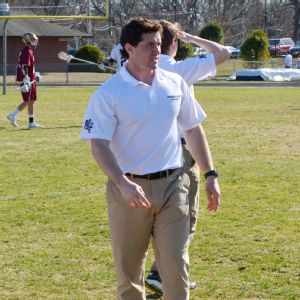 Scott Barboza/ESPNIn his first year at the helm, Longmeadow alum Ryan Liebel led the Lancers to a 25-0 season and a Division 2 state championship.
The bar was set extraordinarily high for both coach and team in that first season, as the Lancers capped an undefeated season as Division 2 state champions. With that, Liebel was named Coach of the Year by ESPN Boston.
That doesn't mean there isn't room for improvement, however.
With little surprise, the No. 2-ranked Lancers have started the season unbeaten yet again, improving to 4-0 with a 9-5 win over No. 8 BC High. Yet, after the Saturday matinee at home, Liebel was still ruminating over the things that aren't quite right with the Lancers early on.
"We had some very big role players from last year who've graduated," Liebel said, "so we're still kind of finding out where everybody fits the best."
Namely, the Lancers lost an All-American level midfielder in Keegan Dudeck, who scored more than a few timely, important goals in their state championship run last year.
But, for the most part, Longmeadow's core returns in tact this season, starting at the faceoff "X" with one of the state's best draw men in Drew Kelleher.
"The faceoff and transition game is absolutely huge in terms of setting the tone for the game," Liebel said. "So when you have the chance to have a faceoff guy like Drew Kelleher, it's absolutely unreal to have, especially at a time like now, when our offense is struggling with things like time of possession."
Watching Longmeadow any time during the last season-plus, it becomes immediately evident that the Lancers thrive on defense and the transition game. Hardly a motion is wasted, moving the ball from the defensive half of the field and through the midfield. It's what Liebel has prided the program on, and it comes with the continual repetitive motion of practice drills.
"It really comes down to working hard in practice – lots of long practices," senior goaltender Matt Draymore said. "Then, when we come to the games, we just have to play all four quarters."
Adding on how the Lancers have taken on the visage of their head coach, Draymore said, "I think we all have really good relationships with him, but he's really hard on us. He really pushes us to get better. It's a really good combination."
In front of Draymore, the Lancers return a deep core of veteran defensemen. Senior captain Reid Leveillee returns as a preseason All-State selection, while junior Daniel Cotnoir and senior long-stick midfielder Jack Ryan provide additional proven experience on the starting defense.
"They're just absolutely the best role models you could hope for," Liebel said. "Three of our five captains are defensive players and they're what's keeping us together right now. If it wasn't for them, I don't think we'd be where we are right now."
The Lancers' attack is still rounding into shape in the early going, with returning senior attack Zach Lukas sidelined due to injury. In his absence, that's given a few of Longmeadow's younger options a chance to work their way into the rotation, including the younger siblings of a few of the Lancers' aforementioned tone-setters. Sophomore Will Lukas and freshman Cam Kelleher has seen significant playing time alongside returners, such as senior midfielder Max Chipouras.
While the offense tries to find its foothold, the Lancers will rely on what has their winning streak at 29 games and counting – a commitment to defense, having surrendered less than three goals a game on average.
That, and a commitment to never becoming complacent.
"Right now, we're just fighting to make the playoffs with everybody else," Drew Kelleher said. "Coach pushes us really hard, he really knows how to get the best out of us. He leads a high-intensity practice every day and we know that makes us better."
July, 1, 2013
7/01/13
5:53
PM ET
FIRST TEAM
G – Nick Marrocco, Jr., Duxbury
In his first season starting between the pipes for the Dragons, Marrocco was named an Eastern Mass. All-American while averaging 13 saves per game. Also a standout hockey player during the winter season, Marrocco is committed to Georgetown and was named Most Valuable Player of the bostonlax.net All-American game.

D – Rob Breed, Sr., Xaverian
One of the galvanizing forces behind the Hawks' run to the program's first state lacrosse title, the Eastern Mass. All-American was tasked with shutting down the opponent's top attacks.

D – Ben Cox, Sr., Medfield
Named the Tri-Valley League's Defensive Most Valuable player, Cox was a four-year member of the lacrosse team and part of back-to-back MIAA Division 2 state championship lacrosse teams. During the winter, Cox finished second on the Warriors hockey team in scoring, posting 12 goals for 38 points in 21 games. He will continue his lacrosse career at the University of Vermont.

D – John Sexton, Jr., Lincoln-Sudbury
The Notre Dame commit was a jack of all trades for the Warriors this season, taking faceoffs, playing on man-up situations and providing lockdown defense. Sexton was named an Eastern Mass. All-American and is a three-time Dual County League All-Star.

LSM – Nick Brozowski, Soph., Concord-Carlisle
A ground ball machine, the Maryland commit was named an Eastern Mass. All-American in addition to Dual County League All-Star honors.

M – Dan Delaney, Sr., Lincoln-Sudbury
The Eastern Mass. All-American tallied 38 goals and 20 assists while leading the Warriors to a Division 1 final appearance. Delaney will continue his lacrosse career at Fairfield University next year.

M – Keegan Dudeck, Sr., Longmeadow
The Lancers captain closed out his career on a high with a five-goal outburst in their Division 2 state championship win over Medfield. Dudeck tallied 38 goals and 17 assists for his senior season.

M – Jack Wheeler, Jr., Xaverian
Turning in a dazzling offensive display at Harvard Stadium, Wheeler was a key component to the Hawks' first-ever lacrosse championship. The Boston University commit and Eastern Mass. All-American tallied 42 goals with 15 assists this year.

A – Jay Drapeau, Jr., Westford Academy
Among the state scoring leaders in each of the last two seasons, Drapeau ripped off 71 goals in 2013. The Loyola commit was an ESPN Boston MIAA Lacrosse All-State second-teamer last year and also was a Hockey All-State Honorable Mention during the winter season.

A – Andrew Melvin, Sr., Medfield
The Eastern Mass. All-American helped lead the Warriors back to the Division 2 state championship game. Melvin will continue his lacrosse career at Bates College.

A – Nico Panepinto, Sr., Needham
Named ESPN Boston's third annual "Mr. Lacrosse" winner last week, the Fairfield University signee finished his high school career with 179 goals and 159 assists. Panepinto, also a standout on the football field for the Rockets, was a two-time Eastern Mass. All-American and ESPN Boston All-State selection.

Specialist – Derek Osbahr, Sr., St. John's Prep
Osbahr was an offensive weapon for the Eagles at the faceoff X as the best draw-winner in Eastern Mass. Also a member of Prep's Super 8 hockey squad, the Eastern Mass. All-American will continue his lacrosse career at Bentley University.

SECOND TEAM
G – Ryan Goodall, Sr., Dover-Sherborn
D – Jack Ullrich, Jr., Hingham
D – Jay Walsh, Sr., Duxbury
D – Ian Yanulis, Sr, BC High
M – Caleb Brodie, Jr., Hingham
M – Brendan Flaherty, Sr., Beverly
M – Mike Panepinto, Jr., Needham
M – Roby Williams, Jr., Wayland
A – Hunter Burdick, Sr., St. John's (Shrewsbury)
A – Nick Pino, Sr., North Andover
A – Tyler Reilly, Sr., Grafton
Specialist – Drew Kelleher, Jr., Longmeadow

Honorable Mention
Dom Abate, Sr. M, Beverly
Tommy Bannan, Sr. G, Hingham
Kevin Bletzer, Jr. M, Catholic Memorial
Rogers Boylan, Sr. D, Dover-Sherborn
Evan Boynton, Sr. D, Concord-Carlisle
Mike Carbone, Sr. A, Marshfield
Tucker Ciessau, Sr. A, Scituate
Matt Comerford, Sr. G, Reading
Pat Cronin, Jr. A, BC High
Matt Crowell, Jr. M, Medfield
Mark Dente, Sr. A, Reading
Kevin Farrell, Sr. FOGO, Billerica
Chris Frye, Sr. A, Walpole
Andrew Gallahue, Jr. A, St. John's Prep
Henry Guild, Sr. M, Lincoln-Sudbury
Carson Hart, Sr. M, Wayland
Keifer Heckman, Sr. A, Peabody
Eamon Hunter, Soph. LSM, Lincoln-Sudbury
Joe Igoe, Sr. M, Framingham
Reid Leveillee, Jr. D, Longmeadow
Giles Ober, Sr. G, Algonquin
Kieran Presley, Sr. M, Amherst
Brian Rotatori, Sr. M, Grafton
Drew Smiley, Jr. A, St. John's (Shrewsbury)
D.J. Smith, Sr. G, Billerica
Robert Treiber, Jr. G, Medfield
Luc Valenza, Sr. D, Foxborough
Tyler Weeks, Sr. D, Andover
Sam Wheaton, Sr. G, Minnechaug

Coach of the Year -- Ryan Liebel, Longmeadow
June, 15, 2013
6/15/13
3:26
AM ET


WORCESTER, Mass. – It was a perfect finish in more ways than one.

Tied 6-6 heading into the fourth quarter of Friday's Division 2 state championship boys' lacrosse game, West sectional champion Longmeadow had to hunker down against Eastern Mass. champion Medfield. The Lancers, who'd beaten the Warriors by 15 goals during the teams' regular season meeting, knew they were going to see a different Medfield team and had gotten exactly what they expected – a tight game.

That's when Keegan Dudeck made a lasting impression.

Already netting a hat trick in the first half alone, the Lancers senior midfielder started the fourth quarter with back-to-back goals, setting in motion a string of three straight Longmeadow goals in its 10-7 victory over Medfield at Foley Stadium.

The Lancers finish the season with a perfect 25-0 record while delivering their first state title since the 2008 season.

"Whey that they weren't going to make it a 16-1 game again," Dudeck said, recalling the Lancers' drubbing of the Warriors in May. "Before the game, we told the team not to be too overconfident and make sure that weren't not too cocky because this team was going to come out and they wanted it as bad as we wanted it."

Truer to the capabilities of both sides, the teams spent the better part of three quarters exchanging the lead or tied. It wasn't until Dudeck's fifth goal of the game, scored at 8:38 of the fourth, that either team established a lead of more than one goal. Soon after Drew Kelleher provided the Lancers with a three-goal lead and they wouldn't look back.

"If teams go on a three- or four-goal run on us, we're usually able to punch back, but we weren't able to, Warriors head coach John Isaf said. "We thought we were right where we wanted to be entering the fourth quarter. We've always pulled out games in the fourth quarter this year. That was the plan, it just didn't happen."

Putting a painful loss in the back mirror, Medfield (22-4) jumped out to a lead 1:43 into play with senior captain Andrew Melvin (1 G, 1 A) hitting the cutting Tyler Hagan. And while the Warriors put forward a much-improved offensive showing the second time around, including two-goal games from Matt Crowell and Thomas Sears, the Lancers' finishing touch proved too much.

Despite being held without a goal in the third quarter, the Lancers rode the momentum gained by Dudeck's early fourth-quarter strikes.

It was simply a performance fitting of one of the state's top talents this year.

"He's been fighting through an injury for the last two, three weeks," Lancers head coach Ryan Liebel said. "He's fought through it. He tries to get open, he's our hardest worker and one of the best players on our team. When it came down to it, he was able to get that ball and put it in the net."

"Dudeck was phenomenal off-ball. He was moving, he was cutting, he was shifty."

In short, he did a little bit of everything that meant a whole lot.

RETURN TO THE BIG STAGE
The Western Mass. powerhouse turned in its first championship in five year under the direction of a first-year head coach. Liebel, a Longmeadow alumnus who previously coached at Belchertown, is no stranger to the program.

But perhaps things came together quicker than anyone could have anticipated. With only four seniors on the roster this year, the Lancers had to rely on consistent contributions from its underclassmen.

"They stepped up huge for us today," said senior Kevin Barry, who led the Lancers in goals during the regular season, "especially our midfielders, they're young. Our attacks are freshmen and juniors and they played amazing."

While Friday marks the crowning achievement for Barry, Dudeck and their fellow graduates Eric Barsalou and Noah Gurzenski, don't write off the Lancers bid at a repeat performance in 2014.

A LESSER VICTORY
While Medfield ultimately struck out on the title bid, the Eastern champions went down swinging.

After Friday night's game, Isaf recalled the somber ride from Longmeadow back home on May 12, his team trying to come to terms with what had just unfolded.

"I think everybody had to reflect and decide what we were going to about it," he said.

The resolve was clear. Following the 15-goal loss to Longmeadow, Medfield finished the regular season with four straight wins, including one against Division 1 power St. John's Prep. Entering Friday's action and including the postseason, the Warriors had built a nine-game winning streak, falling just one quarter shy of their ultimate goal.

That's a point that wasn't lost on their coach.

"From that point forward, we played our best lacrosse of the season," Isaf said. "And tonight, we wanted to show them that wasn't us back in May. I'm really proud of this team how they rallied and rebounded from that."


June, 13, 2013
6/13/13
2:17
AM ET
By
Joe Parello
| ESPNBoston.com
WORCESTER, Mass. -- Longmeadow remained perfect in Wednesday's Division II state semifinal, knocking off Central Mass champion St. John's (Shrewsbury), 15-6.

Though the Lancers cruised to a relatively routine victory, first-year Longmeadow head coach Ryan Liebel still thinks his team has issues to work out before Friday's final against Medfield.

"From the outside eye it seemed easy," Liebel said. "But to be honest, we had a lot of mental errors that we can't have happen this late in the season, and we've got to clean up. Honestly, we didn't play our greatest today, but we were able to take advantage of the opportunities we needed to in order to beat a good St. John's team."

Unlike the last time these two teams played, where Longmeadow (24-0) had to dig itself out of an early 3-0 hole, the Lancers controlled the action from the opening face-off. Longmeadow jumped out to a 5-1 lead early in the second quarter, powered largely by the offensive play of Zach Lukas. The talented junior recorded four of Longmeadow's first five points, and finished the day with a goal and five assists against St. John's (18-4).

But, it was the all-around game of junior middie Drew Kelleher that would prove to be the difference. Kelleher was dominant on face-offs all day, but also recorded four goals, dished out two assists and collected 10 ground balls. Kelleher's third goal to start the fourth quarter pushed Longmeadow's lead to eight at 11-3 and put the game out of reach.

"Drew Kelleher is a great, great player," Liebel said. "He's all over the field for us, defense, offense, he wins face-offs, he was great for us, and he stuck them when we needed him to."

Next up for Longmeadow will be a rematch with Eastern Mass champion Medfield. Longmeadow pounded Medfield, 16-1, on May 12, and Liebel knows the Warriors will be ready this time around.

"I know for a fact that, if a team gets smoked like that, they're coming out hot," Liebel said. "They worked their butts off the rest of the season after that to get where they are, so we're expecting an entirely different team when we see them again."

As of now, the Division II state final is scheduled for 7:30 p.m. Friday at Foley Stadium in Worcester, though officials are concerned about storms heading into the area. If the game is pushed back, it will be played the following day at 5 p.m. at Foley Stadium.
May, 16, 2013
5/16/13
3:00
AM ET
SHREWSBURY, Mass. – When chasing the brass ring of a perfect season, a team needs to hold itself to a higher standard.

Case and point was No. 6 Longmeadow's 10-8 win over No. 7 St. John's of Shrewsbury at Pioneer Field on Wednesday. The Lancers remained undefeated, moving to 17-0, but in the postgame, first-year head coach Ryan Liebel was more apt to point to the things his team didn't do.

"The game was pretty ugly off the bat," Liebel commented on the nearly instant 3-0 hole Longmeadow dug in the first quarter.

However, the finish is what counts most and the Lancers got the better of the fourth quarter, scoring a string of three goals to round out a two-goal victory.

Senior midfield Eric Barsalou tallied a hat trick while fellow middie Keegan Dudeck tallied the game-winning goal with less than six minutes to play.

"Ball possession was obviously huge and we took advantage of that," Leibel said.

That advantage was due in no small part to junior midfielder Drew Kelleher, who reached double-digits in the ground ball battle. Also, Longmeadow owned the faceoff X in the second half, winning more than 60 percent of those draws.

"They dominated the faceoffs, it was at least two-to-one, if not more," St. John's head coach Terry Leary said. "I think all those extra possessions hurt us."

The teams went into the half tied, 4-4, before the Lancers again seized the lead with two quick goals to start the third from Barsalou and Max Chipouras. But the back-and-forth continued through the second half. With five lead changes occurring in the game, the Pioneers (11-3) held a lead as late as the 9:55 mark of the fourth quarter, with Kevin Butler's third goal of the game.

The Lancers again came back to make it a tie game just 34 seconds later on Barsalou's third before taking the lead for good on Dudeck's game-winner.

LIFE IN THE MIDDLE

While the tightly contested battle was indicative of what you'd expect from two of the top Division 2 programs in the state this season, and although the Pioneers fell short, there was plenty for St. John's to take away from Wednesday's performance.

The biggest positive that Leary saw from his team was offensive production from midfield — namely Butler's hat trick.

"We have three very dangerous attackmen in [Andrew] Smiley, [Josh] Freilich and [Hunter] Burdick, and typically a majority of our scoring comes from them," Leary said. "But if teams are collapsing on them, we've been working all year to get more and more middie production."

With both teams heading down the home stretch of their regular-season schedules, there's reason to believe they could meet again in the not too distant future, in a potential Div. 2 Central/West championship game matchup.

Neither side believed they played their best game under Wednesday's soggy conditions, but they've separated from the pack. Further proof came in Longmeadow's 16-1 dismantling of Eastern Mass. power Medfield last weekend.

For the first-year Lancers head coach, he's just enjoying the ride for now. Liebel, a Longmeadow alumnus who played for the program and former head coach at Belchertown, couldn't ask for a better group that – when it's all said and done – might be historically good.

"It's a talented group of players," he said. "It makes coaching a lot of fun."