Boston High School:

Ryan Litchman
April, 12, 2013
4/12/13
1:18
PM ET
By
Brendan Hall
| ESPNBoston.com
When it comes to pitching efficiency, you can't get much better than this.
Barnstable junior righthander Riley Ashe tossed a no-hitter in a 6-1 win over Falmouth yesterday in just his second varsity start, striking out three and needing just 63 pitches -- count that, 63 -- to accomplish the feat. On top of that, Ashe threw just 18 balls total, with no walks.
[+] Enlarge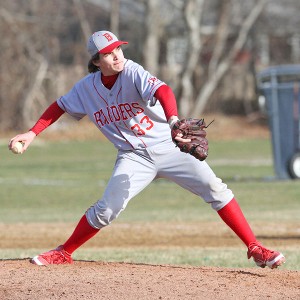 Eric Adler for ESPNBoston.com Riley Ashe struck out three in his no-hitter.
"He was just throwing strikes, the pitch selection was incredible," Red Raiders head coach Joe DeMartino said. "Our catcher Jack Harrington called a fantastic game. He went to a full count on the second hitter of the first inning, and never went beyond two balls [in a count] the rest of the way -- and he only threw two balls to three more guys."
That stands in stark contrast to past pitching performances. A year ago at this time, the Raiders sparked a bit of controversy across the state and beyond when staff ace Willie Nastasi, now a freshman at UConn, threw 155 pitches in a 16-strikeout, three-hit win over Taunton.
One thing is clear: DeMartino lets his pitchers pitch, because they come in all shapes and sizes. Whereas Nastasi was an overpowering fireballer at 6-foot-5, with leg power built for the long haul, Ashe relies more on precision with his wiry 6-foot, 170-pound frame. In his first start of the season, a win over rival Dennis-Yarmouth, Ashe needed only 80 pitches to go the distance, striking out two.
Averaging nine pitches per inning yesterday against Falmouth, and using just two pitches -- his fastball, and a slurve -- Ashe threw consistently to contact, with 11 outs coming on fly balls. He also benefited from a staunch defense -- three of those 11 fly-outs were diving catches in the outfield, including the game-ending dive from leftfielder Ryan Litchman. UMass-bound centerfielder Dylan Morris also recorded seven putouts in the winning effort.
So what's Ashe's secret? It may lie in an unorthodox motion that hides his pitches late, dropping his throwing arm then coming up and over with what looks a high arm slot.
"He throws 83-84, he's not gonna really blow you away but it's sneaky quick because he hides it well," DeMartino said. "Guys were out in front, popping it up or hitting weak grounders."
October, 27, 2012
10/27/12
7:42
PM ET
By
Brendan Hall
| ESPNBoston.com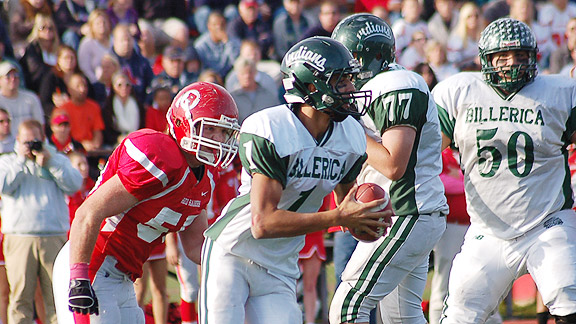 Brendan Hall/ESPNBoston.comBillerica quarterback Jordan Balarinho gave No. 1 Barnstable all it could handle in a near-upset, accumulating 394 yards of offense and 5 passing touchdowns.
HYANNIS, Mass. -– Between the bye-week rust, looming Homecoming festitivies and a monster matchup with league rival Bridgewater-Raynham for the Old Colony League's lone playoff berth on Nov. 2, this was an ideal formula for a trap game.
And until the final few minutes, it looked like the No. 1 team in all of Massachusetts was about to take one on the chin from upstart Billerica. The Indians (2-6) took a brief lead over Barnstable (7-0) in the fourth quarter, but the Raiders answered with two rushing scores and a stingy defensive stop to put down the clamps and escape with a 46-33 win.
"We survived. We showed some toughness at the end, no quit," head coach Chris Whidden said. "But hopefully, this proves that we can't just turn it on and off. Hopefully that 'on' switch stays on going forward."
Billerica took its first and only lead of the afternoon with 8:38 to play in the game, on a 61-yard strike from quarterback Jordan Balarinho (23 of 35, 322 yards, 5 TD; 9 carries, 72 yards) to receiver Matt Clifford (10 catches, 156 yards, 3 TD). Clifford ran a seven-yard hitch down the left sideline and easily slipped off a high arm-tackle, then outran safety Hayden Murphy's pursuit from the opposite side of the field en route to paydirt.
After sputtering in spurts all afternoon, the Red Raiders came to life in the final eight minutes of play. Quarterback Nick Peabody completed a nine-play, 75-yard drive by calling his own number on zone read, then weaving through traffic up the middle of the field and stretching over the goal line. He called his own number again on the two-point rush to make it 40-33.
On the ensuing Indians drive, the Raiders front seven made two crucial stuffs for a turnover on downs, after giving up nine yards on the first play of the drive. On third down, Ellis met Balarinho right at the line of scrimmage as the quarterback was looking for a dive up the middle. The next play, running back Brad Dewek was stopped cold in his tracks by Ellis immediately in the backfield.
With new field position at the Indians' 40-yard line with 3:36 to go, the Raiders put the game out of reach with a two-play scoring drive, first a 27-yard speed sweep by receiver Tedaro France (5 catches, 127 yards, 2 TD) then a 16-yard zone play by Murphy (145 all-purpose yards, 2 TD) for the score and, following a missed point-after kick, a 46-33 advantage with 3:17 to go.
Coverage concerns:
While Peabody finished with another solid day at the office (13-of-23, 270 yards, 3 TD; 9 carries, 88 yards, TD), the same cannot be said about the play on the other side of the ball. Whidden characterized the performance as "as poor as we've played all year", and within that, the most glaring deficiency was the pass coverage.
The Raiders' secondary seemed to align against the deep ball for most of the game, and the Indians took advantage, moving the ball swiftly up and down the field behind a short passing gameplan that utilized hitches and shallow crosses. Only four of Balarinho's 23 completions went for more than 15 yards.
"People didn't play their assignments," Whidden said. "Our flat defenders weren't necessarily getting to the spots they were supposed to be getting to early, and those seven-yard hitches were open. They found that, and they did a good job coaching-wise to exploit it."
Ending on a positive:
The pass rush was a bright spot for the Raiders' defense, tallying three of their five sacks in the fourth quarter. Alternating between three and four-man fronts, the Raiders were led by Jason Freih, Bryan Hardy, Ryan Litchman, D.J. Goncalves and Ellis (two interceptions).
However, it wasn't a flawless performance. While the Indians got minimal production from their tailbacks, Balarinho was consistently able to run free for first downs after getting flushed out of the pocket.
"We were getting pressure, but a lot of times we'd get beyond the quarterback, and then all of a sudden the rush lanes would get created," Whidden said. "So we need to...you get to the quarterback, you stop and redirect, and then you get rid of those running lanes for them.
"They adjusted a little bit. We were there. It wasn't like they were doing anything we haven't seen all year, it was just when it got tough, it got a little Helter Skelter and took a little while for us to adjust, for whatever reason."
Ellis doubles up:
Ellis switched his jersey number from 7 to 77 this week to accommodate an offensive line group thinned by injury. Ellis will now periodically see time at guard in addition to his duties quarterbacking the defense at middle linebacker.
Ellis has also seen time at fullback in the Raiders' offense, which could create an interesting predicament going forward.
"The rule used to be you could check in, but now you can't," Whidden said. "Now if he's wearing 77 he can't play fullback, so we might have to just put a couple of jerseys on the sideline."
BARNSTABLE 46, BILLERICA 33

BILL (2-6) 6 12 8 7 --- 33
BARN (7-0) 13 7 6 19 --- 46
First Quarter
Barn – Hayden Murphy 1 run (Jason Freih kick) 8:50
Barn – Dylan Morris 19 pass from Nick Peabody (kick failed) 6:41
Bill – Michael Casey 8 pass from Jordan Balarinho (rush failed) 0:00
Second Quarter
Barn – Tedaro France 70 pass from Peabody (Freih kick) 10:36
Bill – Matt Clifford 4 pass from Balarinho (kick blocked) 6:47
Bill – Clifford 7 pass from Balarinho (pass failed) 4:08
Third Quarter
Barn – Murphy 16 run (kick failed) 6:07
Bill – Mark Duncan 46 pass from Balarinho (Alec Mattar pass from Balarinho) 5:08
Fourth Quarter
Barn – France 8 pass from Peabody (kick failed) 9:52
Bill – Clifford 61 pass from Balarinho (Justin Beck kick) 8:48
Barn – Peabody 16 run (Peabody run) 5:20
Barn – Murphy 13 run (kick failed) 3:17
October, 4, 2012
10/04/12
1:44
AM ET
1. WHAT IS THE BIGGEST STATEMENT YOU GOT OUT OF BARNSTABLE'S UPSET OF EVERETT?

Scott Barboza, ESPN Boston High Schools Editor: Aside from the defense, which was phenomenal by all accounts, the manner in which the Red Raiders were able to pull off the upset was impressive, meaning that the offense was firing on all cylinders for most of the game. In other words, Barnstable can win ugly. When you hear about the offense and all the things the Red Raiders can do on offense, it's sometimes easy to overlook the fundamentals. They can do all the things that constitute a potentially successful playoff team in that they can run the ball when called upon, get the back stop when required and they don't turn the ball over. When you have one of the top quarterbacks in the state like Nick Peabody, that's all you need to win. And, if Hayden Murphy runs the ball as he can and the defense, led by Andrew Ellis, is on, Barnstable is difficult to beat, no matter the conditions.

Brendan Hall, ESPN Boston High Schools Editor: For me, more than anything, it was a throwback statement. At the end of the day, it doesn't matter how much Division 1-caliber talent you've stockpiled, how heavy your line is, or how many of your skill players run a 4.5. All that matters is who puts themselves in the best position to win -- period. Barnstable demonstrated that to a T on Friday night.

Of course, this Red Raiders team isn't an underdog. They came into the game at No. 3 in our statewide poll, and I think the general consensus was that this would be a one-score type of affair. Nick Peabody is in a quarterbacking class of his own through the first month of the season, Dylan Morris is beginning to enter Matt Costello territory in terms of production, and the Raiders' linebacking corps is one of the two or three best in the state.

Barnstable coach Chris Whidden dialed up a great defensive gameplan in the pouring rain, playing outside contain on the Crimson Tide's gifted receivers, and getting great push in the trenches with a deceivingly athletic front four that fired quickly off the ball. These guys were not as big, but they certainly were fast, and above all else they hit with a level of abandon replicated by very few teams in the state.

At the end of the day, it was a pleasant reminder that things haven't gotten soft in the game of football. At the end of the day, the overarching theme remains -- if you come out complacent, someone's going to knock you around.

Adam Kurkjian, ESPN Boston correspondent: Year after year, while Everett always seems to have its share of explosive skill players, the foundation of its success is consistent and dominant line play on both sides of the ball.

The biggest statement Barnstable made Friday night was that it can go toe-to-toe with Everett's front and get the better of the exchange. That is rare, and it speaks to the level of offseason commitment the Red Raiders have made the past few seasons. While Barnstable may have the reputation as a finesse team because of the amount of times it puts the ball in the air, it looks like the Red Raiders shattered that notion last week.

Bruce Lerch, ESPN Boston correspondent: Defense, defense, defense. Staring at Everett's offensive line with 300-pounders across the board is daunting for any opposition but the Raiders didn't seem intimidated at all. In fact, they set the tone and managed to stuff the Tide twice on fourth-down tries from the one-yard line.

All 11 starters, plus the others that rotate in made plays. Jason Frieh and the defensive line held their own Everett's blockers, linebackers Brian Hardy, Andrew Ellis, Terrence Mudie and Robbie Stuart made tackles all over the field. Safeties Ryan Litchman and Kevin Hardy were tremendous in support against the run and corners Tedaro France and Derek Estes won their matchups with Everett's speed merchants at the receiver positions.

John Botelho, Editor-in-Chief, South Shore Sports Journal: Nick Peabody and the offense have been well publicized -- and deservedly so -- all season. Going into the Everett game, they had scored an astounding 145 points in three games. But the biggest statement made while snapping Everett's 28-game win streak was that the Red Raiders' defense is just as good as their powerful offense. Division 1A should be real fun to watch come December.

Everett and Barnstable Round II is already a Super Bowl many people are excitedly calling for, but neither has an easy path to get there. Everett is likely headed for a first-round playoff game with Lincoln-Sudbury, and Barnstable has to worry about beating Bridgewater-Raynham during the regular season just to reach the playoffs.

2. NAME YOUR FIVE BEST WIDE RECEIVERS IN THE STATE

Barboza:
1. Brian Dunlap, Natick – Might not be No. 1 on any other list, but come his senior season, he's going to be right there on the top of all the volume stats list.

2. Jalen Felix, Everett – Seeing, in person, the catch he made during last year's BC High game at Memorial Stadium is something I'll likely never forget. It's the same feeling I had watching Randy Moss make impossible catches.

3. Jakarrie Washington, Everett – One of the best route runners around since those Asprilla and Costello kids were the go-to targets in Everett.

4. Dylan Morris, Barnstable – Hard to argue with Morris' production thus far this season with his eight touchdown catches.

5. Will Heikkinen, Andover – Spies tell me Xaverian had Heikkinen blanketed with double coverage throughout most of last week's game. That's the ultimate compliment paid to a wideout.

Hall:
1. Dylan Morris, Barnstable - You'll be hard-pressed to duplicate his five-catch, 207-yard performance in Week 2, and right now he's on track for 20 touchdown receptions and over 1,000 yards receiving. Bar none, best wideout in the state right now. And to think, some have mused he may be a better baseball player.

2. Jakarrie Washington, Everett - You could rotate this spot with Jalen Felix, who had an explosive performance against Springfield Central, but right now you've got to with Washington based on game-breaking ability. Against Leominster and St. John's Prep, he turned the game on its heels seemingly on a dime with one back-breaking catch or run.

3. Brian Dunlap, Natick - A versatile route-runner, he's got crunch-time knack (see his game-winning catch against Norwood with 10 seconds to go) and makes the most of his touches (17.25 yards per catch, 6 TD).

4. David Harrison, Weymouth - Has seven receiving touchdowns, and in the last two games running a pistol offense at quarterback, has thrown for six. He's just plain productive.

5. Sam Blake, East Longmeadow - Doesn't get a lot of touches in the Spartans' system, but in terms of athleticism I've heard some pretty crazy stories. In his last two games, he has 232 receiving yards and four touchdowns on just seven catches.

Kurkjian:
Tough to say for me because most of the games I have been to have featured mainly run-oriented teams.

That said, looking around the state, Lincoln Collins of BC High needs to be mentioned for his size and improved speed.

Jakarrie Washington of Everett may be the fastest receiver out there right now.

Speaking of guys that can motor, Andover's Cam Farnham has been pure lightning all season as well.

As far as pure production goes, there aren't many who do more on a week-to-week basis than Natick's Brian Dunlap.

If anyone can outdo Dunlap in that department, though, how about Shawsheen receiver Devonn Pratt? One of the top wrestlers in the state, Pratt has 11 touchdown receptions already, including five in a ridiculous, 15-catch, 268-yard performance against Cambridge two weeks ago.

Lerch:
1. Dylan Morris, Barnstable - Seems to have a tremendous mind meld going on with quarterback Nick Peabody. Has eight TD receptions on the season, including two clutch catches in the 13-7, double OT win over Everett.

2. Jalen Felix/Jakarrie Washington, Everett - I'm cheating a little by putting both in, but it's hard to argue against the fact that these speedsters are two of the biggest gamebreakers in Massachusetts.

3. Bryan Vieira, Thayer Academy - Eight receptions for 200 yards and a TD in the opener (along with an interception return for a score) and six more catches for 179 yards and three TDs in week two. The top receiver in the ISL.

4. Brian Dunlap, Natick - Just a sophomore, Dunlap continues to team up with QB Troy Flutie to put up big numbers week after week. I may be underrating him because of his age, but all signs point toward Dunlap someday taking over at the top of this list. Maybe sooner rather than later.

5. David Harrison/Tyler O'Brien, Weymouth - It's a cheat day for me in the roundtable as I'm going with a duo once again. The Wildcats receivers have combined to catch 13 TD passes and O'Brien seems to be Harrison's favored target when he switches under center as Weymouth's quarterback.

Botelho:
1. Dylan Morris, Barnstable: This is sort of a chicken and egg thing. Is Nick Peabody such a good quarterback because he has Morris to throw to, or is Morris the beneficiary of a standout QB. I think the answer is Peabody is a tremendous QB and Morris an elite receiver, and the results have indicated that so far.

2. Lincoln Collins, BC High: Collins might not have the gaudy stats some his peers do (he's caught just one TD this year) but he's a D-1 scholarship athlete going to Villanova for a reason. The Eagles have been the victims of bad luck and bad timing this season, dealing with some of the toughest teams in this state - and New Jersey - while figuring out how to replace injured stars like Brendan Craven and Luke Catarius.

3. Brian Dunlap, Natick - Like Morris, Dunlap has a premier QB throwing him the ball. He's pulled in 6 TD from Troy Flutie, and is one of the biggest reasons Natick is scoring more than 30 points per game.

4. Dondre James, Whitman-Hanson - James single-handedly changes game plans of opposing teams, often drawing more than one defender on passing plays. He's spread out defenses all season, allowing QB Tom Sapienza to throw 8 TD already. James' speed and athleticism are clear with one looks at the Panthers on offense, but what he contributes away from the ball might be even more impressive. James has sprung more than one ball carrier this year with a big block.

5. Rory Donovan, Cardinal Spellman - The Cardinals aren't matching their regular season success from the last two years, but Donovan is among the toughest receivers for defenses to match-up with. At 6-5 and with an impressive vertical, not many defenders can go up and get a jump ball against him. He's averaging a touchdown a game right now and could get better as Spellman's line matures this season.

3. WHO IS THE BEST QUARTERBACK FROM A SMALL SCHOOL?

Barboza: Right now, I'm looking at Hopkinton's Hank Rudden. The Hillers have been off and running in the Tri-Valley League, averaging more than 34 points per game through four weeks. Whether the Hillers can keep it going into the meat of their TVL schedule is another thing, but the 6-foot-1 senior is a dependable pocket presence.

Hall: Hard to argue with the production of Northbridge's Matt Phelan. Head coach Ken LaChapelle (who won his 300th career game last weekend) is famously inclined towards the pass -- and a passing pioneer for this state, really -- but through the first four games of the 2012 Phelan has been arguably better on his feet (41 carries, 448 yards, 12 TD) than through the air (42 of 50, 514 yards, 2 TD). LaChapelle has joked that he would like to once coach a game where he doesn't call a running play, but he tends to yield some freelancing to his quarterbacks when he feels they're up for it. And understand, for LaChapelle to loosen the reigns, you have to be a special player.

Kurkjian: Let's go into the Boston City South Division where Latin Academy junior Kyle Dance is putting together a fantastic season through four games.

To this point, Dance has had a hand in 13 touchdowns (nine passing, four rushing). You want to know how many touchdowns the Dragons have as a team? Fourteen. In other words, Dance is doing it all for this team, and it will be exciting to see how the rest of his season and career develops.

Lerch: Since taking over in week two, Shawsheen's Mike O'Hearn has produced eye-popping numbers and ranks fourth in the state with 11 touchdown passes, including a six-TD performance against Cambridge. With the 6-foot-3, 190-pound senior at the helm, the Rams have put up 98 points in their last two games.

Botelho: Assuming "small" school means any outside of Div 1, 1A, 2 or 2A, the best small school QB might be Dan Eckler at Stoughton. They're a run-first offense with tons of weapons, but he's been the point man for all of their success this year.

Hanover's Ryan Bennett and Middleborough's Troy Rossi both have big arms and ideal QB size and have been fun to watch early on.

Abington's Brandon Cawley has all of the tools to run the offense for the Green Wave. He's tall, has a cannon of an arm and can tuck it and run if need be. Andrew Benson also comes to mind in the South Shore League. After sliding over from RB to QB when the Vikings didn't have an obvious heir apparent to Tim O'Brien, Benson has handled the transition well. He's very athletic and gives EB a similar look on offense they had a year ago.

4. WHAT'S WRONG WITH THE CATHOLIC CONFERENCE?

Barboza: (Disclaimer: None of this argument has to do with St. John's Prep right now.) Honestly, I'm not trying to make excuses here, and this has happened a couple of times during the last couple seasons, but it's not as though the teams are playing easy schedules. On the other hand though, I think the rest of the state has caught up with the parochials a little bit. Some inside the Catholic Conference used to scoff at the idea of a Hockomock team (North Attleborough anybody?) hanging with one of those teams. Use this weekend's Xaverian vs. Duxbury matchup as another proof positive. I think the Hawks will find out that last year's win by the Dragons at the Hawk Bowl was no fluke. And, while most of the state still cannot match the numbers the Catholics have on their sidelines, there's plenty of talent to be had.

Hall: With St. John's Prep, nothing. With the rest of the conference (a combined 4-12 heading into this weekend's games), where do you start?

Expectations weren't high on Malden Catholic or Catholic Memorial coming into the season, but the way BC High and Xaverian (preseason Nos. 2 and 3, respectively) have stumbled out of the gates is concerning. Then again, they've endured brutal schedules, and few teams in Massachusetts would come out of September with better than their 1-3 records. Still, the way in which they've lost is not convincing, between BC High getting dominated from scrimmage by North Attleborough and Xaverian laying eggs against Brockton and Andover. Bottom line, BC High and Xaverian so far haven't lived up to the preseason hype.

Something tells me they'll turn it around. BC High will be getting All-State linebacker Luke Catarius (ankle) back this month, and quarterback Brendan Craven (knee) sometime soon, and you can't say enough how much that could change things quickly. Xaverian finally showed signs of life in the second half of the Andover upset, and Mike Brennan has been bringing steady production to what has been an otherwise stale offense.

How quickly does Xaverian turn it around? Jury's out, because the rest of the Hawks' 2012 schedule, in order, goes like this: Duxbury, Everett, Bridgewater-Raynham, St. John's (Shrewsbury), BC High, Catholic Memorial, St. John's Prep. Talk about skating uphill.

Kurkjian: Well, there's not much wrong with St. John's Prep right now, as they've looked outstanding in their three wins and only have one loss to Everett in a game many observers thought could have gone the other way with a few breaks.

As for the rest? BC High has been decimated by injuries, but the Eagles are starting to heal up and it would not be a total shock to see them make a run at the league title once everyone is back.

Xaverian does not have nearly the amount of team speed it usually does and has not looked physical at all on the lines.

Catholic Memorial has, as expected, struggled on offense, and you simply don't improve when graduation takes away as much talent as it did for the Knights.

Malden Catholic is this year what it has been nearly every year, which is the fifth-best team in the league.

Lerch: The coaches won't make excuses but we can. Injuries have absolutely decimated BC High while graduation hit both Xaverian and Catholic Memorial pretty hard. Not to mention that these teams all play among the toughest schedules in the state. That said, St. John's Prep is still a top-three team in Massachusetts and don't think for a second that the aforementioned trio won't put it together by the time league play rolls around. Anyone who counts these teams out when we're not even halfway through the season is making a big mistake.

Botelho: BC High and Xaverian has certainly underachieved, but their schedules have been absolutely brutal. BC is also dealing with a whole mess load of injuries. That said, what looked like the best league in the state before the season needs a turnaround in the second half to avoid an overall disappointing year. If things continue like they are, St. John's Prep will coast to a league title behind Jonathan Thomas and Alex Moore. The Prep, in my mind, is probably the favorite to win the Div. 1 Super Bowl right now (I still love Brockton, but missing Austin Roberts is going to hurt them in a big way).

5. THERE HAVE BEEN A LOT OF SHOOTOUTS IN THE FIRST TWO WEEKS OF ISL PLAY. WHICH IS THE BEST OFFENSE?

Barboza: I think this was supposed to be Thayer's year to shine behind wide receiver Aaron Gilmer and the Tigers haven't disappointed, putting up 76 points in their two games. But they still have nothing to show for it, losing two close barn-burners against Governor's and Roxbury Latin. But it's hard to ignore the defending ISL champions at Governor's. We've extolled about Tate Jozokos' two-sport excellence for a couple years now, but running back Eli Morrissey has been a true revelation in the early going. Gov's should face a test this weekend against BB&N, but with 103 points scored in two games, it's hard to pick against anything short of a repeat performance of 2011.

Hall: If what Duxbury's been doing the last couple of years doesn't tell you enough about the value of lacrosse skill in football, then Governor's senior quarterback Tate Jozokos will. The UNC lacrosse commit led a renaissance last fall, leading the Governors to the ISL championship, and is off to a quality start this season. He is as a true a dual-threat quarterback as you will find in Massachusetts.

Running back Eli Morrissey has been just as productive (5 TDs), and is arguably one of the best backs in the ISL -- not the biggest, but definitely one of the most complete, and a tough runner. Overall, the Governors have averaged 51.5 points per game in their first two contest. Hard to argue with a number like that.

Kurkjian: Tough to say with such a small sample size, but it's hard to go against what Governor's Academy has accomplished in the first two weeks. With 103 points in two games, the Governors are simply running past, over, around and through everyone in their way.

We will see whether or not that continues this weekend as they travel to Cambridge to face an always-tough BB&N squad.

Lerch: When in doubt, I always say go with the team led by the lacrosse guy. Governor's is stacked with talent on offense with quarterback/dynamo/North Carolina lacrosse commit Tate Jozokos leading the charge. Along with standout running back Elijah Morrissey, the duo has combined to score nine rushing TDs in the first two games. Until some team finds a way to slow these two guys down, the Red Dogs will keep piling on the points.
October, 2, 2012
10/02/12
12:35
AM ET
HYANNIS, Mass. -- Football is the ultimate team sport, right?

Well, it didn't take one singularly spectacular performance for Barnstable to knock off top-ranked Everett on Friday in double-overtime. The Red Raiders' 13-7 victory earned them the top spot this week's MIAA football Top 25 and it was in no small part due to their defense.

In recognition of the momentus win, we honored the Barnstable defense with our Player of the Week award.

Brendan Hall caught up with the Red Raiders' defensive captains Andrew Ellis, Ryan Litchman, and Bryan Hardy after Monday's practice:


September, 15, 2012
9/15/12
12:54
AM ET
By
Brendan Hall
| ESPNBoston.com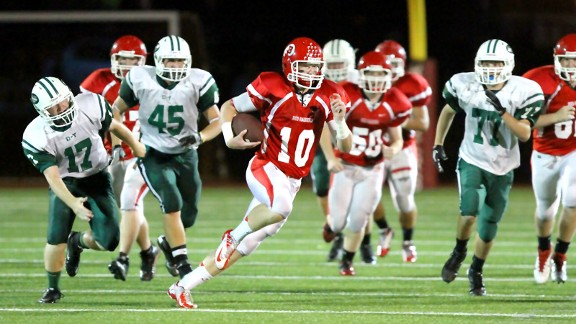 Eric Adler for ESPNBoston.comNick Peabody accounted for 415 yards of offense and four touchdowns as Barnstable hung 55 points on its opponent for the second straight week.
HYANNIS, Mass. -- Heading into tonight's installment, the previous three contests between border rivals Dennis-Yarmouth and Barnstable had been decided by a total of five points, with D-Y taking the last two in some memorable finishes.
Tonight's installment of what has become Cape Cod's fiercest non-Thanksgiving football rivalry, before a capacity crowd of several thousand at Barnstable High, was memorable for completely different reasons.
The 2012 version of this rivalry will be remembered for the clinic that Barnstable quarterback Nick Peabody put on, throwing for 350 yards and four touchdowns, with 65 more yards on the ground, in a 55-14 thrashing of the Dolphins that improves the No. 4 Red Raiders to 2-0. Middle linebacker Andrew Ellis, the leader of the Raiders' aggressive defensive front, offered up beams of relief as he looked up at the scoreboard.
"We finally did what we were supposed to do, man," he beamed. "We come out here every year like we should beat the snot out of these guys, but something happens, they get rolling, we can't stop them. But this year we finally did what we needed to do."
Said senior center Tom Grimmer, "It feels pretty good. The past two years, I've walked off the field with tears in my face. It just feels good tonight to finally get this before I get out of high school, out from under my skin. The monkey's off our backs now, finally."
Peabody has watched this game from the bench the previous three seasons as backup to record-setter D.J. Crook, but tonight he looked like he's been a four-year starter, hucking balls over the deep middle seemingly on a line and hitting his receivers intuitively in stride. The 6-foot-4, 225-pound senior finished the night 15-of-18 passing to go with the 350 yards.
[+] Enlarge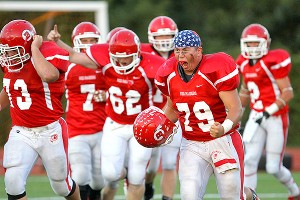 Eric Adler for ESPNBoston.comBarnstable's offensive line, led by Tom Grimmer (79), paved the way to 500-plus yards of offense.
"We punted once, [but] want to put it in every time we get the ball," said Peabody, who has totaled 10 touchdowns (eight passing) in the first eight quarters of the Raiders' 2012 season. "There was a lot of good, we still have some stuff to work on for sure, and we'll be working this week."
A number of factors have led the Red Raiders' dominant start to 2012 -- they've outscored the opposition 110-20 through the first eight quarters of the season -- but the most visible one, at least tonight, was the connection with senior wideout Dylan Morris. The 6-foot-2 speedster hauled in five passes for 207 yards and the first two of Peabody's four scoring strikes.
As D-Y (0-1) attempted to stack the box, Peabody went to Morris in space for some favorable results. Their first scoring strike happened after Derek Estes came up with a goal-line pick to give the Raiders the ball at their own two. On the first play of the ensuing drive, Peabody found Morris on a skinny post well behind the safety, for a 98-yard touchdown that made it 14-0 with 1:04 to go in the first quarter.
The Dolphins went three-and-out on the ensuing drive, and Peabody went back to his familiar target again on the first play of the Raiders' next drive. This time, it was a fly route down the left sideline, where Morris easily hauled in the pass against single-coverage then hip-shook a high arm tackle to march 51 yards to paydirt and a 21-0 advantage.
"He's a field general," Barnstable head coach Chris Whidden said. "He makes sure we're in the right position and right place, and he'll let the offensive coordinator know 'Hey, I'm seeing this', and we trust him enough to put him in a position...and he's got so much trust in all his other weapons.
"With Hayden [Murphy] at running back, and Dylan and Tedaro [France] and James [Burke], there's a bunch of guys you've got to worry about and defend, and if you defend one, somebody else is open. And Nick's got that confidence in all his teammates."
Peabody threw two more TDs, one to James Burke on another skinnny post before the end of the first half, then a 20-yard fade to Manny Perry at the back pylon to begin the fourth quarter.
"They came out and they were kind of stacking the box, bringing some pressure, and they didn't have a high safety over the top," Peabody said. "So we kind of thought if we could isolate Dylan on the outside he could beat the corner. And he did that a couple times for the big play."
In the zone:
Coming into this matchup, some mused that the key matchup might have come in the trenches, where Barnstable center Tom Grimmer was likely to square up with D-Y defensive tackle Joe Tyo. But considering the offensive numbers they put up tonight (513 yards from scrimmage), and the way they consistently moved the ball downfield, this was more the function of a unit rather than one singular act.
Though the centerpiece is nice. At 6-foot and 255 pounds, Grimmer displays a unique combination of leg power and low center of gravity to maintain leverage against bigger opponents, such as Tyo tonight. A three-year starter under center, Grimmer has had a reputation as a ferocious competitor in the weight room.
As for the line itself, the way the Raiders set up the run in Whidden's run-and-shoot scheme requires surgical zone blocking. It's a philosophy that has been ingrained in their heads since freshman year, after becoming accustomed to man-to-man concepts in the town's youth program.
"It's tough to get used to right away," Grimmer said. "But we've been doing it a while, and all we do is that zone blocking scheme. We've gotten used to it. It adds to our unity a little bit, becuase there isn't any chance to shine individually. A zone blocking scheme is designed to work together. When it works right, and everybody's getting off their blocks, it feels good."
Peabody had high praises for his line after the game.
"It's a great group, you really couldn't ask for any better of a group," he said. "They work hard. Those guys lift a ton of weight, they work really hard in the offseason, so it's not the [biggest] line but they're low to the ground and very strong. They have great technique. I have all the time in the world back there, they open up big holes. They're great."
Defense drops the boom:
The secondary was exemplary tonight, led by Estes, and Whidden deferred to the expertise of one of his secondary coaches -- none other than former Oakland Raider and Falmouth High great Willie Ford -- for that aspect (can't hurt, right?).
When you ask the No. 1 team in the state, Everett, what they think of Barnstable, they will tell you the Raiders were one of the hardest-hitting teams they faced all season, if not the toughest. More than Kevin Hardy's ball-hawking skills at free safety, this hard-hitting mentality is explicated in the front seven behind guys like Ellis and Bryan Hardy.
The Raiders switched off between three- and four-lineman fronts, with Ryan Litchman strafing in and out of the box as a "Rover". When Ellis read a run, he sniffed it out quick, and he hit the hole with authority. If you watched his play in last year's overtime epic against Bridgewater-Raynham, you know this is a familiar routine with the 5-foot-10, 230-pounder.
But give credit to the interior, where seniors D.J. Goncalves, Jason Freih and John Eldridge used their long reaches to get leverage on their opponents and free up gaps for the linebackers to shoot.
"We expect that out of Jason Freih," Whidden said. "He's a returning all-league kid, and we know what we're going to get out of them."
Said Ellis, "The D-line was just taking out the holes. They just get in there and do what needs to be done, and they make our job easy."
NO. 4 BARNSTABLE 55, DENNIS-YARMOUTH 14

BA 14 20 7 14 --- 55
DY 0 6 8 0 --- 14
First Quarter
B - Hayden Murphy 5 run (Terrence Mudie kick) 7:41
B - Dylan Morris 98 pass from Nick Peabody (Mudie kick) 1:07
Second Quarter
B - Morris 51 pass from Peabody (Mudie kick) 9:56
D - Spencer McCaffrey 80 pass from Jacob Pawlina (rush failed) 5:10
B - James Burke 45 pass from Peabody (kick failed) 3:47
B - Murphy 17 run (Mudie kick) 1:43
Third Quarter
D - Cory DeSimone 3 run (Pawlina run) 5:39
B - Tedaro France 7 run (Mudie kick) 4:27
Fourth Quarter
B - Manny Perry 20 pass from Peabody (Mudie kick) 10:12
B - Kristian Lucashensky 2 run (Mudie kick) 2:35
August, 30, 2012
8/30/12
11:44
PM ET
By
Bruce Lerch
| ESPNBoston.com
Barnstable isn't going to sneak up teams this fall like they did a year ago. With 12 returning starters and a wealth of additional experienced players from last year's playoff team, the bullseye now found on the backs of their jerseys won't cause the Red Raiders any extra discomfort.

Barnstable stunned Bridgewater-Raynham in overtime late last season to claim the Old Colony League title, and advance to the state semifinals for the first time since 2002.

Experience and team chemistry will go a long way toward helping the Red Raiders take it a step further and accomplish something they haven't done since youth football -- win a Super Bowl trophy.

"Our core group of kids has been playing together since they were in the youth program," Whidden recalled. "I think it's the 2008 Super Bowl championship trophy that the kids have from the youth program. There's fourteen names on that trophy that are still playing for our varsity program. They're striving to get themselves back to that level and get a trophy where the little plastic guy on top doesn't twist and fall off."

It all starts with the offense, led by senior quarterback Nick Peabody. Peabody earned Old Colony All-Star honors as a wide receiver last season but started every league game under center while record-setting D.J. Crook was injured.

The 6-foot-3, 225-pounder has a fleet of talented wide receivers to throw to, led by big-play threats Tedaro France and Dylan Morris. Look for senior James Burke to emerge as a big part of the passing game and fellow senior Manny Perry to provide depth.

Much of Peabody's offseason work focused on speed and agility, morphing an already dangerous passer into a terrific dual-threat weapon. He'll team up with Barnstable's version of 'Thunder & Lightning' in the backfield with speedy Hayden Murphy and downhill runner Terrence Mudie. Tommy Grimmer, one of five team captains, anchors the offensive line from the center position along with brother and guard Billy Grimmer.

On defense, Whidden hopes that a younger front line will eat up enough blocks to allow an experienced group of linebackers to wreak havoc. Andrew Ellis and Bryan Hardy return as inside backers while Robby Stewart steps into a starting role on the outside.

Returning OCL All-Star Jason Frieh is a menacing presence from his defensive end spot. Tommy Grimmer played primarily on the offensive line last season but is expected to add an additional presence to the middle of the 'D' line this year.

By the end of last season, Barnstable experienced the greatest amount of growth in the secondary, a spot that should be another strength in 2012 as Kevin Hardy and Derek Estes both return to lock down the corner spots. Versatile Ryan Litchman will split time between outside linebacker and free safety, depending on matchups.

"The one thing that I expect from this group, knowing what they've done since last season ended, is that whatever the potential they have, they are going to reach that potential," proclaimed Whidden. "They're going to get themselves to that point. I don't doubt that and I'm curious to see how far that potential can take them."

BARNSTABLE AT A GLANCE
2011: 7-5 (3-0 Old Colony), lost in Division 1A Playoffs
Coach: Chris Whidden (Second year, 7-5)
Key Returnees: Nick Peabody, Sr. QB, 6-3, 225; Tedaro France, Sr. WR/DB, 5-10, 175 lbs.; Tommy Grimmer, Sr. C/DL, 5-11, 235 lbs.; Andrew Ellis, Sr. LB, 5-11, 215 lbs.; Ryan Litchman, Sr. OLB/FS, 5-9, 170 lbs.; Bryan Hardy, Sr. LB, 6-1, 215 lbs.; Dylan Morris, Sr. WR, 6-0, 170 lbs.; Jason Frieh, Sr. DE, 5-8, 180 lbs.; Terrence Mudie, Sr. RB/LB, 5-10, 185 lbs.; Kevin Hardy, Jr. DB, 5-9, 160 lbs.; Billy Grimmer, Jr. OG, 6-0, 225 lbs.; Hayden Murphy, Jr. RB, 6-1, 185 lbs.
Strengths: Passing game, linebackers, secondary, experience, leadership.
Weakness: Youth on defensive line.
Outlook: Reaching the playoffs for the first time since 2002 gave the Red Raiders a taste of success that they want more of. Although the OCL is down to three teams, all three are postseason contenders with Barnstable-Raynham annually among the state's best and Dartmouth expecting a major resurgence. Peabody should finish as one of the state's best quarterbacks and his group of receivers should receive similar accolades. On defense, Litchman may be the key to whole operation, a player of whom Whidden says, "We dictate what we do defensively based on getting him around the ball."
November, 5, 2011
11/05/11
1:19
AM ET
By
Brendan Hall
| ESPNBoston.com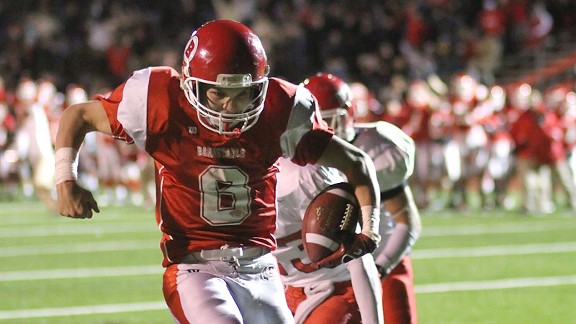 Eric Adler for ESPNBoston.comHayden Murphy's 5-yard touchdown in OT clinched Barnstable's first playoff berth since 2002, and sent the home crowd into euphoria.
HYANNIS, Mass. -- All 16 years and childish looks about him, Hayden Murphy could only offer sheepish grins to the cameras and tape recorders suddenly crowding the two feet in front of his face.
"This is my first interview, I can't talk, I'm sorry," he shrugged. "So much adrenaline."
How else should the floppy-haired slash-back have reacted after etching his name into Barnstable High's history books? The sophomore took a direct snap and darted across the goal line from five yards out, to deliver the host Red Raiders a thrilling 26-20 overtime shocker over No. 3 Bridgewater-Raynham. With the plunge, Murphy handed Barnstable its first outright Old Colony League title -- and postseason berth -- since 2002, and assured the Trojans no post-Thanksgiving football for the first time since 2008.
The call on Murphy's plunge was one that had worked for most of the second half for the Raiders (5-4, 3-0). With the Trojans (6-2, 1-1) respecting the passing attack of head coach Chris Whidden's spread scheme, that often left five or six players in the box. But rather than feed running back Theo France (17 carries, 159 yards, TD) the draw in conventional manners, Whidden called up a "Wildcat" package over a half-dozen times, with junior quarterback Nick Peabody split wide and Murphy -- a wideout, but also the team's third option under center -- taking the direct snap alongside France.
On this play, a designed quarterback counter, Murphy pushed the ball into France's belly as he pushed forward, but tucked it in himself and hauled it up the middle. The bench immediately emptied, and Murphy was mobbed.
"The linemen made me a huge hole, and I just ran right through it," Murphy smiled.
Said head coach Chris Whidden of the Wildcat strategy, "We've been repping it a lot in practice with Hayden, and as effective as it was, we kept going with it. Nick [Peabody] is one of our best blockers on the outside as a receiver, so it gets one of our best ballcarriers the ball, and one of our best blockers on the perimeter. Because either way, they're both going to be on the field, so you don't know what look we're going to give you."
But terrific as it was, the Trojans nearly pulled this one out after Branden Morin punched it in from five yards out with 2:09 left, to knot the game at 20. The Raiders fumbled the handoff at the Trojans' 14, but were able to force a three-and-out and take over at their own 37 with 52 seconds left.
Peabody marched the Raiders into B-R territory with two completions to James Burke, and with six seconds left Tom Mullen came in to attempt a 51-yard field goal. The sophomore's kick had the distance, but came up wide left.
B-R took the ball first in overtime, and on fourth down missed a short field goal attempt to give way to Murphy's heroics.
Concussion for Schlatz:
B-R head coach Dan Buron confirmed that senior captain and running back/linebacker Nick Schlatz went down with a concussion early in the second quarter.
An ESPNBoston preseason and midseason All-State selection, Schlatz scored on the very first play of the game, taking a sweep around the right 73 yards for the Trojans' initial 7-0 lead. He suffered the injury in the Trojans' first offensive series of the second quarter, getting stopped by Barnstable junior linebacker Andrew Ellis trying to convert a third and goal. The very next play, quarterback Brad Delulis rolled to his left and hit Eric Warbek for a two-yard touchdown pass an 13-6 lead, their final lead of the game.
Up to that point, Schlatz had 122 yards on 14 carries. He also picked off Barnstable's Nick Peabody on the Raiders' opening drive.
Fight the power:
Bridgewater kids come out of the womb rolling right, and while Buron sprinkled in some twins and trips looks out of one-back sets, the gameplan didn't deviate from those waggle and power principles that have made B-R one of the most consistent programs over the last two decades.
As usual, the Trojans looked to the stretch the field horizontally, with a convoy of blockers making room downfield. But the Raiders' linebacking corps was on its A-game tonight, between Ellis, Bryan Hardy and Ryan Litchman. After Schlatz's 73-yard scamper to start things off, the Raiders didn't allow another Trojans gain over 20 yards.
"Against Mansfield [last week, a 34-33 overtime loss], we struggled on anything C-gap and out," Whidden said. "So I put a little twist to our three-man front defensively, where Litchman's able to flow free, and I think that makes your blocking schemes a little bit more difficult. Now it's Andrew, Bryan or Ryan, one of the three of them is going to a little more space to roam."
Frenetic France:
One of the criticisms of Barnstable early in the season was that it was a team perceived to abandon the run too quickly when playing from behind.
And while Peabody deserves plenty of praise for the job he's done since taking over for the injured D.J. Crook under center, equal amounts need to be heaped the way of France's, for the balance he's given the Raiders this year out of the backfield. No longer a pass-happy bunch, the Raiders have often gone to France for draws and counters, to keep the defense honest when they leave too many players out of the box.
Witness France's 50-yard touchdown run late in the second quarter, a simple draw play in which he put on the burners once he got to the second level and blew by the safeties.
Raiders' playoff opponent set:
Lincoln-Sudbury beat its archrival Acton-Boxborough tonight, 21-14, to clinch their second straight Division 1A Playoff berth. They will face the Red Raiders, who will be looking for their first Super Bowl championship since beating BC High for the Division 1 title in 1999.
BARNSTABLE 26, BRIDGEWATER-RAYNHAM 20
BR (6-2, 1-1) 7 - 6 - 0 - 7 - 0 --- 20
BA (5-4, 3-0) 6 - 7 - 7 - 0 - 6 --- 26
First Quarter
BR - Nick Schlatz 73 run (Kevin Wadsworth kick) 10:42
Barn - Theo France 4 run (kick failed) 2:57
Second Quarter
BR - Eric Wabrek 2 pass from Brad Delullis (pass failed) 4:51
Barn - Theo France 50 run (Tom Mullen kick) 3:54
Third Quarter
Barn - Tedaro France 9 pass from Nick Peabody (Mullen kick) 6:17
Fourth Quarter
BR - Branden Morin 5 run (Wadsworth kick) 2:09
Overtime
Barn - Hayden Murphy 5 run
September, 17, 2011
9/17/11
2:25
AM ET
By
Brendan Hall
| ESPNBoston.com
SOUTH YARMOUTH, Mass. -- Of all the numbers that usually get piled up when these two Cape Cod rivals square off, here's the one that ought to stick out the most: five.

Yes, just five points separate Dennis-Yarmouth and Barnstable in their last three meetings together, the latest another instant classic won in the waning minutes by D-Y, 28-27, to make it two straight in this series for the Dolphins.

It was a packed atmosphere at Dennis-Yarmouth with close to 5,000 lining the fences and bleachers for what is becoming one of the Cape's biggest rivalries. And once again, Dolphins dual-threat quarterback Matt Montalto had a flair for the dramatic in front of a big crowd. It wasn't his most well-oiled game, but he still ended up with 200 yards through the air and three touchdowns, including the go-ahead with eight minutes left in the contest.

"My line stepped up on that play, that's all I've got to say," Montalto said. "They stepped up. They gave me the three yards I needed. That was one of the biggest plays of the game, three yards [and] I reached out, saw the ball go over the goal line and knew I was in."

A botched D-Y punt return with five minutes to go in the third quarter gave Barnstable new life at the Dolphins 20, and they capitalized, with Kadeem Bailey (84 all-purpose yards) taking an option pitch from 10 yards out to give the Red Raiders a 21-20 lead late in the quarter. But the Dolphins responded with a seven-minute, 12-play, 83-yard scoring drive, aided by a late hit on fourth down deep in Raiders territory. Montalto plunged through the middle on an option keeper from five yards out, stretching across the goal line for the score, and then found Dylan Hodsdon at the near pylon on the point after for the 28-21 lead.

Folks in Hyannis will be talking about head coach Chris Whidden's decision to go for two rather than kick an extra point, after Theo France's three-yard touchdown dive with 2:11 to go. Quarterback D.J. Crook (273 passing yards, 2 TD) was stopped short of the goal line on an option keeper, and the Dolphins ran the clock out with the help of a few key first down dives from fullback Joe Furness.

For the record, Whidden said the decision had nothing to do with his kicker, who missed a 25-yard field goal earlier in the contest but was 9 for 9 on extra points in last week's 65-0 blanking of Durfee.

"We win as a team, we lose as a team," Whidden said. "I didn't want to put it on one kid's foot and have him responsible for the whole outcome. The coaches, we talked about it during the drive, and it's on the whole group, not just one kid."

He continued, "I have all the confidence in the world in him, he's a great kicker. It's just, it's a team effort, and I wanted to make sure as many people as possible felt accountable for what we did."

Said D-Y head coach Paul Funk, "I would have went for two, too."




Some other key points from the game:

Johnson on elite status: After tonight's first-half performance, we should go ahead and stitch Damion Johnson's name along with Montalto's into the ESPNBoston Mr. Football Watch List. The 6-foot-2 senior ended up with seven catches for 125 yards and scores, and has put himself into the conversation as one of the state's most talented wideouts -- if not in the very least one of the most physical at jump balls.

Early on, the Raiders pressed Johnson tight in man coverage (literally, you could probably stick a credit card between him and his defender) only to watch him rip through his man, charge down the sideline and pluck a high fade out of the air. When they backed off, he took advantage of the space and made a few nice catches off 10-yard curls.

In the first half, Johnson caught two such fades for touchdowns. A third one, muscled through double-coverage, set up Joe Furness' one-yard plunge that gave D-Y a 14-0 first-quarter lead.

Whidden is a defensive guy, and as one might expect the Raiders adjusted by shading the safeties and deploying double, sometimes triple coverage. Johnson had two catches in the second half, for 39 yards. But a bold statement was made tonight.

"I knew he was one of their best players, if not their best player, and I knew he was a very, very good player -- [but] I think I even underestimated him," Whidden said. "He's a phenomenal player. If I'm a college coach and I'm anywhere near Cape Cod recruiting, I'm all over Damion Johnson. He's a hell of a football player."

Crook gets rolling: Last year's meeting between these two schools was a forgettable one for Crook, who threw five picks (including one to Montalto, who didn't play any defense tonight). In his fourth and final year under center, the 6-foot-2 Crook is not yet a finished product, but gained respect from the opposition tonight, some of the players remarking, "He played a lot smarter."

At times last year, Crook seemed to rely on short passes to All-State wideout Jordan Henderson and was thought to be mechanical at times. Tonight, he distributed the ball evenly to a half-dozen receivers, including Dylan Morris (six catches, 99 yards), Tedaro France and Bailey.

Barnstable's receiving corps boasted advantages both in size and speed against the Dolphins' secondary, and Crook was able to hit them in stride, finding the most success on crossing routes. When flushed out of the pocket, he was able to turn things around and connect with one of several speedy targets for a deep pass downfield.

For those keeping score at home, Crook is now 16 touchdown passes away from the state all-time record.

Promising against the pass: At 5-foot-9 and a twig-like 150 pounds, junior Kevin Hardy doesn't look the part of a ball-hawking free safety. But he, along with fellow junior safety Ryan Litchman (also undersized at 5-foot-9 and 170 pounds), made things difficult back there. Couple that with two juniors at linebacker in Bryan Hardy and Andrew Ellis (a tri-captain and Division 1 prospect), and you have a stout defense that could be stingier come Old Colony League play.

Fleeting France: Theo France ripped off runs of 33 and 10 yards to start the second half to keep the D-Y defense honest, and finished the night with 69 yards rushing and another 23 receiving. Whidden was encouraged by his performance, which could provide the right balance to an offense that's been pass-happy the last few seasons.

"He's a tough kid," Whidden said. "He proved last week and this week that we can be a multi-dimensional team. I mean, he put a lot of work in during the offseason, and he wanted to get to the point that he's at. He's a threat. He gives us a good run game."

Slowing it down: D-Y has been known in the past few years to go with a high-octane, no huddle pace. Tonight was a different sight, Montalto getting the play in from the sidelines and reporting to a huddle.

Allow Funk to explain:

"We went no-huddle against Taunton [a 41-7 win last week]. It's hard against them [Barnstable], it's a track meet and we don't have enough kids. We will be no-huddle throughout the course of the year. We pick our shots, but there's so many kids on that team playing that it's tiring. You gotta pick your shots. We're playing everybody both ways."

DENNIS-YARMOUTH 28, BARNSTABLE 27
BA (1-1) 0 14 7 6 --- 27
DY (2-0) 14 6 0 8 --- 28

First Quarter
D - Damion Johnson 10 pass from Matt Montalto (John Terrio kick) 8:46
D - Joe Furness 1 run (Terrio kick) 5:12

Second Quarter
B - Nick Peabody 17 pass from D.J. Crook (Tom Mullen kick) 3:38
B - Tedaro France 21 pass from Crook (Mullen kick) 1:30
D - Johnson 18 pass from Montalto (kick failed) :27

Third Quarter
B - Kadeem Bailey 1 run (Mullen kick) 7:46

Fourth Quarter
D - Montalto 5 run (Dylan Hodsdon pass from Montalto) 8:25
B - Theo France 3 run (rush failed) 2:11