Boston High School:

Ryan Martin
September, 21, 2013
9/21/13
8:20
PM ET


WESTWOOD, Mass. – Let there be no doubt who's No. 1.

At least for another week, that is.

For the third straight week to begin the MIAA football season, the No. 1 team in ESPN Boston's Top 25 poll suffered a sound defeat. This time, on Saturday in the grand unveiling of the extensive renovations to Xaverian's Hawk Bowl, Bridgewater-Raynham became the most recent squad to be dethroned.

No. 10 Xaverian systematically beat the Trojans in each and every facet of the game, administering a 49-13 beat-down of yet another No. 1.

It also marked the second straight week in which the Hawks (2-0) beat the poll No. 1 after a road victory at Everett last week.

"Playing two No. 1 teams, that's what we aim to do here," Hawks senior running back/ linebacker Shayne Kaminski said. "There are high expectations at this school. Playing a No. 1, it's just a whole different situation – that just gets you pumped up for the game."

Kaminski, who missed Xaverian's opener due to injury, celebrated his return to game action with a 31-yard touchdown run at 5:02 of the first quarter, providing the Hawks with an early 7-0 lead.

On B-R's ensuing possession, Kaminski also announced his return, defensively, falling on a fumble created on a strip-sack from defensive end Joe Gaziano. Two plays later, fellow running back Noah Sorrento rumbled in from 13 yards out for a quick two-score lead.

However, the Trojans (2-1) would respond on their next possession with Matt Clement hitting Ryan Martin in tight coverage for a 29-yard touchdown pass.

After the teams exchanged a couple of fruitless drives, the Hawks began pulling away just before the half – thanks to quarterback Jake Farrell and senior wideout A.J. King.

Inside the final two minutes of the first half, Farrell and King linked up for two quick-strike passing plays. First, King came down with a ball, despite bracketed coverage, and raced 62 yards for a score. Then, with two seconds remaining, Hawks head coach Charlie Stevenson eschewed taking the knee and, instead, dialed up a dazzling 47-yard connection with Farrell hitting King in stride along the left-hand sideline on a fly route.

And the Hawks took a 28-6 lead to the locker room.

Xaverian's special teams had their chance to shine in the third quarter, when the Hawks blocked two punt attempts with one turned for a touchdown and another setting up a first-and-goal situation.

After B-R's opening drive of the second half sputtered out, Gaziano got his mitts on a punt, allowing freshman Mekhi Henderson to pick up an easy scoop and score from 30 yards out.

Then, following a Trojans' three-and-out, Xaverian sophomore lineman Elijah Pierre registered a second block. B-R's recovery set up the Hawks at the Trojans' 2, setting up Kaminski (10 carries, 138 yards) for his second of three rushing scores.

Kaminski later added a 54-yard run, providing the Hawks with a 49-6 lead.

"I felt like every guy today wanted to get in there and make a contribution," Kaminski said, "And we did that."

Run differential: Aside from some padded stats B-R tacked on once the game was out of reach, Xaverian lopsidedly won the battle of the rushing attacks.

While holding Trojans preseason All-State running back Brandon Gallagher under 40 yards rushing for the game, the Hawks consistently dominated the point of attack against a depleted B-R offensive line.

"We really did a good job of stopping their run, I thought," Stevenson said. "[Gallagher] is tough and I was really worried about us being able to match up with him and stop him."

Meanwhile, the Hawks' offensive line continued to create holes. And, with the additional shot in the arm Kaminski injected along with Sorrento, Xaverian's off and running.

Star in the making: During the preseason, Stevenson highlighted freshman cornerback Mehki Henderson as a player to watch as the year progressed.

But, through two weeks, it appears as though Henderson is coming along just fine.

The 5-foot-9, 170-pounder showed good instincts undercutting a route to the end zone pylon and snatched his first interception at the end of the second quarter. The pick helped set up the Hawks' last-minute drive at the half.

That was before Henderson also snatched up six points with his second-half punt block return for touchdown.

"He's a really good athlete," Stevenson said of Henderson. "He's young and a little inexperienced, but I think he's going to be a good player."


November, 3, 2012
11/03/12
2:52
AM ET
BRIDGEWATER, Mass. – The fourth of quarter of Friday's instant classic between No. 1 Barnstable and No. 16 Bridgewater-Raynham was rife with hairpin plot twists and explosions. Every expanding moment brought more drama, heightened tension and – assuredly on both sidelines – greater anxiety. It was the stuff of Jack Bauer tracking down bad guys, MacGyver defusing a bomb threat, or a John Le Carré spy novel. Or maybe it was a little of all those things rolled into one -- and then some.
For whatever you care to call it, in recent memory, the yearly date between the Red Raiders and Trojans has morphed into a de facto championship game for the Old Colony League.
Friday's edition was but another spellbinding chapter.
Barnstable clung to a 27-25 lead behind an opportunistic defense before putting the game away in the final moments with the Red Raiders tallying their third interception of the game. In the process, Barnstable (8-0, 2-0) claimed its second-straight OCL championship and will return to the postseason, again to face Dual County League large division champion Lincoln-Sudbury in the Div. 1A Eastern Mass playoffs.
"Last year is a distant memory at this point," Red Raiders head coach Chris Whidden said. "It feels great for this group, these guys have done so much together, and they were obviously a big part of last year, but there's a pride in what they accomplished today.
"They derserve it. I know every coach can say that the group of kids you have deserve it, but if you really knew these kids, you'd know they truly have done more than most classes would do to get what they got tonight."
Barnstable showed its defensive mettle after a lack-luster showing against Billerica a week ago.
Jason Frieh (sack, 2 TFL) led the Red Raider defensive line bringing the pressure, but the contributions came from all around. Barnstable's defense pulled off a unique hat trick of interceptions, with one pick coming from a member at each level of its unit. Frieh seized momentum for the Red Raiders early in the second half with a 21-yard interception return for a touchdown. In the fourth quarter, inside linebacker Andrew Ellis collected a pick of his own before free safety Hayden Murphy closed out the victory with an interception with 1:03 remaining.
Frieh's pick-six extended the Red Raiders' halftime lead to 21-6, but the Trojans (5-4, 1-1) responded on the ensuing drive in the third with a 10-play, 74-yard drive capped by Jordan Cohen's 17-yard touchdown pass to Ryan Scripter.
Barnstable again made it a two-possession game on Nick Peabody's second touchdown pass of the game, a 31-yard connection to Tedaro France with 7:31 to play in the fourth.
From there, a dizzying sequence unfolded that was made for an episode of "24".
Events between the time 7:14 and 4:03 of the fourth quarter included:
An 82-yard kickoff return by B-R's Ryan Martin, (Score: 27-19, Barnstable, following failed two-point try).
A fumble recovery by the Trojans on Barnstable's following kickoff return, (Devin Morris' forced fumble was recovered by Mike Clifford, setting up B-R first and 10 from the Red Raiders' 20-yard line).
Ellis' interception, (setting up Barnstable first and 10 at their own 15).
Strip-sack by B-R's Aaron Conrad with Trojans recovery by Kevin Johnston at the Barnstable 5, (5:33 to play).
2-yard rushing touchdown by Brandon Gallagher, (Score: 27-25, Barnstable, 4:03 remained).
Following that frenetic sequence -- keep in mind there were only seven plays from scrimmage elapsed during that span – Barnstable had a chance at closing out the game by bleeding the clock. But the Red Raiders' ensuing drive sputtered flat once it hit the 50-yard line. Barnstable was forced to punt, but a masterful 41-yard punt from Ryan Litchman was downed at the Trojans' 6-yard line.
With a long field to go, B-R went to its 2-minute drill with 1:45 to play. The comeback ended at 1:03 when a last-ditch pass by Cohen was fielded by Murphy.
TEACH ME HOW TO DOUGIE
His dancing acumen aside, ESPN Boston Mr. Football challenger and Barnstable quarterback Nick Peabody showed he's got moves on the field.
Peabody (12 of 22 passing, 201 yards, 2 TDs) ripped up the carpet on a rambling 54-yard run in the first quarter. After juking a B-R safety into last Friday, Peabody broke down the left sideline before being chased down at the 1-yard line. He plunged into the end zone one play later for Barnstable's second touchdown of the game.
"We were reading the end on the play, and he kind of flew out with Hayden [Murphy]," Peabody said. "I just saw the hole, I hit it and there was just one safety. I was kind of shocked, I guess I put a move on him.
"Then, to be honest, I was scared I was going to get caught and I got caught on the one-yard line."
While Peabody will never be mistaken for a Randall Cunningham-like quarterback, he's still able to make plays with his feet. He ran for 78 yards on 15 carries, including the touchdown. A bulk of those yards came on zone read plays with Peabody pulling back an option to Murphy, who streaks across the field from the slot. It was a bread-and-butter play that Barnstable's run successfully on Friday and throughout the season.
It's yet another element that has made the Red Raiders offense so potent.
"We drill it until it makes you sick, but that's what makes it work," Peabody said.
CLOSING CREDITS
If you placed this year's B-R team in the year 2013, there's a real possibility the Trojans are playing through a playoff stretch.
While the MIAA playoff proposal has passed, it didn't come soon enough for the Trojans, who will again challenge for the dubious title of "Best Team in Massachusetts Not Playing past Thanksgiving" this year.
"I look at our team, we're five-and-four and we've lost to two teams that are undefeated, another team in St. John's Prep that has one loss and La Salle could play with anyone [in Massachusetts]," Trojans head coach Dan Buron said.
Don't interpret that statement as sour grapes though. Buron was downright grateful following his team's loss.
It was evidenced on the Trojans' final offensive play. As his players shuffled – dejected – back to the sideline, Buron met each and every one of them with a pat on the shoulder pads and the message: "Don't hang your heads."
"I told the kids they shouldn't have any regrets and they should be proud," Buron said of his postgame breakdown with the team. "I've never been more proud of a team because there were a couple of times in this game we could've folded."
Barnstable – 14 0 7 6 -- 27
Bridgewater-Raynham – 0 6 7 12 -- 25
First quarter
B - Dylan Morris 35-yard pass from Nick Peabody (Jason Frieh kick)
B - Peabody 1-yard run (Frieh kick)
Second quarter
B-R – Kevin Wadsworth 11-yard pass from Jordan Cohen (kick failed)
Third quarter
B - Jason Frieh 21-yard interception return (Frieh kick)
B-R - Ryan Scripter 17-yard pass from Cohen (Wadsworth kick)
Fourth quarter
B - Tedaro France 31-yard pass from Peabody (kick failed)
B-R - Ryan Martin 82-yard kickoff return (pass failed)
B-R - Brandon Gallagher 2-yard run (rush failed)
October, 12, 2012
10/12/12
11:22
PM ET
By
Mike Scandura
| ESPNBoston.com
PROVIDENCE, R.I. -- According to La Salle Academy coach Geoff Marcone, he's given senior quarterback Anthony Francis "the keys to the car."

The car in this case is a Mercedes and Francis used it to run No. 17 Bridgewater-Raynham off Cronin Field en route to a 41-24 non-league victory Friday night.

In the process, Francis completed 14-of-21 passes for 279 yards and one touchdown (sans interceptions) and carried the ball 13 times for 68 yards and two scores.

Add up the numbers and it shows that Francis accounted for 347 yards of total offense.

"We've given Anthony the keys to the car," Marcone said. "That's a tribute to him. He can check in and out of plays. If he sees that a run play's not there, he's got the authority this year to check out of it and into something that he likes … something that we prepared for. And he did that a little bit tonight."

What Francis has done a lot of this season is improve his passing – which wasn't a process that happened when he showed up for fall practice.

"His passing every year, from his sophomore year to his senior year, he's grown immensely," Marcone said. "He worked hard in the off-season on his release and his mechanics.

"When summer came that's all we focused on, his mechanics … little things like staying square to the target, making your reads and if you don't like something don't force anything. That's what he's been doing."

Spreading the love: Francis, for his part, gave credit to his teammates.

"It's not just me," he said. "It's the people around me. They give me the opportunity to make plays and they make plays. They make me better as a person.

"We worked all off-season. Coming off a tough loss last season (17-14 to Hendricken in the Division I Super Bowl), we have that fire in our bellies to get better."

The Rams did their best New England Patriots imitation on the game's first possession when they ran a no-huddle offense and covered 85 yards in 15 plays with Francis eventually wedging over from the 1.

After the Trojans went four-and-out, La Salle made it 14-0 at the first intermission when Francis capped a 54-yard drive by running four yards up the middle.

Francis' ability to run adds another dimension to La Salle's offense.

"He's a big, thick kid who has pretty good speed," Marcone said. "People don't realize how quick he is. And he is a dual threat.

"If we feel we can run with him, and the defense is giving us that, then that's what we're going to do. I think last year they thought he could just run and they tried to pack in the box. This year we told him we have to be able to throw when the time comes for that and he's done that."

After Francis' second score, Connor Weathers recovered an onside kick, which led to a three-yard touchdown run by Josh Morris (20-82-3) five seconds into the second period for a 21-0 lead.

The Trojans finally caught a break when Devin Morris recovered a fumble on La Salle's 28 and Brandon Gallagher (17-103-2) covered that distance on the first play with 3:50 left in the half. But Morris, who was the 2011 Rhode Island Gatorade Player of the Year, countered with a 16-yard TD run.

Then B-R's Ryan Martin stunned the pack house when he returned the ensuing kickoff 90 yards – untouched – for a score that sliced his team's deficit to 27-14.

B-R then forced La Salle to punt and that stand paid off when Kevin Wadsworth kicked a 35-yard field goal at the buzzer.

Gallagher brought the Trojans right back into contention when he reeled off a 24-yard run with 4:47 left in the third, a touchdown that made it 27-24.

But just when it appeared B-R had the Rams on the ropes, they bounced off when Francis connected with Tyneil Cooper for an 84-yard touchdown pass.

La Salle applied the clincher when Francis passed his team down the field to a point where Morris was able to bust over from the 3 for a 41-24 lead.

Making a statement: Even though non-league games don't figure into Rhode Island teams' chances of qualifying for the playoffs, the victory was important for the Rams from the standpoint of gaining regional respect.

"I'd say this was a pretty big game," Francis said. "We've played them the last couple of years and lost. We felt this was an opportunity to make a statement about who we are this year and what we're about. So, this was a pretty big deal for us."

LA SALLE 41, BRIDGEWATER-RAYNHAM 24
B-R (3-3) 0-17-7-0 - 24
LSA (6-1) 14-13-7-7 – 41

First quarter
L – Anthony Francis 1 run (Drew Chretien kick)
L – Francis 4 run (Chretien kick)

Second quarter
L – Josh Morris 3 run (Chretien kick)
B – Brandon Gallagher 78 run (Kevin Wadsworth kick)
L – Morris 16 run (kick failed)
BR – Ryan Martin 90 kickoff return (Wadsworth kick)
BR – Wadsworth 35 field goal

Third quarter
BR – Gallagher 24 run (Wadsworth kick)
L – Tyniel Cooper 84 pass from Francis (Chretien kick)

Fourth quarter
L – Morris 3 run (Chretien kick)
September, 8, 2012
9/08/12
10:04
PM ET
BRIDGEWATER, Mass. -- The hits just keep on coming for No. 9 Duxbury.
The Dragons ran their state best winning streak to 27 games with a 20-7 win over No. 8 Bridgewater-Raynham on Saturday. Even after two straight Super Bowl championship seasons and a historically good 13-0 campaign in 2011, Duxbury showed there's no need to revel in the glories of the past.
[+] Enlarge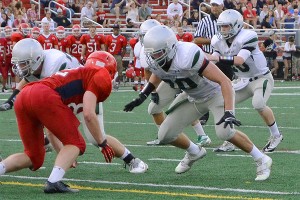 Scott Barboza/ESPNBoston.comDuxbury tackle Rob Kosharek anchors a physical, veteran offensive line that helped Jon Hurvitz run for 208 yards and two touchdowns Saturday.
Once again, they're for real.
Senior running back Jon Hurvitz provided the fireworks, racking up 208 yards on 17 carries with two rushing touchdowns. Despite breaking in a new quarterback, taking over for Matt O'Keefe, junior Sean McCarthy (rushing touchdown) was composed in the pocket and showed a tough nose in the running game out of the shot gun.
On defense, the Dragons looked strong again with linebacker Marshall McCarthy frequently dropping the hammer.
Trojans head coach Dan Buron remarked after the game that his team isn't likely to see a team as talented as their Week 1 opponent – and B-R's schedule is stacked.
In the end, there are simply too many horses to corral.
"Our [offensive] pace, I think, got to them in the second half," said Duxbury head coach Dave Maimaron whose team run at a hurry-up pace in the third. "I thought we could go as fast as we could around them, as much as we could."
A BREAK-OUT YEAR?
Hurvitz gained plenty of game experience last season while featuring at running back for the Dragons after Henry Buonagurio lost most of the season to injury.
He continued the pace in his season debut, breaking off touchdown runs of 22 and 61 yards.
Of course, Hurvitz believes the key to his success has been Duxbury's offensive line, which returns largely in tact this season.
"We've got [Grant] Kramer, [Rob] Kosharek, C.J. [LoConte], who's going to Army next year for lacrosse. We've got [Rick] Lippard and [Jack] Hurlihy, big guys who are all physical. It's fun to run behind them."
Hurvitz just fills in the blanks thereon.
"He doesn't need much room," Maimaron said of Hurvitz, "he just gets a little seam and he can bust it."
BRIGHT SPOTS FOR B-R
Even without the services of running back Arcel Armstead, the Trojans showed plenty of promise on offense, despite coming away with just one touchdown.
Sophomore Brandon Gallagher stepped into the Trojans' tailback role and Buron saw him "grow up" in the game's second half.
"I told him at halftime that he can't bounce to the outside, this isn't freshman football any more. Then, he made some nice cuts in the second half."
Buron also praised senior Jordan Cohen, who made his first varsity start on Saturday. Cohen showed good chemistry with receivers Ryan Martin, Ryan Scripter and Kevin Wadsworth and command of the offense.
"I thought Jordan Cohen, threw the ball pretty well in the second half," Buron said. "The big knock on us is that we can't throw the ball very well, but I thought he showed he could."