Boston High School:

Ryan McAuliffe
July, 14, 2012
7/14/12
10:00
AM ET
Bay State Games communications coordinator Craig Kaufman sends along results from today's plethora of action:

BASEBALL
Southeast 1, West 1
West clinched the Silver Medal by playing to a 1-1 tie with Southeast, who were hoping to put themselves in place for the silver, but ended up settling for Bronze.

Derek Bauer (Millis) drove in Steven Gilbert (Franklin) in the first inning as Southeast took a 1-0 lead and held it all the way to the bottom of the seventh inning, when West, down to their last out, tied the game when Tim Donahue (Westfield) came across the plate and forced extras.

Northeast 4, Central 3
Having already clinched the Gold Medal, Northeast took the field and held off a late Central charge to finish with a record of 4-0-1.

Northeast scored three runs in the third inning, thanks t otwo walks and two singles, the second of which a two-run hit by Nicholas Comei (Bradford). Colton Fontaine (Newburyport) scored in the third and then again in the fourth as Northeast took a 4-1 lead.

Central scored twice in the sixth inning through a two-run single by Jake Ryan (Whitinsville) to pull within a run, but Ryan McAuliffe (N. Reading) stranded two runners in the seventh to shut the door and collect the save.

Coastal 8, Metro 3
Coastal busted the game open in the fifth inning with three straight doubles, the last of which, by Kevin Huscher (Middleboro) drove in two runs. Mike Bruemmel added a two-run single in the sixth inning , while Cody Younger (Middleboro), who went 2-2 in the game, had a two-run single in the third.

Metro tied the game at 3 in the top of the fifth after falling behind. William Mitchell (Quincy) and Alex Joyce (Newton) singled and walked, respectively and Austin Johnson (Arlington) delivered a single to left field.

Final 2012 Bay State Games Baseball Standings:
1. Northeast (4-0-1)
2. West (3-1-1)
3. Southeast (2-2-1)
4. Coastal (2-3) – won the head to head vs. Central, 2-0
5. Central (2-3)
6. Metro (0-4-1)

BOYS' SOCCER
Northeast 3, Southeast 0
Chris Donnolly (Woburn) opened the scoring in the 17th minute on a header from a corner and Conor Leahy (Beverly) doubled Northeast's advantage with a shot from the left side in the 23rd minute. Paul Magazzu (Reading) capped the scoring in the 38th minute, taking a pass from Nick Atwood (Andover) and scoring from the right.

Metro 4, Central 2
Central got on the board first through Lukas Ritzer (Sutton) in the fifth minute, but Metro scored three times without answer, including a direct kick goal from Hilcias Palencia (Chelsea) and the first of two goals on the day from Jadison Medina (Chelsea). Central pulled a goal back in the 60th minute when Tyler Martin (Charlton) converted a penalty kick, but Miranda's second of the day three minutes later finished the game.

Coastal 1, West 0
The lone goal of the game came in the 56th minute, when Coastal's Noah Martins (Dartmouth) curled a bending chip shot in from 12 feet out.

Central 5, Southeast 0
Tyler Martin (Charlton) scored the first two goals of the game, including coring a penalty I nthe 32nd minute and Central shutout Southeast. Ritzer added a goal and assist, Jordan Elster (Sutton) scored and Justin Asam (Milford) had a goal and two assists in the victory.

Northeast 3, Coastal 1
Coastal got on the board first when Timothy Amaral (New Bedford) scored in the 14th minute, but three second half goals, including tallies from Nick Atwood (Andover) and Sean Berube (Wilmington) delivered the comeback victory for Northeast.

West 3, Metro 1
West led 3-0 at halftime after goals by Nicholas Martinelli (E. Longmeadow), Jeff Danek (Ludlow) and Matthew Kolb (W. Springfield), before Metro's Hilcias Palencia (Chelsea) pulled one goal back in the 51st minute.

GIRLS' SOCCER
Central 1, Metro 0
Central's Cierra Dubinsky (Sutton) scored the lone goal in the 35th minute to deliver the slim victory to Central.

Southeast/Coastal 2, West 1
Three goals in the final four minutes of play decided this game, as Southeast/Coastal's Stephanie Striglio (Hull) scored in the 66th and 69th minutes. West pulled back a goal in the final minute, but ran out of time to get a point out of the game.

Northeast 2, Central 0
Megan Cullen (Amesbury) got both the goals for Northeast, scoring in the 44th and 55th minutes. Sophie Draper (Andover) picked up the first assist, with Rebecca Mercuro (Saugus) assisting on the second goal.

Metro 2, Southeast/Coastal 1
Southeast/Coastal's Kelly Couite (W. Bridgewater) scored in the 10th minute on a feed from MacKenzie Gillis (Abington), but two goals from Alexandra Curtain (Winchester) in the first half delivered the final score in favor of Metro.

Northeast 2, West 1
Northeast bookended a West goal with tallies by Carolyn Cook (S. Hamilton) and Megan Cullen (Amesbury), with Rebecca Mercuro (Saugus) picking up both assists. West's goal came from Jordan Bates (Chicopee), with the assist coming from Natalie Caney (Belchertown).

FIELD HOCKEY
Metro/Northeast 3, Central 0
Coastal 3, West 2
Southeast 4, Coastal 0

Boy's 9-10 Basketball
Metro 71 Northeast 66
The Metro squad prevailed over the Northeast squad. The Metro team was led by Keith Burns from Belmont who had 21 points and Christian Lejuene from Waltham who contributed 15 points. The Northeast squad was led by Cody Broges from Dartmouth who had 16 points and Kareem Murrell from Dorchester who had 14.

West 60 Central 45
The West region was led by Jake Ross from Florence who had 18 points and Keith Natale scored 13 points.

Coastal 59 Metro 46
The Metro region was led by Adam Kleckner who contributed 9 points in a losing effort.

Northeast 67 Central 27
The Northeast squad was led by Kareem Murrell who had 18 points and Anthony Gilardi had 13. The Central squad was led by number 11 with 17 points.

BOYS' LACROSSE
Southeast 9, Metro 6
Steve Righini (Weymouth) scored three times for Southeast and Alex Pacitti (Foxborough) added two goals. Kyle Deluca (Weymouth) scored a goal and added an assist as Southeast scored three times in the fourth quarter to break a 6-6 tie. Goalie Keison Cunningham (Weymouth) made 11 stops for Southeast and also helped his own cause with a goal. For Metro, Jack Trottier (Tyngsborough) scored four gaols and Ben Foley (Tyngsborough) pitched in a goal and an assist, while Scott Powell (Swampscott) made 23 stops in a losing effort.

Coastal 11, Northeast 5
Will Mare led the way with five goals for Coastal, who also got three goals and an assist from Ethan McCullough. Mike McCarthy and Sean McNamara combined to make 7 stops in goal.

Northeast was led by Evan Connolly (Peabody) who scored twice and also got single goals from Derek Lawton (Bishop Guertin), John Curcuru (Gloucester) and Ian Kennedy (Gloucester).

Joshua Nelson (Medford) was strong in goal, making 19 saves.

Southeast 10, Central 5
Righini scored six goals and tallied an assist, while Jack Vail (Franklin) scored twice and Jake Sargeant (Franklin) notched two assists. Cunningham and Daniel Sprague (Weymouth) combined to make 9 stops in net.

Central got a goal and an assist from Michael Castellani (Nipmuc Reg.) and two assists from Nicholas Polutchko (Algonquin Reg.) and matched Southeast 2-2 in goals in the second and third periods. Matthew McIntire (Milford) made 13 saves.

Coastal 13, Metro 7
Will Moore (5 goals and 2 assists) and Joe Tyo (4 goals and 1 assist) paced the Coastal squad, with Ethan McCullough pitching in three goals and an assist. Jack Trottier (Tyngsborough) paced the Metro club with four goals, while Scott Powell (Swampscott) made four stops in net.
June, 9, 2012
6/09/12
10:02
PM ET
By
Andy Smith
| ESPNBoston.com
LOWELL, Mass. -- Lynnfield's Chris Lang was hanging tight in the batters box with two outs in the bottom of the eighth inning.
His team had the bases loaded with two outs against North Reading's Riley Warnock. He had already survived a six-pitch at bat to keep his team's season alive.
With the game in the balance still, Warnock threw a pitch on the low-and-inside corner. The umpire put up his hand, ruling then that Lang was out.
[+] Enlarge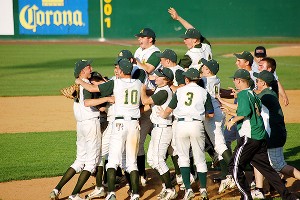 Brendan Hall/ESPNBoston.comNorth Reading needed extra innings but won the rubber match with Cape Ann League nemesis Lynnfield to win the Division 3 North title.
In that moment, Lynnfield's season was over, and North Reading is the Division 3 North champions with its 3-2 victory.
"It was a very, very, very exciting high school game," said North Reading coach Frank Carey. "To Lynnfield's credit, every time they fouled a ball off, I said that's typical Lynnfield. Those guys don't give up, they just don't quit, they don't die. They've won games all year long in the bottom of an inning, or the last at-bat. It's characteristic of them. They had a great season, and it took a great effort on our part to beat that team."
"We don't out-hit anybody, but we got some hits today."
Lynnfield (20-4) struck first when a walk and back-to-back singles plated Carmine DeCesare.
North Reading (20-4) scored a run each of the sixth, seventh, and eighth innings when it needed it the most off Lynnfield's pitcher Chris Dehueile.
Even after No. Reading was getting to Dehueile, Lynnfield coach John O'Brien stuck with his senior in the eighth.
Two singles and a walk loaded the bases, which brought up the No. Reading pitcher Ryan McAuliffe. Dehueile hit him with a pitch, thus walking in the eventual winning run.
"We've had good defense and good pitching and timely hitting all year," said O'Brien. "We just tried to stay one pitch at a time, which has been our philosophy. It's worked all year. Today was the same. We were right there with them and had a couple of chances to break the game open and we did not.
"I would expect nothing less. We play them twice a year and we go to war every time we play them. It's a one-run game every time, and today was the same again. I give them credit, they stuck with it. They got one more run than us, one more big hit than us. It says a lot about them, but it says a lot about my kids that they keep coming back and they keep playing with poise and they play with class. That's what I expect from them and they've delivered all year."
North Reading moves on to the state semifinals to play the winner of tomorrow' South Final between East Bridgewater and Apponequet, to decide who will move onto the state finals.
No Love Loss:
Saturday was the third meeting of the year for these Cape Ann League rivals. North Reading won the season series 2-1.
"Oh my God," exclaimed McAuliffe. "When I found out they won a couple days ago, I was more than pumped. Everyone on my team just couldn't wait to play. We knew it was going to be a great game. I mean, it was 3-2."
It was another chapter in the rivalry that will surely play on in the future.
"The first game this year was a great game, we won 1-0, and both pitchers pitched very well," he added. "Second game, we had already won the CAL title, but they won so they shared it with us. So we came out here pretty made, just played baseball, and we won."
Roster Rule Explanation:
There was about a 20-minute delay in the top of the seventh as the two teams tried to figure out if a player was eligible.
After North Reading's Eric Gordon singled to to start the inning, Carey wanted to pinch hit Shane Driscoll for Michael Brandano. The only problem was Driscoll's number was not on the roster.
On the roster that was submitted to the officials, Driscoll was listed as No. 9, not the No. 24 he was wearing. O'Brien brought the issue to the umpire's attention, who wanted Driscoll called out due to an illegal substitution.
There was much discussion back and forth between the umpires, league officials, and the coaches, but it was eventually determined that Driscoll could pinch hit, as long as he changed his jersey to the No. 9 that was listed on the officially submitted roster.
Driscoll laid down a successful sacrifice bunt, putting pinch runner Jonathan Gravallese on second for the eventual go-ahead run.
"I don't want to blame administration," said Carey. "The kid was on our roster, but he had a different number. We had two No. 9's on the roster. I saw the roster before the game and said, 'This thing is totally inaccurate,' so I made some changes. I tried to get as many of the correct numbers down, and Shane, who is on the roster as a player as No. 9, when he went up, wore No. 24. They claimed that was an illegal player, plus they were alleging that he didn't report in.
"The rules say you don't have to report, it's a courtesy. There's no rule against not reporting in. So I tried to clear that up, and then there was a controversy about the number. They were trying to say he wasn't on the roster. I said he's on the roster, Shane is on the roster. But it got rectified.
"I thought it was a mute, small point. It would've been a shame if because of an administrative error on our roster, that we would've had to take the littlest guy on the whole field and take him out of the batters box and claim that he's an illegal player."