Boston High School:

Ryan Quinn
May, 26, 2013
5/26/13
3:41
PM ET
The Bay State Conference has announced its 2013 boys' lacrosse All-Stars, including its Most Valuable Player -- Nico Panepinto of Needham.

Here's the full list, per Newton North athletic director Tom Giusti:

Editor's note: League all-star lists may be sent to editors Scott Barboza (sbarboza@espnboston.com) or Brendan Hall (bhall@espnboston.com).

Most Valuable Player – Nico Panepinto, Sr. A, Needham

First Team
Nico Panepinto, Needham, Senior Attack
Joey Mariano, Newton North, Senior Attack
Danny Farrell, Norwood, Sophomore Attack
Anthony Wyse, Newton North, Junior Attack
Chris Frye, Walpole, Senior Attack
John Caraviello, Wellesley, Junior Attack
Sam Burrington, Brookline, Senior Midfield
Joe Igoe, Framingham, Senior Midfield
Mike Stearns, Framingham, Senior Midfield
Mikey Panepinto, Needham, Junior Midfield
Mikey Elcock, Needham, Junior LSM
Ned Connolly, Needham, Senior Midfield
Ryan Quinn, Newton North, Senior Midfield
Andrew Volkmann, Wellesley, Senior Midfield
Jack Delaney, Needham, Senior Defense
Zach Kohl, Needham, Junior Defense
Cody Mosgrove, Needham, Junior Defense
Matt Bomes, Wellesley, Junior Defense
T.J. Noonan, Wellesley, Sophomore Defense/LSM
Ryan Andrew, Framingham, Senior Goalie
Jack Curran, Needham, Senior Goalie
Mike Riskind, Wellesley, Senior Goalie

Honorable Mention
Jake Cotton, Framingham, Junior Attack
Brendan Kelley, Milton, Senior Midfield
Mike White, Natick, Junior Midfield
Jack Walsh, Needham, Junior Midfield
Kerry Lyne, Wellesley, Sophomore Attack
Emmett McNamara, Norwood, Senior Attack
T.J. McNicholas, Newton North, Senior Midfield
Ryan MacNeil , Weymouth, Senior Midfield
David Driscoll, Walpole, Senior Defense
Jordan Bayer, Brookline, Senior Midfield
Nick Romig, Dedham, Senior Midfield
Troy Tenaglia , Braintree, Senior Attack
December, 27, 2011
12/27/11
11:10
PM ET


SAUGUS, Mass. -- As far as holiday tournaments go, it's somewhat unusual to find such an important league matchup as Tuesday's Catholic Central Conference battle between No. 13 St. Mary's of Lynn and No. 16 Austin Prep at the Kasabuski Tourney on Tuesday.

The Spartans and Cougars brought a playoff-life atmosphere to a game that remained scoreless through two periods, but was filled with physical play.

Both teams scored on their first shots of the third, but St. Mary's scoring opportunities kept piling up, adding up to a 3-1 victory.

"We've developed a little rivalry over the years and we knew it was going to be a battle until the end," Spartans head coach Mark Lee said.

Scott Corcoran had AP (2-1-0, 2-1-0) to a 1-0 lead seconds into the third with the aide of a perfect cross-ice feed from captain Ryan Quinn.

St. Mary's (5-1-0, 2-0-0) responded with some strong net front presence as Cam O'Neill tipped home his fourth goal of the season.

The score remained tied -- due in no small part to a sensational effort by Cougars freshman goaltender Elijah Harris -- until the final minutes of the game when the Spartans took advantage of the sixth power play surrendered by the Cougars.

"Whenever you take six penalties," AP head coach Louis Finocchiaro said, "with two big ones in the third period … To have two penalty kills in the last six, seven minutes of the game, that hurt us big time."



Spartans senior captain Bobby Mullins netted a power-play marker with 1:52 remaining, leaving the Cougars little time for a counter attack.

Sophomore transfer Jarrod Fitzpatrick iced the victory with an empty-net goal in the final minute with his team-leading fifth goal of the season.

"That's a real goal for us, we want to repeat as league champions," Lee said. "To do that, you have to start with Austin Prep. It's always a battle."

MC ROLLS, FITZGERALD RETURNS
No. 1 Malden Catholic's 8-1 win over Bishop Fenwick saw the Lancers taking things in stride, as usual.

One particular bright spot for MC (3-1-0) though was the return of top line center Ryan Fitzgerald.

The junior assistant captain missed the first four games of the season after nursing a separated shoulder, but made his season debut centering the Lancers' top line along with Brendan Collier (4 goals on Tuesday) and Mike Iovanna.

Fitzgerald got back into the flow of the game with a goal of his own in the second period, although a bit rusty.

"I was pretty winded out there," Fitzgerald said. "The shoulder is fine. It's a just a matter of getting back into game shape. That'll just take a few games."

Getting back into the game will be made easier by his linemates as the Lancers eye a run at a repeat Super 8 title.

"Obviously, I've had the chemistry with Brendan from playing together, but with Mikey I [Iovanna] comig onto the line, I've played with him my whole life, so it's not new. We've had history. It's pretty easy to mesh with those guys. They make it pretty easy."

LYNNFIELD CAPTURES D2 BATTLE
The Cape Ann League and the Northeastern Conference are typically two of the strongest divisions in the state from top to bottom and this year promises to be no different.

So, with two teams looking to make noise in this year's Div. 2 North tournament meeting on Tuesday between Lynnfield and Danvers, Pioneers head coach Vin Mirasolo reflected on a quality win after taking a 5-3 decision over the Falcons (2-2-0)

"The way we look at it, there could be any of about 15 teams in Division 2 that could be the team," Mirasolo said. "I think we're that mix that could, at any day, get it done.

"I like our mix [in the locker room]. It's a good group that's working hard and we continue to improve."

Lynnfield (3-1-0) had its skating legs under them, led by top scorers Dylan Costa, John Festa and Greg Meininger.

But it was the depth the Pioneers exhibited on Tuesday that was most encouraging.

"We got production out of all three lines and then our sophomore goalie [Joe Bassi] made all the saves he had to make. It was a pretty good effort, overall. We're still not where we need to be, but we're getting there."

ONE HOST HOLDS OFF ANOTHER
No. 10 Wakefield used a late charge to beat Saugus, 3-1, in the the day's early game between two teams which call Kasabuski home.

The Warriors (3-1-0) took an early 1-0 lead in the first period with Kevin Doherty cashing in on a broken play. Kurt Roderigues tallied the lone Sachems (1-2-1) goal to tie the game before the period was out.

That's the way it would remain until there was 1:25 remaining in regulation, when Ryan Andrews tallied the game-winner.

Kyle Leone scored an empty-netter to cap it.
May, 26, 2011
5/26/11
11:27
PM ET
The Bay State Conference announced its boys' lacrosse all-stars today, in addition to naming Wellesley goaltender and Penn State commit Conor Darcey as the league's MVP.

Here's the complete list:

First team:
Goaltender - Conor Darcey, Wellesley*
LSM Specialist - Ryan Cassidy, Wellesley*
LSM - Justin Lanzafane, Framingham
Defense - Nate Menninger, Newton North*
Defense - Jake Shearman, Newton North
Defense - Joe Manganaro, Natick
Defense - Jimmy Hughto, Wellesley*
Defense -Matt Ndden, Walpole*
Mid - Mike Stearns, Framingham*
Mid - Cam Brown, Natick*
Mid - Sam Lawrence, Wellesley*
Mid - Charlie Jennings, Wellesley*
Mid - Oliver Saffery, Wellesley
Mid - Mark Riley, Needham*
Mid - Davis Cutter, Needham
Mid - Eli Yannekis, Brookline*
Attack - Peter Crane, Wellesley
Attack - Kyle Guilbert, Walpole*
Attack - Brian Rossman, Norwood
Attack - Matt Hillman, Brookline*
Attack - Will Stenberg, Needham*
Attack - Nico Panepinto, Needham
*Denotes Eastern Mass All-Star

Second team:
Attack - Brendan Kelley, Milton
Attack - Conor Nugent, Framingham
Attack - Nick Foley, Walpole
Attack - Jason Lee, Brookline
Mid - Zack LaFavre, Weymouth
Mid - Ryan Quinn, Newton North
Defense - Matt Kustra, Natick
Defense - Kyle Skinner, Norwood
Defense - Mike Vespa, Needham
Defense - Josh Miller, Braintree
D Mid - Adam Horelick, Wellesley
March, 2, 2011
3/02/11
11:18
PM ET
BILLERICA, Mass. – Before taking the ice in Arlington Catholic's Division 1 North hockey first-round playoff game against Catholic Central rival Austin Prep, Cougars goaltender John Michael Busa told head coach Dan Shine that they would only need one goal.
"He told me, don't worry about it," Shine said.
Busa truly did have everything in control, making 31 saves in the 11th seed's 3-0 win Wednesday night at Chelmsford Forum.
Senior captain Dan Graham took care of the rest with a three-point game, including two goals.
[+] Enlarge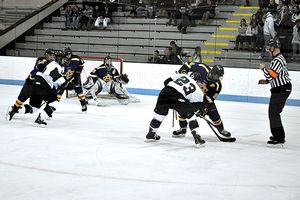 Scott Barboza for ESPNBoston.comJohn Michael Busa made 31 saves and Daniel Graham turned in a three-point game (2 goals) in a 3-0 victory over Austin Prep in the first round of the Division 1 North playoffs.
"It's Austin Prep, so we know each game's a battle," Busa said. "We knew we had to play good defense all game and we couldn't take any shifts off."
Sixth-seeded Austin Prep outshot Arlington Catholic, 12-9, in the first period and got the better of the scoring opportunities.
However, the AC defense, led by Busa, was up to task, killing off two AP power play chances in the first. AP (10-7-4) was held to just one shot combined on those man-advantages.
Although AP again had the higher quality chances in the second, AC (9-5-8) got on the board first. As time expired on an AC power play, senior captain streaked across the blue line, first deking an AP defender out his skates before putting another move on Cougars netminder Nick Luise in close. Graham finished on the backhand to give AC the lead on the unassisted goal with 2:17 remaining in the second.
"They have a tendency to chip it into the middle of the rink," Shine said about Graham's goal, "so I told them if they stay in the middle, they could end up with some chances."
Busa continued to shine during the second, providing several high quality saves. He robbed AP defenseman Michael Guiliano, flashing the pad with a left toe save on a one-timer blast from the point. Busa later robbed Ryan Quinn on a short-handed breakaway.
"He's showing who he really is," Shine said about Busa. "He's been terrific for us the last couple of weeks and tonight, he was playing at a whole different level. He was focused, he was attacking the puck."
Graham added his second of the game 6:46 into the third period, knocking home a rebound from the doorstep off Timothy Conroy's shot.
Jon Byrne added the empty-netter with 25.8 seconds remaining with Graham picking up his third point of the game on the assist. Graham was checked on the play while dumping the puck toward goal at center ice and took an inadvertent stick to the chin. He left the rink with a bloodied jersey and bandaged, but no worse for the wear.
It's all been part of the story for AC, which has been shorthanded of late and is playing without one of its top scorers, Shaun Teeven, who is out for the season with a shoulder injury.
"With Shaun out, that hurts," Graham said. "He was a big part of what we did on the ice. But we've got a great bunch of young kids who got experience throughout the year. So they've definitely stepped up."
AC advances to play Billerica in the quarterfinals.
AP head coach Louis Finocchiaro, while disappointed, took positives from his team's season, which included an appearance on the Super Eight Watch List.
"We outshot them and we did that often this season, but we just weren't a goal-scoring team," Finocchiaro said. "I thought we had effort tonight, but 14 out of our 19 players are first-year varsity players. I thought for the most part this season, we did better than I anticipated. We played pretty well toward the end of the season, but we just needed to be more consistent."
January, 14, 2011
1/14/11
1:16
AM ET
By
Brian Fabry
| ESPNBoston.com
TEWKSBURY, Mass. -- St. Mary's head coach Mark Lee has been around his fair share of goaltenders in his 24 years at the helm. So Lee knows full well when he has a star between the pipes.
No. 8 St. Mary's blanked No. 9 Austin Prep, 3-0, in a pivotal Division 1 Catholic Central League tilt as CC League All-Star goalie, Don Hesse, picked up his second shutout of the season with 14 saves for the Spartans.
While Hesse was rarely challenged in this one, the senior netminder is in his third year as the starting goalie for St. Mary's and was two wins away from his first state title last season. Seems like the Salem, Massachusetts native is just starting to warm up at the right time midway through the season again for Lee's Spartans.
[+] Enlarge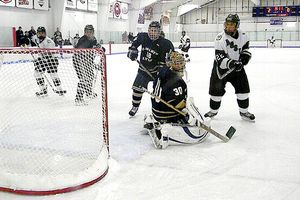 Brian Fabry for ESPNBoston.comSenior goaltender Donald Hesse led No. 8 St. Mary's to a Catholic Central Conference win over No. 9 Austin Prep by notching his second shutout of the season.
"The defense played excellent today, they stepped it up for us," said Hesse. "Keep the momentum going to the next game and so we can actually capitalize because we were a little slow off the start this year."
Other then two wins over St. Bernard's (0-6 overall), St. Mary's was struggling offensively and had settled for three ties within the league against Arlington Catholic, Archbishop Williams and a previous 1-1 tie against the Cougars.
"We've played most of our games starting from behind a goal or two and we have three ties to show for it," said Lee. "But we didn't want to make that same mistake, and we came out strong."
Despite the in-league ties, the Spartans (4-1-3; 3-0-3) remained unbeaten in league play as three different goal scorers helped St. Mary's erase the previously unblemished league record of the Cougars (4-2-1; 3-1-1). Derek Stella and Bobby Mullens potted goals in the first period and freshman Jordan Manthorne put the game out of reach with 1:55 remaining in the second.
"For the first time this year, we played three complete periods of hockey, we worked very hard, and I'm just proud of the guys in this locker room - they deserved that win," said Lee. "We try to keep it simple in all aspects especially in the defensive part of it. The defensive core did a great job with coverage in front of the net and owning the defensive boards limiting their opportunities down low."
Austin Prep got bad news from the get-go as junior forward Ryan Quinn left the game early in the first period with a possible concussion and did not return. Adding insult to injury was Stella, a senior from Revere, and Mullins, a sophomore from Saugus, who scored 32 seconds apart midway through the first period right after Quinn left the ice to shock the Cougars, who held a slim 9-6 shot advantage in the period.
Senior captain Cam O'Neill (two assists) fed a perfect pass to center ice after catching Stella streaking towards the net. Stella came down inside the left slot and once the senior forward got Cougars' junior goalie Nick Luise to commit, the back of the net was easy pickings across the crease with a backhanded score to give Hesse all he needed on the other end at 6:44 of the first period.
Before Austin Prep could even regroup, Mullins potted a wrister sitting pretty outside the right post off the stick of Julian Yourawski. Yourawski slid the puck right behind the Cougars' defense, who were on their heels all night long, right after the ensuing face-off.
"We knew it wasn't going to be over in a period or two and it was going to take a three-period effort. We've been struggling most of the season with putting pucks in the net so it was really good to get up a goal or two early and kind of gave us a little breathing room".
Manthorne's goal came with some extra hard work as Tim Alyward fired a shot from along the boards just outside the face-off circle in the Spartans end. The freshman forward set a perfect screen out in front for Alyward and deflected the shot with his skate only to have Luise (18 saves) stop the redirect initially.
Manthorne spun around and tried to punch in the rebound but settled for the easy backhand on his third try at the net with Luise down on the ice to give St. Mary's a comfortable 3-0 lead in a game the Cougars never seemed plugged into from the start.
Austin Prep had their chances with four power play opportunities but only mustered five shots in total on net during the man advantage. In fact, head coach Louis Finocchiaro pointed out the Cougars had only one shot on net for the entire second period until Nikko Markham picked up a St. Mary's penalty with less than a minute left in the in the seconds stanza.
"I recall one game we've had that the effort has been like that in probably five or six years," said Finocchiaro. "Not to take anything from St, Mary's either as I thought they were disciplined, thought they played a solid game, and I thought they were tenacious on back pressure".
With the win, Lee knows each league win is a step towards the ultimate goal and the goaltending is where the wins start piling up.
"This time of the season – that's the biggest game of the year for us league-wise to stay on pace," said Lee. "I feel like (Hesse) is one of the best goaltenders in the state and he took us to the Division 1 (North) finals last year and we expect big things from him, he's a senior, he didn't disappoint and he really played well and it's like having an extra defenseman out there."
ST. MARY'S (4-1-3; 3-0-3) – 2 – 1 – 0 - - 3
AUSTIN PREP (4-2-1; 3-1-1) – 0 – 0 – 0 - - 0
FIRST – SM, Derek Stella (Cam O'Neill, Cam Kennedy), 6:44; SM, Bobby Mullins (Julian Yourawski, Nikko Markham), 7:16
SECOND – SM, Jordan Manthorne (Tim Alyward, Cam O'Neill), 13:05.
THIRD – NONE
SAVES – SM, Don Hesse (14 saves); AP, Nick Luise (18)
December, 10, 2010
12/10/10
1:10
PM ET
TEWKSBURY, Mass. -- Tim Bennedetto sat in an otherwise empty locker room at the Super Skills hockey complex after practice with his Austin Prep teammates.
The Cougars' senior captain realizes they are going to look much different than they did last year, when they were Super 8 semifinalists. Gone from that team are the flash of forward Brendan Silk, who was welcomed into the U.S. National Team Development Program last year, and goaltender Brendan Leahy.
Coupled with a handful of other prep/private defections since last March, Austin Prep will take the ice a new look in 2010-11.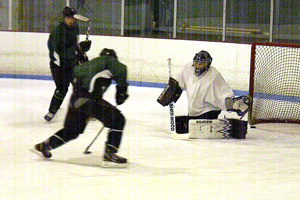 Scott Barboza/ESPNBoston.com No. 5 Austin Prep was Super 8 semifinalists last year, but several key departures have the Cougars a little short in the teeth. However, they have history on their side, having won six of the last eight Catholic Central titles.
That doesn't mean you should count out the No. 5 Cougars though.
"I feel confident going into battle with these guys," said Bennedetto, a resident of Peabody. "I feel we have a good squad here regardless of who stays or leaves. We have a good group of guys."
After going 18-3-3 last year, the Cougars claimed their sixth Catholic Central League championship in eight years. Austin Prep also has participated in the Super 8 tournament seven times in the last 10 years.
Cougars head coach Louis Finocchiaro is no stranger to deep postseason runs, but for now his team is focused on playing their own brand of hockey.
"Even with the turnover that we've had, we still have a good nucleus of guys who've been in our program for a while," Finocchiaro said. "I think once we get to midseason we'll be very competitive team."
To remain among the best in the state, the Austin Prep is going to need players to step up. The offseason departures have left Finocchiaro with a team that's inexperienced in terms of game action. It's up to players like Bennedetto to fill the roles that have been left open.
"We're not going to be the finesse team that we were last year," Bennedetto said. "We're not going to get a lot of pretty goals this year, we're going to have to dump the puck in, work, cycle it, forecheck and get all the goals we can get.
"What it all stems back to is defense. We have to play good defense because a good defense translates into good offense."
The Cougars strength lies on the blue line, where mainstays Riley MacEachern, Shane Hurley and Robby Hardy return. Catholic Central All-Star junior Ryan Quinn will be counted on to lead the attack up front.
"Of course we'd like to get back to the Super 8," Bennedetto said, "but you really just have to come out and play one game at a time, one period at a time, one shift, and just keep short-term goals in mind and not look down the calendar into tournament time."
With a crowded house at the top of the Catholic Central, there are a host of clubs clamoring to assume Austin Prep's perch at the top. Returning Division 1 state champion Arlington Catholic, Archbishop Williams and St. Mary's of Lynn are among the group likely to have a say in who claims the league crown this year.
"It's anybody's ball game," Bennedetto said, "anybody could come out on top."
AUSTIN PREP AT A GLANCE
2009-10:
18-3-3 (Super 8 semifinalists)
Head Coach:
Louis Finocchiaro (98-41-25)
Players to watch:
F Ryan Quinn, Jr.; F Steve Caruso, Sr.; D Riley MacEachern, Jr.
Outlook:
Finocchiaro is looking for the Cougars to build as the season progresses. "I think we're going to feel our lumps during the first half of the season, but I have lot of confidence in the guys that are here and I think that as the year goes on, we'll get better." He has a healthy core of players who are familiar with the Austin Prep system but who are green in game experience, so what the Cougars achieve in 2010-11 is largely left up to their seniors up front – like the line of Caruso, Bennedetto and Scott Corcoran – being able to score consistently.