Boston High School:

Ryan Roach
February, 4, 2014
Feb 4
11:58
PM ET
BROCKTON, Mass. -– Almost as soon as he got on the bus departing the St. Bernard's Activity Center last Jan. 19, the 62-52 loss to the Bernardians still fresh on the mind, Joey Crane wanted a second crack at them.
Tuesday night in front of a rowdy home crowd at Cardinal Spellman, that anguish came full circle –- in fact, it exploded. Crane tomahawked homed a breakaway dunk late in the third quarter that put the Cardinals (13-3) up by 29, the piece de resistance of a 71-36 drubbing that split the season series with St. Bernard's (9-5).
[+] Enlarge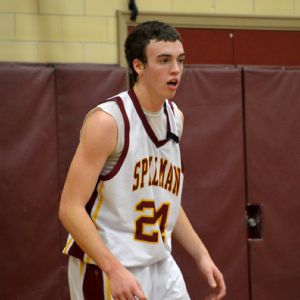 Brendan Hall/ESPNJoey Crane's third-quarter dunk, part of a 17-point effort, brought the house down.
"This feels pretty good. Our other two losses were to Franklin and Mansfield, and we couldn't avenge those because they were one game [in the Shooting Touch Shootout]," said Crane, who finished with 17 points, five rebounds and three blocks. "It feels good to finally get revenge on them [St. B's] in this game."
Added senior point guard Ryan Roach, who chipped in with 12 points and six assists, "We really wanted this one." He then pointed to the student section across the gymnasium and added, "Them just as much as us."
As routs go, this one was a Picasso, and Crane was its master stroke.
The Bernardians were without their star sophomore forward Garrett Stephenson, who injured his right ankle early in last Saturday's loss to Northbridge. And although their own star forward Rory Donovan sat most of the night in foul trouble, the Cardinals were able to take advantage of the absence of Stevenson, who beat up the Cardinals for 15 points in their first meeting.
St. B's came out in a 2-3 zone, and Spellman responded by shooting the lights out, going 4-for-8 from three-point range -- including two from senior Austin Joseph -- as they took a 26-11 lead after the first quarter.
The second quarter saw the Cardinals extend their lead to 40-23 with a series of dazzling plays at both end of the floor. First, Roach pounced on a missed Bernardians' three-point attempt to trigger a fast break, and from there dished a pretty no-look pass to Bryan Barry, who drew a foul on the way up and sank one of two free throws.
Crane then followed up with a block from behind, pinning the ball against the backboard as John Conry attempted a layup. Then on the next trip down the floor, he ripped the ball out of a Bernardian player's grip as he pivoted in the lane, going coast to coast for a layup and 33-16 lead.
"That's something he can do every night," Spellman head coach Mike Perry said. "He's got those kinda tools. He can shoot it, he runs the floor, Ryan [Roach] does a great job finding those guys around the basket, makes real nice passes. If you can score inside and outside, you're gonna be a very good high school player, and I think at the next level he's gonna have that too."
In the third quarter, things truly got untracked.
Up 47-24, Crane dished out of the corner to Joseph, who dribbled along the right wing and then -- seemingly out of boredom -- swung it back to Crane, who drained a three.
A minute later, the Cardinals went vertical. Roach launched an alley-oop from near midcourt to Donovan, who laid in the pass with two hands, for a 54-26 advantage at 4:30 of the third. Then a minute and half later, Crane send the crowd into its loudest frenzy of the night with an authoritative overhand smash, his fourth dunk of the season, to make it 58-29.
"That was awesome," Crane laughed. "And to do it in front of that crowd, it's like nothing else. I was going crazy."
Overall, the Cardinals shot 53 percent from the floor, which included an 8-for-16 mark from three-point range. They also outrebounded the Bernardians 31-23, and outscored them 31-13 over the final two quarters.
Senior Christian LaRoche led St. B's with 11 points, while 6-foot-7 sophomore center Joseph Saba chipped in with 10 points, seven rebounds and two blocks.
Brian Donohoe also had 10 points in the win for Spellman.
Stephenson hopeful to return soon:
St. B's head coach Mark Pierce said that Stephenson will likely miss the next week, possibly two, with the ankle he sprained five minutes into Saturday's contest against Northbridge. The 6-foot-5 Stephenson, a Townsend resident,l is a dynamic inside-out force with terrific post moves, and picked up some additional attention over the offseason from his time playing with the Boston Amateur Basketball Club (BABC).
"Our size is our strength, and obviously losing Garrett hurts us," Pierce said. "We're a different team. Make no excuses, they [Spellman] came out and played very well tonight. But we knew we'd have to work hard on the boards tonight, and then they started hitting three's all over the place and I knew we were in trouble."
January, 25, 2014
Jan 25
1:01
AM ET
Brendan C. Hall
ESPN Boston High Schools Editor

FIRST TEAM

G – Tyler Nelson, Sr., Central Catholic
He's always been one of the state's premier shooters, but his game has evolved this season as he continues to fight through box-and-one's. He has grown up quite a bit in terms of toughness.

G – Dizel Wright, Sr., Putnam
One of the state's best on-ball defenders and the humble kid on an otherwise very vocal team, he sets the tone at both ends of the floor for the state's undisputed No. 1 team.

F – Tyonne Malone, Soph., Putnam
One of several prep school transfers that arrived with plenty of hype, the 6-foot-3 slasher has been an integral force on the wing for the Beavers. Long with plenty of athleticism to get to the rim at will, there's a lot of upside to be excited about.

F – David Murrell, Sr., Putnam
It's an MMA fight at times trying to battle on the boards with the Beavers, and the returning All-State forward sets the tone for one of the state's best rebounding teams.

C – Anthony Green, Sr., North Quincy
One of the best revelations of the 2013-14 season, the late-blooming 6-foot-9 center has showed marked improvement from where he was at this time a year ago. And the Red Raiders have been a large benefactor.

SECOND TEAM

G – Tommy Mobley, Jr., Newton North
Some folks would like to see him become more assertive on the glass, but there is no denying Mobley's shooting ability. He might be the most automatic three-point marksman in Massachusetts.

G – Makai Ashton-Langford, Soph., St. Peter-Marian
If you haven't seen him yet, you are missing out. He is the Guardians' most talented lead guard since Naadir Tharpe, and has backed up the mound of hype behind his high-major potential in this first half of the season.

G – Aahmane Santos, Jr., Catholic Memorial
Santos returned from prep school a much more aggressive –- and visibly faster –- player. At times it seems like he is operating at a different speed than the other nine players on the floor, and that's one of the bigger reasons why the Knights are averaging upwards of 86 points per game so far.

F – Asante Sandiford, Sr., New Mission
Franklin Pierce commit proved a lot to me with the way he battled one of the nation's top big men, Karl Towns Jr., at the Shooting Touch Shootout. The Titans have been absolute piranhas on defense this season, with Sandiford at the forefront.

F – Tyree Robinson, Jr., Durfee
It's been a few years since the Hilltoppers were this good, and I'm not sure how competitive they'd even be without landing this Notre Dame Prep transfer.

THIRD TEAM

G – Giulien Smith, Jr., Catholic Memorial
Like seemingly a half-dozen other Knights, Smith can shoot it. But it's his ability to create his own shot that makes him and Aahmane Santos one of the most dangerous backcourts.

G – Rocky DeAndrade, Sr., Mansfield
The Hornets started the season down three starters to injury, yet they haven't skipped a beat. Credit that to DeAndrade, who has become faster after a diligent offseason.

G – Elijah Rogers, Sr., Brookline
You can make the case for Rogers to be a lot higher on this list. The Warriors had a tough start to the season, but they may have hit their stride. When Rogers is on, it is a spectacle.

F – Gary Clark, Jr., Everett
Arguably the best two-way player on one of the state's most tenacious defenses.

F – Fred "Bam" Rivers, Sr., New Mission
This might be the Titans' best squad since 2010-11, and as the nickname implies, this fearless, wide-bodied 6-foot-4 post is one of the primary reasons. There isn't a player in Massachusetts he's afraid to make uncomfortable. Oh, and he can step out and shoot it, too.

Coach of the Year: Kevin Barrett, North Quincy
A few other names here could fit the bill, such as Mansfield's Mike Vaughan, Fitchburg's Jack Scott or North Andover's Paul Tanglis. But a year ago at this time, Anthony Green was a timid kid who moved gingerly and couldn't stay on the court without getting fatigued or racking up fouls. Now, he's become the Raiders' own "Nerlens Lite", and the biggest reason for their 11-0 start. And while we're at it, raise your hand if you'd heard of Eftham Butka at this time last year (Don't lie). Now, he's the Raiders' most dangerous scorer. All of this speaks to Barrett's commitment to player development, a trait that sometimes feels like a lost art in today's AAU-ficated grassroots culture. That shouldn't be overlooked.

***

Chris Bradley
ESPN Boston correspondent

FIRST TEAM

G - Dizel Wright, Sr., Putnam
The most complete player on the state's most complete team. A built, athletic point guard who can guard a variety of positions and put up double-figure rebounding totals, Wright should be considered a serious contender for Mr. Basketball, as should these next four candidates.

G - Tommy Mobley, Jr., Newton North
The state's most lethal shooter has turned into one of it's best overall scorers. Mobley has lit some of the state's best teams up this year, averaging 20 points per game as Newton North has emerged as one of the best teams in Division 1.

G - Guilien Smith, Jr., Catholic Memorial
In terms of pure scoring ability, there may be no better player in the state than Smith. Smith has deep range on his three-point shot, the quickness to get to the hoop off the dribble, and now the upper body strength to finish. He's a big reason why CM is 12-1.

F - David Murrell, Sr., Putnam
Wright may be Putnam's best player, but Murrell is the glue guy for the state's number-one ranked team. Averaging double-figure points and rebounds, he makes for a superior duo with sophomore Tyonne Malone.

F - Anthony Green, Sr., North Quincy
North Quincy has been one of the state's most pleasant surprises this year, and their do-it-all 6-foot-9 center hes led them every step of the way. Several scholarship-level college programs and prep schools have shown interest in Green in recent weeks.

SECOND TEAM

G - Makai Ashton-Langford, Soph., St. Peter-Marian
His 26 point outbreak against St. John's on Friday night is just another reminder why the 6-foot sophomore is considered to be one of New England's best talents. Ashton-Langford has been the guy who makes the Guardians go this year, averaging 17 points a game.

G - Aamahne Santos, Jr., Catholic Memorial
Santos has had several games where he he never reached double-figure scoring totals, yet he seems to have as much of an impact on a game as any point guard in the state. A super athlete who is also lightning-quick with the ball in his hands, Santos is the key behind Catholic Memorial's high-powered offense.

G - Tyler Nelson, Sr. Central Catholic
Much was expected out of Nelson this year, and for the most part, he has delivered for 11th-ranked Central Catholic. The Fairfield University commit has been the main focus of opposing defenses all year long, yet still manages to hit shots at a high clip.

F - Tyonne Malone, Soph., Putnam
Malone struggled at first to find his fit in an extremely talented Putnam rotation, but he has emerged as one of their best reliable players the past few weeks in wins over Woodstock Academy (Conn.), Springfield Cathedral, Springfield Central, and Northampton. A gifted athlete at 6-foot-3, Malone is already on the radar of several mid-major and high-major Division 1 programs.

F - Tyree Robinson, Jr., Durfee
The transfer from Notre Dame Prep has immediately helped turn things around at Durfee -- a team starving for a playoff appearance after several years of relative anonymity. A standout 6-foot-4 athlete who plays AAU for the Boston Amateur Basketball Club (BABC), Robinson's rebounding motor and elite athleticism have made him well worth the price of admission.

THIRD TEAM

G - Elijah Rogers, Sr., Brookline
Rogers has been the catalyst all year long for Brookline, a team who is 7-3 and looking to build off of last year's playoff run. An athletic point who can also make plays for others, he has proven to be one of the top pure point guards in the state.

G - Erick Rosario, Jr., Lynn English
It has been on Rosario to do a lot of the heavy lifting offensively with counterpart Stevie Collins out injured. A quick, clever combo guard, Rosario has proven to be one of the state's best pure offensive threats--whether it's knocking down outside jumpers or finishing acrobatic lay-ups around the rim.

G - Ryan Boulter, Jr., Mansfield
The lone blemish on the Hornets' 12-1 record is Thursday's three-point loss to Hockomock foe Attleboro, and Boulter has been a big reason why. With star forward Brendan Hill out for the year, Boulter has manged to pick up a lot of the slack offensively for Mike Vaughan's Hornets.

F - Gary Clark, Jr., Everett
Everett has been one of the state's best teams, now at 10-0, and Clark's inside-out offensive attack has helped bring some balance to a high-scoring offense. Playing alongside a loaded Everett backcourt, Clark has excelled playing down low: rebounding at a high-rate and finishing shots in the paint.

F - Fred "Bam" Rivers, Sr., New Mission
Rivers may not look the part of a gifted athlete, but to his credit, he has proven just the opposite so far for Cory McCarthy's Titans. At 6-foot-4, Rivers has the foot speed to guard multiple positions, he has shown that he is one of the best rebounders in the state, and he can even stretch the defense with his feathery three-point touch.

Coach of the Year: Cory McCarthy, New Mission
With a few star players in Franklin Pierce-bound forward Asante Sandiford, sharpshooter Shaquan Murray, and do-it-all forward Fred "Bam" Rivers, McCarthy has been able to build around that trio with one of the state's deepest rotations and stingiest defenses -- giving up just 47 points a game. The 11-1 Titans are as tough an out as any team in the state and they appear to be the favorite statewide in Division 2 midway through the season. Catholic Memorial's Denis Tobin, St. John's Prep's John Dullea, and Mansfield's Mike Vaughan should all be in the conversation for this one, but at this point in the year nobody has gotten more out of their team than McCarthy.

***

John Botelho
ESPN Boston correspondent

FIRST TEAM

G - Dizel Wright, Sr., Springfield Putnam
He's been the best player on the best team in the state all year, and only seems to be getting better.

G - Tommy Mobley, Jr., Newton North
The junior is the best shooter I've seen this year, or in recent memory for that matter. Everyone know the ball is going to end up in his hands and still no one seems to be able to stop him. Has a shot to reach 1,000 points this year with another deep tourney run for the Tigers.

G - Aamahne Santos, Jr., Catholic Memorial
The leader of an explosive CM offense that leads the state in points, Sanots has done a little bit of everything for the Knights. Known for his premier offense, his defense might be even better as he's caused fits for Catholic Conference point guards all year.

F - Fred "Bam" Rivers, Sr., New Mission
He's capable of scoring, rebounding, or playing solid defense on other bigs down low for No. 3 New Mission. Combining with Shaquan Murray and Asante Saniford, Rivers has helped make Mission the team to beat statewide in division two.

F - Ryan Boulter, Jr., Mansfield
Unbeaten Mansfield has looked unstoppable early on despite losing returning All-Stater Brendan Hill for the year to a knee injury, and Boulter might be the biggest reason why. The junior has led an explosive offense -- averaging more than 17.6 per game on a team with four guys in double figures

SECOND TEAM

G - Tyler Nelson, Sr., Central Catholic
Pushing him to the second team was one of the hardest calls to make, but I think it speaks more to the impressive guard play statewide this season than anything else. Nelson is one of the most dynamic players in the state, and a second half surge could push him onto the first team.

G - Rocky DeAndrade, Sr., Mansfield
Second for the No. 2 Hornets in scoring behind Boulter, DeAndrade is capable of taking over games and can score from anywhere. He's poured in over 16 per game so far as the Hornets have cruised to an 11-0 mark.

G - Elijah Rogers, Sr., Brookline
The returning All-Stater has taken his game to another level this year, guiding an offense that can run with anyone. He went off for 28 points to hand Bay State rival Newton North it's only loss, and finding a player in the state who elevates his game for big opponents would be a tough challenge.

F - David Murrell, Sr., Putnam
Returning All-Stater gives Putnam arguably the best 1-2 punch in the state with Wright, and is a major reason they've been atop the rankings all season. He was tremendous at the Hoop Hall Classic last week, netting 27 and grabbing 12 rebounds against rival Springfield Central before going off for 15 points and 15 rebounds against defending Connecticut Class L champ Woodstock.

C - Obi Obiora, Sr., Brookline
The big man averaged nearly a double-double a year ago, and looks like he's headed for one this season. A total game changer on the defensive end, he's also capable of taking some focus off of Rogers on offense.

THIRD TEAM

G - Jack Loughnane, Soph., BC High
His offensive game is an impressive one, and he's among the best 3-point shooters in Eastern Mas. He's the catalyst for the Eagles' offense, and is a major reason they're ranked No. 10 in the state.

G - Markus Neale, Sr., Dorchester
The Bears don't have much in the way of height, but Neale plays taller than his 6-foot-2 frame would suggest. He's a playmaker on both ends of the floor, can score from beyond the arc or by going to the hoop, fights for rebounds and bolsters an athletic Dorchester defense.

G - Ryan Roach, Sr., Cardinal Spellman
A Stonehill commit, Roache has been tasked with running a Cardinals offense that features several players who would be the "go-to" guy on a lot of teams. None of the Cardinals are averaging crazy point totals, but the team is unbeaten in league play. Their only losses have come against Mansfield, Franklin and No. 24 St. Bernard's.

F - Matt Nicholson, Sr., Rockland
Tyler Gibson swallowed up a ton of the publicity for Rockland a year ago, but Nicholson gave the Bulldogs a second very good scoring option. This year, with Gibson and Bryan Tavares graduated, Nicholson has been tasked with being the guy for Rockland, and he's delivered to the tune of 22 points and eight rebounds per game for the 7-3 Bulldogs.

C - Anthony Green, Sr., North Quincy
The 6-foot-9 big man for the unbeaten Red Raiders makes his biggest impact in something that isn't quantifiable through statistics, as the number of possessions he changes on the defensive end is staggering. Coach Kevin Barrett said earlier this year that he was blocking seven shots per game during the tourney last year, and altering at least as many. That means he's single-handedly effecting the outcome of more than 10 possessions per contest, and that doesn't include the way the rest of the Red Raiders defense can play in the faces of their opponents, knowing he's back there as a last line of defense.

Coach of the Year: Bo Ruggiero, Cohasset
An argument could be made for plenty of guys this year, and people like Cory McCarthy at New Mission and Mike Vaughn at Mansfield (being unbeaten despite losing Hill is pretty impressive) certainly deserve some consideration. That said, Ruggiero has put together one of his finest coaching performances, which is saying a lot when you consider he's got more than 500 career wins on the sidelines. The Skippers graduated a 1,000 point scorer a year ago in Shane Haggerty, and lack a star to lean on this season. Guys like Chris Haggerty, Rocco Laugelle, Henry Brown and Joe Buckley have just come together to play good fundamental hoops. They've gone all in on defense, and are allowing a South Shore League best 39 points per game this year. At 10-0, they have to be considered among the favorites, if not the favorite, to capture the MIAA Div. 4 crown this year.
December, 28, 2013
12/28/13
8:36
PM ET


MEDFORD, Mass. –- Mansfield senior guard Rocky DeAndrade had been struggling to find his shot for most of the first three quarters of the Hornets' battle with Cardinal Spellman, in the third annual Shooting Touch Shootout. But when it came around, it put the feisty Cardinals away for good.

DeAndrade, who was 1-for-9 from the field headed into the fourth, orchestrated a 10-3 run to start the frame, giving the Hornets a double-digit cushion over Spellman (4-2) that they would not relinquish over the final five minutes. The Hornets won, 60-47, to sweep both of their Shooting Touch contests this weekend at Tufts University's Cousens Gymnasium.

"He's one of those kids, he just keeps coming at you," Mansfield (3-0) head coach Mike Vaughan said of DeAndrade. "He's not forcing it, he's not turning the ball over a lot, [and] he's not giving up baskets out of turnovers if he does. He's playing really solid basketball right now, I'm very happy with him."

Holding a 40-37 lead to start the fourth, Mansfield freshman Matt Ehrlich knocked down a three-pointer to make it a six-point lead, only to watch Stonehill-bound Spellman point guard Ryan Roach (12 points) fire back immediately with a trey of his own.

That's when DeAndrade got going.

With a 43-40 lead, DeAndrade came down the lane in transition with a hesitation move on a Spellman defender, then floated the ball over him. Two trips later, DeAndrade gathered behind the arc along the left wing, then reset and dribbled to the elbow for a 15-footer.

The next trip down, DeAndrade made it 50-40 with a nifty sequence of events, grabbing a loose ball rolling along the floor in his own end, pushing the ball up in transition, then driving and kicking out to junior Ryan Boulter (24 points, 11 rebounds) at the left wing for an open three.

A few moments later, Boulter took a handoff from DeAndrade and swung to the right corner, beating the shot clock buzzer with a high-arching three that made it 54-43 with four minutes to go.

"We knew we had to pull away, so we had to find the best way possible," DeAndrade said. "Ryan's three was huge, and Matt [Ehrlich] had some huge rebounds for us."

Something they thought they could take advantage of in the second half?

"We started to cut, and then we came back to the middle to cut and find the ball," DeAndrade said. "In the first half, we were just cutting to cut, and then we missed a lot of guys on open looks. "Second half, we focused on cutting with a purpose."

Rory Donovan led Spellman with 14 points and six rebounds, while Joey Crane added 13 points and 11 rebounds.

Rocky vs. Roach: One of the most anticipated individual matchups was between the two points guards, DeAndrade and Roach. DeAndrade was a catalyst for the Hornets' run to the Division 1 State Championship last season, and returns as one of the state's top point guards on a squad that is once again a D1 favorite. Roach, meanwhile, signed with Division 2 Stonehill College during the early signing period last month, and leads a Spellman squad that is among the favorites in D3 across the state.

DeAndrade had just five points, but it was his distribution that keyed the Hornets, finishing with six assists. Roach had 12 points, but was 5-for-12 from the field.

"He's shifty, he's quick," DeAndrade said of Roach. "He can handle, he can score. It was tough guarding him as a player."

No posts? No problem: Much has been made of the fact Mansfield is without three of its starters –- forwards Brendan Hill (knee) and Kevin Conner (hip), and guard Mike Hershman (sports hernia) –- as they begin their Division 1 Eastern Mass title defense. They'll likely be snakebitten for most of the season's first half, as the 6-foot-5 Hill –- a junior, and the reigning Hockomock League MVP -– could be out another month as he rehabs from the knee injury suffered late in football season.

With all that considered, it's fair to question how well the Hornets would rebound in their absence. But not only have Boulter and Michael Boen slid into the forward positions seamlessly, they've thrived in it. They have out-rebounded opponents in all three of their games so far; tonight, the Hornets out-rebounded Spellman 38-24, including an 11-2 mark in the fourth.

"Coming into the season if you had asked me my biggest concern about this team, knowing what we're missing, I would have said rebounding. And ironically, I don't think we've had an opponent out-rebound us yet," Vaughan said. "To me, that's a good sign, primarily because of Boulter and Boen. Boulter has had double-digit rebounds every game. He's going after the ball, he's diving to the floor, keeping balls alive.

"We're doing a good job of team rebounding, too…I think they've made a commitment, knowing that that was going to be a weakness going forward that we were going to have to overcome."

Said Boulter, "Coach [Vaughan] told us over the summer, and during the preseason, that we were going to have to step it up, because Brendan and Kevin were hurt. But we just follow their roles and play great basketball."

December, 27, 2013
12/27/13
4:01
PM ET
By
Andy Smith
| ESPNBoston.com
MEDFORD, Mass. -- Franklin started off its weekend as well as it could, with a 55-48 victory over No. 16 Cardinal Spellman Friday at the Shooting Touch Shootout.
It was just the kind of physical, back-and-forth win Franklin (3-2) needed coming off a 32-point loss to Catholic Memorial earlier in the week.
[+] Enlarge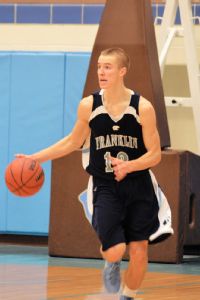 Brendan Hall/ESPNBoston.com Senior guard Chris Rodgers (20 points, 13 rebounds) led Franklin to an upset of Cardinal Spellman in the Shooting Touch Shootout.
"Our No. 1 thing was that we would have to try and outwork them, which is a difficult task because they're a hard working team," said Panthers head coach Dean O'Connor. "We held our own as far as effort. Coming off the last two losses, we're working on getting better. We're really not focused on a game plan as much against a certain team. We're just trying to get better this point in the year. We did show a lot of grit and heart. We were down six and the fourth quarter and came back, so hopefully that's something to build off of."
Franklin took a 27-23 lead into halftime, but it was not without its own self-inflicted issues. It regularly turned the ball over and seemed to be fighting the traveling bug in the first half. Six of its 17 turnovers came from traveling violations.
"That's kind of been an issue the whole season," said senior Chris Rodgers (20 points, 13 rebounds). "We're still working on it. It should be something we can avoid, so we'll just keep working on it in practice. That's all we can do."
Rodgers was a big reason why Spellman's lead never got above six at any point in the game. His effectiveness on the boards prevented any Spellman second-chance opportunities and helped kick-start his team's transition game.
"He was our second leading rebounder last year," said O'Connor of Rodgers. "He's gotten a lot better. His second jump is more explosive. At times he's playing the four for us, even though he's a two-guard. We can go with a small lineup, and we can do that because he can rebound."
Offensively, he was a perfect 8-of-8 on free throws.
Franklin outscored Spellman 15-6 in the fourth quarter to walk away with the victory.
Spellman's Joe Crane lead all scorers with 27 points. He was 6-of-7 from the free throw line.
Breaking Spellman's zone:
Spellman spent the majority of the game in a form of a zone defense. To start the game, it extended its zone out to half court to try and pressure the Franklin guards.
"They were really extending out from all the guard spots," said Rodgers. "What really helped us out was trusting our big men in the middle. Once they started making plays, we figured everything out and everything came together."
Later, it slide back into a more traditional 2-3 zone to force Franklin to play its game on the perimeter.
"We did a good job of skipping the ball and then either taking the open shot or getting the defense to run out at us and playing from there," said O'Connor. "If you keep it on one side against the zone, you're in trouble. That was the key to getting some open looks. Most of our points were off rebounds or transition because they do such a good job in their matchup zone. We solved it a little bit, but I'm glad we don't have to play it again."
Hedge clippers:
In the first quarter, Spellman attempted to set up its ball screen offense and get free cutters rolling to the basket. Franklin initially struggled to defend it, sometimes with both defenders committed to defend the ball handler and forgetting about the player cutting to the basket.
"Their big guys are good and they screen well," said O'Connor. "You're worried about Ryan Roach (3 points) and Austin Joseph (8 points) shooting the ball. We just weren't rotating. They either got their guy to turn the corner (and go to the basket) or they were hitting the guy on the roll because we weren't in the correct defensive position. In the second half, we got a little better at it. They didn't get as many easy hoops off it."
To get the ball handler to commit and make a decision with the ball, the defender guarding the screener jumped out and hedged to cut off the lane to the basket and to try and force the defender to pick up his dribble. That was when the screener would slide his way to the weak side post for an easy layup.
"We weren't hedging very hard, so that was something we needed to work on, but once we started going that, they started getting those rolls" said Rodgers. "It really came together when we had the help side guys really helping out more."
Up next:
Franklin is back in action on Saturday for Day 2 of the Shooting Touch Shootout. It will take on Christian Brother's Academy from Lincroft, New Jersey. The team knows next to nothing about its opponent.
"We don't know much," said Rodgers. "I know they have someone committed to play at Navy next year (Louie Pillari). We don't know anything about them but we'll just come out and play hard. That's all we can do."
August, 4, 2013
8/04/13
10:19
AM ET
By
Paul Lazdowski
| ESPNBoston.com
HANOVER, Mass. –- Even Mike Slonina was impressed.
More than two years since the 20-year old Watertown resident hoisted jumpers for 24 consecutive hours and created A Shot For Life Foundation (ASFL) -– a non-profit dedicated to funding brain cancer research at Mass General Hospital and Boston Children's Hospital -– the former Catholic Memorial School varsity basketball manager was awestruck by his surroundings.
As he stood in the middle of the eight basketball courts that comprise the University Sports Complex in Hanover –- site of Saturday afternoon's inaugural "A Shot For Life Challenge" – the rising junior from Quinnipiac University pronounced, "The amount of shooting talent in this room is . . . it's tough to match. And the fact that they're all doing this, really, to make a good impact on the world, outside of basketball, is awesome. All these kids deserve a ton of credit for this."
When the two-hour exhibition – which challenged 11 competitors to 20-minute intervals of specific shot types, including mid-range jumpers, free throws and three-pointers – concluded between the Commonwealth's top marksmen, Scott Arsenault, who will be a senior at Walpole High this fall, was crowned the "Best Shooter in Massachusetts."
With a large crowd of friends and family looking on, the Rebels two-guard knocked down 90.6 percent of his attempts to better runner-up Shiraz Mumtaz of Brookline High, who finished at an 81.8 percent clip. Newton North's Tommy Mobley placed third with a shooting percentage of 79.2.
Arsenault, who led throughout, also received a trophy and will have his number retired at future ASLF events.
"I was just trying to hit as many as I could in a row," he said. "I knew I was going to get tired because it was for two hours. So, I made sure to stay disciplined and not break my form."
Drawing visions of Jimmy Chitwood -– the lean, smooth-shooting sniper from the film
Hoosiers
-– Arsenault battled through the final half-hour despite "feeling [his] leg kind of giving out."
Such physical ailments were commonplace amongst a field that included Ben Judson (St. John's Prep), Sam Bohmiller (Franklin), Nick McKenna (Danvers), Jake Foote (Duxbury), Ryan Roach (Cardinal Spellman), Mike Nelson (Bishop Feehan), and Tyler Gibson (Rockland), the Massachusetts' Gatorade Player of the Year who will play at Bentley University next season. Vinny Clifford (Danvers) was a late scratch after injuring his knee during a recent pickup game.
"Extremely tired," said Mobley in the competition's immediate aftermath. "I think my right arm is significantly stronger than my left arm now."
Judson acknowledged similar symptoms.
"It was definitely tough," said the Plaitstow, NH product. "My arms and legs were so tired halfway through, but I just had to keep pushing."
Said Bohmiller, who will play at Babson College next season, "My arms are heavy and I'm pretty tired, but I had a lot of fun."
Despite their collective fatigue, there was a general sense of elation that each competitor had pushed themselves to their physical limits for a worthwhile cause.
And though many were aware that what they had accomplished –- regardless of their final stats -– was significant, they also knew it paled in comparison to Slonina's 24-hour shooting marathon.
"It seems impossible to do that," Mobley said of shooting for a full day. "I'm right now very exhausted. I'm probably going to sleep the whole car ride home. And when I get home, I may take a shower and sleep some more. He shot for 12 times longer than I did, so, I mean, doing that 11 more times, back-to-back, I can't even imagine what it must mean. It's incredible that he was willing to work that hard for the cause; it's incredible that there are people out there with that much passion to help others."
Echoed Bohmiller, "No way, I don't know how he [did] it . . . Props to him for 24 hours. That's something special."
Still, Slonina knows that for now his shooting days are over. He's traded in his sneakers for wingtips as he focuses on expanding ASFL and its marquee event each year.
"For A Shot For Life to grow in the way that I want it to grow," he said, "A Shot For Life can't be synonymous with Mike Slonina. It just can't be. A Shot For Life needs to outgrow me in that sense. I [received] a big outpouring of support for the 24 hours; that's great and I appreciated all of it. But I want A Shot For Life to grow to the size of Livestrong. I want A Shot For Life to be nationwide. If it's about one kid shooting over and over, it can't do that. The face has to change."
With Saturday's one-day event already topping $10,000 in proceeds, Slonina understands that there is more money to collect and donate and additional events to plan.
"Raising money is the part that counts," he said. "We raised $10,000 without any corporate help whatsoever. In my mind, I think, we can easily turn that into $50,000. That's with no corporate sponsorship; that's a really good sign."
As for the structure of next year's event, Slonina said, "We're definitely having a dunk contest, I can guarantee that. We're almost going to turn it into an NBA All-Star Saturday where they have the skills competition, three-point shootout and dunk contest. That's what this event will eventually evolve into."
While Slonina will no longer be doing the shooting, it's undeniable that the legacy he created and the standard he set with his courageous effort in April 2011 will endure.
Paul Lazdowski can be followed on Twitter: @plazdow
July, 23, 2013
7/23/13
2:42
PM ET
By
Josh Perry
| ESPNBoston.com
WEST ROXBURY, Mass. -– Mike Slonina has always found solace and strength on the court. In 2010, when he learned that his mother had been diagnosed with brain cancer, the Watertown resident went straight to the Waltham YMCA and shot jumpers for four hours, while trying to process the news. Gratefully, the initial diagnosis turned out to be incorrect and he became determined to try and prevent others from suffering from the hopelessness that he felt that afternoon.
It turned out that basketball would provide more than just a coping mechanism, it also became the method by which Slonina, then a senior at Catholic Memorial High School, would try and fight back.
"I'm one of those people that, when something goes wrong, I feel like I have to do something," he recently reflected. "The thing with cancer is that it makes you feel helpless and that's what makes me so mad. I just wanted to give that hope back and show people that you can make a difference."
He formed a non-profit foundation, trained for several months, and, on April 9, 2011, took to the Ronald S. Perry gymnasium court and
shot jumpers for 24 hours straight
. That day, A Shot For Life Foundation (ASFL) raised more than just awareness about brain cancer; it also raised nearly $30,000 for Mass General Hospital and Boston Children's Hospital.
Two years later, as a rising junior at Quinnipiac University, Slonina has organized another competitive event to further his organization's mission of funding cancer research.
On Saturday, August 3, at the University Sports Complex in Hanover, 11 of the best shooters in Massachusetts high school basketball -- including Rockland's Tyler Gibson, the state's Gatorade Player of the Year -- will fire jumps shots for two straight hours. The winner of the "A Shot For Life Challenge" (to be determined by field goal percentage) will not only be crowned the "Best Shooter in Massachusetts," but will also have his number retired for all future ASFL events.
"I think it's great because you hear so many terrible things happening in youth sports today and here are 11 really tremendous basketball players unselfishly using their talents for a good cause," said Slonina last week during a break in a youth camp that he is helping to run at his alma mater. "It was so great seeing that many young kids embracing it and realizing the good that they can do with basketball."
His own basketball career was cut short in seventh grade by a nerve problem in his ankle, which it was later determined was caused by a bone being in the wrong place, but the game remained a huge part of his life. Slonina was the team manager for the CM team that won the 2008 MIAA Division 2 state championship and, when he needed an outlet for his desire to give back, basketball (and his great jump shot) was a natural fit.
He showed up at CM every morning at 6:30 a.m. to shoot, would lift during lunch periods, and then shoot for hours again after school. He demonstrated the same determination off the court, going door-to-door to raise funds for the event. While Slonina admits that ASFL is not yet raising the type of money that will make a huge difference, he firmly believes that every penny counts. He also believes that this is just the beginning for his foundation.
He explained, "That's what everyone needs to grasp. On a bigger scale, that's what I was trying to do with the 24-hour thing. People kept saying, 'But, you're only one person.' It only takes one person."
Following his feat, Slonina's life changed and the profile of A Shot For Life was at its highest point. He hopes that the foundation, which he loves, can reach that potential again through the August competition and that the players will feel honored to be taking part in the event. There is no question that Slonina is already eyeing the future and placing high expectations on himself and the foundation.
"I want to be the Nike of non-profits," he said with total sincerity and a contagious enthusiasm for what the future holds for ASFL. The inaugural "A Shot For Life Challenge" is still more than two weeks away, but Slonina is already thinking of ways to make it bigger and better in 2014. He exclaimed, "I can tell you right now that next year is going to have a dunk contest!"
Since his record-breaking effort, Slonina and A Shot For Life have inspired countless people and he can recount numerous examples of people that have shared stories that, he says, nearly bring him to tears. An example was a comment from one of his former teammates from the 2008 state title-winning team, who came back to rebound for him that day.
"[One of the players], who was a senior when I was a freshman, told me, 'You don't know how many people you just inspired.' I look up to him, so him saying that...It just means so much to me," marveled Slonina. "I don't want to say a cliché, but it means the world to me."
After several other tries to put into words just what it meant to read the letters and emails that he received after the 2011 event or to have people tell him how about how he affected their lives, Slonina simply shook his head and laughed, "This is the first time I've been speechless in an interview. I don't know how to word it. It's awesome."
The "A Shot For Life Challenge" will take place on Saturday, August 3 at the University Sports Complex in Hanover beginning at 1 p.m. The 11 shooters are: Ben Judson, St. John's Prep; Sam Bohmiller, Franklin; Tommy Mobley, Newton North; Nick McKenna, Danvers; Jake Foote, Duxbury; Ryan Roach, Cardinal Spellman; Vinny Clifford, Danvers; Scott Arsenault, Walpole; Mike Nelson, Bishop Feehan; Shiraz Mumtaz, Brookline; and Tyler Gibson, Rockland.
To donate to the A Shot For Life Challenge,
CLICK HERE
.
March, 13, 2011
3/13/11
12:43
AM ET
By
Matt Noonan
| ESPNBoston.com
BOSTON –- With just 15 seconds remaining in the fourth quarter and the score tied, 50-50, Hopkinton sophomore guard Tess Chandler received the inbounds pass and scored the game winning basket on a layup, as the Hillers edged out Scituate, 52-50 in the Division 2 South Championship at UMass-Boston's Clark Athletic Center.

"After the game, Eric Karjel my Athletic Director came up to me and said, hallelujah for Tess for finishing that off and winning the game," said Hopkinton head coach Rita Atkinson.

The winning basket was something special for Chandler, who finished the game with just four points, since she struggled immensely from the free throw line (2-10), but having the ball in her hands to score the game winner clearly fooled the entire Scituate coaching staff.

"We thought it be going to [Lindsey Doucette] or [Alee Leteria] and [Chandler] made the hoop," said Scituate head coach Brian Buckley. "You have to give the coaching staff a lot of credit because that was a terrific inbounds play."

Starting off somewhat slow, Hopkinton rebounded after a quick 4-0 run by the Lady Sailors, but responded with a 16-2 run of their own and majority of those baskets came on behalf of senior guard Katie Sousa, who knocked down three three-pointers in a row.

Hopkinton continued to add to their lead in the second quarter, but turnovers and missed shots denied their chances to pull away with a larger lead before halftime. Scituate did score 14-points during the second quarter, as sophomore guard Kelly Martin tallied nine points.

"I told the kids at halftime we have to keep the pressure on pushing the ball," said Atkinson.

During the beginning of the final two quarters and leading the Lady Sailors, 33-24, Hopkinton started to struggle to produce points and keep the pressure on Scituate, but constant turnovers kept the game at a standstill for nearly four minutes.

However, their various turnovers did not end up hurting the Hillers, but instead, allowed Scituate to pull closer to Hopkinton, as Martin provided the much-needed spark to her team by tallying five points and senior forward Megan Otto to supplemented her efforts with five points during the third quarter.

Scituate eventually tied the game during the final seconds, as the Lady Sailors outscored the Hillers during the final quarter, 17-13. A major reason that the Hillers were unable to add a few additional points during the final eight minutes was because of their poor free-throw shooting, as Hopkinton connected on just [6 of

Although, Hopkinton eventually drew up the game winner, which allowed Chandler to guarantee that the Hillers would indeed walk out of the University of Massachusetts gymnasium with the MIAA Division 2 South championship, as well as continue their exciting playoff run by earning a trip to the TD Garden.

D3 Boys: Cardinal Spellman 51, Medway 45

Cardinal Spellman tallied 29-points during the second half and eventually pulled away from Medway, as the Cardinals defeated the Mustangs, 51-45.

"It's nice [to win], anytime something like that can happen," said Cardinal Spellman head coach Michael Perry. "They've had a real good year. I think we played good lately. We come out and your tournament ready."

"That's the farthest [Medway] has ever gone in school history," said Medway head coach Jason Rojee. "Nothing to be ashamed of [because] that's a heck of a team."

The Cardinals and Mustangs used the first quarter to test each other's defenses, but also, commit fouls. Medway sent Spellman to line 13 times during the first half and the Cardinals made most of their visits successful, as they recorded 10 points from the free throw line during the first two quarters.

Spellman outscored Medway during the second quarter, as junior forward Joe Glynn tallied nine of his 26 points during the first half, which seemed to frustrate Rojee, as his team seemed unsure of how to cover him on defense. At times, Medway forced Glynn to beat them outside the paint, but unfortunately, the Mustangs defense couldn't stop him from driving into the paint and scoring easy lay-ups.

"The kid hit the shots when he needed too, he rebounded well and he was tough," said Rojee.

Medway though relied heavily upon senior forward Joe Henry, who finished the game with 20 points. Henry challenged the Cardinals defense, as they couldn't stop Henry's outside shooting game.

Entering the third quarter, both teams continued to battle with one another back and fourth, but Spellman would continue to hold onto their lead, as remained consistent at the free throw line, but during the fourth quarter, Glynn added nine points, while his teammates complimented his effort with an additional 12-points.

The Cardinals converted 10 of their 14 trips to the line and a majority of the fourth quarter free throw points came on behalf of Glynn.

With the final few minutes of the fourth quarter coming to an end, Medway attempted a small comeback, which was halted by both Glynn and senior guard Kevin Crane, who secured the win by knocking down free-throw shots, as well as critical three-pointer by freshman guard Ryan Roach.

"The kids have adapted to how they have to step up," said Perry. "Sometimes, somebody else's game is there. It's nice to get the ball around the hoop."

Spellman will advance to the TD Garden on Tuesday to face the MIAA Division III North winner.

When asked after the game if Rojee could see the Cardinals advance to Worcester for the Massachusetts state championship, he responded by saying, "I'd like to see it. Hey, if we're going to lose to them, might as well [win the championship]. They're a very good team."