Boston High School:

Ryan Rose
November, 20, 2012
11/20/12
1:20
PM ET
For the first time in site history, we're pleased to announce that ESPN Boston will honor the top boys' and girls' MIAA soccer player with its first-ever Mr. and Miss Soccer Awards this year.
The winners will be announced on Monday, Dec. 3, but we've whittled down our lists to a final five candidates today.
Without further ado:
MR. SOCCER FINALISTS:
Felix DeBona, Sr. F, Somerville
- The D1 North champions were led by DeBona's 29 goals, including the lone goal against St. John's Prep that clinched the sectional title. DeBona's scoring propelled the Highlanders to 15th in the NSCAA national rankings, a Greater Boston League title, and an undefeated regular season.
Dave MacKinnon, Sr. GK, Oliver Ames
- MacKinnon was named an All-American for his commanding play in net for the Davenport division champions. He gave up only four goals during the regular season with 13 shutouts and was named the Hockomock League MVP. In the playoffs, MacKinnon's save during the shootout helped the Tigers beat league rival Franklin in the opening round.
Nate Pomeroy, Sr. F, Groton-Dunstable
- Pomeroy, who is bound for Brown University next season, notched two goals in the D2 state finals to clinch back-to-back titles for the Crusaders. Pomeroy was named to the All-New England team and named Mid-Wach B MVP this season. He had eight goals in the 2012 postseason run.
Cody Savonen, Sr. F, Nauset
- Savonen led Nauset to the D1 South sectional quarterfinals and eclipsed the 20-goal mark for the season. He had a hat trick in a 3-0 win over Plymouth South that wrapped up the third Atlantic Coast League title of his career and scored the winner in the opening playoff game against Wellesley.
[+] Enlarge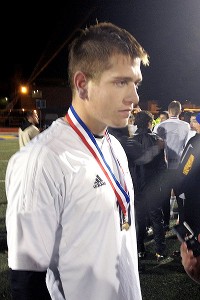 Courtesy of Josh PerryNeedham senior captain Mac Steeve led the Rockets to a Division I state title and is a finalist for our inaugural Mr. Soccer Award.
Mac Steeves, Sr. F, Needham
- The Rockets all-time leading scorer was named an All-American this season and led Needham to the Division 1 state title. Steeves also showed his ability to step up in big games. He scored both goals (and drew the penalty for the second) against Somerville in the state semifinals and scored the winning goal in the state finals against Amherst.
Honorable Mentions:
Osla DeBrito (New Bedford), Mike Lynch (Weymouth), Thayrone Miranda (Somerville), Brandon Miskin (Needham), Ryan Rose (Acton-Boxborough), Justin Rothemich (Sutton), Zach Scafati (Franklin), Stowe Simonton (Concord-Carlisle), Dave Stapleton (Oliver Ames), Brandon Vazquez (Amherst).
MISS SOCCER FINALISTS:
Lauren Berman, Sr. F, Canton
- With over 40 goals this season, Berman was the standout player for the Davenport division champions and a Hockomock League All-Star. Berman's accomplishments earned her All-American status and she will be playing in the ACC for the University of Maryland next season. She finished her career with over 130 goals.
Kristi Kirshe Sr. F, Franklin
- Kirshe eclipsed the 100-goal plateau for her career during the D1 playoffs. She scored in the state semifinal and scored both goals to lead the Panthers to the program's first-ever state title.She is an All-American as well as the state MVP. Compiling more than 30 goals this season, Kirshe helped a young Franklin team to an undefeated season.
Jen Narlee, Sr. M, Medfield
- Narlee is the leader of a very strong defensive unit for the D2 state champions. A physical presence in the center of the field, Narlee does many of the little things that do not get on the scoresheet. Many of the Warriors' opponents saw their attacks snuffed out by Narlee's positional play. That strong defense has helped Medfield win two of the past three state titles.
Andrea O'Brien, Sr. F, Concord-Carlisle
- O'Brien finished her career with over 100 goals and will take her talents to Boston College next year. An All-New England selection and submitted for All-American consideration, O'Brien helped lead the Patriots to a Dual County League title and to the second round of the tournament.
Kimberly Slade, Sr. F, Nashoba
- Slade is one of the brightest stars in the Central region. The senior forward was an All-New England selection and her playmaking ability helped lead the Chieftains to a sectional title and trip to the state championship game, where she scored the team's only goal.
Honorable Mentions:
Kendall Andrew (Oliver Ames), Mimi Borkan (Medfield), Jillian Cavanaugh (Belchertown), Taylor Cogliano (Franklin), Laura Courtney (Nashoba), Hayley Dowd (Peabody), Caitlin Harty (Beverly), Maddie Jolin (Bishop Feehan), Alexa Poulin (Central Catholic), Kayla Steeves (Needham).
September, 25, 2010
9/25/10
11:31
PM ET
By
James Walsh
| ESPNBoston.com
CONCORD, Mass. -- The fourth annual "Kicks For Cancer" took place Saturday with the promise of two great matches, but raising money for Dana Farber was the main goal. The two games are played in memory of Lois Wells, mother of Concord-Carlisle assistant coach Steve Wells, who lost her battle with cancer in the spring of 2007.
The following soccer season, members of the C-C's boys soccer team wanted to show their support for Coach Wells and played a game in honor of Lois. "Everybody wanted to do something to reach out and do something to help him," Patriots head coach Ray Pavlik said. "After talking about we came up with this idea to say thank you to him and to help him and his family remember his mom, and to give back."
[+] Enlarge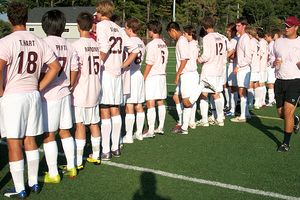 James Walsh for ESPN.com Kicks for Cancer participants paid tribute to the late Lois Wells in a variety of ways, including pink uniform tops bearing the last names of loved ones who have suffered from cancer.
Four seasons later, the event has raised around $28,000, with all proceeds going to the Dana Farber Cancer Institute to support woman's cancer research.
"It really is a great night," senior captain Aaron Nickelsberg said. "Just to share with Coach Wells and his Family and everyone who suffered from cancers is fun."
The night featured two Dual County league matchups, with C-C opposing Lincoln-Sudbury and Acton-Boxborough facing Wayland. All teams wore either a pink or light blue jersey to honor the event. Each player and coach also wore the name of a loved one on their jersey who has suffered from cancer, which Senior midfielder Seth Bird thought was the most significant part of the night.
"Having that name on the back of your jersey and that new factor it adds to the game," Bird said. "And to see the event grow has been unbelievable."
"It's truly amazing," said Steve Wells, a 1999 graduate of C-C. "It means so much to me, my family, my friends and all my mom's friends who knew her. It keeps her memory alive."
And his players couldn't be happier to give back to Wells.
"He's been absolutely amazing," said senior goalkeeper Cam McGory. "He would do anything to be out there with us, he even runs every fitness with us."
With all the night's happenings, it was almost an oversight that four of the top five teams in the Dual County League were playing important matches.
A-B moved to 3-0-2 on the year with its draw against Wayland (4-0-1), which dropped points for the first time this season. The Colonials got the scoring started with 20:53 remaining in the first half, when senior midfielder Max Kashin knocked in the opener off of a long throw in. But Wayland equalized a little over three minutes later, when Dan Lesser headed one past Alex Green.
Less than eight minutes after the re-start, Wayland went in front thanks to an Ian Satck strike, after a nice feed from Griffan McGrain, the senior forward feeding the senior defender for a change. With 24:26 remaining in regulation, Alex Goldman tied things for the second time, but it was short-lived as Nico Pascual-Leone banged one in after another long throw in.
Then it was time for some controversy, as the referee awarded A-B a penalty with just 2:52 remaining, and sophomore Ryan Rose coolly placed the penalty in the top right corner.
"I'm pretty confident when I take PK's", Rose said after the match. "I knew where I wanted to put it the whole time, and I got it in. Wayland's a Good team, it was a scrappy game, a tie is a good result."
The other game also had a dramatic finish. L-S (2-2-0) scored the first goal in the 14th minute, when Malcolm Joseph banged home the goal after a Eric Gandrup shot deflected out. It was the first goal scored against the Patriots all season. In the 68th minute, Will Toczylowski scored to get the Patriots (4-0-1) on level terms, but L-S almost went in front 2-1 three minutes later when Connor Jacobson beat Cam McGory. However, the goal was called back on offsides.
So instead, it was Mikey O'Brien who scored the winner in stoppage time to give the home side the 2-1 victory in dramatic fashion.
"It was pretty amazing," O'Brien explained after the match, "I thought we played well all game, even though we started off a little slow. But then, even when you're tired the adrenaline kicks in and you just go for every ball that kicked, you just go right at it. It came to my feet, and I got a little lucky."
Lucky or not, the win puts Concord-Carlisle in a tie for first place with Wayland in the Dual County Small.