Boston High School:

Ryan Smith
February, 17, 2014
Feb 17
10:31
PM ET


FALMOUTH, Mass. – Archbishop Williams certainly loves their props. When the Bishops win, the game's top player gets to wear the ugly jacket, a piece of clothing that would make Macklemore pause at the thrift shop.

The Bishops' hardest worker in the game dons the hard hat, which has more dents in it than a sheet of ice before the Zamboni gets to it.

At the Falmouth Ice Arena on Monday, hometown boy Mike Jessman got to wear the mint green paisley jacket after he scored twice against Arlington Catholic to pace the Bishops to a 4-1 win at the Buddy Ferreira Classic.

Nick Menzel also scored and Kyle Leonard added an empty-netter as the No. 11 Bishops (11-5-3) earned a key victory over the ninth-ranked Cougars (12-6-1) in the teams' third meeting of the season.

Senior goalie Steve Jenner left the locker room with the beat up hard hat and a smile. Jenner stopped 29 of the 30 Arlington Catholic shots on net and kept his team in the game over the first two periods before his team exploded for three goals in the early part of the third period to turn a 1-0 deficit after two stanzas into a victory.

"When he's played, he's either really hot, or not," Archies head coach Derackk Curtis said. "He was hot, and he was real good."

Jenner's teammates meandered through portions of the first two frames, but brought their "A" game for the third period. Jessman popped a pair past John Richard over a span of about three minutes to turn a 1-0 deficit into a 2-1 lead. On both occasions, Mike Sorrenti played a key role in his linemate's success.

With Super 8 implications for both teams, Jessman said that Curtis asserted the importance of his team playing well in the third period during the second intermission.

"Coach basically told us that if you want to have a shot at the Super 8 it's going to come down to them and us in the rubber match," Jessman said.

Just 50 seconds into the third, Sorenti forced an Arlington Catholic turnover in the right wing corner, came away with the puck and sent it to the slot. Jessman one-timed the feed low to the far side to tie the game.

On that same line's next shift, they gave the Bishops the lead. Michael Davis' hard work down low created a turnover for the Bishops and he found Sorenti near the net. Rather than shoot at the squared-up Richard, Sorenti slipped a pass to his right where Jessman roofed a shot to make it 2-1 at the four minute mark.

The two markers for the senior gave Jessman three goals in two games here in Falmouth, the town in which he resides full-time. He said to be able to play well in front of his loved ones was special.

"It means a lot, this is where I grew up playing, not in this rink, but in the old Falmouth rink," he said. "A lot of my family comes down for these ones."

Just 82 seconds later, the Bishops scored again to go up by a pair. From the right wing wall, Eric Keefe delivered a great diagonal pass to the far post for Pat Twombley, whose attempt to tip the puck in sent the puck through the crease to the far side. Menzel was on the other side and slammed in the loose puck for some insurance at 5:22.

Jenner faced 10 shots by Arlington Catholic in each period. The only one of those bids that got past him came off the stick of Ryan Smith late in the first period with a hard-nosed effort in front of the Williams net. With AC bringing pressure, defenseman Jack Rogers fluttered a wrister to the cage from the right point through some traffic. Jenner got his right leg pad down in time to halt the initial bid, but Smith raked out the rebound, from a prone position on the ice to put his team on the scoreboard.


February, 16, 2014
Feb 16
3:30
AM ET
FALMOUTH, Mass. – In the words of Arlington Catholic head coach Dan Shine, the postseason started Saturday.

Every year, Falmouth hockey hosts its February vacation tournament – formerly known as the Cape Cod Classic and now known as the Buddy Ferreira Classic in honor of the Clippers' recently retired head coach – and each year there are playoff implications.

That extended to the opening game of this year's tournament, featuring a couple of Super 8 tournament hopefuls in No. 9 Arlington Catholic and No. 17 Duxbury.

Yet, in the early going, only one team answered the bell to start the prelude to the postseason, as the Dragons ran out to a 3-0 lead early in the second period. While AC woke up to mount a comeback at the midpoint, Duxbury endured with a 5-3 win.

With it, the Dragons – a Super 8 Watch List team – turned in a critical victory in enhancing their resume ahead of next Saturday's selection meeting.

"One of the goals we set every year is to play meaningful games in February," Dragons head coach John Blake said, "and there's no better tournament than here to get you ready for the postseason than here. And I thought the guys came out today and played one of our best games of the year."

Shayne O'Brien contributed to the Dragons' fast start, as part of a three-point game (1 G, 2 A).

O'Brien had Duxbury (13-2-3) on the board at 3:27 with an unassisted goal, before adding an assist on Matt Murphy's first of two goals on the day at 13:06 of the second.

Senior forward Scott Whear extended the Dragons' lead to three at 2:10 of the second period. After an AC defensive zone turnover, Whear collected a loose puck at the top of the circles, walked in and finished through the 5-hole.

The Cougars (12-5-1) began their climb back at 4:45, when Ryan Tierney put back the rebound of his own shot. AC then closed the period with a modicum of momentum as Ryan Smith guided in a perfectly laid pass from the point by defenseman Brian Goggin at 13:27.

However, the Cougars' swing in play didn't carry over to the third.

"After being down 3-0, I was pleased we were able to get back in the game," Shine said. "But when we got it to 3-2, we didn't take it to the next level. But then we got bit by the bear. Giving up that goal 30 seconds into the third, that's a killer – the air comes out of the tires."

Just 32 seconds into the third, Dragons blue-liner Shawn Errasti pinched down low behind the AC net and placed a feed to the slot on the stick of Nick Marrocco, who buried the one-timer.

The Cougars kicked back once more a minute and 10 seconds later on an Aaron Cook goal.

But AC was never able to draw even against Dragons netminder Tucker Kelly (19 saves), as Duxbury added a last-minute, empty-net goal by Murphy.

"This tournament always answers a lot of questions, who's on the bubble, who's in, who's out," Blake said. "We just want to be playing our best hockey right now."

Which is why Saturday was that much more frustrating for the Cougars.

"Everybody's fighting for a spot somewhere," Shine said. "Whether it's a seed in the D1 tournament, or a bubble team trying to get into the 1A tournament, or the top six, wherever you are, every shift is critical."

A game-changing stop: Duxbury advances to meet South Shore rival Hingham in a second-round game on Monday – and it should be another classic as the Harbormen need to win out to qualify for the Division 1 South tournament.

But Saturday's win could have come down to one momentous stop from Duxbury's senior netminder.

With AC threatening to even the score in the second period, Kelly shut the door on one of AC's snipers in the final minute. Tierney raced in alone on Kelly, trying to stuff a back-hander short side. But Kelly got just enough of his pad on the shot to slow it short of the goal line.

It was one of his biggest saves of the year, which have increased as the season has progressed.

"He's gotten better as the year's gone along and he's gotten more and more confident," Blake said of Kelly.
January, 30, 2014
Jan 30
3:26
AM ET


CANTON, Mass. – The stage was set on Saturday for Arlington Catholic head coach Dan Shine to collect his 500th career victory in the sweetest of fashion – against Catholic Central rival Austin Prep.

Then, AP scored three third-period goals to grab a commanding lead atop the division standings and leave Shine stranded at No. 499.

While the sting endured, No. 8 AC had another chance at delivering their coach to the elite milestone against another league rival in No. 16 Archbishop Williams, Wednesday night at the SpotsPlex. This time there would be no third-period letdown, as the Cougars started fast behind three power-play goals, en route to a 5-2 win over the Bishops.

"To give up three third-period goals, that only motivated us more to get this one," said AC junior forward Ryan Spagnoli, who capped a hat trick with an empty-net goal. "We came out flying. We really wanted to get it for him, he does everything for us.

The Cougars (9-2-1, 4-2-1 Catholic Central) scored on each of their first three power-play opportunities through two periods, as both teams combined to score on five consecutive man-advantages.

Ryan Tierney put AC on the board at 8:38, with Ryan Smith providing a centering pass from below the goal line.

Just about two minutes later, Spagnoli tallied his first of three on the man-up, deflecting senior defenseman Brian Goggin's point shot at 10:44.

"It was interesting because that's not the power play we practiced yesterday and we tried something completely different," Shine said.

However, Archies (6-4-2, 3-3-0) responded with a power-play goal of its own before the period was out, with Mike Sorrenti netting his first of two goals at 13:38.

The Cougars reestablished their two-goal lead midway through the second with yet another power-play goal. Tierney grabbed his second of the game at 6:23 before Sorrenti responded with his second goal on the Bishops' man-up.

Spagnoli added his second of the game with 2:20 remaining in the second period; it marked the first goal either team scored at even strength.

He added his third on an empty-netter with four seconds to play, as Tierney gave up an opportunity to score a hat trick for himself, instead dishing to his linemate.

"That was very unselfish from my linemate Ryan Tierney to get me that empty-netter," Spagnoli said. "I was happy about that."

One for the books: Although AC had hoped to deliver an extra-special No. 500 for their coach against Large division leader AP, the group refocused for Wednesday and the task of playing another tough league game.

"We came off a tough loss to Austin Prep on Saturday and the kids felt that for a couple of days," Shine said. "And I think they wanted to make a statement tonight."

The Cougars also found themselves in a familiar situation, with a two-goal lead entering the third period against Archies.

But, unlike the AP affair, AC clamped down in the third, with its forwards eagerly disrupting passing lanes and sliding to the ice to block shots.

Whatever was left was smothered by goaltender John Richard (19 saves).

"It was a tough game against Austin Prep, we couldn't hold them in the third period," Tierney said. "But it was good to come back against Archies, bounce back, we've been waiting a while. We knew this was important to Coach [Shine], we wanted to get it and we were able to get that win for him."

It's the kind of performance Shine has come to expect from the group this season.

Aside from the aberration against AP, this AC squad has prided itself in consistency.

"Coming into the season, we had a lot of high hopes for this group and they've really answered the bell," Shine said. "Hopefully, we have a few more down the road that we can answer to and stay in the hunt."

To that end, the Cougars have worked themselves into the Super 8 tournament conversation and – if the season ended today – could carry the second nomination for a CCL team at the selection table. For a season already marked with a historic accomplishment, in Shine's testament to building a consistent winning program, it would just enhance an already sweet year.

"I still enjoy it and have a good time, and I think the kids enjoy it," said Shine, who's now coached for 36 seasons. "We have a lot of people involved in it and a lot of players through the years that have been a part of it. I'm just thankful to have the chance to coach at the school and coaches these kids."

And, in return, their coach is enriched.

"It helps keep you young when your around teenagers all the time," Shine said.


January, 25, 2014
Jan 25
11:14
PM ET
By
John McGuirk
| ESPNBoston.com
ARLINGTON, Mass. -- The postseason is still a few weeks away, but Catholic Central League rivals Austin Prep and Arlington Catholic may have given the large throng of vocal fans inside Ed Burns Arena Saturday night a taste of things yet to come. We can only hope the dramatics that were on display will be seen again in late February.

Arlington Catholic was in control of a two-goal lead through the first 30 minutes only to watch in anguish as Austin Prep stormed back with three unanswered third period markers to squeak out a 3-2 triumph.

"It shows we've got some character," Austin Prep head coach Louis Finocchiaro said. "This is a tough building to come into and win a hockey game in. Not to mention going into the third period losing 2-0. The kids showed no quit and those are the type of kids you want on your hockey team. We played a God-awful second period but were able to rebound in the third. We just need to find it for three periods instead of one."

Sophomore winger Mike Egan's goal at 12:12 proved to be the difference as No. 3 Austin Prep, winners of five straight, improve to 8-2-2 and 5-0-2 in the CCL. Egan's tally was the pinnacle of a dominating closing period by the visiting Cougars. For the first two periods, Austin Prep's offense was at a standstill as ninth-seeded Arlington Catholic (8-2-1, 3-2-1) was in constant check mode, knocking Austin Prep off its skates along the boards and in the open ice.

In between, the hometown Cougars were able to find the back of net twice. At 10:05 of the first period, forward Ryan Tierney got a gratuitous bounce of the puck off the blocker of Austin Prep goaltender Elijah Harris and swiftly knocked it past the junior while on the power play. Despite being out-shot in the frame, Arlington Catholic dictated the tempo for much of it.

Junior Ryan Smith increased Arlington Catholic's lead to two goals at 8:40 of the middle period. The goal was set up by sophomore forward Andrew Somerville, who stole the puck along the left half wall, skated behind the Austin Prep goal and dished a pass to Smith in front of the net, who sent a one-timer past Harris (21 saves).

"During those first two periods I thought we played as well as we had in a long time," said Arlington Catholic head coach Dan Shine, who was denied career win No. 500 and will try again on Wednesday when Arlington Catholic travels to Archbishop Williams. "Credit to Austin Prep, they were down 2-0 and waited for their opportunities to capitalize. It was a great high school hockey event and obviously our kids are disappointed. I told them that we have to learn from this, be willing to accept what happen and move on from it. We can't do anything about tonight. It's over and we have to be ready for Wednesday. As much as we took it to them in the first two periods they obviously took it to us in the third."

Shine, who celebrates a birthday on Sunday, downplayed the quest for 500, stating he is more concern about his team attaining victories and doing well in the postseason instead of personal accolades.

Coming into the third, you had a sense that Austin Prep would not go down quietly. There is too much talent on this club for that to happen. Just 1:24 into the period, Austin Prep proved it. Ryan McDonough, a junior forward, was able poke in a rebound to put his team on the board.

A few minutes later, with Arlington Catholic defenseman Jon-Luke Dee sitting in the penalty box for interference, Austin Prep sniper Bobo Carpenter knotted things at 2-2 with a blast coming from just inside his own blue line that sailed over goalie John Richard's right shoulder.

Suddenly, every ounce of momentum inside this old barn had shifted to the side of Austin Prep.

But it didn't last long. Just seconds after Carpenter's goal, Austin Prep's J.J. Layton (roughing) and Anthony Cieri (interference) were whistled into the box simultaneously giving Arlington Catholic a 5-on-3 opportunity. Austin Prep did a yeoman-like job killing it off.

Then, moments later, Mike Disciullo was nailed for a tripping violation putting Arlington Catholic back on the power play. Once again, Austin Prep rose to the challenge, frustrating Arlington Catholic inside its defensive zone, blocking shots out front and allowing Harris to become a stop-gap between the pipes.

"Our penalty kill was phenomenal at the end," Finocchiaro said. "We rolled into a diamond defense and took the shooter away from the middle and we defended off of the shot. Decent teams will get shots off, especially in 5-on-3 situations. What you have to do is defend off the shot afterwards, clear out, pick up the rebounds and let the goalie get a clear look at the shooter.

"This is a big win for us because it is against a league rival and a big league game. We could've easily rolled over tonight and gotten blown out but we didn't."

With time winding down and all indications pointing to a well-deserved tie by these two state powers, Austin Prep had other ideas. Egan received a long pass from Andrew Cross at Arlington Catholic's blue line and out-worked defenseman Brian Goggin inside the zone toward the net before beating Richard (24 saves) with a backhand shot sparking a wild eruption from the Austin Prep bench. Arlington Catholic worked in vain to notch the equalizer but would be denied as time ran out on them.

"After the second period our coaches told us that we needed to pick it up," Egan said. "We needed to come out and play with more heart. We did that and we were able to finish. After Bobby's goal, the intensity off of that really carried us from there. We just need to continue to play hard from here on out and let things come together."
January, 5, 2014
Jan 5
5:13
AM ET
STONEHAM, Mass. – Any tie leaves the game's competitors wanting more. And in the case of Saturday's contest between Catholic Central Large rivals Arlington Catholic and Austin Prep, both squads could have found things that were lacking.

Arlington Catholic squandered a two-goal lead and had just one power-play goal on seven opportunities with the man-up. On the flip side, Austin Prep took too many penalties, spending too much time holding off AC's rush.

"When you've got to come back after giving up a lead, you have to battle," AC head coach Dan Shine said. "We did that and I'm really pleased with that."

Conversely, AP head coach Louis Finocchiaro's group is looking to find an identity, having compiled an 0-2-2 record in its last four games.

"We're fighting it right now," Finocchiaro said. "We're not playing well, we're not playing with confidence. We can say we have some guys out of the lineup, you try to maintain, keeping things simple and playing as a team, but we're fighting it."

AC (5-0-1, 3-0-1) claimed an early lead with John Rogers' point-shot bomb on the power play at 4:17 of the first. Andy Somerville then padded AC's advantage on a one-timer off of Ryan Smith's feed at 3:33 of the second.

However, AP (3-2-2, 1-0-2) rifled back just 21 seconds later with Cam Russo's first of two points on the evening – a goal at 3:54.

Not soon thereafter, AP stole a bit of momentum as goaltender Elijah Harris (20 saves) shut down Jason Smith's breakaway bid.

AP finished the period on a groundswell, with a Ryan McDonough tally from an extreme angle at the right-wing circle.

AC reclaimed the lead at the seven-minute mark of the second as Ryan Spagnoli beat Harris on a partial breakaway.

But again, AP found a way. Bobo Carpenter tied the score, 3-3, on a short-handed bid with 2:19 to play.

It was the seventh AC power-play opportunity AP was tasked with defending, but after a nice cross-ice feed from Russo (1 G, 1A), the point was preserved.

"We have to build on the positives," Finocchiaro said. "We were down 2-0 and we came back when we very easily could have quit to tie it, 2-2. Then, when we went down 3-2, we didn't quit either. We have to build on that."
December, 31, 2013
12/31/13
1:58
AM ET
BILLERICA, Mass. – The Catholic Central Large race should again prove among the most competitive boys' hockey contests in the state this season, and No. 10 Arlington Catholic will be a big reason why.
The Cougars captured the championship at the inaugural Winter Classic Showcase, hosted at Billerica's Hallenborg Memorial Pavillion, with a 4-0 shutout victory over Andover. In it, AC improved its record to 4-0-0 (following a 4-1 win over Reading in the tournament's first round last week), heading into a key league showdown with Austin Prep on Saturday.
"It was a great win for us, both games," said junior forward said Cougars junior forward Ryan Smith, who was named the Showcase's MVP. "We came in here with a lot of confidence after beating St. Mary's of Lynn in the first game and I knew we had some intensity going. We came out strong with Reading, and we took that into this game."
[+] Enlarge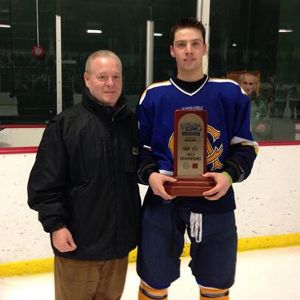 Scott Barboza/ESPNBostonArlington Catholic junior forward Ryan Smith was named the MVP of the Winter Classic Showcase, while scoring the Cougars' first goal in a 4-0 win over Andover on Monday.
Smith provided the first goal for AC on Monday night, tipping home a point shot from linemate Bernie McGovern at 12:41 of the first period.
While Smith took home the hardware after setting up a couple of AC's goals in the previous win over Reading, he emphasized his linemates' commitment to sharing in the goal-scoring responsibilities as a source of strength.
"Bernie [McGovern] and Andy [Somerville] are great," Smith added. "They know where to be when we cycle the puck. Once one person has it, we know the other one is going to be at the net and we just work really well together.
Providing a foil to AC's top line of Ryan Tierney, Ryan Spagnoli and Jason Smith, the Cougars' second unit provided the spark on Monday, combining for six points, with McGovern leading the way with three assists. Somerville chipped in a pretty third-period goal on a 2-on-1 down low, in addition to an assist.
The Cougars controlled time of possession throughout, while outshooting the Golden Warriors (2-3-0) 25-11.
While it largely was a quiet night in AC's defensive zone, Cougars senior goaltender John Richard was called upon to make a few timely and important saves. None was more vital than in the final minute of the second, when Richard stopped Andover captain Mark Campbell on a breakaway, flashing the left toe to take away the bottom portion of the net.
AC went to the room at the second intermission with a 3-0 lead and never looked back.
"Sometimes that's more difficult for a goaltender, when you're not getting as many shots," Cougars head coach Dan Shine said. "He played really strong for us down the stretch last year. We have three, four pretty good goaltenders in the program, but we felt like he was going to be the one going in."
No. 14 Reading 4, Billerica 0
In the tournament consolation game, played before Monday's championship, the Rockets blanked the host Indians behind the second shutout of the season from senior netminder Ian Lapham and a two-goal game from senior forward Mike Thomson.
Reading (4-2-0) halted a two-game losing skid (Arlington Catholic, No. 7 Xaverian) behind a three-point game from junior Sean Verrier (1 G, 2A), who set up both of Thomson's tallies.
Freshman Danny Sorabella kicked off scoring for the Rockets at 2:06 of the first, before back-to-back goals from Thomson, bridging the first and second periods.
May, 29, 2013
5/29/13
12:22
PM ET
WALPOLE, Mass. – Walking away from an 8-7 win over Walpole in a Division 2 tournament preliminary round matchup, Foxborough head coach Matt Noone referred to his team as the "Road Warriors."

His Warriors have proved themselves a worthy adversary on the road during the regular season, and they were want to continue the trend on Tuesday facing the Rebels. They ran with it.

"We took the adversity, we took the seed, and we went, 'alright, let's prove what we can do,'" Noone said.

Despite trailing the Rebels 5-3 at half, Foxborough (13-7) pulled ahead in the third on the backs of attackmen Tyler Ames and Kyle Sperzel, who both tallied hat tricks.

Yet, it all came down to the defense, as Walpole (11-8) made it a one-goal game late in the fourth. In the final minute, with possession and coming out of a timeout, the Rebels cycled the ball around the attacking zone, looking for attack Chris Frye, who'd already scored five goals (for six points) on the afternoon. With less than 30 seconds to play, Warriors senior pole Ryan Smith sealed the victory, forcing a Rebels turnover with a deft stick check.

While the Rebels – in particular Frye – were able to get theirs, the Warriors held (just enough) when it counted most.

"Nice little slap check there," Noone said of Smith's crucial defensive play. "I had Brendan [Lovely] on [Frye] at the beginning of the game, but Brendan was a little too aggressive on him. So I wanted to change it. Lukey [Valenza] ended up on him for a while in the third quarter and then Ryan ended up on him."

However, the defensive struggle against the Rebels began even before the game's start, with Foxborough's coaching staff implementing a zone defense.

"We knew they like the inverts, so we put a zone in today and I think our zone did well today," Noone added.

It was a bittersweet end for the Rebels, in particular Frye – a 60-goal scorer this year who ended the season with a dazzling display of skill and a pure nose for the cage.

"It was a game of runs," Rebels head coach Jason Andalo said. "We made ours early, they made theirs late and we came up one short."
May, 28, 2011
5/28/11
1:37
AM ET
By
Marc Thaler
| ESPNBoston.com
Round-trippers that clear the fence at Campbell High are a rarity. They're so rare, in fact, that nobody associated with the Litchfield school's softball program remembers a single batter going yard.
Correction: Nobody remembers a single batter going yard before May 13.

That's when sophomore designated hitter Chelsea Caynon slugged her way to a career-defining contest. Her 3-for-4 day at the dish included three towering home runs tagged in consecutive at-bats.
"I kind of thought all of them were lucky because nobody has done it before," Caynon of her Friday the 13th fireworks, the last of which was a walk-off that clinched a 13-1 Division III mercy win over Alton's Prospect Mountain High.
Caynon said she was mobbed by teammates after circling the bases for the third time. Her last blast, in the fifth inning, capped Campbell's 13-run outburst over three frames.
Campbell's No. 3 hitter connected in the third, fourth and fifth innings and knocked in five runs. The lasers all landed in the same spot, well beyond the left-field fence stationed 250 feet from home plate.
Coach Laurie Gatherum, in her sixth year at the helm, estimated the shots sailed 260 feet.
"When Chelsea comes up to bat, I get as far away from the third-base box as I can. She's come close to killing me. She's a dead-pull hitter," Gatherum said. "I get as close to the out-of-play line as possible.
"I almost want to warn the third baseman to back up. If she gets a piece of the ball, it's going."
Caynon's powerful performance actually carried into her next game. She went 1-for-3 with a homer against Hopkinton High, giving her four taters in a span of seven at-bats.
But Caynon isn't a stereotypical all-or-nothing power hitter. She closed the regular season with one strikeout in 64 plate appearances.
She also posted a .500 average (28-for-56) with eight walks, five home runs, one triple, 10 doubles, 25 runs scored and 32 RBI. Her production helped the Cougars clinch first place with a 15-1 record.
"I would say she is the best hitter that the program has ever had, as far as consistency and power," Gatherum said.
That's saying something. Caynon is, after all, just a sophomore.
"I wasn't really trying to hit three in row," she said. "I was just waiting for my pitch."