Boston High School:

Ryan Spagnoli
January, 30, 2014
Jan 30
3:26
AM ET


CANTON, Mass. – The stage was set on Saturday for Arlington Catholic head coach Dan Shine to collect his 500th career victory in the sweetest of fashion – against Catholic Central rival Austin Prep.

Then, AP scored three third-period goals to grab a commanding lead atop the division standings and leave Shine stranded at No. 499.

While the sting endured, No. 8 AC had another chance at delivering their coach to the elite milestone against another league rival in No. 16 Archbishop Williams, Wednesday night at the SpotsPlex. This time there would be no third-period letdown, as the Cougars started fast behind three power-play goals, en route to a 5-2 win over the Bishops.

"To give up three third-period goals, that only motivated us more to get this one," said AC junior forward Ryan Spagnoli, who capped a hat trick with an empty-net goal. "We came out flying. We really wanted to get it for him, he does everything for us.

The Cougars (9-2-1, 4-2-1 Catholic Central) scored on each of their first three power-play opportunities through two periods, as both teams combined to score on five consecutive man-advantages.

Ryan Tierney put AC on the board at 8:38, with Ryan Smith providing a centering pass from below the goal line.

Just about two minutes later, Spagnoli tallied his first of three on the man-up, deflecting senior defenseman Brian Goggin's point shot at 10:44.

"It was interesting because that's not the power play we practiced yesterday and we tried something completely different," Shine said.

However, Archies (6-4-2, 3-3-0) responded with a power-play goal of its own before the period was out, with Mike Sorrenti netting his first of two goals at 13:38.

The Cougars reestablished their two-goal lead midway through the second with yet another power-play goal. Tierney grabbed his second of the game at 6:23 before Sorrenti responded with his second goal on the Bishops' man-up.

Spagnoli added his second of the game with 2:20 remaining in the second period; it marked the first goal either team scored at even strength.

He added his third on an empty-netter with four seconds to play, as Tierney gave up an opportunity to score a hat trick for himself, instead dishing to his linemate.

"That was very unselfish from my linemate Ryan Tierney to get me that empty-netter," Spagnoli said. "I was happy about that."

One for the books: Although AC had hoped to deliver an extra-special No. 500 for their coach against Large division leader AP, the group refocused for Wednesday and the task of playing another tough league game.

"We came off a tough loss to Austin Prep on Saturday and the kids felt that for a couple of days," Shine said. "And I think they wanted to make a statement tonight."

The Cougars also found themselves in a familiar situation, with a two-goal lead entering the third period against Archies.

But, unlike the AP affair, AC clamped down in the third, with its forwards eagerly disrupting passing lanes and sliding to the ice to block shots.

Whatever was left was smothered by goaltender John Richard (19 saves).

"It was a tough game against Austin Prep, we couldn't hold them in the third period," Tierney said. "But it was good to come back against Archies, bounce back, we've been waiting a while. We knew this was important to Coach [Shine], we wanted to get it and we were able to get that win for him."

It's the kind of performance Shine has come to expect from the group this season.

Aside from the aberration against AP, this AC squad has prided itself in consistency.

"Coming into the season, we had a lot of high hopes for this group and they've really answered the bell," Shine said. "Hopefully, we have a few more down the road that we can answer to and stay in the hunt."

To that end, the Cougars have worked themselves into the Super 8 tournament conversation and – if the season ended today – could carry the second nomination for a CCL team at the selection table. For a season already marked with a historic accomplishment, in Shine's testament to building a consistent winning program, it would just enhance an already sweet year.

"I still enjoy it and have a good time, and I think the kids enjoy it," said Shine, who's now coached for 36 seasons. "We have a lot of people involved in it and a lot of players through the years that have been a part of it. I'm just thankful to have the chance to coach at the school and coaches these kids."

And, in return, their coach is enriched.

"It helps keep you young when your around teenagers all the time," Shine said.


January, 5, 2014
Jan 5
5:13
AM ET
STONEHAM, Mass. – Any tie leaves the game's competitors wanting more. And in the case of Saturday's contest between Catholic Central Large rivals Arlington Catholic and Austin Prep, both squads could have found things that were lacking.

Arlington Catholic squandered a two-goal lead and had just one power-play goal on seven opportunities with the man-up. On the flip side, Austin Prep took too many penalties, spending too much time holding off AC's rush.

"When you've got to come back after giving up a lead, you have to battle," AC head coach Dan Shine said. "We did that and I'm really pleased with that."

Conversely, AP head coach Louis Finocchiaro's group is looking to find an identity, having compiled an 0-2-2 record in its last four games.

"We're fighting it right now," Finocchiaro said. "We're not playing well, we're not playing with confidence. We can say we have some guys out of the lineup, you try to maintain, keeping things simple and playing as a team, but we're fighting it."

AC (5-0-1, 3-0-1) claimed an early lead with John Rogers' point-shot bomb on the power play at 4:17 of the first. Andy Somerville then padded AC's advantage on a one-timer off of Ryan Smith's feed at 3:33 of the second.

However, AP (3-2-2, 1-0-2) rifled back just 21 seconds later with Cam Russo's first of two points on the evening – a goal at 3:54.

Not soon thereafter, AP stole a bit of momentum as goaltender Elijah Harris (20 saves) shut down Jason Smith's breakaway bid.

AP finished the period on a groundswell, with a Ryan McDonough tally from an extreme angle at the right-wing circle.

AC reclaimed the lead at the seven-minute mark of the second as Ryan Spagnoli beat Harris on a partial breakaway.

But again, AP found a way. Bobo Carpenter tied the score, 3-3, on a short-handed bid with 2:19 to play.

It was the seventh AC power-play opportunity AP was tasked with defending, but after a nice cross-ice feed from Russo (1 G, 1A), the point was preserved.

"We have to build on the positives," Finocchiaro said. "We were down 2-0 and we came back when we very easily could have quit to tie it, 2-2. Then, when we went down 3-2, we didn't quit either. We have to build on that."
December, 31, 2013
12/31/13
1:58
AM ET
BILLERICA, Mass. – The Catholic Central Large race should again prove among the most competitive boys' hockey contests in the state this season, and No. 10 Arlington Catholic will be a big reason why.
The Cougars captured the championship at the inaugural Winter Classic Showcase, hosted at Billerica's Hallenborg Memorial Pavillion, with a 4-0 shutout victory over Andover. In it, AC improved its record to 4-0-0 (following a 4-1 win over Reading in the tournament's first round last week), heading into a key league showdown with Austin Prep on Saturday.
"It was a great win for us, both games," said junior forward said Cougars junior forward Ryan Smith, who was named the Showcase's MVP. "We came in here with a lot of confidence after beating St. Mary's of Lynn in the first game and I knew we had some intensity going. We came out strong with Reading, and we took that into this game."
[+] Enlarge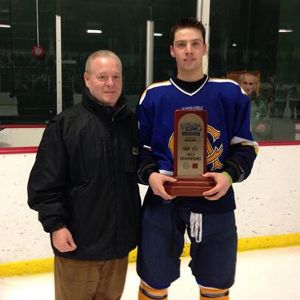 Scott Barboza/ESPNBostonArlington Catholic junior forward Ryan Smith was named the MVP of the Winter Classic Showcase, while scoring the Cougars' first goal in a 4-0 win over Andover on Monday.
Smith provided the first goal for AC on Monday night, tipping home a point shot from linemate Bernie McGovern at 12:41 of the first period.
While Smith took home the hardware after setting up a couple of AC's goals in the previous win over Reading, he emphasized his linemates' commitment to sharing in the goal-scoring responsibilities as a source of strength.
"Bernie [McGovern] and Andy [Somerville] are great," Smith added. "They know where to be when we cycle the puck. Once one person has it, we know the other one is going to be at the net and we just work really well together.
Providing a foil to AC's top line of Ryan Tierney, Ryan Spagnoli and Jason Smith, the Cougars' second unit provided the spark on Monday, combining for six points, with McGovern leading the way with three assists. Somerville chipped in a pretty third-period goal on a 2-on-1 down low, in addition to an assist.
The Cougars controlled time of possession throughout, while outshooting the Golden Warriors (2-3-0) 25-11.
While it largely was a quiet night in AC's defensive zone, Cougars senior goaltender John Richard was called upon to make a few timely and important saves. None was more vital than in the final minute of the second, when Richard stopped Andover captain Mark Campbell on a breakaway, flashing the left toe to take away the bottom portion of the net.
AC went to the room at the second intermission with a 3-0 lead and never looked back.
"Sometimes that's more difficult for a goaltender, when you're not getting as many shots," Cougars head coach Dan Shine said. "He played really strong for us down the stretch last year. We have three, four pretty good goaltenders in the program, but we felt like he was going to be the one going in."
No. 14 Reading 4, Billerica 0
In the tournament consolation game, played before Monday's championship, the Rockets blanked the host Indians behind the second shutout of the season from senior netminder Ian Lapham and a two-goal game from senior forward Mike Thomson.
Reading (4-2-0) halted a two-game losing skid (Arlington Catholic, No. 7 Xaverian) behind a three-point game from junior Sean Verrier (1 G, 2A), who set up both of Thomson's tallies.
Freshman Danny Sorabella kicked off scoring for the Rockets at 2:06 of the first, before back-to-back goals from Thomson, bridging the first and second periods.
January, 13, 2013
1/13/13
12:43
AM ET
By
Josh Perry
| ESPNBoston.com
CANTON, Mass. -- When the first period ended and the score was only 1-0, it felt as though No. 15 Arlington Catholic has missed a golden opportunity to put away its Catholic Central League rival and claim two points.

Archbishop Williams relied on goalie Joe Vinay's 16 first-period saves to stay in Saturday night's physical encounter at the Canton Sportsplex and finished with a strong couple of periods to earn a 1-1 tie.

In fact, Archies (4-2-3) had the best chances to win the game in the third period.

On a quick transition off a Vinay save, junior Mike Jessman paused to allow a defender to slide by before ringing a shot off the crossbar. With 1:46 remaining in the game, the Bishops (4-2-3, 1-0-2) were awarded a power play, but were stymied by aggressive Arlington Catholic defending and a great kick save by goaltender Bryan Hunt.

Cougars head coach Dan Shine credited his penalty kill unit for being able to hold on to the point in the final moments and noted that his team practices blocking shots to be prepared for those situations.

"It's been a strength of ours all season," he said. "It's nice when you know that you have guys that specialize in something and they specialize in that. They love it and they thrive on it and they love to block shots. We keep track of those stats and I'm sure someone has taken the lead tonight."

Sophomore forward Ryan Spagnoli wasted no time giving Arlington Catholic (4-1-3, 2-0-2) the lead when he took hold of a rebound and roofed the opening goal inside the opening 30 seconds. The first period was a shooting gallery for AC, which outshot Archies 17-5, but could not find a way past an inspired Vinay (29 saves overall).

Archies head coach Derackk Curtis spoke afterwards about how important the play of his senior goalie was in keeping the team in the game.

"To be honest with you, he has been playing awesome this year," Curtis said. "He kept us in the game. That's what a good goalie does. He gave us an opportunity to get back in the game and maybe even win it."

After the intermission, Archies stormed back into the game with a strong second period. They outshot AC 9-5 in the period and took the initiative to keep the puck in the Arlington Catholic zone. The pressure paid off when sophomore Tyler Bradford stole the puck at the blue line and slid a shot under the pad of Hunt to tie the game at one apiece.

Curtis admitted to having some choice words for his team at the break and was pleased to see a reaction in the final two periods.

"You look at the maturation process of the players and sometimes the kids come into the game not fully committed to playing the game," he explained. "I want to be clear with the kids that if they go out and play to their full potential, they have the opportunity to do great things. We have a good hockey club and we had to figure it out."

Shine also praised the Archies goaltender and credited his opponents for making it a great league game.

"I thought that it might come back to bite us that we didn't pop another one," he said of Vinay. "Give credit to their goalie, I think he played terrific. I thought we played very, very well. It was a great game between two real good hockey teams. We'll both be in the mix come the end of the season."

Arlington Catholic will travel to Worcester on Monday to face off against St. John's (Shrewsbury) and Archbishop Williams will host St. Mary's (Lynn) on Wednesday.