Boston High School:

Ryan Sullivan
October, 3, 2014
10/03/14
1:09
AM ET


EASTON, Mass. – Inside of the two-minute warning, Oliver Ames was driving and had a goal-to-go, down by a score in the second quarter. The Tigers looked primed to tie Thursday night's Hockomock League Davenport division game against No. 22 Stoughton.

From there, everything snowballed in Stoughton's favor. The Black Knights scored two touchdowns within in the final 28 seconds of the half to propel them to a 40-19 win.

"It changes the game," Stoughton head coach Greg Burke said. "The game was pretty much over at that point."

An interception and a fumble recovery gave the Black Knights (4-0, 2-0 Davenport) two possession within the final two minutes of the half. They capitalized on both them.

Stoughton senior Brandon Swain-Price hauled in an interception with 1:37 remaining in the half. It appeared Swain-Price had a 95-yard touchdown return as well, but a block in the back set up the Black Knights at the OA 11-yard line.

It wouldn't matter, as Stoughton drove the length of the field in a minute and nine seconds, capped Joey Girolamo's 4-yard touchdown run.

The Black Knights had the ball back again with 10 seconds remaining, after the Tigers (1-3, 0-2) fumbled on the first snap of the ensuing drive.

That's when Swain-Price asserted his will again.

"Coach said, 'Just jump up for it and get it,'" he said.

Stoughton quarterback Jake Gibb (6 of 8, 192 yards, 3 TD, INT) then used Swain-Price's mismatch against single coverage to throw a 35-yard jump ball, which the 6-foot-3 senior cherry-picked in the back of the end zone.

In an instant, the Black Knights took a 34-13 lead to the locker room.

"We're still making way too many mistakes," OA head coach Jim Artz said. "We should be tied at the half going in, instead we're down 34-13. Just a little too many lapses, broken tackles."

Stoughton put the game all but out of reach with a score on the opening possession of the second half on an 8-yard touchdown run by Kirby Impoinvil.

The Black Knights had a near instant 6-0 lead as Ryan Sullivan ran back a punt return for a 37-yard touchdown. But OA responded and took a 7-6 lead on a 13-yard touchdown run by Jameson Dixon.

It was all Stoughton from then on, as Gibb and Swain-Price connected for touchdowns on two straight drives with passes of nine yards and 75 yards, respectively.

Go to the big man: Burke and his coaching staff looked to exploit the matchup against Swain-Price early and often Thursday night.

At 6-foot-3 and 185 pounds, Swain-Price plays in tight and split wide – playing tight end on Stoughton's double wing and goal-line formations, and moving to wide receiver on the Black Knights' flexbone and pro-style looks.

"You've got to [get him the ball], he's a tremendous athlete," Burke said. "He can do anything he wants to."

Swain-Price also was opportunistic on defense. The free safety had a prior interception wiped out by a pass interference call before he had what looked to be a 95-yard interception return for a score erased by a block-in-the-back call.

"We're brining each other up when we're down," he said of Stoughton's stout secondary. "If one person gets beat, we all help him out."

And, like Swain-Price's mates in the defensive secondary, he has a top-flight complement in the passing game with Gibb.

"Honestly, it was a great ball," Swain-Price said of his 35-yard score at the end of the half. "I couldn't ask for anything more. He's a great quarterback, the line blocking for him, it was all a team effort."

Road gets tougher: OA suffered its third straight loss following a win over Plymouth North in the season opener. Thursday's loss was compounded by the fact the Tigers might also have lost starting quarterback John McMillan for the season.

McMillan left the game in the first quarter with a lower body injury. He was replaced by sophomore Travis Campbell (8 of 12, 74 yards) performed admirably in his first varsity appearance.

"He's a sophomore thrown into the fire," Artz said. "For a sophomore coming in and that being his first varsity start against a very good football team, not only did he do a good job, he did a great job."

But the Tigers find themselves in some straits while looking to qualify for the Division 3 Southwest tournament. OA entered the weekend's action in the bottom half of the divisional table, looking up a couple of Hockomock teams, including North Attleborough and Milford, along with the Black Knights.

"We're not were we need to be," Artz said, "and we've got a week to figure out because we have to somehow sneak into the playoff picture because right now it's not good enough."
June, 27, 2012
6/27/12
2:04
PM ET
By
Brendan Hall
| ESPNBoston.com
The Northeast squad of the Area Code Games, represented by the New York Yankees, have unveiled the roster they will bring to Long Beach in August, and several locals made the cut.
Saugus native and Salisbury Prep (Conn.) junior righthander Riley MacEachern was among the most notables. Joining him are Lynn Classical sophomore catcher Kyle Devin, Hopkinton sophomore outfielder Ryan Sullivan, and Lynn English lefthander Ben Bowden (who last week was named to ESPN Boston's All-State Team).
To see the full roster,
CLICK HERE
.
December, 14, 2011
12/14/11
6:06
PM ET
With a good number of team's kicking off their hockey schedules on Wednesday night, we thought we'd take a closer look at our
Top 5 preseason teams
, handicapping the field of could-be Super 8 contenders this season:
(All records and stats from 2010-11)
1. Malden Catholic (21-1-2)
Players to watch:
Brendan Collier, Sr. F, 24-39--63; Ryan Fitzgerald, Jr. F, 24-42-66; Mike Iovanna, Jr. F, 10-18--28; Tyler Sifferlen, So. F, 4-7--11; Brendan White, Jr. D, 2-7--9; Colin MacGillivray, Jr. D, 1-7--8.
Key losses:
F Mike Vecchione, D Connor Evangelista, F Nick Roberto, G Pat Young.
The skinny:
The returning Super 8 champions now have the bull's-eye on their backs, and they're OK with that. The Lancers finally finished the season on top, in no small part thanks to the leadership of Vecchione. Now the torch has been passed to Collier, who inherits the "C' this season. The Charlestown native and BU commit leads a re-tooled lineup. However, MC isn't without its questions. Top-line center Ryan Fitzgerald is on the shelf until around New Year's with a seperated shoulder. Catholic Conference All-Star Connor Evangelista is among the offseason defections and leaves a hole at the top of the Lancers' blue line corps. MC will also breaking in junior goaltender Connor Maloney after the graduation of Pat Young (1.33 GAA). On top of that, the Lancers have a new head coach in John McLean, who's filling in for Chris Serino, who's taken a medical leave. Still, for all those questions, there's still an awful lot of talent around with Iovanna figuring to make a big leap, playing the wing spot vacated by Vecchione. Freshman Ara Nazarian is a name that will be mentioned around the state for quite some time.
X-factor:
White and MacGillivray. For all the attention paid to MC's front-line offensive talent, when you get down to the nitty-gritty of playoff time, teams need the horses on the blue line to take control of games. Both are more-than-capable defenders. Fitzgerald's younger sib, Casey, a freshman blue-liner is also a name to watch in the coming seasons.
2. St. John's Prep (18-6-1)
Players to watch:
Sam Kurker, Sr. F, 15-10--25; David Letarte, Sr. G, 2.52 GAA; Nick Pandalena, Sr. D, 2-10--12; Dillon Gargano, Jr. D, 1-1--2; Tyler Bird, So. F, 3-3--6.
Key losses:
F Colin Blackwell, F Shane Eiserman, F John Farrow, D Joe Currie.
The skinny:
Perhaps none of last year's Super 8 field lost more front-line talent than the Eagles. ESPN Boston Mr. Hockey Colin Blackwell matriculated to Harvard and is now tearing up the ECAC. Also, talented freshman Shane Eiserman left for the prep schools. What the Prep returns, however, could also be envy of most teams. It all starts up front with BU-commit Kurker, who's a true power forward in the old sense of the word; the Eagles will lean on Kurker to improve upon his 15-goal campaign last season. The Eagles also lost most of the blue line, with Nick Pandalena the only returner from their top 5. But the Prep is still built from the net out with Letarte returning between the pipes.
X-factor:
Letarte. With a young defense in front of him and possible dip in scoring, it will take an even larger effort from the senior netminder to return Prep to a Super 8 title game.
3. BC High (15-6-3)
Players to watch:
Matt Sullivan, Sr. F; Tom Besinger, So. F; Brian Furey, Sr. D; Peter Cronin, Jr. G.
Key losses:
F Mike Cashman, F Terence Durkin, F Andrew White,
The skinny:
Last year was about the Eagles' return to prominence. Now, this year is all about taking that next step. Still, the roster is young, but they're also battle-tested. "The guys we had last year were excellent leaders," BC High head coach John Flaherty said," now we're asking this group to build upon that moving forward, being leaders on and off the ice." That leadership now falls to Sullivan and Furey. Still, for a unit that's relatively young, there's some talent to be had, including Besinger who was among our Top 5 rookies to watch from last season.
X-factor:
Cronin. The then-sophomore netminder turned some heads during the Super 8 tournament last season, as the Eagles went toe-to-toe with MC in the crossover round. If he can repeat that kind of performance, the Eagles are in good hands.
4. Catholic Memorial (8-10-2)
Players to watch:
Liam Coughlin, Jr. F, 10-11--21; Jared Beckwith, Sr. D, 4-10--14; Shane Starrett, Jr. G, 1.77 GAA; Jack O'Hear, Jr. F.
Key losses:
D Marc Hetnick, F Dan O'Hear, F Chris Stathopoulos, G Tommy Knox.
The skinny:
By far the best team in the state not involved in the playoffs last season. With that said, the Knights were fairly green on the blue line last year and took their lumps. The hope is that they'll learn from those experiences. carrying into this season. CM figures to turn a weakness into a strength this year with a deep D corps led by Beckwith, in addition to returners Kevin Bletzer, Dennis Medeiros, Justin Ryder, Ryan Sullivan and John Allaire. The Knights also figure to be strong in net with Starrett after posting a .968 save percentage last year in nine games.
X-factor:
Coughlin. An ESPN Boston All-Stater, bears watching in his second year with the Knights and could be the breakout performer of the year. He has the talent and size to change the complexion of game. If he applies himself physically, there's no defense in the state who can match him.
5. Woburn (18-5-2)
Players to watch:
Casey Shea, Sr. F, 21-28--49; Danny Holland, Sr. F, 10-14--24; Jake Secatore, Sr. D, 1-12--13.
Key losses:
F Alex Holland, D Brian Dulong, G Cam McGlashing, D Brian Smith.
The skinny:
A year later, we still find ourselves wondering what could've been in the Super 8 tournament -- had the Tanners gotten a couple of bounces here and there. But, as Woburn head coach Jim Duran told us at the time, "Teams make their own luck in hockey." This year, the Tanners hope the luck breaks their way because they don't lack on talent. UMass-Lowell commit Casey Shea will be perhaps the most dynamic offensive threat in the state (save for the top-liners at MC), and Holland isn't far behind. This group can skate and make plays in tight spaces. In a word, they're fun to watch. The Tanners also return one of the steadiest D-men in the state in Secatore.
X-factor:
Sophomore goaltender Jeremy Flibotte. He's tabbed to be McGlashing's replacement in net and saw time sparingly during last season. Can the netminder hold up to the rigors of postseason play? We'll find out.
May, 2, 2011
5/02/11
11:40
PM ET
By
Tom Layman
| ESPNBoston.com


CAMBRIDGE, Mass. -- Dexter School head baseball coach Dan Donato didn't forget the two losses his team suffered last season at the hands of BB&N, apparently neither did the rest of his team.

Donato's club ran it's winning streak to eight games in 2011 after an 8-4 win over BB&N (8-4) on Monday night at Harvard University, which was the site of an exciting extra-innings affair won by the Knights last season.

"We came over here with a little sense of purpose to avenge some of those losses," said Donato.

Dexter used a four-run top of the fifth inning, and tacked on three more in the final two innings to give starter John Magliozzi and relief pitcher Ryan Sullivan breathing room to work. Magliozzi gave up two earned runs and struck out seven in six innings of work, while Sullivan survived the seventh despite watching two runs cross the plate.

The Knights' grabbed the early 2-0 lead after Rhett Wiseman took advantage of some second life in the bottom of the third. Wiseman got jammed, but Pat Curtis couldn't corral the short pop-up despite a valiant diving attempt.

Wiseman smacked the next pitched up the middle by the diving centerfielder to plate Mike Samko and Robert Krentzman.

Dexter started 0-for-4 with runners in scoring position, but finally broke through when freshman Mark Webber singled in Barrett O'Neill in the top of the fourth. Knights' starter Devin Perry was moving through the lineup with five strikeouts in the first four innings, but a blister he developed on the top of his thumb on his throwing hand opened the Dexter floodgates.

Dexter plated four in the top of the fifth, with Curtis coming through with the crushing two-run double to push the lead to 5-2. Magliozzi's sacrifice fly brought home Matt Cuneo in the top of the sixth off of reliever Matt Pugh, and Brendan Fitzgerald later scored on a throwing error as the right-fielder overthrew the cut-off man.

"It came down to some fundamentals and I thought our kids did a good job in those areas," Donato said. "We found a way to battle a good pitcher"

Keeping the runs coming against a very tough BB&N team was very important for Donato, because Magliozzi had to weasel his way out of a bases-loaded jam in the bottom of the sixth and the Knights did tack on two in the final frame.

"I knew we had to, because their bats are that good," Donato said. "In the late innings we were still running, we were still trying to manufacture runs, because I have a lot of respect for what they do and how they play the game."

Life Without Chin
There was a glaring void for BB&N on the mound as Andrew Chin is out for the remainder of the year. The talented lefy, who is expected to play next season at Boston College, will undergo Tommy John Surgery in the next few weeks, according to Knights' head coach Rick Foresteire.

Foresteire has had to do some shuffling, and seeing his new No. 1 starter Perry leave the game with a blister issue was probably the last thing that he wanted to see.

"He just cut it somehow on the top," he said. "It's not anything long-term. He hasn't had a chance to stretch out in the last week or so in terms of innings. I think he threw well. … I think it got a little irritating (for him)."

Perry, Pugh and Brandon Kerrigan will have to fill in for arguably the most consistent starting pitcher in the entire state. The shock of losing the ace of the staff, who helped BB&N go 20-0 last season, is still tough to shake off for Foresteire and the rest of the club.

"It's been tough," he said. "He's a great kid and that's why it's been so tough on all of us. Not only is he talented, but what he's meant to the program. You know he wants to be out there competing, and to not get to see him pitch is sad."
January, 4, 2011
1/04/11
11:08
PM ET
BOSTON -- They were pretty much even, save for about a minute in the first period.

Outside of the third minute of the opening period in Tuesday night's game at UMass Boston, No. 8 BC High was right with No. 3 Catholic Memorial in many regards. But the Knights simply did a better job burying their opportunities in a 3-0 win to open the teams' Catholic Conference slate.

"We've had bad first periods all year," CM head coach Bill Hanson said. "We'd talked about that coming into tonight. We said that we had to win the first period for a change."

The Knights (4-3-0, 1-0-0) jumped on the board 2:36 into the first when Tom Barrett back-handed the rebound from a shot by Harrison Connelly into the back of the net. CM was back at it 13 seconds later when Liam Coughlin scored as a result of some crisp transition passes from Marc Hetnik and Ryan Sullivan.

The quick flourish could've rattled the young Eagles (3-1-1, 0-1-0), but BC High returned stronger in the second period and out-shot the Knights, 11-4.

Still, the Eagles weren't able to finish as CM netminder Tommy Knox stopped 24 shots and collected his first shutout of the season.

"Other than a minute in the first period, I think we competed," BC High head coach John Flaherty said. "We out-chanced them for part of the time. They capitalized, they finished their chances. We didn't finish ours."

The Eagles squandered four power play opportunities in the second period. The CM penalty kill unit was up to the task, consistently disrupting passing lanes, taking away BC High's chances down low and blocking numerous shots before they could reach Knox.

"Tommy Knox is a good goalie, but you have to make sure he isn't able to see the puck," Flaherty said. "I think we allowed him to do that. We allowed him to see pucks, and for him to get in position, and we didn't bang home rebounds that were waiting there for us."

Coughlin was involved again on CM's third goal, scored by Dan O'Hear. On a 2-on-1 break, Coughlin made a perfect saucer pass across the faceoff dots onto the tape of O'Hear's stick with 7:20 remaining.

BLACK-AND-BLUE AWARD
Knights senior defenseman Leo Stapleton doesn't see a whole lot of ice time. That is except for when CM has a penalty to kill. Hanson utilizes Stapleton exclusively on the penalty kill, so he saw plenty of action during the second period when BC High had four stints on the power play. The Southie native sacrificed his body often, blocking six shots and leading a defensive effort that likely would've even pleased Claude Julien.

"It shows that we're playing with courage and that we're being aggressive in our own end," Hanson said about the Knights' multitudes of blocked shots.

That ethos plays into CM's directives a man down, as well.

"We held them to not real good scoring chances," Hanson said. "What we try to do is take away the backdoor play and we did that.
August, 31, 2010
8/31/10
11:50
PM ET
LAWRENCE, Mass. -- In years prior, No. 22 Central Catholic found itself the victim of the critical turnover -- the fumble with a goal-to-go, a costly interception to swing momentum. That translated to a 5-6 record in both 2007 and '08.
In 2009, things just seemed to come around.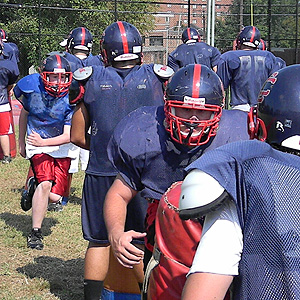 Scott Barboza/ESPNBoston.comCentral Catholic hopes to build on its turnaround season of 2009.
"I've found there's a very fine line between 5-6 and 8-3," Raiders head coach Chuck Adamopoulos said. "Last year, it was a group that just made plays. We had more than a couple times we made a play and came up with a big turnover at a big time in the game.
"In those years before, when we went 5-6, quite frankly, we weren't the team that was doing that."
A collection of tiny moments, small actions stitched together form the fabric of a season. And the Raiders were finally able to take hold of those last year. Such as when Cam Walsh's clutch field goal lifted the then 0-1 Raiders to a dramatic 15-14 win over St. John's Prep in Week 2. From there, Central Catholic ran off a string of six straight victories, putting them in contention for the Merrimack Valley Conference title.
Even after two straight losses (in a squeaker to Methuen and a drubbing administered by Billerica) to dash their MVC hopes, the Raiders rallied to snap a three-year skid against rival Andover on Thanksgiving morning.
It's brought a sense of optimism.
"I'd like for us to finish with a winning record, obviously, first of all," said senior running back and linebacker Trae Musumarra. "But I'd like to think that we can win it all. I'm feeling good about this season, real good. We're young, but I think we're going to make our mark."
If the Raiders are to do so, Musumarra will have to be a big contributor to the cause.
"He's explosive," Adamopoulos said, "he's a good player and we need him to have a big season for us to do well as a team."
It's a heavy weight to bear for the 6-foot, 190-pounder.
Musumarra, who has been clocked running a 4.5 in the 40, tallied six touchdowns on offense while collecting seven sacks playing as an outside linebacker last year. But there have been plenty of changes. While the Raiders will continue with their spread attack, Adamopoulos is going to a 4-3 instead of their customary 3-4 because of their losses at linebacker.
"I think we've had more learning to do this year because we're moving to a 4-3," Musumarra said. "Now, it's our job to pick up the leadership and make sure the younger players are getting it. With a lot of younger kids in there, there's a lot of learning to do."
Yet, for all the formations to remember and coverage schemes to study, Central Catholic's success will once again hinge on performance — making the big play in the biggest moments.
Just like Walsh's kick against Prep last year.
"Confidence is really what you need to kick the ball well," said the senior captain.
"It's more of a mind game."
The Raiders will have that covered.
CENTRAL CATHOLIC AT A GLANCE
2009 record:
8-3 ( Merrimack Valley)
Coach:
Chuck Adamopoulos (14th year, 90-50)
Players to watch:
Trae Musumarra, Sr., RB/LB, 6-0, 190 lbs.; Jaycob Morales, Sr., TE/LB, 6-0, 180 lbs.; Ryan Sullivan, Sr., WR/DB, 5-10, 150 lbs.; Cam Walsh, Sr., RB/DB/K, 5-10, 175 lbs.; Brendan Hopkinson, Sr., OL/DL, 6-1, 240 lbs.; Henry Rodriguez, Jr., WR/DB, 5-11, 175 lbs.
Strengths:
Depth at wide receiver and secondary, team speed.
Weaknesses:
Depth and experience at linebacker, experience on offensive and defensive lines.
Outlook:
The biggest transition the Raiders will face will be on defense with Adamopoulos' move from a 3-4 to a 4-3. The linebacker corps is also in flux, but will be anchored by strong-side linebacker Jaycob Morales. The secondary is the strength of the group with Zach Bardwell and Walsh holding down the corner spots. On offense, Adamopoulos' outlook is almost giddy with excitement. "This is probably about as talented a group of receivers we've had in a very long time." There are plenty of weapons between Xavier Peralta, Henry Rodriguez and Ryan Sullivan. The question is: Who will throw them the ball? Right now, it's a two-man race between Bardwell and junior Matt McDermott. The line is a little lacking in the experience department, but senior center Brendan Hopkinson provides stability. At the tackles, juniors Ryan Barry and Christian Nunez will give the Raiders capable bookends for the next couple years.