Boston High School:

Ryan Tufts
July, 23, 2013
Jul 23
8:30
PM ET
Bridgewater-Raynham Class of 2014 catcher Joe Freiday verbally committed to Virginia Tech tonight, becoming the second Trojan in as many months to commit to an Atlantic Coast Conference baseball program.
Verbally committed to play baseball at Virginia tech! #Hokieball

— JoeyBats24 (@Joe_Freiday) July 23, 2013
The 6-foot-3, 210-pound Freiday was one of the state's leaders in runs plated, batting .425, with a .573 on-base percentage, 31 RBI and five home runs as the Trojans captured the MIAA Division 1 State Championship for the first time in school history. He also drew 21 walks and struck out just 10 times. Behind the plate, Freiday demonstrates above-average arm strength, recording a pop time as fast as 1.82 seconds.
At the time of his commitment, Freiday was also considering Coastal Carolina and Virginia, as well as a full ride from the University of Maine. He is the second B-R player in as many months to commit to an ACC program, joining his cousin, 2015 righthander Jack Connolly,
who committed to Notre Dame in late June
.
Freiday is the second Bay Stater from the Class of 2014 to pledge to the Hokies, joining Boston Latin lefthander Pat Naughton, who committed last fall. When Freiday arrives in Blacksburg in the fall of 2014, he'll join BC High's Ryan Tufts (a fellow Bridgewater resident), Lowell's Matt Tulley, and Noble & Greenough's Phil Sciretta among the Massachusetts natives on the roster. B-R product Eddie Campbell, a lefty for Tech the last three seasons, was drafted in the 15th round by the Seattle Mariners last month.
"Its unreal, it's better than winning a state championship," Freiday said tonight from Richmond, Va., where he is playing in a tournament with his summer club, Team Nokona.
Really? Better than winning a state title?
"I dunno," he laughed. "But it feels great. I don't know how to put my feelings into words right now."
Freiday visited Blacksburg yesterday, and says he was immediately enamored with the campus.
"Obviously what attracted me there [initially] is they have an elite baseball team -- they're absolutely unreal at baseball, number one," Freiday said. "And then, once I got there, the campus was absolutely beautiful. I couldn't believe what I was seeing. It's everything I wanted in a school -- athletically, the campus, and great academics -- there's so much to offer."
Since the Hokies first began evaluating Freiday, they've had a change in head coaches, with Peter Hughes leaving for the University of Oklahoma and Tech internally promoting pitching coach Patrick Mason. Mason, a Franklin native and former Northeastern University standout, watched Freiday in the Trojans' MIAA Division 1 South Final against BC High (of which Hughes is a graduate). He watched Freiday again a week later at Area Code Games tryouts on the campus of Bentley University.
"He's a real nice guy," Freiday said of Mason. "I know Hughes showed interest at first, and I know he texted [B-R coach John] Kearney. He [Mason] impressed me. He knew his stuff about baseball. He was also a catcher at Northeastern back in the day, so he probably saw me from a different perspective."
June, 10, 2013
Jun 10
1:29
AM ET
By
Stephen Sellner
| ESPNBoston.com


BROCKTON, Mass. -— As Bridgewater-Raynham trotted onto the field for the top of ninth inning clinging to its 4-3 lead over Boston College High in Sunday's Division 1 South final, it seemed like the already heart-pounding affair couldn't inflict any more chaos on the players, coaches and fans in attendance.

But, sure enough, it did.

The Eagles put runners on first and second with one down in the ninth with No. 3 hitter Ryan Tufts stepping to the dish. And after Tufts worked the count full against Trojans closer Cody Medairos, BC High decided to send both runners on the pitch as Tufts blasted a shot towards the right-centerfield gap, causing both runners to try and motor on home to take the lead.

Fortunately for B-R, centerfielder Tyler Carey was there to save the game and the season.

Carey hauled in the fly ball on the run, then turned and fired to second to double-up the Eagles baserunner frantically trying to retrace back to the bag, providing the final moment of jubilation in a game full of them, as B.R. stormed onto the field with its 4-3 victory finally safe in its possession.

The Trojans will play D1 North champion Billerica Tuesday at 7 p.m. in the D1 Eastern Mass. Final at LeLacheur Park in Lowell.

Carey said he saw the runners take off when the ball came off Tufts' bat, so he knew he would have a chance to double the runners up if he could get to the ball. But even he knew that wasn't a sure thing.

"I made catches like that before so I knew it was possible, but I don't know," Carey said when asked if he thought he'd get to the ball. "I just tracked it down."

B-R coach John Kearney said Carey's grab was "one of the best catches you'll ever see."

"Everybody in the park probably thought that was going to be trouble. No question," Kearney said. "But I looked up and I saw Carey got a great jump and I'm thinking, 'He's got a shot.' I've seen him do that all year. He has tremendous speed and he's made those kind of catches all year."

"If that falls in, we're gonna get two or three (runs) there," B.C. High coach Norm Walsh said. "That puts a whole different spin on things."

If the catch weren't enough, it was Carey who gave the Trojans the lead in the bottom of the eighth. With David Miller on second, Carey worked the count full against Eagles pitcher Dan Cobban and ultimately lined a single through the infield and into left field, bringing Miller roaring around to score the go-ahead run.

Carey, who said he has been playing baseball since he was five-years-old, had trouble putting the game into words.

"I'm dreaming right now," he said. "This isn't real. This is crazy."

B.C. High tied it up at three in the top of the eighth. After B.R. starter Mike Bruemmel walked Tommy Landry with one down, Kearney went to Medairos in the bullpen. But Medairos walked Andrew Jaehnig and then gave up an RBI single to Billy Mitchell to knot the score.

The Eagles nearly took the lead two batters later. With Landry on third and Jaehnig on second and two down, Tom Russo grounded a ball to second. But the ball ate up Connor Sullivan and ricocheted to his left, prompting the second baseman to slide to the dirt, spin and throw out the sliding Russo by half a step.

Bruemmel was tremendous on the mound, logging 7-1/3 innings, allowing three runs (two earned) on five hits and four walks while fanning eight.

B-R jumped out to a 3-0 lead in the first after a sacrifice fly by Joe Freiday, followed by an RBI triple by Miller and a passed ball to bring him in.

The score stayed that way until the sixth when Mitchell ripped an RBI double off Bruemmel to finally get the Eagles on the board. One batter later, Mitchell came around to score after a throwing error by the Trojans, cutting the deficit to 3-2.


May, 10, 2013
May 10
10:23
PM ET
By
Chris Bradley
| ESPNBoston.com


SHREWSBURY, Mass. –- St. John's coach Charlie Eppinger knew the Pioneers needed a standout performance from star pitcher Ben White, and he got just that, as the Holy Cross-bound righty led St. John's (12-3) to a 5-1 victory over BC High (9-3).

White pitched all seven innings for the Pioneers, giving up just three hits and allowing one earned run. His control was pinpoint, walking no BC High hitters.

"That was the Ben White we're used to seeing," Eppinger said. "He had one rough outing against New Bedford earlier in the year, and has been real solid since. We knew we needed a good effort out of Ben."

The Pioneers drew first blood in the bottom of the second, as senior Micah Cummins singled and later came around to score to make the score 1-0.

BC High answered in the fourth inning though, as senior Ryan Tufts hit an RBI double to bring classmate Jake Marotta around to even the score. After that though, BC High's offense was literally nonexistent.

"For some reason, mentally we just weren't there," BC High coach Norm Walsh said. "We've got to change that, we've got to come out hungry every single game. We got a little complacent."

Walsh also said that his team has been struggling as of late with the approach of opposing pitchers. Generally, Eagles' hitters have been seeing fastball early in the count, and then see mostly off-speed pitches for the rest of their at bat.

"We've been getting pitched backwards, and we're not responding in terms of making our adjustment at the plate," Walsh said. "That needs to change, and that's what we're going to see—not too many teams are going to try to throw the ball by us. We've got to understand that, it's not like we aren't capable of it, because we are. It's all in the approach we have."

St. John's began to develop some momentum in the fourth inning after Walsh took starting pitcher Tommy McDonald out to keep a limit on his pitch count. Freshman Drew Rosen drove in P.J. Browne on a ball hit to right field that resulted in error. Kevin Quinlivan hit a single in the next at bat to get Rosen over to third, and then got caught in a pickle between first and second that ultimately allowed Rosen to score from third.

Eppinger was proud of how many players had a hand in the victory.

"A lot of it is a team effort, the team has really supported him," he said. "We expect so much of Ben, sometimes I think one player thinks they need to do it all. We have 20 players on the roster and we trust all of them."

The Pioneers built the lead further in the sixth inning, as cleanup hitter Jake Byrne smashed a solo home run over the center field fence. After getting hit by a pitch, Cummins came around soon after to score his second run of the game, bringing the score to 5-1.

"The insurance runs are huge, going out 5-1 instead of 3-1 against a lineup like that, you take the wind out of their sails and give yourself some confidence," Eppinger said.

After losing 7-4 to BC High on Monday, the Pioneers' coach said today's victory was just the confidence booster that his relatively young squad needed going into the final stretch of the regular season.

"It's time for us to compete at a state level," Eppinger said. "This gives us a lot of confidence that we can compete with anybody, but we've got to bring our A-game, we're not going to be able to come out and play mediocre baseball and beat a good team."


April, 26, 2013
Apr 26
11:35
PM ET
By
John McGuirk
| ESPNBoston.com
CHELMSFORD, Mass. -- Norm Walsh thoroughly understands the importance of depth. The longtime BC High head coach is cognizant of the fact that you can never have enough of it when the situation calls for it.

On Friday, Walsh summoned two players from his deep bench who, in turn, performed remarkably in helping lift the Eagles to a thrilling 4-2 extra-inning victory over Chelmsford at Ayotte Field.

With his starter Zach Dunphy having already thrown 75 pitches in just 2 2/3 innings, and the season still in its early-stages, Walsh needed save his senior's arm for the stretch run. Senior reliever Dan Cobban was brought in with his club trailing 2-1. For the remainder of the afternoon, Cobban was nothing short of brilliant in his 6-1/3 innings, allowing no hits and striking out five. The righty did his part, keeping BC High within striking distance until the offense flurried late.

"I just went out there throwing strikes and I knew my team could come back and get this," said Cobban. "As long as I kept them in the game I knew we could win it. We really needed this after our loss to St. John's Prep (6-5 on Wednesday). We had to get a bounce-back win and what better way to get it."

After the Lions plated a pair of runs against Dunphy, Cobban came in and stifled Chelmsford the rest of the way with a mix of fastballs, curves and change ups.

"Cobban was just unbelievable," Walsh said. "He completely shut them down by hitting his spots and keeping the ball down for the most part. He was simply outstanding."

In spite of Cobban's heroics on the mound, the Eagles were clinging to life support, down by a run with two out and no one on in the seventh inning. But good teams always seem to find way to come through and BC High (6-1) did just that.

Chelmsford pitcher Andrew Knightly, getting his first start of the year on the hill, was equally impressive. The senior limited the Eagles to a solo run on just two hits through his first six innings of work.

But in the seventh things changed dramatically. BC High senior Tommy Landry led off the frame by singling to left. Walsh had Nick Valicenti pinch-run for Landry. Valicenti advanced to second on a ground out and, following a botched pickoff attempt, took off for third. Lions centerfielder Tommy Bishop made a perfect throw to third baseman Conor Barry, who appeared to apply the tag on Valicenti just before the junior reached base. However, umpires called Valicenti safe.

Still in control, Knightly induced Sean Webster to pop out on the infield for the second out. Hoping for a miracle, Walsh opted to send out junior Andrew Jaehnig from the bench to pinch hit. The strategy worked to perfection as Jaehnig drove a Knightly outside fastball to right for a single to score Valicenti and even things at 2-2.

Knightly recorded the next out to avoid any further damage. But after Chelmsford failed to score in the bottom of the frame, Knightly, showing signs of fatigue, came out for the eighth and promptly issued a walk to No. 9 batter Nick Petchell. Lions head coach Mike O'Keefe made the decision to bring relief pitcher Joe St. Hilaire in.

"Andrew pitched a fabulous game for us today," said O'Keefe, his team dropping to 5-3. "He's a true pitcher who uses all of his pitches and changes speeds. He's not an overly intimidating presence on the mound but once you get up to the plate you realize how quick he is. He never beats himself. Every time he pitches he gives you a battle. After today he deserves to get some more starts for us. I'm very proud of the performance he gave us."

After Petchell was thrown out at second on a steal attempt, Hilaire surrendered a double to Dan Dougherty. But the senior managed to escape further trouble by and got out of the inning unscathed.

In the top of the ninth, however, he wasn't as fortunate. Hilaire set down the Eagles' first two batters with ease before Jaehnig singled to keep the inning alive. Luke Catarius followed with a long double to left plating Jaehnig and give the Eagles a 3-2 advantage. Billy Mitchell, pinch-running for Catarius, would later came around to score on Dougherty's ground single to right.

"After our loss to St. John's Prep on Wednesday it took us a while to get our act in gear," said Walsh. "Their pitcher did a very nice job keeping us off-balanced. It was getting somewhat frustrating but we were able to hang in there. Besides Cobban, Jaehnig was also unbelievable today. His hit ties it for us and later on he scores the winning run."

In the bottom of the inning, Cobban allowed a lead off walk before punching out the next three Lions batters to earn the victory.

Ryan Tufts put BC High ahead 1-0 in the first after stroking a Knightly fastball over the left field wall. But Chelmsford knotted things in the bottom of the inning courtesy of an opposite field RBI single from Mike Rosa. The Lions would take the lead in the third. Mike DeDonato tripled and scored moments later after Eagles left fielder Mike Roberts failed to corral Russell Olive's hard liner.

"Give BC High credit," O'Keefe said. "They're a very good team and very well-coached. We hung with them to the end but it just didn't work our way today. BC High will be in contention throughout the year but I truly believe we proved that we can play with them."
April, 9, 2013
Apr 9
1:16
AM ET
MALDEN, Mass. -- As far as league openers go, you can't get much better than Ryan Tufts' night.
Beneath the lights Monday night at Maplewood Park, the Virginia Tech-bound third baseman shone his brightest for Boston College High when it mattered most, in the Eagles' Catholic Conference opener against host Malden Catholic. Facing fireballing MC sophomore reliever Austin Batchelor with one out in the top of the seventh, tied 1-1, Tufts sat fastball and didn't have to wait long to get his pitch.
[+] Enlarge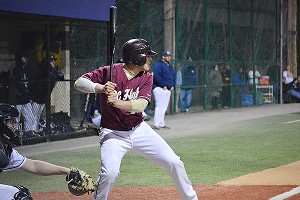 Brendan Hall/ESPNVirginia Tech-bound third baseman Ryan Tufts' sacrifice fly to deep center scored the winning run in the seventh inning for BC High.
Tufts blasted one deep to center, a ball that was eventually dropped but scored Dan Dougherty from third to make it 2-1. The Eagles then sealed it in the final frame with a double play, to improve to 3-0 and 1-0 in the conference.
"He's clutch, he can hit anybody," Eagles coach Norm Walsh said. "In fact, that ball might have been a little up and out of the strike zone, but he's got such talent that he just did the job for us. That was one fantastic baseball game."
Said Tufts of seeing the drop, "I was pumped. Any time you can get an extra baserunner there, it's really big, especially when we're trying push across a few runs."
BC High took the initial 1-0 lead in the top of the second with some smart baserunning from Ryan Tropeano. After reaching first on a fielder's choice and stealing second, the sophomore scampered home after the second baseman dropped the ball trying to tag out Sean Webster trying to steal second.
MC fired back in the bottom of the fifth with a dramatic shot from pinch hitter Paul Garozzo. Facing a full count with two outs and a runner at third -- Cam Lanzilli, who led the inning off with a triple -- Garozzo sliced one just inside the foul line down first base for an RBI triple and tie ball game.
McDonald grins and bears it:
Clearly, there are divided schools of thought amongst MIAA coaches as to how to handle pitchers in the first month of the season, when temperatures are still cold and arms are still getting broken in after a winter with limited live throwing.
Some like to keep starters regimented around 60 to 70 pitches, approaching the subject like a faberge egg; then there are those like Walsh, who let senior righthander Tommy McDonald throw into triple-digits, watched as McDonald took a ball off his left knee trying to bare-hand a comebacker in the final frame, and said, "You can't get mad at him though, because he's just so competitive."
"He wanted to make that play," Walsh said. "I think [second baseman] Jake [Marotta] would have had it, but he's such a competitor. You can't fault him for that."
Said McDonald, "I had the adrenaline running, it didn't even faze me. I'm just glad I stopped the ball from going into centerfield."
McDonald, a UMass commit, threw close to 115 pitches in a complete-game effort, striking out seven and walking none while scattering five hits and allowing the one earned run.
"At this point, he's thrown a bunch of bullpens in the preseason," Walsh said when asked about pitch count. "He's not going to start again for eight or nine days. He was throwing strikes, he was pounding the zone. I talked to [catcher] Luke [Catarius], Luke said he was really throwing the ball well still, so at this point no. He was probably up around 115 or so, and that's reasonable for him. He's our horse."
It's easy to see why the reigns are a little looser on McDonald. The 6-foot-2, 225-pounder demonstrates good command of his fastball, locating it around the zone, and doesn't labor on the mound. He generates much of his power from his legs, and is the kind of type-A personality you want as a starting pitcher -- asked how he'd characterize himself, he laughed, "I'm kind of a jerk out there...I don't want to give anything up."
Asked how he felt after racking up a high pitch count this early, McDonald said he felt fine.
"I was going into this thinking four or five innings, and leaving the rest for the bullpen," he said. "But my adrenaline was going and I felt in mid-season form. I just feel really good right now."
Seamless transition:
Forgive the Eagles if they've been spoiled the previous three seasons with Bobby Melley behind the plate. The UConn freshman catcher was one of the state's most feared hitters a season ago, hitting .370/.557/.685 totals with 13 RBI and drawing 22 walks to earn a spot on ESPN Boston's All-State Team.
But it looks like the equally-bulky Catarius, bound for Princeton University as a linebacker at a burly 6-foot and 230 pounds, will keep everyone comfortable despite his limited varsity experience. Catarius batted .267 a year ago in just 17 plate appearances.
Confidence around Catarius is apparent immediately.
"We didn't lose anything, he [Catarius] picked up right where Melley was coming back from," McDonald said. "Good presence behind the plate, good presence in the dugout, good presence with everything...He knows where I like to throw [and] where, inside, outside. He knows when to go out there, when I'm having a tough time."
Said Walsh, "[Luke] is a really tough, competitive kid. He's the heart and soul. He's got that fire to him."
Velozo battles:
In five complete innings of work, senior lefty Joe Velozo worked his way out of jam after jam on the mound for MC. In the third, he retired the first two batters (K, 6-4) then loaded the bases up, then put out his own flames with some high heat to Tom Russo, getting him swinging up and out of the zone.
The next inning, he evaded trouble again thanks to a 3-2 double play from first baseman Steve Passatempo to Batchelor. Passatempo dove to his left for an unassisted out at first, then fired home to Batchelor, who made a terrific block at the plate for a tag on Tropeano. In his last go-around, the fifth, he struck out the first two batters then allowed batters to reach second and third before ringing up Russo again to end the scoring chance.
Velozo finished with six strikeouts and scattered six hits while walking three. Nick George relieved him in the sixth, followed by Batchelor in the seventh.
"Very little fazes him," MC head coach Pat Driscoll said of Velozo. "I think he likes being in the big pressure situations. He wants to be that guy in that situation, making the pitches and getting his team back in there to hit."
April, 21, 2012
4/21/12
4:49
PM ET
By
Tom Layman
| ESPNBoston.com
BOSTON -- Dylan DeFlorio reacted physically like he knew exactly what was coming.

Mentally might have been a different story.

The Lincoln-Sudbury second baseman made a game-saving diving catch on a hard-hit ball up the middle to record the final out of the Warriors 8-7 victory over host No. 1 BC High on Saturday. The Eagles (7-1) had the bases loaded with two outs chasing a run in the bottom of the seventh. The line drive struck by Chuckie Connors most likely would have brought in a walkoff win for the hosts, but DeFlorio stretched out and snared the hot shot to hand the hosts their first loss of the season.

"I don't remember anything," DeFlorio said with a laugh. "I just remember looking at my glove and I had the ball in it."

Alex Weiland got the first two outs of the inning in the bottom of the seventh, but the veteran Eagles lineup started to get to the sophomore on their last leg. Jake Marotta reached on a single and Rich Roach got on for the fifth time when he was plunked with a Weiland pitch.

Ryan Tufts hit a deep grounder to short and Marotta came around to score when the shortstop made an off-balanced throw to third in an effort to get the Eagles' baserunner at home plate. Bobby Melley was walked on four pitches to set up a force at any base, and on a 2-0 pitch, DeFlorio bailed out his team with the defensive play of the young season for the Warriors.

"He made a play that we were able to celebrate," said Warriors head coach Kirk Fredericks. "So that was good."

PRESSURE, PRESSURE, PRESSURE
It's not secret that Fredericks is still searching for the combination of young pitchers who can come in a throw strikes against teams that the Warriors (4-1) will most likely see later in the season.

Weiland is starting to show that he belongs in the mix.

The sophomore came in relief in the fifth inning and was able to strand a runner at second with the Warriors up a run at the time. In the bottom of the sixth, Connors found his way on third base with an out, but again Weiland buckled down to get two fly balls to right field to sneak his way out of trouble.

"That's the second time he's been in a pressure situation [this season]," Fredericks said. "For him to be able to throw strikes that's giving us some guys that we can compete with."

QUICK START NOT SUSTAINED
The Eagles looked like they would run away with this game in the first inning after battering the Warriors for five runs on five hits.

But the offense sputtered in some key situations later in the game. After posting a run in the third inning, the Eagles left the bases loaded with a chance to bury the Warriors already up 6-2, and missed out on another bases loaded chance before DeFlorio flashed some leather.

"A couple of games we sustained it, but we haven't been able to maintain our focus at the plate," Eagles head coach Norm Walsh said. "We still got a ways to go, but we can be a really good team."
April, 20, 2012
4/20/12
11:34
AM ET
In this week's edition of "Roundtable", ESPN Boston High Schools Editors Scott Barboza and Brendan Hall are joined by correspondent Bruce Lerch and Brockton Enterprise staff writer John Botelho as we discuss the best hitting lineups, the best faceoff specialist in lacrosse, and whether Milford is now the team to beat in softball.

1. AFTER BEATING KING PHILIP, IS MILFORD THE FAVORITE IN DIVISION 1 FOR SOFTBALL?

ESPN Boston High Schools Editor Scott Barboza: In a word, yes. Shannon Smith is simply pitching out of her mind right now, but it's not as though we haven't seen this before from the University of Kentucky commit. Two years ago, Smith was named Massachusetts Gatorade Player of the Year after recording a 0.36 ERA. This year, she's been dominant, including a 20-strikeout performance against Shrewsbury and 17 K's against KP. Not to mention, the Scarlet Hawks haven't even been playing with their opening day lineup, after All-State catcher Taylor Archer suffered a leg injury in the first week of the season. Freshman Taylor LeBrun has done a terrific job behind the plate in the interim, but MIlford will only be that much more potent with their top battery in place. I'm certainly not ruling out KP, as anything short of a rematch between the two teams in the state final would be unexpected.

Bruce Lerch, correspondent: While there are several teams with good enough pitching to shut down the Scarlet Hawks bats, how many are strong enough offensively to hit against Milford ace Shannon Smith? The only team that really comes to mind is...King Philip. The Kentucky-bound Smith two-hit the Warriors and struck out 17 Monday afternoon, so you have to think they are the lead horse in the race right now. KP has hit Smith before, however, as a 10-1 result in the state championship game two years ago proves. Of course, Smith was but a freshman then, and having faced King Philip several times since then her knowledge of that dangerous lineup has grown considerably.

Oh yeah...KP also has Meghan Rico. I've heard she's a pretty good pitcher too...something about a reigning player of the year? If both aces are on their game, then the state championship softball game may have to be scheduled for more than one day

John Botelho, Brockton Enterprise: Even with Milford knocking off K-P, it's still hard to call anyone but the Warriors - the two-time defending state champ - the favorite to win it all. This means Milford might have closed the gap, but until someone proves Meghan Rico is possible to beat in the playoffs, the Warriors remain the class of softball in this state. Keep in mind how difficult it is to beat a good team twice, and chances are Milford will have to do just that if they're to bring home the state crown.

2. SEVEN OF THE EIGHT TEAMS PARTICIPATING IN THE COACHES CHALLENGE CUP THIS WEEK ARE RANKED IN OUR TOP 25. WHICH OF THOSE TEAMS HAS THE BEST CHANCE OF WINNING A STATE TITLE IN THEIR RESPECTIVE DIVISION?

Scott Barboza: We might have seen a Division 2 Eastern Mass final matchup preview on Thursday when Concord-Carlisle and Hingham squared off in a Coaches Challenge Cup semifinal. The Patriots beat the Harbormen, 9-4, with Jackson Finigan, Tim Badgley and Kevin Delehey scoring two goals each. If both teams take care of business hereon out, we should expect to see both of them at Harvard Stadium. Of course, none of this makes mention of Dover-Sherborn. The Raiders fell just short of an upset over Lincoln-Sudbury before falling, 12-11, but they've proven their among the elite in Division 3.

Bruce Lerch: That team would Dover-Sherborn. Lincoln-Sudbury will enter the Division 1 tournament as one of the teams best suited to make a run at Duxbury, but betting against the Dragons has been mostly a losing proposition for the past decade. The six Div. 2 teams that participated in the tournament are perennially among the last teams standing in June, so while a state champion could come from this group, picking who it will be requires a crystal ball.

Dover-Sherborn has the talent to compete with the best teams in the state, something the Raiders proved three years running now at the Coaches Challenge Cup, and is likely going to snag one of the top four seeds in the Div. 3 tourney and will be included in the group of favorites that should also include Weston and Norwell.

3. IN BASEBALL, WHAT'S THE BEST HITTING YOU'VE SEEN SO FAR?

ESPN Boston High Schools Editor Brendan Hall: I have seen both BC High and Lowell multiple times, and I don't think you can go wrong either way.

BC High can mash 1 through 9, but at the top is where they're especially dangerous. UConn signee Bob Melley is the Eagles' most powerful bat out of the No. 3 spot, but he's surrounded by plenty of college-ready talent in seniors Chuckie Connors, Justin Silvestro, Brian Hocking, and juniors Ryan Tufts and Dan Dougherty. I will put the Eagles' top six hitters against any team's top six in the state...

...Unless that top six is Lowell. The Red Raiders are only going to get stronger as the season goes on, but they're showing some real nice stuff through the first three weeks of the season. Rory O'Connor, Derek Reed and Andrew Marasa form what is regarded as the state's best outfield, but they can manufacture runs from the plate, too. Matt Tulley is headed to Virginia Tech for his low-90's fastball, but he's got a heavy swing from the cleanup spot too. My favorite hitter to watch in this lineup is senior Chad Gens, who can square up and plant it deep as good as anyone. After Lexington's Chris Shaw, he might be one of the better power hitters in Eastern Mass. I expect him to be near the top in extra base hits this year.

Also of note, take a look at Dighton-Rehoboth, which comes in this week at No. 18 this week. With a top of the order led by Bryan Rocha, Adam Benvie, Evan Mondor and Mike St. John, the Falcons are averaging 11 runs per game, including shellackings over Somerset (22-0) and Case (17-6). When it comes to manufacturing runs, you can't forget Walpole, between leadoff shortstop Johnny Adams, catcher Dan King, and brothers Cam and Craig Hanley.

John Botelho: Despite getting shutout by Marshfield for their first loss of the season on Thursday, the East Bridgewater Vikings offense is certainly among the best in southeastern Mass, and could be the class of the D3 South Sectional later this season. Even with the setback against the Rams, E-B is still averaging just over 10 runs per game.

In the Hockomock League both Oliver Ames has emerged as a team with an electric pitching staff, but the offense is plenty capable of flexing muscle too. With sweet swinging David MacKinnon - whose emerging as one of the best hitters in the Hock - hitting third and powerful Matt Harding hitting fourth, the Tigers have one of the best 3-4 combos going. Matt Mancini, Ryan O'Shea, Mike McMillan and Jim Sullivan help bolster a lineup that features plenty of hitting ability.

4. AN UNDERRATED ASPECT OF LACROSSE IS THE "FOGO" (FACE OFF, GET OFF) POSITION. WHO IS THE BEST FACEOFF SPECIALIST IN THE MIAA?

Scott Barboza: I think there's no doubt that Clay Richard of Medfield is the best true FOGO in the state, but as we saw during Wednesday's matchup against No. 1 Duxbury, Dragons midfielder Henry Narlee might be the best faceoff man in the state. Sqauring off against Richard and the Warriors, Narlee won an amazing 21 of 28 draws.

Bruce Lerch: The two best were on display Wednesday night in Duxbury as Medfield's Clay Richard went to work against the Dragons Henry Narlee. Richard more than held his own against Narlee in their individual battle, but in addition to the Duxbury junior's elite skill, he also has the advantage of having James Burke and Reilly Naton flying off the wings to grab every loose ball in sight. Not only is Narlee at winning the draws to himself, but is deadly accurate when shooting the ball into space for his two LSM's to chase it down.

5. LOOK AT THE NEXT TWO WEEKS OF SPRING. CALL AN UPSET. AND FEEL FREE TO GO BIG.

Scott Barboza: Don't really know if this would count as such, but I'm calling Duxbury's take down of Garden City (N.Y.) this weekend. Looks like the Dragons' regained their top form in the last week. In softball, I have a feeling about Hudson taking down Shrewsbury this weekend.

Brendan Hall: Boston Latin has a two-game swing at the beginning of next month that could have big implications in the Dual County League: May 4 at Lincoln-Sudbury, and May 7 at Acton-Boxborough. The Wolfpack seem to be everyone's favorite little underdog in the league (no pun intended), but I wouldn't be surprised to see them take one of two here. L-S has some talent, but has been searching for that staff ace; meanwhile A-B has had a knack for the dramatic so far, twice winning one-run games, the latest a 1-0 decision over Waltham on Wednesday. Can Latin pull 1 of 2 here? It might depend on who's pitching.

Elsewhere, I've got May 10's matchup between No. 14 Burncoat and No. 3 St. John's of Shrewsbury circled on the calendar. The Patriots just lost their first game to Danvers the other day, while St. John's sits at 7-0 with a nice win over St. John's Prep. This is building into one of the best regular-season matchups in Central Mass., but I'm going to go with Burncoat in the upset.

John Botelho: On April 26, when No. 16 Barnstable comes to town, Bridgewater-Raynham will take a big step toward winning the Old Colony League by knocking them off in a pitcher's duel. The Trojans have to deal with league foe Dartmouth just two days before, and if the rotation stays the path it's on lefty Pat Chalmers will be throwing that game. That means fellow southpaw Shane Holmes, who has been piling up strikeouts and shutting offenses down, will take the mound against the Red Raiders. The lefty is one of the toughest in the area and B-R could come away with this one without needing much in the way of run support.
April, 7, 2012
4/07/12
3:46
PM ET
DORCHESTER, Mass. -- With a number of quality arms graduated from last year's squad, BC High's No. 1 preseason ranking in ESPN Boston's statewide poll is largely predicated on the number of live bats returning to the lineup. But if the performance this morning by senior righthander Johnny Arens is any indicator of the staff's quality, the Eagles might be OK in that department too.

Arens, a Milton resident, threw just four innings with the varsity last year. It wasn't a perfect outing for him, but he threw mostly fastballs, retiring the first 12 batters in succession -- including the first six all by way of fly-out -- en routed to a one-hitter in five innings of work. He fanned four batters and walked three, and managed to get out of a bases-loaded, no-outs jam in the top of the fifth inning to preserve a 2-0 lead.

After that, senior second baseman Chuckie Connors put on the finishing touches of what was a 5-1 win, lining a frozen rope to centerfield in the bottom of the sixth for a two-run single, the final runs of the game.

"I don't think he walked anybody until the fifth," Eagles head coach Norm Walsh said of Arens. "When I talked to him the other day, I said 'Don't walk anybody, and we'll be in good shape', because overall we're going to play good defense. So I was very pleased with that for him. He needed a good start."

"It felt good," Arens said softly. "I was a little off, but the defense definitely got it done."

The operative word there is defense. The Eagles (2-0) boast one of the state's best middle infields, and the leather was on display in the middle innings.

Arens walked the first two batters of the top of the fifth and then -- working from the stretch -- surrendered a Mason Trubey line drive single to center to load up the bases with no outs. Walsh sense discomfort from his starting pitcher working from the windup, instructed him to go back to the wind-up, and the results were much more favorable. Arens rung up Jake Kelley swinging, then Connor Barry hit into a 6-4-3 double play to end the inning and preserve the lead over the Lions (1-1).

Battling for Bases: The bottom of the fourth was a good demonstration in run production for the Eagles.

Up 1-0 in the bottom of the fourth, BC High's Chris Donovan manufactured a run with the benefit of two throwing errors by Chelmsford on pickoffs. After the first pickoff error that sent Donovan to second, Walsh called for a timeout, went out to meet Donovan and told him to beware of a wheel play the Lions might run.

After taking another bag on a pickoff error, he was sent home by a Ryan Tufts sacrifice fly to left field. Tufts initially went down 0-2 in the count to righty Tanner Houle, but battled back to a full count, fouling off two pitches before getting under a 3-2 curveball to complete the eight-pitch at bat

"I went up there taking first strike, and then I went behind," Tufts said. "I knew [with] a two-strike approach, you just try to protect and hit the ball into play."

Running on Rabbito: Chelmsford junior catcher Matt Rabbito has one of the best arms from behind the plate in the Merrimack Valley Conference, but the Eagles were not afraid to test it. They made three attempts to steal second, finding success twice.

"You don't run on the catcher -- you run on the pitchers," Walsh said. "We were looking for certain things in certain situations from pitchers, rather than so much for the catcher. Obviously if he can't throw, then yes, but we knew he could throw. So we're keying much more off the pitchers than we are off the catcher, and then count situation and you know, you're looking for off-speed, stuff like that to run on."

Hill hurt: Chelmsford third baseman Derek Hill left the game in the third inning with a knee injury, and was replaced by Barry. Head coach Mike O'Keefe didn't yet know the extent of the injury, or timetable, after the game.

"It looks like he twisted his knee, seemed pretty stiff, so we'll re-evaluate that when we get back," O'Keefe said. "Hopefully he's going to be OK. I saw something was wrong. I should have called a timeout and let the guy know I wasn't realy going to see my pitcher, I knew something was wrong with him. But hopefully he'll be fine."
April, 4, 2012
4/04/12
9:20
PM ET
By
Andy Smith
| ESPNBoston.com



ACTON, Mass. -- It was what one could expect from an early-season baseball game: two teams still working out some kinks, while at the same time showing flashes of what each can be when everything comes together for them.

As dark rain clouds rolled over the field, No. 1 BC High was able to record the final out and fend off a potential seventh-inning rally from No. 10 Acton-Boxborough. The Eagles won on the scoreboard, 15-11, but it left the team feeling like it has a ways to go now that the games count.

"Obviously I'm really happy with the offense," said BC High (1-0) coach Norm Walsh. "We weren't swinging the bat well the past few days, so we had a little chat about pitch selection and approach at the plate and I think we re-focused and did what we needed to do offensively.

"We had a couple of defensive lapses, which were uncharacteristic. That was a little bothersome. It's tough to get on my pitchers at this point, but the big thing is we have to throw strikes. In the last couple of innings, we didn't throw strikes. It's not that we don't have the ability to get people out, because we do. When we threw the ball well through the strike zone, we got outs. It was just giving them free base runners that we can't afford to have."

The run production started right from the beginning of the game for BC High. After leadoff hitter Dan Dougherty worked the count full against A-B (0-2) starter Reid Jordan, he belted the payoff pitch over the right field fence to give his team the early lead.

Ryan Tufts, the very next batter, was hit by a pitch. Next, senior catcher Bobby Melley hit a rocket double all the way to the fence, which allowed Tufts to score all the way from first. A-B was already playing from behind before it got a chance to bat.

Jordan left the game after four innings, giving up nine runs. The A-B relief pitchers did not fare much better. The Eagles scored at least one run in each inning besides the last.

Conversely, BC High's Tommy McDonald gave up seven runs, lasting five innings, giving up eight hits and three walks.

Colonials keep it close: It was not all smooth for BC High, however. Over the course of the game, defensive lapses allowed A-B to prolong innings, and ultimately generate runs.

In the third inning, a hit batsman and a single put runners on first and second with one out. A-B's Ryan McDonald hit a grounder at Tufts, who fielded it cleanly on the edge of the grass. Rather than throwing over to first to get the sure out, Tufts turned around and tried to tag out Billy Jackman. He was too late, as Jackman beat him to the bag by several steps. He still threw over to try to get the out at first, but McDonald beat out the throw, thus loading the bases.

That turned into a three-run inning for A-B, making it a 5-4 game.

In the fifth, A-B had the bases loaded and already scored a run. Brendan Phelan hit a line drive at shortstop Jake Marotta, but the ball hit off his glove and into the outfield. What could have ended the inning lead to A-B to two more runs.

"We made mistakes, errors, judgment stuff, stuff that probably could have put four or five more runs on the board for them," said Melley. "We could cut down on that. In close games, we're going to need stuff like that to win ball games."

Walsh credited those mistakes to where his team is in the season, believing they aren't emblematic of the team as a whole.

"I think those are early season jitters," he said. "Over the process here, I don't think that's going to continue by any means. I think we're going to be a very good defensive team."

Melley Mashes: In the fifth, Melley came to bat with a runner on second. The left-handed hitting catcher took the first two pitches, making the count 2-0.

Earlier in the game, he had hit the ball well against Jordan, but this time, he was up against junior Andrew Sweet. In what can only be characterized as a hitters count, Melley got a chest-high fastball and was able to get under it and get a good enough part of the bat on it to muscle it out of the park for a two-run home run. It was an impressive fete of strength for the senior captain.

"I was looking for a fastball, and I was comfortable against (Sweet) and what he was throwing to me," he said. "I saw the fastball, probably about head-level. I really did get under it but I had enough to get it in the wind and get it out of there."
June, 7, 2011
6/07/11
12:43
AM ET


DORCHESTER, Mass. -- It was far from a perfect outing for BC High's Donny Murray.

But it was hard for the Eagles starter to be much better while hurling a complete-game shutout against No. 5 seed Catholic Memorial in the teams' Division 1 South quarterfinal Monday at BC High. The Knights banged out 10 hits against Murray, but they were unable to get on the scoreboard in a 3-0 Eagles' win.

With several superb defensive plays in the field behind Murray and a couple clutch hits from the bottom of BC High's lineup against CM ace John Gorman, the fourth-seed Eagles (16-6) claimed their third win of the season over their Catholic Conference rivals.

"Goreman's a good pitcher and we knew it wasn't going to be a blowout," BC High center fielder Jack Buckley said. "We knew it wasn't going to be a slugfest."

Murray wiggled out of jams in both the first and second innings with a pair of deft double plays started by second baseman Chuckie Connors and shortstop Ryan Tufts.

With two on and one out in the first, Tufts made a diving stop to his left, snaring a hot shot off of Knights third baseman Matt Goreham's bat. Tufts lunged to tag second base with his foot while firing to first in time to get Goreham and end the inning.

In the top of the second, Murray found himself in the same situation as the first. That's when Connors started his inning-ending twin-killing by ranging to his right and grabbing a bounding ball off the bat of Paul Fahey. Connors planted off the second base bag and threw across his body to get Fahey in a close play.

"That got me going," Murray said. "Not coming out here with my best stuff today, it was great to know I had a great defense behind me to help me through it in both innings. Chuckie [Connors] and Ryan [Tufts] made those plays and it was huge for us, huge for the team."

The 6-foot-1 right-hander hadn't toed the rubber since his last start, which was on May 24 against Xaverian.

Murray struck out six and walked one while throwing 122 pitches with 86 for strikes in nine innings.

"I think what hurt Donny [Murray] early was the long layoff from his last start," Eagles head coach Norm Walsh said. "He wasn't spotting the ball as well then. But in the later innings, he was really hitting his locations and they really weren't making good contact at all."

BC High got all the offense it would need in a two-run fifth. The bottom of the Eagles' lineup came through in a big way with No. 8 hitter Buckley and Chris Casey, from the nine-hole, delivering run-scoring hits.

Buckley drilled Gorman's 2-1 offering to shortstop. The ball bit the lip of the infield grass and exploded over the head of Knights shortstop Shane O'Leary, who could only look back in disbelief as the ball made its way into the outfield with scoring Bartley Regan from second.

Casey, the Eagles' first baseman, followed with a resounding double to left-center with Buckley scoring all the way from first.

BC High added an insurance run in the eighth when Casey scored on a balk.

Taking a hard-luck loss, the book closed on Gorman's illustrious high school career. The CM right-hander who's headed to Boston College next year allowed two earned runs on four hits in eight innings while striking out seven.

The Knights end their season at 15-7 while the Eagles advance to play Franklin in the semifinals, Wednesday at 4 p.m. at Braintree High School.


May, 28, 2011
5/28/11
1:16
AM ET


BOSTON – Justin Peluso's game-winning hit almost never was.

In the top of the 10th inning, he dug into the box with a man on first and nobody out with No. 3 St. John's Prep and No. 7 BC High tied, 3-3. Peluso got a bunt sign from coach Pat Yanchus. After working the count to 1-1, Peluso wasn't looking to advance the runner. He was looking to end the game.

"I had two hits and I was feeling pretty confident," Peluso said. "So I said, 'Coach, let me hit.'"

Peluso delivered, ripping an RBI triple down the third base line and scoring Anthony Capuano from first. Prep held on to take a 5-3 win over BC High, meaning the teams will share the Catholic Conference title this season.

BC High (11-6, 5-3 Catholic Conference) came out swinging against Prep starter Pat Connaughton, plating three runs against the Notre Dame commit in the first. BC High catcher Bobby Melley drove an RBI double to center before Ryan Tufts and Melley scored on passed balls.

After falling behind 3-0 in the first, Connaughton bounced back to throw seven straight scoreless innings in a no-decision before giving way to Brandon Bingle, who picked up the win with two shutout innings in relief.

"I think I just got comfortable," Connaughton said of his in-game adjustments. "Sometimes I seem to have trouble in the first inning. I actually have to figure out why that is. After I settled down in the first inning, I felt like things were working. We got the win, that's all that matters."

Prep (13-5, 5-3) tied the game with a three-run third. Capuano scored the first Prep run on a Peluso single to center, rounding the bases from first after a miscue in the outfield. Prep scratched across another unearned run against BC High's Neal Horan on Dillon Gonzalez's fielder's choice before catcher Jake Bedrosian drove in Connaughton with an RBI single.

Neither team found the go-ahead run, even after Prep had the bases loaded with no outs to start the eighth.

That all changed in the 10th when Peluso took matters into his own hands.

Sean Patrikas added a sac fly for Prep's fifth run.