Boston High School:

Sacred Heart Pioneers
January, 28, 2014
Jan 28
11:29
PM ET
Everett High linebacker C.J. Parvelus announced this afternoon on his Twitter account that he has verbally committed to Sacred Heart University.
Just accepted and committed to Sacred Heart unversity #SHU #D1Bound #Pioneer #Blessed

— Cutis Jackson (@ThatMan_CP30) January 28, 2014
The 6-foot, 220-pound Parvelus recorded 52 tackles, one interception and two forced fumbles at linebacker, part of a rugged corps of backers that helped lead the Crimson Tide to the MIAA Division 1 North Final. SHU was the only school to offer Parvelus, during his visit to its campus over the weekend, but he also received varying degrees of interest from Villanova on down to Merrimack at the Division 2 level.
"I spent a lot of time around the coaches on my visit [last weekend]," Parvelus told ESPNBoston.com before tonight's basketball contest with Cambridge. "Also, the players, I met half the team, I was around them a lot. I just felt like I was at home. There's a lot of kids there from Mass., so they understood [where he came from]. It was like one big happy family over there."
September, 19, 2013
9/19/13
10:15
AM ET
By
Chris Bradley
| ESPNBoston.com
St. Thomas More 2014 point guard Cane Broome committed so Sacred Heart on Wednesday afternoon, as first reported by ESPN's Adam Finkelstein.

Broome, a star point guard originally at East Hartford High School who transferred to St. Thomas More and repeated his junior year, has been one of New England's most well-known players since the eighth grade. He said Sacred Heart coach Anthony Latina made the decision an easy one for him: the coach didn't miss a single one of Broome's games this summer.

"I picked Sacred Heart because it's a wonderful academic school, and playing time as a freshman there was more than anywhere else," Broome told ESPNBoston.com. "I had a good relationship with the coach and felt comfortable; he didn't miss a game this summer. He was there for the good ones and the bad."

Known primarily as a scorer during his days at East Hartford, Broome had a rude awakening when he went to St. Thomas More. On his first day of class at the Oakdale, Conn. prep school, well-known coach Jere Quinn pulled Broome into his office to give him a reality check.

"[Quinn] told me if I wanted to play Division 1 ball that I had to become a point guard," Broome said. "He put me in tough situations last year to make me a better player. I learned to be a leader from being around him and playing for him really matured my game and got me to become a point guard. I've become a smarter player, my mindset was score and that's it, no defense, barely any assists…coming out of East Hartford."

This summer, he ran the point for a loaded Expressions Elite squad that advanced to the Nike Peach Jam. By creating opportunities for blue-chip scorers like Abdul-Malik Abu, Jared Terrell, and Jared Wilson-Frame, Broome's knack for playmaking brought in attention from several Division 1 coaches. He even got feedback on his game from the nation's top-ranked point guard, Tyus Jones.

"[EYBL] helped me a lot, just seeing the high level guards and going against them and learning different things. When we played Howard Pulley, Tyus Jones gave me a lot of feedback on my game and helped me out," Broome said.

St. Thomas More was the top seed in the NEPSAC Class AAA tournament last year, but came up just short of Brewster Academy in the championship game, falling 77-75 to a Bobcats team who boasted perhaps the best front line in the nation. With his recruitment out of the way, Broome can now fully focus on school—and some unfinished business on the court.

"I'm really relieved, just school and worrying about winning the NEPSAC this year is all that's on my mind now."
October, 27, 2011
10/27/11
5:58
PM ET
Newton North alum Tevin Falzon committed to Sacred Heart on Tuesday. The commitment comes nearly ten days after Falzon, who is currently in the midst of a post-graduate year at the Winchendon School, took an official visit to Sacred Heart's Connecticut campus for their Midnight Madness celebration and opening weekend of practice.
[+] Enlarge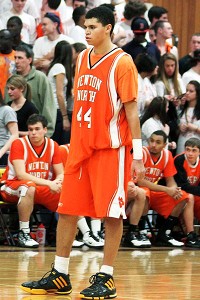 Ryan Kilian for ESPNBoston.comAfter missing most of his senior year at Newton North with a wrist injury, Winchendon post-grad Tevin Falzon committed to Sacred Heart this week and could have an impact as a stretch four.
For Falzon, the decision is obviously the culmination of years of work on the basketball scene. He's been a fairly well known prospect since he was a freshman at Newton North, when his big feet and soft touch gave him the reputation of being a prospect on the rise.
While his skill set has developed nicely since that time, his overall impact didn't necessarily progress at the same rate, as he was often limited by an inconsistent motor and suspect conditioning.
That all began to change during his senior season at Newton North and by the time the spring AAU season came around, college coaches were already noticing a difference as he was generally more mobile and active on both ends of the court, while displaying the same combination of size and skill that had made him intriguing from the beginning.
Because of NCAA rules, Division I coaches weren't allowed to see Falzon until the summer and by that point his name was already generating a little bit of a buzz playing alongside the likes of Jesse Chuku, Dimitry Coronel, and Rony Fernandez on the Metro Boston AAU squad.
Sacred Heart became the first Division I school to offer Falzon a full scholarship in August, and on Tuesday they were rewarded for being proactive as they landed his verbal commitment.
With his recruitment now a thing of the past, the question now becomes how will Falzon fit on this Sacred Heart team.
The most important indicator of any incoming freshman's potential impact is opportunity, and Falzon should have plenty of that. He'll arrive at a time when Sacred Heart's top four big men (6-foot-9 Nick Greenbacker, 6-foot-9 Justin Swidowski, 6-foot-6 Femi Akinpetide, and 6-foot-8 Mostafa Abdel Latif) will all be entering their final two seasons of eligibility.
That means two things for Falzon's purposes. First, he'll have the opportunity to learn on the job and be brought along slowly, but secondly, there will be an opportunity to play a major role during his junior and senior seasons in the Northeast Conference.
Even before he becomes an upperclassman, Falzon could potentially develop a niche for himself. Greenbacker, Akinpetide, and Abdel Latif are all more traditional post players than Falzon, with less natural skills stepping out and facing the basket from the perimeter.
Sacred Heart has always been a perimeter-oriented team, utilizing high-low offensive concepts within the context of a four-out, one-in system, meaning they need one of their big men to play on the perimeter, diagonal their one primary low post player.
Swidowski is really the only other guy on the roster who can do that, and his nature is almost exclusively as a "stretch four-man" who excels at pulling an opposing post defender away from the basket thanks to his shooting range.
Falzon's niche could be two fold next year. First, he may be the only frontcourt player on the roster comfortable enough on the perimeter to back Swidowski up. Secondly, while he'll be the youngest, he could also be the most versatile of the group as someone who can score and pass both inside and out.
Overall, Falzon appears to be in control of his own destiny. If he continues to improve his body by cutting up his frame and consequently getting stronger and more athletic, his versatility not only gives him the potential to play a big role as an upperclassmen but possibly even to contribute right away as a freshman.
Adam Finkelstein is the founder and editor of the New England Recruiting Report and also covers recruiting in the northeast for ESPN Scouts Inc. Adam has the rare distinction of having coached or scouted at the high school, NCAA, and NBA levels, having worked as a Division I assistant at the University of Hartford and spent three years under the NBA's director of scouting Marty Blake.
August, 4, 2011
8/04/11
9:30
PM ET
ESPN HoopGurlz is reporting that New Hampton incoming senior forward
Samantha Brenner
has committed to the University of Vermont for the fall of 2012, citing her mother Margaret.
The 6-foot-3 Nashua native also considered Albany, Sacred Heart, Delaware and Brown.
Brenner, who played club call with NH Rivals AAU U16/17, was New Hampton's MVP last season, and was a NEPSAC All-Star.
"She believes in their new coaching staff headed by Lori McBride," Margaret Brenner told HoopGurlz in an email message. "UVM also has great academics, a great college town in Burlington, Vt., and is close to family."