Boston High School:

Sam Doner
February, 28, 2013
2/28/13
12:55
AM ET
By
Brendan Hall
| ESPNBoston.com
NEWTON, Mass. -- Kayla Burton had gone over this scenario countless times before with her frequent shooting partner, her father Steve.

When her Newton South teammate Jessa Rubera fought through a double-team to kick out a skip pass to Burton at the opposite wing, the Lehigh-bound senior point guard estimated she had about three seconds before a Newton North defender picked her up. Seemingly an ocean's length from the nearest defender, Burton repeated her father's advice -- "Take your time" -- as she let one rip.

From the sideline, South coach Sam Doner -- known for his loose reigns, a freelancing offense with few set plays -- recalled muttering, "That better go in." Like clockwork, it sank; and after a Lauren Levey three with 57 seconds left put the Lions up 49-43, the Lions' improbable overtime defeat of their cross-town archrivals was complete.

South, the No. 15 seed in MIAA Division 1 South, delivered one of the more surprising haymakers of a Thursday night full of upsets, knocking off No. 2 seed Newton North 49-45 before a capacity crowd at the Reggie Gymnasium.

"I actually looked at Jessa and she saw me," said Burton, who will continue her career next year at Lehigh. "I moved to an open spot, and she made that amazing skip pass...Jessa made such an amazing play, and made such an amazing pass."

Even more remarkable than the seedings is the fact that nearly two months ago, over the Holiday break in December, North cruised to an easy 53-28 victory over the Lions. The biggest difference from then to now? A renewed focus on the defensive end.

"What we learned as a team today, it's always 'Newton South versus Newton North', like this big whole ordeal" Burton said. "But really, it's just basketball. We made adjustments that we had to make, we listened to each other, and we knew we had to really box out on defense. I think that's what we did more today than last time."

North's frenetic slasher Infiniti Thomas-Waheed (19 points, 19 rebounds) tied the game at 43-43 with 29 seconds to go, first stopping a South player cold in their tracks with a vicious pick, then crashing to the rim and slipping in a second-effort put-back.

The Lions had a chance to win with 12 seconds left, Burton taking the ball in isolation against Thomas-Waheed. Burton drove baseline, but came up empty, with the 5-foot-10 Thomas-Waheed getting a small piece of it. Going the other way, the Tigers were unable to get a shot off before the buzzer, an entry pass getting lost in a scrum in the paint as time expired.

Halfway through the overtime, Burton came up with the go-ahead three, but it wasn't by design. The play was initially a high pick-and-roll, designed to clear out the left side and make room for sharp-shooting freshman Emily Chang (11 points, three 3-pointers), and thereunto divert the defense away from Burton and create a higher-percentage look at the basket. The play unraveled quickly, with Rubera getting trapped by two defenders along the baseline near the right block, but Rubera made a terrific second effort to extend the play, kicking the ball out.

"There's no really set plays for us, as far as half-court offense," Doner said. "Those plays, they're really just read and react. I'm just very proud of the kids reacting to and finding not just an open [player], but who I think is one of the better shooters on the team."

After South took a quick 7-0 lead to start the game, neither team ever led by more than five points, until Levey's three with less than a minute to go in overtime. The Tigers led 20-18 at the half, and South led 35-33 after three.

Infiniti and Beyond: Off to a 1-for-9 start from the field, North coach Linda Martindale briefly pulled Thomas-Waheed from the lineup early in the second quarter and told her, "If you want to get into a shooting contest with Kayla Burton, this isn't going to go down well for you."

"We play team basketball, and 1-for-9 means you better start doing something else, and that is start crashing boards," Martindale explained.

Thomas-Waheed heeded those words, and delivered, with 11 of her 19 boards coming on the defensive end.

"She rebounded beautifully for us, and we asked her to do that, and she did," Martindale said. "She did what she could do, and defensively we had her step up against Kayla. She's got good footwork. I was pretty happy overall. She's a team player, and when she did what we asked her to do she did it."

Thomas-Waheed, the daughter of Boston College men's basketball assistant coach Akbar Waheed, is regarded as one of the state's premier on-ball defenders. Part of the reason a variety of Division 1 schools have begun showing interest is for her defensive motor -- with her long arms, surgical footwork on the perimeter and ornery first-step explosion, the Tigers are one of the toughest outs in Eastern Mass. when she gets a full head of steam.

One particular sequence in the second quarter summed it all up nicely. From a stationary position near the scorer's table, Thomas-Waheed sprinted to a loose ball at the opposite sideline, submarining at the ball and taking out a South player in the process with a vicious undercut. The ball unable to be saved, Thomas-Waheed grabbed a loose board, gathering the ball with a loud slap of her left hand, and tossing a 50-foot outlet pass up-court to Amanda Ortiz for a 17-12 lead. The next time down, she completed North's 10-3 run with an up-and-under, for a 20-15 margin.

"She uses her athleticism -- big, strong, tall, and humble. I really respect her as a player," Burton said. "When I saw the change-up, and she was playing defense on me, I thought 'Oh shoot, this will be different from the last one'.

"Her long arms [are] really hard to get by. A lot of defenders are big like that, but her long arms are threatening and intimidating. She's really hard to go by."

Lion's Pride, But a Tiger at Heart: As a 1994 graduate of Newton North, Doner admits this victory, beating the Tigers in their own gym, comes a little bittersweet.

"I wish I could say it's a good feeling, but it's not," Doner said. "I owe most of my life to Newton North -- the teachers, the staff, the athletic director, the coaches, everyone. It's a good feeling coming in here obviously and beating this team, but inside I'm still Newton North.

"I'll always be Newton South as far as the coaching stuff. But life, growing up, there's nothing like Newton North. The good thing is, which I'm happy about, I've never played in this gym, this is a brand new building. I'll take this win and move on."
March, 10, 2011
3/10/11
12:00
AM ET
By
Matt Noonan
| ESPNBoston.com
BROCKTON, Mass. -– The Mansfield Hornets overcame a 19-point halftime deficit, as they rallied to beat Newton South, 47-45.

"There was no doubt in my mind that we were going to win," Mansfield junior guard Michaela Bowes said. "We've been in this position before [and] we knew we were going to win."

Newton South (21-2) began the game by jumping out to an early lead thanks to senior guard Kendall Burton, who finished the game with 11 points, but tallied 8 points during the first two quarters. The Lions forced Mansfield (24-1) to shoot their shots off target, limited shots in the paint and turned the ball over constantly, which allowed Burton and her teammates to score easily on the fast break.

However, despite trailing 32-13 at halftime, Mansfield head coach Mike Redding watched his team play their best 16 minutes of basketball all season, as they scored 34 points during the final two quarters.

"At halftime they were less rattled than I was and they still believed they could do it," Redding said. "I think they all knew we could score. Down 19 to an awful good team, we said we've got to play man to man [defense], get up in their faces, get the ball on the floor to their weak hand."

The Hornets defense smothered the Lions, who successful converted [4-19] shots from the field during the entire second half. Newton South had no answer for Bowes or senior guard Kelli McPherson, as both players combined for six three-pointers through four quarters.

"It wasn't meant to be today," said Newton South head coach San Doner. "It's just that simple, it wasn't meant to be. Mansfield matched up man to man with us and they made the right adjustments and for some reason we didn't execute."

"[We] played with unbelievable determination, [our team] never gave up," said Redding.

New Bedford 63, Braintree 35

Prior to an exciting dramatic Mansfield victory, both New Bedford and Braintree met on the same court, but the Whalers appeared too much for the Wamps to handle, as they won, 63-35.

"I thought we played an excellent ball game. Defensively we won our game, we shot the ball extremely well," said New Bedford head coach Mickey Gonsalves. "Coming into the game I was a little worried about our field goal percentage, but we shot the ball very well. Defensively we were tremendous."

Both seniors, guard Alyssa Roach and forward Arielle Gomes were tremendous for the Whalers (23-0), as both players finished with 11 points each, as well led their defense in forcing turnovers and blocking shots.

"Defensively we're tough," Gonsalves said. "We're very small, so we stretched the full court, base line to base line to take away the big people and it takes a lot of offense away from people and it wares them down."

Braintree (18-3) appeared lost from the beginning, as New Bedford jumped out to a quick 17-0 run before the Wamps were able to put together a successful offensive series that resulted in points. Yet, Braintree scored 10 points in the second quarter and held New Bedford to just 12 points.

"I think we were playing a very talented New Bedford team that is not only quick and athletic, [but] is skilled, but they're extremely disciplined," Braintree head coach Kristen McDonnell said. "They play the best man to man defense I've seen. They play very well together as a team and they don't let down."

"We got taken out of our game by the New Bedford full court defense right away," said McDonnell. "We like to play up tempo, but not that up tempo. I don't think we were able to slow the pace at all."

Despite pushing the lead to 55-22, New Bedford slowly took their foot off the pedal, which allowed Braintree's offense to string together some last minute points before the buzzer sounded.

With the win, both Mansfield and New Bedford will face off against one another to decide to the Division I South champion.
March, 2, 2011
3/02/11
11:53
PM ET
By
Tom Layman
| ESPNBoston.com



NEWTON, Mass. -- Newton South had 10 days to sit and stew on its heartbreaking overtime loss to Central Catholic in the last game of the regular season, which wiped away the Lions' perfect record.

But the host No. 3 Lions (20-1) channeled those emotions into a blistering first half from the perimeter to drop No. 19 Brockton, 67-53, in the first round of the Division 1 South tournament on Wednesday night.

Sophie Bikofsky scored 20 of her game-high 23 points in the first half, while the Lions shot an efficient 57 percent (12-of-21) from behind the three-point line in the first 16 minutes of the game. They sizzled in the second half, going 2 for 13 from deep, but still finished 41 percent on three's.

"We had a pretty good shooting performance behind the 3 in the first half," said Bikofsky, who finished 5-of-11 from deep. "I think everybody did. We were taught to look for the shooter that is hot, and today it happened to be me in the first half."

Bikofsky helped the Lions build a 16-7 lead in the first four minutes of the game with 11 points in the run. The Lions were able to get shooters in the correct spots and seemed to never have a hand in their face when launching from deep.

As a team, the Lions shot 8-of-11 from beyond the arc and built a 30-14 lead at the end of the first quarter. Bikofsky was perfect from the left corner, a spot she said hasn't really been her sweet spot.

"She ran to the right spots," Lions head coach Sam Doner said. "She actually moved without the ball really well."

Kayla Burton, Kendall Burton and Semira Haghayeghi all added three's in the second quarter, and Bifosky's traditional three-point play capped off the half and an 18-point lead.

But halftime could have been the worse thing that happened to the Lions. The home team came out of the break ice cold in the third quarter, only scoring five points, while the Boxers (11-11) slowly started clawing back into the game.

The Boxers held the Lions scoreless over for the last four minutes of the quarter and went on a 7-0 run in the process. Brockton was able to hold the Lions without a 3-pointer in the quarter by closing out on shooters, and snatching offensive rebounds against a frontcourt that is missing starting center Julia Sloan-Cullen.

"We were playing for pride at that point," Boxers head coach Eric DiBiase said.

Christina McDuffy's offensive rebound and put back got the Boxers to within nine at the end of the third quarter, but Kayla Burton scored nine straight points for the Lions to push the lead back to 16 with 5:04 left in the game.

Doner spent a little extra time in the locker room trying to grab the attention of a talented Lions squad that is still learning to play without size in the middle. The head noted that sometime overconfidence can plague his team at times.

"(Brockton) started making their shots and we started walking," said Doner. "I didn't do a good job of getting them back and making them feel better about themselves and getting their confidence back."

Brockton was led by Nephie Marsh's 15 points, while Alicia Rosario canned four 3-pointers as part of a 14-point effort off the bench.
January, 24, 2011
1/24/11
10:55
PM ET
By
Matt Stout
| ESPNBoston.com
NEWTON, Mass. -- For more than 20 minutes, the door to Newton South's locker room stay closed. Sticking to his promise to reporters, Sam Doner didn't scream following Monday's game, he didn't yell.
The coach certainly enjoyed the result -- a 55-41 victory over Acton-Boxborough in a showdown of top-five teams in ESPN Boston's MIAA girls basketball poll. But he'll happily poke and prod the process.
"They started having too much fun," Doner said of his players.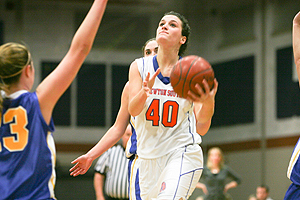 Buddy Leipzig for ESPNBoston.comSophie Bikofsky (13 points, eight rebounds) nailed three 3-pointers to give Newton South a comfortable lead over A-B.
No, Doner isn't a stick in the mud. Toward the end of the fourth quarter Monday, he even joked while Kendall Burton was at the foul line, tossing a set of keys in the air in a light moment with his star guard. But he drove into his players the importance of playing not 27 minutes, not 28, not even "31:59," he said.
"It's a 32-minute game," Doner said.
They got it. And it's a telling reason why the No. 3 Lions are unbeaten and enjoying an early advantage in Dual County League play.
"We have to be more serious on the court," senior Chloe Rothman said. "We had an 18-point lead at one time, and we should have turned it into a …"
Rothman paused slightly, before -- unprompted -- saying in unison with Sophie Bikofsky "a 25-point lead."
"Jinx," Bikofsky quipped.
"But it went down to 11," Rothman said. "Play all 32 minutes."
Mind you, Newton South (11-0) never trailed and was largely never threatened thanks to birthday girl Julia Sloan-Cullen (15 points, nine rebounds) and Bikofsky (13 points, eight rebounds). But as much fun as winning is, Doner is demanding more with so much promise awaiting his Lions.
They lived up to a great deal of it against the Colonials (9-1). When their shots weren't falling from the outside, they looked inside to Sloan-Cullen. When Bikofsky (three 3-pointers) found her stroke, Newton South was off and running, pushing its lead to 10 by halftime, 12 by the end of the third quarter and a game-high 49-31 with 4:28 to play.
With the Colonials playing primarily a zone defense, Newton South found the holes when it needed to, mostly behind Sloan-Cullen. But Doner lamented not giving her the ball more in the second half, which he put on himself.
"I think when it doesn't work for everybody else on the team, it's time for somebody else to step up," Sloan-Cullen said. "It just so happened tonight my offense was there."
Meanwhile, the Colonials struggled to find any rhythm on their end. Star junior Elizabeth Belanger scored 11 points, but six of those came in garbage time, and A-B went long stretches without any offense.
It went the final two minutes of the second, 3:12 of the third and 2:09 of the fourth without a field goal, killing any chance of carrying momentum through stoppages.
"We knew to be successful you have to go at them, and we spent a lot of time where they got us back on our heels offensively," A-B coach Kim Landry said. "They're going to make shots. They're good players and they shoot the ball well, but I thought we could have been more aggressively offensively."
The reality is Newton South didn't give it much of a chance. Any time A-B came close, the Lions responded, putting together a 13-2 run after A-B tied it in the first quarter, and an 11-2 spurt when it sliced the deficit to single digits in the third. Playing physical interior defense, Newton South forced the Colonials into 20 turnovers, including nine in the first-quarter alone.
Defense certainly isn't a problem, and balance -- Rothman and Burton each added 10 points -- isn't either.
"I think we can do something," Doner said, "but it's up to their mindset, if they're really matured and understanding that every game is a big game."
And if they don't have too much fun.
"Not too much," Doner said.
Then, he laughed.