Boston High School:

Sam Holway
June, 7, 2012
6/07/12
12:51
AM ET
By
Brendan Hall
| ESPNBoston.com
HYANNIS, Mass. -- Keegan Dellacona had been itching for another crack at it since his last playoff appearance with Barnstable, some two seasons ago when the then-sophomore got tossed around by Catholic Memorial for a quick exit in a 19-0 loss.

But part of Dellacona's pre-game routine involves blasting heavy metal on his headphones, so naturally he might have been a little too fired up. Especially after fanning 14 batters in a complete-game win that gave himself goosebumps.

"The anxious factor really gets to you sometimes," he said, stumbling over his words. "When you get anxious is when you start making mistakes and, you've got to take it one pitch at a time. You've got to be...not really think that much, but try and keep them off-speed, I mean, off-balance at the same time."

Then he cracked a smile -- "I mean, I'm still hyped up, I've still got the adrenaline in my body, so I'm stuttering here."

The 6-foot-3 senior turned in one of his best performances of the season in going the full nine, allowing just three hits in addition to the 14 K's, as the Red Raiders advanced to Friday's Division 1 South semifinals with a 5-0 win over Framingham.

And try as he might, he couldn't stay calm.

"I try not to get hyped up [before starts], I try to keep to myself," Dellacona said. "But I was really excited for today. Sophomore year, Catholic Memorial shelled me -- I was horrible -- so I was really anxious for today, to get back out here in the playoffs and do good."

Meanwhile, the bats of the Red Raiders (16-4) gave Dellacona plenty of run support against a Flyers (12-8) squad still beaming from a shocking upset of state championship contender BC High yesterday afternoon. Mark Brodd and Sam Holway each stole a base to start off the bottom of the second, and Dennis Beynor blasted a two-out single to the left-centerfield gap to send them both home and make it 2-0.

The Raiders plated two more runs in their next trip up, with Everett Walsh hitting a sacrifice fly to right, followed by a Brodd RBI single. Walsh popped another sac-fly to right in the fifth for the 5-0 advantage.

Dellacona retired the final 17 batters he face in succession to pick up the win, and he did it with an efficient combination of a hanging curve and two-seam fastball with some late life.

"His two-seamer had some run on it today, so he was eating the outside corners," Barnstable head coach Joe DeMartino said. "Just throwing it, and having to come back over the plate. Those guys looked like they'd never seen a two-seamer like that before, he could put it where he wanted it today."

Dellacona's outing is the second straight complete-game outing for the Raiders in as many playoff games. UConn-bound righthander Willie Nastasi, who struck out seven and allowed five hits against Catholic Memorial on Saturday, will get the nod Friday night at Quincy's Adams Field, against the winner of tomorrow's quarterfinal between Franklin and Taunton.

Heist in Hyannis: The Raiders stole second a whopping eight times to manufacture the runs -- including five times over the second and third innings alone, and two each from Morris, Brodd, and Tyler Adams. DeMartino said after getting a look in the first inning, when Dylan Morris dove into second cleanly, he put on the green light.

"We try to at least get a look early," DeMartino said. "We happened to get one in the first inning, and it was apparent we could take bags, so we kept on going."

Like Framingham, the Raiders also belong to a league that plays nine innings with wooden bats. How much did those games -- where small-ball tactics are often deployed in lieu of the lighter amount of hits -- condition them for these playoff-type games?

"I think ever since I got in here, we wanted to do those little things correctly," DeMartino said. "Once you get a guy on, if there's no outs get him over and try to get him in. We practice that a lot. It helps, and it's apparent that we do practice that, because we got it done [today]."

Flying High: The Flyers came up goose-egg this afternoon, but after yesterday's turn of events, can you blame them? Led by a lights-out performance from ace Johnnie Lacy on the mound, Framingham delivered the upset uppercut of the MIAA tournament -- and, possibly, the year -- with a 3-2 win over Catholic Conference juggernaut BC High, a team many had pegged as a favorite for the Division 1 state championship.

"That's a win these kids are always going to remember, let's face it," head coach Dan Avery conceded. "Lacy was phenomenal yesterday, pretty much dominated, just really gave intensity. We looked tired, but you know, you get a win like that, you expound a lot of energy.

"I'm afraid of saying something like that and taking away from them [Barnstable], because they're a good-looking team. I didn't see any weaknesses -- if you saw them, I don't know where they were."
May, 14, 2012
5/14/12
11:09
PM ET
By
Eric Adler
| ESPNBoston.com
HYANNIS, Mass. -– There were no words of wisdom, motivational message, or encouragement of any kind that Barnstable baseball coach Joe DeMartino offered pinch-hitter Tim Biliouris with the game on the line. He simply inserted his back-up first baseman, certain that the senior slugger would work his magic.
[+] Enlarge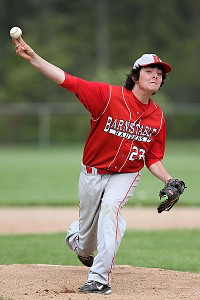 Eric Adler for ESPNBoston.comSenior righthander George Bent went the distance for Barnstable, scattering five hits and striking out nine.
With his coach's confidence behind him, Biliouris came through in the clutch, hitting a two-run single back up the box in the bottom of the seventh as the Red Raiders rallied for a 4-3 non-league win over New Bedford under cloudy skies on the Cape Monday.
DeMartino had eight other subs he could have called on to get the job done, but the decision to send Biliouris to the dish was an easy one.
"Tim has had a bunch of big pinch-hits for us the past couple of years, so I trust him in any situation to go up there and put a good swing on the ball, and he did," said DeMartino. "He's done it before so I knew he could do it again."
Biliouris' heroic hit made a winner out of classmate George Bent. The fast-working righty scattered five hits, two walks and struck out nine batters. He was also superb down the stretch, retiring the final nine batters he faced, six by way of the K.
"We've gotten walked-off twice this year [against Falmouth and Bridgewater-Raynham] and it felt awful, so it's nice to be on this side of it for a change," said Bent. "It's pretty awesome."
Righty Mike Rapoza absorbed the tough-luck loss for New Bedford. Up until the fateful final frame he carried the Whalers, allowing just six hits while also collecting two himself, including a towering two-run home run in the first inning.
"They got that bomb in the first, but we said we weren't going to let that sink us," said Biliouris. "We just kept chipping away and chipping away, and we got it done."
Barnstable (10-3) wasn't nearly as challenged in its previous meeting with New Bedford, cruising to an 8-0 win on April 5. But the Whalers (10-4) have improved ten-fold since then and came into Monday's match-up having won six of their last seven games.
New Bedford seemed intent on getting revenge and continuing its red-hot streak right from the start. Speedster Jon Finnerty connected to deep left and pulled in for a sliding triple, followed by Rapoza's 370-foot blast to left-center that gave the Whalers a 2-0 first-inning lead.
The Red Raiders cut the deficit in half when Luke Besse (2-for-3) singled in the home half of the first, moved over two bases on a botched pick-off and scored on a wild pitch. The Whalers got the run back in the third when Rapoza doubled to left and scored on Ricky Moraes' single to the same field.
Barnstable closed the gap to 3-2 in the fifth thanks to Dennis Beynor's sacrifice fly that plated Everett Walsh, giving the hosts a little hope.
In the seventh, Walsh ignited the Red Raiders' rally, drawing a one-out walk. Sam Holway then smacked a double to left, setting the stage for Biliouris.
After working the count to 2-1, Biliouris connected on a hanging curveball that skipped over second base, just past the diving glove of shortstop Chandler Debrosse for the game-winner, the first of his career.
"I've been called on to pinch hit for two years now, so I know you've got stay focused, keep it simple and try to rip it up the middle just like I did," said Biliouris. "We were on him [Rapoza] all day, it was only a matter of time until we got to him."
Barnstable wouldn't have been in a position to come back if not for Bent, who settled down after a shaky start. He struck out the side in the fifth before working a 1-2-3 inning in the sixth and seventh.
"When Rapoza hit the home run I just said 'whatever, I can't change it,' so I've got do what I can to help my team win," said Bent. "As a a pitcher, you've got to have a short memory."
Taking the advice of his coach to "stop throwing fastball over the plate," Bent used his curveball on "85 percent" of his pitches over the final few innings. "I was able to hit the outside corner with it and it that was huge," said Bent.
DeMartino was particularly proud of his playoff-bound club responded with its back against the wall.
"At the beginning of the season we really struggled to keep our focus throughout every inning," he said, "but we're coming into our own as a team now and are learning how to finish games."