Boston High School:

Sam Norton
August, 26, 2014
Aug 26
8:26
PM ET
Last Monday, we unveiled our fifth annual
statewide preseason Top 25 pol
l. Today, we continue our annual countdown of the poll with our final installment, featuring our top five teams.
In case you missed our earlier installments:
25-21
|
20-16
|
15-11
|
10-6
NO. 5 ST. JOHN'S (SHREWSBURY)
Coach:
John Andreoli (11th year, 92-31)
Last season:
Division 2 state finalists, lost 28-14 to Mansfield
Returning starters:
11 (4 offense, 7 defense)
Key returners:
Davon Jones, Sr., RB/DB, 5-10, 185 lbs; Sam Norton, Sr., DT, 5-9, 210 lbs, Nick Calvano, Sr., WR/DB, 5-7, 175 lbs; Shane Combs, Sr., QB/RB/DB, 6-1, 210 lbs.
Strengths:
Defense, physical strength
Weaknesses:
Experience
Outlook:
Another year, another deep and talented starting lineup boasted by the Pioneers, last year's Central Mass. Division 2 champion. The Pioneers lost some major contributors off of last year's team, including all-state quarterback Andrew Smiley, but coach John Andreoli is confident especially in the ability Combs, Jones, and Calvano to make big plays on the offensive side of the ball. Currently, Combs is splitting equal reps at quarterback with Tim Cassidy. "
The jury is still out," Andreoli said on the quarterback decision, "Both he and Tim Cassidy are taking equal snaps. They both have very different skillsets...it's a different look when each one of them is in there." Jones, a hard-hitting Boston College-committed safety, has proven to be one of the state's top players over the past couple of years, but it's his on the field leadership that is standing out so far this fall. Jones is the only four-year starter in the history of the program. "The thing that impresses me most about him is that he's really assumed a leadership position, with the way he conducts himself on the field, and the way he takes control of the defense," Andreoli said, "And offensively the level of maturity that he has brought takes him to the next level." Several players have found a way to make a name for themselves early on in camp, partly too because of the work they put in over the offseason. Andreoli said that this year's team has the most physical strength collectively of any squad that he's coached at St. John's: "The amount of guys that we had were able to bench 185 for multiple reps was the most we ever had here. That's kind of been the foundation as the first thing. On the defensive side of the ball, our secondary has really shown a tremendous amount of speed, athleticism, and physicality in our first week." Keep a close eye on Marc-Eddy Paul, Michael Corinna, Mitch Earley, and Sam Kloczkowski – all of whom have made a big early impact early on in practice.
-CHRISTIAN BRADLEY
NO. 4 MANSFIELD
Coach:
Michael Redding (27th, 217-66-4)
2013 Record:
13-0, Division 2 State Champions
Returning Starters:
11 (5 offensive, 6 defensive)
Key Players:
Brendan Hill, Sr. TE/SE 6-5, 228 lbs; Mike Carpino, Sr. OL/DL 5-9, 210 lbs; Tyler Smith, Sr. OL 6-1, 205 lbs; Andrew Horstmann, Sr. OL 6-2, 225 lbs; Curtis Boisvert, Sr. RB/DB 5-8, 180 lbs; Joe Moreshead, Sr. LB 5-10, 180 lbs; Q'ra Guichard, Sr. LB 5-8, 195 lbs; Connor Finerty, Jr. LB 5-11, 195 lbs; Nick Borsari, Sr. DL 6-2, 270 lbs; C.J. Daniel, Sr. LB 5-11, 170 lbs.
Strengths:
Offensive line, linebackers, defensive line, running backs/receivers
Weaknesses:
Inexperience in the secondary, adapting offense to personnel
Outlook:
The Hornets completed their own version of a revenge tour last year, turning a loss in the 2012 D2 EMass Finals into an undefeated 2013 season and winning the first ever Division 2 State Championship. The biggest concern for the Hornets will come on offense and finding the pieces to replace quarterback Kyle Wisnieski, receivers Michael Hershman and Kyle Hurley and the elusive Miguel Villar-Perez. But to counter that, Mansfield possesses one of the most talented tight ends in the entire state in Brendan Hill, a member of the ESPNBoston Preseason All-State Team. Hill, who has received interest from multiple D1 programs, will likely garner the majority of attention from defenses so Mansfield will need to develop other options. Matt Carafa will likely step in and be QB1 for the Hornets while Curtis Boisvert will see a good amount of carries out of the backfield. Last year, Michael Redding talked about having some inexperience on the offensive line but this year they return three starters – Carpino, Smith, and Horstmann – and will rely on their line to help carry the offense. Defensively, the front seven is very strong led by linebackers Q'Ra Guichard and Joe Moreshead, arguably two of the more underrated players in the Hockomock League. They also return linebackers Connor Finerty and CJ Daniel as well as Brendan Hill and Nick Borsari, who will both be on the defensive line. The question on defense will be about replacing the strong defensive backs they had a season ago, led by Mike Barresi and Aurien Dawkins. Boisvert will likely be called on to be the anchor of that group. It won't be an easy start either for Mansfield as they begin the season on the road in New York against powerhouse Archbishop Stepinac.
-RYAN LANIGAN
NO. 3 EVERETT
Head Coach
: John DiBiaso (23rd season at Everett, 271-66-1 overall)
2013
: 8-2, lost Division 1 North final to Central Catholic
Returning starters:
13 (6 offense, 7 defense)
Key Players
: Lukas Denis, Sr. Ath./DB, 6-0, 175 lbs.; Nick Orekoya, Sr. RB, 5-10, 200 lbs.; J.J. Colimon, Jr. TE/DL, 6-4, 250 lbs.; Erick Browne, Sr. OT/DT, 6-3, 270 lbs.; Mark Cardwell, Sr. 6-0, 225 lbs.; Jordan McAfee, Soph. QB.
Strengths
: Athleticism in offensive and defensive backfield; size and physicality on offensive line.
Weaknesses
: Lack of game experience at key positions.
Outlook:
Perhaps more than any Everett team in recent memory, this year's edition of the Tide is full of X-factors. The hype is abundant, but there are lingering questions. The athletic potential is apparent, but there's a lack of on-field experience together. The one surefire thing the Crimson Tide do have returning is Lukas Denis, who joined the long lineage of Everett defensive backs to give their commitment to Boston College. Denis, who's on-ball coverage skills are unparalleled in the region, will again be relied upon heavily as a hybrid back/wide receiver. Of course, that too depends on which form Everett's offense will take. There are big things predicted for sophomore signal-caller Jordan McAfee whose yet to make a start. Meanwhile, Billerica transfer Nick Orekoya provides a stout presence at running back – one that can both break tackles and out-run hits. On defense, the Crimson Tide are short on game experience at linebacker, but should be able to generate on the pass rush with senior Mark Cardwell.
-SCOTT BARBOZA
NO. 2 CENTRAL CATHOLIC
Head Coach
: Chuck Adamopoulos (18th season, 123-62)
2013
: 11-1, won Division 1 State championship
Returning starters:
11 (5 offense, 6 defense)
Key Players
: Michael Milano, Sr. QB, 6-1, 170 lbs.; Michael Balsamo, Sr. RB/S, 6-1, 202 lbs.; Markus Edmunds, Sr. RB/ILB, 5-11, 210 lbs.; Jorge Elias, Sr. G/DT, 6-0, 215 lbs.; Pat Dziedzic, Sr. OT/DT, 6-1, 220 lbs.; Dan MacDonald, Sr. OT/DT, 6-3, 260 lbs.; Justin Landry, Sr. C/ NG, 5-11, 270 lbs.
Strengths
: Experience at quarterback, inside linebacker and safety; defensive front seven; big game experience.
Weaknesses
: Lack of game experience at wide receiver and outside linebacker; kicking game.
Outlook:
The Raiders rolled through Everett and Xaverian on the Road to Gillette and snuck up on some observers – we're included – en route to the state's first true state championship in Division 1. This year, they'll be the targeted team, with a good mix of returning key contributors from last year's title team. The added good news for Central is that many of its returning starters are back at its most important positions. That includes senior four-year starting quarterback Michael Milano, who was among the statistical statewide leaders in just about every category during last year's playoffs. "He led our team in rushing last year and, I think for the people that followed us every week, that while [Cody] Demers made a lot of the big plays, Michael [Milano] did a lot of the things that made us successful, making such a big jump from his sophomore to his junior season." The Raiders also return a few key members of its vaunted 3-4 defense, including free safety Michael Balsamo and inside linebacker Markus Edmunds. Edmunds, who led the team in tackles last year while eclipsing the century mark, will be working beside a new-look linebacking corps, but "I don't know if he's going to have a better year statistically this year because he was so good last year, but he's going to have a lot more on his shoulders. We had two seniors at outside linebacker last year, who were both pretty smart kids as football players and they helped him make calls. So he's got a little bit more on him in a leadership role."
-SCOTT BARBOZA
NO. 1 XAVERIAN
Coach:
Charlie Stevenson (21st season, 172-62-1)
2013:
10-2, lost in Division 1 State Championship
Returning Starters:
15 (6 offense, 9 defense)
Key Returnees:
Joe Gaziano, Sr. TE/DE, 6-4, 242 lbs.; Damion Wood, Sr. WR/FS, 5-11, 200 lbs.; Joe Parsons, Sr. OT/DT, 6-5, 285 lbs.; Jake Farrell, Sr. QB, 6-3, 185 lbs.; Noah Sorrento, Sr. RB/OLB, 5-9, 185 lbs.; Kenny Kern, Sr. FB/MLB, 6-0, 227 lbs.; Elijah Pierre, Jr. OL/NG, 6-0, 260 lbs.; Mekhi Henderson, Soph. CB, 5-9, 175 lbs.; D'Aundre Holmes, Jr. RB/FB/OLB, 5-11, 205 lbs.; Coby Tippett, Jr. WR/CB, 5-9, 165 lbs.; Ernest Simon, Sr. WR/CB, 5-9, 180 lbs.; Nick Allsop, Jr. C/DT, 6-3, 248 lbs.
Strengths:
Defense, experience at quarterback, skill position depth
Weaknesses:
Experience at offensive line.
Outlook:
There's no hiding it, and there's no way the coaching staff can sandbag it: This defense is going to be pretty good. Led by the Northwestern-bound Gaziano, the reigning ESPN Boston Defensive Player of the Year, the Hawks return virtually everyone defensively, and are solid at just about every position in the front seven. The strength of the defense may lay in the secondary, where the Coastal Carolina-bound Wood has been playing with a violent chip so far this preseason, and the quick-twitched Henderson figures to be the top draw at corner after a promising freshman campaign. "He's a fierce competitor," Stevenson said of Wood. "He likes to make plays against the opponent, and I think he's serious about that. He's playing hard when he's out there, that's a good thing to have." Offensively, the Hawks have a few holes to fill, but on the right side they should be fine with the UMass-bound Parsons returning at right tackle. Gaziano was mostly used in-line for run support last season, but the Hawks have so far experimented with him in a "flex" role, lining him up in the slot or splitting him out wide. He made a few dazzling grabs in Saturday's scrimmage with B-R, and it's hard to imagine a scenario where the traditionally conservative Hawks don't get him more involved in the passing game this fall. "When he gets inside a cornerback, that's a big body for the cornerback to come through," Stevenson said. "He's a big guy who can run and catch, and once he catches the ball –- I'm not gonna say he's quick –- but he brings a pretty good load with him. Clearly, we're going to get him more involved in our pass attack." Farrell, a baseball star during the spring, is entering his second year under center and demonstrates above-average arm strength. He won't be depended upon to run the ball, with the entire backfield back, but his improvisational skills are noteworthy.
-BRENDAN C. HALL
September, 15, 2012
9/15/12
8:11
PM ET
By
Brendan Hall
| ESPNBoston.com
SHREWSBURY, Mass. -– St. John's quarterback Andrew Smiley noticed receiver Micah Cummins putting on a red basketball-like compression sleeve on his left arm before this afternoon's visit from Longmeadow, and kept things real –- "You drop a pass, I'm gonna be all over you about it," Smiley cracked to him.
Done and done.
[+] Enlarge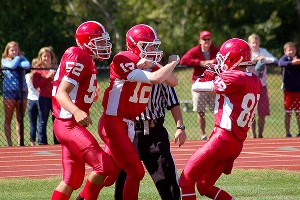 Brendan Hall/ESPNBoston.comQuarterback Andrew Smiley (12) and receiver Micah Cummins (88) connected for two touchdowns to lead St. John's to a 35-14 win over Longmeadow.
Not only did Cummins refrain from a drop, but the 5-foot-11 wideout came up with two pivotal touchdown catches in the first half that put the No. 18 Pioneers ahead for good. The defense did the rest in the second half, forcing the No. 6 Lancers into three straight turnovers on downs en route to a 35-14 win at Pioneer Field.
After a dazzling debut in his first varsity start last week against Holy Name (353 yards, 4 TD), Smiley once again went over the 300-yard mark in total offense. He was 16-of-18 passing for 246 yards, and carried the ball 15 times for 96 yards, with four touchdowns total.
Meanwhile Cummins finished with four catches for 74 yards for St. John's (2-0), but earned most of his yardage after the catch with some slippery moves. At 160 pounds, Cummins is not the biggest or most intimidating target for the Pioneers – but he may have the best body control.
That was perhaps best explicated on Cummins' second touchdown catch, a 30-yard snag at the two-minute warning of the first half that put the Pioneers ahead 21-14. The play called for Cummins to run a "jerk" route to the left sideline, in which the receiver fakes like he will sit in a zone hole before continuing his shallow crossing route. He hauled in Smiley's short dart with a few feet of real estate left, then planted upfield, spun through one defender, juked to the right of another, and marched the final 25 yards untouched.
That was preceded by a 47-yard strike to Cummins towards the end of the first quarter that put the Pioneers up 14-7. Cummins ran a post route up the left sideline, facing man coverage with a safety shaded to his side, and was sprung free by a pick from John Giacoppe (5 catches, 62 yards) to make the grab behind the safety and glide into the end zone.
"He's so shifty, hard to tackle," Smiley said. "He's not the strongest kid out there, but he's quick. He's just hard to tackle."
Smiley came up with two more scores in the third quarter to put this one away, first calling his number for a seven-yard scamper, then finding Davon Jones on a seam deep downfield for a 30-yard pass.
Improved defense:
The Pioneers came away with the win last week against Holy Name, but were not satisfied with the run defense, giving up 463 yards and five scores on the ground to the Naps' vaunted Double Wing scheme (282 coming from Quron Wright). This week, they split that number in half, allowing 233 yards and two scores against the Lancers' modified Wing-T scheme (which today also showed elements of the "Flexbone" formation, with heavy personnel groupings).
Give credit to the front four for that marked improvement. Against a Longmeadow's senior-laden offensive line that is considered one of the state's best -- averaging over 260 pounds across, and led by road graders Rob McClure and Lou Calabrese -- the Pioneers held their own. Led by juniors Jeff DeMango and Connor Gatto, and sophomore Sam Norton, they were able to stuff the interior gaps ably.
The hallmark of today's defensive effort was the aforementioned second-half effort, in which the Lancers ended three straight drives with a turnover on downs in Pioneer territory.
"They've gotten some confidence every week, and they're getting better," St. John's head coach John Andreoli said. "We've played some tough teams all along – Brockton, New Bedford, Shepherd Hill [all three were scrimmages], Holy Name, I mean those are great teams. And our kids stepped up and played disciplined.
"We stayed in a lot of base fronts today, they trusted their reads, and ran to the football. That's what they did, and that's what they've been doing all year."
Longmeadow quarterback Frankie Elder led the Lancers with 86 yards and a score on 16 carries, but a had a forgettable day through the air with 74 yards on 5-of-17 passing, with two picks. Fullback Austin Sierra also had 14 carries for 68 yards.
Dejection, but praise:
Some Lancers felt their hearts sink to their knees in the moments following the game. Elder, for one, sat on the grass, helmet still buckled and lay motionless with a thousand-yard stare.
With legendary former head coach Alex Rotsko leaving behind arguably one of the Lancers' most talented senior classes in a while, there have been high hopes for this year's squad, with a No. 6 preseason ranking in ESPNBoston.com's statewide MIAA poll. A win today would have satisfied Longmeadow's wishes to be taken seriously as one of the state's elite programs.
But in the eyes of many, they already are, and have been for some time.
"It's a respectable win [today], because Longmeadow is a very good program," Cummins said. "I think in a couple articles, they said they wanted to get themselves into the elite of Massachusetts football, and I think they already are elite. I look back at the stats, and they're one of the top programs in the state year in and year out.
"They're well-coached, and I have all the respect in the world for them."
One aspect of the Lancers' gameplan that worked particularly well today was their defense of St. John's running back Shadrach Abrokwah. Coming off a 205-yard, three-touchdown performance last week over Holy Name, the Worcester resident was held to 36 yards on seven carries, but did have a nice 40-yard reception off a swing pass.
But as the stats indicate from today's game. Keying Abrokwah on the zone read opened the field once again for Smiley and the air attack.
"They're just athletic," Longmeadow head coach Nick St. George said. "They're good athletes, they have good receivers, they get the ball out to their guys in space and they force you to make tackles. We missed a lot of tackles today."
Flash cards?
One of the most interesting nuggets from today's post-game interviews was the suggestion from Smiley that the Pioneers may begin to utilize flash cards from the sideline to speed up what has already been a turbo-charged playcalling system.
But not just any ol' flash cards. One of the main storylines with the Pioneers' early season is how they have adopted the "Blur offense" tempo popularized by the University of Oregon under coach Chip Kelly. In recent years, Kelly's assistants have used posterboard-sized placards consisting of four panels with seemingly any sort of picture on it –- a number, a color, a school logo, a mascot, characters from
Caddyshack
, hosts from
ESPN College Gameday
, and so forth.
Even among the increasingly-innovative college coaching ranks, Oregon's method of calling in plays is considered radical. The only thing that's come close so far in the MIAA in recent years might be Duxbury, which dresses five JV players in bright orange hats (
nicknamed "The Amigos"
) and gives them color-coded cards to hold up.
"Oh, we might be bringing those out," Smiley said when a reporter asked about replicating the "Blur" tempo and referenced the Ducks' flash cards.
Have they been working on it?
"Yeah, a little bit," Smiley said.
It could be an innocent comment, and ultimately nothing could come of this. But given the progression of this offense, it could also be the next natural step.
ST. JOHN'S 35, LONGMEADOW 14
LHS 7 7 0 0 --- 14
SJS 14 7 14 0 --- 35
First Quarter
L – Frankie Elder 3 run (Eric Barsalou kick) 6:36
S – Andrew Smiley 8 run (Pat Lehane kick) 6:16
S – Micah Cummins 47 pass from Smiley (Lehane kick) 1:50
Second Quarter
L - Joe Lee 1 run (Barsalou kick) 6:51
S – Cummins 30 pass from Smiley (Lehane kick) 2:00
Third Quarter
S – Smiley 7 run (Lehane kick) 8:02
S – Davon Jones 30 pass from Smiley (Lehane kick) 1:52
August, 25, 2012
8/25/12
4:36
PM ET
By
Brendan Hall
| ESPNBoston.com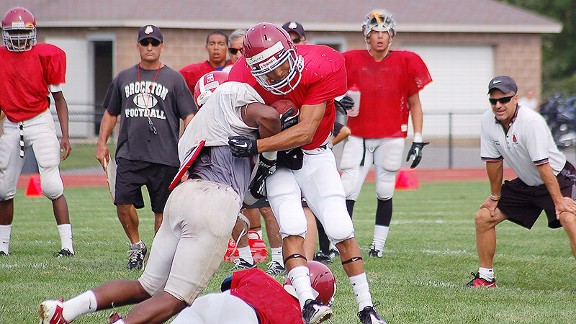 Brendan Hall/ESPNBoston.com St. John's defense showed plenty of pop this morning in its annual preseason scrimmage with Brockton.
SHREWSBURY –- Thoughts and observations from this morning's annual preseason scrimmage between Brockton and St. John's of Shrewsbury, on the grass at Pioneer Field:
Blurring the lines:
In three series of starters against starters, each team scored once. But overall, I would say St. John's was the aggressor for most of the morning, given the efficiency of their "Blur" offense, a very uptempo no-huddle look with spread principles, and the way they exploited the perimeters for multiple first downs.
One particular sequence that stands out is in the Pioneers' first offensive series. Tailback Shadrach Abrokwah took an inside dive handoff and just before he hit the hole, cut back to his left and followed a big seam 15 yards down the left side. The Pioneers, with the ball now at the 10, went straight into the hurry-up. Before Brockton's defense could get settled, Andrew Smiley hit Davon Jones in the right flat on a flare route, and the sophomore did the rest, diving over the pylon for the Pioneers' only score.
"It really comes down to conditioning, staying focused, and making sure that we can execute our assignments," head coach John Andreoli said. "It's ball security and it's playing penalty-free, because you really cannot stop that offense for reasons that you cause yourself. You've gotta make the defense make a mistake.
"You can't make a mistake to stop that offense, you have to make sure it's moving and you're executing. That's why I thought it was a good day for us today."
Key injuries:
Scary moment for the Pioneers on their second play from scrimmage, when incumbent starting quarterback Connor Kurtz went down with an injury to his left knee after getting his leg tangled in the pile while getting dropped for a loss. A diagnosis on the severity of the injury, or to what extent, was unknown after the scrimmage ended. Kurtz had to be helped off the field, and was seen on crutches on the sideline.
Kurtz's backup, Smiley, took over duties for the rest of the afternoon. The 6-foot-4 junior looked sharp at times, tossing a 40-yard fade to Jones in the third offensive series, and making a few plays with his feet after getting flushed out of the pocket.
Meanwhile Brockton lost defensive back Micah Morel, a preseason ESPN Boston All-State selection, in the third series with an injury to his left shoulder. Morel will be re-evaluated on Monday, but having him out for an extended period of time could be a bad blow to the Boxers' defense.
Shadrach reads and reacts:
When you hear the term "blur offense", it's usually in reference to the no-huddle spread scheme run by Chip Kelly's Oregon Ducks, who often try to snap the ball in 15 to 20 seconds. After evaluating his skill personnel, Andreoli felt his offense was up to the task, and as previously mentioned they looked crisp at times.
One of the foundations of this offense is the "Inside Zone Read", a dive play out of shotgun that typically involves zone blocking principles up front, and a sharp cutback from the tailback. The play made a Heisman candidate out of LaMichael James last year; here in Shrewsbury, the play could lead to a breakout senior season for Abrokwah.
At 5-foot-7 and 205 pounds, and blessed with both speed and a powerful lower body, Abrokwah is essentially a sprinter in a hockey player's body. His low center of gravity makes it difficult to get a clean shot, and today he used that to his advantage, repeatedly cutting back to the weak side on these zone plays to run off multiple gains of 10 yards or more.
"It's all in the zone play," Abrokwah said. "Once the offense flows one way, most likely the cutback is going to be on the other side, so I read my blockers, was patient, and just hit the hole."
How quickly does he decide where he's going to go on a zone play?
"It's all instinct," he smiled. "You have to feel the offense, and that's what I did."
New-look backfield:
Devoid of a pure fullback, Brockton didn't run its trademark Pro formation today, instead opting for a modified spread triple option popularized by college programs such as Georgia Tech and Navy.
The change was made to better utilize senior quarterback Augie Roberts' dual-threat capabilities, and things started well in the first series. Roberts is a runner first, and on the second play from scrimmage he demonstrated his running ability, slipping outside a crack back block from Jeff Celeste for a 25-yard gain. But he also has a quality arm, connecting with Lorenzo Lovesy on a fly route for a 50-yard touchdown pass that was negated by a block in the back (an excessive celebration penalty was tacked on for good measure, too).
The Boxers rotated Morel and Aaron LeClair at one wingback position, Louis Jimenez and Moise Edouard at the other, and senior Ricardo Calixte at the fullback spot. Pat Healy is also in the mix at wingback, a baseball outfielder who is back in football after taking the year off.
"I just think it takes advantage of Austin's skills," head coach Peter Colombo said. "You didn't see the whole package obviously today, and he's not limited to that, but I just think it gives us a good opportunity for him to take advantage of his skills. We'll see, we'll adjust as it needs."
The Boxers were good at times, but some of the problems that plagued them in last year's disappointing 5-6 campaign –- namely, red zone struggles –- reared their heads. Jimenez did score from 10 yards out on the Boxers' second drive, but on the first drive they were halted at the Pioneers' five yard line. First, Matt Murphy made a stuff of the ballcarrier at the line of scrimmage. Then on the next play, fourth and goal from the five, Roberts was sacked by Andrew Sullivan.
It was a cycle that flashed in and out all afternoon, with the Pioneers bringing the heat in the front seven behind Connor Gatto, Sam Norton and Barron Dandridge.
Jones brings the wood, and the flash:
I'm going to try my best to avoid the hyperbole highway this season with Davon Jones –- he is just a sophomore, after all, and he did fumble a ball away -– but it's hard not to be impressed every time he comes to play.
Roaming around at free safety, Jones covers a lot of ground in the secondary, and played the bump well in the slot when the Pioneers went to a man press in the red zone. He showed off his live hips on offense, plugging himself into the slot and making defenders miss with multiple jukes.
But the trait that probably sticks out most at this point is his physicality. As the last line of defense against the run, Jones brings considerable pop for someone that's 6-foot and 180 pounds, and it is certainly loud.
Earlier in the week, Andreoli told ESPNBoston.com of Jones, "If he continues to develop the way he develops, the way he's playing now, he's got the ability to play at the highest level" of college football.
"He's a football player," Andreoli said. "He doesn't want to come off the field, he doesn't care how tired he is, he'll take a sip and get back on the field. He loves to play the game. And he plays hard, and he plays it the right way. He's just got to continue to feel comfortable in our scheme, get good at reading receivers."
Referring to Jones' success so far as a guard for the Pioneers' state semifinalist basketball team, Andreoli continued, "The thing too about him is, he's played in a lot of big games –- basketball-wise, and in football. So he's used to competing on the big stage here at the varsity level, so he can just basically play the game and get in the flow of the game."
Jones says he's learned a lot in the last 12 months, and has become more vocal in the secondary, calling out checks. Asked about those progressions he's made in the mental side, Jones chalked it up to "muscle memory".
"The coaches just pound it into my head – pass first, run second," he said. "So I see it, and I just come up running fast."