Boston High School:

Sam Sweet
June, 14, 2012
6/14/12
3:26
AM ET
By
Bruce Lerch
| ESPNBoston.com


ALLSTON, Mass. -- One of the great things about high school sports is that you often find a situation in which a parent and a child get to go through a four-year experience together as player and coach.

To able to share in a state championship together? When it comes to Duxbury lacrosse, there can be no Sweet-er feeling.

The Dragons offense seemed to feature a different lead scorer every game during the 2012 campaign. It's almost as if it's scripted that, on any given day, it's going to be so and so's turn to get the goals. While the team certainly doesn't do that, it seemed fitting that leading scorer in Wednesday's Div. 1 title game was senior Sam Sweet.

Growing up as a lacrosse player in Duxbury with the last name Sweet can't be all too easy. Just because of the name on your back, the already high expectations that surround the team on an annual basis get ratcheted up even further when your father is the man who has served as the architect of Massachusetts' true lacrosse dynasty.

Sam Sweet has found a way to set those expectations aside and just play his game, and the senior produced a hat trick as a key component in the Dragons 10-8 victory over Needham at Harvard Stadium. The win gives the Dragons nine Div. 1 state titles since 2002.

"There's a lot of expectations with everyone on this team," Sweet said afterward. "Almost every senior is going to on to play college ball so there's a lot of high expectations for us. We just have to put those aside. We're still in high school. We just try to focus on our goal of winning a state championship."

"Over the last four years, it's been awesome," the Hamilton College-bound senior continued. "I've played with these guys since I was eight years old, growing up with them its been awesome to be here. And to finish it off like this is a perfect way to finish off a senior season."

Sam has been on the sidelines for every Duxbury lacrosse game since he was in the first grade, and by the time he hit middle school, he watched his older brother Derek win a state championship alongside his father and knew that was an experience he wanted to have as well.

Chris Sweet has often ducked questions about Sam, preferring to keep things focused on the team as a whole. But on this night, as the two were able to pose for pictures together on the Harvard Stadium turf with the state championship plaque in hand, Dad couldn't help but wax a little nostalgic about his youngest son.

"I wouldn't trade it for anything," Chris Sweet said. "To be out here with Sam and to get to be with him every day on the field is a fathers dream. It's been hard at times. I have to treat him like the rest of the guys. But as his father, Im extremely proud of him. I'm sad its over but its time for him and his classmates to move on in life."

For the son, the experience of sharing these moments with his father will last a lifetime.

"It's pretty cool. I wouldn't ask for it any other way," Sam Sweet said. "Kids don't always get to spend this much time with their Dad and I've been lucky for that. To do it like this and come out win all these games together, it's really cool. When we're out on the field he treats me like any other player. It's not any harder or easier. But when we get home, he's my Dad."

ITS NEVER EASY
While the Dragons routinely dominate the lacrosse landscape of Massachusetts, the act of actually winning the state title doesn't always happen how one might think. Since 2007, the Dragons have only had one blowout win, a 16-9 triumph of St. John's Prep last year. Duxbury needed overtime to topple Xaverian (2007) and Billerica (2008), then the Prep played them to a one-goal game in 2009.

With the Dragons holding a 10-4 lead after three quarters, it looked like the rout was on. Needham had other ideas though, breaking out a Lee Corso-styled "Not so fast my friend!" over the final 12 minutes.

"I can't even remember the first half. I think we were ahead," said Sweet with a laugh following the game. "We stuck to the gameplan, we did what got us here. Needham battled back in the second half and they made a game of it. They are athletic, they're well coached and they are scrappy. They don't give up. Thats why the score was that close at the end."

The Rockets didn't get the memo that they were just supposed to play dead in the face of the Dragons, and a rare faceoff win led to a Mark Riley goal just 41 seconds into the final frame to kick off a comeback attempt.

Nico Panepinto added his fourth goal of the game just under four minutes later, and a series of penalties left Needham with a 5-on-3 situation and Duxbury's backup goalie in the cage, which they cashed in on as Mikey Panepinto fed James Caruso for a man up goal at 7:13.

Timmy Parlato, a heart-and-soul kind of player if there ever was one, then made it a two-goal game after scooping a ground ball from a deflected Riley shot and burying his own with 5:53 to play.

"In the early stages of the game we got backdoored a little bit, we didn't see some things very well and because of that they got their hands free inside the crease and they were able to finish some really high percentage shots," explained Needham coach Dave Wainwright. "This is a game thats all about momentum. We were able to capture some and we rode it well.On defense we changed up three different times how to go after them and we figured out that we justhaad to go play some man to man and try and take the ball away. We were able to create some turnovers and pressure them and that gave us some opportunities."


May, 23, 2012
5/23/12
11:34
PM ET
By
Bruce Lerch
| ESPNBoston.com


WELLESLEY, Mass. -- Over the past six years, Duxbury has found itself a great opponent for the final game of the regular season in perennial New Hampshire power Bishop Guertin.

All but one of the six meetings have been highly competitive, and Tuesday afternoon saw the two squads put together a defensive masterpiece. All six starting long poles and three long-stick midfielder's on each side are committed to play at the Division 1 college level next spring, and they were the key factors for the majority of this interstate showdown.

Ultimately, a three-goal spurt midway through the fourth quarter decided it as top-ranked Duxbury rallied from a 5-3 deficit to take a 6-5 triumph over the Cardinals at Babson College's MacDowell Field.

"It felt like we were playing Garden City's defense there," Sweet laughed when asked about the high level of defense. "[Bishop Guertin] were tough to beat one on one, they played great team defense, they packed it in and they got key goaltending. That's a good formula for keeping the score down. It was a great high school lacrosse game and it could have gone either way. I'm glad that we had that little run and were able to get some key defensive stops at the end."

The Cardinals (15-3) tried to break open what was a 3-3 game when Tommy Vailas made a beautiful alley-dodge to free himself up for a goal late in the third, then opened the fourth with a nice rip down near the baseline by Luke Roever.

The way Guertin was playing defensively, it was going to prove difficult for the Dragons to make one of their patented runs, but sure enough, they did exactly that. In an extra-man situation, Will Siefert fed Seamus Connelly down low and the big attackman used a great stick fake to pull Cardinals goalie Colin Dulea out of position for a score.

Henry Narlee won the next faceoff and James Burke swooped in on the ground ball, as he has done all season, and fed Siefert for an easy look in transition to tie the game. Just over a minute later, Sam Sweet produced a tremendous individual effort to get free and set up Jack Sullivan for a goal that not only put Duxbury in the lead for the first time, but also held up as the game-winner.

"We were just moving around on the crease and my guy slid early and went to Sam and he just made a great look in the crease," described Sullivan. "It was kind of nerve wracking on the crease with the ball. We worked hard, we're a fourth quarter team and we gave it our all at the end. Narlee did great on the faceoffs, won those three in a row to get us those three goals."

BIG MAN GOES OFF ON THE BIG STAGE
It seemed the like the impressive size of the Guertin poles fed right into the best aspects of Seamus Connelly's game. The 6-foot-2, 200-plus pound Duke commit was able to body up against the Cardinals poles and use his exceptionally talented hands to rifle shots home to the tune of a four-goal game.

He even showed a little of his flashy side, using a nice stick fake where it looked as though he would shoot behind his head, then whipped the ball around from the front on the first score of the Dragons' game-deciding run.

"Shay [Connelly] played great today," praised Sweet. "He played with some energy, he played smart and he hit his shots. Lacrosse is funny. You can have great players out there and its really a game of matchups. They were a little bit slow to slide to him on those goals and they paid a price for it and Seamus stuck his shots. It was awesome. He played a great game."

Added Connelly, "One of our things is to keep believing. We knew we could pull it out. We've been down a lot in games and we've always come back. It's just a matter of our seniors looking each other in the eye and knowing we could do it. Our offense was really helping me get the space I needed to shoot. It was the kind of day where it was my turn to shoot. Any other day it could have been Sief or Sammy or anybody else."

DEFENSE STEALS THE SHOW
Connelly popped in the second of his four goals with 24 seconds remaining in the second quarter and the game ended up tied, 2-2, at the half. Fans who weren't at the game might look at that score and say, "Good thing I didn't go. Must have been a boring game."

Not even close. You missed brilliance on display.

The fans who did make the trek to Babson College saw two defenses playing at the highest of levels a pair of New England high school teams are capable of. We've come to expect this from the Dragons, who have been all year long by close defenders Max Randall (Dartmouth commit), Matt O'Keefe (Johns Hopkins) and Jay McDermott (Syracuse), as well as lethal LSMs Reilly Naton (Yale) and James Burke (Penn State).

For perhaps the first time all season, aside from Garden City and Irondequoit, the Dragons met their match in the defensive zone. The Cardinals are led by long poles Bob Fahey and Kyle Karaska, both of whom are UMass-commits, and LSM Jay Krzyston (R.I.T.).

That unit was able to force turnovers, bad shots, and keep Duxbury's transition opportunities to a minimum for all but that two-minute stretch in the fourth.

"I have so much confidence in those kids," praised Guertin coach Chris Cameron. "They've been with me for four years and I know what they can do. They play against top-notch caliber all summer. We try to get them as many competitive games as possible so I knew that at this level of play they could handle their attack."


May, 6, 2012
5/06/12
12:38
AM ET


DUXBURY, Mass. -- Duxbury had a sterling opportunity to notch the game-winning goal in the final minute of their stalemate against New York state power Niskayuna on Saturday.

The Dragons went on the man-up inside of a minute remaining, looking for the go-ahead. The Silver Warriors held, but not for good, as Sam Sweet netted the game-winner with 13 seconds to play for an 8-7 Duxbury win.

The strike came better late than never for the Dragons (13-2) who used some nifty transition offense and a 25-11 ground ball advantage to beat the 10th-ranked team I the latest ESPNHS FAB 50 national poll.

"We had a set play set up and we have to keep it in the box because there was a stall warning that kind of screwed with it," Sweet said. "Then, it got hectic."

He added, "The penalty expired and I had a shorty on me, so I just took it to the net," Sweet said.

Without the services of attack Paul Hellar (shoulder injury) through the second half, Duxbury spread out its offensive load. Sweet and fellow attack Seamus Connelly, along with long-stick midfielder James Burke had two goals each.

Burke was also a defensive catalyst, gathering a team-leading six ground balls.

"Duxbury's a really good team, really athletic," Niskayuna head coach Mike Vorgang said. "They want to pressure you all over the field and make you put the ball on the ground. They got us out of some of the things we wanted to do on offense, but we were resilient and came back."

The Silver Warriors (11-1) came back to tie the score on three different occasions in the second half before Sweet's winner.

"What it told me is that we were able to put together a full 48-minutes of good Duxbury lacrosse, which we've kind of been missing until now," Duxbury head coach Chris Sweet said. "In practice, we went back to basics, passing and catching, and scooping ground balls."

AND DOWN THE STRETCH THEY COME
The teams played a riveting fourth quarter, as the teams traded tallies.

Each time Niskayuna knotted the score up in the period, the Dragons responded within 20 seconds in both instances.

While the Silver Warriors showed glimpses of the offense which has averaged nearly 20 goals per game in the Empire State's uber-competitive B division, Duxbury's short-handed attack was ready to counter.

"It's shows that we can keep our composure, which is huge heading into the playoffs because you've got to be able to work through adversity," Sam Sweet said. "That's what we were able to do. That's huge."

STEPPING UP
While Hellar's injury is a situation worth watching, what was impressive is that the Dragons didn't seem to miss a beat without him in the second.

"He creates so much out there," Chris Sweet said of Hellar. "I don't think he's going to be out too long, hopefully he bounces back quickly. It was an adjustment, but the guys that were out there, stepped up. They kept cool and, again, they didn't try to do too much. They made plays when they needed to."
April, 29, 2012
4/29/12
12:00
PM ET
By
Matt Noonan
| ESPNBoston.com
NEEDHAM, Mass. -- Two days after one of Duxbury lacrosse's wildest contests of the season, the No. 1 Dragons once again found themselves behind the 8-ball.

But Duxbury constructed a three-goal rally early in the first half, which helped them go on to defeat Needham, 11-7, at Memorial Field Saturday night.

"We want to get back to playing Duxbury lacrosse, and we've had a tough schedule [because] we've had a game every other day for about three weeks," Duxbury head coach Chris Sweet said. "But I thought we played a great second half, we got off to a slow start in the first half, and sometimes that just happens."

The Rockets, who jumped out to a stunning 3-1 lead in the first quarter, struggled to maintain their two-goal advantage, as missed shots, passes and ground balls opened the door for the Dragons attack and midfield to tally four unanswered goals before intermission.

Senior Sam Sweet (2 G) tied the game at 7:10 of the second quarter after collecting a pass from senior Paul Hellar (2A). Senior Adam Fitzgerald and junior Henry Narlee (2G) then upped the Dragons' lead to 5-3.

"Coach Sweet, one thing he stresses is always get ahead of the ball, and never give up on the play, so once I won the face-off, I saw Reilly [Naton] had the ball, and I just tried to get in front of everybody and beat my defender," Narlee said of his second quarter strike. "I beat him, [my defender] and luckily got the shot off, so I thought it was nothing special, but I just had to get in front and do the fundamentals."

Duxbury, which managed to tally two strikes in the third, ramped up its intensity during the final quarter, as the Dragons' defense initiated four transition goals to secure their 10th victory.

Senior Will Siefert (4 G, 2A), who was responsible for three of his team's final strikes, set up shop to the left side of senior Lucas Davis' cage during the fourth quarter and was able to finish Duxbury's transitions with three consecutive tallies.

"In the fourth quarter we stuck together, and we just started to pick it up, started winning ground balls, and got us the possessions that we needed, so it helped us get the goals," Siefert said. "My buddy, Sam [Sweet], we've played together for a while, and he always finds me there [on] the backside, so I just camp out there and wait for the ball, and try to finish it."

"I think it starts at the defensive end. We get the ball off the ground, then we get a couple of quick passes, and get into transition, and then once we get a little bit of space, our attack man are pretty good at moving the ball and finding the open guy," Chris Sweet added.

Senior Jamie McGill and junior Nico Panepinto registered Needham's final goals with two minutes remaining, but their rally was cut short after Duxbury secured the ball on the ensuing possession, and drained the clock with various passes.

"We knew this was going to be a tough game," Needham head coach Dave Wainwright said. "We put this on our schedule because we wanted to see where we were at the midpoint of the season, and this is exactly the midpoint. This is game nine for us out of 18, and the fact that we're at this point right here, we feel as though we've got room to grow, but we've done a lot of good things along the way."

"This was a game that we look at the outcome of the score, we're not happy with it, but we feel as though we can answer some of those problems," added Wainwright. "We definitely have some talented young men that work real hard and I think they're going to be ready once it becomes tournament time because we have another half of the season to grow."
April, 7, 2012
4/07/12
8:53
PM ET
[+] Enlarge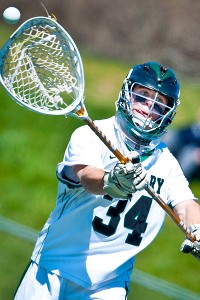 Jim Tarbox for ESPNBoston.comDuxbury goaltender Henry Buonagurio was a bright spot for the Dragons with 11 saves in a loss to New York power Irondequoit on Saturday.
DUXBURY, Mass. -- It was what you'd expect from two of the top lacrosse programs in the nation, with top-notch defense and big-time goaltending.
Then again, it wasn't (i.e. offense was something to be desired).
As MIAA lacrosse top dog Duxbury squared off against New York power Irondequoit Saturday, the two ESPNHS FAB 50 squads showed how they are built from the back end out. The result was a tightly played game with a score that resembled more of a baseball game than a lacrosse match.
Irondequoit escaped their Bay State journey with a 4-3 win over the Dragons despite being shut out in the second half.
The margin of victory largely was indicative of the fact that the Eagles (5-0) converted on more of their early chances than did the Dragons (2-1).
"We struggled to score," Duxbury head coach Chris Sweet said. "But that's a high-powered offense on the other side and they struggled to score, too. It's unusual, a 4-3 game."
For a game where both sides' defensive units outplayed their offensive group, both teams were off and running during the fourth minute of play.
Nick Doktor put the Eagles to the first lead of the game on a dodge, only to see Duxbury attack Paul Hellar tie the score 22 seconds later.
The Dragons were able to bounce back again when Gunnar Miller notched his first of two goals with 5:32 remaining in the first. Duxbury's Sam Sweet countered with the first of his two tallies less than a minute later with an assist from Andrew Buron.
Irondequoit rallied for two goals in the second quarter. Connor Enright showed off his quick hands, pulling in a pass from Doktor at the top of the crease, going across his body and beat Dragons goaltender Henry Buonagurio (11 saves). Miller then score what held up as the game-winner with 5:55 remaining in the first half.
"We finished our shots early, we were ready to go and I think everybody was on the same page and working really well together," Irondequoit head coach Craig Whipple said. "But I think you saw Duxbury keep working during the game and they got to an area where they were doing the same thing and battled back to make it a one-goal game in the end."
Duxbury cut the lead to one on Sam Sweet's second of the game in the third quarter, with Hellar picking up his second point of the game on the assist.
The Dragons had several prolonged possessions in the latter stages of the third and into the fourth. Still, Duxbury looked out of sorts at times offensively and saw a string of blocked or missed shots fail to hit their mark. Whatever else made its way through to the cage was gobbled up by Eagles netminder Eric Fischer (10 saves).
AGAINST THE DRAGONS' FIRE
Whipple and his Irondequoit squad knew what they were getting into on Saturday, having faced the Dragons in each of the last three season.
Duxbury claimed the teams' previous two meetings.
"Duxbury's known for their defense and I think our defense play up to that task," Whipple said. "They had multiple possessions of long, three- to four-minute possessions on offense, but I think our talk, our discipline and really Eric Fischer from the goal did an outstanding job making the saves he needed to make."
Even in defeat, the Dragons showed their defensive mettle with strong games from longsticks Jay McDermott, Matt O'Keefe and Max Randall, as well as some sensational play from Buonagurio in net, particularly during a five-save third quarter.
… WITH THAT BEING SAID
Duxbury's offense struggled some — particularly in the second quarter — getting clean looks at the cage. Some of that was to be attributed by a fleet-footed Eagles defense, but part of it was also of the Dragons' own doing.
"As the season goes on, shooting gets better, offensive movement gets better and our stick work gets better," Chris Sweet said. "We were pretty stagnant, but a lot of that was that Irondequoit is such a good team that they took a lot of that away.
"On any day, we need to bring out A-game to beat Irondequoit, but today, we were maybe a B-plus."
November, 17, 2011
11/17/11
5:29
PM ET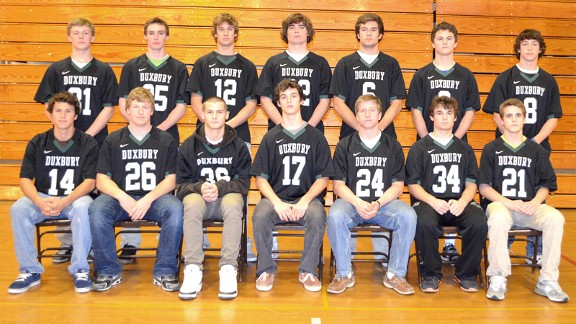 Scott Barboza/ESPNBoston.comThe 14 seniors on the Duxbury lacrosse team who will be playing in college next year gathered for a photo in the gym on Wednesday.
DUXBURY, Mass. -- In Duxbury High's gymnasium on Wednesday afternoon, the cheerleading squad assembled to go through their Thanksgiving Day routine and Dragons football and basketball standout Khai Perry shot 3-pointers with ease.
In the middle of it all was Duxbury's 14 Class of 2012 students who will go on to play college lacrosse next season; ten of them will play at the Division 1 level and four in D-2.
The photo-op, featuring all of the lacrosse team's college-bound seniors, was a chance for the teammates and their head coach to reflect on what has been a special group. Even for a town that's been so dominant in the sport of lacrosse, as a perennial state title contender, it's a bumper crop of talent that has been without parallel.
"This Class of 2012, what makes it stand out is that there's so many of them," Dragons lacrosse head coach Chris Sweet said. "Over the years, we've been used to having two or three kids per class that go on, and that's a great achievement and part of why we've been so successful. But this class, it's almost overkill with how many good players we have."
What might be the most admirable feat of the group, which reclaimed the Division 1 state championship in the spring, has been their ability to put ego aside and play within the framework of the team. While there's many players vying for touches and playing time, they've put all of that aside to ensure the Dragons continue their reign.
"There's only one ball on the field, so to get them together to play as a team, which they do, they're great team guys," Sweet said. "They support each other, they compliment each other on the field. I'm just a pretty lucky coach to have so many outstanding student-athletes."
Many in the group have played together in town lacrosse before moving on to high school. Long stick midfielder James Burke was one of seven Dragons to sign their National Letter of Intent in the past week, receiving sports scholarships from Division 1 schools. That number doesn't include the other Division 1 players who are attending Ivy League schools or, in the case of goaltender Henry Buonagurio, receiving academic scholarships.
"As a lacrosse team, we're a tight-knit group," Burke said. "I've been playing with these guys since I started playing in fifth grade It's just been real fun and I haven't regretted any minute of it."
Sweet is typically an understated presence and keeps things close to the hip in general. But he makes even less of a fuss about his own son, Sam, a Hamilton College commit, who is among those players headed to prestigious academic institutions to play lacrosse.
In a rare moment of candor, Sweet beamed about his son's accomplishments, adding that's it's not always easy to be both coach and father at the same time.
"As a dad, I'm super proud of him," the elder Sweet said. "I'm fortunate to be that close, on the sidelines, and be able to spend as much time with my teenage son. That's the best part because not a lot of people have the opportunity to do that, so I enjoy that part of it."
For one day, it was time to celebrate.
Soon enough, it'll be back to business on the field.
June, 15, 2011
6/15/11
2:01
AM ET
By
Tom Layman
| ESPNBoston.com


ALLSTON, Mass. -- With all the black, white and green equipment and paraphernalia littered on the turf at Harvard Stadium it was easy to see that Duxbury was back where it probably thought it belonged all along.

The No. 3 Green Dragons (19-2) supplanted themselves back on top of the Eastern Mass. Division 1 boys' lacrosse world with a dominating 16-9 victory over No. 9 St. John's Prep — the team that ended Duxbury's six-year title run last season — on a crisp Tuesday night.

"Our boys remembered 365 days ago when it was St. John's celebrating," said Dragons head coach Chris Sweet, whose team has won eight state titles in the past decade. "In that regard, it feels great."

The Dragons got a big lift from birthday boy Kane Haffey, who on his 18th birthday recorded six goals to lead the offense. Bryan Barry added four goals and an assist, while Sam Sweet popped in two goals and dished out six assists.

It was a year ago that the Dragons reign in Div. 1 was ended by the Prep (14-8), and Haffey remembered exactly what the feeling was like when he saw his senior teammates walk away crownless last season.

"Ever since last year we have been working for this moment," said Haffey. "That was certainly the drive in the offseason, the drive throughout the whole season. That memory in the back of our minds about how it ended last year and how we sent off the seniors last year. It was definitely sweet to get a little revenge."

It was clear that a good start was on the minds of the Dragons players, as the team popped in seven goals in the first quarter. Jimmy O'Connell (five goals) tied things up at 1 for the Prep with 9:23 left to go in the first, but the Dragons quickly exploded for three straight goals.

Haffey, Will Siefert and Bryan Barry put home that three-goal spurt in a mere 1:12 seconds.

O'Connell popped in another to quit the bleeding, however, another three-goal unanswered streak was on the horizon again for the Dragons.

"It's tough to defend. I really think this team is capable of playing it fast. They can play it slow. … We can get a lot of goals from a lot of different guys, so it makes it really tough to defend."

The defending champs didn't go down without a run of their own as the Eagles tacked on three of the final four goals of the half to cut the deficit to 8-5. Haffey quickly ended the run once the whistle blew for the second half as he potted three straight goals after Barry potted the first of the period to extend the lead to 12 -5.

"It could have been any of the guys on this team," said Haffey. "Everybody on this team has skill and today it just happened to be me."

Seamus Connolly notched the fifth unanswered goal on a pretty turnaround to cap off the five unanswered goal streak before O'Connell stopped the bleeding.

"If we started the second half the same way we played at the end of the second quarter it would have been ideal," Prep head coach John Roy said.


June, 11, 2011
6/11/11
8:19
PM ET
By
Bruce Lerch
| ESPNBoston.com


BILLERICA, Mass. -- After suffering a knee injury in the early part of the season, Duxbury's Will Siefert made his return to the lineup in the Green Dragons regular season victory over Billerica but was limited to a role on the man-up unit.

Siefert played a far bigger role for the Dragons when the two teams met again, scoring four times to go with three assists and keying a first-half surge that helped propel No. 3 Duxbury to a 19-9 triumph over No. 2 Billerica in the Div. 1 state semifinals at Marshall Middle School.

"We can put him anywhere and he's going to play well," said Duxbury coach Chris Sweet in praise of Siefert. "As the season's gone on, he's gotten stronger and stronger. We thought back before the game that Will's first game back after a knee injury was up here on this field earlier in the season when we had him just playing man up so he was excited to play and he showed it."

Siefert assisted on two of the Dragons first three goals, then closed a back-and-forth opening quarter with a pretty goal in a 1-on-1 with Billerica (20-3) goalie D.J. Smith that put Duxbury (18-3) ahead for good at 4-3.

He added another goal and an assist in the second as Duxbury built an 11-4 lead at the break and added two more scores in the second half.

"What we were doing was we were moving the ball quick," Siefert said. "We really needed to get that extra pass. Whoever picked up the ground ball, we talked about finding that first guy, run to the sideline and give it to him. I felt like we did that all day and we dominated ground balls and it really helped us out."

Junior Paul Hellar also had a huge game for Duxbury, scoring five times to go with a pair of assists. Sam Sweet added a hat trick, Bryan Barry two goals and two assist, and Kane Haffey also scored twice. All told, eight Dragons found the back of the cage in the game, thanks in great part to the work of Henry Narlee on faceoffs.

At the other end, junior goalie Henry Buonagurio made several key stops that kickstarted several transition opportunities and completely swung the momentum of the game over to the Duxbury sideline.

Defenseman Max Randall also turned in a spectacular performance, shadowing Indians star Grant Whiteway and holding the state's single-season scoring record holder to just one goal.

"Defense is a team effort," Sweet said. "Grant's had an unbelievable, unprecedented career. He's a warrior. Max Randall has covered for the last three years and I think head to head, game in and game out, Max has proven himself to be one heck of a defenseman and today was no exception. Max did a great job."

Added Billerica coach Craig Flynn on Buonagurio's effort, "It gives them the momentum. They are a great team. They don't do anything special out there. Xs and Os wise they just play lacrosse, disciplined lacrosse. Well coached and they have some great players out there. You have to give them credit. They didn't make any mistakes out there offensive or defensively."
May, 13, 2011
5/13/11
10:48
PM ET
By
Brendan Hall
| ESPNBoston.com



MEDFIELD, Mass. -- Usually when Duxbury's juggernaut boys lacrosse team gets going offensively, the scoring comes in flurries. Then there are the other times, when it's just straight up blitzkrieg.

Consider host Medfield to be victims of the latter tonight under their own lights at Fisher Field, as the No. 1 Green Dragons exploded for nine second-quarter goals to take a 10-1 halftime lead, and ultimately win out 15-5 to remain undefeated within the state.

Duxbury improved to 12-3 on the season, while the No. 9 Warriors fell to 11-5.

"That was great...yeah, that looked like the teams of the past," Duxbury head coach Chris Sweet said of the second quarter. "That was good. We've really, really been working hard at that in practice the last couple of weeks. I would like to have seen a little bit more of it in the second half, we kinda let up a little bit, but at the same time Medfield came out and played a little harder too."

But by then, the game might as well have already been well in hand. After an evenly-played first quarter, which included a slick top-shelf goal from Medfield junior attack Conor Roddy to knot it at one-all, the Dragons dominated possession in the second and worked the offensive zone patiently -- patiently, but cycling quickly, and snapping off rapid snipes and one-timers at the first sight of a seam.

The wave started just 59 seconds into the second stanza, when junior attack Paul Hellar (four goals, five assists) took a feed in transition from junior long-stick midfielder Reilly Natonn (goal, assist), drove the left flank and popped it underneath goalie Sam Aronson's armpit for a 2-1 advantage. Fourteen seconds later, the Dragons made it 3-1 when James Burke threw it to the left post, where Hellar immediately snapped it in front to Sam Sweet for an easy running one-timer.

Over the next two minutes and 59 seconds, the Dragons unloaded for four more goals to make it 7-1. Hellar made it 10-1 in the last minute of the quarter with a low snipe underneath Aronson's stick side.

"I think after those two fast break goals (to start the quarter), we got really fired up, really into it," Hellar said. "We started to play good, and we poured it on."

Said junior Will Siefert (four goals, assist), "We want to help our defense out, they're probably tired down there. So we want to pull the ball, possess it, but when there's that seam you've got to look for it. If someone's [uncovered] coming across the field, you've just got to hit him."

And not to be overlooked in all of that is indeed the defense. Led by seniors Peter Willauer and Matt O'Keefe, the Dragons gave the Warriors little wiggle room to work with in the first quarter, collapsing in front; disrupting and intercepting passing lanes,;and ultimately, getting their speedy attackers in space and in stride with crisp breakout passes.

Meanwhile, junior goalie Henry Buonagurio needed just five saves to pick up the win in the cage.

"We're trying to get the mind set that offense begins when our goalie makes a save or our defense gets a goal on the ground, then 10 guys are playing offense," Chris Sweet said. "You know, we get used to getting it down here and trying to go 6-on-6, and we start running the field like that, you can score a lot of goals real fast and in bunches. But, you know, it takes a certain skill set to do it, too."
April, 15, 2011
4/15/11
12:47
AM ET
BILLERICA, Mass. -- Following a first half in which his team fell behind to Billerica, Duxbury boys' lacrosse head coach Chris Sweet thought something was lacking. He even likened the Dragons' first-half play to a certain Boston baseball team that has stumbled out of the gates.
"That first half was really frustrating," Sweet said. "There was something missing, something wasn't clicking, kind of like the Red Sox right now. You know any game at any second something could turn it around."
[+] Enlarge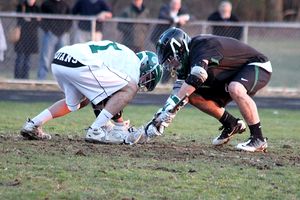 Ryan Kilian for ESPNBoston.comAfter being postponed one day due to rain, the anticipated matchup between No. 1 Duxbury and No. 5 Billerica didn't disappoint, as the Green Dragons clawed back from a fourth-quarter deficit to down the Indians 12-9 in Billierica.
That certain something came in a multitude of forms in the second half of Thursday's matchup as No. 1 Duxbury picked up the slack on the offensive end, heightened their physical play and won just about every faceoff there was to be had.
In culmination, the Dragons' improved play bore itself out on scoreboard, as they tallied the last six goals of the game to earn a 12-9 comeback win over the Indians.
"It was really about effort. I think we're a good team, but sometimes I think good teams forget what go them there and that's good old fashioned hard work. You have to work real hard against Billerica and in the second half we did a much better job of that."
Duxbury (3-1) took the victory with a balanced offense with Bryan Barry, Andrew Buron, Kane Haffey, Paul Hellar and Chris Williams netting two goals each. Will Seifert and Sam Sweet also tallied goals.
Although the Dragons took a 1-0 lead midway through the first quarter, the No. 5 Indians controlled play for the majority of rest of the first half. Billerica went into halftime leading 5-4, thanks to two goals in the final minute from Nick Morello (his second) and Peter Walters (also his second of the half).
The Dragons emerged a new team in the second half due in no small part to their faceoff success, winning 10 of 13 draws.
"We just couldn't get the ball and if you don't have an offense, you can't score," Billerica head coach Craig Flynn said. "You can only keep a team like down for so long. You have to get the ball on the offensive side of the field."
Duxbury clawed back in the third quarter with a pair of strikes from Buron, drawing the Dragons back within two.
Ben Melaugh netted his second of the game to give the Indians (2-2) a 9-6 lead with nine seconds remaining in the third quarter.
The fourth belonged to Duxbury, which tied the score at nine all on Barry's second of the match with 6:42 to play.
Williams then notched the go-ahead goal with 5:06 to play, tallying his second score of the game with a dodge before letting one rip from 10 yards out. Hellar and Haffey each added their second goals of the game to round out scoring.
"Hopefully, this is something we can build on for the season," Sweet said.