Boston High School:

Sarah Biron
August, 1, 2011
8/01/11
11:33
AM ET
Add another acclaim to the long list of honorifics for Westwood's
Sarah Biron
. The Wolverines midfielder was named Player of the Year for the Northeast region in the latest edition of
Lacrosse Magazine
, the official publication of U.S. Lacrosse.
Biron was named ESPN Boston's inaugural
Miss Lacrosse
in June as the best MIAA girls' lacrosse player.
A 2011 Westwood graduate, Biron will play at Johns Hopkins next season after leading the Wolverines to their third state title in four years.
It's also worth noting that Westwood finished ranked No. 4 in the Northeast in the magazine's final poll included in the same issue.
June, 30, 2011
6/30/11
4:23
PM ET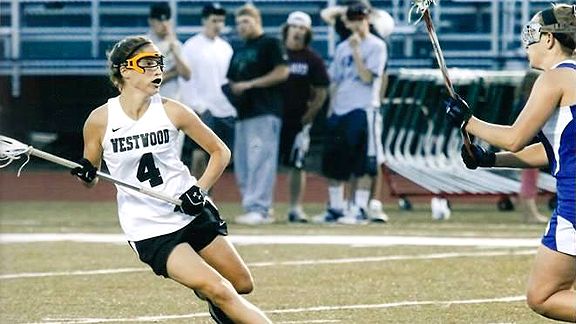 Bill Johnson/ESPN RISE Johns Hopkins commit Sarah Biron (88 goals, 31 assists) is ESPN Boston's first Miss Lacrosse after leading Westwood to a state title.
ESPNBoston.com and its High School section today announced that Sarah Biron, senior midfielder at Westwood High, is the recipient of its inaugural "Miss Lacrosse" award, to be presented annually to the top high school girls' lacrosse player in Massachusetts.
The Miss Lacrosse award winner was chosen by a panel of experts made up of ESPNBoston.com staff and correspondents. Biron will be presented with the award from ESPNBoston's staff at a later date.
"It's probably fitting that the presentation of the first Miss Lacrosse award in Massachusetts will be forever be attached to one of the state's most historic programs," said ESPNBoston.com high schools co-editor Brendan Hall, who coordinates the site's girls lacrosse coverage. "But even in a tradition-rich program that routinely churns out high-major Division 1 prospects in multiples, Sarah Biron managed to distinguish herself from the pack. She not only performed on the field, but carried a terrific demeanor off of it. We are proud to give her this award."
After earning honorable mention All-American honors a season ago, Biron returned to put in an even more dominant season this spring for the Wolverines, as they went 25-0-1 and captured their third Division 1 state championship in four seasons. Biron was one of three Wolverines to register 100 points this season, scoring 88 goals and 31 assists, to rack up All-American honors. Together with fellow All-Americans Laura McHoul and Kate Rich, they headed an attack that outscored the opposition an astounding 461-162, averaging nearly 18 goals per game.
For her career, Biron finished with 337 points (234 goals, 103 assists). She will continue her career next spring at Johns Hopkins University.
"It sounds cliché, but you can't teach speed," Hall said. "And Sarah Biron certainly had some wheels. That was visibly evident in the way she controlled all facets of the game, whether it was charging at the cage, setting up a teammate, hustling back on defense or creating space in transition. She was certainly fun to watch."
June, 30, 2011
6/30/11
3:54
PM ET
THE STARTING ELEVEN

Sarah Biron, Sr. M, Westwood
Biron spearheaded arguably the state's most potent attack, as the Wolverines scored 461 goals in a 25-0-1 season that resulted in their third state title in four years. Biron finishes with a decorated career, totaling 337 points – including an 88-goal, 31-assist campaign this year. The All-American will play at Johns Hopkins next year.

Blake Dietrick, Sr. M, Wellesley
The two-time All-American leaves as one of the best all-around athletes in school history. For her career under outgoing lacrosse coach Chris Molonea, she finishes with a school record 511 career points, including 79 goals and 45 assists this season as the Raiders lost in the D1 South semifinals to state champ Westwood. Dietrick was also a starter on ESPNBoston's inaugural Girls Basketball All-State Team. She will continue her career next season at Princeton.

Katie Ott, Sr. A, Medfield
One of the state's premier attackers, Ott finishes her career with the Warriors as one of the all-time leading scorers, with 329 points. She had 85 goals and 38 assists this season for the 17-3 Warriors, who lost in the D2 South quarterfinals. An All-American selection, Ott will play next year at Boston University.

Jamie Potter, Sr. M, Concord-Carlisle
One of the Patriots' leading all-around athletes having captained three sports this year, Potter leaves behind a decorated career. Her 304 career points are most all-time in school history; this season, she registered 75 goals and 37 assists as the Patriots made the D1 North semifinals. She will play next year at Harvard.

Laura McHoul, Jr. M, Westwood
Another intregral part of the Wolverines' multi-pronged attack, McHoul earned All-American nods after turning in a stellar junior season with an astounding 172 points (86 goals, 86 assists). In two seasons, she has 236 career points. McHoul is currently committed to the University of New Hampshire.

Kate Rich, Jr. M, Westwood
Rich was one of three Wolverines to put in 100-point seasons, registering 93 goals and 35 assists to earn All-American honors. For her career, she has 277 points. Rich is verbally committed to Boston College.

Amanda McLaughlin, Sr. M, Minnechaug
Her goal totals don't stack up against the eye-popping numbers of her counterparts, but it would be hard-pressed to find a better set-up teammate than McLaughlin. Her 57 assists to go along with 20 goals earned her All-American nods this season. She will continue her career next season at Northwestern.

Rachel Igoe, Sr. M, Framingham
The two-time All-American led a Framingham attack that struggled early in the season, but caught steam late and made a run to the D1 North quarterfinals, losing a heartbreaker in overtime to Concord-Carlisle. For her career, she registered 238 points. Igoe will join her sister Kristin at Boston College next season.

Anne Farnham, Jr. D, Andover
A member of the Golden Warriors' D1 state champion field hockey team in the fall, Farnham and her twin sister Kate formed one of the stingiest back lines in the state. Anne registered 17 goals and 15 assists, and led the Warriors in draw controls, earning All-American honors in the process. Both Anne and Kate are verbally committed to UMass.

Madison Acton, Jr. M, Lincoln-Sudbury
For her career, Acton has 239 points, including a 68-goal, 37-assist campaign this season as the Warriors advanced to the D1 Eastern Mass final before losing to state champ Westwood. Acton earned All-American distinction, and is verbally committed to Duke.

Liz Holmes, Sr. G, Longmeadow
Also a goalkeeper for the Lancers' field hockey team that made the D1 West final, Holmes helped run a stingy defense that allowed 7.4 goals per game, aided by her 152 saves. Holmes will continue her career next year at Marist.

BEST OF THE REST

Katy Ananian, Sr. G, Belmont
Shelby Aubin, Jr. M, Needham
Abby Bunting, Sr. M, Wellesley
Jen Caro, Sr. A, Andover
Emma Dagres, Jr. A, Weston
Erika Eipp, Jr. M, Groton-Dunstable
Kate Farnham, Jr. D, Andover
Ally Fazio, Jr. A/M, Andover
Rebecca Graves, Jr. A, Bishop Fenwick
Emily King, Sr. M, Northampton
Megan Hennessey, Soph. M, Winchester
Cassandra McGill, Sr. A, Westborough
Mary O'Connell, Soph. A, Norwell
Anna Petrunich, Jr. M, Westborough
Kate Riley, Jr. M, King Philip
Jessica Roach, Sr. M, Notre Dame (Hingham)
Brooke Rudden, Sr. A, Hopkinton
Stephanie Sabatini, Sr. M, Longmeadow
Rachel Sexton, Jr. M, Lincoln-Sudbury
Karaline Smith, Sr. M, Acton-Boxborough
Tory Waldstein, Jr. M, Needham
June, 18, 2011
6/18/11
12:50
AM ET
By
Matt Noonan
| ESPNBoston.com
WORCESTER, Mass. -- For the third time in four years, the Westwood Wolverines girls' lacrosse team beat the Longmeadow Lancers in the the Division I MIAA State final on Friday at Foley Stadium, 15-9.

"This is probably one of the happiest moments in my life," Westwood's senior attack Emily McGrail said. "Not even winning [three championships], but being able to win one right here with all my teammates. I couldn't ask for such a better team this year. I thought we were all around great and we definitely deserved to win this year."

"[Westwood's] one of the top teams in the country for a reason," Longmeadow head coach Steve Dudeck said. "Hats off to them, they had a great season."

Westwood's junior midfielder Laura McHoul (five goals, two assists) helped the Wolverines jump out to a quick 4-1 lead when she registered three goals and dished out an assist in a span of 14 minutes.

Longmeadow answered after McHoul's first strike when senior midfielder Hannah McGrath netted a goal at 21:13.

The Lancers managed to come within two points of the Wolverines during the final seven minutes of the first half, but Westwood pulled away, as McHoul and Kate Rich (two goals, one assist) added two more goals before the break.

"We knew [there wasn't] a lot of time was left and we wanted to go into the half with some good momentum," Rich said. "What our team did really well with was keeping possession and pulling it together a good part of the game."

Ela Hazar (one goal, three assists), Sarah Biron and Rich extended Westwood's lead during the opening minutes of the second half before Longmeadow attempted a small comeback that wasn't so successful. Junior midfielder Eileen McDonald and freshman midfielder Jillian Scyocurka each scored twice before Biron secured the win for the Wolverines with back-to-back strikes.

"I think they were building confidence as they got more goals, but I think we were damn nervous," Westwood's head coach Leslie Frank said. "I counted about six turnovers, that was our halftime speech. We really needed better stick protection and you really needed sharper passes because [Longmeadow] kept knocking them down, so I think the adjustment in the second half helped a lot. They were much more careful with their possessions. "

After Longmeadow's senior attack Sarah Hannigan recorded her second goal of the game, Westwood retrieved the ball after the final face-off to run out the clock before the entire bench stampeded onto the turf to celebrate yet another championship.

"We wanted to [win this game] for the seniors," McHoul said. "They deserved it. They worked so hard throughout the whole season."

"All 50-minutes, we worked really hard and I couldn't ask for such a better game for us to end our season," McGrail said.

The Wolverines returned to Westwood a few hours later and were escorted back to the high school in grand fashion, as sirens blared throughout the town to notify the champion's return.

"This is incredible and I'm just so proud of our team. Our seniors have worked so hard for this and it all goes out to them," Rich said.
June, 15, 2011
6/15/11
6:18
PM ET
By
Matt Noonan
| ESPNBoston.com
WELLESLEY, Mass. –- Leslie Frank and her Westwood Wolverines are headed back to the MIAA Division I State Finals to face Longmeadow, as they defeated the Lincoln-Sudbury Warriors on Tuesday at Wellesley College, 15-7.

"I thought we played good," Westwood senior attack Emily McGrail said. "I thought it was a really good game, it was one of the biggest games we played so far and even though we like kind of won the last time we played them, I think going into this game we knew that it was going to be just as hard as it was any other game."

"They're just very strong all over the field and the pressure was just [too much]," Lincoln-Sudbury head coach Deb DeJesus said. "The last two games that I saw them, the pressure that they put on the ball, created a lot of turnovers and it happened in this game too, [but] they just were too strong."

Westwood (24-0-1) began the first half with four quick strikes, three of which came off the stick of McGrail (six goals).

The Warriors (20-3) regrouped after a quick timeout and registered three goals by sophomore attack Abby Quirk, as well as junior midfielders Rachel Sexton (two goals, assist) and Madison Acton, but eventually the Wolverines offense responded with a few more goals by McGrail and junior midfielder Laura McHoul (six goals), which helped Westwood secure a 8-5 halftime lead.

"Everybody can [score] and it's who ever has the most opportunities and today it was Emily," Frank said.

Kate Rich (three goals) jump-started the Wolverines offense in the second half before Sexton and senior attack Jenna Kabat netted two goals to pull within three points of Westwood at 13:47. However, the Wolverines offense ratcheted up their offensive pressure to score six more goals before the game was finished.

"In some senses, I think they really come together as a team even more in the postseason than in the season," Frank said. "You have got to talk about defense, defense, defense and it's tired and true, but defense wins big games. I won't use that other 'C' word because that will be a kiss of death, but it wins big games."

Frank's defense in the second half, as well as goaltender Mollie Brown (eight saves) played terrific, as they kept the Warriors out of their zone and limited any scoring chances too.

"They just have a lot of good athletes and they're very skilled," DeJesus said. "The other factor is that they've been here so many times. They walk on this field with confidence and they were just too strong for us today."

Westwood's senior midfielder Sarah Biron played the entire game with a hip flexor injury, which was something Frank addressed after her teams win.

"She's nursing a little bit of an injury, so we were actually asking her to be the supporter, not to be taking it in," Frank said. "We didn't think she had good power with her shots from yesterday's practice, so we were asking her to be the feed, so I don't know if they shut her down [because] we were asking her to be judicious with her shots."

Westwood and Longmeadow will meet for the second time this season on Friday at Foley Stadium in Worcester, face-off is scheduled for 5:00pm.

"The stakes are so much different [this time] that you can't even compare," Frank said. "We know some of the players, so we'll know how to play them, but it's all about heart at this point.
June, 8, 2011
6/08/11
10:37
PM ET
By
Bruce Lerch
| ESPNBoston.com
WESTWOOD, Mass. -- There was some hope this in the girls lacrosse community of eastern Massachusetts that 2011 was going to be be rebuilding year for Westwood.

After winning back-to-back state titles in 2008-09 and making a run to the state semifinals last year, the Wolverines have graduated dozens of talented players, four of whom contributed to this year's NCAA Womens National Championship Northwestern squad. The hope was that the well had finally run dry.

So much for that theory.

Westwood roared through the regular season once again, its only blemish in 20 regular season games being a 15-15 tie with Western Mass. powerhouse Longmeadow. That run has continued into the postseason, and the top-seeded Wolverines have reached the Div. 1 south sectional title game for the fifth consecutive year after a resounding 18-7 victory over No. 3 Wellesley Wednesday night at Westwood High School.

Westwood (22-0-1) will face No. 2 Needham, an 8-6 winner over Notre Dame Academy in the other semifinal, in the South final on Friday at 6:45 p.m.

"We had a tough loss last year against Framingham [in the state semis] and we want to go out there and prove to people that isn't a rebuilding year for us like everyone said it was going to be," said senior captain Sarah Biron. "We're not going to forget what it felt like to lose and we're just going to go headfirst, all or nothing."

Junior Laura McHoul was brilliant in running the Westwood offense, handing out a whopping 10 assists while scoring three times herself. Biron was the primary beneficiary, scoring five of her six goals in the first half as the Wolverines raced out to a 7-0 lead after the first 10 minutes, which they pushed to a 12-3 advantage at the half.

"I just know my teammates well and where they're going to be," said McHoul. "Its the experience of playing together over the whole season and knowing when someone's going to be open and when they're not. Its just knowing the players and having a good connection on the field."

According to Westwood coach Leslie Frank, having a player the caliber of Biron, who will play at Johns Hopkins University next year, is one of the main reasons why her team has been able to pick up right where it left off because of how teammates such as McHoul have learned from her example.

"Laura is phenomenal. That's her norm. Her assists are 5-6-7 a game," Frank said. "She is the quintessential unselfish player and you know why that is? You have to talk about Sarah Biron."

"Sarah Biron is unselfish, hits the open player," Frank continued. "She's taught Laura that. You have some of these star players on teams that do one thing. They go to goal, they don't defend. Sarah's example has brought Kate [Rich], Laura and Emily [McGrail] up to her level with that understanding of pass the ball forward if I'm not open or draw the two and find the opening."

Rich, a junior, finished with four goals and an assist, while senior Emily McGrail celebrated her birthday with a hat trick.

For Wellesley, the loss marks the end of a pair of outstanding careers. Senior captain Blake Dietrick, headed to Princeton for basketball, finished with four goals and assist, while longtime coach Chris Molonea is retiring from coaching after a 30 years.

"We fought right the very end," Molonea said. "I couldn't any prouder of these kids. They never quit, never gave up."
May, 11, 2011
5/11/11
1:35
AM ET
By
Brendan Hall
| ESPNBoston.com
MEDFIELD, Mass. -- For a while, we were looking at possibly uncharted territory. Then in a flash, it became business as usual.

With 20 minutes left in this girls lacrosse contest between the Tri-Valley League's two top stalwarts, Medfield closed juggernaut No. 1 Westwood's lead to one goal on a beautiful setup by its top attacker. Then the Wolverines flicked a switch, seemingly like they've done all season long, scoring six unanswered goals in the final 13 minutes to win going away, 13-6.

The Wolverines (13-0) are used to a high-octane style of play, having scored at least 14 or more goals in all of their wins this season. And with under four minutes to go in the first half, after dominating possession for much of the earlygoings, they showed off their scoring flair, rolling off three goals in a span of 1:12 -- two of them from junior Laura McHoul (four goals, assist) -- for a 6-2 lead.

But the Warriors (9-2) got a quick one just before the half, an Ally Slowe feed from star senior Katie Ott, and cut Westwood's lead to 6-5 when Kate Wasley took an Ott pass, curled around the back of the net to the left post and beat goalie Ann Lalley to the far side. Five minutes later, Katelyn Nochese again cut the Westwood lead to one, 7-6, taking a feed five yards in front of the net after Abby McQuillan took a ground ball 30 yards out.

"I think just primarily, we were playing scared, because it was a close game," Westwood head coach Leslie Frank said. "And we were playing basically not to attack the goal. People were shooting three to four shots and not scoring, so they were kinda getting timid. We can't ever allow that to happen. I told them we were defending well, and trapping well, so keep that up, and just kinda fix the offense."

Said junior Kate Rich, "We love playing Medfield. They bring a lot of fire, lot of intensity. So I think once we settled ourselves down and played our own game, that was what really started working for us."

Oh, it fixed itself alright. With breakout passes to their speedy frontline attackers in space, numerous free position opportunities, and a series of well-executed one-timers from behind the net, the Wolverines rattled off six goals over the last 13 minutes, starting with a free position goal from Rich (six goals, two assists) and followed up with a series of points from Rich, McHoul and Johns Hopkins commit Sarah Biron (two goals, assist).

But perhaps more importantly, it was the defense on Medfield's star attack, the Boston University-bound Ott, that made the difference. Sure, at the other end goalie Sarah Honan (12 saves) was impressive in her approach to low shots -- "We still tried going with our tried and true, going low, and it wasn't working," Frank said. But the Wolverines kept a face-guard on Ott in hopes of cutting off her lanes to the goal, and forcing her into settling for entry passes. Ott finished the evening with three assists, but no goals.

"You can't ever take one player and say she's the only one who does something, but I think you have to recognize someone like Katie Ott when we play against her," Biron said. "Our defense went in there, and we wanted to force her to a bad angle. We're going to push her out, and make her make the path instead of taking the shot."
April, 21, 2011
4/21/11
9:43
PM ET
By
Adam Kurkjian
| ESPNBoston.com
FRAMINGHAM, Mass. -- This wasn't your typical Westwood-Framingham girls lacrosse game.

Over the past decade, these perennial powers have tossed the title of best team in the state back and forth, with seven Division 1 titles between them (Westwood four, Framingham three).

But usually when one is on top of the other, the outcome is not as lopsided as it was Thursday, when the visiting Wolverines ran roughshod over the reeling Flyers, 15-2, avenging last year's loss in the state semifinals to the eventual champions.

Midfielders Laura McHoul (five goals, assist), Sarah Biron (five goals) and Kate Rich (four goals, assist) paced the Wolverines offensively.

"I think it motivated us a lot," Biron said of last year's postseason loss to the Flyers. "Coming into this game, we all said to ourselves, 'We remember what happened last year. Not this year. Not today.'"

Westwood (6-0) was simply better in every facet than Framingham, which has fallen to a very un-Flyer-like 2-3-1. The Wolverines held a 10-1 lead at the half and enjoyed a 10-goal, running-clock advantage over the hosts for nearly the entire second half. The hosts only had six shots on net, trying to shorten the game with a stall when they held possession.

"Westwood doesn't let you make a mistake," said Framingham coach Stacey Freda. "And I think maybe against other opponents you might have the ball back. We just know that you have one chance at it and if you give the ball up you're not going to get it back."

And Westwood took the ball early and often against the Flyers and capitalized on its chances. Biron and McHoul scored two and a half minutes apart early on and Rich added a free-position strike to make it 3-0 with 17:42 remaining in the first half. Emily McGrail (goal, three assists) popped in another a minute later and then set up Biron in transition after a long but fruitless Framingham possession to make it 5-0 with 11:12 to go.

McHoul sandwiched a pair of goals around a Rich free position to make it 8-0 with 8:06 left in the half before Framingham's Rachel Igoe briefly halted the Wolverines' momentum with a free-position goal with 2:53 left.

But that's as close as the Flyers got, as McHoul buried a Jamison O'Neil pass with 2:29 left and Rich scored off a McGrail helper as time ran out in the first half with Westwood firmly in control, 10-1.

When Rich converted a quick-stick from McHoul 31 seconds into the second half, the clock kept running and the rout was on.

Sophia Agostinelli scored Framingham's other goal, while second-half netminder Casey Curran made nine saves for the Flyers.

Overall, Westwood had 27 shots on cage.

But while her players acknowledged the revenge factor, Westwood coach Leslie Frank played it down.

"We don't think about those things really," she said. "It's two brand-new teams. (Beating Framingham in the regular season but losing in the playoffs) has happened to us in the past, so I'll mention that (to the team)."
April, 11, 2011
4/11/11
11:24
PM ET
By
Tom Layman
| ESPNBoston.com



WESTWOOD, Mass. — The Westwood girls lacrosse team lost nine starters from its state semi-finalist team last season, so nobody would blame the Wolverines for taking a step or two back this season.

Just don't tell that to them.

Westwood (3-0) got multi-goal games from five different players in an early statement of a 21-11 win over Lincoln-Sudbury, at Flahive Field on Monday.

"It's good," said assistant coach Bryan Petillo, speaking on behalf of head coach Leslie Frank, who declined to speak with reporters following the game. "We are going to play every opponent the same way. Whoever it is that comes out we will be ready to play. It's good to get a good win like this, but we have plenty more."

The Wolverines showed balance all over the field, whether it was the seven-goal flurry from Sarah Biron or the 15-save performance from Mollie Brown, who helped hold the Warriors (2-1) to three goals in the second half.

It was the second half dominance of the Wolverines that ultimately won this game. The Warriors went on a four-goal flurry in the final two minutes of the first half to climb back in to the game, 10-8, before the whistle.

But the break killed the Warriors' momentum and the Wolverines held possession for nearly seven minutes to begin the second half. The Wolverines did a good job of winning every draw to keep possession and keep momentum going in their favor to pull away.

"In the first half we weren't really smart, we were kind of throwing it away," said Biron. "I think we were just like now way this isn't happening. We were going to go out there and set the tone."

Before the Warriors could set up an offense, the Wolverines stretched the two-goal lead to a 13-8 advantage.

"If we could win the draw then maybe we would have a chance," said Warriors' head coach Debbie DeJesus. "But without winning the draw there was no way, especially against that team."

Biron got a little help in the scoring column from Kate Rich, who finished with four goals of her own. But it was the work of Laura McHoul as the playmaker that separated this one. The junior midfielder finished with three goals and a lofty eight assists. She did most of her work from behind the net, and her passes were on point to several Wolverines cutting directly in front of the net.

"I like being behind the net and feeding the scorers," said McHoul. "I'm not going to say it's my job, but it fits."

When L-S was able to control play, especially in the first-half flurry, it was because of the play of Maddy Acton. Acton finished with five goals and she was able to quickly turn the Warriors into a fast break team.

However, DeJesus said that is not the game plan of her team. They just took advantage of what they were given by the Westwood defense.

"The transition, the fast break was great," DeJesus said of the first half play. "You have to take advantage of whatever the team gives you. We need to be balanced and play in all areas of the field.

"There were a lot of good things that I saw from our younger players."