Boston High School:

Sarah Foss
May, 12, 2012
5/12/12
6:10
PM ET
Former St. Mary's of Lynn hockey goaltender Sarah Foss has committed to Northeastern, Boston Herald and ESPN Boston correspondent Bruce Lerch reported today via Twitter.

In her sophomore season with the Lady Spartans, Foss was named a ESPN Boston MIAA All-State first-teamer in 2011, posting a 0.55 goals against average. The North Reading native also turned in 11 shutouts in 16 starts during her second season before joining the Nation Sports Academy ( in Lake Placid, N.Y. last season.

"The St. Mary's family would like to congratulate Sarah on her commitment to Northeastern," Lady Spartans head coach Frank Pagliuca said. "She's worked really hard to achieve her goal of playing Division 1 hockey and Northeastern was one of the top teams in the nation last season. Sarah is a talented goalie and a great student. Northeastern is a perfect fit for her."
March, 24, 2011
3/24/11
6:36
PM ET
First Team


F - Sabrina Iannetti, St. Mary's (Lynn)
The state's most feared offensive player, Iannetti led the Spartans with 53 points, including 29 goals, during the regular season. The Lynn native was also instrumental to the Spartan's state long 100-game unbeaten streak, which ended in an overtime loss to Hingham in the Division 1 quarterfinals.
F - Colleen Martell, Woburn
The explosive Tanners forward led the state in scoring, notching 73 points, including a 40-goal regular season. The captain helped lead Division 1 semifinalists to the Middlesex League title.
F - Kayla Smith, Woburn
Smith was also among the state's top scoring threats, playing alongside Martell on the Tanners' top line. The sophomore tallied 61 points (26 G, 35 A) during the regular season for the Middlesex League champs.

D - Angela Dandreo, St. Mary's (Lynn)
The Swampscott resident played on the Spartans' top pairing and was not only a top-notch defender, but also a scoring threat. Dandreo, a captain, finished fifth on the team in points with 27 while dishing out 22 assists.

D - Caleigh LaBossiere, Acton-Boxborough
The senior provided a boost of offense from the blue line, trailing only fellow All-State teammates Sarah McNicholas and Kati Goguen in points for the Colonials. LaBossiere tallied 11 goals and 13 assists to finish with 24 points for the regular season.
G - Sarah Foss, St. Mary's (Lynn)
The sensational sophomore was nearly unbeatable in net for the Spartans. Foss, a North Reading resident, posted a 0.55 goals against average during the regular season while posting shutouts in 11 of her 16 starts.
"Line Change" Second Team


F - Michaela Chiuccarriello, Winchester
Chiuccarriello became the Sachems' all-time leading scorer this season, finishing her career with 170 points (110 G, 60 A) and smashing Carly Robinson's record of 123 points. The senior scored 37 goals for 54 points while leading Winchester to its fourth straight tournament appearance.

F - Sarah McNicholas, Acton-Boxborough
The senior led the Colonials in scoring with 32 points (12 G, 20 A), while leading the Division 1 state finalists to the MVC/DCL Large title this season.

F - Taylor Shepherd, Fontbonne Academy
The senior topped the 100-goal plateau for her career with a 32-goal season this year while leading the Ducks to yet another Division 2 title game appearance.

D - Martha Findley, Duxbury
Findley was regarded as one of the state's premiere blue liners and was instrumental in helping freshman goaltender Rachel Myette and the Dragons to a Division 2 state title. Thanks to Findley, Duxbury surrendered only 25 goals all season and was a staggering +96 in goal differential.

D - Taylor Brown, Winthrop/Lynn
The Eastern Mass Ice Hockey League MVP helped lead the Bulldawgs to the Division 1 semifinals in front of eighth-grade goaltender Katie Burt.

G - Beth Findley, Hingham
The senior capped a stellar career at Hingham by winning the Division 1 state title, the second of her career after taking a D2 title three years ago. Findley collected 82 career wins while posting 39 shutouts in her four-year varsity career.
Best of the Rest
F Amanda Abromson, Braintree
F Alison Butler, St. Mary's
F Christie Caliendo, Billerica
F Lily Connolly, Duxbury
F Cara Curran, Westford Academy
F Kati Goguen, Acton-Boxborough
F Erika Kelly, Watertown/Melrose
F Brittani Lanzilli, Medford
F Sara Lehman, Lexington
F Kim Lizzotte, Westford Academy
F Jessica Love, Medway/Ashland
F Ali Maloof, Norwood
F Hannah Murphy, Duxbury
F Jenny Robinson, Concord-Carlisle
F Sarah Schwenzfeier, Hingham
F Katie Walsh, Hingham
F Alex Warren-Caldwell, Arlington
D Catherine Chittick, Hingham
D Meg Collins, Fontbonne Academy
D Meghan McNabb, Lexington
G Katie Burt, Winthrop/Lynn
G Courtney Davis, Woburn
G Casey Schaejbe, Arlington
All-Freshman Team
F - Cathrine Linehan, Hingham
F – Gina Beth Manganiello, St. Mary's (Lynn)
F – Ashley Moran, Woburn
D – Hannah Quin, St. Mary's (Lynn)
D – Tori Messina, Hingham
G – Rachel Myette, Duxbury
Coach of the Year
Tom Findley, Hingham
In just seven years, Findley has established the Harborwomen as a state power, building the team from scratch into a Division 1 state champion. Findley claimed his second state championship (D2 champions three seasons ago) while leading Hingham to a 20-4-2 record, culminating with a 3-1 win over Acton-Boxborough in the D1 final.
March, 11, 2011
3/11/11
2:13
AM ET
By
Bruce Lerch
| ESPNBoston.com
STONEHAM, Mass. -- Six games ago, Hingham girls' hockey coach Tom Findley decided to move sophomore defenseman Jane Freda off the blue line and onto his top line to ride alongside fellow sophomore Sarah Schwenzfeier and freshman Catherine Linehan.

That move is starting to make Findley look like a genius.

In Thursday night's Division 1 quarterfinals, Freda scored the game-tying and game-winning goals to help No. 8 Hingham stun three-time defending state champion and top seed St. Mary's, 3-2 in overtime at Stoneham Arena, eliminating the Spartans (20-1-3) from the tournament and stopping their nearly four-year long unbeaten streak at 100 games.

"That was the greatest high school game I've been associated with," Tom Findley said. "That's a great program over there in St. Mary's. That feat will never be done again. Our kids were prepared. We've played so well the last six games."

Added St. Mary's coach Frank Pagliuca, "Obviously a disappointing way to go out but you can't play one period of hockey and expect to beat a great team like Hingham. We didn't show up for the first two periods and a lot of that had to do with Hingham. I thought they played a great game, they deserved the victory."

The night's other hero spent her night between the Hingham (18-4-2) pipes. Senior goalie Beth Findley, daughter of Coach Findley, made 13 of her 20 saves in the third period. None, however, were bigger than the amazing stop she made with just 55 seconds left in regulation.

St. Mary's forward Gina Beth Manganiello made a strong rush down the right wing and got off a shot as she cut toward the middle. Findley made the initial stop, but Manganiello continued around behind the net and went to jam the puck inside the far post. With her head turned to the left, Findley somehow shot her right leg across the crease just in time to make what was a game-saving stop.

"I've been working on that a lot in practice," Findley said of her big save. "Last year, one of the goals that Sabrina Iannetti scored on me was a wraparound and I really wanted that one back so I've been working really hard on that, getting over fast. I owe a lot of credit to my defenseman Catherine Chittick. She really helped me out a lot there."

That set the stage for the overtime, and it took just 45 seconds for the game to end. Freda made a play at her own blue line to disrupt a shot by St. Mary's Hannah Quin and caromed the loose puck off the boards to herself. Freda broke in on Spartans goalie Sarah Foss, and with Rachel Donohoe hustling back to prevent her from cutting across, Freda instead let the puck fly and it trickled past Foss to give the Harborwomen their first victory over St. Mary's in eight tries.

"I just saw the puck, I flipped it off the boards and I took a shot hoping to get a rebound and it went in instead," described Freda of her game-winner. "It's like a dream. I still can't wrap my head around it."

Hingham had been struggling to find its offensive identity after dropping a 4-2 decision to St. Mary's in the latter stages of the regular season. Coach Findley bumped Freda up to the first line in hopes of creating a spark.

"We needed a little more pace up there," Findley said of the change. "She had played with Sarah (Schwenzfeier) before and Cat Linehan. Two sophomores and a freshman, that's our big line. They are young but they are so disciplined and they have so much poise."

Freda also made the play that helped set up the game's first goal. Hingham opened the second period with a power play, and Freda was set up for a hard shot from inside the right faceoff circle. Foss (17 saves) made the stop, but the rebound fluttered out to her left where Schwenzfeier swooped in and buried it to give Hingham a 1-0 lead.

The Spartans showed a renewed energy in the third, and their hard work led to a pair of quick goals midway through the frame. First, it was Bridget Donovan scoring on a rebound of a shot by Iannetti to tie it with seven minutes left, then just 34 seconds later, Donovan cycled the puck over to Quin, who rifled a shot past Findley for her first career goal.

"I was very proud of my kids for coming back in the third period but again, you can't do that in a game like this against a great team like that," Pagliuca said. "You can't turn it on and off and that's been an issue all year.

Rather than wilt under the Spartans attack, however, the Harborwomen responded as Freda buried a loose puck from in front with 5:36 left in regulation to tie it.

The game would not have gone to overtime without the play of either Findley or Foss. Foss made three huge stops over the final three minutes, and caught another break when Freda lifted a shot just too high over the crossbar behind her.

And of course, Beth Findley came through with the save of the night, and maybe the most important stop in the seven year history of the Hingham girls' hockey program.

"She's my kid so I don't normally say much about her but she won us that game," praised Tom Findley. "That last save was unbelievable. I don't know how she got over there that quick but she did. She made the save and that's why she's an elite goalie."
February, 5, 2011
2/05/11
11:05
PM ET


HINGHAM, Mass. -- The top-ranked St. Mary's of Lynn girls' hockey team extended its unbeaten streak to 91 games against Hingham Saturday afternoon at Pilgrim Skating Arena, but Spartans head coach Frank Pagliuca wasn't exactly happy.

Although St. Mary's took a 4-2 win over the sixth-ranked Harborwomen on the strength of a pair of goals from both Sabrina Iannetti and Alison Butler and yet another outstanding goaltending performance from Sarah Foss, he wasn't thrilled with his team's effort.

"We didn't play well," Pagliuca said, "but once again, Sarah Foss saved our butts. Hingham played a great game and they out-played nearly the entire game."

The Spartans (11-0-3) were outshot in each period and by final tally, 35-22. They were first on the board, however, with a short-handed goal by Iannetti six minutes into the first. While hemmed in their end on the penalty kill, Iannetti anticipated a point-to-point pass reaching out her stick to gather the puck. Streaking up the open sheet of ice in front of her, the senior captain finished on the backhand for a 1-0 St. Mary's lead.

"You can't give a team like Hingham a lot of time and space on the power play, they have good players who are going to take advantage," Pagliuca said. "We told our forward to pressure the points a little bit and she anticipated the pass. It was a great read on her part, good anticipation and a good finish as well."

Hingham (11-4-1) notched the neutralizer little more than four minutes later on a blast from the point by Catherine Chittick. The defenseman's slapper was set up on a face-off win in the Spartan zone with assists from Shauna Sullivan and Catherine Linehan.

St. Mary's retook the lead 1:28 into the second period when Iannetti knocked home her second of the game off a rebound.

Butler, a sophomore, controlled the third period when she scored each of her goals. She scored on a rebound of an Iannetti shot with 7:58 remaining and an additional assist from Bridget Donovan. Butler found the back of the net again with 5:03 on a feed from Iannetti on a 2-on-1 opportunity; she took care of the rest with a pretty back-hander through the 5-hole.

Linehan closed out scoring with 2:21 remaining with assists by Sullivan and Katie Walsh.

But it was Foss's play that shone brightest once again.

"She was phenomenal and another key for them is that they limit you to one shot," said Harborwomen head coach Tom Findley whose team had played less than 24 hours earlier in a 1-1 tie against Canton. "Their defensive corps does a good job of clearing out rebounds even if you're able to get a shot on."
January, 29, 2011
1/29/11
11:58
PM ET


LYNN, Mass. -- Carrying an 80-plus game unbeaten streak, No. 1 St. Mary's of Lynn girls' hockey knows they have a target on them at all times. And the Spartans didn't expect anything less with No. 2 Woburn coming to town for Saturday night's non-league contest at Connery Rink.

St. Mary's trailed for most of the game after the Tanners' Ashley Moran scored with 19 seconds remaining in the first period. While it looked as though Saturday might be the night that the Spartans' prolific streak finally came to end, Sabrina Iannetti tied it with 3:08 left in the third on a power play goal.

The teams ended in a 1-1 tie and St. Mary's streak hit 90 games.

One thing's for certain, No. 90 didn't come easy.

"We were dealt with some adversity tonight, but we didn't panic," St. Mary's head coach Frank Pagliuca said. "We kept going. That was great test for us in the middle of the year, but all of them are."

Although the Spartans (10-0-3) were down 1-0 after the first, they out-shot Woburn 9-4. However, Tanners freshman goaltender Courtney Davis once again proved she's up for the test of a big game. After dispatching No. 3 Lexington in a 4-0 shutout last week, Davis was on task again, turning aside 17 Spartan shots.

"She played great and she's only a freshman," Woburn head coach Bob MacCurtain said. "She battled hard and I think she likes playing in these big games."

The Tanners (10-1-1) got another boost from another freshman in Moran, who paced them to a 1-0 lead. Her tally was the result of some strong net front presence and was assisted by yet another freshman, Emily Lissner.

Perhaps more impressively, Moran's goal ended a 21-plus period shutout streak pitched by the Spartans and netminder Sarah Foss. The last goal St. Mary's allowed came in their 2-2 tie against Notre Dame of Hingham on Jan. 6.

"We knew we were going to have our hands full, they're one of the best teams around," Pagliuca said. "They have a great coach, they're disciplined, they're organized and they have some players."

Neither team could get on the board in the second, though Lissner had a tremendous chance to put Woburn up 2-0 with a slick move in front of Foss (15 saves). After shedding a defender with a deke to the right, Lissner was in alone on Foss. She pulled another deke to the backhand but simply ran out room and was unable to sneak the puck inside the nearside post.

St. Mary's attack intensified in the third. The Spartans were able to draw the penalty which led to the game-tying goal with a sustained presence in the Woburn end. Iannetti finally found the back of the net with 3:08 to play on a blast from the point set up by Gina Beth Manganiello and Marisa Maccario.

"Our power play's been much better the last couple of games," Pagliuca said. "We made some adjustments and we're trying to make more opportunities. That was a big goal there."
January, 20, 2011
1/20/11
11:57
PM ET


QUINCY, Mass. -- Last year, Fontbonne Academy sniper Taylor Shepherd stole a rare point from St. Mary's of Lynn with a last-second goal.

As the fifth-ranked Ducks welcomed back the reigning Division 1 girls' hockey state champions Thursday at Shea Memorial Rink, there would be no such comeback. The top-ranked Spartans' cagy defense shut down Shepherd and the Fontbonne attack while sophomore goaltender Sarah Foss made 20 saves to shut out the Ducks, 2-0.

St. Mary's undefeated streak stretched to 87 games with the win.

"We're really pride ourselves in the D-zone," Spartans head coach Frank Pagliuca said. "We're really taking pride in getting the puck out and making good decisions. Like I said, we didn't do a good job in the first period, but as the game went on, we were making better decisions as we were breaking up the ice."

Pagliuca's squad got off to a slow start and were out-shot (8-4) and out-chanced in the first period.

However, St. Mary's (8-0-2) had a penchant for closing periods strong, scoring each of their goals in the final minute of the first and second periods, respectively.

Sabrina Iannetti knocked home a backhander on a cross-ice feed from Marisa Maccario on a 2-on-1 chance with 40 seconds remaining in the first. Defenseman Angela Dandreo also picked up an assist on the play.

The Spartans struck for their second goal with nine seconds remaining in the second. Sophomore winger Alison Butler took a feed from Maccario at the top of the left side face-off circle and unleashed a slapper past Fontbonne goalie Samantha Curley (18 saves) stick side.

While St. Mary's finished periods strong, Pagliuca saw room for improvement.

"We can't come out flat against teams like that. We were fortunate enough to be up 1-0 [after the first]."

The Spartans' bench boss did have high praise for his defensive corps, led by Dandreo, a senior captain. St. Mary's bottled up the Ducks (7-1-2) through the neutral zone, playing a trap system with three skaters back at all times.

"Obviously, Taylor Shepherd is one of the best players in the state, so you have to account for her every time she's on the ice," Pagliuca said about game-planning for Fontbonne. "We gave her one opportunity on the breakaway, but I thought overall we did a nice job limiting her shots. We kept her to perimeter for the most part."

That aforementioned opportunity came in the third period when Shepherd steamed in on Foss on a breakaway. After a sly fake to the forehand, Shepherd went stick side and Foss stopped the shot with a deft blocker save.

"I thought back to last year and I said, 'I'm not letting this in,'" Foss said. "I stepped out and made sure not to make any moves before she shot the puck."

While Fontbonne didn't lack for opportunities, head coach Bob Huxley said it simply came down to a lack of execution.

"If you don't score any goals, I don't care whether you're playing mites, high school, college or pros, zero goals equals zero wins," Huxley said. "We're going to need to emphasize shooting and rebounds a little bit more."
December, 13, 2010
12/13/10
5:14
PM ET
"For we cannot tarry here,
We must march my darlings, we must bear the brunt of danger"
--Walt Whitman, "Pioneers! O Pioneers!", 1865
LYNN, Mass. – In the twilight of the Civil War, Walt Whitman's poem played to the American spirit, with its imagery of the frontier emboldening the nation to push forward through its struggles.
It's also an apt rallying cry for the St. Mary's of Lynn girls' hockey team.
Winners of last three Division 1 state championships, the Spartans are the face of the sport in the Commonwealth. Not only has St. Mary's seen the best efforts from the state's best teams game after game during the last three seasons, the Spartans also have borne the weight of a 77-game…Check that, 78-game unbeaten streak (after Saturday's tie against Braintree). With each passing period and game, pressure has mounted on the program to live up to their own lofty standards.
Don't be fooled, there are plenty of suitors across the state who are worthy opponents and will vie to become the first team not named St. Mary's to win the D-1 title since 2007 (Arlington Catholic). It's just that the Spartans are supremely capable of bringing their best to the rink every night.
"It's not about the streak really," St Mary's senior center Sabrina Iannetti said, "it's just about going out each game. We don't really care about how many games we've won in a row, just as long as we get to the state championship game and win. That's all we care about."
[+] Enlarge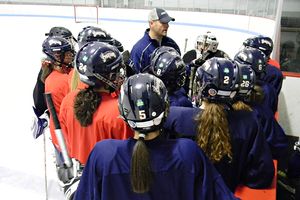 Scott BarbozaSt. Mary's of Lynn head coach Frank Pagliuca has led the Spartans to three straight Division 1 championships and guided the Spartans to a state-record 78-game unbeaten streak.
Not only have the Spartans rattled off an unbeaten streak for the ages, they're leading the pack in the ever-growing sphere of girls' hockey in Massachusetts. Every year, girls' hockey programs have been added at MIAA schools, following the lead prep school predecessors set a few decades ago. Girls' hockey has also expended at the developmental level. It's more likely now to find dedicated girls' hockey programs at your local rink.
Greater participation has created greater competition, but through it all, St. Mary's has remained at the forefront since its entered play in 2002.
"I think of lot of those girls grew up watching [Cammi] Granato and those U.S. Olympic teams and seeing the development of women's college hockey at a high level," St. Mary's sixth-year head coach Frank Pagliuca said. "I think that caught a lot of the kids' eyes and I think the towns are doing a better job of supporting the girls, too, providing them opportunities and developing girls' leagues.
"It's not only that the level of play has gotten better, it's so important that girls have been given the option to play hockey."
Pagliuca was first exposed to St. Mary's prowess in 2005, when he was the bench boss of Wakefield girls' hockey and the Spartans went on to a Division 2 state title, their first. That year St. Mary's rolled over Pagliuca's Warriors squad. After St. Mary's former head coach Todd Langlais left for an assistant coaching job at Boston University, the job came to Pagliuca.
"Our practices are very intense and very competitive," the Wakefield native said. "So the girls just bring that mentality with them into the games. The kids work very hard, they're committed to the program and I think they're committed to each other, so they push each other to do better and hold each other accountable. I think that's an important concept our success and it's all a reflection of what the kids put into it."
It's also a reflection of the Spartans' methodology on the ice.
"We play as a team, it's not about getting the puck to just one player," senior center Bridget Donovan said. "We try to create space and create opportunities to score and see what happens."
Simpler stated than accomplished, the Spartans have won with some of the state's best hockey talent. Chief among that industrious list is Providence College's Abby Gauthier, who tallied a mind-boggling 358 points at St. Mary's. Perhaps even more impressive, Gauthier's output was perfectly balanced: 159 goals, 159 assists. The quintessential Spartan.
St. Mary's lost a couple key pieces from last year's title run, including Courtney Winters who finished her career as the program's second leading scorer behind Gauthier. However, the Spartans have depth up the middle of their lineup with Iannetti leading the scoring charge and sisters Bridget and Mikaela Donovan centering lines. The Spartans will be strong in their own end behind blue liner Angela Dandreo and sophomore goaltender Sarah Foss, whom Pagliuca already considers among the best in the state.
Underling the Spartans' talent is their commitment to improving both individually and as a team, a tenant Pagliuca has instilled in his players.
"He keeps us focused game to game, practice to practice," Dandreo said. "He's the one who makes sure that don't focus on the streak or anything like that. He makes sure that we're focused on the game."
With that mentality, St. Mary's has blazed its trail. They are pioneers to a new frontier.
Heck, they're league ahead of their nearest boys' competitors. The Spartans earned the state record for consecutive games without a loss in January. Northeast Regional had a record of 55-0-3 over a 58-game stretch to set the state record. St. Mary's has since gone on to add 20 games and counting to their unbeaten streak.
"I think we all played on boys' teams when we were younger," Mikaela Donovan said. "It wasn't until we were in middle school probably that you actually started to see girls' team around. Now, you see them more and more, and that's a good thing."
Pioneers? Oh yeah, they're pioneers.