Boston High School:

Sarah Higgins
March, 17, 2012
3/17/12
2:38
PM ET
By
Bruce Lerch
| ESPNBoston.com
WORCESTER, Mass. -- For the second straight game, freshman guard Kelsie McNamara came off the bench to knock down several 3-point shots that allowed her teammates to start working the ball inside and get to the free throw line.

McNamara scored 13 of her 14 points in the first half, while senior Sarah Higgins made 14-of-16 free throws and finished with 22 points as Pentucket captured its first state championship with a 55-32 victory over Sabis in the Div. 3 final at the DCU Center Saturday morning.

"Once we started getting people going, none of us were scared anymore and I think we just wanted to put everything we had into it to have no regrets after the game," McNamara explained. "Sarah was really aggressive, Alex (Moore) got a couple of steals and I think that helped get us motivated to play better."

After a back and forth opening frame, the Sachems (23-4) opened the second with a 10-2 run as Moore created a pair of buckets for herself off turnovers and then fed McNamara for one of her treys. Shyanne Wellington (10 points, 10 rebounds) slowed the surge with a three of her own, but McNamara came right back down the court and dropped her third trifecta of the half as Pentucket would extend its lead to 29-17 at the break.

"Kelsie hit some threes like she did at the Garden the other day for us," said Pentucket coach John McNamara of his youngest daughter. "She's got no pressure on her. The other kids take the pressure, the starters, and she comes in she hits some open looks. It got us going because we were a little stagnant on offense. And then our defense, we got some transition layups. Alex Moore hit a couple and then in the second half, Sarah Higgins got the rim. That's our style - transition layups off of defense."

Higgins took over in the third and her relentless aggression toward the hoop kept sending her to the free throw line. Her teammates got in on the act as well, and while the Sachems managed just one field goal in the final seconds of the quarter, they were able to maintain a double-digit lead (39-24).

"After the first quarter we definitely thought it was going to be a lot closer game," Higgins said. " We definitely wanted to pull away and hopefully lessen their confidence and boost ours. In the second quarter, Kelsie started making her threes and then I started getting to the line, it definitely gave us a lot more energy. That's exactly what we needed."

Higgins was perfect in the fourth, hitting all six of her free throws and adding a pair of layups. As a team, the Sachems (23-4) went 23-for 32 at the free throw line for the game. They also forced the Bulldogs into committing 24 turnovers and enjoyed a slight 33-30 on the glass. Center Tess Nogueira led with seven rebounds, while Moore, Nicole Viselli, Higgins and Leigh McNamara each grabbed six.

"She's been knocking down foul shots all season for us," said John McNamara in praise of Higgins. "If you come up empty on a hard take to the hoop, it's a mental letdown for the team but when she's knocking them down, we can set up our press too. We make foul shots, we get into our press. She played a great game and had a great senior year."
March, 16, 2012
3/16/12
8:24
AM ET
By
Brendan Hall
| ESPNBoston.com
The MIAA will crown six state champions in boys and girls basketball on Saturday at Worcester's DCU Center. Here are my thoughts on how those six games will play out:
DIVISION 3 GIRLS: PENTUCKET (22-4) VS. SABIS (21-5)
Pentucket Players to Watch:
Tess Nogueira, Jr. C; Leigh McNamara, Sr. F; Sarah Higgins, Sr. F; Nicole Viselli, Jr. G; Alex Moore, Jr. G; Kelsie McNamara, Fr. G
Sabis Players to Watch:
Jazmine Collins, Jr. G; Janaiya Sanchez, Fr. G; Shyanne Washington, Jr. F; Madison Sinkfield, Fr. F; Casie Thurber, Soph. C.
Analysis:
After coming close the last couple of years, Sabis finally got over the hump in their competitive Western Mass. bracket, to land here at the DCU Center. Plain and simple, these Lady Bulldogs are on a mission; and led by a core that includes the dynamic Collins, this is a well-oiled machine. Unfortunately (and this will be the operative word for many of my picks), they run into a Pentucket team that is quite simply swarming on defense. The Sachems' lineup =is among the best in Division 3, and they're on a roll. Pentucket is also motivated -- the last time they were here, in 2010, the Sachems were penned as a favorite, only to run into a gritty Lee team that, quite frankly, pressed like kamikazes.
Hall's Pick: Pentucket over Sabis
DIVISION 3 BOYS: DANVERS (20-4) VS. ST. JOSEPH CENTRAL (20-5)
Danvers Players to Watch:
George Merry, Sr. C; Nick McKenna, Jr. G; Nick Bates, Jr. G; Eric Martin, Jr. G; Jon Amico, Sr. G.
St. Joe's Players to Watch:
Taverick "Tank" Roberson, Jr. G; Mike McMahon, Sr. F; Joe Wiggins, Sr. F; Lavante Wiggins, Jr. G; Jon Bianchi, Jr. G
Analysis:
Credit to St. Joe's for playing an ambitious non-league schedule, which included a rockfight of a bout with Holy Name back in December, and get ready to be introduced to the spunky power that is Roberson -- in my opinion, he's every bit of a tank as his nickname suggests. But after putting in arguably its best performance of the year Monday night in the Eastern Mass. Finals against Wareham, I'm convinced Danvers will come out on top in this one. the 6-foot-7 Merry can step out on the perimeter and facilitate offense for shooters like McKenna and Bates, as much as he can take it inside. Danvers coach John Walsh goes with some of the same offensive principles as his cousin Watertown head coach and two-time D3 state champ Steve Harrington. And if you thought Harrington's four-out, drive-and-kick, dribble drive-oriented motion offensive was frustrating enough, imagine what it's like with size.
Hall's Pick: Danvers over St. Joseph Central
DIVISION 2 GIRLS: READING (24-0) VS. TYNGSBOROUGH (23-1)
Reading Players to Watch:
Olivia Healy, Jr. G; Morgan O'Brien, Jr. G; Melissa DalPozzo, Sr. F; Katie Clements, Sr. G; Katherine Callahan, Sr. G.
Tyngsborough Players to Watch:
Lauren Iadarola, Jr. F; Amanda Hogan, Jr. G; Helena Hamilton, Sr. F; Morgan Mitchell, Jr. C.
Analysis:
The Mid-Wach C champion Tigers avoided a clean sweep of Central Mass. on Wednesday with a dominant 50-35 win over Palmer out in Springfield, getting quality production out of Iadarola, Hogan and Hamilton along the way. But Reading has had the tougher route here, putting away stalwarts Wachusett, Bishop Feehan, Arlington Catholic (twice) and Scituate to get to DCU Center floor. Look for Healy to get hers, but most crucial in the Rockets' overtime defeat of Scituate on Tuesday night was the play of O'Brien, who scored 33 points. Look for her to be the X-factor in this one.
Hall's Pick: Reading over Tyngsborough
DIVISION 2 BOYS: BRIGHTON (21-4) VS. MAHAR (21-3)
Brighton Players to Watch:
Malik James, Soph. G; Theo Oribhabor, Jr. G; Daivon Edwards, Jr. G; Prince Unaegbu, Jr. F; Jerard Mayes, Sr. F; Tre Dowman, Sr. C
Mahar Players to Watch:
Travon Godette, Sr. F; Jesse LaCroix, Sr. G; Phil DiPhillipo, Sr. G; Josef Whitman, Jr. F; Nate Martin, Sr. C; Darwin Duncan, Sr. F.
Analysis:
The relationship between Brighton coach Hugh Coleman and his mentor, legendary Charlestown coach Jack O'Brien, is well-documented. There are ripples of O'Brien's system and tactics sprinkled throughout the Bengals; and we can assure you, there are tons of coaches in Eastern Mass. rooting for Coleman, as good a guy as they come, on Saturday. That aside, the Bengals figure to be favorites in this one. Godette, DiPhillipo and LaCroix combined for impressive whipping of St. Bernard's on Tuesday, but they haven't seen anything like Brighton. Hardened by a brutal schedule, the Bengals lost their best player, sophomore Nick Simpson, before the playoffs, yet somehow haven't dropped off. There's plenty to like -- a frustrating extended 2-3 zone, a swarming press, and a gifted shooter in Edwards -- and I think this will be another big one for promising sophomore point guard Malik James.
Hall's Pick: Brighton over Mahar
DIVISION 1 GIRLS: ANDOVER (26-0) VS. HOLYOKE (22-2)
Andover Players to Watch:
Nicole Boudreau, Sr. G; Ally Fazio, Sr. G; Devon Caveney, Sr. G; Angelice Gonzalez, Jr. G; Jackie Alois, Jr. F; Rebecca Alois, Soph. F.
Holyoke Players to Watch:
Monique Heard, Sr. G; Alison Littles, Sr. C; Kirsy Segarra, Jr. G; Nyomi Walker, Jr. F; Selena Yates, Sr. G.
Analysis:
Our friend and Pioneer Valley legend Adam Harrington is getting giddy over this "dream matchup", Western Mass.'s premier point guard versus, quite frankly, the best female guard to come through Massachusetts in over a decade. We think the crowd on hand will be impressed with Heard, but the Golden Warriors -- despite usually being undersized -- have proven again and again to be unstoppable. It just seems whatever the score is going into the fourth quarter, the Warriors simply turn around and take ownership of it. When you have a team of athletes that get up and down as quickly as these girls, plus a superstar with NBA range, that's a vicious combination.
Hall's Pick: Andover over Holyoke
DIVISION 1 BOYS: BROCKTON (23-2) VS. SPRINGFIELD CENTRAL (23-1)
Brockton Players to Watch:
Jaylen Blakely, Jr. G; Drew Fiske, Sr. F; Jahleel Moise, Sr. F; Jean Thomas, Sr. F; Will Baker, Sr. G; Sayvonn Houston, Sr. C; Jamal Reuben, Sr. F; Jarrod "Bubba" Shelby.
Springfield Central Players to Watch:
Tyrell Springer, Sr. G; Lee Turner, Sr. G; Chris Prophet, Sr. G; Kamari Robinson, Jr. F; Jevaughn McMillian, Sr. C; Trevor Bacon, Sr. F; Cornelius Tyson, Sr. G.
Analysis:
This might be the best matchup of the day. I picked Springfield Central
to win it all before the tournament started
; and since the Eagles are still in it, I'm sticking with the pick. The X-factor here might be the health of McMillian, a game-changing 6-foot-7 shot-swatter who injured his ankle in Tuesday night's thrilling semifinal win over St. John's (Shrewsbury). If he can't go or is less than 100 percent, that could make the matchup down low with Brockton's 6-foot-6 Sayvonn Houston -- by many accounts, one of the state's most efficient true five -- very interesting. Yet it seems the Golden Eagles thrive on adversity -- in the Western Mass. Final, with Springer and Prophet fouled out -- Robinson held his own to stave off a furious Commerce comeback bid. On the flip side, the Boxers have been on a mission since getting trounced by nearly 20 by Charlestown right before the start of tournament play. Blakely has been one of the best point guards of the tournament, and the Boxers have gotten crucial shooting out of Baker, Fiske and Reuben. Look out for Moise, an athletic shot swatter with quality defensive skills.
Hall's Pick: Springfield Central over Brockton
March, 13, 2012
3/13/12
11:53
PM ET
By
Corey J. Allen
| ESPNBoston.com
BOSTON -– Pentucket slowly build its lead quarter by quarter before pulling away with a 53-39 victory over Fairhaven in the MIAA Division 3 Girls Eastern Mass. Final tonight at TD Garden.
Led by the charge of senior forward Sarah Higgins, the Sachems outscored the Blue Devils in every quarter except the second, where each team struggled and only produced five points apiece.
"I definitely did not want to see us lose," said Higgins, whose score line (20 points, 12 rebounds, three assists, four steals) spoke this sentiment loud and clear. "Especially because when I'm older and I look back at one of these games and think, 'Oh, I could've done that differently… I really wish we had won' because winning the state championship sounds way better than losing the state championship."
Higgins had a strong first quarter, as did Pentucket's Nicole Viselli (two 3-pointers), but the star of the first set in this series was Fairhaven's junior guard Ashley Brown. Having accumulated two rebounds and seven points, her last coming on the completion of a three point play, Brown put Fairhaven (22-3) ahead by one at 13-12 late in the first.
[+] Enlarge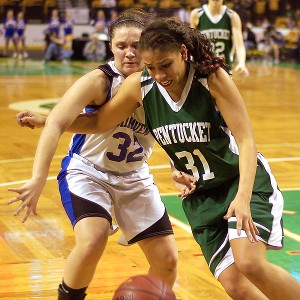 Brendan Hall for ESPN.comSarah Higgins (20 points, 12 rebounds, 4 steals) led Pentucket to its second Division 3 state final appearance in three seasons.
With 1:16 left in the first though, diving for a loose ball, Brown hit the scorer's table next to the court, falling to the ground and grabbing at her face and neck. She was surrounded by staff and medical technicians for several minutes before being put into a brace, lifted onto a gurney. She did not to return to the court.
Pentucket (22-4) took the lead in the last minute of the quarter, however, to lead 14-13. The second quarter saw the teams knot up at 16 briefly, but Pentucket went up by one going into the half at 19-18. The only player to score for Fairhaven in the second was senior forward Kara Charette, who ended the game with 15 points, eight rebounds, three assists and two steals.
"We settled down at halftime," said Pentucket coach John McNamara. "For the first minute we were still a little flustered but once Sarah got a few easy baskets and we were able to put our press on, I think we did a great job in containing them in the second half."
By the end of the third quarter, the Sachems were able to stretch the lead out to six at 34-28 and the start of the fourth quarter indicated that they were going to elongate that stretch by any means necessary. With 20 seconds into the fourth quarter, Higgins executed a three-point play to extend the lead out to nine with 7:40 left in the game.
Fairhaven would come within eight at 43-35 midway through the fourth quarter, but the damage had been done, and the Blue Devils fight turned into a bard to be sung for the defeated brave, while Pentucket's star is still on the rise.
Long Shot:
According to the roster and the bent necks in the media room, Pentucket's 5-foot-5 freshman guard Kelsie McNamara is the shortest person on the team. But when McNamara drained three pointers in the fourth quarter, and added a 1-2 free throw showing to round out her ten points, she seemed colossal, even in the middle of the famed parquet floor.
"It was a little nerve-wrecking at first," she said. "But once the game starts going, I get more used to it and get more in control playing." McNamara was active without the ball as well, racking up a steal, a block and a rebound as well.
Father Knows Best:
"Last night, my dad told me that I should always envision myself finishing and staying positive," Higgins beamed after the game. "So that's all I was thinking about before I went to bed, and today when I was at school I was thinking, 'Righty lay-ups, lefty lay-ups, foul shots'. Now that I went out there, I didn't think about it too much and it just came to me."
March, 10, 2012
3/10/12
3:08
PM ET
By
Shawn Myrick
| ESPNBoston.com
LOWELL, Mass. -- Pentucket coach John McNamara and his Sachems girls basketball program has its share of history in the Division 3 North tournament. But for this year's team, those were mostly just memories.

Freshman and sophomores during the Pentucket's 2010 state finals loss, the now upperclassmen Sachems are two year removed from the team that went to four consecutive sectional final appearances and are looking to set their own legacy.

After a 49-30 trumping of No. 4 seed Ipswich (18-5) in this morning's final at the Tsongas Center, No. 3 seed Pentucket (20-4) has made it clear the girls are ready to make their own mark.

The Sachems will play Division 3 South winners Fairhaven (22-2) in the TD Garden in Boston on Tuesday.

"This is their legacy now," said Pentucket coach John McNamara. "They were part of that team, but these kids have done it own their own for the first time. They have taken their team to the (TD) Garden."

The Sachems opened in dominate fashion by forcing nine first quarter turnovers to pull ahead 9-0 at the four minute mark. After grappling a pair of steals, senior Sarah Higgins used a screen off the passing motion to lay-in Pentucket's its ninth point.

Higgins was a powerful presence both counter-attacking and forcing turnovers at mid-court. The forward lead Pentucket with 12 points, five steals and five rebounds. Teammate junior Alex Moore also scored 10 points.

"I am hoping for five second calls, " said Higgins. "They look to somebody to put on the ball pressure and force as many turnovers as possible. I want to get in their head and show what I am a defensive player."

Struggling to score from outside the arc, Ipswich began pressuring the paint early in the second quarter to produce their lowest deficit of the night. Positioning her body out front Bridget Curran drew a pair of free throws, while Julia Davis (both juniors) caught a give-and-go off the 3-point line to cut the score to 12-9 at 5:50.

"We did a better job moving the ball weak side," said Ipswich coach Mandy Zegarowski. "We were a little more patient with the pressure and clogged up the middle. I think it was just getting the ball over the halfway point and setting up the offense."

Up 14-10, the Sachems scored 16 straight to put away the Tigers in the final three minutes of the half. A pair of layups by juniors Nicole Viselli and Tess Noguera off breakaways opened the run. While strong motion around the arc and a half-court buzzer beater sent Pentucket into the break up 30-10.

"We focused in practice on eliminating their point guard and big players," said Zegarowski. "We needed or defense to start creating turnovers. It is a lot easier to score on the fast break when they are trying to set up their zone offense."

An eight straight point run from Masey Zegarowski in the fourth proved to little to late for Ipswich as they failed to ever cut the second half margin into single-digits. The freshman topped the Tigers in scoring with eight points.

"Last year was a real upset not to get to the Garden," said Higgins. "I am so happy my senior year we made it there. It is what Pentucket girls' basketball is all about."
February, 20, 2012
2/20/12
11:37
PM ET
By
Tom Layman
| ESPNBoston.com



LAWRENCE, Mass. — If this was a potential preview of what's to come in the MIAA Tournament, then fans of high school basketball in the area are in for a treat.

Central Catholic nipped St. John's Prep, 59-58, on a lay-in by Nick Cambio with six seconds left to claim the IAABO Board 130 Basketball Classic last night on its home floor.

Joel Berroa, who made the pass to Cambio on the determining bucket and who finished as the tournament MVP, played sparingly in the first half due to foul trouble but came on with 13 points and three tide-changing 3-pointers in the fourth period.

Cambio (four points) also picked up three quick fouls in the first half and only finished with two field goals, but got the one when it mattered most.

"When they got in the flow a little bit in the second half I felt like it was the difference for us with (Berroa) hitting some big shots and (Cambio) finishing in the paint," said Raiders (20-1) coach Rick Nault.

The Game-Winner: The Eagles (13-7) got the ball back down a point after a costly turnover by the Raiders with 33.6 seconds on the clock.

Mike Carbone drove down a crowded lane and his shot bounced out, but Steve Haladyna (25 points, 10 rebounds) tipped the ball twice to himself over a couple of Raiders, and he was fouled sending him to the line for a 1-and-1 situation.

Haladyna sank the first free throw to tie things at 57 and nailed the first for the one-point lead with 18.5 seconds remaining in the game. Central Catholic decided against a timeout after the made bucket, but Nault quickly changed his mind when the ball got stuck at halfcourt with several Prep defenders in good position.

Nault knew exactly what play he wanted to run out of the timeout with 11.5 seconds left, but Cambio jokingly said that his coach had a little bit of trouble communicating exactly what X's and O's were going to be drawn up.

Apparently all of those hours of practice can build silent communication between coaches and players.

"He was too nervous writing down the play and he forgot what it was," Cambio said with a big smile on his face. "We ran the play and that's what the play was, an up top handoff and back screen pick over the top, and I got the lay-up."

Berroa got the ball at the top of the 3-point line and Cambio was able to slide wide open on backdoor cut and finish with about six seconds remaining on the clock. Haladyna had an opportunity at the buzzer to take back the win, but his shot from just inside the free throw line hit the back iron and bounced out.

"It was something that we know what it is side-out," said Nault. "I kind of forgot who was supposed to come to the ball and I was telling my assistant to help me out with it. But the kids knew exactly where to go."

The foul that didn't come: Prep had three fouls to waste with 11.5 seconds left and the players went for the foul on Berroa and Cambio at the top of the screen that got the latter open, but the contact wasn't enough to draw a whistle.

"We slapped him a little, but we should have fouled harder," said Prep head coach Sean Connolly. "I told the refs to look for it, but I guess they didn't think it was much of a foul."

PENTUCKET 59, CENTRAL CATHOLIC 41

Before the girls final, Pentucket head coach John McNamara said his team would be in for a tough task to get a win over Central Catholic on the home floor.

The game was decided after maybe the strongest 16 minutes of defensive basketball by the Sachems.

Pentucket held the Raiders to 12.5 percent shooting and 10 points in the first half to run away with a 59-41 victory.

"We just came out and played defense the way we are capable of," said McNamara. "We did the things that we had to do."

The one-two combination of Sarah Higgins (17 points) and tournament MVP Tess Nogueira (19 points) helped carry the offensive load for a team that was 3-3 and one point, but ended the season 18-4.

BOYS CONSOLATION

Westford Academy 85, Lynn English 68
Westford - Alex Preckol 22 points, Matt Ellis 21
English - Keandre Stanton 19 pts, Fred Hogan 18, Ben Bowden 14

GIRLS CONSOLATION

Archbishop Williams 61, Revere 38
Williams - Michaela Flanagan - 13 points, Sara Ryan 12
Revere - Caitlyn Caramello - 14 points
January, 7, 2011
1/07/11
11:32
PM ET
By
Brendan Hall
| ESPNBoston.com
NORTH ANDOVER, Mass. -- Amanda Foote, like the rest of her North Andover High teammates, admitted to some nerves throughout all of Friday morning and afternoon. Although, maybe that's typical of a Cape Ann League team when perennial Division 3 power No. 12 Pentucket Regional rolls through town. Emotions tend to run high on Sachems night.

Lucky for the senior guard, though, she has a lot of latitude from Knights head coach Sue Breen to shoot whenever she gets the space. And when she got a wide-open look behind the three-point line at the right wing with a little over two minutes to go, she didn't hesitate, swooshing a feathery, high-arching three-ball to make it a two-possession game. Her teammates did the rest with several key turnovers late, to seal an historic 38-31 win over the Sachems.

"Obviously, I'm not the number one shooter on the team," Foote smiled. "But it feels great to just come down and hit that and really secure the lead in the final minutes, to get us pumped up to win the game."

Said Breen, "Footie, she'll probably be kicking herself because she got alot of traveling calls, but that was probably the biggest play of the game."

For the Knights (4-2), it's the first win over Pentucket (6-1) since 2006. So yeah, emotions were running high in the post-game; it's just, they had trouble putting those feelings into words.

"It's crazy. It's amazing," senior forward Erika Zahoruiko (17 points, nine rebounds) said. "We all came to play, and...I don't even know what to say. I can't even explain the feeling right now."

Said Foote, "I feel like we're CAL champs right now. This feels great."

What the Sachems lack in experience -- having graduated several key stalwarts from last year's Division 3 state finalist squad, including Erin McNamara and Ashley Viselli -- they make up for in length and speed. Early on, they made their best efforts at dictating a quick pace, with junior Sarah Higgins and sophomores Alex Moore and Nicole Viselli leading the way. But with tight defensive pressure in both the halfcourt and in full-court -- routinely bringing as many as four players above half-court for man-to-man and diamond-and-one looks -- the Knights got called for alot of contact, but forced a slew of turnovers and bad shot selection.

The Knights' lead was slim, just 16-15 headed into the break. But looking at the offensive totals -- the teams combined for a miserable 9 of 48 from the field, with Pentucket making just four field goals -- a point had been made.

Then in the third, the Knights got it going with a series of ball reversals, making it a two-possession game with two perfectly-executed plays off a very familiar connection. Tied at 22-all with 3:30 to go in the quarter, Zahoruiko stepped up in the key and fed her familiar soccer teammate Alex Medlock with a bounce pass as she cut to the basket unguarded. The next time down, the roles reverse, Medlock took a jab step and threw an entry pass to Zahoruiko, who backed in and nailed a turnaround hook shot to make it 26-22.

"When we see each other on the court, we've just been playing together for so long, that we just find each other wherever," Zahoruiko said. "We're just connecting."

From there, the offense began to find its rhythm, culminating in Foote's key three.

"They're a very tough team, they're an awesome team, they have an awesome program," Breen said. "You know, I just think my kids played a little bit better."

Pentucket head coach John McNamara didn't dispute that.

"Give credit to North Andover," he said. "They outplayed us, they out-hustled us, they out-scrapped us, they wanted it more than us. We're kind of a young team, and I think hopefully we can use this as a learning experience. They dominated us in every phase of the game."